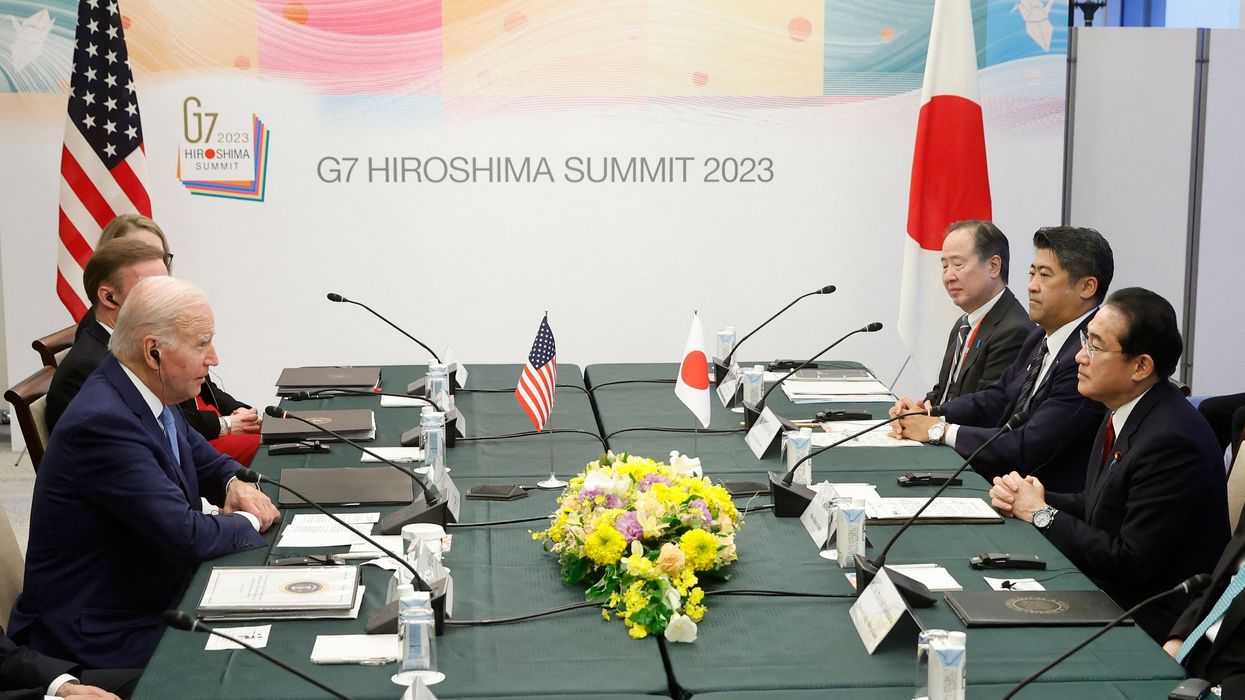 "The pharmaceutical industry will always lobby to maximize their own profits, regardless of the impact on public health, but G7 leaders must resist."
A group of scientists warned the leaders of rich countries on Thursday that the world is badly unprepared for the next pandemic and must urgently lay the groundwork for a swift, equitable global response that puts lives over pharmaceutical industry profits.
In a letter to the heads of G7 nations as they gathered in Hiroshima for their annual summit, 16 scientists from South Africa, Brazil, the U.S., the United Kingdom, Japan, Indonesia, and other nations wrote that "it is critical that in the next health crisis the world rapidly deploys medical countermeasures in every country, regardless of their ability to pay," invoking the deadly failure to ensure sufficient access to Covid-19 vaccines in poor nations.
A just response, the scientists wrote, "requires removing every barrier to the development and production of medicines and vaccines—an area where the world failed during the Covid-19 and AIDS pandemics."
"Upholding strict intellectual property rules secured monopolies for pharmaceutical companies and prevented the widespread production of affordable generic vaccines and medicines in developing countries," they continued. "We write to you to emphasize and ask that you center the protection of human rights, such as the right to health and the right to benefit from scientific progress, over windfall profits."
The scientists' letter comes weeks after two dozen pharmaceutical company CEOs—including Eli Lilly chief David Ricks—met with Japanese Prime Minister Fumio Kishida to discuss ways to "strengthen the power of science and an innovation ecosystem built on the protection of intellectual property rights and free access to pathogens."
That was how the International Federation of Pharmaceutical Manufacturers and Associations (IFPMA)—a powerful industry trade group whose membership list includes Pfizer, Moderna, and Merck—described the meeting with Kishida, which took place less than a month after the World Health Organization (WHO) formally declared the coronavirus pandemic over as a global health emergency.
The death toll from the pandemic is believed to be in the tens of millions, and research has shown that many deaths could have been averted with more equal vaccine access worldwide.
But efforts to remove barriers that hindered vaccine production and distribution—including patent laws—were blocked by rich countries at the behest of the pharmaceutical industry, which furiously opposed any changes that threatened their monopoly control over the lifesaving shots.
IFPMA was at the center of those aggressive lobbying efforts.
"We cannot double-down on implementation of intellectual property rules that make pandemics longer, costlier, and deadlier."
In their letter to G7 leaders—a group that includes Kishida, U.S. President Joe Biden, and Canadian Prime Minister Justin Trudeau—the scientists expressed dismay that the pharmaceutical industry is still "advocating a maximalist approach to intellectual property, disregarding the impact on public health."
"This is an extreme view that flies in the fact of mainstream scientific opinion," they wrote. "This position endangers the kind of scientific collaboration that is essential to properly prevent, prepare for, and respond to health crises, especially infectious diseases. It condemns most people who live in low and middle-income countries to remain at the back of the line in any future pandemic and exposes them inequitably to death and devastation for longer than people in high-income countries."
Dr. Craig Spencer, associate professor of the practice at Brown University School of Public Health and one of the new letter's signatories, said in a statement Thursday that "we believe that the right to health is more important than windfall profits, particularly in a health crisis."
"The pharmaceutical industry will always lobby to maximize their own profits, regardless of the impact on public health, but G7 leaders must resist," said Spencer. "We cannot double-down on implementation of intellectual property rules that make pandemics longer, costlier, and deadlier."
Another letter signatory, Dr. Quarraisha Abdool Karim of the Center for the AIDS Program of Research in South Africa (CAPRISA), added that "G7 Health Ministers have discussed preparing for the next pandemic but have not considered important lessons from Covid-19."
The letter cited one model that put the possibility of another pandemic as deadly as Covid-19 within the next 10 years at 27.5%. It also points to a study published in Proceedings of the National Academy of Sciences suggesting that "the annual probability of extreme epidemics occurring could increase threefold in the coming decades."
While the scientists said they were encouraged by elements of the WHO's draft pandemic treaty, noting that it includes "provisions to increase the transfer of medical technology to developing countries and to support the suspension of intellectual property rules," they expressed concern that those proposals could suffer the same fate as earlier efforts to waive patent rules.
"We are not asking you to force or demand that institutions are uncompensated for their work, but we urge you make sure compensation is fair and just, and to resist the lobbying of institutions that have prioritized profits over people and public health needs," the scientists wrote. "There is no time to waste."
News