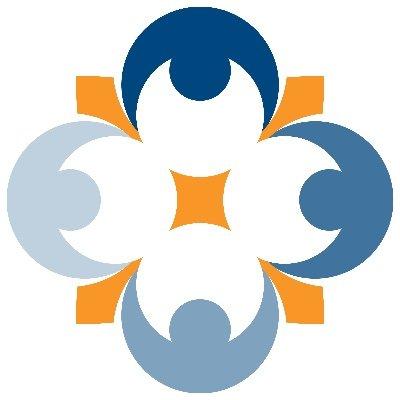 For Immediate Release
Contact:
CAIR National Communications Coordinator Ayan Ajeen, 202-774-0770, aajeen@cair.com; CAIR National Communications Director Ibrahim Hooper, 202-744-7726, ihooper@cair.com
CAIR Condemns Trump's Anti-Semitic 'Disloyal' Slurs Targeting American Jewish Community
The Council on American-Islamic Relations (CAIR), the nation's largest Muslim civil rights and advocacy organization, today condemned Trump's doubling-down on his recent anti-Semitic slurs targeting the American Jewish community as "disloyal" if they vote for the opposing political party.
Earlier today, Trump said Jews who vote for Democrats are "very, very disloyal to Israel," invoking a "dual loyalty" trope widely viewed as anti-Semitic. On Tuesday, Trump said that "any Jewish people that vote for a Democrat" shows "either a total lack of knowledge or great disloyalty."
WASHINGTON
The Council on American-Islamic Relations (CAIR), the nation's largest Muslim civil rights and advocacy organization, today condemned Trump's doubling-down on his recent anti-Semitic slurs targeting the American Jewish community as "disloyal" if they vote for the opposing political party.
Earlier today, Trump said Jews who vote for Democrats are "very, very disloyal to Israel," invoking a "dual loyalty" trope widely viewed as anti-Semitic. On Tuesday, Trump said that "any Jewish people that vote for a Democrat" shows "either a total lack of knowledge or great disloyalty."
Video: Trump Doubles Down on Anti-Semitic Slur Targeting American Jewish Community
"Trump's anti-Semitism and Islamophobia go hand in hand with his white supremacist and anti-immigrant agenda," said CAIR National Communications Director Ibrahim Hooper. "We condemn Trump's anti-Semitic slurs accusing American Jews of 'disloyalty' to a foreign nation if they exercise their constitutionally-guaranteed right to support his political opponents."
Hooper noted that CAIR and the American Muslim community have in the past expressed solidarity with Jewish, Christian, Native American, Hispanic, African-American, migrant, and Sikh communities in New Mexico, Florida, South Carolina, Maryland, Alabama, Massachusetts, South Dakota, Ohio, Texas, and many other states following acts of hate, threats, violence, vandalism, arson, or bombings.
The Washington-based civil rights organization has reported an unprecedented spike in bigotry targeting American Muslims, immigrants and members of other minority groups since the election of Donald Trump as president.
CAIR-Florida Welcomes Arrest of Neo-Nazi Who Threatened to Exterminate Miami Hispanics
https://www.cair.com/cair_florida_welcomes_arrest_of_neo_nazi_who_threatened_to_exterminate_miami_hispanic
CAIR-Georgia Joins Columbus Muslim Community in Condemning Anti-Semitic Hate Targeting Local Synagogue
https://www.cair.com/cair_georgia_joins_columbus_muslim_community_in_condemning_anti_semitic_hate_targeting_local_synagogue
CAIR-NY Calls on Colonie Police to Probe Threats to Kill Muslims as Hate Crime
https://www.cair.com/cair_ny_calls_on_colonie_police_to_probe_threats_to_kill_muslims_as_hate_crime
CAIR Seeks Hate Crime Charge for Threat to Shoot D.C. Muslims
https://www.cair.com/cair_seeks_hate_crime_charge_for_threat_to_shoot_d_c_muslims
On November 9, CAIR will hold its 25th anniversary gala in Washington, D.C.
SEE: CAIR's 25th Annual Gala
https://www.cair.com/25th_anniversary_banquet
CAIR's mission is to protect civil rights, enhance understanding of Islam, promote justice, and empower American Muslims.
La mision de CAIR es proteger las libertades civiles, mejorar la comprension del Islam, promover la justicia, y empoderar a los musulmanes en los Estados Unidos.
The Council on American-Islamic Relations (CAIR) is a grassroots civil rights and advocacy group. CAIR is America's largest Muslim civil liberties and advocacy organization. Its mission is to enhance understanding of Islam, protect civil rights, promote justice, and empower American Muslims.
(202) 488-8787
LATEST NEWS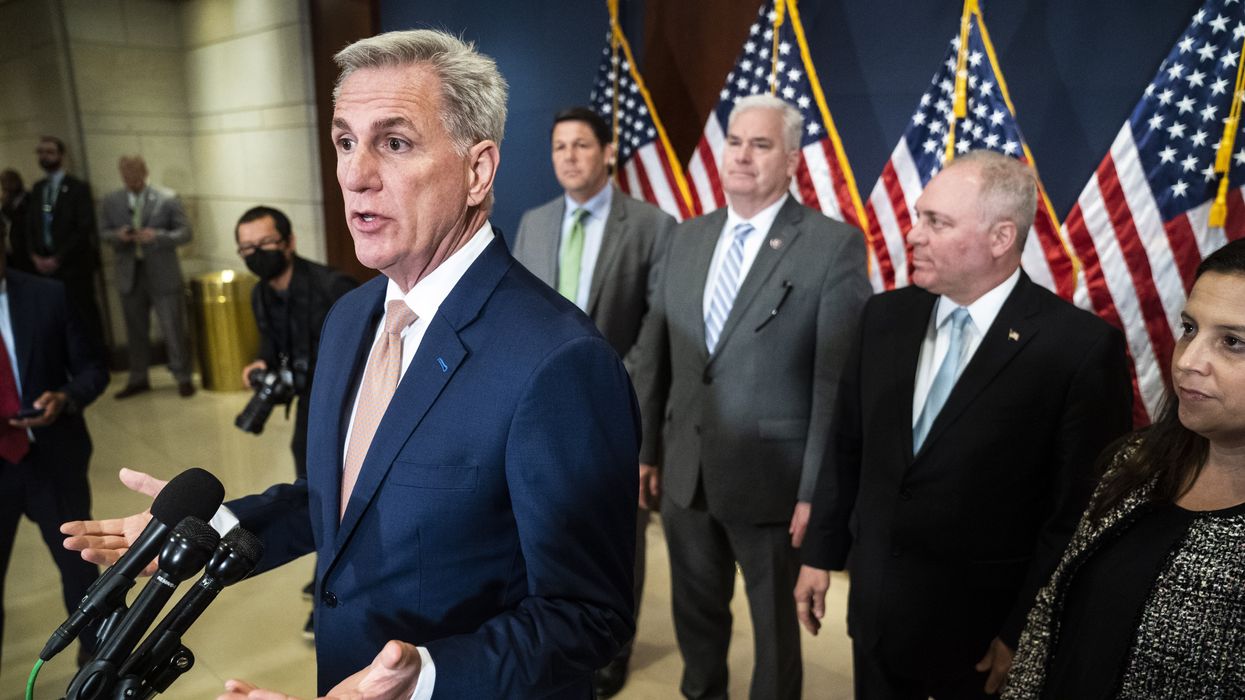 Citing assessments from federal agencies, Rep. Rosa DeLauro said House Republicans' push for across-the-board budget cuts is "unrealistic, unsustainable, and unconscionable."
The top Democrat on the House Appropriations Committee on Monday released letters from federal agencies that together provide a detailed look at the implications of the House GOP's proposed budget cuts, which would take an axe to programs that help millions of people make rent, feed their families, and afford childcare.

Rep. Rosa DeLauro (D-Conn.) asked the leaders of major government departments to outline what would happen if House Republicans succeeded in their push to freeze federal spending at fiscal year 2022 levels, a move that would inflict deep across-the-board cuts on agency budgets.
DeLauro said the agencies' responses make clear that the cuts "would cause irreparable damage to our communities by gutting the programs every single American relies on."
"Those proposals are unrealistic, unsustainable, and unconscionable," said DeLauro. "The draconian cuts would take away the opportunity for 80,000 people to attend college and impact all 6.6 million students who rely on Pell Grants. If implemented, 200,000 children will lose access to Head Start, and 100,000 children will lose access to childcare, undermining early education and parents' ability to go to work."
"As if that was not enough to deter these harmful cuts," she added, "1.2 million women, infants, and children would lose vital nutrition assistance they receive through WIC."
Those figures come directly from letters that agency heads sent to DeLauro last week as congressional Democrats and the Biden administration ramp up their criticism of the House GOP's pursuit of steep spending cuts, which Republicans are demanding in exchange for lifting the debt ceiling and averting a catastrophic default.
Rep. Mario Diaz-Balart (R-Fla.) toldRoll Call on Monday that House Appropriations Chair Kay Granger (R-Texas) has instructed Republicans to "scrub every penny, every department, every agency, dollar, every penny spent, to try to find savings, to try to figure out where we can cut spending in a responsible way"—though top GOP lawmakers have indicated they will likely shield the fraud-ridden Pentagon Pentagon from cuts.
"Continued Republican calls for cuts of this magnitude—both secret proposals from Republican leadership and public demands from extremists in the party—would be absolutely detrimental to all Americans."
In a March 17 letter, the U.S. Department of Housing and Urban Development (HUD) warned that reverting its budget to fiscal year 2022 levels would strip federal rental assistance from 640,000 families, making it "impossible to stave off mass evictions."

The Department of Education, meanwhile, estimated that GOP cuts would have the effect of "removing more than 13,000 teachers and service providers from classrooms serving low-income children."
"A reduction of 22% from currently enacted levels would cut $468 million in federal support to determine, disburse, and service student aid," the agency continued. "This level of funding would have devastating effects on student and parent interactions with the department, as well as on their ability to successfully apply for and receive student aid."
In a press release, DeLauro spotlighted projections from other agencies that demonstrate the far-reaching consequences of the GOP's austerity push:
After recent near-misses, our air travel would come to a halt with 125 Air Traffic Control Towers shutting down, impacting one-third of all airports;
Following the catastrophic derailments in eastern Ohio and West Virginia, rail safety jobs would be dramatically reduced, with 11,000 fewer safety inspection days, and 30,000 fewer miles of track inspected annually;
Amid a mental health and overdose crisis, nearly 1 million people facing a suicidal or mental health crisis would be unable to access support services through the 988 Suicide and Crisis Lifeline, and tens of thousands of individuals could be denied admission to opioid use disorder treatment, denying them a potentially life-saving path to recovery;
An estimated 2 million vulnerable individuals and families, including rural and underserved populations, would lose access to healthcare services through Community Health Centers;
With the looming rise of food insecurity, nutrition services, such as Meals on Wheels, would be cut for more than 1 million seniors; and
The Social Security Administration would be forced to close field offices and reduced access to in-person services, and people applying for disability benefits would wait an additional two months for the processing of claims.
And that's not even the full picture: DeLauro is still awaiting responses from the Environmental Protection Agency and the Agency for International Development, among other departments.
"The programs that we fund every year keep our communities safe and healthy, lower prices, and create jobs, and we have increased investments in them year after year with the support of Democrats and Republicans in both the House and the Senate," DeLauro said Monday.
"Continued Republican calls for cuts of this magnitude—both secret proposals from Republican leadership and public demands from extremists in the party—would be absolutely detrimental to all Americans, many of whom have not seen a pay raise in years and are struggling to pay their bills," said the Connecticut Democrat. "The math is not there."
News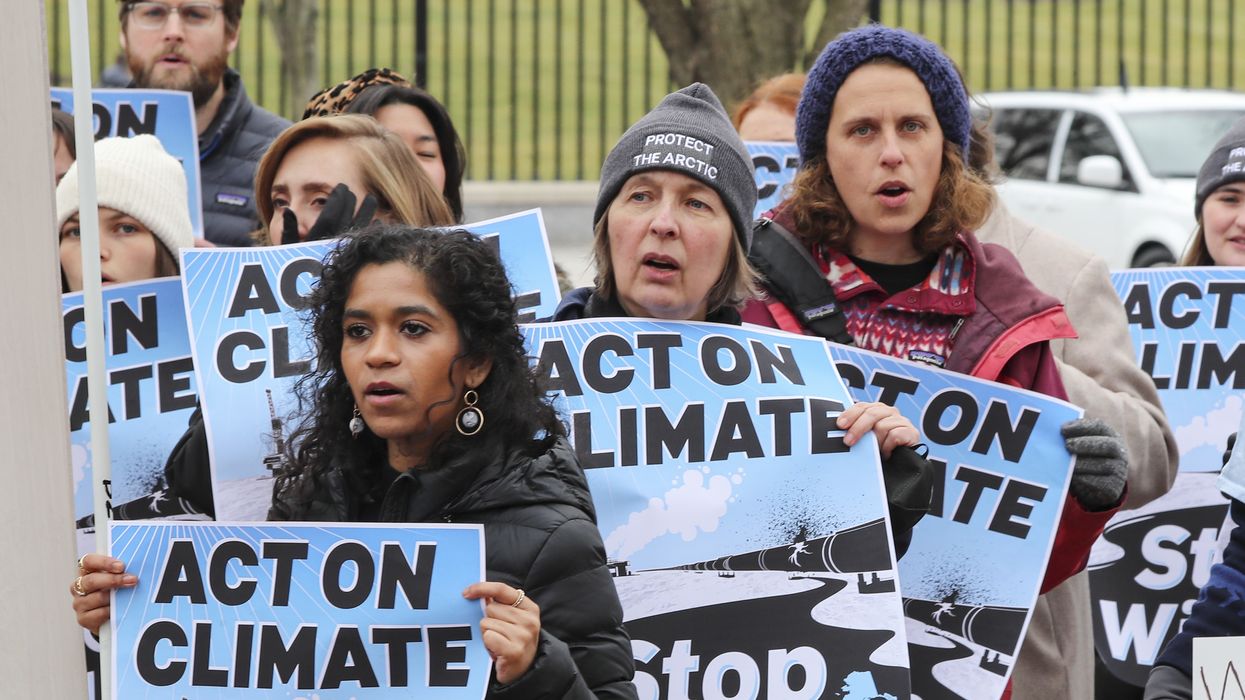 "Biden will keep being haunted until he changes course," said one climate campaigner.
Further emboldened by the Intergovernmental Panel on Climate Change's fresh call for rapid emission cuts, campaigners are planning to rally outside the U.S. Interior Department on Tuesday morning to protest the Biden administration's approval of a massive oil drilling project that—if completed—would spew millions of tons of carbon dioxide into the atmosphere each year.
In a press release announcing the demonstration, which is set to begin at 9:00 am ET, Fossil Free Media said those voicing outrage over the administration's decision to greenlight the project will include climate activists, social media influencers, students, and others.
The protest will coincide with President Joe Biden's planned remarks at the White House Conservation in Action Summit at the Interior Department, which signed off on a version of ConocoPhillips' Willow Project last week despite widespread opposition and warnings that it would undermine the global climate fight.
The Interior Department has estimated that the Alaska drilling project—the largest of its kind on U.S. public land—could produce nearly 580 million barrels of oil over three decades and unleash more than 270 million metric tons of planet-warming CO2. Green groups are suing the administration in an effort to stop the project, which is not expected to begin producing oil for another six years.

Jamie Henn, the director of Fossil Free Media, wrote Monday that the IPCC's report "makes it all the more clear that Biden's approval of the Willow Project was an act of climate denial and destruction."
The report, the product of years of work by hundreds of leading scientists from around the world, says greenhouse gas emissions must be cut by 60% over roughly the next decade to keep the Paris climate accord's critical warming target alive.
The Biden administration's approval of the Willow Project and other drilling—during his first two years in office, Biden outpaced former President Donald Trump in permit approvals—called into further doubt the White House's commitment to treating the climate crisis as an "existential threat."
"Reading the U.N.'s latest dire climate warnings just days after Biden approved massive new Arctic oil drilling is utterly infuriating," Shaye Wolf, climate science director at the Center for Biological Diversity, said Monday. "The fossil-fueled path to more climate disasters, mass displacements, and wildlife extinctions is bleak, but it's not inevitable."
"Chief among world leaders, Biden has the tools to not only ratchet up renewables but move us decisively off fossil fuels," Wolf added. "Scientists have mapped the way to a livable planet, but we need the political will to get us there."
On Monday, shortly following the release of the IPCC report, climate activists disrupted a Washington, D.C. event hosted by the Center for Strategic and International Studies, where White House climate adviser Ali Zaidi appeared to deliver an address on the "future of U.S. climate and energy leadership."
Reutersreported that "a dozen protesters holding a sign saying 'End Fossil Fuels' chanted 'Keep your promise, no new drilling' for several minutes, preventing Zaidi from starting his remarks." Zaidi responded by pointing to the climate investments approved under the Inflation Reduction Act (IRA).
"At the end of the day, nobody in a position of power seems to be accepting the reality and the urgency of this moment," Reilly Haught, a 23-year-old protestor from West Virginia, told Reuters. "And that's what we wanted to share with him. We just can't go on with business as usual with only the people in suits having these important conversations."
Collin Rees of Oil Change International tweeted Monday that "'climate leaders' don't approve huge fossil fuel projects like the Willow Project, which would negate most emissions reductions from the IRA even under rosy estimates."
"The IPCC is clear—no new oil + gas," Rees added. "Biden will keep being haunted until he changes course."
News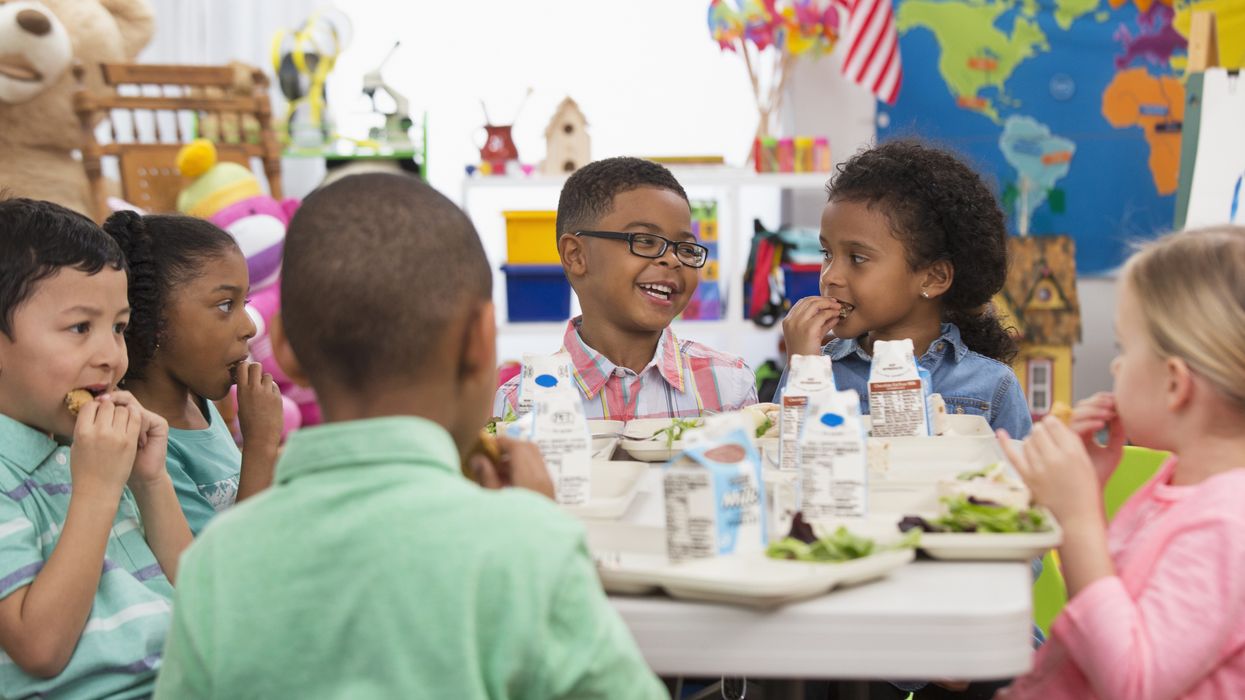 "Hiving off a tiny part of the public school bundle and charging a means-tested fee for it is extremely stupid," argues Matt Bruenig.

Minnesota last week became just the fourth U.S. state to guarantee universal free school meals, triggering a fresh wave of demands and arguments for a similar federal policy to feed kids.
"Universal school meals is now law in Minnesota!" Democratic U.S. Rep. Ilhan Omar, who represents the state, tweeted Monday. "Now, we need to pass our Universal School Meals Program Act to guarantee free school meals to every child across the country."
Omar's proposal, spearheaded in the upper chamber by Sen. Bernie Sanders (I-Vt.), "would permanently provide free breakfast, lunch, dinner, and a snack to all school children regardless of income, eliminate school meal debt, and strengthen local economies by incentivizing local food procurement," the lawmakers' offices explained in 2021.
Congressional Republicans last year blocked the continuation of a Covid-19 policy enabling public schools to provide free breakfast and lunch to all 50 million children, and now, many families face rising debt over childrens' cafeteria charges.
"The school bus service doesn't charge fares. Neither should the school lunch service."
Matt Bruenig, founder of the People's Policy Project, highlighted Monday that while children who attend public schools generally have not only free education but also free access to bathrooms, textbooks, computer equipment, playgrounds, gyms, and sports gear, "around the middle of each school day, the free schooling service is briefly suspended for lunch."
"How much each kid is charged is based on their family income except that, if a kid lives in a school or school district where 40% or more of the kids are eligible for free lunch, then they are also eligible for free lunch even if their family income would otherwise be too high," he detailed. "Before Covid, in 2019, 68.1% of the kids were charged $0, 5.8% were charged $0.40, and 26.1% were charged the full $4.33... The total cost of the 4.9 billion meals is around $21 billion per year. In 2019, user fees covered $5.6 billion of this cost."
Bruenig—whose own child has access to free school meals because of the community eligibility program—continued:
The approximately $5.6 billion of school lunch fees collected in 2019 were equal to 0.7% of the total cost of K-12 schooling. In order to collect these fees, each school district has to set up a school lunch payments system, often by contracting with third-party providers like Global Payments. They also have to set up a system for dealing with kids who are not enrolled in the free lunch program but who show up to school with no money in their school lunch account or in their pockets. In this scenario, schools will either have to make the kid go without lunch, give them a free lunch for the day (but not too many times), or give them a lunch while assigning their lunch account a debt.

Eligibility for the $0 and $0.40 lunches is based on income, but this does not mean that everyone with an eligible income successfully signs up for the program. As with all means-tested programs, the application of the means test not only excludes people with ineligible incomes, but also people with eligible incomes who fail to successfully navigate the red tape of the welfare bureaucracy.
The think tank leader tore into arguments against universal free meals for kids, declaring that "hiving off a tiny part of the public school bundle and charging a means-tested fee for it is extremely stupid."
Bruenig pointed out that socializing the cost of child benefits like school meals helps "equalize the conditions of similarly-situated families with different numbers of children" and "smooths incomes across the lifecycle by ensuring that, when people have kids, their household financial situation remains mostly the same."
"Indeed, this is actually the case for the welfare state as whole, not just child benefits," the expert emphasized, explaining that like older adults and those with disabilities, children cannot and should not work, which "makes it impossible to receive personal labor income, meaning that some other non-labor income system is required."
Conservative opponents of free school lunches often claim that "fees serve an important pedagogical function in society to get people to understand personal responsibility" and because they "are means-tested, they serve an important income-redistributive function in society," he noted. "Both arguments are hard to take seriously."
Pushing back against the first claim, Bruenig stressed that right-wingers don't apply it to other aspects of free schooling such as bus services. He also wrote that the means-testing claim "is both untrue and at odds with their general attitudes on, not just redistribution, but on how child benefit programs specifically should be structured."
A tax for everyone with a certain income intended to make up the $5.6 billion in school meal fees, he argued, "would have a larger base and thus represent a smaller share of the income of each person taxed and such a tax would smooth incomes over time," while also eliminating means-testing—which would allow schools to feed all kids and ditch costly payment systems.
As Nora De La Cour reported Sunday for Jacobin: "The fight for school meals traces its roots all the way back to maternalist Progressive Era efforts to shield children and workers from the ravages of unregulated capitalism. In her bookThe Labor of Lunch: Why We Need Real Food and Real Jobs in American Public Schools, Jennifer Gaddis describes how early school lunch crusaders envisioned meal programs that would be integral to schools' educational missions, immersing students in hands-on learning about nutrition, gardening, food preparation, and home economics. Staffed by duly compensated professionals, these programs would collectivize and elevate care work, making it possible for mothers of all economic classes to efficiently nourish their young."
Now, families who experienced the positive impact of the pandemic-era program want more from the federal government.
"When schools adopt universal meals through community eligibility or another program, we see improvements in students' academic performance, behavior, attendance, and psychosocial functioning," wrote De La Cour, whose reporting also includes parent and cafeteria worker perspectives. "Above all, the implementation of universal meals causes meal participation to shoot up, demonstrating that the need far exceeds the number of kids who are able to get certified."
Crystal FitzSimons, director of school-based programs at the Food Research and Action Center (FRAC), told Jacobin, "There is a feeling that we can't go back."

News
SUPPORT OUR WORK.
We are independent, non-profit, advertising-free and 100%
reader supported.