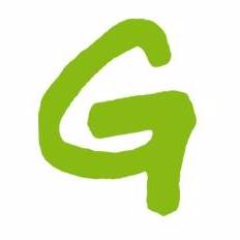 For Immediate Release
July, 04 2018, 12:00am EDT
Contact:
Email:,pressdesk.int@greenpeace.org
Greenpeace Canada Blockade Reaches 30-hour Mark as Tanker Pulls Away from Terminal
The protest against the TMX pipeline and planned seven-fold increase of tanker traffic, as well as Prime Minister Justin Trudeau's planned $4.5B buyout of the project, is entering its second day. The protest has attracted the attention of people around the world, including Oscar-winning actor, Jane Fonda, who tweeted early this morning.
VANCOUVER
The tar sands oil tanker, Serene Sea, has now pulled away from Kinder Morgan's Westridge Marine Terminal and is sitting at anchor as the 12-person blockade launched by Greenpeace Canada yesterday reaches its 30-hour mark.
Images from the ongoing action are available here and more will be added during the day: https://media.greenpeace.org/collection/27MZIFJWLMBUH
It's now been 30 hours since the climbers began their ascent yesterday and almost 25 hours since seven of them rappelled down into mid-air to prevent the Serene Sea from leaving the terminal. The Serene Sea is fully loaded and set to travel out of Vancouver. Five climbers remain on the bridge's catwalk, supporting and reinforcing the blockade.
"It's always a beautiful day to stand up and protect the water but waking up this morning with 12 other brave defenders as we enter hour 30 of our aerial blockade of a tar sands oil tanker to protest the Trans Mountain and its expansion, is truly breathtaking. Seeing these beautiful waters and watching that gorgeous sunrise, you know that people will never stop fighting to protect them. Prime Minister Trudeau: you're currently on the wrong side of history on this one. It is time to live up to your promises on climate change and Indigenous reconciliation," said Mike Hudema, a Greenpeace Canada climber from Alberta currently suspended in mid-air for the blockade.
"Hundreds of thousands have lent their voices from around the world, hundreds have been arrested, and now seven incredibly courageous activists and Indigenous leaders hang from a bridge for the second day. Our future hangs in the balance if we don't stop fossil fuel extraction, as does the health of these precious waterways, and the communities and wildlife depending on them. Mr. Trudeau, this resistance will only grow: do the courageous thing and stop this pipeline," said Joanna Kerr, Executive Director of Greenpeace Canada.
The multinational climbing team forming this unity blockade hails from the Indigenous Coast Salish community, B.C., Alberta, Quebec, Ontario, the U.S.A (Washington state), Mexico and the U.K.
Among the climbers is Will George, a spokesperson and leader of Kwekwecnewtxw (the Watch House) built next to Kinder Morgan's tank farm in Burnaby, B.C. to guard against construction of the new pipeline. Coast Salish unceded territories include the B.C. coast and Salish Sea at the end of the proposed TMX pipeline.
Greenpeace is a global, independent campaigning organization that uses peaceful protest and creative communication to expose global environmental problems and promote solutions that are essential to a green and peaceful future.
+31 20 718 2000
LATEST NEWS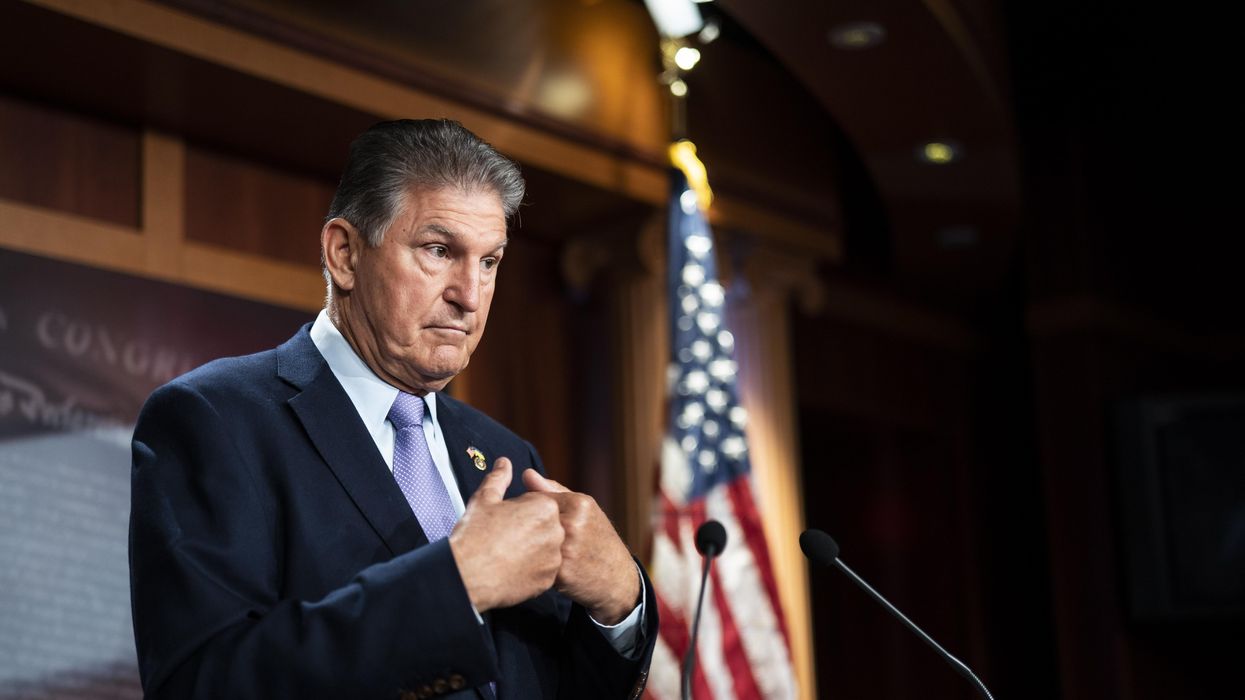 "Manchin is making another push to accelerate fossil fuel permitting," said one climate group. "But what we urgently need is to make it easier to permit clean energy projects."

The U.S. climate movement this week vowed to keep fighting against Sen. Joe Manchin's thrice-defeated "dirty deal" after the West Virginia Democrat indicated he intends to work with House Republicans to force through fossil fuel-friendly permitting reforms.
Frontline climate campaigners and progressives in both chambers of Congress worked tirelessly last year to quash Manchin's proposals—while also advocating for updates to permitting policy that would speed up the renewable energy transition.

The GOP took narrow control of the House earlier this year, and the chamber's Natural Resources Committee is now led by Bruce Westerman (R-Ark.). Manchin, who chairs the Senate Energy and Natural Resources Committee, met with him on Wednesday to discuss permitting legislation.
"Permitting reform as proposed in recent legislation would undermine effective tools used to protect air, water, and climate from the most damaging new infrastructure under consideration."
"They're going to work on something," Manchin said of the House, according to E&E News. "I think it's a high priority, which both sides know that we need it. Everyone has come to agreement that you got to have permitting. Let's take the politics out of it, and do what's doable."
After the meeting, Westerman said he saw "common ground between Sen. Manchin and myself."
The same day, the Republican Study Committee, the largest House GOP caucus, convened to discuss priorities for debt ceiling negotiations. According to a leaked portion of a slideshow, one policy endorsed by the committee for those talks is "enact a package of inflation-busting reforms to increase domestic energy capacity and reduce associated regulatory and permitting barriers."
Meanwhile, the Green New Deal Network—a U.S. campaign that includes 15 national organizations–pledged Wednesday that "we'll be here, ready to kill Manchin's dirty deal all over again."
The battle over the dirty deal, as critics call it, began last summer, when Senate Majority Leader Chuck Schumer (D-N.Y.) agreed behind closed doors to push through permitting reforms in exchange for Manchin's support for the Inflation Reduction Act. Despite Manchin and Schumer's efforts to advance various versions of a permitting bill, it was blocked in September and then twice in December.
"Defeated for the third time this year, this zombie bill would have fast-tracked dangerous fossil fuel and mining projects that would undercut the positive impacts of the Inflation Reduction Act," Chelsea Hodgkins, Oxfam America's climate policy adviser, said in mid-December. "Sen. Manchin's proposal would do nothing to address the real barriers to renewable energy development, which include fully resourcing underfunded agencies and investing in community-supported renewable systems."
Manchin and Westerman's meeting came after Politicoreported Tuesday that Sen. Shelley Moore Capito (R-W.Va.), who supported including the dirty deal in a December military spending package, "is bullish about the prospects of passing a bill to ease permitting rules now that the House is in GOP hands."
Capito, who will again serve as ranking member of the Senate Environment and Public Works (EPW) Committee, told Politico that "permitting—it's a very important aspect of energy development and we have a big role in that at EPW. One of the reasons it failed [last year] is because it didn't go through the committee process. I would love to see us try to work through a committee process that can be successful in the end."
"I'm certainly going to be pressing and we're going to be having meetings with our House colleagues on this very issue," Capito said during a Thursday press briefing. "We'll look and see what the House comes up with and see if it's something I think we can get good compromises on."
"Finding reasonable compromise to permit pipelines and power lines and other things is important to both sides," added Capito—who, like Manchin, wants to see the controversial and long-delayed Mountain Valley Pipeline completed. "If you want more renewable, you can't do it without transmission. If you want more natural gas, like I do, you can't do it without pipelines."
E&E News reported that House Republicans now plan "to use, as a starting point, legislation introduced in previous sessions of Congress by Rep. Garret Graves (R-La.), known as the 'Builder Act,' which would achieve the main goals of speeding up permits for energy projects by making changes to the National Environmental Policy Act," or NEPA—which is expected to anger Democrats.
Asked by the outlet whether he would accept changes to NEPA as part of a deal, Rep. Raúl Grijalva (D-Ariz.), the ranking member of the House Natural Resources Committee—who, as the panel's chair last year, led Democratic opposition to Manchin's legislation—said, "No."
Amid discussion on Capitol Hill this week, the Bulletin of the Atomic Scientists asked six experts to weigh in on permitting reform. Associate editor Jessica McKenzie summarized their arguments in a series of tweets:
"Reform advocates rightly emphasize the need for rapidly constructing wind, solar, geothermal, energy storage, and transmission," wrote Dustin Mulvaney, a professor in the Environmental Studies Department at San José State University and fellow with the Payne Institute for Public Policy at the Colorado School of Mines.
"The problem is that streamlining environmental rules and regulations could have the opposite effect, unless the 'streamlining' is achieved via planning processes that include stakeholder feedback," he stressed. "More important, permitting reform as proposed in recent legislation would undermine effective tools used to protect air, water, and climate from the most damaging new infrastructure under consideration—namely oil, gas, and tar sands pipelines."

News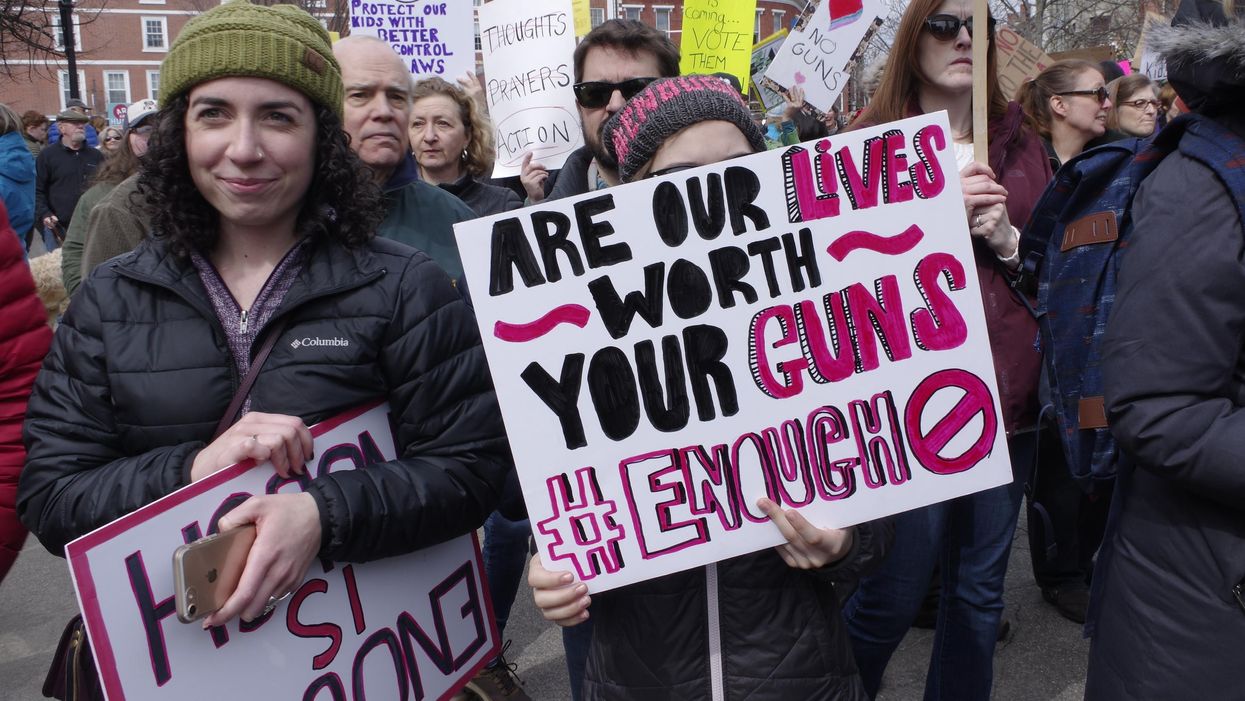 "There is no real doubt that the 5th Circuit's decision is going to lead to more abusers murdering their wives and girlfriends," said one gun control advocate. "It will also increase mass shootings."
The right-wing 5th U.S. Circuit Court of Appeals on Thursday struck down a federal law barring people with domestic violence restraining orders from owning firearms, a ruling that gun control advocates said will cost lives.
A three-judge panel of the New Orleans-based appellate court said in its decision that the overturned law is an unconstitutional impediment to the right to bear arms. The judges based their ruling on New York State Rifle & Pistol Association v. Bruen, a June 2022 U.S. Supreme Court decision that struck down that state's limits on carrying concealed guns in public.

The judges—who were all appointed by Republican presidents—wrote that under Bruen, the law prohibiting people with domestic violence restraining orders from owning guns "fails to pass constitutional muster," and that the ban is an outlier "that our ancestors never would have accepted."

Responding to the ruling, Shannon Watts, founder of the gun control advocacy group Moms Demand Action, tweeted, "Given that domestic violence is often a precursor to gun violence, this ruling is a death sentence for women and families in the U.S."

\u201cI can feel my blood pressure rising with each paragraph of this Fifth Circuit opinion\n\nIt concludes that 'our ancestors would have never accepted' banning perpetrators of domestic violence from possessing guns\n\nTwo quick questions: whose ancestors and why should I care?\u201d

— Barred and Boujee (@Barred and Boujee) 1675369956
"When someone is able to secure a restraining order, we must do everything possible to keep them and their families safe—not empower the abuser with easy access to firearms," Watts added. "This dangerous and deadly ruling cannot stand and must quickly be overturned."

Slate senior writer Mark Joseph Stern warned via Twitter that "there is no real doubt that the 5th Circuit's decision is going to lead to more abusers murdering their wives and girlfriends. It will also increase mass shootings."

Stern noted that the U.S. Supreme Court "held that gun restrictions are only constitutional if they have historical analogs from 1791 or 1868. But domestic violence was widely accepted in those eras. So, the 5th Circuit says, the government can't disarm alleged domestic abusers today."

\u201cThe Dobbs decision overturning Roe was an act of violence against women. The 5th Circuit ruling that domestic abusers can keep their guns - also likely headed to SCOTUS - is another one.\nHow many times does it need to be made plain that Republican HATE women?\u201d

— Laura Chapin (@Laura Chapin) 1675374618
"To be clear—the reason there weren't laws disarming domestic abusers in 1791 or 1868 is because women were not equal citizens and domestic violence was not deemed a criminal offense by the men who made and enforced the laws," Stern added.
According to the National Coalition Against Domestic Violence, the presence of a firearm in a domestic violence situation increases the risk of homicide by 500%. Each year, more than 600 U.S. women are shot to death by their intimate partners. That's one killing every 14 hours.

News
"Enacting an ideological agenda driven by ignorance and prejudice, instead of science and compassion, is not the way forward."
Civil rights advocates on Thursday sharpened their focus on the Republican-controlled Oklahoma Legislature as lawmakers prepare to convene on February 6, beginning a session during which they're set to consider no fewer than 15 proposals attacking transgender people's right to obtain healthcare.
The state is at the forefront of a nationwide assault on transgender rights, with lawmakers planning to bring up for debate bills including the so-called Save Adolescents from Experimentation Act (S.B. 878), which would prohibit gender-affirming healthcare for adolescents; the Millstone Act of 2023 (S.B. 129), which would expand that proposed ban to transgender people up to age 26; and S.B. 250, which would threaten providers who accept Medicaid with a loss of reimbursement funds if they provide gender-affirming care.

According to the ACLU, Oklahoma currently has the most proposals to restrict healthcare for transgender people. Texas Republicans have put forward 10, and the Indiana Legislature has advanced nine.
The ACLU, Lambda Legal, and the ACLU of Oklahoma released a joint statement Thursday promising "swift legal action" if any of the legislation is passed.
\u201cTogether with @ACLU & @ACLUOK, Lambda Legal is prepared and committed to take legal action against any proposed restrictions on gender-affirming care for transgender Oklahomans. \n\nRead our full statement \u2b07\ufe0f \n\nhttps://t.co/BSzJubHK3d\u201d

— Lambda Legal (@Lambda Legal) 1675355382
"Access to healthcare is a human right, and our Constitution promises every person the right to be free from unwarranted governmental intrusion into their lives," said Omar Gonzalez-Pagan, counsel and healthcare strategist at Lambda Legal. "Targeting some of our most vulnerable youth—transgender young people who need love, support, and access to the medical care they need—for discrimination is wrong and dangerous. Enacting an ideological agenda driven by ignorance and prejudice, instead of science and compassion, is not the way forward."
"We will not hesitate to defend transgender Oklahomans' rights to equality, liberty, and nondiscriminatory access to the healthcare they need," Gonzalez-Pagan added.

As Common Dreamsreported last month, transgender rights advocates were alarmed when the Millstone Act was introduced, marking the "startling new evolution" of anti-LGBTQ+ legislation as it waged an attack on the rights of transgender adults as well as adolescents—against long-standing guidance from theAmerican Medical Association, theAmerican Psychiatric Association, and theAmerican Academy of Pediatrics.
"Gender-affirming care is lifesaving," said Harper Seldin, staff attorney at the ACLU's LGBTQ and HIV Project. "Every major medical association opposes bans on gender-affirming care, and these bills will push medical providers out of Oklahoma, which is already facing a shortage of doctors. These proposed bans do not protect anyone in Oklahoma... Oklahoma legislators have no business telling parents that they cannot seek lifesaving care for their transgender children, or stopping adults from accessing safe and effective care for themselves, just because they are transgender."

Last week Utah became the latest state to bar transgender adolescents from accessing gender-affirming healthcare. Arizona, Alabama, and Arkansas have also passed such bans into law, but a federal judge temporarily blocked Arkansas' law in 2021.
News
SUPPORT OUR WORK.
We are independent, non-profit, advertising-free and 100%
reader supported.