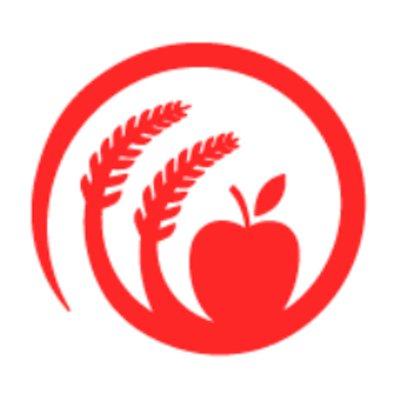 Groups Call for Halt to Open Air Field Trials of Genetically Engineered Moths
Inadequate regulation of GE insects poses threat to wildlife, farmers, and consumers
WASHINGTON
Today, U.S. advocacy groups Center for Food Safety, Food and Water Watch, and Friends of the Earth U.S., along with the Northeastern Organic Farming Association of New York, called for a halt to open field trials of genetically engineered (GE) diamondback moths at Cornell University. The initial trials have been in enclosed screened cages, but are expected to move to open trials early this spring. The groups cite numerous unaccounted for risks, including impacts to non-target species, contamination of crops, and unknown evolutionary changes. The urgent call comes in advance of a multi-agency (USDA, EPA,FDA) public comment period on the coordinated framework for regulation of biotechnology, the three decade old executive branch policy document meant to help describe various agencies' regulation of GE organisms. The UK-based group GeneWatch has also just released a report detailing concerns around the GE moth.
"This field trial is moving forward with little to no assessment of the real world risks it presents. Once these GE moths are out in the wild, there is no turning back. Every possible scenario needs to be accounted for. Until federal agencies have implemented rigorous regulations around GE insects, this GE moth trial should be halted," said Jaydee Hanson, senior policy analyst at Center for Food Safety.
"NOFA-NY is seriously concerned about unintended impacts of the release of these insects on New York's significant brassica industry, both conventional and organic. As leading producers of cabbage, broccoli, and cauliflower, New York farmers need to understand what will happen when [hundreds of] thousands of Diamondback moths are released weekly during these trials," said Anne Ruflin, executive director for Northeast Organic Farming Association of New York.
"Introducing GE diamondback moths into U.S. agriculture could put the organic label at risk and undermine consumer trust and the livelihoods of organic farmers," said Food & Water Watch executive director, Wenonah Hauter. "Unleashing millions of barely tested moths into New York without sufficient controls is an unnecessary threat to farmers, health and the environment."
"The USDA and Cornell University have moved forward with this trial despite numerous uncertainties in protocol and questions about safety," said Dana Perls, food and technology policy campaigner at Friends of the Earth U.S. "There is no need to meddle with moths in New York when there are plenty of non-toxic and organic alternatives to manage these secondary pests."
The mechanism for these GE moths to control population levels is for female offspring to die in the larval stage, and for males to continue to reproduce until there are no longer females in the population. The larval moths will die on plants, including crops such as broccoli and cabbage. In its assessment, the USDA failed to recognize that if farms near the field trial sites happen to be certified organic or non-GE, their markets could be lost if these larval stage GE moths were present because genetic engineering, even for pest control, is unacceptable.
Additional concerns around the release of GE moths in New York range; they include:
- Impacts on non-target species that might eat the larvae, including birds and other insects, as well as farmworkers and consumers that may come to ingest them through contact with crops;
- Development of antibiotic resistant bacteria in the environment and food chain resulting from the use of a tetracycline antibiotic to breed the GE moths;
- Economic and agronomic challenges, for both conventional and organic farmers, to grow certain crops due to large releases of the moth;
= The lack of appropriate bio-security measures to assure those who do not wish exposure to GE moths (farmers and consumers) are protected from contamination. Windblown moths can be dispersed hundreds/thousands of miles from where they emerge.
- The field trial may even involve the release of additional non-GE diamondback moths, the pest that the GE version is meant to control, as there may not be enough of the pests in New York State for the experiment to be performed. This could ultimately increase pest pressure for farmers.
Center for Food Safety's mission is to empower people, support farmers, and protect the earth from the harmful impacts of industrial agriculture. Through groundbreaking legal, scientific, and grassroots action, we protect and promote your right to safe food and the environment. CFS's successful legal cases collectively represent a landmark body of case law on food and agricultural issues.
(202) 547-9359
LATEST NEWS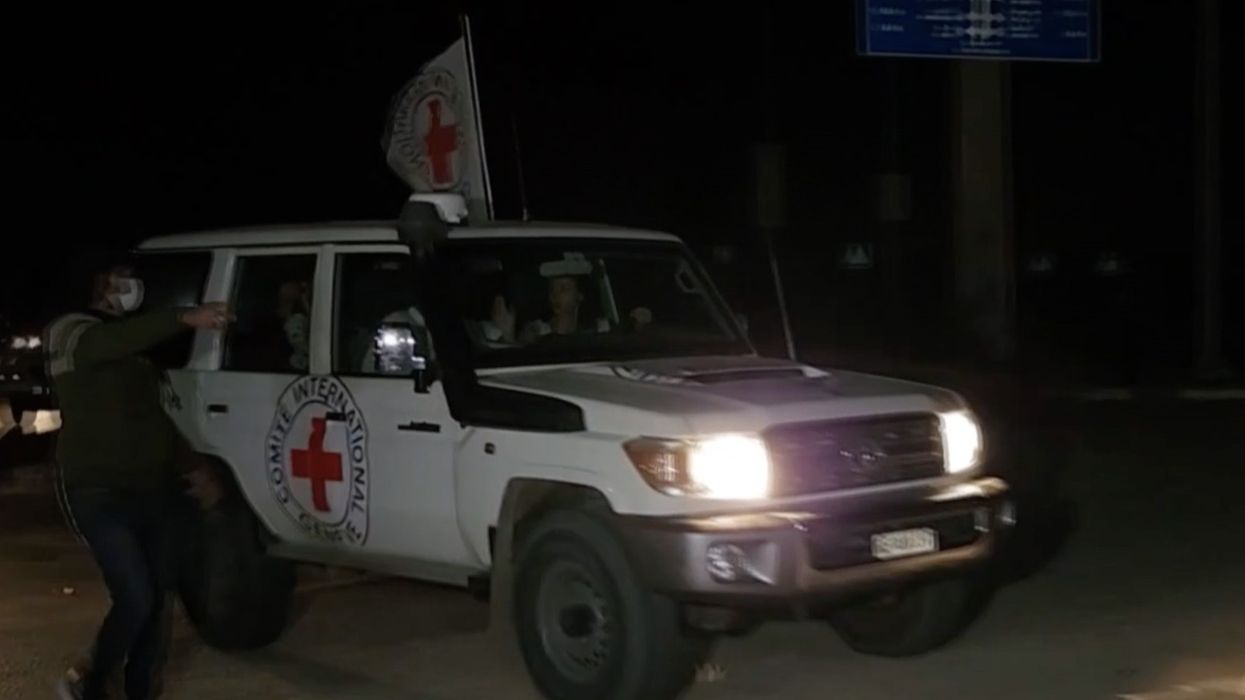 "After a delay, obstacles to release of prisoners were overcome through Qatari-Egyptian contacts with both sides," a Qatari spokesperson said.
Despite an initial delay, the second round of hostages were released by Hamas on Saturday night.
The group included 13 Israelis and four foreign nationals believed to be Thai, Middle East Eyereported. Israel also began to release 39 Palestinian prisoners in exchange as the second day of a four-day cease-fire concluded.
"After a delay, obstacles to release of prisoners were overcome through Qatari-Egyptian contacts with both sides," Majed Al Ansari, a spokesperson for Qatar's foreign ministry, tweeted, adding that the hostages were transferred to the International Committee of the Red Cross.
The Israeli military confirmed to The Associated Press that the hostages reached Israel after midnight local time. The hostages included seven children and six women, the office of Israeli Prime Minister Benjamin Netanyahu said. One of the hostages, a young girl named Emily Hand, was previously believed dead by her father.
The swap appeared to be in danger earlier in the day when Hamas said that Israel had not allowed enough aid to enter northern Gaza, which has taken the brunt of the Israeli military's force since October 7, when Hamas attacked Israel, killing 1,200 and taking around 240 hostages. Israel has since killed more than 14,800 Palestinians in Gaza in its response. The two sides have agreed to a four-day cease-fire beginning Friday that will see a total of 50 Hamas-held hostages and 150 Israeli-held Palestinians released.
In explaining the delay, Hamas also said that Israel had not released enough long-serving prisoners.
"Civilians should not be pawns in a deadly standoff between warring parties who flout basic principles of humanity."
"This is putting the deal in danger," said Osama Hamdan, a senior Hamas official in Beirut, as AP reported.
Sari Bashi, the program director of Human Rights Watch, criticized both sides for the delay.
"Hamas is obligated to release hostages, whether or not aid enters Gaza," Bashi tweeted. "The Israeli government is obligated to supply Gaza with aid, whether or not hostages are released. Civilians should not be pawns in a deadly standoff between warring parties who flout basic principles of humanity."
However, Egypt, Qatar, and Hamas later said everything had been resolved and the exchange would go forward, according to AP, sparking great relief from the hostages' friends and families.
"I was very nervous when I heard about the delay. I thought something would happen," Zohar, a classmate of 18-year-old Israeli hostage Noga Weiss, told Channel 13 TV, as AP reported. "It was a great relief when I saw her."
Egypt had also said earlier in the day that it had received "positive signals" from both sides about a possible extension of the cease-fire, Reuters reported. Netanyahu had previously said the pause would extend one day for every extra 10 hostages that Hamas releases.
Hamas said it expected Israel to release six women and 33 teenage boys on the second day of exchanges, AP reported.
One of the prisoners released Saturday was Shorouq Dwayyat, the Palestinian woman who had been held in an Israeli jail the longest, Middle East Eye reported. Dwayyat was first arrested eight years ago when she was 18. Israel claimed she stabbed a settler, which her family denies.
"We send a message to our people in Gaza that we stand by your side and support you," Duwiyat said upon returning home, as AP reported.
Another woman released by Israel was Israa Jaabis, who was arrested in 2015 with burns covering half her body, according to Middle East Eye. Jaabis' family said that she was burned when a defective cylinder of cooking gas ignited near a checkpoint, while Israel accused her of attempting a bombing. Israeli forces raided Jaabis' home ahead of her release, forcing any journalists or distant relatives to leave.
Police also raided the home of Marah Bkeer before her release Friday, Reuters reported.
"There is no real joy, even this little joy we feel as we wait," her monther, Sawsan Bkeer, told reporters. "We are still afraid to feel happy."
Dwayyat told reporters that Israel had threatened to re-arrest the released prisoners if they celebrated, according to Middle East Eye.
News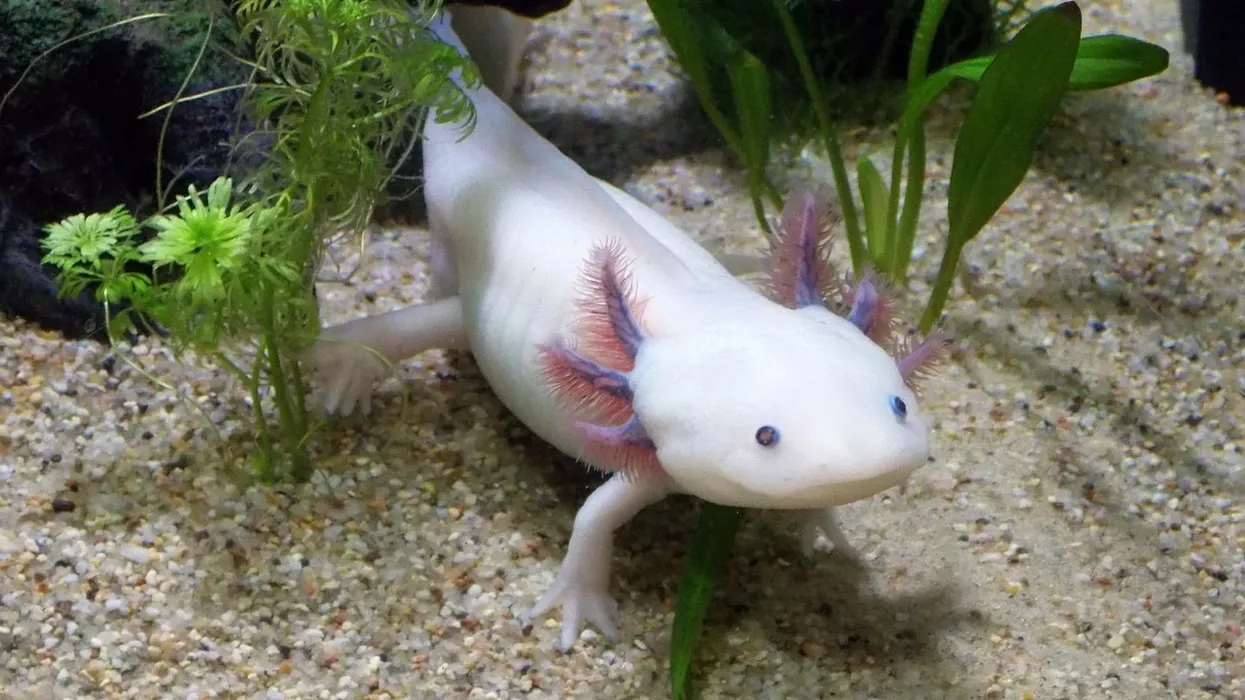 The Adoptaxolotl 2024 campaign invites donors to adopt a threatened salamander for around 600 pesos, or $35.
Ecologists in Mexico relaunched a campaign Thursday to protect the axolotl, an iconic Mexican underwater salamander threatened with extinction.
The Adoptaxolotl 2024 campaign invites donors to adopt a threatened salamander for around 600 pesos, or $35, The Associated Press reported. A virtual adoption comes with regular updates on the amphibian's well-being. Axolotl lovers can also buy one of the salamanders a dinner or purchase axolotl-themed t-shirts, bandannas, and mugs.
"The axolotl is at critical risk of extinction," Luis Zambrano González, who works at the Biology Institute of Mexico's National Autonomous University (UNAM), told the UNAM Gazette. "For this reason we need to understand its conservation as something that all of society is responsible for, to care for its habitat and develop strategies to allow people to relate more to these animals."
"Thanks to these surveys we realized that the amphibian is on the edge of extinction, and if we don't do something we will soon lose it in the wild."
There are 18 different species of axolotls in Mexico, and nearly all of them are considered critically endangered, according to AP. The salamander is famous for its unique appearance, as well as its ability to grow back severed limbs. Scientists believe that studying the axolotls' ability may help them to repair tissue damage or aid in cancer recovery, but they will have to work fast to uncover their secrets.
Zambrano told the UNAM Gazette that axolotl numbers had rapidly declined in surveys: from 6,000 per square kilometer in 1998 to 36 in 2014, a decline of 99.5% in less than two decades.
"Thanks to these surveys we realized that the amphibian is on the edge of extinction, and if we don't do something we will soon lose it in the wild," Zambrano said.
The campaign, which is organized by UNAM scientists, raised more than 450,000 pesos, or $26,300, last year to launch a captive breeding program and to restore habitat in the ancient canals of the southern Mexico City district of Xochimilco, according to AP.
The scientists said that the salamanders in Xochimilco were in danger because their habitat was menaced by urbanization, pollution, and invasive species, the UNAM Gazette reported.
"There is no more time for Xochimilco," Zambrano told AP.
So far, researchers have restored 40 floating islands and 5.5 kilometers of canal, created 36 biodiversity refuges, and installed 71 filters to improve water quality, the UNAM Gazette reported.
Axolotls are also susceptible to the chrytid fungus behind mass amphibian deaths worldwide, according to AP.
Scientists say more research is needed to truly know the extent of the damage to the axolotls' habitat and the risk to the all of the species.
Alejandro Calzada, who works for the Mexican government monitoring less popular species of axolotl, told AP that his team of nine is not able to monitor all the streams in Mexico City or the country as a whole.
"What I know is that we have to work urgently," Calzada said.
News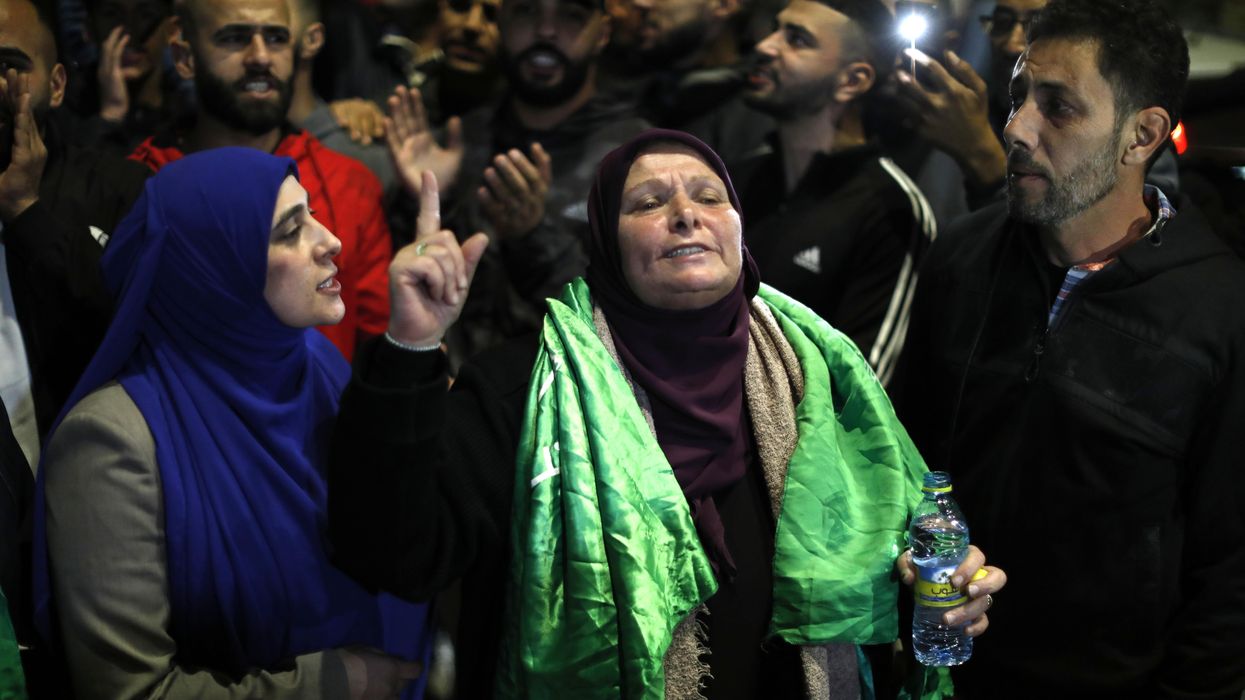 The exchange came on the first day of a Qatari-brokered four-day cease-fire that is slated to see at least 50 Israeli hostages exchanged for at least 150 Palestinian women and children held in Israel.
The first 24 Israeli hostages held by Hamas in Gaza were released Friday evening in exchange for 39 Palestinian women and children held in Israeli prisons.
The exchange came on the first day of a Qatari-brokered four-day cease-fire that is slated to see at least 50 Israeli hostages exchanged for at least 150 Palestinian women and children held in Israel. The office of Israeli Prime Minister Benjamin Netanyahu has said that the pause would be extended a day for every additional 10 hostages released.
"It's a sign of hope for Palestinians and Israelis that the cease-fire will continue and the killing will stop," Mohammed Khatib, who watched the release of the first Palestinian prisoners Friday, toldBBC News.
"I'm very happy of course, but I feel devastated by how that deal was reached… at the cost of our brothers' and sisters' lives in Gaza."
The pause in the fighting has also allowed much needed aid trucks to enter Gaza. The United Nations Office for the Coordination of Humanitarian Affairs (OCHA) said that 200 aid trucks were sent from Israel Friday, of which 137 were unloaded by the U.N. Relief and Works Agency for Palestinian Refugees in the Near East, U.N. Newsreported. It's the largest convey of aid to enter Gaza since Israel's bombardment began October 7.
"Hundreds of thousands of people were assisted with food, water, medical supplies and other essential humanitarian items," OCHA said.
Four trucks full of gas and 129,000 liters of fuel also arrived in Gaza Friday.
However, Hamas has reportedly delayed the release of more hostages Saturday because it says Israel is not allowing aid to enter northern Gaza, Al Jazeera reported. The group said Israel had also violated the terms of the cease-fire by shooting tear gas and live ammunition at people who attempted to return to their homes in northern Gaza and by flying surveillance drones high over Gaza Saturday.
Hamas took around 240 hostages—both Israelis and foreign nationals—into Gaza during its October 7 attack on Israel that also killed around 1,200 people. On Friday, the group released 13 Israelis, including an 85-year-old woman and children as young as 2, as well as 10 Thai nationals and one person from the Philippines, The Guardian reported.
"Each of them is an entire world," Netanyahu said in response to the first release. "But I emphasize… we are committed to returning all the hostages. This is one of the aims of the war and we are committed to achieving all the aims of the war."
The families of the Thai hostages celebrated their return.
"We are all very happy. Everybody is crying," Rungarun Wichangern, the brother of 33-year-old Vetoon Phoome who was released Friday, toldThe Guardian.
Phoome, who was working on a potato and pomegranate farm near Gaza when he was captured, was one of 30,000 Thai nationals working in the agricultural sector in Israel before the war, and one of around 5,000 employed at farms near Gaza. The Thai government said that 20 more Thai nationals were still being held in Gaza.
The one Philippines hostage released was 33-year-old Gelienor "Jimmy" Pacheco, who had been working as a carer in Gaza. Philippine President Ferdinand Marcos said on social media that he was "overjoyed" by Pacheco's release, and that he was safely at the Thai embassy in Israel.
"I salute the work of the Philippine Foreign Service in securing his release, and once again thank the State of Qatar for their invaluable assistance in making Jimmy's release possible," Marcos said.
Another Philippine woman, Noralyn Babadilla, remains missing.
Meanwhile, jubilant crowds turned out in the West Bank to welcome the first Palestinian prisoners released from Israeli custody, according to BBC News. The group included 24 women and 15 teenage boys. They had been arrested for offenses ranging from stone throwing to attempted murder. While some had been convicted, others were awaiting trial. Of a total of 300 Palestinian women and children marked by Israel for potential release, less than 25% have been convicted.
Israel holds around 8,000 Palestinians in its prisons, 3,000 of whom were detained since the October 7 attacks, Al Jazeera reported. Nearly every family in the West Bank has had a relative detained at one point, according to BBC News.
The NGO Palestinian Prisoners' Club said that Israel had told the families of released prisoners that they could be fined around 70,000 shekels ($18,740) for sharing sweets to celebrate their loved ones' return, speaking to reporters, or having guests over.
One of the Palestinian prisoners released was 24-year-old Marah Bakeer, who was 16 when she was arrested for allegedly attempting to stab an Israeli soldier, something she and her family deny. Israeli forces shot her in the arm and hand 12 times before her arrest.
"I'm very happy of course, but I feel devastated by how that deal was reached… at the cost of our brothers' and sisters' lives in Gaza," Bakeer said.
The Israeli attack on Gaza has killed more than 14,800 people, around 10,000 of them women and children. This means Israel has killed women and children at a rate that outstrips the deadliest conflicts of the 21st century, The New York Times reported Saturday. More than double the number of women and children have been killed in Gaza in nearly two months of fighting than have been reported killed in Ukraine in two years. Using women and children as a conservative stand-in for overall civilian deaths would mean more civilians have died during these two months than were killed by U.S. forces in the first year of the Iraq War, and nearly as many as the 12,400 estimated killed by the U.S. and its allies during nearly two decades of war in Afghanistan.
"It's beyond anything that I've seen in my career," Marc Garlasco, a former Pentagon senior intelligence analyst who now advises the Dutch organization PAX, told the Times, adding that, for a comparison, one may "have to go back to Vietnam, or the Second World War."
The bombardment has also destroyed or damaged more than 60,000 buildings, and some Gazans used the pause in the fighting to return to their homes and survey the damage.
"Our home is destroyed, nothing remains standing. And most of the ducks and chickens were eaten by hungry street dogs," one older woman toldAl Jazeera. "This is not a war; it is a genocide."
News