For Immediate Release
December, 12 2012, 10:40am EDT
Latino Leaders Announce Civic Engagement Campaign to Win Comprehensive Immigration Reform in 2013
Groups Pledge to Hold Congress Accountable
WASHINGTON
A new campaign to win congressional enactment of comprehensive immigration reform in 2013 was announced Wednesday by leaders of national Latino civil rights and labor organizations. The groups issued a joint statement calling on President Obama and Congress to act immediately on reforms that will help the economy, workers, and families. Robust civic engagement and congressional accountability campaigns will be waged throughout next year, with report cards on Congress' performance to be issued before the 2014 election. The campaign follows the 2012 election in which a record 12.5 million Latinos voted.
Issuing the joint statement were Janet Murguia, National President and CEO of National Council of La Raza; Eliseo Medina, International Secretary-Treasurer of Service Employees International Union; Brent A. Wilkes, National Executive Director of the League of United Latin American Citizens; Ben Monterroso, National Executive Director of Mi Familia Vota; Maria Teresa Kumar, CEO/President of Voto Latino; Hector Sanchez, Executive Director, Labor Council for Latin American Advancement; Chris Espinosa, National Director of Advocacy of Hispanic Federation; : Max Sevillia, Director of Policy and Legislative Affairs of NALEO Educational Fund. The statement follows:
STATEMENT BY NATIONAL LATINO LEADERS
December 12, 2012
Latino civil rights, community and labor organizations are here to announce our unqualified support for comprehensive immigration reform. We believe our nation's voters sent a clear message to our elected leaders that they expect action on the outstanding issues facing our country, including immigration reform. It is time to fix a broken immigration system that serves no one well -- not business or the economy, not immigrants and our communities. We must seize the moment to finally fix this problem that has eluded us for a generation and that has created so much division and heartache in our nation. The time to act is now.
We fully expect that President Obama will move aggressively on reform early next year, and we call on the House and Senate leadership to bring comprehensive immigration reform to their chambers for action. The president and Congress are at a unique moment in history that commands their leadership on comprehensive immigration reform that comports with our national values and with the will of the voters.
Comprehensive immigration reform must include a clear roadmap to citizenship for hard working, taxpaying immigrants; a system that builds the strength and unity of working people; keeps families together; guarantees the same rights, obligations, basic fairness for all workers, no matter where they come from; and internal and border law enforcement regimen that focuses on preventing criminals, drug cartels and other bad actors from entering the U.S. or engaging in criminal activities.
We are cognizant that a positive, legislative outcome depends on an engaged and informed citizenry. The Latino community and immigrants need access to timely information on congressional action or lack thereof; on citizenship programs and voter registration. Our organizations will continue providing that information and assistance through our successful civic engagement programs.
Our voter education campaigns will monitor the performance of Congress as it debates comprehensive immigration reform. Members of Congress will be rated on how aggressively they championed comprehensive immigration reform or whether they tried to block it. With these report cards, Latinos will be able to determine who deserves their support in the 2014 election cycle.
During the recent election, 12.5 million Latino voters demonstrated their commitment to the electoral process. The Latino voter engagement remains strong and will only continue to grow at or beyond the voter participation rates of recent years. Our organizations will work to ensure that the growth of the Latino vote endures and remains a vital part of our democracy.
We are also deeply concerned about the current debate about taxes and the federal budget. Remember that the Latino community wants to make sure that the economy works for everybody, not just the wealthy. It's time for Congress to come to a fair solution that does not burden the middle class, so that it can deal with other important issues like immigration reform.
Voters have long favored a common sense comprehensive immigration reform that greatly benefits our economy and keeps families together. Congress must pass a bill that the president can sign. Do what's right for our country, for workers and for families.
With 2 million members in Canada, the United States and Puerto Rico, SEIU is the fastest-growing union in the Americas. Focused on uniting workers in healthcare, public services and property services, SEIU members are winning better wages, healthcare and more secure jobs for our communities, while uniting their strength with their counterparts around the world to help ensure that workers--not just corporations and CEOs--benefit from today's global economy.
LATEST NEWS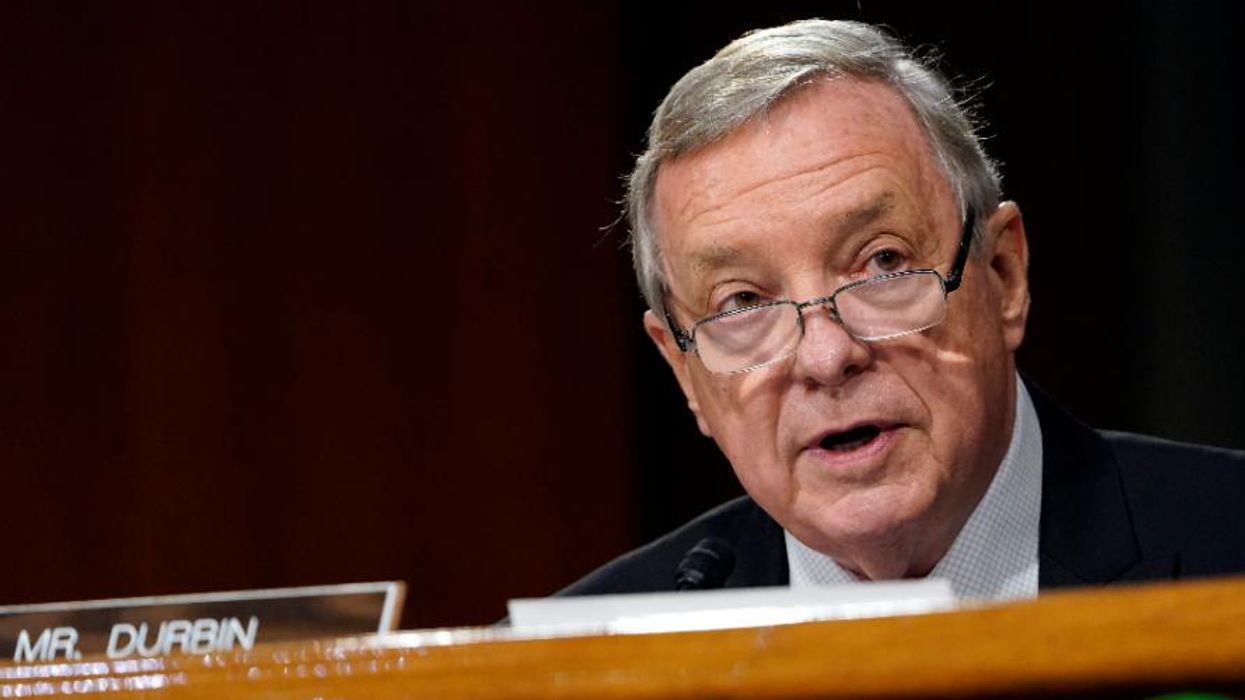 "Senate Democrats should eliminate every barrier possible" to confirm President Joe Biden's judicial nominees, said Indivisible.
With Democrats hoping to confirm dozens more federal judges following President Joe Biden's milestone of appointing 100 new members of the judiciary, progressives on Friday said the party has no choice but to eliminate a tradition they say has been exploited by Republicans to block the president's nominees.
Advocacy group Alliance for Justice said Democratic leaders, particularly Senate Judiciary Committee Chair Dick Durbin (D-Ill.) must make a choice: They can "transform our federal courts by confirming so many more judges with a respect for the rights of all of us," or they can allow Republicans to continue the tradition of using so-called "blue slips" to reject nominees.
The Senate "can't do both," said the group.

Under the blue slip practice, which is not an official Senate rule, senators can unilaterally block federal district court judge nominees from being considered by the committee if the nominee is from their home state. Only if they submit a "blue slip" for the judge can the nomination proceed.
Prior to last year's midterm elections, Durbin said the party has "made it work" and would continue to abide by the blue slip tradition, but earlier this month he said he will no longer honor the withholding of a blue slip if he believes it "discriminates because of race, gender, or sexual discrimination."
Republicans including Sens. Lindsey Graham (R-S.C.) and Marsha Blackburn (R-Tenn.) have protested, with the latter claiming the practice is "essential to the Senate's constitutional obligation to provide advice and consent."
But as NBC News reported this week, Durbin noted Republicans have made clear that they're intentionally using the tradition to block Biden's nominees, submitting only 12 blue slips since Biden took office, compared to the 120 Democrats submitted under the Trump administration.
Also under former President Donald Trump, Republicans in control of the Judiciary Committee at the time did away with the use of blue slips for circuit nominees and as a result rapidly confirmed 54 judges to the circuit court.
Demand Justice noted that under the Obama administration, Republicans blocked 17 judicial nominees using the practice.
\u201cDuring the Obama presidency, Republicans abused blue slips to block a diverse group of 17 highly qualified judicial nominees.\n\nChair Durbin needs to reform the blue slip to keep the same from happening during the Biden presidency.\u201d

— Demand Justice (@Demand Justice) 1677180513
American Constitution Society President Russ Feingold, a former Democratic senator,
told
NBC News
the Democrats "would be chumps to not get rid of [blue slips] for this Congress, in order to allow them some opportunity to make up for the very aggressive tactics used by Republicans over the prior four years."
"When Republicans had the advantage, they just didn't hesitate to eliminate blue slips for the courts of appeals, which are an even higher court," he said.
Senate Majority Leader Chuck Schumer (D-N.Y.) has said he wants his party to top the 234 federal judges the Republicans confirmed in four years. There are currently 72 district court vacancies and nine open seats on appeals courts.
To secure judicial seats, said Meagan Hatcher-Mays, director of democracy policy for Indivisible, Democrats must "be for real" and recognize that the question of whether to continue to allow blue slips is "existential."
"Republicans have used [blue slips] to successfully keep seats open on the federal bench in their states, not because they have an objection to Biden's nominees on the merits, but because they want to hold seats open in the hopes that a future MAGA president will install even more anti-abortion, anti-democracy federal judges instead," said Hatcher-Mays.
"President Biden's judicial nominees have been exceptional and among his signature achievements throughout his presidency," she added. "Senate Democrats should eliminate every barrier possible to continue to confirm his nominees at a historic pace, including getting rid of blue slips."
News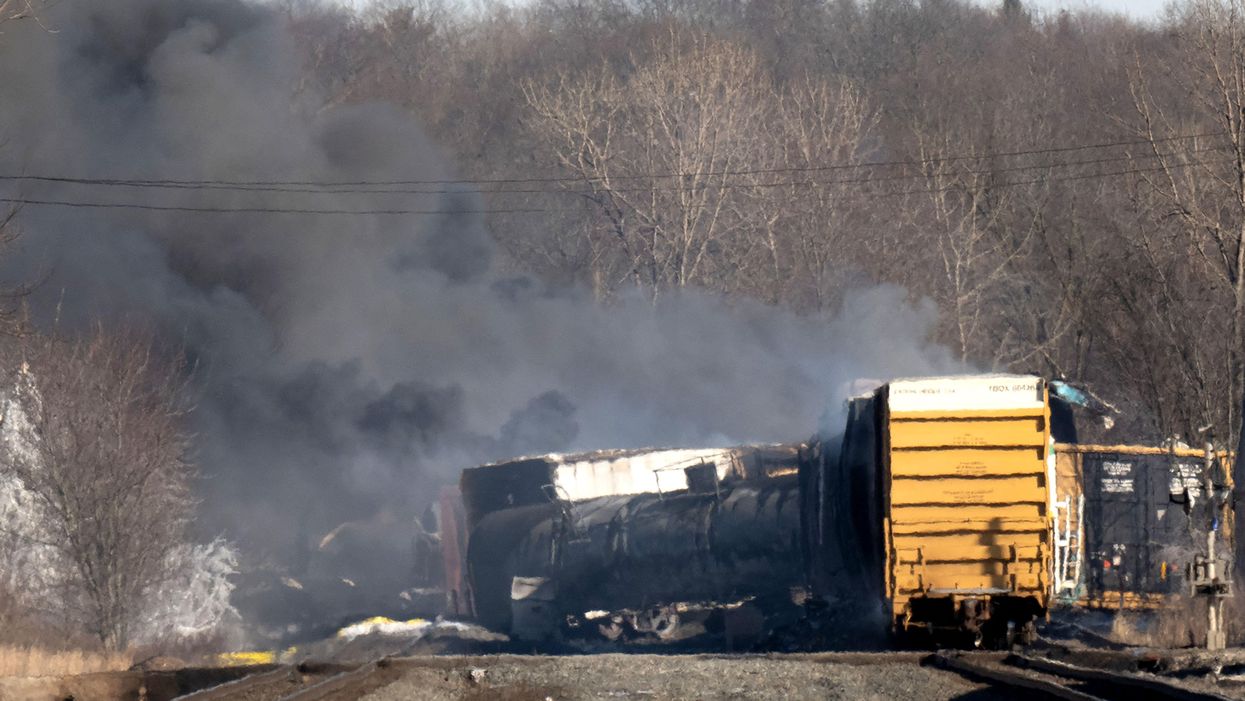 "We demand that the railroad be run safely, efficiently, and professionally, and not as some 'cash cow' for Wall Street investors and billionaires," said one union leader. "Much of what is wrong with the rail industry today can be fixed easily and quickly."
Three weeks after the lives of East Palestine, Ohio residents were upended by a fiery wreck involving a Norfolk Southern-owned train overloaded with hazardous materials, rail union leaders on Friday implored federal regulators and lawmakers to "focus on the primary reasons for the derailment and take immediate action to prevent future disasters."
In a statement, Railroad Workers United (RWU) pointed to the National Transportation Safety Board's (NTSB) newly published preliminary report on the February 3 crash and subsequent burnoff of vinyl chloride and other carcinogenic chemicals, which suggests that an overheated wheel bearing likely caused the train to derail. The inter-union alliance of rail workers also cited NTSB Chair Jennifer Homendy, who said Thursday at a press conference: "This was 100% preventable. We call things accidents—there is no accident. Every single event that we investigate is preventable."
RWU, which has previously highlighted how industry-led deregulation and Wall Street-backed policies such as "precision-scheduled railroading" have made the U.S. rail system more dangerous, said Friday that "Class 1 freight rail carriers, including Norfolk Southern, have prioritized profits over safety, cutting maintenance, equipment inspections, and personnel in all crafts while increasing the average train size to three miles or more."
In the words of RWU co-chair Gabe Christenson: "Railroad workers experience firsthand every day the dangers inherent in this style of railroading. It has impacted their safety and health, state of mind, and lives on and off the job."
"Limits on train lengths and weights are necessary to prevent catastrophic derailments."
Jason Doering, general secretary of RWU, echoed Christenson's message, saying: "Every day we go to work, we have serious concerns about preventing accidents like the one that occurred in Ohio. As locomotive engineers, conductors, signal maintainers, car inspectors, track workers, dispatchers, machinists, and electricians, we experience the reality that our jobs are becoming increasingly dangerous due to insufficient staffing, inadequate maintenance, and a lack of oversight and inspection."
"We recognize," Doering added, "that limits on train lengths and weights are necessary to prevent catastrophic derailments."
One week ago, RWU made the case for nationalization, arguing that the U.S. "can no longer afford private ownership of the railroads; the general welfare demands that they be brought under public ownership."
In the absence of such sweeping transformation, which remains far-off given the current state of the beleaguered U.S. labor movement, the alliance on Friday demanded that federal agencies and Congress move quickly to "rein in" Norfolk Southern and other profit-maximizing rail corporations that have fought regulations, laid off workers, and purchased billions of dollars in stock rather than investing in employees and safety upgrades.
Specifically, RWU called on regulators and lawmakers to:
Ensure sufficient staffing to do the job properly, efficiently, and safely, with all trains operating with a minimum of a two-person crew;
Cap train length and weight at a reasonable level to mitigate the increased likelihood of breakdowns, train separations, and derailments;
Implement adequate and proper maintenance and inspections of locomotives and rail cars, tracks and signals, wayside detectors, and other infrastructure; and
Standardize ample training and time off without the harassment of draconian attendance policies.
Of these measures, only a proposed rule to require two-person crews—described by RWU as loophole-ridden—was included in the blueprint the U.S. Department of Transportation (DOT) unveiled Tuesday to hold rail companies accountable and protect the well-being of workers and fenceline communities.
The DOT also encouraged rail carriers to voluntarily provide sick leave. Norfolk Southern—facing intense scrutiny and backlash amid the ongoing East Palestine disaster—agreed Wednesday to provide up to a week of paid sick leave per year to roughly 3,000 track maintenance workers.
But because the Biden administration and Congress recently imposed a contract without paid sick leave on rail workers who were threatening to strike, the vast majority still lack this basic lifesaving benefit, as do millions of private sector workers in other industries who are also awaiting legislation to address the issue.
Characterizing the DOT's plan as inadequate, RWU said Tuesday that "rank-and-file railroad workers can diagnose and fix the problems" and urged U.S. Transportation Secretary Pete Buttigieg to enact "some of our solutions."
RWU treasurer Hugh Sawyer reiterated that call on Friday.
"We demand that the railroad be run safely, efficiently, and professionally, and not as some 'cash cow' for Wall Street investors and billionaires," said Sawyer. "Much of what is wrong with the rail industry today can be fixed easily and quickly by acting on what is outlined above. We demand action NOW."
News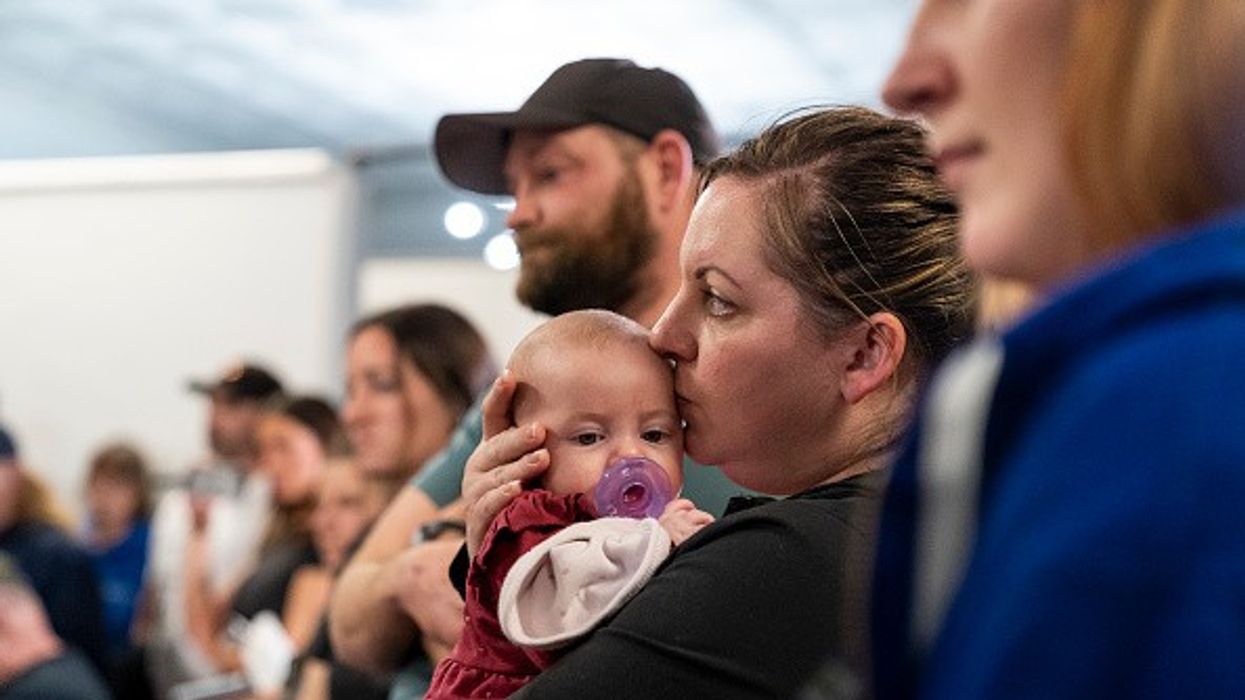 "Voters across party lines are in favor of increased safety measures," according to think tank Data for Progress.
Almost half of U.S. voters surveyed by progressive think tank Data for Progress blame rail company Norfolk Southern for the February 3 train derailment in East Palestine, Ohio which forced 1,500 residents to evacuate, contaminated soil and water, and has been blamed for causing a number of symptoms even as officials claim air and water monitoring hasn't shown dangerous levels of pollution.
Forty-nine percent of the 1,243 people surveyed by Data for Progress from February 17-22 said they believed Norfolk Southern was responsible for the crash, including 50% of Democrats, 52% of Independents, and 47% of Republicans.
Nineteen percent said they didn't know who to blame, while 10% blamed the U.S. Department of Transportation.
\u201cNEW POLL: After the train derailment in East Palestine, Ohio, voters blame train operator Norfolk Southern for the crash and strongly support requiring railroad companies to improve working conditions and upgrade their braking systems.\n\nhttps://t.co/JeTnZ1ugxl\u201d

— Data for Progress (@Data for Progress) 1677251896
The poll was taken as the National Transportation Safety Board (NTSB) released its preliminary assessment of the derailment of the train, which was carrying hazardous materials including vinyl chloride. As Common Dreamsreported Thursday, the report found the crash was likely caused by a wheel bearing failure due to overheating.
Eddie Hall, national president of the Brotherhood of Locomotive Engineers and Trainmen (BLET), pointed out after the report was released that rail companies have aggressively pushed to loosen safety regulations, spending "nearly a half billion dollars lobbying Congress" in the past two decades as they attempt to reduce train crews to just one person and pushed back as the Obama administration sought to require more modern braking systems on trains carrying hazardous materials.
Rail workers have also blamed major rail companies' use of Precision Scheduled Railroading (PSR), which requires train to run on strict schedules and cuts back on equipment and train crews, for the crash and others like it.
NTSB Chair Jennifer Homendy said Thursday the board is now examining Norfolk Southern's use of "wayside defect detectors," which did not alert the train crew quickly enough to the overheated wheel bearing, and said the board could issue safety recommendations to regulators or the rail company.
ProPublicareported on Wednesday that Norfolk Southern has at times instructed train crews "to ignore alerts from train track sensors designed to flag potential mechanical problems"—a policy union leaders say is "emblematic" of PSR. The NTSB did not suggest that was the case with the derailment in East Palestine.

Fifty-eight percent of respondents to the Data for Progress survey said they believe there are not enough safety regulations in place for railroad companies that transport hazardous material.
"Voters across party lines are in favor of increased safety measures, including 89% of voters who support setting higher standards for maintenance on railroads and strengthening safety regulations on railroad cars carrying explosive substances," reported the group. "Eighty-six percent of voters support placing limits on the length and weight of freight trains carrying hazardous materials."
The poll results were released as Rail Workers United (RWU), an inter-union caucus of rail workers, demanded that regulators and lawmakers take action to stop companies like Norfolk Southern from prioritizing speed and profits over safety.
"Every day we go to work, we have serious concerns about preventing accidents like the one that occurred in Ohio," RWU general secretary Jason Doering said. "As locomotive engineers, conductors, signal maintainers, car inspectors, track workers, dispatchers, machinists, and electricians, we experience the reality that our jobs are becoming increasingly dangerous due to insufficient staffing, inadequate maintenance, and a lack of oversight and inspection."
News
SUPPORT OUR WORK.
We are independent, non-profit, advertising-free and 100%
reader supported.