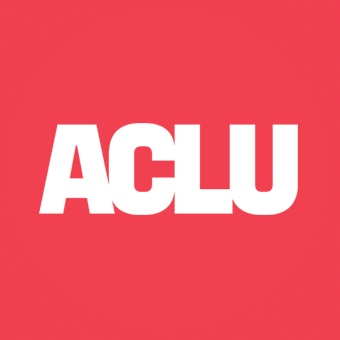 Gov. Brewer's Decision to Implement Arizona Medical Marijuana Law Will Provide Overdue Relief to Sick Patients, Says ACLU
Announcement Comes Days After Federal Judge Granted ACLU Request to Dismiss Lawsuit Challenging Prop. 203
WASHINGTON
Arizona Gov. Jan Brewer today said she will implement the state's voter-approved medical marijuana law, nine days after a federal judge granted a request by the American Civil Liberties Union to throw out a lawsuit filed by Brewer seeking to strike it down.
Arizona voters in 2010 passed Proposition 203, which allows seriously ill patients in Arizona to use marijuana as medicine with a doctor's recommendation. But implementation of the law had been stalled since May, when Brewer filed a lawsuit arguing that state officials fear federal prosecution for implementing the law, despite Arizona's former top federal prosecutor saying publicly the federal government "has no intention of targeting or going after people who are implementing or who are in compliance with state law."
"This is a great and long-overdue day for sick Arizonans who now have legal avenues available to them through which to obtain their vital medicine," said Ezekiel Edwards, director of the ACLU Criminal Law Reform Project. "Sick patients in Arizona should never have to needlessly suffer while being blocked from accessing the medicine their doctors believe is most effective for them."
Proposition 203 allows marijuana to be distributed by tightly regulated clinics to patients with state-issued registry cards and exempts from state prosecution not only seriously ill Arizonans but also their caregivers and a limited number of certified, non-profit medical marijuana dispensaries that will serve qualifying patients.
The American Civil Liberties Union was founded in 1920 and is our nation's guardian of liberty. The ACLU works in the courts, legislatures and communities to defend and preserve the individual rights and liberties guaranteed to all people in this country by the Constitution and laws of the United States.
(212) 549-2666
LATEST NEWS
"House Republicans are listening to their most extreme members on steps that could slow the flow of relief and put us to the brink of a government shutdown," warned Democratic Rep. Rosa DeLauro.

Republican threats to shut down the federal government if spending isn't drastically cut have put funding for a critical nutrition aid program at risk as hunger grows across the nation, with the recent lapse of pandemic-era assistance leaving many low-income families struggling to put food on the table.
The Special Supplemental Nutrition Program for Women, Infants, and Children, commonly known as WIC, is one of many federal programs that could face severe impacts if Congress fails to fund the government by September 30.
As The Washington Post's Tony Romm reported Sunday, "While USDA technically can operate WIC if federal funding lapses, states could only continue paying benefits for as long as they had leftover money."
"A shutdown at the end of 2018 into the following January, for example, brought some states within a month of having to cut benefits, institute waitlists, or take other drastic actions," Romm noted, citing a Washington state nutrition official. "Nearly a decade later, state leaders and nutrition experts fear the fight in the nation's capital once again could leave millions of women and children in a financial bind."
WIC, long a target of Republican lawmakers, gives states grants to provide nutrition aid and other assistance to pregnant and postpartum adults and children up to the age of five. House Republican appropriators have proposed sharp cuts to WIC for the coming fiscal year, even as policy experts say a significant funding increase is needed as participation in the program grows.
In a recent report, the Center on Budget and Policy Priorities (CBPP) warned that up to 750,000 eligible toddlers, preschoolers, postpartum adults, and others eligible for WIC could be turned away from the program if the House GOP's proposed funding levels become law.
"Another 4.6 million toddlers and preschoolers and pregnant, postpartum, and breastfeeding participants would have their benefits cut significantly," the group estimated. "In total, the House bill would cut food assistance for, or take it away altogether from, roughly 5.3 million young children and pregnant, postpartum, and breastfeeding adults."
CBPP argued that the program will need roughly $7.3 billion in total funding for fiscal year 2024 to provide full benefits to WIC recipients. Republicans, who already secured more strict work requirements for SNAP recipients in a debt ceiling deal with the White House, want to approve just $5.5 billion for WIC.
In an effort to stave off disaster, the Biden White House last week urged the divided Congress to pass a short-term government funding measure that includes $1.4 billion in additional funding for WIC.
Romm emphasized Sunday that "the request hinges on House Republicans, who recently have tried to slash WIC funding in a move that could spell cuts to poor Americans' monthly nutritional support."
The White House estimates that the GOP's proposed WIC cuts "could reduce monthly fruit and vegetable benefits by 70% for pregnant women and 56% for children, while potentially forcing 1.9 million participants onto a waitlist for aid," Romm added.
The far-right House Freedom Caucus, which has dozens of members, has threatened to oppose any short-term funding agreement that does not impose steep cuts to federal spending and put an end to the "unprecedented weaponization" of the Justice Department, an apparent reference to the prosecution of former President Donald Trump.
The House, led by Republican Speaker Kevin McCarthy (R-Calif.), is set to return from August recess next week. As CNNreported Sunday, "GOP hardliners in the House are eager to play a game of chicken over the end-of-the-month deadline to fund federal agencies, seeking to force the White House and Senate to make a choice: Accept a slew of conservative priorities or risk a debilitating government shutdown."
Republican appropriators have called for major cuts to a range of federal programs related to education, environmental protection, and more.
Rep. Rosa DeLauro (D-Conn.), the top Democrat on the House Appropriations Committee, wrote on social media over the weekend that "House Democrats are ready to move on funding for disaster relief and other crises."
"House Republicans," she added, "are listening to their most extreme members on steps that could slow the flow of relief and put us to the brink of a government shutdown."
News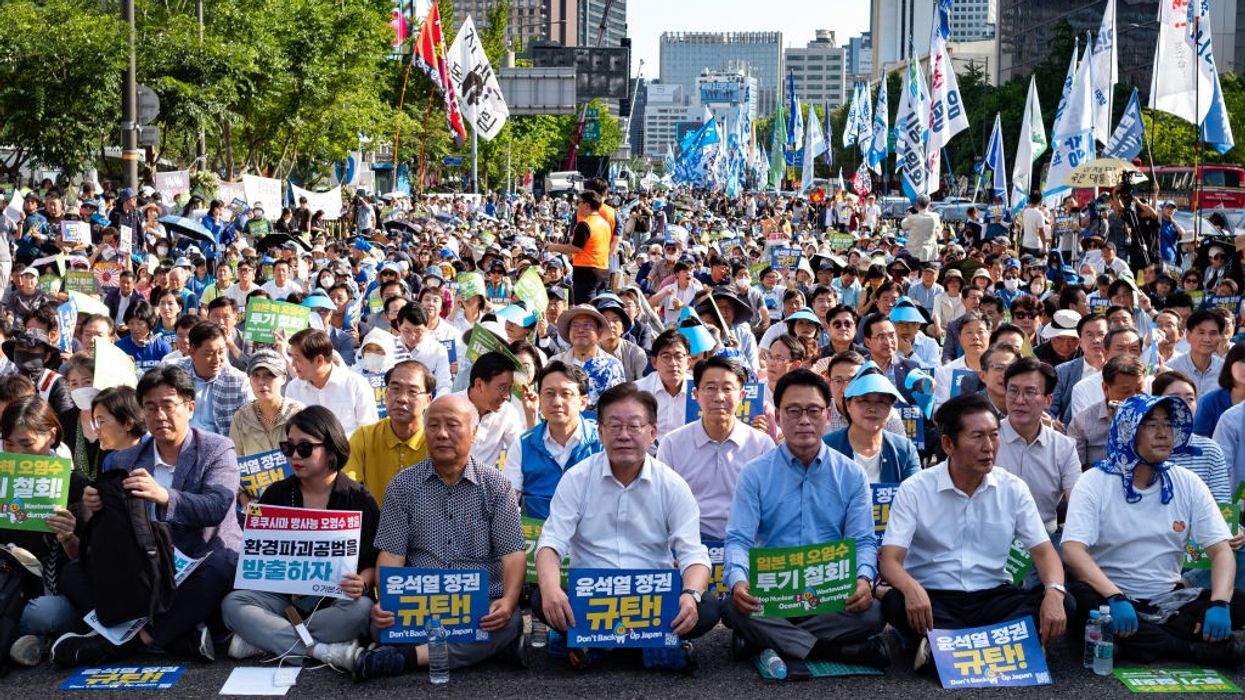 'It is time for the international community to step in and call out this clear breach of the international law'
South Koreans have continued a weekend rally against Japan's dumping of Fukushima nuclear plant's contaminated radioactive wastewater into the ocean by holding a large demonstration on Saturday.
The protesters, including fishermen, activists and politicians, shouted slogans such as "Immediately stop the marine dumping of radioactive wastewater" and "Prohibit import of all Japanese aquatic products," as they urged the South Korean government to file a lawsuit with the International Tribunal for the Law of the Sea against the Japanese government.
On August 24th, Japan began dumping radioactive water from the crippled Fukushima Daiichi nuclear power plant into the Pacific Ocean.
The move resulted in a massive backlash across Asia and around the world.
While South Korea's opposition Democratic Party leader Lee Jae-myung calls the Fukushima release an "act of terror," the country's government under President Yoon Suk Yeol has backed Japan's decision, Deutsche Welle explained. However, the release is unpopular with the public, with more than 80% opposing the release and more than 60% vowing not to eat Japanese seafood afterward, TheAssociated Press reported.
According to The Korea Herald:
Democratic Party of Korea head Rep. Lee Jae-myung, on the fourth day of a hunger strike, said he would call on the international community to join his party's protests against the Japanese government over the water's release, in a press conference on Sunday.
"The dumping of the wastewater contaminated with radioactive materials by Japan is in direct violation of the London Convention on marine pollution," he said. "It is time for the international community to step in and call out this clear breach of the international law, stop Japan's misbehavior and stand united to preserve marine safety."
The main opposition leader said he penned a letter to the heads of states and governments of the 86 signatories of the London Convention to collectively rally against the release of the Fukushima wastewater.
Xinhua news reports:
"Fukushima nuclear-contaminated wastewater has the nature of trash," Lee Seo-yoon, a mother of three children, said during the rally, adding that Japan regards the ocean as the largest and the cheapest trash bag.
Lee stressed that it would be absurd to hope that no one would be harmed after dumping the trash into the ocean, urging Tokyo to store the radioactive wastewater on its soil rather than dumping it in the sea.
"The ocean is the future of my family and the future of our descendants," said Kim Sam-ho, a fisherman who came from the country's southern coastal Wando County.
Kim raised his strong doubts about the safety of the radioactive wastewater, calling for the South Korean government to take necessary actions including supporting measures for fishermen.
"The major purpose of nuclear safety is to block radiation from reaching the environment and people," said Han Byung-sub, a nuclear expert who had worked at the Korea Atomic Energy Research Institute (KAERI) and the Korea Electric Power Corp. Engineering & Construction (KEPCO E&C).
Han noted that the proper measurement of radiation from Fukushima, involving groundwater flowing in and out of the destroyed reactor, was not carried out, urging the South Korean government to properly measure the radiation in waters off the country from now on.
Following the one-and-a-half-hour rally, the protesters marched about five km in downtown Seoul to the presidential office.
News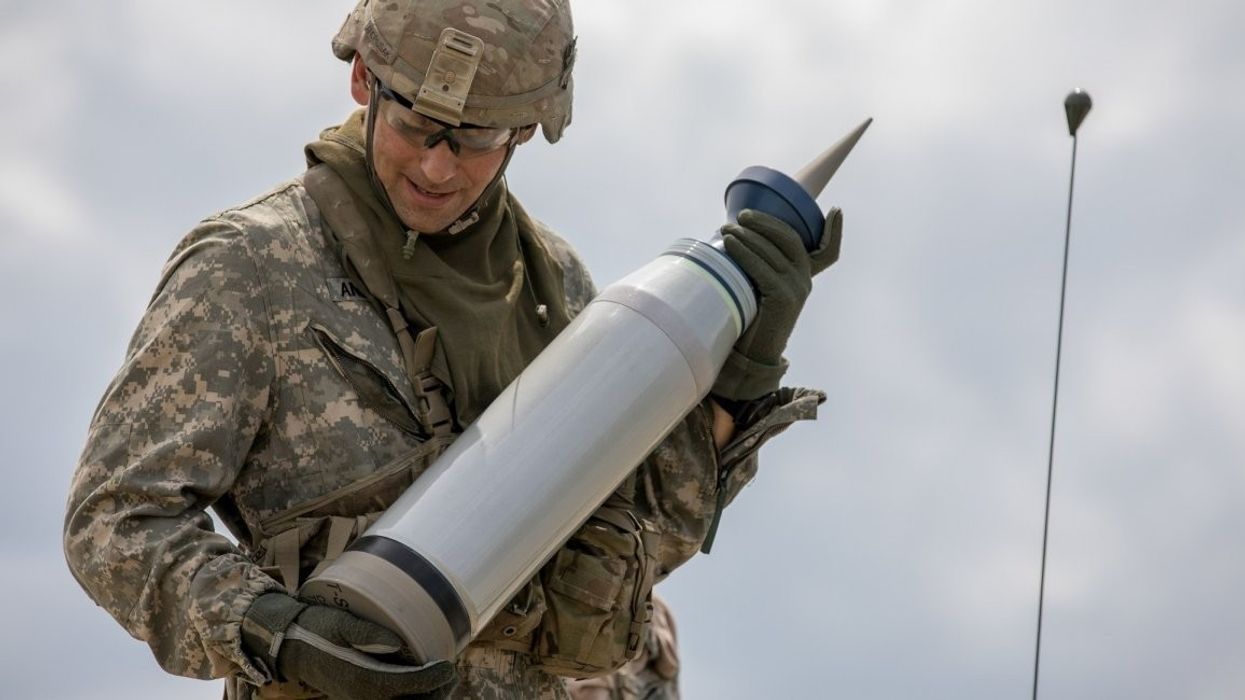 Peace groups have long campaigned for a ban on DU munitions
The Biden administration will, for the first time, send controversial armor-piercing munitions containing depleted uranium to Ukraine, according to Reuters.
The munition can be fired from US Abrams tanks, which are expected to arrive in Ukraine in the coming weeks.

The shells, which will come from US excess inventory, would be funded by the Presidential Drawdown Authority, which lets the president make transfers from US stocks without Congress' approval in the case of an emergency.
This follows an earlier decision by the Biden administration to provide cluster munitions to Ukraine despite concerns over the dangers such weapons pose to civilians.
If the US deploys depleted uranium shells to Ukraine, Russian President Vladimir Putin has threatened to retaliate with DU rounds—which are linked to birth defects, miscarriages, and cancer.
Depleted uranium is a byproduct of the production of fuel used in nuclear power stations. Its extreme density gives rounds the ability to penetrate armor-plating easily.
The use of depleted uranium munitions has been fiercely debated, with opponents like the International Coalition to Ban Uranium Weapons saying there are dangerous health risks from ingesting or inhaling depleted uranium dust, including cancers and birth defects.
Common Dreams has reported:
The U.S.-led NATO coalition that waged the 1999 air war against Yugoslavia also used DU munitions, which experts believe are responsible for a surge in leukemia in the region, both among the local population and foreign troops deployed in the war zone.
Peace groups have long campaigned for a ban on DU munitions. Last September, the United Nations General Assembly approved an Indonesian draft resolution urging further research of the "health risks and environmental impact" of DU weapons and calling for a "cautionary approach" to their use.
The resolution was approved by 147 nations. The U.S., U.K., France, and Israel voted against the proposal.
News
Independent, nonprofit journalism needs your help.
Please Pitch In
Today!