The End of Title 42: A Long-Overdue Step Toward Rebuilding our Asylum System
WASHINGTON
The Biden administration announced today plans to end a border expulsions policy known as Title 42 by May 23. This policy allowed the U.S. government to turn people away at the U.S southern border over 1.7 million times in the past two years under the guise of protecting the country from COVID-19.
The Trump administration invoked Title 42--an obscure public health law--at the start of the COVID-19 pandemic. The Biden administration continued it even while millions of people crossed the southern border every month through ports of entry and international flights continued throughout the pandemic.
Under Title 42, many asylum seekers have been sent back to Mexico, where they fell victim to criminal cartels and other bad actors.
The following statement is from Jeremy Robbins, executive director of the American Immigration Council:
"Title 42 represents the greatest restriction on access to the asylum process since Congress passed the Refugee Act in 1980. It has been a failed border management policy that has caused chaos along the border, immeasurable harm to innocent people seeking our protection, and diminished our standing on the world stage. Putting an end to the unjustified use of this policy is a long overdue step toward rebuilding a humanitarian protection system at the border that is safe, humane, and orderly.

"President Biden came into office promising to restore access to asylum. While we prefer that the administration begin the phased end to Title 42 immediately, we commend the decision to finally listen to the science and lift this horrific policy.
"Over the next six weeks, the Biden administration should prepare for the end to Title 42 by surging resources to the ports of entry to facilitate the processing of arriving asylum seekers. That includes reopening the ports of entry to asylum seekers after two years of closures. No person should feel as if their only way to access the asylum system is to cross the border between ports of entry. Rather than view asylum seekers with fear and suspicion, we should work on addressing the root causes of migration while creating a flexible humanitarian protection system that respects the lawful right to seek asylum and that can respond in times of global displacement."
The American Immigration Council has research and other resources on asylum in the United States and policies affecting asylum seekers at the border, including experts available to speak on the impact of Title 42, rising border encounters in 2021, The "Migrant Protection Protocols," and Metering and Asylum Turnbacks.
The American Immigration Council, a 501(c)(3) nonprofit, is a powerful voice in promoting laws, policies, and attitudes that honor our proud history as a nation of immigrants. Through research and policy analysis, litigation and communications, and international exchange, the Council seeks to shape a twenty-first century vision of the American immigrant experience.
LATEST NEWS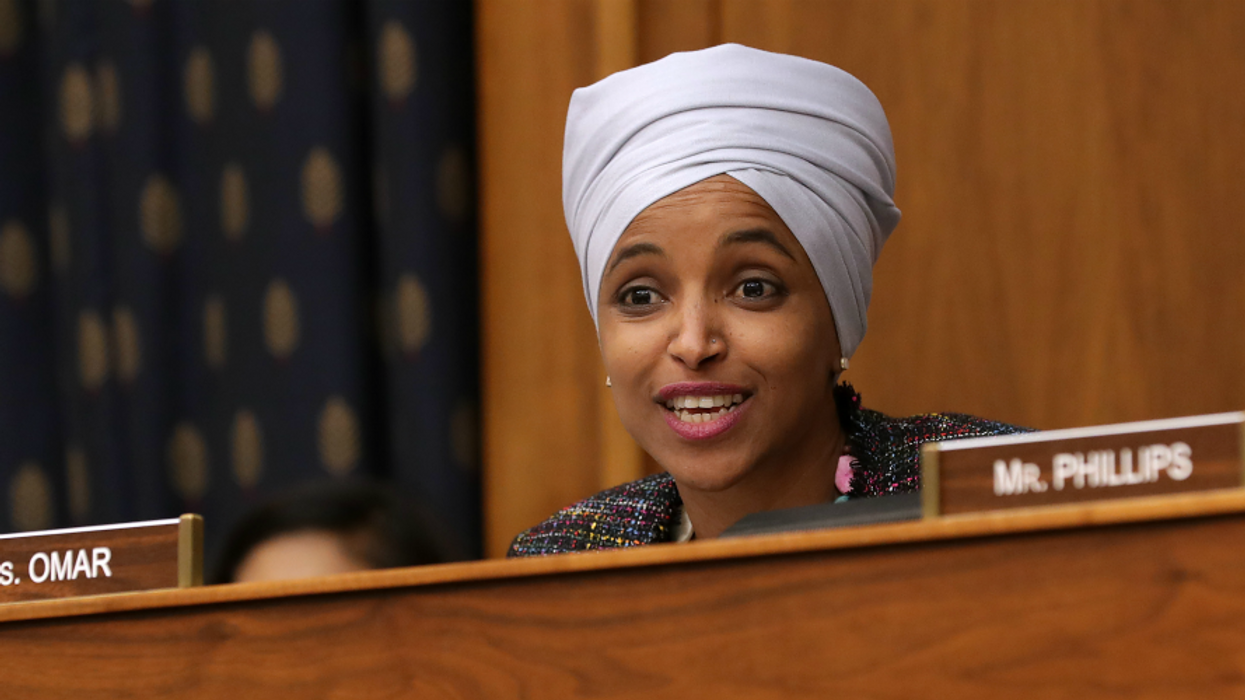 "The U.S. must walk the walk on human rights—not just talk the talk," said one Democrat.
Progressive U.S. lawmakers including Reps. Rashida Tlaib, Ilhan Omar, and Katie Porter on Tuesday joined a call for the Biden administration to take steps to form a national institution that would monitor and promote human rights within the United States, noting that the U.S. considers itself an arbiter of human rights standards across the globe.
The lawmakers sent the letter ahead of second Summit for Democracy, which the U.S. it set to host this week and at which representatives from countries around the world will be asked to "highlight specific initiatives that reflect their commitment to strengthening human rights and democracy domestically and through multilateral cooperation."
A National Human Rights Institution (NHRI) in the U.S., said the lawmakers, would allow the government to promote and monitor the implementation of human rights obligations, provide a public forum for the investigation of violations, establish mechanisms to advise and inform all branches of government on meeting human rights standards, and provide guidance to state and local human rights commissions.
"The United States should be a role model for protecting human rights, and that work starts here at home," said Porter (D-Calif.). "A National Human Rights Institution will help us lead the world in promoting civil liberties and championing government accountability. I hope President [Joe] Biden will use this opportunity to reaffirm our global commitments and rebuild our country's reputation as a strong voice for universal human rights."
Other signatories of the letter include Democratic Reps. James McGovern of Massachusetts, Cori Bush of Missouri, Jill Tokuda of Hawaii, Jamie Raskin of Maryland, Ayanna Pressley of Massachusetts, and Eleanor Holmes Norton of Washington, D.C.
The letter called on the Biden administration to form a commission that would study the creation of an NHRI.

The lawmakers joined a coalition of 85 civil society groups, led by the ACLU, which in December called for the creation of an NHRI that would "offer a meaningful path to encourage U.S. institutions... to adhere to human rights commitments that our government has made and to which we routinely call on other countries to adhere."
They sent the letter a day after six people, including three nine-year-old children, were shot to death at a school in Nashville—the most recent of 130 mass shootings in 2023 so far. The country is also awaiting a ruling by a right-wing judge in a case regarding the legality of the Food and Drug Administration's approval of mifepristone—a drug commonly used in medication abortions—which could further strip Americans of the right to access abortion care.
Right-wing politicians are also moving swiftly to block adolescents and adults from accessing gender-affirming healthcare across the country, and the United Nations Refugee Agency on Monday warned that the Biden administration's plan to block asylum-seekers from entering the U.S. if they travel to the southern border through a third country is "incompatible with principles of international refugee law."
"The best way for the United States to lead on human rights is by the power of example," said McGovern. "By establishing a presidential commission to explore creating a National Human Rights Institution for the U.S., the president will be taking an important, concrete step toward ensuring that we live up to the standards we expect of other countries. The U.S. must walk the walk on human rights—not just talk the talk."
The lawmakers noted that democracies around the world, including many U.S. allies, have established NHRIs to hold their own governments accountable for adhering to human rights standards domestically and abroad.

"While the U.S. has a long tradition of supporting human rights and democracy abroad, we have often failed to practice at home what we preach overseas and neglected to translate our own international commitments into domestic policy," said Jamil Dakwar, director of the ACLU's Human Rights Program. "For too long, we've been a shameful outlier. A National Human Rights Institution would bring some much-needed structure and help bring the U.S. in line with international human rights norms and full compliance with ratified treaties."
"The time for action is now," Dakwar added.
News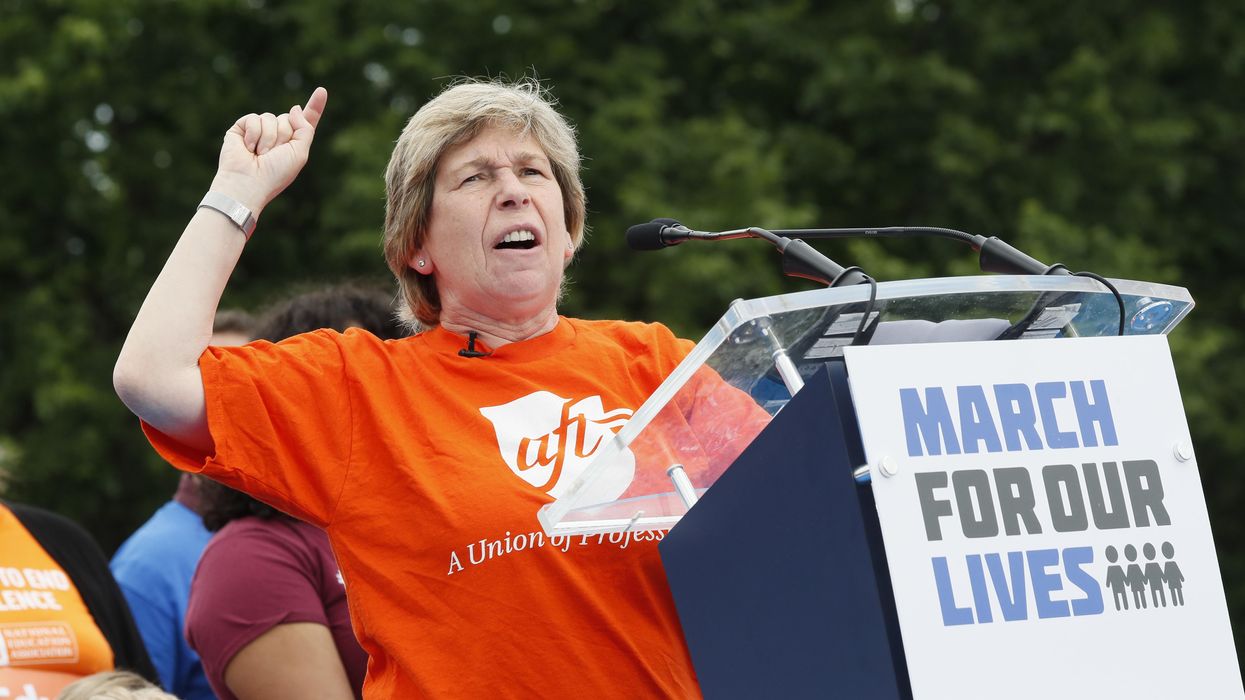 "A great nation does not fear people being educated," said American Federation of Teachers president Randi Weingarten.
American Federation of Teachers president Randi Weingarten on Tuesday defended the egalitarian legacy and goals of public education and outlined a participatory plan to strengthen it nationwide as right-wing lawmakers intensify their long-standing assault on the institution.
"Attacks on public education are not new," the leader of the 1.7 million-member union said in an address to the National Press Club. "The difference today is that the attacks are intended to destroy it. To make it a battlefield, a political cudgel."
"We will continue to fight this defunding of our public schools and this dividing of our communities," said Weingarten. "But we also must do better to address the learning loss and disconnection we are seeing in our young people. And we can. We can make every public school a school where parents want to send their kids, educators want to work, and all students thrive."
The AFT president implored people to stand up for the future of public education, warning that its very existence is now threatened by a Republican-led effort to dismantle and privatize the schools attended by 90% of children in the United States.

"The Betsy DeVos wing of the school privatization movement is methodically working its plan," said Weingarten, referring to the Trump administration's pro-voucher education secretary. "Starve public schools of the funds they need to succeed. Criticize them for their shortcomings. Erode trust in public schools by stoking fear and division, including attempting to pit parents against teachers. Replace them with private, religious, online, and home schools."
"It's an extremist scheme by a very vocal minority of Americans," Weingarten noted. "And it's not what parents or the public want."
"We can make every public school a school where parents want to send their kids, educators want to work, and all students thrive."
According to Weingarten: "This year alone, 29 state legislatures are considering bills to either create or expand existing voucher programs. This is on top of the 72 voucher and tax credit programs in 33 states already subsidizing private and home schooling, costing billions every year. Voucher programs are proliferating even though research shows that, on average, vouchers negatively affect achievement—the declines are worse than pandemic learning loss. In fact, vouchers have caused 'some of the largest academic drops ever measured in the research record.'"

"And then there are the culture wars," said Weingarten. "What started as fights over pandemic-era safety measures has morphed into fearmongering: False claims that elementary and secondary schools are teaching critical race theory; disgusting, unfounded claims that teachers are grooming and indoctrinating students; and pronouncements that public schools push a 'woke' agenda, even though they can't or won't define what they mean. Banning books and bullying vulnerable children. School board meetings descending into screaming matches. This is an organized and dangerous effort to undermine public schools."
Last month, PEN America revealed that GOP officials across the United States introduced 84 educational gag orders during the first six weeks of 2023. This comes after Republican lawmakers put forth 190 bills designed to thwart classroom discussions of past and present injustices—including several proposals to establish so-called "tip lines" that would enable parents to punish school districts or individual teachers—in dozens of states in 2021 and 2022. Over the past two years, 19 laws aimed at silencing instruction about gender, sexuality, and racism were enacted in more than a dozen GOP-controlled states, plus eight measures imposed without legislation.
Moreover, the American Library Association reported last week that the far-right's campaign to ban books containing LGBTQ+ themes or stories about people of color has fueled an unprecedented rise in censorship attempts around the country, with 2,571 unique titles facing challenges in 2022, up 38% from the previous year.
"Their end goal," Weingarten said Tuesday during her speech, is "destroying public education as we know it, atomizing and balkanizing education in America, bullying the most vulnerable among us, and leaving the students with the greatest needs with the most meager resources."
To improve student outcomes and reclaim "the purpose and promise of public education," Weingarten shared the following four-part plan:
1. Opening 25,000 more community schools by 2025
As AFT explained in a statement, these schools "wrap academic counseling services, nutrition services, primary health and dental care, and much more around traditional schools to transform them into hubs that connect families and students with supports to learn and live."
2. Expanding experiential learning opportunities for all students, including career and technical education
According to Weingarten: "Experiential learning embeds the things that make kids want to be in school. The excitement of learning that is deeply engaging, and the joy of being together, especially after the isolation of the last few years. The camaraderie and responsibility of working together on a team. And in the age of AI and ChatGPT, this type of learning is critical to being able to think and write, solve problems, apply knowledge, and discern fact from fiction."
3. Reviving the teaching profession
With nearly 400,000 teachers "leaving the profession each year" and the teacher pipeline collapsing "as college students and career-changers choose not to go into education," Weingarten called for "treating educators as the professionals they are, with appropriate pay; time to plan and prepare for classes, to collaborate with colleagues, and to participate in meaningful professional development; and the power to make day-to-day classroom decisions."
4. Deepening partnerships with parents and community members
According to AFT, the union "has ramped up its Powerful Partnerships Institute, distributing 27 grants to locals totaling more than $1.5 million. For example, Montana is engaging thousands of public education-supporting families and educators across the state around a shared agenda. And New Haven is working with educators, families, and students on equitable school funding across Connecticut."
As part of AFT's Campaign for Our Shared Future, Weingarten announced the launch of a "Freedom to Teach and Learn" hotline for students, parents, teachers, and the public to document instances of censorship.
"Poll after poll has shown that parents and voters don't want politicized culture wars, they want schools and administrators to focus on what kids and communities need," AFT said. "The hotline—888-873-7227—will serve as a clearinghouse for reports of political interference. If Americans see something, they should say something."
In Weingarten's words, "It's a place to call if you've been told to remove a book from the curriculum or from the library, if you've been told that there are topics that can't be discussed in your classes or that you cannot teach honestly and appropriately, or if politicians in your district or state are targeting vulnerable student groups to score political points."
Alluding to AFT's four-point plan for greater investment and engagement, Weingarten said that "this is our agenda."
"But this can't just be the work of our union or of school staff and schools alone," she stressed. "This is the work of a great nation—to ensure that our children's basic human needs are met so they are ready to learn to their full potential."
"This can't just be the work of our union or of school staff and schools alone. This is the work of a great nation—to ensure that our children's basic human needs are met so they are ready to learn to their full potential."
"Our public schools shouldn't be pawns for politicians' ambitions. Or defunded and destroyed by ideologues," Weingarten continued. "We are at a crossroads: fear and division, or hope and opportunity."
"A great nation does not fear people being educated," she added. "A great nation does not fear pluralism. A great nation chooses freedom, democracy, equality, and opportunity. All of that starts in our public schools."
The labor leader opened with a moment of silence to honor the six people killed Monday in a shooting at a private Christian school in Nashville—just one of 130 mass shootings in the United States in 2023.
Lamenting the nation's "epidemic" of gun violence, Weingarten renewed AFT's demand for "commonsense gun safety legislation, including a ban on assault weapons"—a policy that helped reduce the number and severity of fatal mass shootings when it was in effect from 1994 to 2004.
Guns recently became the leading killer of children and teens in the United States. Research published last year found that approximately 26,000 kids could still be alive today if the U.S. had the same gun mortality rate as Canada.
News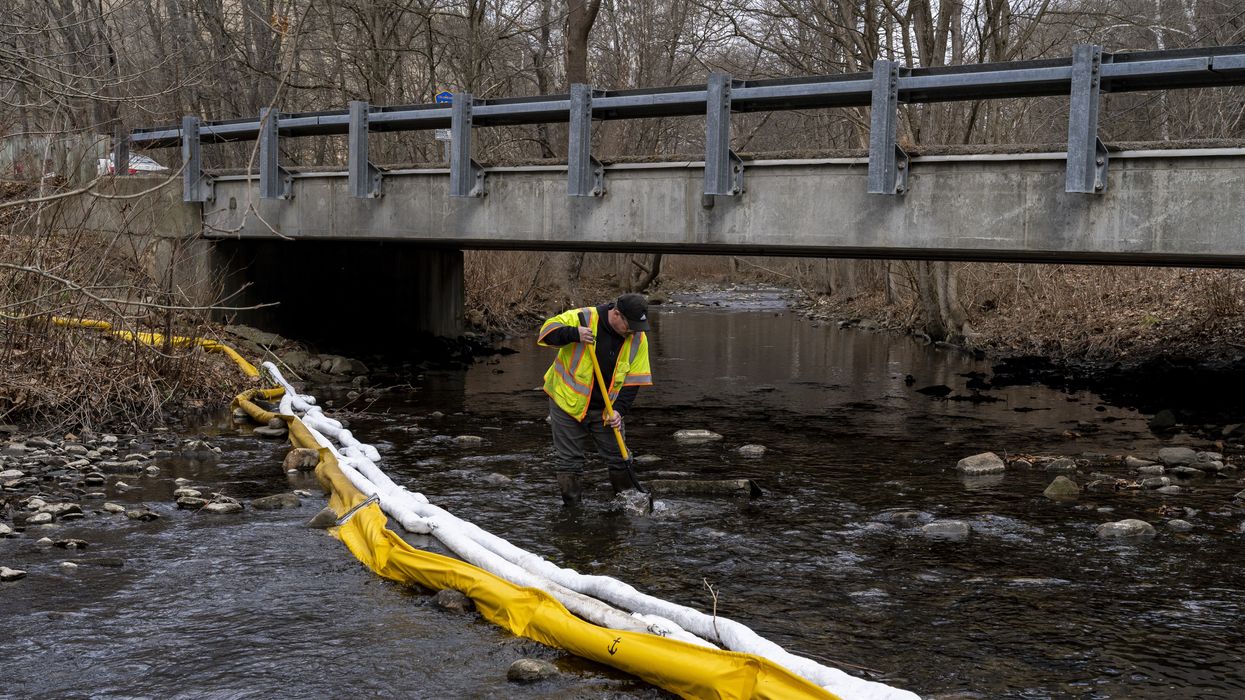 "Too often cities with high rates of concentrated poverty and environmental degradation are asked to shoulder the burden for corporate malfeasance," said a Democratic City Council member. "East Palestine and Baltimore deserve better."

A local Democratic lawmaker in Baltimore on Tuesday credited community members and clean water advocates for helping to secure an environmental victory, as the City Council unanimously approved a resolution to block shipments of contaminated wastewater from East Palestine, Ohio.
Days after water treatment company Clean Harbors informed Baltimore and Maryland officials that it intended to receive 675,000 gallons of contaminated wastewater containing vinyl chloride and per- and polyfluoroalkyl substances (PFAS) from the site of a toxic train derailment in February, Councilmember Zeke Cohen introduced a resolution on Monday to stop the shipment.
The treatment facility where the wastewater would be going, the resolution noted, has been operated by the state since March 2022 "due to catastrophic failures at the facility that led to illegal releases of partially treated sewage."
"Ongoing sludge management issues" have also been identified as a cause of a recent explosion at the plant, which treats water that ultimately flows into the Chesapeake Bay, and the neighborhoods surrounding the facility "have an air toxics risk in the 80th-100th percentile and wastewater discharges in the 90th-100th percentile, nationally."
"The decision to send at least 675,000 gallons (that's at least 20 train cars) of contaminated water to an already environmentally overburdened community is reckless," tweeted Cohen on Monday as he introduced the resolution. "We stand in solidarity with the people of East Palestine. We understand all too well the long-term costs of environmental injustice."
"But now is not the time, and our city is not the place to clean up Norfolk Southern's mess," he added, referring to the rail company responsible for the derailment in East Palestine.
Environmental justice group Blue Water Baltimore demanded to know last week why U.S. Environmental Protection Agency (EPA) officials "believe it is appropriate to send the toxic waste that is too dangerous for East Palestine to the shores of Baltimore."

"It is entirely inappropriate to further stress-test this facility by adding even more toxic contaminants to the waste-stream from wastewater produced outside of the watershed," said the group.
The February 3 derailment involved several train cars carrying vinyl chloride and has so far led Norfolk Southern to remove more than eight million gallons of wastewater from the town, shipping it to facilities in states including Michigan and Texas.
Residents of East Palestine have reported symptoms including headaches and vomiting since leaders told them the town was safe to return to following a brief evacuation. Soil near the crash site has been found to contain levels of dioxin that far exceed the cancer risk threshold recommended by scientists.
Democratic Baltimore Mayor Brandon Scott said late Monday that following the City Council's unanimous adoption of Cohen's resolution, city lawyers concluded he could legally modify a sewage permit and halt City Harbors' plan, which was overseen by the EPA.

"Thank you to Mayor Scott for taking bold and decisive action to deny Clean Harbors from discharging toxic water from East Palestine into our wastewater collection system," said Cohen.
The council member said the victory "was made possible because elected officials listened to voices on the ground."
Residents of the Houston area spoke out last month about plans to inject toxic wastewater from East Palestine into the ground in a suburban area, and Oklahoma Gov. Kevin Stitt, a Republican, blocked a shipment of contaminated soil earlier this month.
"Too often cities with high rates of concentrated poverty and environmental degradation are asked to shoulder the burden for corporate malfeasance," said Cohen on Monday. "East Palestine and Baltimore deserve better."

News
SUPPORT OUR WORK.
We are independent, non-profit, advertising-free and 100%
reader supported.