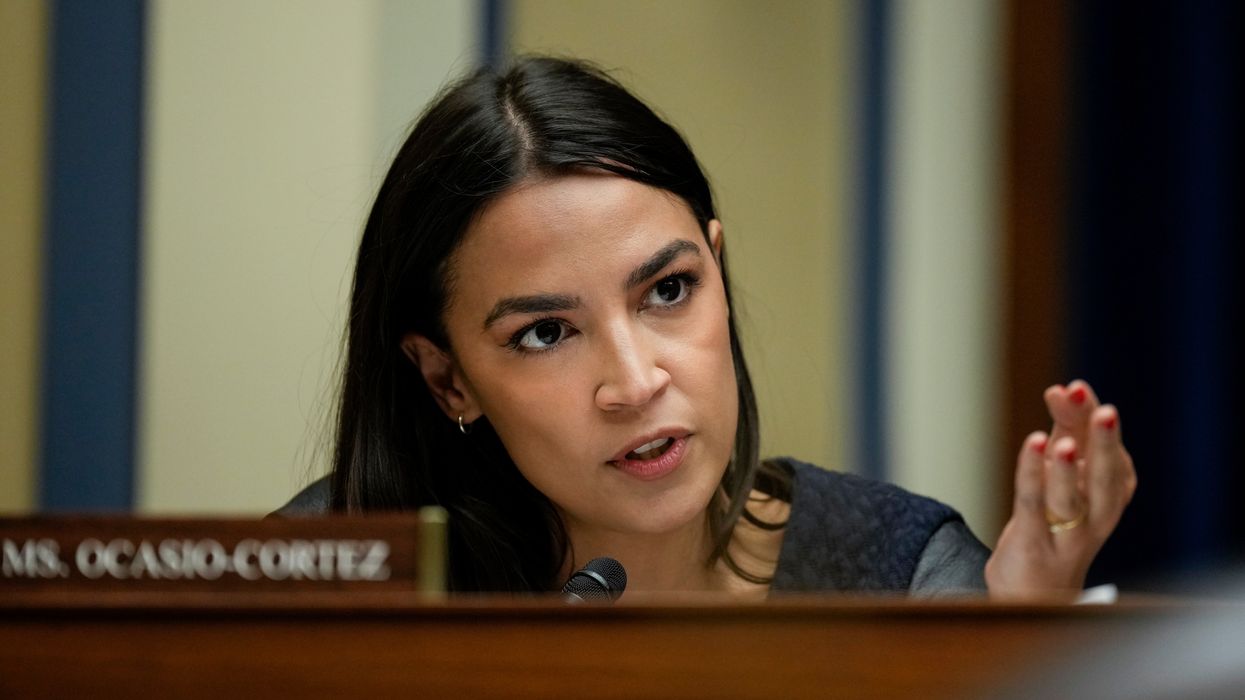 "No one is above the law," the New York Democrat asserted. "For two decades, Justice Thomas failed to report millions in gifts."

A day after several House Democrats urged U.S. Supreme Court Justice Clarence Thomas to resign following fresh reporting on undisclosed luxury vacations he accepted from wealthy Republican donors, Rep. Alexandria Ocasio-Cortez on Friday led a letter calling on the Department of Justice to investigate the right-wing judge's failure to report "significant gifts" from billionaires "in defiance of his duty under federal law."
"For close to two decades, Justice Thomas repeatedly certified that his financial disclosures were 'accurate, true, and complete,' despite omitting millions of dollars in gifts," the office of Ocasio-Cortez (D-N.Y.) said in a statement. "Justices of the Supreme Court are required to file annual reports disclosing gifts, and the failure to do so carries a legal penalty under the Ethics of Government Act of 1978."
According to the letter—which was also signed by Democratic Reps. Jerry Nadler (N.Y.), Jamie Raskin (Md.), Hank Johnson (Ga.), and Ted Lieu (Calif.)—"Justice Thomas' consistent failure to disclose gifts and benefits from industry magnates and wealthy, politically active executives highlights a blatant disregard for judicial ethics as well as apparent legal violations."
The letter continues:
No individual, regardless of their position or stature, should be exempt from legal scrutiny for lawbreaking. The integrity of our judicial system hinges on the impartiality and transparency of its members. As a Supreme Court justice and high constitutional officer, Justice Thomas should be held to the highest standard, not the lowest—and he certainly shouldn't be allowed to violate federal law. Refusing to hold him accountable would set a dangerous precedent, undermining public trust in our institutions and raising legitimate questions about the equal application of laws in our nation.
ProPublicareported Thursday that Thomas has accepted at least 38 luxury vacations funded by ultrawealthy executives and Republican donors—some with business interests before the Supreme Court. The outlet noted that "while some of the hospitality, such as stays in personal homes, may not have required disclosure, Thomas appears to have violated the law by failing to disclose flights, yacht cruises, and expensive sports tickets."
Ocasio-Cortez and other congressional Democrats have previously called for Thomas' impeachment over ethical issues including his unsigned dissent in a case involving the January 6, 2021 attack on the U.S. Capitol by supporters of former Republican President Donald Trump, who is facing federal charges for trying to overturn his 2020 election loss. The justice's wife, GOP operative Ginni Thomas, allegedly lobbied state lawmakers in Arizona to help rig the election for Trump.
Critics have lamented that the Supreme Court—alone among the three co-equal branches of the federal government—is not subjected to a binding code of ethics. Last month, the Democrat-led Senate Judiciary Committee advanced legislation led by Sen. Sheldon Whitehouse (D-R.I.) that would compel the high court to adopt an enforceable code of ethics. The measure advanced with no Republican support and is unlikely to pass the full Senate and GOP-controlled House.

ProPublica has also exposed a luxury fishing vacation in Alaska that another right-wing justice, Dobbs v. Jackson author Samuel Alito, accepted from a billionaire hedge fund manager who has repeatedly had business before the court.
Additionally, Politico's Heidi Przybyla reported earlier this year that Justice Neil Gorsuch, another member of the high court's conservative supermajority, in 2017 sold a property to the head of a law firm subsequently involved in over 20 cases before the court.
Last month, an Associated Pressinvestigation also revealed that liberal Justice Sonia Sotomayor's staff "has often prodded public institutions that have hosted the justice to buy her memoir or children's books, works that have earned her at least $3.7 million since she joined the court in 2009."

Thomas and Alito have argued they don't have to disclose gifts they've received, even from people who have or have had cases before the Supreme Court. Critics derided Thomas for claiming that he was advised by colleagues to not report the largesse of billionaire GOP megadonor Harlan Crow and others from whom he accepted gifts.
"Thomas must resign and Congress must pass a binding code of ethics for Supreme Court justices."

Meanwhile, Chief Justice John Roberts has rebuffed demands from congressional Democrats and others to investigate allegations of unethical and possibly illegal conduct by Thomas and Alito, while refusing an invitation to testify before the Senate Judiciary Committee over the accusations.
Responding to the latest ProPublica reporting, Sen. Elizabeth Warren (D-Mass.) wrote Thursday on the social media site formerly known as Twitter that "Thomas' behavior is unconscionable."
"Americans deserve better from their highest court," Warren added. "We need binding ethics rules for SCOTUS now."
News