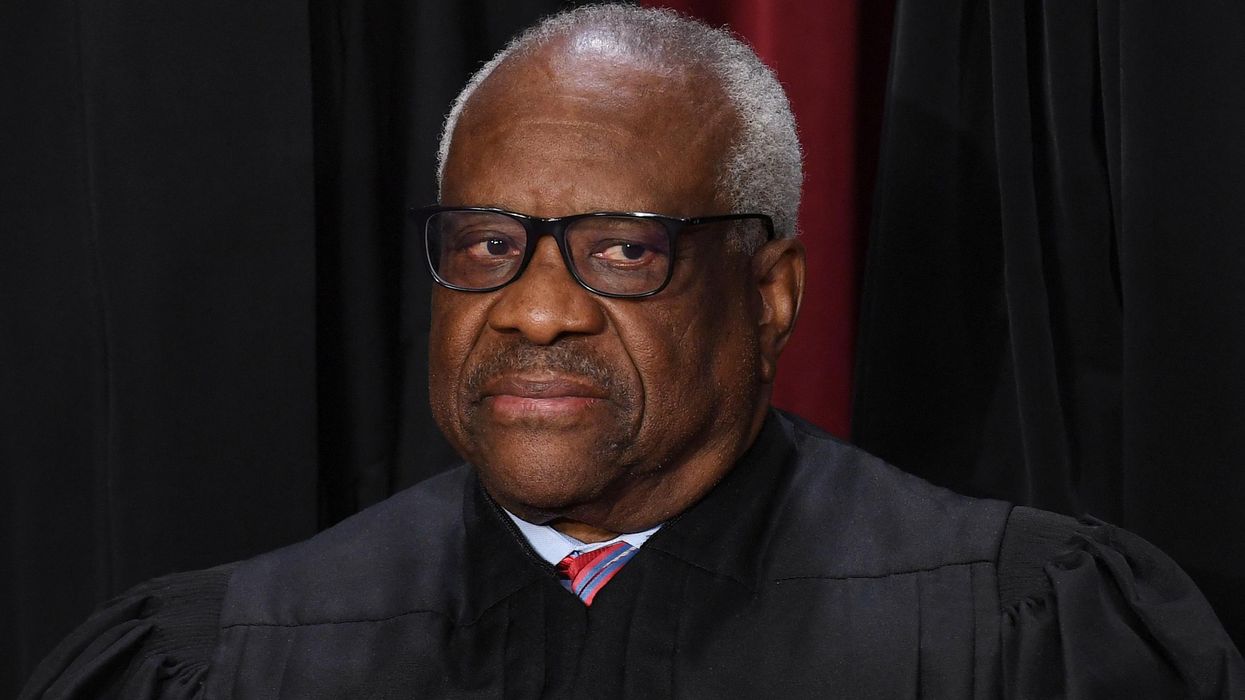 "This is bullsh*t," said one critic. "This means that he'll be sitting there forever, putting off filing his supposed disclosures, which will probably be more BS anyway."
U.S. Supreme Court Justice Clarence Thomas—who is under fire for lavish gifts he and his relatives received from billionaire Republican mega-donor Harlan Crow—has been granted a 90-day extension to file his 2022 financial disclosure report, multiple media outlets reported Wednesday.
Thomas, who according toBloomberg "typically files his financial disclosures by the May 15 deadline," requested an extension—as did Justice Samuel Alito—giving them more time to report their income, investments, gifts, and spousal salaries.
\u201cThis is bullshit, this means that he\u2019ll be sitting there forever, putting off filing his supposed disclosures, which will probably be more BS anyway. You can\u2019t expect much out of a country with a corrupt high court. https://t.co/9CCLvBLiPg\u201d

— RC deWinter (@RC deWinter) 1686158901
As CNNreports:
The move means that any official information about Thomas' relationship with... Crow may not be released until after the end of the current Supreme Court term, and major rulings come down on election law, religious liberty, affirmative action, and student loans, among other issues.

The Supreme Court has been under a microscope this year as critics argue the justices are not doing enough to ensure transparency when it comes to ethics guidelines, and the late filings by Thomas and Alito could further fuel claims by watchdog groups and others that the justices are not taking seriously their concerns.

Public scrutiny and criticism of Thomas mounted in April after a bombshell ProPublicareport revealed that the right-wing justice "has repeatedly accepted and failed to disclose gifts and travel" from Crow, including private jet travel, luxury vacations, and private school tuition for a relative.
\u201cTo be fair,

Clarence Thomas

may not actually know how to fill one of these out properly.\n\nIs he a dependent of Harlan Crow? Is the dark money his wife gets considered a contribution or income? Are vacations with plaintiffs business trips? \n\nSo confusing.\nhttps://t.co/thxrgh0tUQ\u201d

— Melanie D'Arrigo (@Melanie D'Arrigo) 1686161457
While Thomas has dismissed criticism by saying he benefited only from "personal hospitality from close personal friends" and that Crow "did not have business before the court," multiple investigations have disproven that assertion.
On Tuesday, The Leverprovided one example:
Late last month, in a 5-4 ruling on the Sackett v. Environmental Protection Agency case, the Supreme Court dramatically narrowed the scope of the 1972 Clean Water Act in an act of judicial activism so brazen, even the Donald Trump-appointed [Supreme Court Justice] Brett Kavanaugh accused the court of "rewriting" the law and failing to "stick to the text."
Thomas joined right-wing Justices Alito, Neil Gorsuch, Amy Coney Barrett, and Chief Justice John Roberts in the court's majority opinion.

On Tuesday, U.S. Senate Finance Committee Chair Ron Wyden (D-Ore.) said that "nothing is off the table"—including a subpoena—after Michael Bopp, a lawyer representing Crow, continued to duck questions about his largesse toward Thomas and his family.

News