For Immediate Release
Contact:
Nell Greenberg,media@ran.org
Report Finds 11 Banks Increased Financing to TransCanada Subsidiary Building Coastal GasLink Pipeline, Despite Wet'suwet'en Opposition
With no consent secured from hereditary Wet'suwet'en leadership, banks funding Coastal Gaslink Pipeline are complicit in violating Indigenous Rights
WASHINGTON
A white paper released today by Rainforest Action Network (RAN) reveals that in spite of Wet'suwet'en opposition to TransCanada's Coastal GasLink pipeline, at least 11 banks notably increased financing to the company behind the USD $4.5 billion pipeline. Last December, those banks participated in two new loans, led by JPMorgan Chase, which replaced $1.5 billion in credit, with a staggering $5.5 billion -- making for a two-thirds increase in TransCanada's total available credit.
The white paper highlights four banks in particular -- JPMorgan Chase, Bank of Montreal, Deutsche Bank, and Canadian Imperial Bank of Commerce -- as the leading bankers of the Coastal GasLink pipeline, in virtue of their leading roles on the two December 2018 loans, two older loans, nine recent bond issuances, and a key asset sale.
"For these banks to profit from the abuse of Indigenous Peoples' sovereign rights not only flies in the face of many of their own Indigenous Peoples policies, it's morally wrong -- and that's what banks like JPMorgan Chase Bank of Montreal are doing when they fund TransCanada's Coastal GasLink and Keystone XL pipelines," said Patrick McCully, Climate and Energy Program Director at Rainforest Action Network.
The hereditary chiefs of all five clans of the Wet'suwet'en are in direct opposition to the Coastal GasLink Pipeline, and have set up camps to protect their unceded lands, as recognized by the Canadian Supreme Court in the landmark 1997 Delgamuukw decision. But last week, the Royal Canadian Mounted Police trespassed on the land of the Wet'suwet'en people and arrested 14 land defenders in heavily militarized fashion, following the orders of TransCanada. This is a clear violation of Article 10 of the United Nations Rights of Indigenous Peoples, which states that "Indigenous peoples shall not be forcibly removed from their land or territories."
Dr. Karla Tait, a member of the Unist'ot'en House Group of the Gilseyhu Clan and Director of Clinical Programming for the Unist'ot'en Healing Center said:
"These actions demonstrate continued use of colonial power and force to oppress First Nations by removing us from our lands, using race-based assumptions that privilege Canadian law and critical infrastructure over the law and infrastructure of the original people who stewarded and protected these lands for millenia. This power rests in the militarized rifles police carry into our territories, but it also rests in the financial investments that are pushing Coastal Gas Link forward. In order for true reconciliation, for our society to overcome the violence and traumatic experiences of colonization we need to right these wrongs. We each need to do what we can as individuals to secure a sustainable and better future. We need to speak for the land, for the values we want our society to be centred on. We need to speak and act in the many different ways that will help actualize this new reality. We are standing up to protect the land and heal, how will you stand with us."
TransCanada was granted an interim injunction to start pre-construction, even though the company does not have the free, prior, and informed consent of the Wet'suwet'en people to build it.
Rainforest Action Network (RAN) is headquartered in San Francisco, California with offices staff in Tokyo, Japan, and Edmonton, Canada, plus thousands of volunteer scientists, teachers, parents, students and other concerned citizens around the world. We believe that a sustainable world can be created in our lifetime and that aggressive action must be taken immediately to leave a safe and secure world for our children.
LATEST NEWS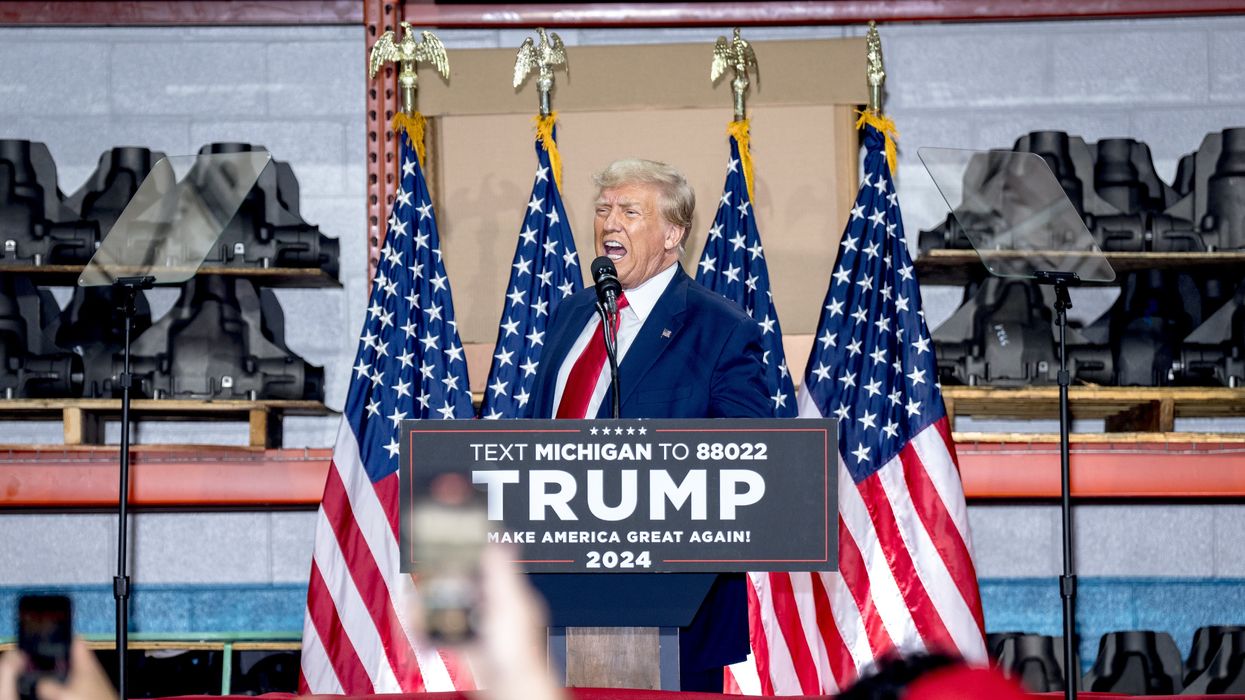 "I mean, I watch you out there with the pickets," said the former president, "but I don't think you're picketing for the right thing."
Former President Donald Trump used his speech at a nonunion plant in Clinton Township, Michigan Wednesday night to simultaneously posture as a lifelong champion of workers and denigrate the United Auto Workers' historic strike against the Big Three U.S. car manufacturers, dismissing the union's fight for better wages and benefits as effectively meaningless.
"I don't care what you get in the next two weeks or three weeks or five weeks," Trump said. "They're going to be closing up and they're going to be building those cars in China and other places. It's a hit job in Michigan and on Detroit."
It was a theme the former president and 2024 GOP frontrunner hit repeatedly throughout his remarks at Drake Enterprises, a truck parts manufacturer that offered to host Trump's rally: The electric vehicle transition and the Biden administration's efforts to accelerate it are going to send jobs overseas and leave the U.S. automobile industry in ruins.
"It doesn't make a damn bit of difference what you get because in two years you're all going to be out of business, you're not getting anything," Trump said. "I mean, I watch you out there with the pickets, but I don't think you're picketing for the right thing."
The former president repeatedly and falsely accused the Biden administration of attempting to bring about a "transition to hell" and impose "electric vehicle mandates that will spell the death of the American auto industry," a narrative that was also prominent during the Republican primary debate that Trump skipped.
Kevin Munoz, a spokesperson for President Joe Biden's 2024 reelection campaign, said in response that Trump is "lying about President Biden's agenda to distract from his failed track record of trickle-down tax cuts, closed factories, and jobs outsourced to China." During Trump's four years in office, the offshoring of U.S. jobs increased.
"There is no 'EV mandate.' Simply put: Trump had the United States losing the EV race to China and if he had his way, the jobs of the future would be going to China," said Munoz. "President Biden is delivering where Donald Trump failed by bringing manufacturing back home, and with it, good-paying jobs for the American people."
As HuffPost's Jonathan Cohn reported late Wednesday, "Since Biden took office in January 2021, total auto industry employment in the U.S. has risen from about 948,000 to 1,073,000 jobs, according to the U.S. Bureau of Labor Statistics. That's a monthly rate of about 4,000 new auto jobs a month."

Challenging the notion that the Biden administration's EV policies are imperiling the U.S. auto industry, Cohn noted that electric vehicle subsidies in the Inflation Reduction Act "will close the cost gap so that companies manufacturing electric vehicles and their parts can compete."
"And there are lots of signs that the effort is working," Cohn wrote. "Auto companies have announced plans to build literally dozens of new factories in the U.S., many in what's coming to be known as the 'battery belt,' stretching from Georgia in the South to Michigan in the North. They are expected to generate hundreds of thousands of jobs directly, plus many more (along with economic growth) indirectly."
The UAW leadership has made clear that, unlike Trump, it doesn't oppose the transition to electric vehicles.
Rather, the union wants policymakers to ensure that EV manufacturing jobs are unionized. UAW president Shawn Fain has criticized Biden—who joined union members on the picket line earlier this week—for not doing enough to prevent a "race to the bottom" in the EV transition as automakers increasingly invest in the nonunion U.S. South.
Fain has also not been shy about his feelings toward the former president.
"I don't think the man has any bit of care about what our workers stand for, what the working class stands for," Fain said in a CNN appearance on Tuesday. "He serves the billionaire class, and that's what's wrong with this country."
"People are trying to push that this is organic, but it's not. Trump is curating a crowd, and it pisses me off."
Trump—who has repeatedly called on the UAW to endorse his presidential run—didn't respond Wednesday when asked by a reporter whether he supports the union's push for a nearly 40% wage increase for autoworkers, who have seen their hourly pay decline sharply over the past two decades.
During his speech, Trump "didn't specifically address demands made by autoworkers, other than to say he would protect jobs in a way that would lead to higher wages," the Detroit Free Pressreported.
"But he left it unclear how he would do so," the newspaper added, "given that he didn't demand specific wage increases as president."
It's not clear how many union members were in the audience at Trump's speech, though some were waving "Auto Workers for Trump" and "Union Members for Trump" signs. One individual who held a "Union Members for Trump" sign during the rally admitted to a reporter for The Detroit News that she's not a union member.
"Another person with a sign that read 'Auto Workers for Trump' said he wasn't an auto worker when asked for an interview. Both people didn't provide their names," the outlet reported.
Chris Marchione, political director of the International Union of Painters and Allied TradesDistrict Council 1M in Michigan, toldJacobin's Alex Press that at least one local "right-to-work" activist assisted the Trump campaign in organizing Wednesday's rally.
"People are trying to push that this is organic, but it's not," Marchione said. "Trump is curating a crowd, and it pisses me off. If he wants to support union workers, pay the fucking glaziers who got screwed when they put the windows on Trump Tower."
Ahead of Trump's Michigan visit, the AFL-CIO said in a statement that Trump's presidency was "catastrophic for workers," pointing to his anti-union appointments to the National Labor Relations Board, defense of so-called "right-to-work" laws, repeal of Labor Department rules aimed at protecting worker pay, and failure to protect manufacturing jobs.
"The idea that Donald Trump has ever, or will ever, care about working people is demonstrably false," said AFL-CIO president Liz Shuler. "For his entire time as president, he actively sought to roll back worker protections, wages, and the right to join a union at every level."
"UAW members are on the picket line fighting for fair wages and against the very corporate greed that Donald Trump represents," Shuler added. "Working people see through his transparent efforts to reinvent history. We are not buying the lies that Donald Trump is selling. We will continue to support and organize for the causes and candidates that represent our values."
News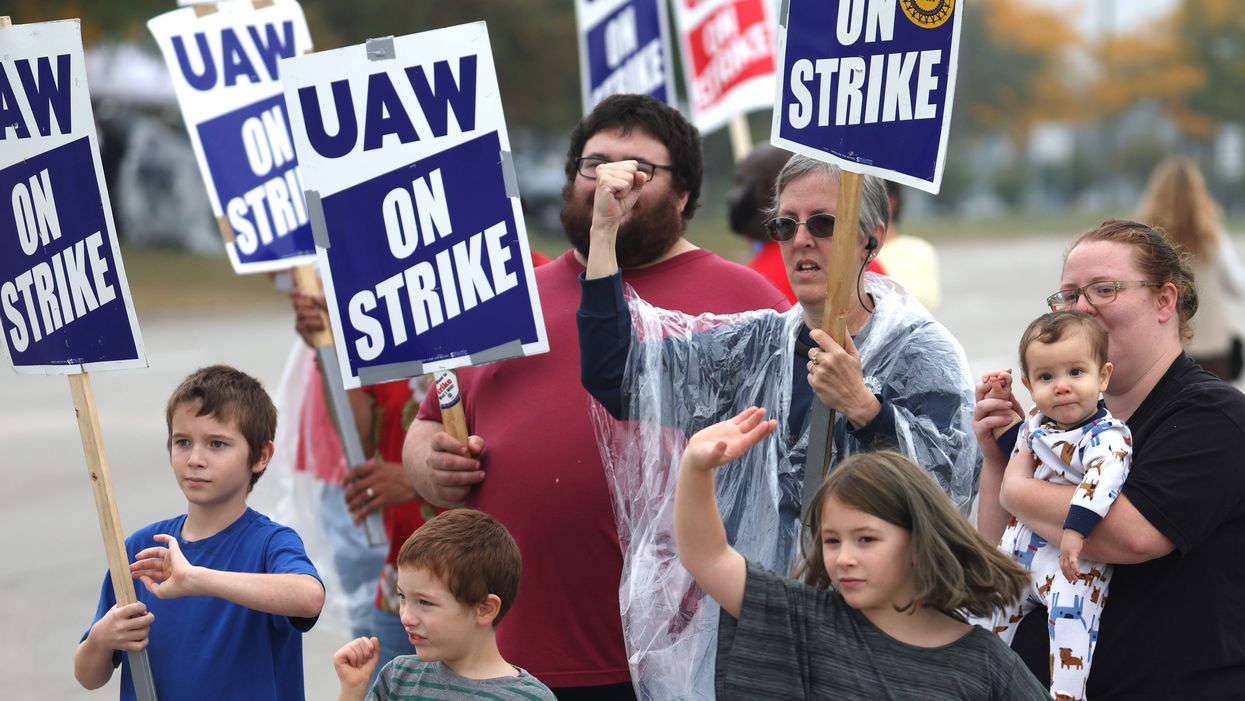 With the power of organized labor surging, two guys went to Detroit this week to apprise striking autoworkers what they think of their righteous labor. Joe Biden historically walked the picket line and told union workers, "You've earned a hell of a lot more than you're getting paid." A stable, genius, "billionaire charlatan" who long ripped off workers and ran a fraudulent empire built on lies told non-union workers China, trucks, environmental lunatics, selling you out, yuge jobs, vote for me. Tough choice.
In a newly expanded strike of over 18,000 autoworkers against 38 GM, Ford, and Chrysler parent Stellantis plants in 20 states, the UAW is pushing the so-called Big Three automakers for significant pay and benefit upgrades: A 40% wage increase, a 32-hour work week paid as full-time, an end to lower pay tier forced on new workers as part of the 2008 bailout. Justifiably disgruntled workers cite the industry's surging profits - $250 billion over the past decade - and obscene payouts to CEOs - all over $20 million, sometimes thanks to raises of up to 40%, representing a nearly 400-to-1 ratio of executive pay to that of the average worker, presumably without breaking a sweat. In contrast, the real wages of many workers have declined or inched up by a mere 6% since their 2019 contract; across the country, many workers haven't seen a rise in the $7.25 minimum wage for over 14 years, and largely feel "we're on our own." At the start of the strike, mirroring pay at the top, UAW President Shawn Fain was demanding a 40% wage increase over four years along with the return of pensions and cost of living increases; he's now gone down to 36%, but nobody else has budged.
Given those grossly inequitable numbers, the fact over 60% of Americans live paycheck-to-paycheck, and the propensity of America's Fattest Cats to act like the entitled assholes they are - Jeff Bezos gives away just 1% of his billions and spent over double that to be weightless in space for four minutes - the strike has garnered broad support. Today, between 62% and 75% of Americans support the union, with that number rising. It thus made political and moral sense for Joe Biden, touted as one of the most pro-labor presidents in US history, to go Tuesday "where no president has gone before" and become the first sitting president to join striking workers on a picket line - a move historians called historic and long overdue. For a gleeful Michael Moore imagining "our 756 billionaires" as they "choke on whatever they were eating (and make a) frantic effort to find a baby aspirin in their vest pocket," it was also "The Day the Filthy Rich Were Sure Would Never Come" - the moment when "the man they thought they bought and paid for, their old friend from Delaware, yeah, that guy Joe, spoke up in "Scrantonese: You fuck with these good people, you're fucking with me."

Outside a G.M. plant in Belleville, MI, Biden reminded workers they sacrificed to save the auto industry in 2008 when they were hurting, "now they're doing incredibly well (and) you should be doing incredibly well, too...The middle class built the country, and unions built the middle class." Fain thanked him for "being a part of this fight" and "not falling victim to both-sides-ism." He later argued, "We can't keep electing (clueless) billionaires to solve the problems of the working class," aptly referencing all those you-strike-you're fired GOP masters of cognitive dissonance who implausibly claim to be pro-working class while maligning unions. Among what Eisenhower in 1952called these "unreconstructed reactionaries," surely the most egregious bullshitter of them all is the twice-impeached, multi-indicted, silver-spoon-in-toxic-mouth, tax-cuts-for-the-rich, Labor-Relations-Board-gutting crook and liar who for decades trashed unions, used mostly non-union labor, stiffed, stonewalled, endangered or underpaid workers and contractors, and otherwise schemed to out-Pinkerton the Pinkertons to steal from the little guy however he could in the odious name of enriching himself.
That tawdry history goes back decades. A report by the International Brotherhood of Electrical Workers (IBEW) found that, outside New York, Trump mostly used non-union crews in "right-to-work" states; faced over 60 lawsuits from tradespeople he didn't pay or shorted on overtime and over 200 mechanics' liens for nonpayment; was sued by underpaid and unpaid Polish laborers working 12-hour shifts 7 days a week building Trump Tower in "choking clouds of asbestos dust"; was repeatedly cited for labor violations at multiple projects; imposed a "Trump discount" - often 75% of what was owed - at time of payment; paid contractors pennies on the dollar during bankruptcy filings; was sued for non-payment by multiple lawyers who represented him in lawsuits for non-payment. As president, he shaped an anti-worker SCOTUS, chose anti-worker hacks to make anti-worker decisions, bad-mouthed union leaders, wildly inflated awful job figures; and in Lordstown, Ohio promised jobs were "all coming back" right before the GM plant closed: "He flat-out lied to everybody." Said a union leader this week, "He would be a disaster for the American working families. He was a disaster."
He was also, it's now definitively established, a disaster at business. Ruling Tuesday in a civil lawsuit brought by A.G. Letitia James', Justice Arthur Engoron found Trump engaged in "persistent fraud" by wildly inflating his own wealth - the shoddy golf courses and office buildings, gaudy Trump Tower apartment he said was three times its actual size, alleged $10 billion net worth that was maybe $1 billion. In a stunning move one sage deemed "New York's corporate death penalty," the judge also cancelled the Trump Organization's business licenses, effectively dissolving the whole rotten empire - "Spirit Halloween moving into Trump Tower" - sending it into receivership at fire-sale prices, leaving the wannabe tycoon possibly bankrupt and stripping him of his brassy, pathetic persona: "Like everything else about him, it was all a lie, built on rampant fraud." Engoron's scathing, 35-page opinion blasted Trump's legal team for "obstreperous behavior" an d "pure sophistry," dissed their defenses as fantasy "without basis in law or fact" while likening them to both Groundhog Day and Duck Soup, slapped sanctions on them, suggested Trump was also guilty of influence peddling, and left his chance of winning an appeal at "between zero and nothing." Karma rules.
Still, there he was, in Detroit at the incongruously non-unionauto parts supplier Drake Enterprises, greeted by UAW workers chanting "Hey hey ho ho Donald Trump has got to go" and a circling airplane proclaiming "TRUMP SOLD US OUT" but determinedly distracting from his cowardly refusal to attend another GOP debate by telling a carefully curated crowd that Biden will "murder the U.S. auto industry and kill countless union autoworker jobs forever," he's "selling you out to China (and) environmental extremists," "you've seen your lives wrecked and your families destroyed," thanks to electric cars "in two years you're all going to be out of business," but you'll have more (short-on-specifics) jobs you've ever seen before if you "just get your union guys (to) endorse me" even though he was at a non-union shop and union leaders tend to support Democrats, and "Barack Hussein Obama." Also, on the "transition to hell" that is evil electric cars: They'll sell for "peanuts" and "go for like one-fifth," not like one of the "good brands" of current gas-powered trucks, like "you take a Powerbuilt," except Powerbuilt is a brand of tools, not trucks. The UAW's Shawn Fain: "I don't think he gets it."
"They pit the lifers against the new boy, the young against the old, the black against the white. Everything they do is to keep us in our place." - Yaphet Kotto as Smokey in Paul Schrader's Blue Collar, a dark movie in which "the bad guys far outnumber the good guys because the bad guys are power incarnate and the good guys merely work for it."

Which Side Are You On? - Pete Seegerwww.youtube.com
News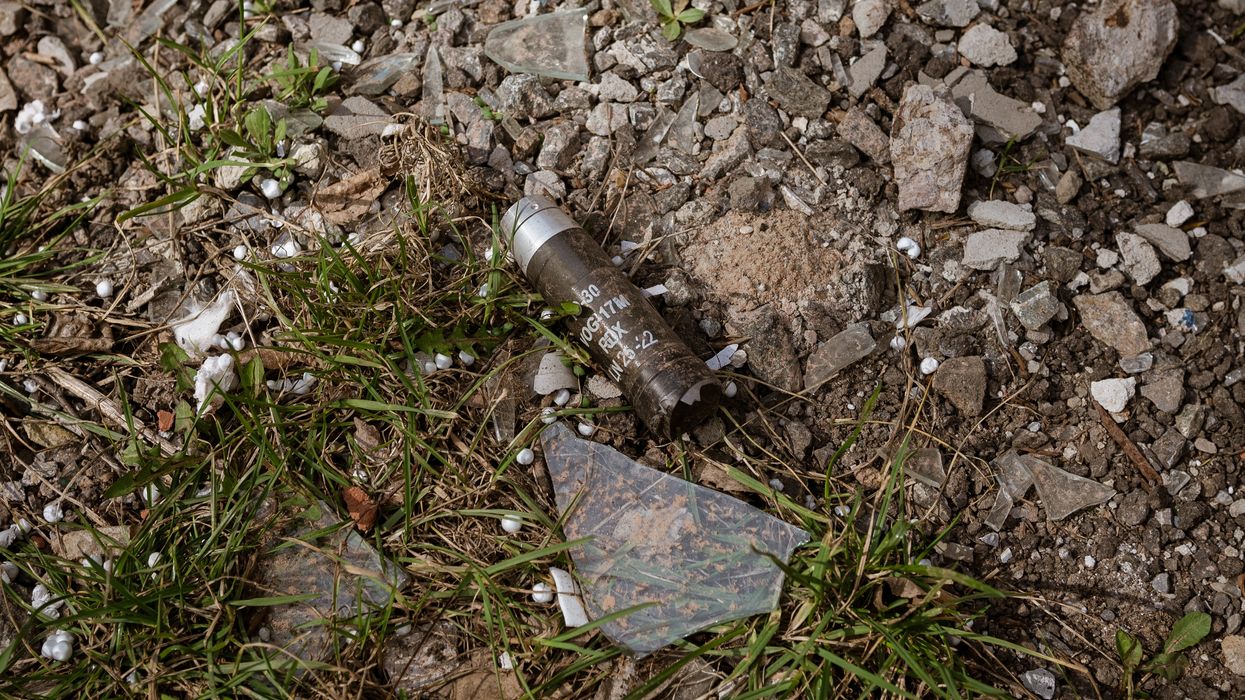 "The legacy of cluster bombs is misery, death, and expensive cleanup after generations of use," said Rep. Betty McCollum. "These weapons should be eliminated from our stockpiles."
The U.S. House of Representatives on Wednesday rejected a bipartisan amendment to the 2024 military spending bill that would have prohibited the transfer of cluster munitions—which are banned under a treaty ratified by more than 100 nations but not the United States—to any country.
The House voted 160-269 on the amendment to next year's National Defense Authorization Act co-sponsored by Reps. Sarah Jacobs (D-Calif.), Matt Gaetz (R-Fl.), Ilhan Omar (D-Minn.), Pramila Jayapal (D-Wash.), and Jim McGovern (D-Mass.). Seventy-five Democrats voted for the measure, while 137 voted "no"; 85 GOP lawmakers approved the amendment while 132 opposed it.
The vote took place less than a week after U.S. President Joe Biden said the United States would send more cluster munitions to Ukraine.
"Many of us have this idea of American exceptionalism, that America is set apart from the rest of the world. Well, that's certainly true when it comes to cluster munitions and not in the way that we want," Jacobs said on the House floor before Wednesday's vote.
"America is an outlier. We are one of the few countries that hasn't become party to the Convention on Cluster Munitions, and that is a grave mistake," she asserted, referring to a landmark 2008 treaty, to which 112 nations are parties.
Jacobs continued:

These weapons maim and kill indiscriminately. In 2021, the Landmine and Cluster Munition Monitor found that over 97% of casualties from cluster bomb remnants were civilians, and two-thirds of those were children. That's because these bomblets are small, colorful, and interesting shapes, so to children they look like toys. So when kids find these unexploded bomblets stuck in trees, or in the water, or simply on the ground and try to pick them up and play with them, they could lose a limb or their life in the blink of an eye.... These weapons are unpredictable, and the human cost is far too high to justify.
Since the end of the Vietnam War half a century ago, unexploded cluster munitions have killed approximately 20,000 civilians in Laos, where the U.S. dropped more bombs than all sides in World War II combined. The U.S. rained as many as 270 million cluster bombs on Laos, and less than 1% of the unexploded bomblets have been cleared since. They are still killing civilians today.
"These cluster bombs are indiscriminate," Gaetz said on the House floor Wednesday. "They've killed tens of thousands of people... and when this is all done, we'll be right back here on the floor appropriating money to de-mine the cluster bombs that we're now sending, which seems ludicrous to me."
"These cluster bombs are indiscriminate. They've killed tens of thousands of people."
Since Vietnam, the U.S. has used cluster bombs in wars including the 1999 NATO air campaign against Yugoslavia; the 1991 Desert Storm war in Iraq and Kuwait; and in Afghanistan, Iraq, and Yemen during the so-called War on Terror. U.S. cluster munitions have been linked to birth defects, miscarriages, cancers, and other ailments.
Earlier this year, the U.S. began sending artillery-fired cluster munitions to Ukraine. Russian invaders and Ukrainian homeland defenders have both killed and wounded soldiers and civilians with cluster bombs during the war.
"The decision by the Biden administration to transfer cluster munitions to Ukraine in my opinion was unnecessary and a sad mistake," McCollum told her House colleagues Wednesday. "The legacy of U.S. cluster munitions... undermines our moral authority and places the U.S. in a position that directly contradicts 23 of our NATO allies who have joined the Convention on Cluster Munitions."
"The legacy of cluster bombs is misery, death, and expensive cleanup after generations of use," McCollum added. "These weapons should be eliminated from our stockpiles."
"Sending these weapons anywhere makes us complicit in unavoidable civilian harm and creates blowback that undermines our national security."
Last week, Biden informed Ukrainian President Volodymyr Zelenskyy that the United States will provide Kyiv with long-range missiles with cluster munition warheads.
"Let's be clear," Jacobs added. "This isn't about one country, this is not about Ukraine. This is about protecting civilian lives and ensuring our national security all over the world. Because sending these weapons anywhere makes us complicit in unavoidable civilian harm and creates blowback that undermines our national security."
Multiple efforts by lawmakers to ban the export of U.S. cluster munitions have failed to advance. Earlier this year, the GOP-controlled House Rules Committee voted down a resolution proposed by Omar and Jacobs (D-Calif.), while backing another led by Rep. Marjorie Taylor Greene (R-Ga.)—whose controversial sponsorship doomed the proposal.
News
Independent, nonprofit journalism needs your help.
Please Pitch In
Today!