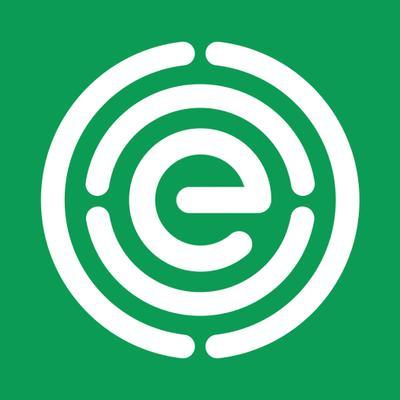 For Immediate Release
October, 17 2017, 10:30am EDT
Report: Suspected Carcinogen from Farm Runoff Fouls Drinking Water Across Rural America
WASHINGTON
Drinking water supplies for millions of Americans in farm country are contaminated with a suspected cancer-causing chemical from fertilizer, according to a new report by the Environmental Working Group.
The contaminant is nitrate, which gets into drinking water sources when chemical fertilizer or manure runs off poorly protected farm fields. Nitrate contaminates drinking water for more than 15 million people in 49 states, but the highest levels are found in small towns surrounded by row-crop agriculture. Major farm states where the most people are at risk include California, Iowa, Illinois, Wisconsin and Kansas.
Nitrate can be fatal to babies who ingest too much of it, and the Environmental Protection Agency's legal limit for it in drinking water was set 25 years ago to protect infants from so-called blue baby syndrome. But the new report, Trouble in Farm Country, details the previously undocumented adult cancer risk posed by drinking water polluted with nitrate at only half the EPA's legal limit.
Data in the report comes from EWG's Tap Water Database, compiled from test results of almost 50,000 local water utilities in all 50 states. The data show that relatively few U.S. water supplies had nitrate levels in 2015 above the EPA's legal limit of 10 parts per million, or ppm. But more than 1,600 systems serving small towns had levels above 5 ppm, which studies by the National Cancer Institute have found to increase the risk of colon, kidney, ovarian and bladder cancers.
"Farmers can take often simple steps to keep fertilizer and manure out of drinking water sources," said Craig Cox, senior vice president for agriculture and natural resources at EWG. "But far too few farmers are taking action and federal farm policy doesn't do enough to help them. The result is that rural Americans are burdened with the health risks and cleanup costs of unchecked farm pollution, when it makes more sense to keep nitrate and other contaminants from getting in the water in the first place."
The risk is acute in small towns like Pretty Prairie, Kan., population 672, where for more than 20 years tap water has been contaminated with nitrate exceeding the EPA's legal limit. In 2014 and 2015 the level was twice the legal limit.
In Pretty Prairie, parents with infants under 6 months old, and nursing or pregnant women, can get free bottled water. But that does nothing to protect other residents from cancers that may not show up for years or decades. A new water treatment system to lower nitrate levels could cost $2.4 million - well over $3,000 for every person in town.
Farmers are largely exempt from federal or state regulations that could stem water pollution. The Department of Agriculture pays billions of taxpayer dollars a year to farmers who adopt conservation practices to control runoff. But EWG's report shows that much of the money does not support the most effective practices in areas where drinking water is most at risk.
The upcoming federal farm bill, which Congress is beginning to consider, is a remarkable opportunity to help local communities secure clean and safe drinking water by keeping nitrate and other contaminants out of water in the first place.
"Under the new farm bill, Congress should insist on an iron-clad quid pro quo with farmers," said Cox. "Farmers and landowners who receive federal farm and crop insurance subsidies, courtesy of taxpayers, must agree to take simple steps to keep fertilizer and manure from getting into our water. Department of Agriculture conservation programs should be surgically targeted to areas where drinking water is most threatened."
The Environmental Working Group is a community 30 million strong, working to protect our environmental health by changing industry standards.
(202) 667-6982
LATEST NEWS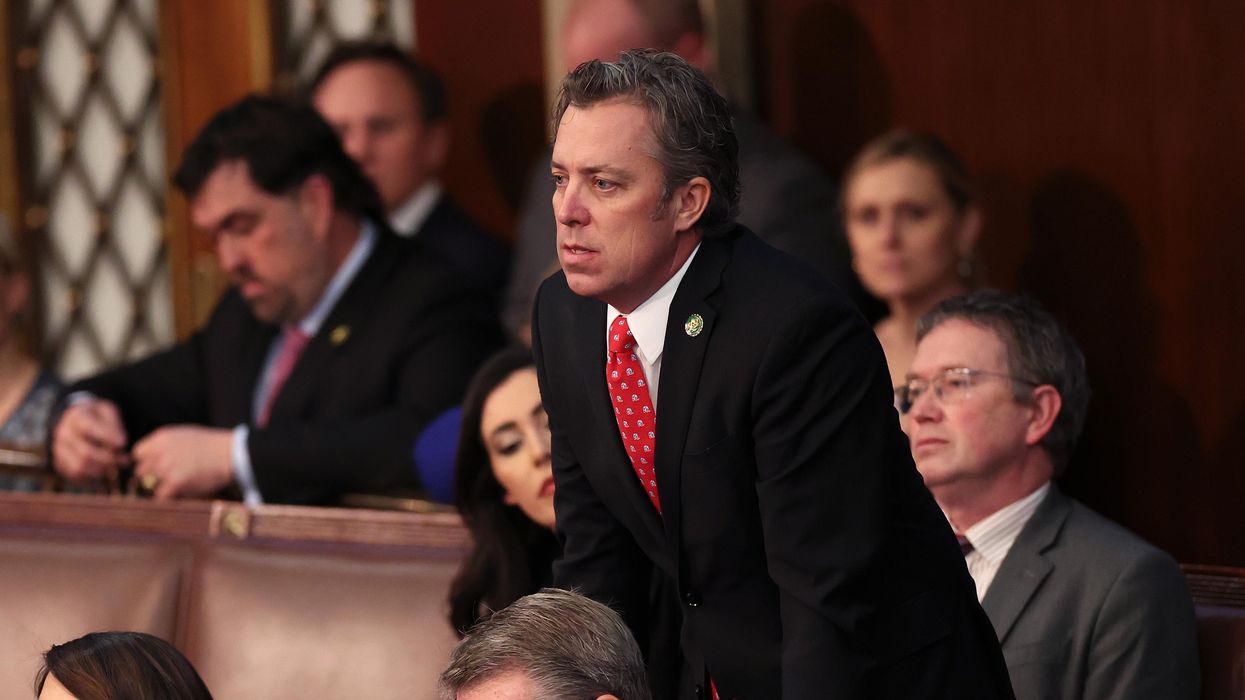 "House Republicans are trying to slash lifelines for middle-class families on behalf of rich special interests," said a White House spokesperson.
The White House on Saturday condemned a newly introduced Republican bill that would repeal the Inflation Reduction Act, a law that includes a number of changes aimed at lowering costs for Medicare recipients.
Unveiled Thursday by freshman Rep. Andy Ogles (R-Tenn.), the bill has 20 original co-sponsors and is endorsed by several right-wing groups, including the Koch-funded organization Americans for Prosperity.
The Biden White House argued that rolling back the Inflation Reduction Act, which also contains major climate investments, would represent "one of the biggest Medicare benefit cuts in American history" as well as a "handout to Big Pharma." According to Politico, which first reported the White House's response to the GOP bill, the administration is planning to release "state-by-state data indicating how this would affect constituents in different areas."
"House Republicans are trying to slash lifelines for middle-class families on behalf of rich special interests," White House spokesperson Andrew Bates said in a statement. "Who on earth thinks that welfare for Big Pharma is worth selling out over a million seniors in their home state?"

The Inflation Reduction Act authorized a $35-per-month cap on insulin copayments for Medicare recipients, as well as an annual $2,000 total limit on out-of-pocket drug costs.
The bill will also, among other long-overdue changes, allow Medicare to begin negotiating the prices of a subset of the most expensive prescription drugs directly with pharmaceutical companies, which fiercely opposed the law and are working with Republicans to sabotage it. The newly negotiated prices are set to take effect in 2026.
Ogles, whose two-page bill would eliminate the above reforms, repeatedly attacked Medicare, Medicaid, and other federal programs and protections during his 2022 campaign for the U.S. House.
\u201cNEW @Campbell4TN ad in TN-5: \u201cExtreme Andy Ogles in his own words \u2014 a SUPERCUT\u201d\n\nWatch @AndyOgles back a no exceptions abortion ban, cutting Medicare & Medicaid, eliminating Dept of Ed, impeaching Biden, deny the election was legit, etc\u2026 do better, TN-5.\nhttps://t.co/YhCRGXIPsU\u201d

— The Tennessee Holler (@The Tennessee Holler) 1667748662
The White House's critique of Ogles' bill comes as Biden is facing pressure from advocates and physicians to cancel a Medicare privatization scheme that his administration inherited from its right-wing predecessor and rebranded.
It also comes as the White House is locked in a standoff with House Republicans over the debt ceiling. Republican lawmakers have pushed for deeply unpopular cuts to Medicare, Social Security, and other critical federal programs as a necessary condition for any deal to raise the country's borrowing limit and avert a catastrophic default.
"In less than a month, MAGA extremists have threatened to drive the economy into a recession by defaulting on our debt, promised to bring up a bill to impose a 30% national sales tax, and now have introduced legislation to repeal the Inflation Reduction Act," Patrick Gaspard, president and CEO of the Democratic Party-aligned Center for American Progress said in a statement. "This will cut taxes for corporations who earn billions in profit while empowering Big Pharma and Big Oil to continue ripping off the American people."
"It is vital that all Americans understand what is at risk if MAGA extremists succeed in passing their latest dangerous idea: millions of lost jobs, millions more without health insurance, and higher costs for lifesaving insulin, utilities, and more," Gaspard added.
News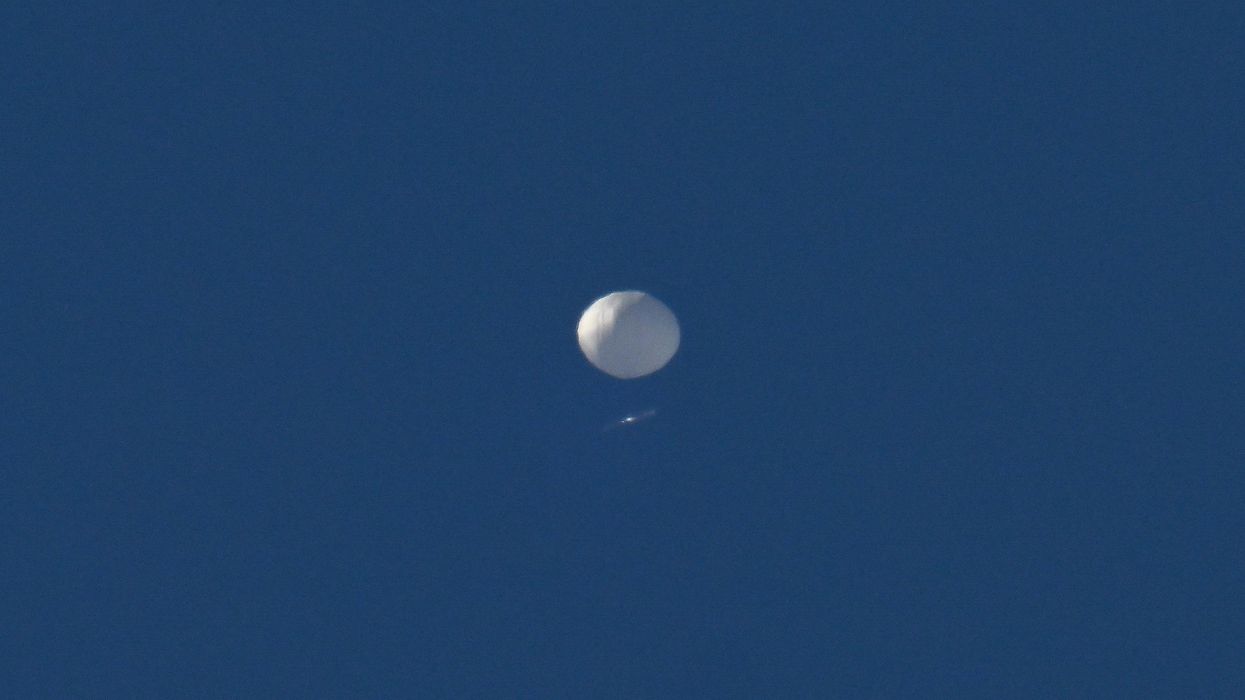 The Associated Press reported that "an operation was underway in U.S. territorial waters to recover debris from the balloon."
The United States military shot down a Chinese balloon off the South Carolina coast on Saturday, according to the Associated Press.
"An operation was underway in U.S. territorial waters to recover debris from the balloon, which had been flying at about 60,000 feet and estimated to be about the size of three school buses," AP reported. "Before the downing, President Joe Biden had said earlier Saturday, 'We're going to take care of it,' when asked by reporters about the balloon. The Federal Aviation Administration and Coast Guard worked to clear the airspace and water below."
Defense Secretary Lloyd Austin confirmed in a statement that "at the direction of President Biden, U.S. fighter aircraft assigned to U.S. Northern Command" successfully downed the balloon "off the coast of South Carolina in U.S. airspace."
The U.S. has said it believes the high-altitude balloon was a part of a surveillance operation, something China has denied.
"The airship is from China," a spokesperson for the country's foreign ministry said Friday. "It is a civilian airship used for research, mainly meteorological, purposes. The Chinese side regrets the unintended entry of the airship into U.S. airspace due to force majeure. The Chinese side will continue communicating with the U.S. side and properly handle this unexpected situation."
The U.S. first detected the balloon over the state of Montana earlier in the week, leading Secretary of State Antony Blinken to cancel his planned trip to China as tensions between the two countries continue to rise.

As Jake Werner of the Quincy Institute for Responsible Statecraft wrote Friday, members of Congress have "used the incident to hype fears about China," citing House China Select Committee Chairman Mike Gallagher's (R-Wis.) claim that the balloon posed "a threat to American sovereignty" and "a threat to the Midwest."
Werner stressed that "foreign surveillance of sensitive U.S. sites is not a new phenomenon," nor is "U.S. surveillance of foreign countries."
"The toxic politics predominating in Washington seems to have convinced the Biden administration to further restrict communications with Beijing by calling off Blinken's trip," Werner added. "Letting war hawks set America's agenda on China can only end in disaster. Conflict is not inevitable, but avoiding a disastrous U.S.-China military confrontation will require tough-minded diplomacy—not disengagement."

News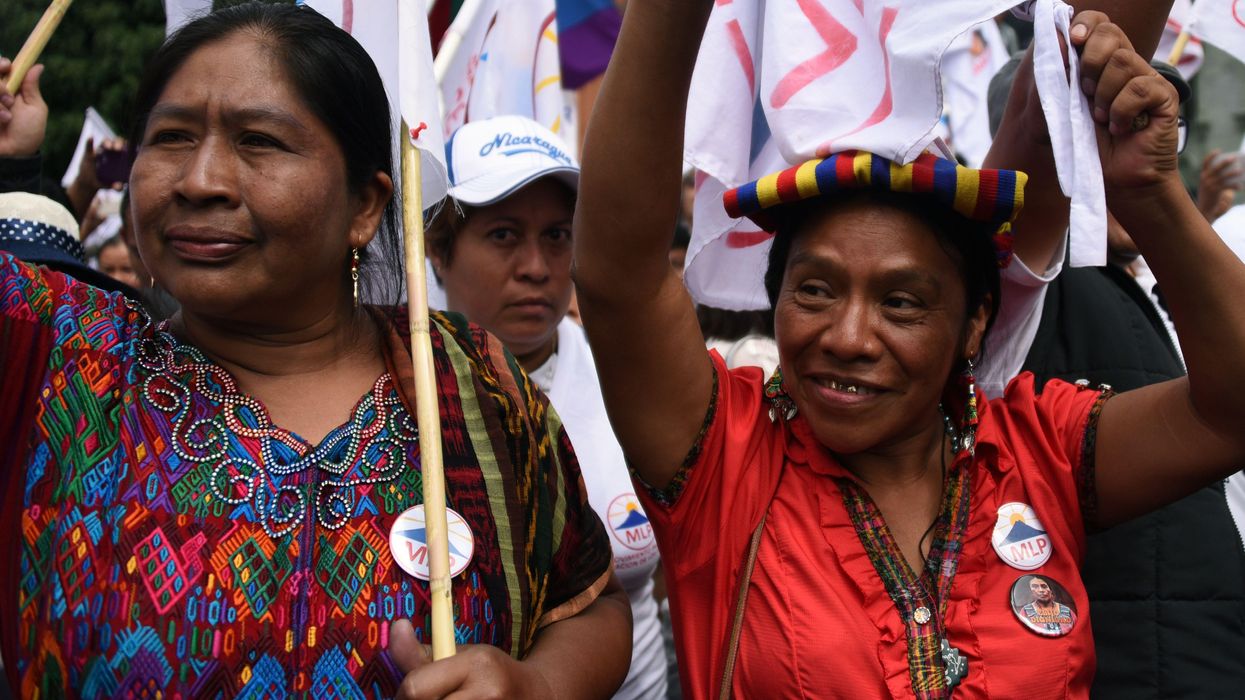 One election expert called the decision an "electoral coup."

Guatemala's Supreme Electoral Tribunal ruled earlier this week that a leftist presidential ticket headed by Indigenous human rights defender Thelma Cabrera should be barred from the June ballot, prompting fury and vows of mass protests from Cabrera's supporters.
Thursday's ruling—which Cabrera's young political party, the Movement for the Liberation of the Peoples (MLP), is vowing to appeal to the Supreme Court of Justice—stems from Guatemala electoral authorities' refusal to certify the candidacy of Cabrera's running mate, former human rights ombudsman Jordán Rodas.
Reporting indicates that election officials have justified stonewalling Rodas—a longtime target of Guatemala's right-wing political establishment—by citing supposed "anomalies during the collection of compensation" upon his departure from the ombudsman post last year.
But Cabrera and Rodas contend that the electoral tribunal's decision is a politically motivated attempt to keep a left-wing party—whose base is largely rural—off the ballot, which is set to include the daughter of Gen. Efraín Ríos Montt, the former U.S.-backed Guatemalan dictator who was convicted of genocide and crimes against humanity in 2013.
Montt's victims were largely Indigenous peasants.
Last month, the same electoral body that deemed Cabrera and Rodas disqualified from the June ballot ruled that Zury Ríos can participate, despite a constitutional provision barring the relatives of coup leaders from serving as Guatemala's president. Ríos was blocked from the 2019 presidential ballot on those grounds.
That year, as Nick Burns of Americas Quarterly recently reported, Cabrera "gave the Guatemalan political establishment a shock" by winning 10% of the vote in the presidential election.
"It was the most successful presidential run by an indigenous person in Guatemala's modern history—the only other was by Nobel Prize winner Rigoberta Menchú in 2007, who won 3% of the vote," Burns noted. "Cabrera's biography is striking. She grew up in a Maya Mam family of poor laborers on a coffee plantation on Guatemala's Pacific coast and was married at 15. She described in a book how she and her sister Vilma went to school through the sixth grade because their mother—who could not read or write—saw education as crucial."
Cabrera's supporters have vowed to "paralyze the country" with large-scale demonstrations if the electoral body's decision isn't reversed.
"If they do not do it, we are going to take over the international airport, the three ports of the country, the Supreme Electoral Tribunal, and all state institutions," said one MLP supporter. "We are Indigenous, we are Maya, and we can be out here for a month!"
\u201c#EUElecciones2023 Manifestantes amenazan con tomar el Aeropuerto Internacional La Aurora, los tres puertos del pa\u00eds y el TSE si no se inscribe al binomio presidencial del MLP | V\u00eda @noel_solis \n\n\ud83d\uddf3\ufe0f\ud83c\uddec\ud83c\uddf9 #Elecciones2023 #EleccionesGT #GUATEVOTA2023\u201d

— Emisoras Unidas (@Emisoras Unidas) 1675357690
Daniel Zovatto, a political scientist and expert in Latin American elections, said the tribunal's ruling against the MLP presidential ticket amounts to an "electoral coup" that "vitiates the integrity and credibility" of the upcoming contest.
Rodas, a human rights champion, lamented in response to the decision that "democracy in Guatemala has taken another step back."
"They are afraid of the people and their sovereign decisions," he said.
News
SUPPORT OUR WORK.
We are independent, non-profit, advertising-free and 100%
reader supported.