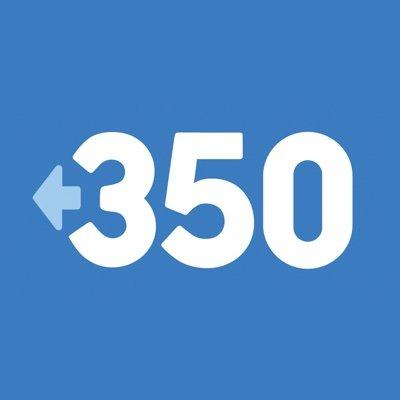 For Immediate Release
Contact:
Melanie Mattauch, European Communications Coordinator, melanie@350.org, +49151 5812 0184
Dutch Cuts to Coal Finance a Good Sign for the Fossil Fuel Divestment Movement
Yesterday's announcement that the Netherlands would join the United States, United Kingdom and others in ending support for public financing for new coal-fired power plants is a good sign for the growing fossil fuel divestment movement, according to 350.org. [1]
THE NETHERLANDS
Yesterday's announcement that the Netherlands would join the United States, United Kingdom and others in ending support for public financing for new coal-fired power plants is a good sign for the growing fossil fuel divestment movement, according to 350.org. [1]
"This is another sign that the coal industry is on its last legs," said Tim Ratcliffe, European Divestment Campaigner for
350.org
, which is helping coordinate the global movement to divest from the fossil fuel industry. "There's a growing consensus that coal has no place in a carbon constrained world. Coal isn't just bad news for the climate, it's increasingly bad news for any financial portfolio. Institutional investors should read the writing on the wall and divest."
In their joint announcement, the United States and Netherlands stated, "We emphasize that our work to scale up climate-friendly investments in developing countries is most effective when combined with reducing public incentives for high-carbon infrastructure."
"We need to redirect the flow of capital away from carbon-intensive investments and into climate solutions," said Ratcliffe. "As value-driven institutions, universities, churches, and pension funds should be leaders in helping speed up this transition."
Dutch campaigners call on the Dutch pension fund ABP, one of the largest pension funds in the world, to divest from fossil fuels. ABP's large exposure to high-carbon assets, puts the Netherlands at risk, according to a recent study by the Greens/ European Free Alliance. [2] The largest part of ABP's investments in commodities worth EUR10 billion is related to oil and gas that risk turning into stranded assets.
Liset Meddens, Coordinator of Fossil Free NL with
350.org
said, "ABP is entrusted with our money to secure our future, not to finance an industry whose business model is based on wrecking our future. ABP needs to recognize the financial and environmental risks of fossil fuel assets and start phasing out their investments in this dirty industry."
The Dutch pension fund would thereby follow Norway's lead. Norway has set up an expert group to see if its $840bn oil fund (the world's largest sovereign wealth fund) should stop investing in fossil fuel companies.
Yesterday's announcement will also place a new level of scrutiny on the United States, Netherlands, World Bank, and other large investors to make sure that they are living up to their commitment to stop supporting high-carbon infrastructure. Analysis by the group
Oil Change International
, for example, has shown that despite its climate commitments, the World Bank actually increased its funding for fossil fuel projects between 2012 and 2013. [3] Meanwhile, the Obama administration is currently deliberating on whether or not approve a permit for the carbon-intensive Keystone XL pipeline.
"It would be completely hypocritical for the Obama Administration to say that it wants to reduce public support for high-carbon infrastructure and then approve the Keystone XL pipeline, which is a fuse to the largest carbon bomb on the planet, the Canadian tar sands," said Jamie Henn,
350.org
Strategy and Communications Director. "If the U.S. wants its climate commitments to be taken seriously by the international community, it needs to reject Keystone XL."
###
NOTES TO EDITORS
Follow #ABPfossielvrij for updates
[1]
Joint statement
by the United States and the Netherlands on Climate Change and Financing the Transition to Low-Carbon Investments Abroad
[2] Report The Price of Doing Too Little Too Late: The impact of the carbon bubble on the EU financial system available
here
350 is building a future that's just, prosperous, equitable and safe from the effects of the climate crisis. We're an international movement of ordinary people working to end the age of fossil fuels and build a world of community-led renewable energy for all.
LATEST NEWS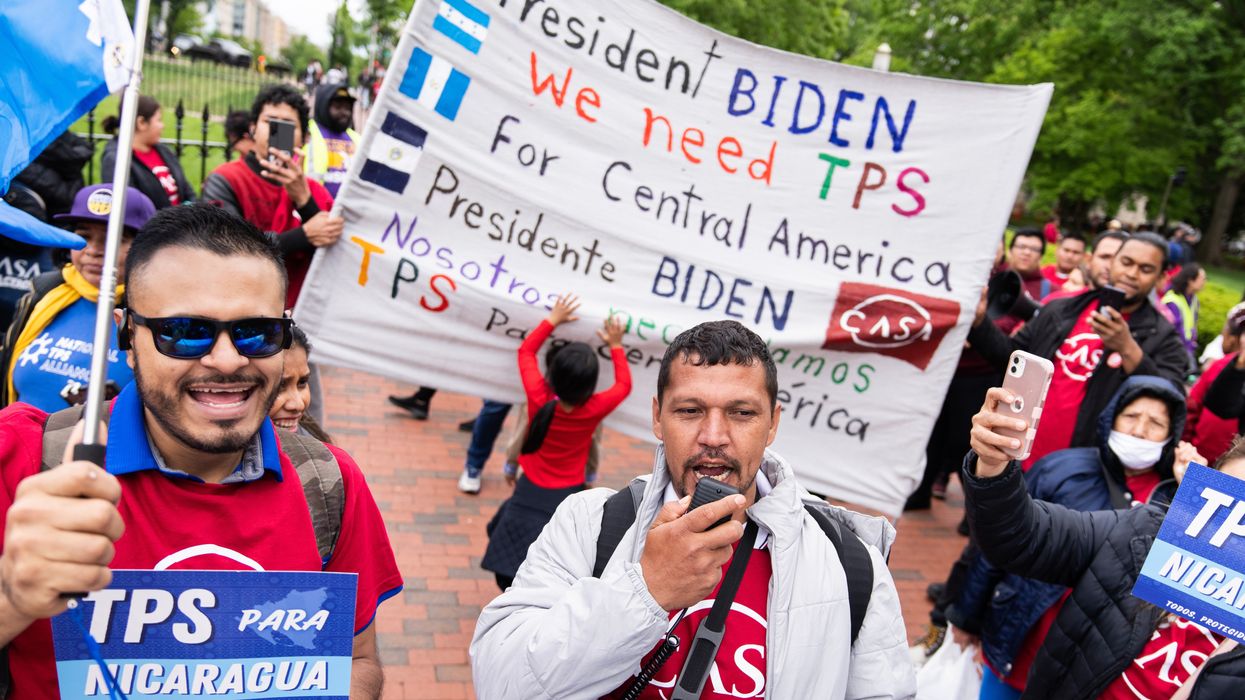 While "the North Star is always citizenship" for immigrant rights groups, "this program is now the relief that the president can offer," said one advocate.
More than 400 immigrant rights and civil society groups on Monday wrote to U.S. Secretary of Homeland Security Alejandro Mayorkas to call on the Biden administration to redesignate people from six countries for Temporary Protected Status, warning that the safety of as many as 2 million people hang in the balance as the White House has said it is up to Congress to pass comprehensive reform to protect asylum-seekers and undocumented immigrants.
Organizations including the ACLU, CASA, and the National Immigration Law Center noted that the Department of Homeland Security (DHS) in June extended the TPS designations of El Salvador, Nicaragua, Honduras, and Nepal as it rescinded the Trump administration's termination of protections for people from those countries.
On Friday, under pressure from lawmakers including Reps. Delia Ramirez (D-Ill.), Jesús "Chuy" Garcia (D-Ill.), and Joaquin Castro (D-Texas), the administration extended the TPS registration period for people from the four countries—known collectively as the Ramos countries—from 60 days to 18 months, allowing people to have until at least March 2025 to re-register for protected status, which enables them to temporarily live and work in the U.S. and protects them from deportation.
That victory was celebrated, but advocates on Monday said DHS's formal finding that the conditions in the four countries continued to meet the requirements for TPS—which is extended to people from countries facing ongoing conflict, environmental disasters, or other violence—also allows the agency, "in its discretion, to redesignate TPS for those countries."
"Doing so would provide TPS protections to individuals who have come to the U.S. and established lives here in the many intervening years since the original designations," wrote the groups. "Such a decision to redesignate will remain open to you, as DHS secretary, in your unreviewable discretion, until and unless those conditions are no longer in place. Failure to exercise that discretion would leave one to two million people from these same nations unprotected, even though they face the exact same dangers as current TPS holders if forcefully returned to their countries of origin."
The groups also urged DHS to redesignate Venezuela as a TPS country and to designate people from Guatemala as protected under the program for the first time.
Last week, members of the Congressional Hispanic Caucus also called on the administration to redesignate the Ramos countries as qualifying for TPS.
The Biden administration has pushed Congress to pass immigration reform—while expanding the Trump-era Title 42 program by imposing requirements on certain people fleeing their home countries for the U.S. and continuing to detain families—but advocates on Monday told The Hill that redesignating TPS for people at risk of deportation is "the most powerful tool in the president's executive arsenal" regarding immigration policy, while they continue pushing for legislation that would include a path to citizenship.
"We cannot wait," Jossie Flor Sapunar, national communications director for advocacy group CASA, toldThe Hill. "The only relief that can be offered to the immigrant community now is through the administration."
While "the North Star is always citizenship," Sapunar added, "this program is now the relief that the president can offer."
Redesignating TPS "would provide enormous benefits to our nation and also fulfill the spirit of the president's campaign promise not to return TPS holders to unsafe countries," wrote the groups on Monday, in addition to being "life-changing for those who have made their lives here."
"A wealth of research demonstrates the benefits to all workers and the economy of granting legal status to persons who already live and work in the U.S. and specifically documents the huge economic contributions of persons who have or would be eligible for TPS," they said. "Redesignating TPS for these countries would grant work authorization to a meaningful proportion of all currently undocumented workers, helping to alleviate tight labor markets and reducing the need for local safety net programs. It would also increase remittances back to these countries, putting resources directly into the hands of the people who need it most, helping to bring stability to those countries, and thereby reducing migration."

The letter was sent less than a week after more than 30 mayors and county executives from across the U.S. wrote to Mayorkas and Secretary of State Antony Blinken, calling on them to redesignate TPS for Venezuela, Honduras, El Salvador, Nicaragua, Cameroon, and Nepal and to give initial designation to Guatemala, Mali, Congo, Mauritania, and Nigeria.
"As city and county leaders, the safety and well-being of our residents is of utmost importance," wrote the local leaders, including Chicago Mayor Brandon Johnson, Boston Mayor Michelle Wu, and Los Angeles Mayor Karen Bass. "We recognize that TPS is one way the Biden-Harris administration can protect many well-established residents with deep ties to our communities through their families, jobs, and homes as well as help newer arrivals establish themselves and find economic independence."
News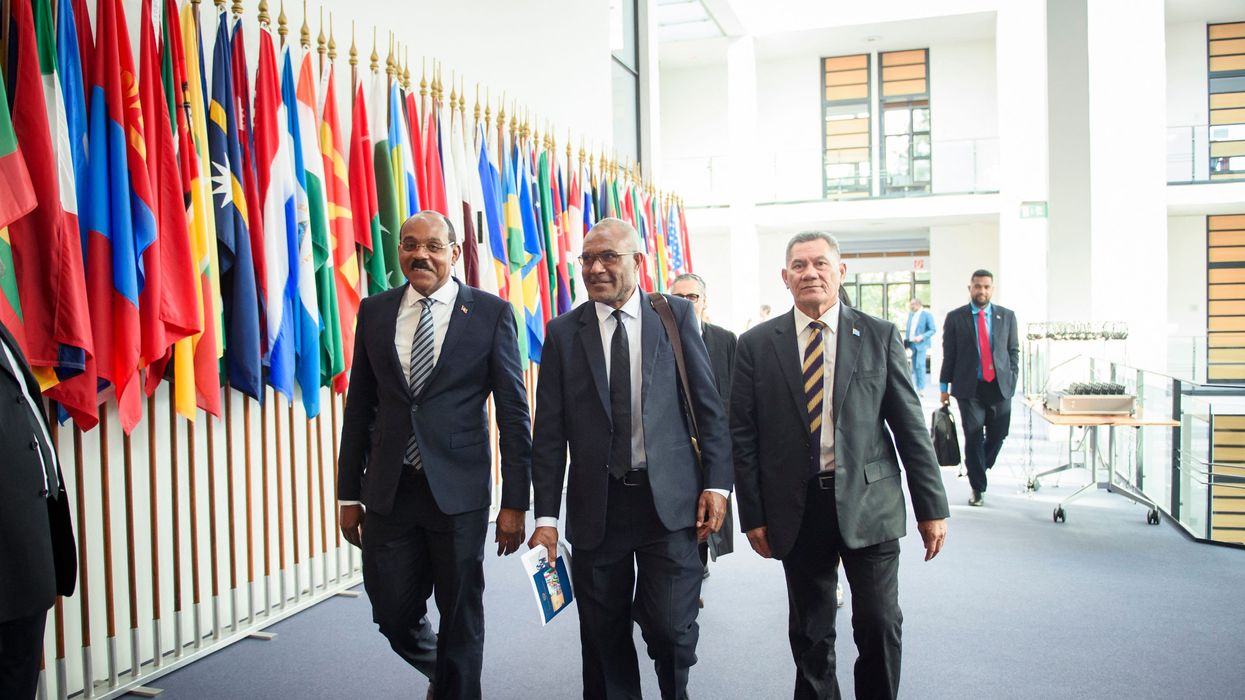 "We are confident that international courts and tribunals will not allow this injustice to continue unchecked," the prime minister of Tuvalu said.
Do greenhouse gas emissions from the burning of fossil fuels count as ocean pollution under the Law of the Sea?
That's the question that nine small island states that are low emitting but extremely vulnerable to the climate crisis have asked the International Tribunal for the Law of the Sea (ITLOS) in a landmark hearing that began Monday in Hamburg, Germany.
"We come here seeking urgent help, in the strong belief that international law is an essential mechanism for correcting the manifest injustice that our people are suffering as a result of climate change," Tuvalu's Prime Minister Kausea Natano said in a statement shared by Eureporter. "We are confident that international courts and tribunals will not allow this injustice to continue unchecked."
The 1982 United Nations Convention on the Law of the Sea governs the shared use and protection of the ocean. A total of 168 countries—the U.S. not among them—have ratified it.
Under Article 194(1), those 168 states have agreed to "take, individually or jointly as appropriate, all measures consistent with this convention that are necessary to prevent, reduce, and control pollution of the marine environment from any source." Yet, despite the fact that 25% of carbon dioxide emissions and 90% of global heating end up in the oceans, leading to threats like marine heatwaves, coral bleaching, ocean acidification, and more extreme tropical storms, it's still not clear what duties nations have to prevent climate pollution under international maritime law.
"What's the difference between having a toxic chimney spewing across a border to carbon dioxide emissions?" Payam Akhavan, lead counsel and chair of the committee of legal experts advising the nations that brought the question, askedThe Guardian. "Some of these states will become uninhabitable in a generation and many will be submerged under the sea. This is an attempt to use all the tools available to force major polluters to change course while they still can."
"A positive advisory opinion could be essential to the global fight against climate change."
The island nations—organized as the Commission of Small Island States on Climate Change and International Law (COSIS)—first requested an advisory opinion from the tribunal in December 2022. COSIS formed in 2021 during the COP26 U.N. climate talks in Glasgow, Scotland, and its members include Antigua and Barbuda, Tuvalu, Palau, Niue, Vanuatu, Saint Lucia, Saint Vincent and the Grenadines, Saint Kitts and Nevis, and the Bahamas, according to ClientEarth.
These nations say they have only contributed 1% of global greenhouse gas emissions but contend with disproportionate climate impacts, from sea-level rise and saltwater intrusion to coastal erosion, The New York Times reported.
"Despite our negligible emission of greenhouse gases, COSIS's members have suffered and continue to suffer the overwhelming burden of climate change's adverse impacts," Antigua and Barbuda Prime Minister Gaston Alfonso Browne said in a statement shared by Eureporter."Without rapid and ambitious action, climate change may prevent my children and grandchildren from living on the island of their ancestors, the island that we call home. We cannot remain silent in the face of such injustice."
The ITLOS hearing is scheduled to last through September 25. In addition to the members of COSIS, more than 50 nations will weigh in with written or oral arguments, according to The New York Times. Among them will be major greenhouse gas emitters like China, India, and European Union member states. A ruling is expected within months.
While COSIS is only asking for an advisory opinion for now, legal experts say the decision could have a major impact on climate litigation going forward, especially if ITLOS rules that signatories do have an obligation to protect the ocean from climate pollution.
"The islands could hold major emitters of greenhouse gases responsible for damage by their failure to implement the Paris climate accord," University of Edinburgh emeritus international law professor Alan Boyle told The New York Times.
That is the outcome that legal climate advocates like ClientEarth are hoping for.
"A positive advisory opinion could be essential to the global fight against climate change," the group wrote. "A legal interpretation by the tribunal that the Law of the Sea requires states all over the world mitigate their greenhouse gas emissions to prevent harm to the marine environment opens up the possibility that climate commitments such as those made under the Paris agreement may need to be enforced to protect the world's oceans."
News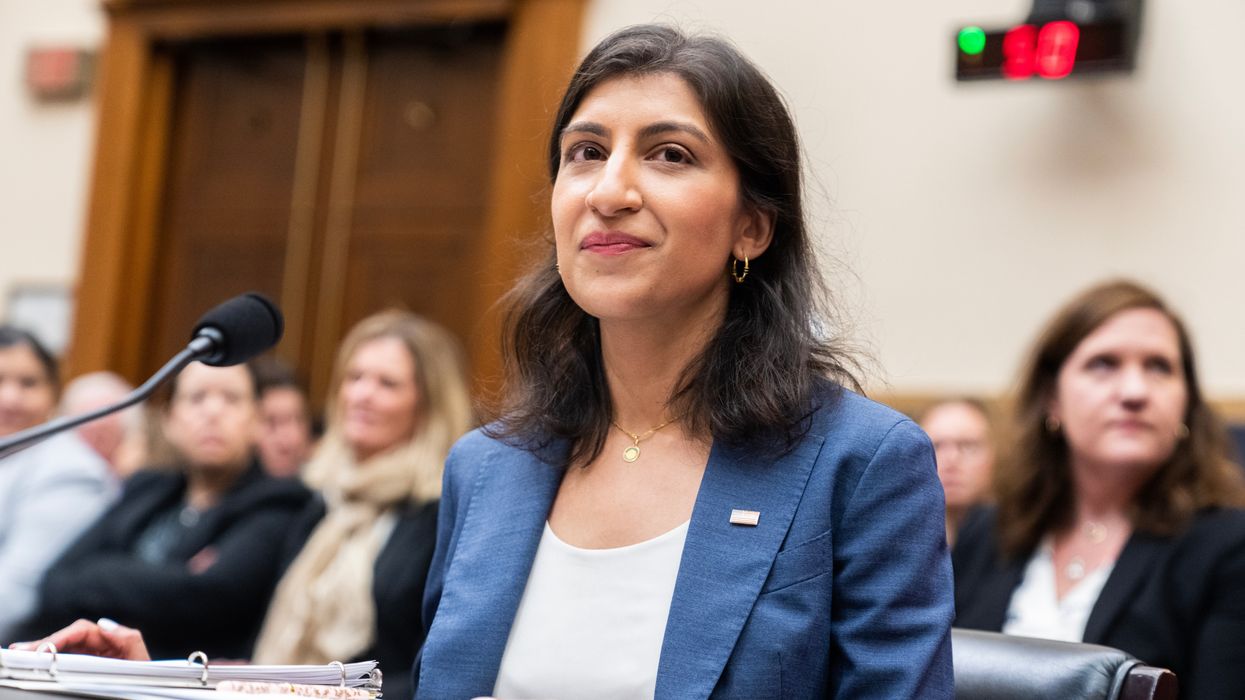 Financiers are reportedly lobbying the incumbent president to remove the Federal Trade Commission chair if he wins reelection in 2024.
Federal Trade Commission Chair Lina Khan's efforts to challenge corporate consolidation across the U.S. economy—from gaming to pharmaceuticals to semiconductors—have drawn vocal outrage from industry-backed Republican lawmakers and other mouthpieces for big business.

And now, according to the Financial Times, some of the Democratic Party's Wall Street donors are privately calling on President Joe Biden to fire Khan if he wins reelection in 2024.
"Anybody talking to dealmakers over the past year or so will have noticed that barely anyone has been capable of hiding their loathing for Khan," wrote FT's James Fontanella-Khan. "In private, financiers accuse her of being anti-American and against business. Several Wall Street donors to the Democratic Party are using their position of influence to quietly lobby Biden to drop Khan if he gets reelected, according to people briefed on the matter. That's how badly they want her out of the FTC."
Wall Street spent over $74 million in support of Biden in 2020 and industry executives—at the urging of the president's team—have hosted fundraisers this year for his reelection campaign.
Under Khan's leadership, the FTC has taken legal action against several prominent merger proposals—including Microsoft's $69 billion deal to acquire Activision Blizzard, a case the agency paused after recent court defeats. The FTC has also helped rewrite pro-consolidation merger guidelines that were established during the Reagan era, launched a probe into Big Tech's cloud computing businesses, and proposed a ban on exploitative non-compete agreements.
Additionally, as soon as this month, the FTC is expected to file a major antitrust lawsuit against the online retail behemoth Amazon, which Khan has long argued is a monopoly.

The Khan-led FTC's proactive approach to taking on entrenched power that has worsened inequality and harmed workers has predictably angered corporate America and its GOP allies in Congress, who used a recent hearing to attack Khan as a "bully."
Some of the Republican Party's most outspoken critics of Khan are funded by Big Tech.

The Wall Street Journal's right-wing editorial board has also taken on a major role in fueling the outrage, running dozens of pieces this year attacking Khan's work.
FT's James Fontanella-Khan argued that the widespread "animus" toward Khan in corporate America "might indicate she is having an impact despite the setbacks."
"Khan has an egalitarian vision of competition law that seeks to improve the well-being of citizens beyond their roles as consumers," he added. "The Amazon case will be a big test."
News
Independent, nonprofit journalism needs your help.
Please Pitch In
Today!