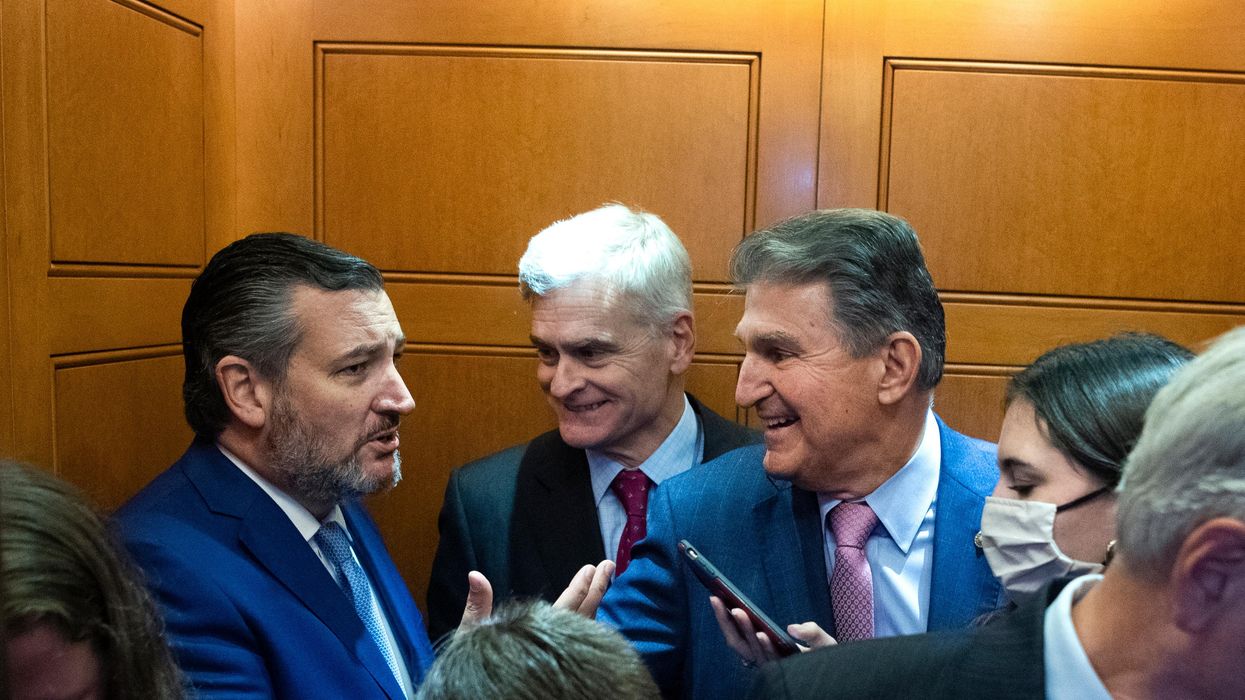 One critic said the right-wing Democrat intends "to inhibit climate action and undermine agencies charged with protecting public health and safety—all in the interest of propping up his fossil fuel funders."
Republican Sen. Ted Cruz of Texas and right-wing Democratic Sen. Joe Manchin of West Virginia on Thursday introduced legislation that would prevent a federal agency from banning gas stoves.
Cruz and Manchin's bill to preempt the U.S. Consumer Product Safety Commission (CPSC) from banning gas stoves—titled the Gas Stove Protection and Freedom Act and described by progressive advocacy group Food & Water Watch as "absurd"—comes even though the agency says it has no plans to implement such a prohibition.
Climate and public health advocates celebrated last month after CPSC Commissioner Richard Trumka Jr. told Bloomberg News that gas stoves are "a hidden hazard" and suggested that new ones should be banned.
However, as Reutersreported Thursday, Trumka "walked back those comments after conservatives and energy industry groups seized on them as a way to criticize the Biden administration for allegedly overreaching with its climate and environmental policy agenda."
Food & Water Watch observed that while "there is currently no plan" to ban gas stoves, "there is substantial research documenting the hazards associated with the air pollution" the methane-powered appliances create.
A widely shared recent study found that 12.7% of childhood asthma cases in the U.S. can be tied to indoor air pollution caused by gas stoves. The findings bolstered calls from environmental justice advocates and public health experts to prohibit the sale of new gas stoves and expedite the switch to cleaner and safer electric ones, but the CPSC has yet to propose regulatory action.
"Manchin is doing his part to fuel the ridiculous right-wing panic over a nonexistent war on gas stoves," Food & Water Watch policy director Jim Walsh said Thursday. "But his intent behind this legislation is serious: to inhibit climate action and undermine agencies charged with protecting public health and safety—all in the interest of propping up his fossil fuel funders."
"As state and local governments are increasingly looking to turn away from gas in new construction—moves that will improve air quality and public health, and reduce climate pollution—Sen. Manchin continues looking backward," said Walsh.
\u201ctwo of Congress's biggest beneficiaries of fossil fuel $ are here to defend gas stoves from a non-existent ban\n\nfabulous stuff\n\noil/gas contributions over career: \nCruz: $4,242,269\nManchin: $1,261,766 (incl. $757,059 in 2022 cycle)\u201d

— Chris D'Angelo (@Chris D'Angelo) 1675358153
Manchin is the top congressional recipient of cash from the fossil fuel industry, which has fought aggressively against increasingly popular campaigns to outlaw gas stoves at the state and local levels.
However, the coal baron who leads the Senate Energy and Natural Resources Committee is far from alone in his defense of planet-heating and illness-inducing gas stoves.
As The Washington Postreported Thursday, Natural Allies for a Clean Energy Future—a nonprofit group founded by a half-dozen gas companies—"has enlisted prominent Democratic politicians and pollsters to help enhance gas' reputation among liberal voters."
Former Sens. Mary Landrieu (D-La.) and Heidi Heitkamp (D-N.D.) and former Rep. Tim Ryan (D-Ohio) are among those going to bat for the fracking and gas utility industries.
"Natural Allies is backed by TC Energy, the Canadianpipeline giant behind the controversial Keystone XL project, and Southern Company, one of the biggest U.S. utilities," the Post reported. "Launched shortly before the 2020 election, the group is led by Susan Waller, a former executive at the pipeline firm Enbridge."
News