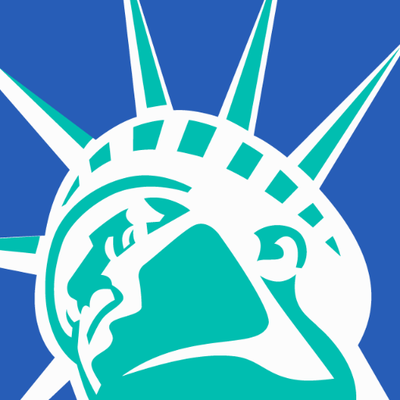 Trump Consciously Lied
Statement by Lisa Gilbert, Executive Vice President of Public Citizen and Co-Chair of the Not Above the Law Coalition
WASHINGTON
At the conclusion of the second U.S. House January 6 Select Committee hearing today, Lisa Gilbert, Executive Vice President of Public Citizen and co-chair of the Not Above the Law Coalition released the following statement:
"Today's hearing showed clearly that Trump lied. And he knew he lied. He and his his allies methodically and knowingly spread untruths about the election, with the goal of overturning it. The words of Trump's former Campaign Manager, as well as testimony from other prominent GOP representatives today, cannot be denied.
"No President is above the law in this country. That's how it always has been, and that's how it will continue to be. We are confident that these hearings will remind people what's at stake.
"During the first hearing, over a thousand people gathered at watch events across the nation and millions more watched at home. We hope this trend continues, as Americans have the opportunity to witness the Committee's evidence of a premeditated criminal conspiracy at the highest level, and there's no turning away from accountability now."
Public Citizen is a nonprofit consumer advocacy organization that champions the public interest in the halls of power. We defend democracy, resist corporate power and work to ensure that government works for the people - not for big corporations. Founded in 1971, we now have 500,000 members and supporters throughout the country.
(202) 588-1000
LATEST NEWS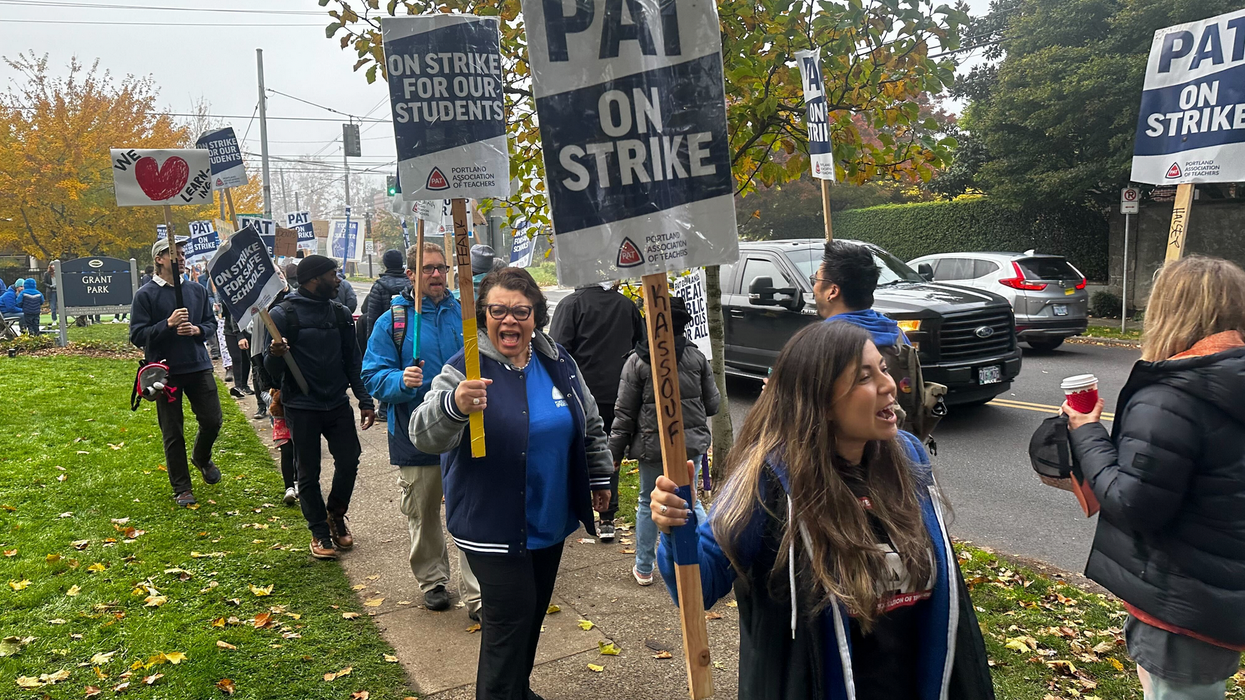 "Educators walked picket lines alongside families, students, and allies—and because of that, our schools are getting the added investment they need," said the president of the Portland Association of Teachers.
Teachers in Portland, Oregon and their supporters celebrated Monday after the local teachers union reached a tentative deal with the school district following a strike that lasted more than three weeks—paving the way for a finalized contract that the union said would provide "historic" investments in mental healthcare for students, reduce class sizes, and ensure teachers earn a fair wage.
Students returned to school on Monday for the first time since October 31, when the Portland Association of Teachers (PAT) began its first strike ever following contract negotiations that had gone on for months with Portland Public Schools (PPS) without reaching an agreement.
The previous contract for about 3,700 members of the union had expired in June.
The tentative deal includes a cost-of-living raise that will reach 13.8% over three years, starting with a 6.25% raise this year. The PAT had originally called for a 20% cost-of-living adjustment, while the district offered less than 11%.
Teachers earn $50,000 per year as a starting salary in Portland, where the cost of living is 24% higher than the national average and housing costs 62% more than the average in the rest of the country, according to compensation research firm PayScale. The union said teacher pay had not been keeping up with inflation.
The tentative contract, which union members still need to ratify and the school board will need to approve at a Tuesday meeting, would represent "a watershed moment for Portland students, families, and educators," PAT president Angela Bonilla toldOregon Public Broadcasting.

"Educators walked picket lines alongside families, students, and allies—and because of that, our schools are getting the added investment they need," said Bonilla.
Teachers won non-pay-related concessions from the district including an increase to teacher planning time by 90 minutes each week for elementary and middle schools, additional classroom time for those grades, and a commitment from the district that it will triple the number of staffers who support students' mental and emotional health needs.
A sticking point in the negotiations that persisted over the weekend before the deal was reached was the question of assembling committees of parents and teachers who would tackle the problem of overcrowded classrooms.
PAT said the two sides had reached a deal including "shared decision-making committees involving educators and parents," but did not release specific details about the proposed committees.

"We know that the best solutions to problems that we have in our schools come from the folks who actually attend them, who work at them and who send their students to those places," Bonilla said at a press conference Sunday evening.
The tentative deal was announced days after Portland teachers and supporters escalated the fight by marching across the Burnside Bridge and halting traffic for about 15 minutes around 9:00 am last Tuesday.
PAT garnered support from celebrities including stars of the public education-themed sitcom Abbott Elementary, despite labor opponents' attempts to "villainize" the teachers, as one author and PPS parent, Madeline Lane-McKinley, said.
Despite claims that teachers were "depriving" students of classroom time, said Lane-McKinley, "my kid and so many others are showing up to support their teachers at the picket lines, getting a political education they will never forget."

Julia Silverman, an education reporter for The Oregonian, added that the nearly month-long strike "focused attention on whether it is time, after three decades, to fundamentally reconsider how the state of Oregon funds education."

PPS said during negotiations that state education funding limits the district's budget, and on Sunday said it will have to find $100 million in its budget to fund the contract. The school board said it would encourage voters to support the renewal of a property tax levy to help fund the deal.

Statewide attention on Oregon's school funding structure "absolutely wouldn't have happened without this strike," said one supporter. "Collective action sets the electoral agenda, not the other way around. Intense gratitude to Portland teachers."

News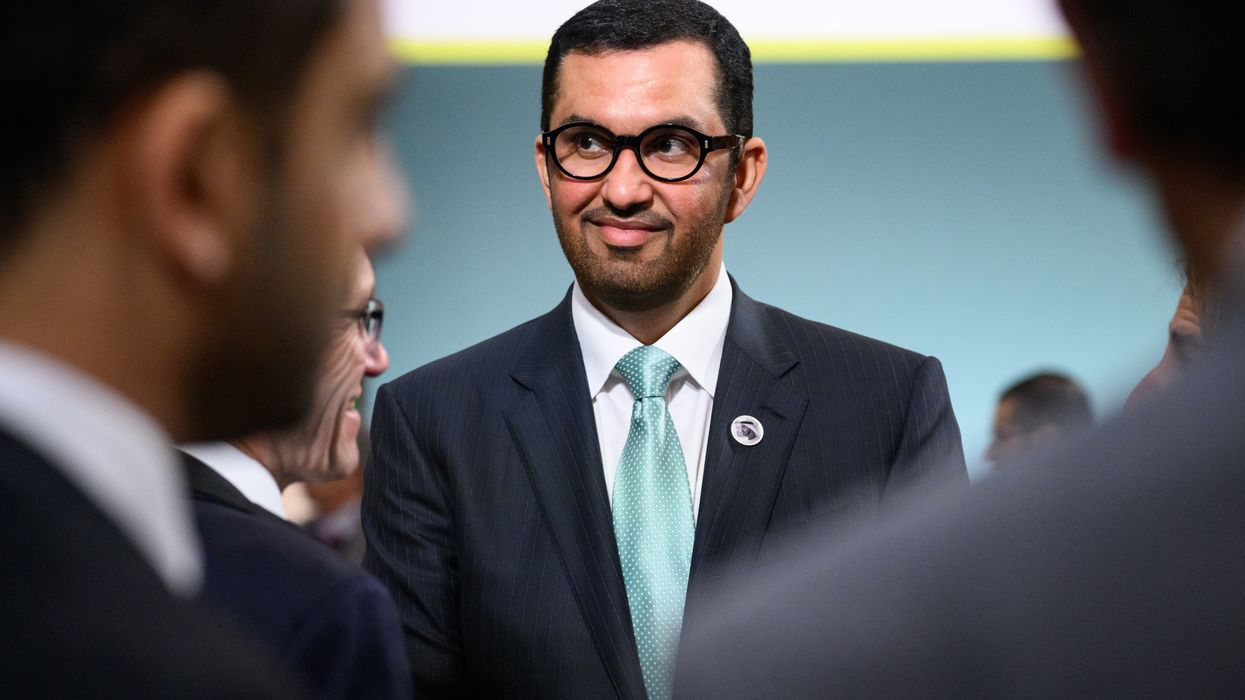 "This is exactly the kind of conflict of interest we feared when the CEO of an oil company was appointed to the role," said a Greenpeace campaigner.
Internal records leaked by a whistleblower show that Sultan Al Jaber—who is simultaneously serving as CEO of Abu Dhabi National Oil Company and president of COP28—used meetings about the upcoming United Nations climate summit to push foreign governments for fossil fuel deals.
The documents, obtained by the Center for Climate Reporting (CCR) and the BBC, include meeting records, briefings, and emails that indicate Al Jaber's role as CEO of the United Arab Emirates' state-owned oil company has bled into his responsibilities as president of the critical U.N. climate talks, validating the fears of climate campaigners who opposed his selection to lead the summit that kicks off Thursday in Dubai.
"Al Jaber, who has continued his role as CEO of the Abu Dhabi National Oil Company (ADNOC) despite calls for him to step down during his COP presidency, has held scores of meetings with senior government officials, royalty, and business leaders from around the world in recent months," CCR said Monday, citing briefings it obtained. "The COP28 team has quietly planned to use this access as an opportunity to increase exports of ADNOC's oil and gas."
The investigative group found that "on at least one occasion a nation followed up on commercial discussions brought up in a meeting with Al Jaber" and that "ADNOC's business interests were allegedly raised during a meeting with another country."
Kaisa Kosonen, policy coordinator at Greenpeace International, said in a statement that "if the allegations are true, this is totally unacceptable and a real scandal."
"The climate summit leader should be focused on advancing climate solutions impartially, not backroom deals that are fueling the crisis. This is exactly the kind of conflict of interest we feared when the CEO of an oil company was appointed to the role," said Kosonen. "This summit is the world's most powerful forum to avert the biggest threat to the survival of humankind, and we urge the presidency to act accordingly."
"It looks ever more like a fox is guarding the hen house."
Advocacy groups and lawmakers have been urging Al Jaber to resign from the COP28 presidency since his appointment earlier this year, citing his glaring conflicts of interest as top executive of ADNOC—a company that is planning to expand fossil fuel production despite scientists' repeated warnings that no new oil, gas, and coal production is compatible with preventing runaway planetary warming.
Al Jaber, who has the support of the Biden administration and other world powers, has refused to step aside, casting further doubt on the prospects of concrete climate progress at COP28.
"Sultan Al Jaber claims his inside knowledge of the fossil fuel industry qualifies him to lead a crucial climate summit but it looks ever more like a fox is guarding the hen house," Ann Harrison, Amnesty International's climate adviser, said in response to CCR's revelations. "The appointment of the chief executive of one of the world's largest fossil fuel companies to lead COP28 was always a brazen conflict of interests which undermines the meeting's ability to reach the outcome we desperately need."
"Documents suggesting he was briefed to advance business interests in COP meetings only fuel our concerns that COP28 has been comprehensively captured by the fossil fuel lobby to serve its vested interests that put the whole of humanity at risk," Harrison added.
Internal emails obtained by CCR show that COP28 staffers have been instructed to "always" include talking points for ADNOC and Masdar—the UAE's state-owned renewable energy company—in summit meetings.
"In statements to CCR and other media outlets, the team has repeatedly denied allegations of undue influence by the oil company," the group said. "For instance, a summit spokesperson told CCR in September that 'the COP28 staff are separate from any other entity' and that the presidency's 'operations are fully independent and autonomous.'"
"But the leaked briefings, emails, and meeting records paint a different picture," CCR continued. " After questions from CCR, a spokesperson also confirmed that one senior member of the summit team who has been deeply involved in diplomatic efforts, COP28's director of government affairs Mohammed Al Kaabi, works across Al Jaber's 'entire portfolio.'"
CCR previously revealed that Oliver Phillips, an adviser to Al Jaber at ADNOC, played a central role in public relations efforts for COP28, which the head of the U.N. has said must be the catalyst for "dramatic" climate action. In June, The Guardianreported that ADNOC was able to read emails from the COP28 office.
Whistleblowers told CCR that COP28 meetings are still "regularly held" at ADNOC headquarters.
Michael Jacobs, a professor at Sheffield University in the U.K. and an expert on climate politics, told CCR that Al Jaber's actions appear "breathtakingly hypocritical."
"The UAE at the moment is the custodian of a United Nations process aimed at reducing global emissions," said Jacobs. "And yet, in the very same meetings where it's apparently trying to pursue that goal, it's actually trying to do side deals which will increase global emissions."
Kosonen of Greenpeace argued that "if the presidency wants to claw back credibility, it can only do so through actions."
"That means brokering a global agreement for a just and equitable phaseout of all fossil fuels, in alignment with science, and making polluters pay for the loss and damage they've caused to communities," said Kosonen.
News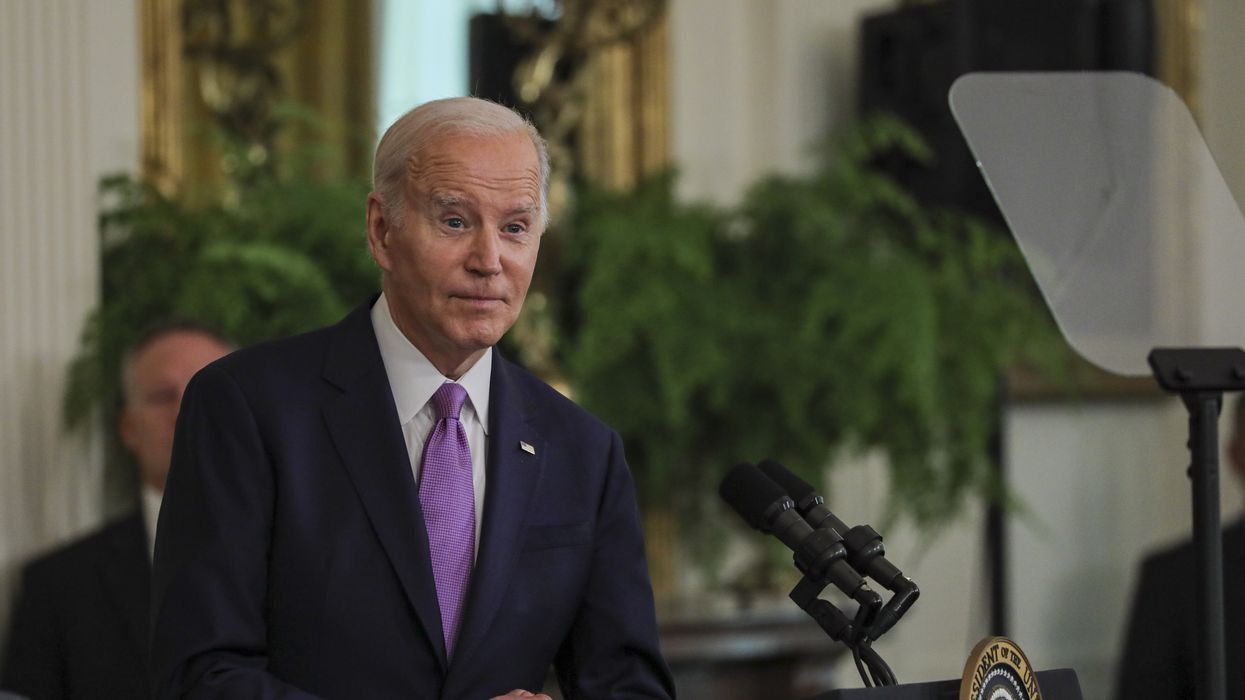 The U.S. president has come under heavy criticism for approving oil and gas projects in the face of global climate breakdown.
U.S. President Joe Biden is reportedly planning to skip the United Nations climate summit that kicks off later this week in Dubai, a decision sure to anger climate advocates and scientists who have pushed him to back a speedy fossil fuel phaseout at the talks.
The New York Times was first to report the president's plans on Sunday, citing an unnamed White House official who did not provide a specific reason why Biden intends to skip COP28, which comes at the tail end of what's almost certain to be the hottest year on record. The U.S. is the largest historical emitter of planet-warning greenhouse gases, and the country is on pace to extract more oil and gas than ever this year.

Biden attended the previous two U.N. climate summits, neither of which yielded concrete agreements from world leaders to drastically curb oil, gas, and coal production and use in line with the latest scientific evidence indicating that nations are acting far too slowly to prevent catastrophic warming.
The U.S. president has himself faced significant backlash for approving massive fossil fuel projects such as the Willow drilling venture on Alaska's North Slope, which—if completed—is expected to result in more than 9 million metric tons of carbon dioxide pollution each year. And Biden's fossil fuel approvals go well beyond Willow: During his first two years in office, the president's administration greenlit more than 6,400 permits for oil and gas drilling, outpacing the Trump administration.
According toThe Washington Post, "there are no public events" on Biden's schedule for Friday, the first day of COP28's world leaders' summit. On Thursday, the opening day of COP28, Biden "is set to meet with Angolan President João Manuel Gonçalves Lourenço and participate in the White House Christmas tree lighting," the Post reported.
John Kerry, Biden's climate envoy, will be in attendance at COP28.

News that the U.S. president will be skipping COP28 came as the BBCreported that the summit's host, the United Arab Emirates, "planned to use its role... as an opportunity to strike oil and gas deals."

"The UAE team did not deny using COP28 meetings for business talks," the outlet added, "and said 'private meetings are private.'"
Last week, research by the Kick Big Polluters Out coalition showed that oil and gas industry lobbyists have attended United Nations-led climate talks more than 7,000 times over the past 20 years in an attempt to prevent action to rein in fossil fuels.
Like previous U.N. climate summits, COP28 is expected to be inundated with fossil fuel representatives, particularly given the UAE's status as one of the world's leading oil producers. Sultan al-Jaber, president of COP28, is the CEO of Abu Dhabi National Oil Company.
Kaisa Kosonen, policy coordinator at Greenpeace International, said in response to the BBC report that "the climate summit leader should be focused on advancing climate solutions impartially, not backroom deals that are fueling the crisis."
"We have all the solutions we need to transition to renewable energy, but it won't happen fast enough if governments fail to regulate fossil fuels out of the way," said Kosonen. "COP is an opportunity to secure our survival, not to strike business deals that fuel the crisis."
News