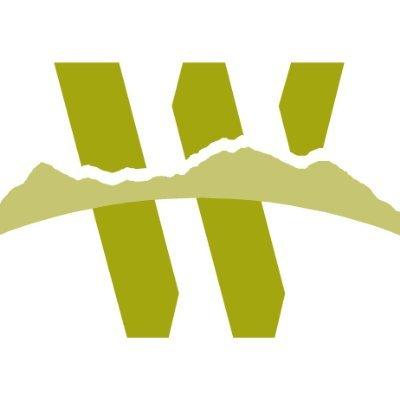 For Immediate Release
Contact:
Erik Schlenker-Goodrich, Western Environmental Law Center, 575-613-4197, eriksg@westernlaw.org
Stuart Ross, Clean Air Task Force, 914-649-5037, sross@catf.us
Michael Saul, Center for Biological Diversity, 303-915-8308, msaul@biologicaldiversity.org
Natasha Leger, Citizens for a Healthy Community, 970-399-9700, natasha@chc4you.org
Carol Davis, Diné Citizens Against Ruining Our Environment, 928-221-7859, caroljdavis.2004@gmail.com
Hilary Lewis, Earthworks, 202-887-1872 x101, hlewis@earthworksaction.org
Jeff Kuyper, Los Padres ForestWatch, 805-770-3401, jeff@lpfw.org
Anne Hedges, Montana Environmental Information Center, 406-443-2520, ahedges@meic.org
Mike Saccone, National Wildlife Federation, 202-797-6634, sacconem@nwf.org
Mark Pearson, San Juan Citizens Alliance, 970-259-3583 x1, mark@sanjuancitizens.org
Jeremy Nichols, WildEarth Guardians, 303-437-7663, jnichols@wildearthguardians.org
Will Roush, Wilderness Workshop, 206-979-4016, will@wildernessworkshop.org
Alan Rogers, Wyoming Outdoor Council, 307-262-9865, alan@wyomingoutdoorcouncil.org
Federal Court Rejects Trump Administration Cancellation of Methane Pollution Rule
Twice defeated, Zinke makes third attempt to allow more gas pollution, waste.
San Francisco, California
A federal judge late yesterday reinstated the Bureau of Land Management's 2016 methane waste rule, aimed at protecting people and the climate from methane waste and pollution from oil and gas extraction on public lands. The ruling is the third defeat for the Trump administration's efforts to suspend, delay or repeal the rule.
The rule requires oil and gas companies operating on public lands to take reasonable measures to prevent the waste of publicly owned fossil gas. It will go back into effect in 90 days. Such measures significantly reduce pollution from methane, a dangerous greenhouse gas 86 times more potent than carbon dioxide, and are an important step to address the climate crisis.
"The Trump administration has abused every opportunity -- legal or otherwise -- to maximize the oil and gas industry's profits at the expense of taxpayers, public health, and the climate," said Erik Schlenker-Goodrich, executive director of the Western Environmental Law Center. "We welcome the court's forceful repudiation of the Trump administration's reckless and unlawful conduct."
A Delaware-sized methane "hot spot" in New Mexico's San Juan Basin is the major contributor to San Juan County's "F" grade on ozone from the American Lung Association. In Texas and New Mexico's Permian Basin, recently the highest-producing oil basin in the world, gas flaring is now at an all-time high of 750 million cubic feet per day. That's a 650 percent increase over less than a decade, and the highest emissions ever recorded from a U.S. oil and gas basin. These data show that voluntary methane waste measures aren't working.
In addition to flaring and methane emissions, gas waste associated with oil and gas development results in smog pollution and releases other toxic pollutants, such as benzene, toluene, ethylbenzene and xylene.
"This District Court decision rejects the Trump administration's reckless and unlawful attempts to rollback protections for air, public health, and communities threatened and harmed by fracking on public lands," said Bruce Baizel, Energy Program Director at Earthworks. "The decision further affirms the rightful role for considerations of climate impacts on future Bureau of Land Management considerations."
"The Bureau's methane rule is a common-sense solution to protect our climate, reduce air pollution and save taxpayer money," said Will Roush, executive director of Wilderness Workshop. "The court's reinstatement of the rule is step forward for people across the west and especially those in communities disproportionately impacted by pollution from oil and gas development."
"Today's decision protects our forests, parks, wildlife refuges, and monuments from harmful greenhouse gasses caused by oil development," said Los Padres ForestWatch Executive Director Jeff Kuyper. "From the Sespe to the Carrizo Plain and beyond, California's public lands--and the communities that depend on them--can all breathe a lot easier."
"Unabated methane releases from oil and gas operations on public lands will harm both wildlife and the ability of people to use and enjoy our natural treasures--all while fueling the fire of the climate crisis," said Jim Murphy, director of legal advocacy for the National Wildlife Federation. "Rescinding the 2016 rule represented an illegal, unwarranted, and unwise step backwards in efforts to conserve and restore our public lands and reduce the harmful emissions. Today's court decision represents a huge victory for sound science, public health, and the environment."
"For over three years, this administration has attempted to get rid of BLM's waste rule based on a myriad of inadequate justifications, trying to grant favors to their corporate friends at the expense of the public's well-being," said Darin Schroeder, attorney from Clean Air Task Force who co-represented National Wildlife Federation with the Western Environmental Law Center. "We are grateful that the rule of law has yet again prevailed."
The Western Environmental Law Center represented the Center for Biological Diversity, Citizens for a Healthy Community, Dine Citizens Against Ruining Our Environment, Earthworks, Los Padres ForestWatch, Montana Environmental Information Center, San Juan Citizens Alliance, WildEarth Guardians, Wilderness Workshop and Wyoming Outdoor Council in the case. The Western Environmental Law Center and Clean Air Task Force jointly represented the National Wildlife Federation.
The Western Environmental Law Center uses the power of the law to safeguard the public lands, wildlife, and communities of the American West in the face of a changing climate. We envision a thriving, resilient West, abundant with protected public lands and wildlife, powered by clean energy, and defended by communities rooted in an ethic of conservation.
(541) 485-2471
LATEST NEWS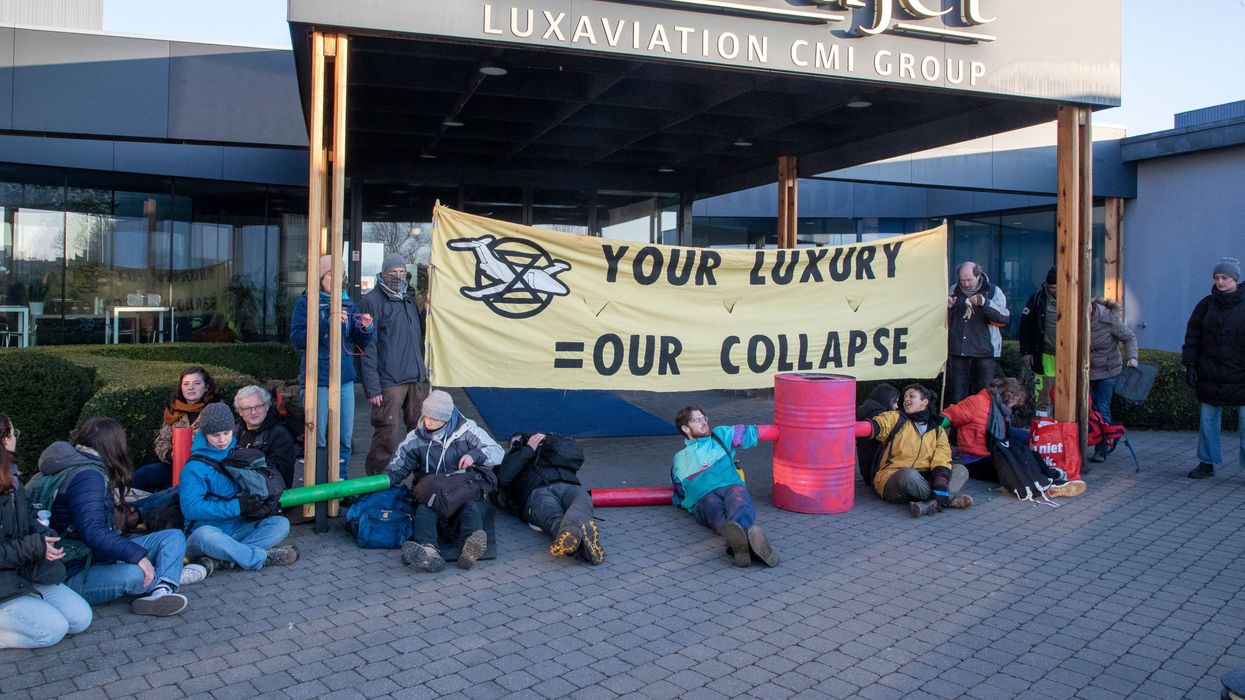 "The super-rich are plundering and polluting the planet to the point of destruction and it is those who can least afford it who are paying the highest price."
The richest 1% of the global population produced 16% of the world's carbon dioxide in 2019, generating as much planet-warming pollution as the poorest two-thirds of humanity, according to a report released Monday by Oxfam International.
Climate Equality: A Planet for the 99% describes the fossil fuel-driven climate emergency and runaway inequality as "twin crises" that are leaving those least responsible for planetary breakdown to bear the worst consequences, from catastrophic extreme weather to food and water shortages.

"If no action is taken, the richest will continue to burn through the carbon we have left to use while keeping the global temperature below the safe limit of 1.5°C, destroying any chance of ending poverty and ensuring equality," the report warns. "The world needs an equal transformation. Only a radical reduction in inequality, transformative climate action and fundamentally shifting our economic goals as a society can save our planet while ensuring wellbeing for all."

Using the latest available emissions data from the Stockholm Environment Institute, Oxfam calculated that it would take roughly 1,500 years for a person in the bottom 99% to produce as much CO2 pollution as the world's top billionaires create in a year. The annual emissions of the global super-rich cancel out the emissions-reduction impact of nearly a million onshore wind turbines, according to the report.

The report also estimates that the emissions of the top 1% in 2019 will cause 1.3 million heat-related excess deaths in the coming decades, with most of the deaths occurring in the current decade.
Oxfam noted that transportation is far and away the largest source of pollution from the ultra-rich, whose private jets, yachts, and fleets of gas-guzzling cars are highly carbon-intensive. Experts at Indiana University estimated in 2021 that a "superyacht" emits more than 7,000 tons of CO2 per year.

Climate activists have also increasingly targeted private jet travel as a key source of luxury emissions. Oxfam observed in its new report that "a short trip on a private jet will produce more carbon than the average person emits all year."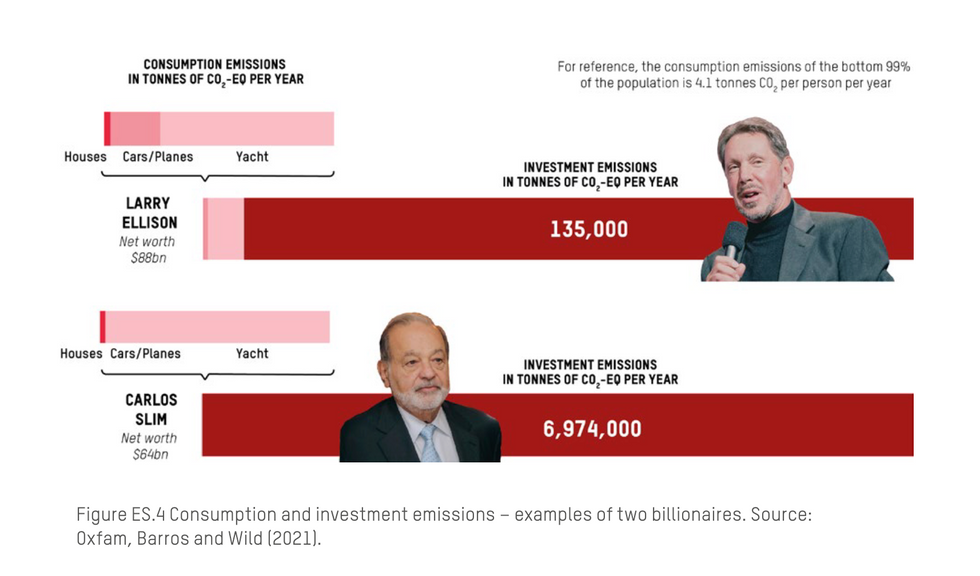 The report comes in the wake of news from the World Meteorological Organization that global greenhouse gas concentrations reached an all-time high once again last year, underscoring the need for dramatic action to curb fossil fuel use and transition to renewable energy.
Chiara Liguori, Oxfam's senior climate justice policy adviser, said in a statement that "the super-rich are plundering and polluting the planet to the point of destruction and it is those who can least afford it who are paying the highest price."
"The huge scale of climate inequality revealed in the report highlights how the two crises are inextricably linked—fueling one another—and the urgent need to ensure the rising costs of climate change fall on those most responsible and able to pay," said Liguori.
"Governments globally, including the U.K., need to tackle the twin crises of inequality and climate change by targeting the excessive emissions of the super-rich by taxing them more," Liguori added. "This would raise much-needed revenue that could be directed to a range of vital social spending needs, including a fair switch to clean, renewable energy as well as fulfilling our international commitments to support communities who are already bearing the brunt of the climate crisis."
Oxfam's report calls on governments to pursue a "radical increase in equality" by imposing wealth taxes on the richest 1% as well as steep inheritance, land, and property taxes. The report also recommends taxing or banning private jet travel, space tourism, and other polluting luxury activities and imposing "permanent, automatic" windfall profit levies on major corporations that often take advantage of crises such as wars and pandemics.
Additionally, Oxfam urged governments to invest heavily in establishing universal programs—from healthcare to education to childcare—and transitioning away from fossil fuels. The group said that rich countries must honor their commitments to provide climate financing to poor nations facing the brunt of the climate crisis and support debt cancellation and other relief measures.
"Unless we rapidly reduce carbon emissions," the report states, "we will exhaust the amount of carbon we can emit without triggering climate breakdown within just five years."
News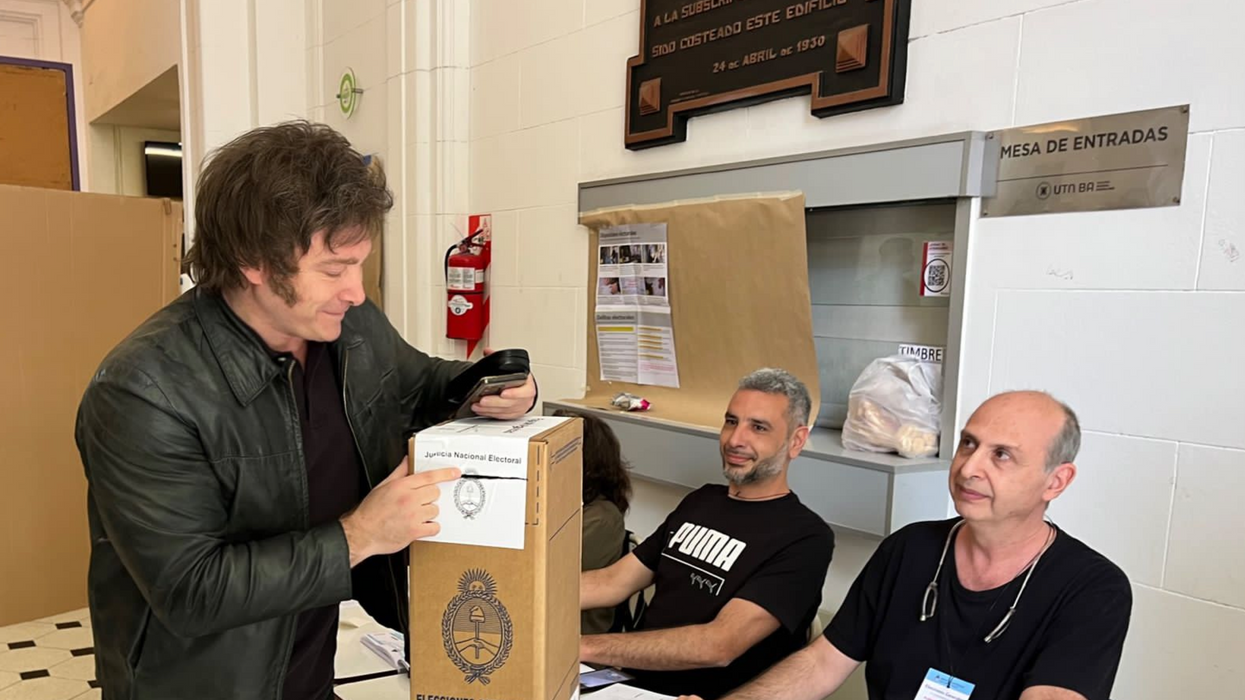 "No one so extremist on economic issues has been elected president of a South American country," said U.S. economist Mark Weisbrot.
Javier Milei—a far-right admirer of former U.S. President Donald Trump who says that climate change is a "socialist lie" and who pledged to take a "chainsaw" to social programs—will be Argentina's next president after winning a decisive victory in Sunday's runoff.
Sergio Massa, Argentina's Peronist economy minister, conceded defeat Sunday evening to the 53-year-old Milei, a radical libertarian economist often called the "Trump of Argentina" who will take office amid a looming recession, triple-digit inflation, and a nearly 40% poverty rate in Latin America's third-largest economy.
Following Massa's concession speech, Argentinian election officials said that with nearly 87% of votes tallied, Milei had 56% and Massa 44%.
Gone Sunday were the baseless allegations of voter fraud that Milei supporters said cost him the first round of the presidential contest, as well as the chainsaw he often used as a prop to show how he would eviscerate social programs.

"No one so extremist on economic issues has been elected president of a South American country," economist Mark Weisbrot, co-director of the Center for Economic and Policy Research, warned Friday.

In addition to deploring socialism for "stealing the fruits of one person's labor and giving it to someone else," Milei has asserted that "all the policies that blame humans for climate change are false" and has called abortion—which has only been legal in Argentina since 2021—"murder."
Milei, a self-described "anarcho-capitalist" libertarian, is also an advocate of same-sex marriage, transgender rights, and drug legalization.

Referring to former center-right Argentinian President Mauricio Macri—a Milei supporter—Weisbrot said that "much of the current crisis in Argentina is a result of what happened during [his] administration, including unsustainable borrowing combined with large-scale capital flight, as well as an inflation-depreciation spiral that takes on a momentum of its own."
"But a crazed, economically suicidal approach would only make things worse—and as Argentina has experienced, things can get a lot worse," he added. "Milei displays a callous disregard for most people's living standards, values, and well-being, as well as a commitment to widely discredited economic policies, that is unprecedented."
Human rights defenders have also sounded the alarm over Milei and his running mate Victoria Villarruel's open admiration for Argentina's former U.S.-backed military dictatorship, whose reign of terror and repression spanned from 1976 to 1983.
Massa unsuccessfully tried to distance himself from intensely unpopular outgoing President Alberto Fernández and Vice President Cristina Fernández de Kirchner, a former president who was convicted last year of fraud.
And so now the next president of Argentina will be a man who wants to legalize the sale of children and human organs, renounce his country's monetary sovereignty in favor of the U.S. dollar, and says he receives political advice from his dead dog.
"God help us all," wrote one anti-Trump Republican group on social media.

News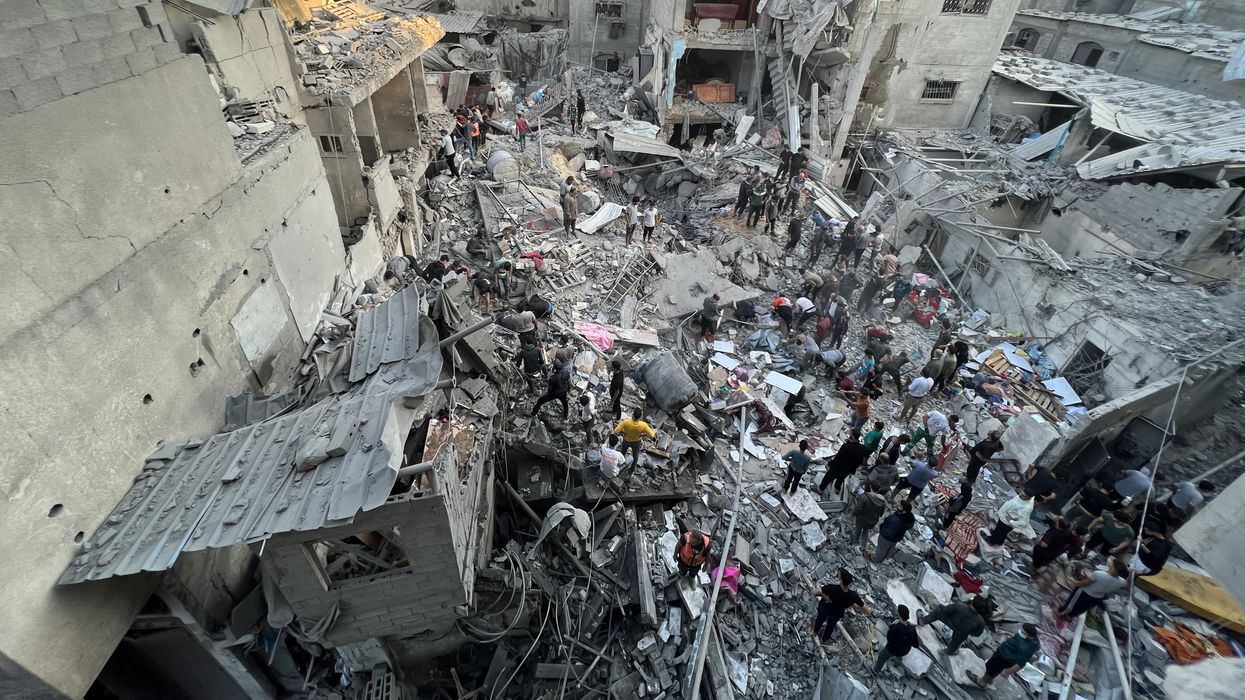 Yet another attack on the heavily bombed Jabalia refugee camp reportedly killed more than 80 people, including 32 members of one family—19 of them children.
Israeli airstrikes on Gaza reportedly killed more than 100 Palestinians on Saturday—including upwards of 80 people in the hard-hit Jabalia refugee camp—bringing the Palestinian death toll in the 44-day war to over 13,000 as the Biden administration refuted reports of a breakthrough in cease-fire negotiations between Israel and Hamas.
The Gaza Health Ministry said Saturday that a pair of Israeli airstrikes on the densely populated Jabalia camp—including on a United Nations school where thousands of people were sheltering from relentless bombardment—killed more than 80 people. Among the dead are reportedly 32 members of the Abu Habal family, including 19 children.

"Shelters are a place for safety. Schools are a place for learning. Tragic news of the children, women, and men killed while sheltering at al-Fakhouri school in northern Gaza," United Nations Under-Secretary-General for Humanitarian Affairs and Emergency Relief Coordinator Martin Griffiths said on social media. "Civilians cannot and should not have to bear this any longer."
Philippe Lazzarini, director of the U.N. Relief and Works Agency for Palestine Refugees in the Near East, lamented the "horrifying images" he saw of the bombing, while stressing that "a humanitarian cease-fire cannot wait any longer."
Previous Israeli attacks on Jabalia—including one last week that killed at least 126 Palestinians—more than half of them children—have been condemned by international experts as war crimes.

Meanwhile, Palestinian officials said Israeli bombardment of an apartment building in Khan Younis in southern Gaza—where Israeli authorities had directed Palestinians to flee for their lives—killed 26 people and injured 23 more. Six Palestinians were also reportedly killed in an Israeli attack on a house in Deir Al-Balah.
Gaza officials said that more than 13,000 Palestinians—including over 5,500 children and 3,500 women—have been killed during Israel's retaliatory war on the embattled enclave since the October 7 Hamas-led attacks that left around 1,200 Israeli and others dead and approximately 240 people taken hostage.
Tens of thousands of Palestinians have been injured, while as many as 1.7 million people—or about 70% of Gaza's population—have been forcibly displaced in a war that numerous experts have called "genocidal."
In the United States, the White House on Saturday refuted reports of an imminent Qatari-brokered temporary cease-fire between Israel and Hamas.
"No deal yet but we continue to work hard to get a deal," White House National Security Council Spokesperson Adrienne Watson said in a statement.
Israeli Prime Minister Benjamin Netanyahu said Saturday night that an extremely limited amount of fuel would be allowed into Gaza for the purpose of averting the spread of communicable diseases.
"This is not a change of policy but a limited, localized response in order to prevent the outbreak of epidemics," he explained.
Netanyahu also vehemently rejected international calls for a cease-fire, vowing that "we will continue to fight until victory."
Former Human Rights Watch executive director Kenneth Roth said on social media that Saturday's strikes show "there is nowhere safe for Gaza's civilians."

"First the Israeli military told Palestinian civilians in northern Gaza to move south to avoid being bombed. Now, as Israel bombs in the south, it tells them to move west," Roth noted. "But Hamas is throughout Gaza."

"What's next? Expulsion to Egypt and Nakba II?" he added, referring to a modern-day version of the ethnic cleansing campaign that forcibly expelled more than 750,000 Arabs from Palestine during the establishment of the modern state of Israel 75 years ago.
News