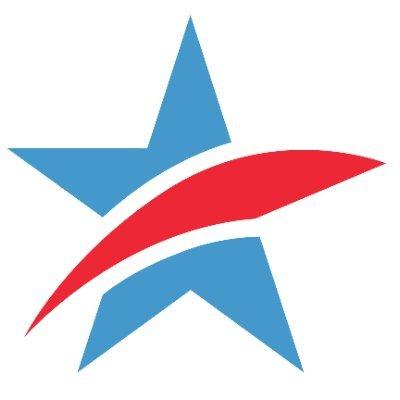 For Immediate Release
October, 17 2019, 12:00am EDT
Common Cause Honors Four Defenders of Democracy
Jowei Chen, Jonah Knobler, Richard H Pildes, and Caroline Mackie Recognized
WASHINGTON
Today, Common Cause honors four "Defenders of Democracy" who have played pivotal roles in reshaping America's legal landscape to address the scourge of partisan gerrymandering. As the 2020 Decennial Census and the ensuing 2021 redistricting cycle fast approach, Common Cause recognizes the efforts of a small team of lawyers and experts who have successfully shifted the national conversation on redistricting - what is right and wrong, and how the law can provide meaningful remedies.
"We are pleased to recognize Jowei Chen, Jonah Knobler, Caroline Mackie, and Richard H. Pildes," said Karen Hobert Flynn, president of Common Cause. We recognize them for their critical work as Defenders of Democracy to expose the unconstitutional manipulation and partisan motivations behind partisan gerrymandering. Others cynically said partisan gerrymandering was just politics as usual and could not be solved. Common Cause created a team of the best and brightest to tackle the problem head-on through litigation, fundamentally transforming America's political landscape."
HONOREES:
Professor Jowei Chen, University of Michigan. Chen pioneered the "simulation approach" to create thousands of computer-simulated maps to show that challenged maps fall outside of expected outcomes and can only be explained as partisan gerrymanders. Chen's expert testimony has been instrumental in states such as Florida, Pennsylvania, and North Carolina to efforts to successfully challenge partisan gerrymandering.
A partner at Patterson Belknap, Jonah Knobler has played a critical role on the pro bono legal team that brought the Rucho v. Common Cause, a lawsuit before the U.S. Supreme Court challenging North Carolina's congressional map as an unconstitutional partisan gerrymander. Additionally, Knobler and Patterson Belknap partner Greg Diskant worked with Common Cause to write and file amicus briefs in the U.S. Supreme Court Gill v. Whitford (partisan gerrymandering) and Evenwel v. Abbott (consideration of noncitizens in redistricting).
Caroline Mackie, partner at Poyner Spruill, was one of the central members of the legal team that challenged partisan redistricting of congressional seats in Common Cause v. Rucho, and of state legislative seats in Common Cause v. Lewis. Based in North Carolina, Mackie played significant roles as local counsel in the Lewis case, which recently successfully established landmark constitutional protections under North Carolina's Free Elections clause against partisan gerrymanders. Mackie's work, along with her colleague Eddie Speas at Poyner Spruill, has resulted in the overturning of North Carolina's General Assembly districts, with order to redraw the lines in time for the 2020 elections.
Professor Richard H. Pildes is the Sudler Family Professor of Constitutional Law at New York University School of Law. With a high level of legal sophistication, Pildes understood with clarity that Common Cause's approach to create a constitutional standard to eliminate partisan gerrymandering was fundamentally different from the proportional approaches raised by previous cases. Pildes volunteered his constitutional expertise to support Common Cause's efforts to challenge partisan gerrymanders. While the Supreme Court declined to find federal jurisdiction over partisan gerrymander challenges, Common Cause v. Rucho now stands for an affirmation of states as the laboratories for innovation to address partisan gerrymandering - whether through initiative reforms or challenges under state constitutions.
"Partisan gerrymandering has stripped millions of Americans of a voice in our democracy, in North Carolina and across the country," said Bob Phillips, executive director of Common Cause North Carolina. "As a result of our case, Common Cause v. Lewis, the court stood up for the rights of those voters under the state constitution. This victory joins a growing list of victories in the fight to end gerrymandering nationwide. With the efforts of Jowei Chen, Jonah Knobler, Caroline Mackie, Richard H. Pildes, and a team of unsung heroes, we have secured justice for North Carolina voters in the Common Cause v. Lewis case. In other states the fight will go on in state courts, in legislatures, and through ballot initiatives to ensure every voter across this country has a voice at the polls."
To view this release online, click here.
Common Cause is a nonpartisan, grassroots organization dedicated to upholding the core values of American democracy. We work to create open, honest, and accountable government that serves the public interest; promote equal rights, opportunity, and representation for all; and empower all people to make their voices heard in the political process.
(202) 833-1200
LATEST NEWS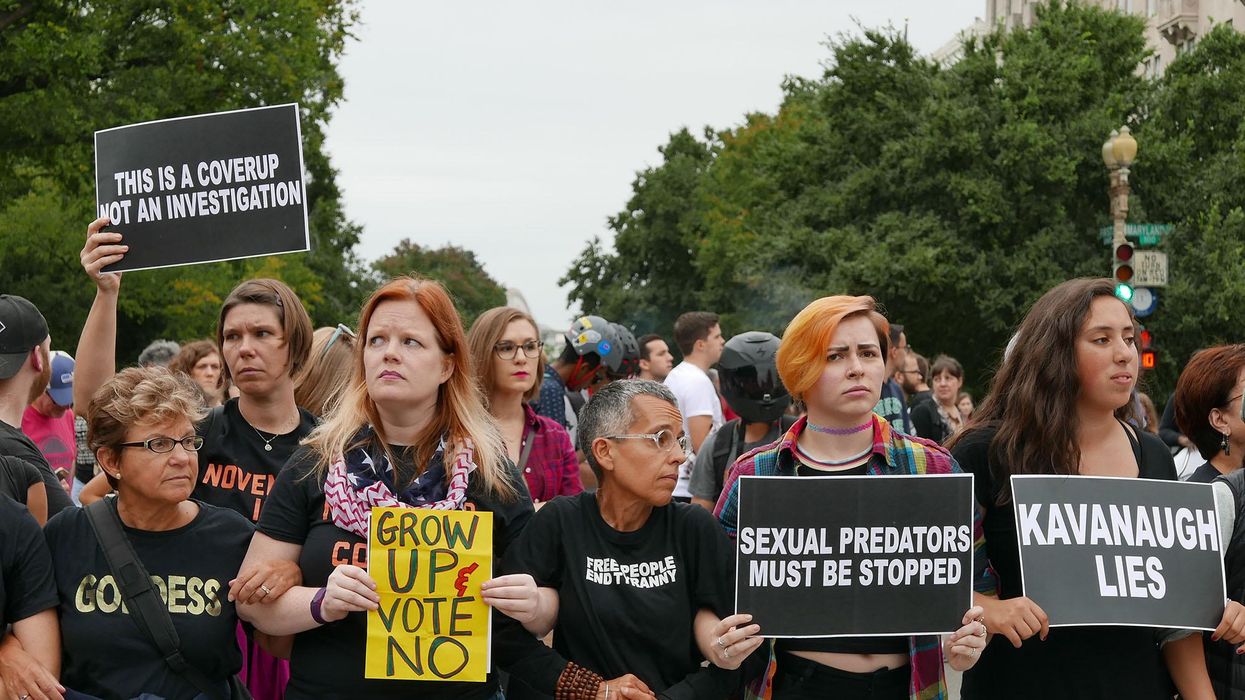 "I do hope this triggers outrage. I do hope that this triggers action, I do hope that this triggers additional investigation with real subpoena powers," producer Amy Herdy said.
The surprise premiere of a documentary revealing "shocking new allegations" of sexual crimes committed decades ago by U.S. Supreme Court Justice Brett Kavanaugh sparked new calls on Monday for Senate and Justice Department investigations.
Doug Liman's Justice premiered Friday as a last-minute addition to the lineup of the Sundance Film Festival in Park City, Utah. According to Free Speech for People, the film "includes important new details about specific allegations of sexual misconduct by Kavanaugh" and "also reveals disturbing new evidence of misconduct by Kavanaugh and his associates" surrounding the right-wing justice's 2018 Senate confirmation hearings.
This includes "evidence that Kavanaugh may have knowingly perjured himself" and that the justice's associates engaged in what his friend referred to as "a cover-up."
Kavanaugh—the second of three right-wing justices appointed to the nation's highest court by then-President Donald Trump—was accused of sexually assaulting Christine Blasey Ford, who is now a Stanford professor, when they were in high school. Kavanaugh also allegedly exposed himself without consent to Deborah Ramirez, a Yale classmate, during a college party. He has denied both allegations.

Justice producer Amy Herdy said during a post-premiere Q&A in Park City: "I do hope this triggers outrage. I do hope that this triggers action, I do hope that this triggers additional investigation with real subpoena powers."
To that end, Free Speech for People wrote to U.S. Attorney General Merrick Garland as well as to Senate Judiciary Committee Chair Dick Durbin (D-Ill.) and Ranking Member Chuck Grassley (R-Iowa) seeking a probe of Kavanaugh based on details in the film.
"Some of these details were sent to the FBI during its brief, compressed investigation into similar allegations during Kavanaugh's 2018 confirmation hearings, although the FBI did not follow up or interview the relevant witnesses," the group said Monday in a letter to the senators.
\u201c\ud83d\udea8BREAKING:\nWe're calling for immediate and thorough investigations into new details about specific allegations of sexual misconduct by U.S. Supreme Court Justice Brett Kavanaugh.\n\nLearn more below. #InvestigateKavanaugh\nhttps://t.co/wNYucNq0qU\u201d

— FreeSpeechForPeople (@FreeSpeechForPeople) 1674511547
The letter states:
Most disturbing, however, is new evidence of conduct by Kavanaugh and his associates (perhaps even before his accusers came forward) concerning the 2018 Senate hearing itself. For example, the film shows a 2018 text message discussion amongst mutual acquaintances of Kavanaugh and Deborah Ramirez, regarding Ramirez's soon-to-be-public allegations that Kavanaugh had exposed himself to her. According to the text messages shown in the documentary, Kavanaugh asked a mutual friend to go on the record to defend him. Another friend referred to it as "a cover-up." This indicates consciousness of guilt—and therefore evidence that he may have knowingly perjured himself in the confirmation hearings—and a potential conspiracy to obstruct and defraud the Senate by coordinating a false information campaign.
The Washington Postreports that "the FBI's national press office did not have a comment on the documentary but reiterated that their services in a nomination process are limited to fact-finding and background investigations."
\u201cWithin half an hour of the news getting out that Doug Liman\u2019s documentary "Justice" was added to Sundance, new tips came pouring in. \n\n\ud83d\udcfd\ufe0fFootage will be added. \n\nTakeaways from Sundance\u2019s secret Brett Kavanaugh documentary.\n\nNow do Clarence. #DemVoice1 \n\nhttps://t.co/yNTPT1chqe\u201d

— Joan Hussey w/free blue check\ud83e\uded0 (@Joan Hussey w/free blue check\ud83e\uded0) 1674403368
"The scope of the background investigation is requested by the White House," an FBI spokesperson told the Post in a statement. "The FBI does not have the independent authority to expand the scope of a supplemental background investigation outside the requesting agency's parameters."

Speaking about the women who stepped forward to share their stories in the film, director Liman toldThe Guardian: "This was the kind of movie where people are terrified. The people that chose to participate in the movie are heroes."
The National Sexual Assault Hotline can be reached 1-800-656-HOPE (4673), or through chat at rainn.org. It offers 24/7, free, and confidential support.
News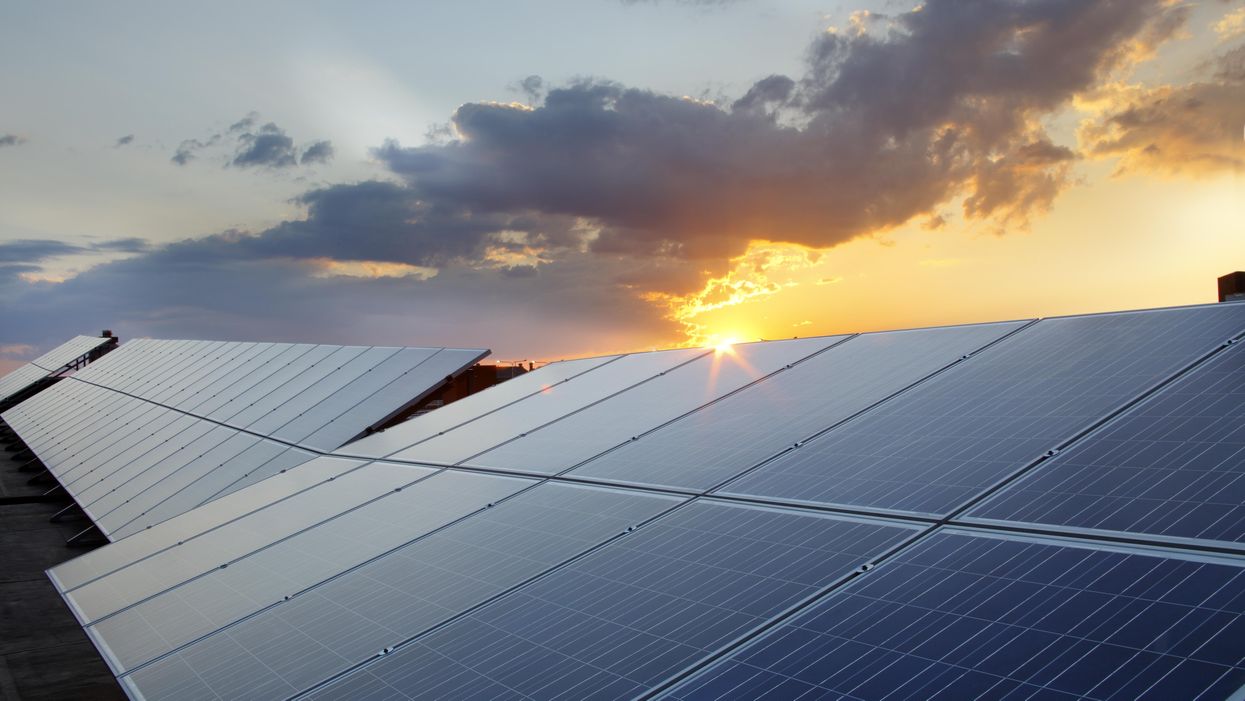 "This new report not only shows that President Biden's climate goals for the power sector are achievable—but it is among the first to lay out how we can actually get there," said one advocate.
A pair of green groups on Monday released a report detailing how U.S. President Joe Biden can work toward his goal of 100% clean electricity nationwide by 2035.
The roadmap from Evergreen Action and the Natural Resources Defense Council (NRDC) comes after Biden last year signed into law the Inflation Reduction Act (IRA) following a bitter battle in Congress. While elements of the legislation alarmed climate campaigners, they welcomed that it contained about $370 billion in climate and energy investments.
"This new report not only shows that President Biden's climate goals for the power sector are achievable—but it is among the first to lay out how we can actually get there," said NRDC president and CEO Manish Bapna in a statement.
"There is no time for half-measures or delay."
"We don't need magic bullets or new technologies," Bapna stressed. "We already have the tools—and now we have a roadmap. If the Biden administration, Congress, and state leaders follow it, we will build the better future we all deserve. There is no time for half-measures or delay."
While the Inflation Reduction Act is a positive step, new modeling in the report shows that "the U.S. must take further action to meet its clean energy goals this decade," the publication states. "The IRA's investments are projected to increase carbon-free electricity in the U.S. from approximately 40% in 2022 to 66% clean power by 2030. This falls short of the 80% target that's consistent with the path to 100% clean electricity by 2035."
The legislation "is also estimated to help cut economy-wide greenhouse gas (GHG) pollution to 40% below 2005 levels by 2030—an important step, but short of America's 50-52% commitment under the Paris agreement," the report adds.
To deliver on Biden's climate pledges, the report urges U.S. policymakers to:
Set ambitious carbon pollution standards for new and existing power plants under the Clean Air Act, through the Environmental Protection Agency (EPA), and set EPA pollution standards that reduce traditional air and water pollutants and improve public health;
Expand transmission capacity, speed up interconnections, and create market parity for clean energy at the Federal Energy Regulatory Commission (FERC);
Implement the Inflation Reduction Act effectively, with timely federal guidance on the IRA's tax credits and grant programs and the distribution of funds in a way that maximizes carbon reductions and equitable economic opportunity; and
Advance climate action at the state level, including through accelerated 100% clean electricity and pollution standards that align with 80% clean power by 2030 and heightened oversight of polluting utilities.
"The IRA was a pivotal moment for climate action in the United States, but it is not mission accomplished for the Biden climate agenda," said Evergreen Action power sector policy lead Charles Harper. "President Biden committed to the most ambitious set of climate goals in American history—including getting us to 100% clean power by 2035 and slashing 2005 climate pollution levels in half by 2030."
"Important progress has been made, but President Biden must take bold action this year in order to deliver on those commitments," Harper continued. "By ramping up its work to transition the U.S. economy toward 100% clean energy, the Biden administration and state leaders can reduce toxic pollution, cut energy costs, create good jobs, and advance environmental justice. Let's get to work."
\u201cSounds like a plan!\nhttps://t.co/xntJf0KeDt\u201d

— Sunrise Movement \ud83c\udf05 (@Sunrise Movement \ud83c\udf05) 1674504864
Although further progress could be hampered by Republicans controlling the U.S. House of Representatives, advocates are emphasizing the importance of the president and other supporters of climate action not wasting the remainder of his first term.
Evergreen co-founder and senior adviser Sam Ricketts, who co-authored the report, toldThe Washington Post that "it's really incumbent upon the administration to use these next two years to make important progress on cleaning up the power sector."
Ricketts plans to join Bapna, Sen. Tina Smith (D-Minn.), the NRDC's Lissa Lynch, and University of California, Santa Barbara professor Leah Stokes for a Tuesday afternoon presentation of the new report.
News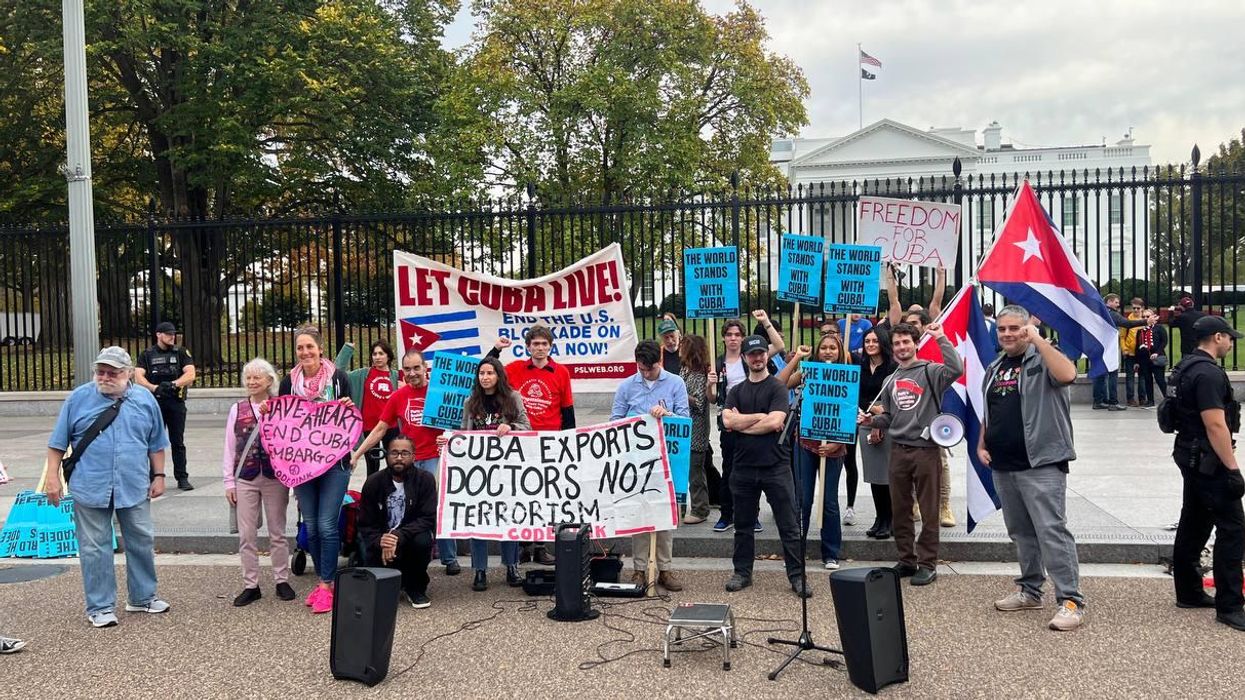 "Policy—and electoral—concerns appear to have always kept Cuba on the SSOT list, rather than actually meeting the legal requirements to be on there," the attorneys argue.

A group of 160 mostly American lawyers on Friday urged President Joe Biden to remove Cuba from the U.S. State Sponsors of Terrorism list, a designation acknowledged as meritless and politically motivated by critics and proponents of the policy alike.
Noting that numerous former Latin American and Caribbean heads of state, as well as "hundreds of civil society organizations and thousands of citizens" have asked the Biden administration to lift Cuba's State Sponsors of Terrorism (SSOT) status, the attorneys called on the president "to immediately initiate a review and notification process to remove Cuba from the SSOT list."
"There is no legal or moral justification for Cuba to remain on the State Sponsors of Terrorism list," the attorneys argued in an Alliance for Cuba Engagement and Respect (ACERE) letter. "Given the tremendous economic, social, humanitarian, and commercial effect placement on the SSOT list has had for the Cuba people, maintaining it for such pretextual reasons continues to be a stain on U.S. foreign policy."
\u201cThere is no legal or moral justification to list Cuba as a state sponsor of terror. This important letter signed by 160 lawyers makes that clear. We\u2019re proud to have helped gather signatures! #LetCubaLive\u201d

— CODEPINK (@CODEPINK) 1674503676
In 2015, then-President Barack Obama removed Cuba from the SSOT during a promising but ultimately short-lived rapprochement between the two countries that abruptly ended when former President Donald Trump took office in 2017. The lawyers' letter is a point-by-point refutation of the criteria cited by then-U.S. Secretary of State Mike Pompeo when the outgoing Trump administration re-listed Cuba as an SSOT in January 2021.
These include Cuba's refusal to extradite members of the National Liberation Army, a leftist rebel group from Colombia, who traveled to Havana for peace negotiations with the Colombian government. Such an extradition, the lawyers noted, would have violated Cuba's obligation to ensure the safety and well-being of all participants in the peace talks.

Pompeo also cited the fact that Cuba harbors U.S. fugitives wanted for acts of political violence committed nearly half a century ago, even though no other country has been placed on the SSOT list for such a reason. Aside from ignoring all the Cuban exile terrorists who enjoy not only citizenship but sometimes even heroic status in the United States, the lawyers note that "international law clearly prohibits extradition for acts of political violence."
As the letter states:
To the extent that the 1904 extradition treaty between Cuba and the United States remains in effect and continues to be honored by both parties, it contains a standard political offense exemption. This exception is premised upon a concept familiar to the United States, which is that "individuals have a right to resort to political activism to foster political change." Indeed, this is precisely the sort of "activism" that the United States designates millions of dollars to each year for regime change in Cuba.

"Policy—and electoral—concerns appear to have always kept Cuba on the SSOT list, rather than actually meeting the legal requirements to be on there," the lawyers' letter contends, citing a former Clinton administration Cuba expert who admitted that "frankly, I don't know anyone inside or outside of government who believes in private that Cuba belongs on the terrorist list."
"People who defend it know it is a political calculation," the expert added. "It keeps a certain part of the voting public in Florida happy, and it doesn't cost anything."

Much of that "certain part of the voting public in Florida" consists of Cuban-Americans, who—especially among the older generations—vehemently support isolating Cuba as long as it remains socialist.
"Frankly, I don't know anyone inside or outside of government who believes in private that Cuba belongs on the terrorist list."
Earlier this month, Rep. María Elvira Salazar (R-Fla.)—the daughter of Cuban exiles who believes that even the sort of democratic socialism found in many of the world's freest and most developed nations brings "misery, oppression, and exile"—introduced the FORCE Act. The proposed legislation would bar Biden from removing Cuba from the SSOT list "until the regime grants basic human rights protections."

Cuba was first placed on the SSOT list by the Reagan administration in 1982. By that time, the island nation and its socialist government had endured a decadeslong campaign of U.S.-backed exile terrorism, attempted subversion, failed assassination attempts, economic warfare, and covert operations large and small in a fruitless policy of toppling longtime leader Fidel Castro. Cuba says U.S.-backed terrorism has killed or wounded more than 5,000 Cubans and cost its economy billions of dollars.
There is no comparable—or any—history of Cuban terrorism against the United States.
In stark contrast, the Reagan administration removed Iraq, then ruled by the dictator Saddam Hussein, from the SSOT list just days before Cuba was added. This was so that the U.S. could supply Hussein's forces with weaponry used to kill both Iranians and Iraq's own restive Kurdish and Shi'a people. Top officials in the Reagan and George W. Bush administrations knew that Iraqi forces were using chemical weapons—some of whose components came from the United States and its allies—against both Iranians and against Iraqi Kurds in the genocidal Anfal campaign, but gave Hussein diplomatic cover until he ordered an invasion of Kuwait in August 1990.
\u201cThe resolution by the Berkeley City Council (CA) marks 1 of the 65 different docs passed across the US, demanding the withdrawal of #Cuba from the SSOT list & the lifting of the blockade.\n\nWe thank the ppl of the US, which each day expresses its solidarity through these efforts.\u201d

— Lianys Torres Rivera (@Lianys Torres Rivera) 1672758072
More than 100 progressive groups and over 10,000 people have signed petitions and open letters urging Biden to lift Cuba's SSOT designation.
Last October, leftist Colombia President Gustavo Petro asked U.S. Secretary of State Antony Blinken to end the "injustice" of Cuba being listed as a sponsor of terrorism.

News
SUPPORT OUR WORK.
We are independent, non-profit, advertising-free and 100%
reader supported.