For Immediate Release
Contact:
Barb Halpin, Public Information Officer, Boulder County, 
bhalpin@bouldercounty.org,
 303-441-1622, Ben Irwin, Deputy Director of Communication, City of Boulder, 
irwinb@bouldercounty.org,
 303-441-3155, Amy Markwell, Attorney, San Miguel County, 
amym@sanmiguelcountyco.gov,
 970-728-3879, Valentina Stackl, EarthRights International, 
valentina@earthrights.org,
 202-466-5188 x100
Colorado Communities File Lawsuit Against Oil Giants for Climate Change Costs
Costs of climate change impacts estimated to top one hundred million dollars by 2050.
Boulder, Colorado
Today, the Colorado communities of Boulder County, San Miguel County, and the City of Boulder--with legal support from EarthRights International, Niskanen Center, and other co-counsel--filed a lawsuit against Suncor and ExxonMobil ("Exxon"), two oil companies with significant responsibility for climate change. The communities have demanded that these companies pay their fair share of the costs associated with climate change impacts so that the costs do not fall disproportionately on taxpayers.
Climate change affects fragile high-altitude ecosystems and hits at the heart of these communities' local economies, affecting roads and bridges, parks and forests, buildings, farming and agriculture, the ski industry, and public open space. Adapting to such a wide range of impacts requires local governments to undertake unprecedented levels of planning and spending. Over the next three decades, these communities will face at least one hundred million dollars in costs to deal with the impacts of climate change caused by the use of fossil fuel products like those made and sold by Suncor and Exxon.
Suncor and Exxon have known about the costly consequences of fossil fuel use for more than 50 years. Yet they continued to promote and sell their products, while recklessly deceiving the public and policymakers about the dangers.
In the past year, nine coastal communities in California and New York filed climate lawsuits against fossil fuel companies. This is the first such lawsuit in Colorado--or anywhere in the U.S. interior--aimed at holding fossil fuel companies accountable for paying their fair share of the costs of climate change.
Statements
"Climate change impacts are already happening and they are only going to get worse. In fact, Colorado is one of the fastest warming states in the nation. Climate change is not just about sea level rise. It affects all of us in the middle of the country as well." - Elise Jones, Boulder County Commissioner
"We are a small rural county dependent on tourism and farming and ranching. A natural disaster here could wipe out our reserves. Unabated fossil fuel production is already impacting our climate. These changes will grow more intense over time." - Hilary Cooper, San Miguel County Commissioner.
"Our communities and our taxpayers should not shoulder the cost of climate change adaptation alone. These oil companies need to pay their fair share." - Suzanne Jones, Mayor, City of Boulder
"For over 50 years, Suncor and Exxon have known that fossil fuels would cause severe climate impacts. To enhance their own profits, they concealed this knowledge and spread doubt about science they knew to be correct. Now, communities all over this country are left to foot the bill." - Marco Simons, EarthRights International
"Future generations and those least responsible for causing climate change will bear the brunt of the impacts. We need to shift the costs back to these companies that have profited off their demands for unabated pollution in the face of global climate destabilization." - Micah Parkin, 350 Colorado
"The fossil fuel industry has normalized oil and gas in our lives while concealing the dangers. It's time for a cultural shift. In the future, when we talk about 'energy,' we should be referring to renewable energy, not fossil fuels." - Rebecca Dickson, Sierra Club
"For hundreds of years, the common law has insisted that people who damage property should be held liable for their actions, and this case seeks no more than to protect property rights and the rule of law." - David Bookbinder, Niskanen Center
Background
For years, these three Colorado communities have taken action to reduce their own carbon footprints. All three have adopted ambitious CO2 emission reduction targets, passed budgets for climate work, conducted greenhouse gas (GHG) inventories, and established incentive programs for residents. Despite these efforts, taxpayers already face the rising costs of adapting to a changing climate.
Suncor and Exxon are two of the world's largest contributors to climate change and have been particularly active in Colorado. Fossil fuel combustion accounted for nearly 80 percent of all GHG emissions between 1970 and 2010.
Exxon is the largest investor-owned fossil fuel producer in history. Suncor is one of the world's largest independent energy companies. Both are active in Colorado.
Suncor's U.S. operations are based in Denver, Colorado; the company supplies about 35 percent of the state's gasoline and diesel fuel demand. Suncor and Exxon work closely together in Colorado to market and sell fossil fuels.
The two companies jointly own the majority of Syncrude Canada Ltd., one of the largest developer of Canada's tar sands.
Together, Suncor and Exxon are responsible for billions of tons of CO2 emissions. Their future carbon footprint is likely to be enormous, as well: both companies plan to expand fossil fuel production through tar sands, fracking, and other means.
For more than 50 years, these oil companies have known about the harm that their products would cause to communities, but have chosen to continue business as usual. These companies have long known about the risks of their own activities. In 1968, industry scientists warned them that "significant temperature changes are almost certain to occur by the year 2000" due to rising GHGs, and that "the potential damage to our environment could be severe."
By the 1970s, Suncor and Exxon knew with high certainty that their products were dangerous and that inaction would cause dramatic, even catastrophic, changes to the climate. Exxon even took measures to protect itself from climate change: for example, the company adapted its own facilities to protect from sea level rise.
Consequently, Boulder County, San Miguel County, and the City of Boulder have partnered together to represent communities on the Front Range and the Western Slope and require these companies to help pay for the costs of climate change on local communities in Colorado. Because of the magnitude of the financial impacts, these communities feel like they have little choice but to bring this litigation on behalf of their residents.
In addition to EarthRights International, the plaintiffs are represented by David Bookbinder, Chief Legal Counsel of the Niskanen Center, and Kevin Hannon of the Hannon Law Firm LLC.
EarthRights International (ERI) is a nongovernmental, nonprofit organization that combines the power of law and the power of people in defense of human rights and the environment, which we define as "earth rights." We specialize in fact-finding, legal actions against perpetrators of earth rights abuses, training grassroots and community leaders, and advocacy campaigns. Through these strategies, EarthRights International seeks to end earth rights abuses, to provide real solutions for real people, and to promote and protect human rights and the environment in the communities where we work.
LATEST NEWS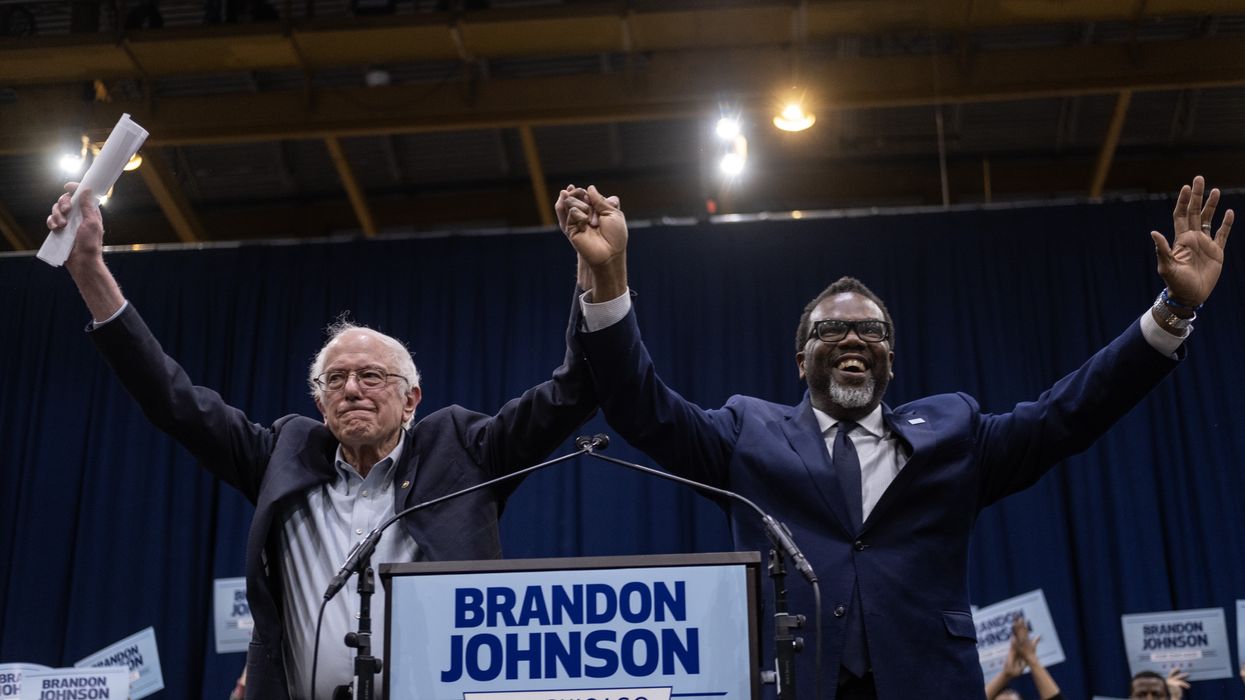 "Which side are you on?" Sanders asked at the packed rally. "Are you on the side of working people, or are you on the side of the speculators and billionaires? And I know which side Brandon is on."
U.S. Sen. Bernie Sanders stumped for progressive Chicago mayoral candidate Brandon Johnson late Thursday, imploring the city's voters to turn out in record numbers to overcome what he described as the powerful establishment forces backing conservative Democrat Paul Vallas.
"Our job on Tuesday is to make sure we have the largest voter turnout this city has ever seen," Sanders (I-Vt.) told the crowd gathered at the University of Illinois Chicago days ahead of the April 4 runoff. "This is going to be a close election, and the deciding factor will be voter turnout."

A Northwestern University poll released earlier this week showed the race is in a dead heat, with Johnson and Vallas each receiving 44% support and 12% of voters still undecided.
"Brandon's opponent and the other side—they have a lot of money," the Vermont senator said Thursday. "That's what always happens when you take on the establishment. They have the money. They've got a lot of power. But you know what we have? We have the people."

The rally came after new financial disclosures showed that a super PAC with close connections to former Education Secretary Betsy DeVos recently spent nearly $60,000 on digital media supporting Vallas, the former CEO of Chicago Public Schools who has worked to privatize education in his home city as well as New Orleans and Philadelphia.

"The fundamental issue, the deep down issue, is: Which side are you on?" Sanders said Thursday night. "Are you on the side of working people, or are you on the side of the speculators and billionaires? And I know which side Brandon is on."
While Sanders didn't explicitly mention the DeVos-tied super PAC's support for Vallas' campaign during Thursday's rally, American Federation of Teachers president Randi Weingarten did, saying it "tells you everything you need to know about" Vallas.
In a statement earlier Thursday, Weingarten said that "Paul Vallas' goal of defunding public schools and dividing parents against teachers makes him precisely the kind of candidate who would appeal to a fellow wrecker like Betsy DeVos—a person who's devoted her life to ending public education as we know it."
"From Chicago to Philadelphia to New Orleans," Weingarten added, "Vallas waged a craven campaign to voucherize and pauperize, just like DeVos tried—and failed—to do when she served as Donald Trump's education secretary."
Watch Thursday's rally:
Johnson, a longtime educator and organizer, also called attention to the Illinois Federation for Children PAC's spending on the race during a candidate forum late Thursday.
"Betsy DeVos has inserted herself and her resources into my opponent's coffers," Johnson said.
Vallas countered that he has "never had any conversations or contacts with Betsy DeVos."
"Our campaign has not received any money from her," Vallas said, citing the often vanishingly thin barrier separating so-called "independent expenditures" by super PACs and direct donations to political campaigns.

In addition to the DeVos-connected spending, Vallas has also received financial support from "conservative contributors and prominent Republicans," the Chicago Tribunereported earlier this month.
"Vallas' largest contributor was golf course developer Michael Keiser, who has given him $700,000," the Tribune noted. "Keiser previously contributed $11,200 to former President Donald Trump, a Republican. Vallas has taken money from John Canning, a Chicago private equity executive who has given to many politicians locally but also national Republicans, and Noel Moore, who has given to Trump and Texas Republican U.S. Sen. Ted Cruz."
Johnson's biggest contributors, by contrast, have been unions representing teachers and service workers.
"When you take dollars from Trump supporters and try to cast yourself as a part of the progressive movement, man—sit down," Johnson said at Thursday night's rally.
News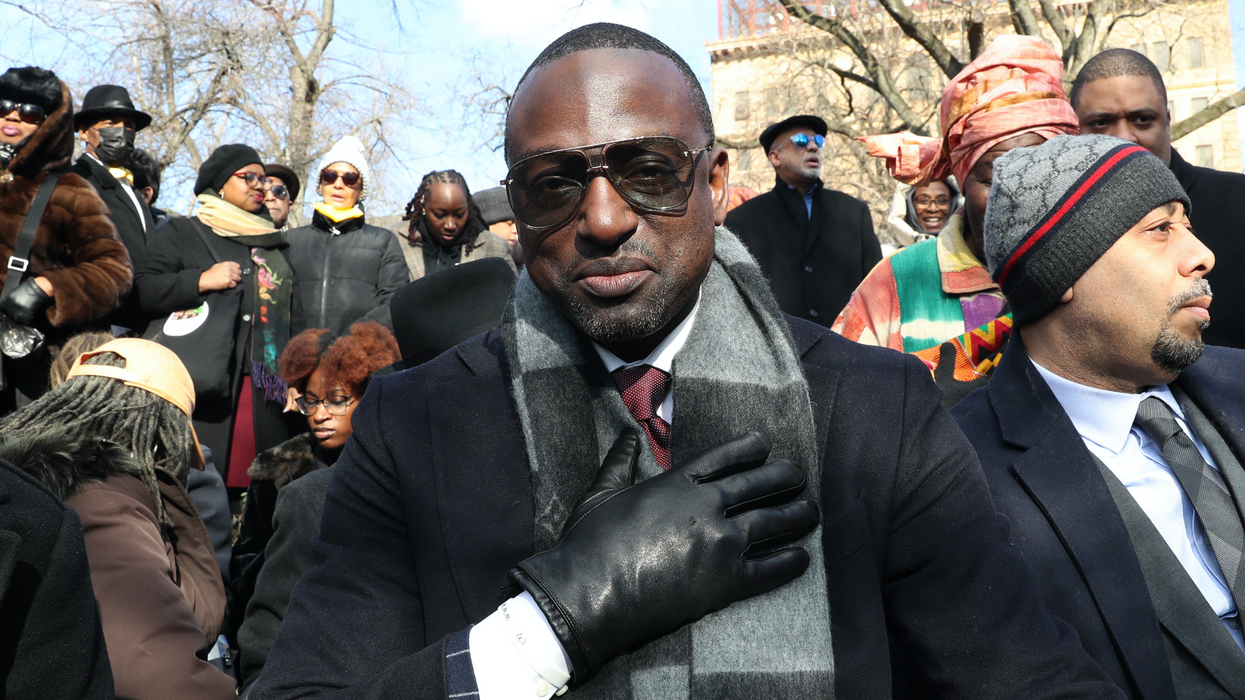 "For those asking about my statement on the indictment of Donald Trump—who never said sorry for calling for my execution—here it is," said Yusef Salaam.
Yusef Salaam, one of the five New York teens wrongfully convicted and imprisoned for the 1989 rape of a jogger in Central Park, issued a brief statement following Thursday's criminal indictment of former U.S. President Donald Trump—who called for bringing back the state's death penalty to execute the defendants and never apologized after they were cleared.
Salaam tweeted: "For those asking about my statement on the indictment of Donald Trump—who never said sorry for calling for my execution—here it is: Karma."
\u201c#PowerPost\u270a\ud83c\udffb\u270a\ud83c\udffc\u270a\ud83c\udffd\u270a\ud83c\udffe\u270a\ud83c\udfff\u2122\ufe0f\n\nFor those asking about my statement on the indictment of Donald Trump - who never said sorry for calling for my execution - here it is:\n\nKarma\u201d

— Yusef Abdus Salaam (@Yusef Abdus Salaam) 1680212837
Trump spent $85,000—over $200,000 today—on a full-page ad that ran in all four of New York's major newspapers calling for the restoration of capital punishment so that the Central Park Five could be executed.
\u201cOne of the exonerated five aka Central Park five reacting to Trump indictment. \n\nTrump took out this ad in four NY newspapers in 1989 and never apologized for it.\u201d

— Yashar Ali \ud83d\udc18 \u06cc\u0627\u0634\u0627\u0631 (@Yashar Ali \ud83d\udc18 \u06cc\u0627\u0634\u0627\u0631) 1680214390
The ad read, in part:
Mayor [Ed] Koch has stated that hate and rancor should be removed from our hearts. I do not think so. I want to hate these muggers and murderers. They should be forced to suffer... Yes, Mayor Koch, I want to hate these murderers and I always will... How can our great society tolerate the continued brutalization of its citizens by crazed misfits?
The five Black and Latino teens—Antron McCray, Kevin Richardson, Raymond Santana, Korey Wise, and Salaam—were beaten and coerced by New York City police into falsely confessing to the rape. They spent years behind bars for the horrific crime that they did not commit.
Salaam, who was 15 years old when his life was upended, was imprisoned for six years and eight months before his exoneration.

In a 2019 interview with the BBC, Salaam—who is now a motivational speaker—said that "I look at Donald Trump, and I understand him as a representation of a symptom of America."
"We were convicted because of the color of our skin. People thought the worst of us," he added. "And this is all because of prominent New Yorkers—especially Donald Trump."
In a statement, National Action Network founder and president Rev. Al Sharpton said that "it's not lost on those of us who were there in 1989 that Donald Trump will likely walk into the same courthouse where the Exonerated 5 were falsely convicted for a crime they did not commit."
\u201cREV. AL SHARPTON RESPONDS TO REPORTS OF PENDING TRUMP INDICTMENT\u201d

— NationalActionNet (@NationalActionNet) 1680216860
"Let's not forget that it was Donald Trump who took out full-page ads calling for these five Black and Brown young men to get the death penalty," Sharpton continued. "This is the same man who's now calling for violence when he has to go through the same system. The same man will have to stand up in a courtroom and see firsthand what the criminal justice system is like."
"All I can say is, what goes around comes around," he added.

News
The historic charges against the 2024 candidate "are the first ever brought against him, but they will not be the last," said one Trump critic, noting that "we know of literally dozens of credible allegations of crimes."
A Manhattan grand jury voted to indict former U.S. President Donald Trump for his role in a hush money payment to porn star Stormy Daniels, The New York Timesreported Thursday, citing five people with knowledge of the matter.
The grand jury's move makes Trump the first ex-president to face criminal charges—and comes as the 76-year-old is seeking the 2024 Republican presidential nomination. An indictment or even conviction in the case would not prevent him from running.
After other outlets also confirmed the historic vote, a spokesperson for District Attorney Alvin Bragg said that "this evening we contacted Mr. Trump's attorney to coordinate his surrender to the Manhattan DA's office for his arraignment on a [New York] Supreme Court indictment, which remains under seal. Guidance will be provided when the arraignment date is selected."
Citing two unnamed sources familiar with the case, CNNreported that Trump faces over 30 counts related to business fraud.

"Donald Trump has spent his entire political career dodging accountability for his wanton disregard for the law. It is finally catching up to him."
In a phone call with ABC News producer John Santucci, Trump said this is an "attack on our country" and "political persecution," adding that "they are trying to impact an election." The twice-impeached former president made similar remarks in a lengthy statement.
Asked by Santucci asked if he will turn himself in, Trump responded, "You take care, John," and hung up. Trump attorney Joe Tacopina toldNBC News that his client is expected to surrender to the DA's office early next week.
Trump supporters expressed outrage over the development—as did Republican Florida Gov. Ron DeSantis, who is expected to also run for the 2024 GOP presidential nomination but said Thursday that his state "will not assist in an extradition request."
Despite warnings that this case "is the first to result in an indictment, though arguably the toughest to win," as Mark Joseph Stern wrote for Slate, critics of Trump still welcomed the news as a long-awaited step toward accountability.

\u201cDonald Trump was the most corrupt president in American history. He was the first president to be impeached twice, and now he\u2019s the first former president to be criminally indicted.\n\nTrump's corruption is finally catching up to him.\u201d

— Citizens for Ethics (@Citizens for Ethics) 1680214108
"We know of literally dozens of credible allegations of crimes committed by Donald Trump as president or running for it, with no charges filed. Until now," tweeted Noah Bookbinder, president of the watchdog group Citizens for Responsibility and Ethics in Washington (CREW). "We can't yet evaluate these charges, but make no mistake, this is a huge deal for accountability."
"Donald Trump has spent his entire political career dodging accountability for his wanton disregard for the law. It is finally catching up to him," Bookbinder added. "The charges in New York are the first ever brought against him, but they will not be the last."
Congresswoman Ilhan Omar (D-Minn.) similarly said "this is just one of many criminal acts for which Donald Trump is being investigated. Make no mistake: the fact that one of the most powerful people in the world was investigated impartially and indicted is testament to the fact that we still live in a nation of laws. And no one is above the law."
Daniels has alleged that she had an extramarital sexual affair with Trump, which he denies. Daniels' attorney, Clark Brewster, said that "the indictment of Donald Trump is no cause for joy. The hard work and conscientiousness of the grand jurors must be respected. Now let truth and justice prevail. No one is above the law."
Trump's former fixer Michael Cohen, who made a $130,000 payment to Daniels, said Thursday that "accountability matters and I stand by my testimony and the evidence I have provided" to the district attorney.
Aaron Scherb, senior director of legislative affairs at Common Cause, pointed to Cohen's prison time on Thursday.
"No American is above the law, including former presidents, and Donald Trump will get his day in court," said Scherb. "Donald Trump and his co-conspirators clearly appeared to have broken the law and his attorney at the time has already served time in federal prison for charges related to the $130,000 hush money payout. The Manhattan district attorney's office is right to hold the former president to the same standard as every other American."
\u201cHere\u2019s my new piece for \u2066@MSNBCDaily\u2069 on the importance of Donald Trump being indicted. Hope you\u2019ll have a look. https://t.co/QzNpk2iM2Q\u201d

— Glenn Kirschner (@Glenn Kirschner) 1680212959
John Bonifaz, president of Free Speech for People, said that "Donald Trump must face the rule of law for all of the crimes he has committed, and this indictment by the Manhattan grand jury is an important first step."
Free Speech for People has argued that Trump and congressional Republicans who provoked and supported the January 6, 2021 attack on the U.S. Capitol should be ineligible to serve, citing the
section
of the 14th Amendment that
bars
from federal office anyone who has taken an oath to support the Constitution then "engaged in insurrection or rebellion."
Urging secretaries of state and chief election officials across the country to "do their job," Bonifaz said that "the insurrectionist disqualification clause of the 14th Amendment makes clear that Trump is disqualified from holding any future public office based on his role in inciting and mobilizing the January 6th insurrection."
"No prior indictment or conviction is required in order to enforce Section 3 of the Fourteenth Amendment against Trump," he added. "To protect our republic, we must uphold this critical constitutional provision at this moment in history."
News
SUPPORT OUR WORK.
We are independent, non-profit, advertising-free and 100%
reader supported.