For Immediate Release
Contact:
Dylan Blaylock,202.408.0034 ext. 137,dylanb@whistleblower.org
NSA Whistleblower Thomas Drake Addresses European Parliament on the American Surveillance State
WASHINGTON
Earlier today, former National Security Agency (NSA) Senior Executive Thomas Drake addressed a special Civil Liberties Committee (LIBE) created by the European Parliament to investigate spying efforts by the United States and EU countries. Addressing specially-appointed Members of the European Parliament (MEPs), Drake spoke as a former NSA crypto-linguist who witnessed what he describes as a "persistent surveillance state" that was "born during the first few critical weeks and months following 9/11."
Drake's testimony can be read and viewed here: https://bit.ly/1bmKG5x
Drake, a whistleblower, was the subject of a federal criminal leak investigation and faced a potential 35 years under a 10-felony count indictment, including five counts under the Espionage Act. In 2011, the federal government dropped all charges against Drake.
During his remarks today, Drake called for the EU to "examine the critical need for transparency and legal accountability" to protect free speech and association, while protecting those who expose government malfeasance and wrongdoing. Furthermore, he pointed to the need for "robust protections" against unwarranted acts of search and seizure.
Drake's recommendations also included a global "data protection treaty" to hold transnational companies and entities accountable from secretly compromising infrastructure that society depends on for business and trade.
"Tom offers us a rare glimpse beyond the veil of secrecy the NSA has spent hundreds of billions and decades cultivating," said GAP Executive & International Director Beatrice Edwards. "In the surveillance state, there are truly no boundaries."
The Government Accountability Project champions government and corporate accountability and transparency by advancing occupational free speech, defending whistleblowers, and empowering citizen activists. Since its founding in 1977, GAP has fought to make large bureaucratic institutions accountable through the effective exercise of conscience.
The Government Accountability Project (GAP) is a 30-year-old nonprofit public interest group that promotes government and corporate accountability by advancing occupational free speech, defending whistleblowers, and empowering citizen activists. We pursue this mission through our Nuclear Safety, International Reform, Corporate Accountability, Food & Drug Safety, and Federal Employee/National Security programs. GAP is the nation's leading whistleblower protection organization.
LATEST NEWS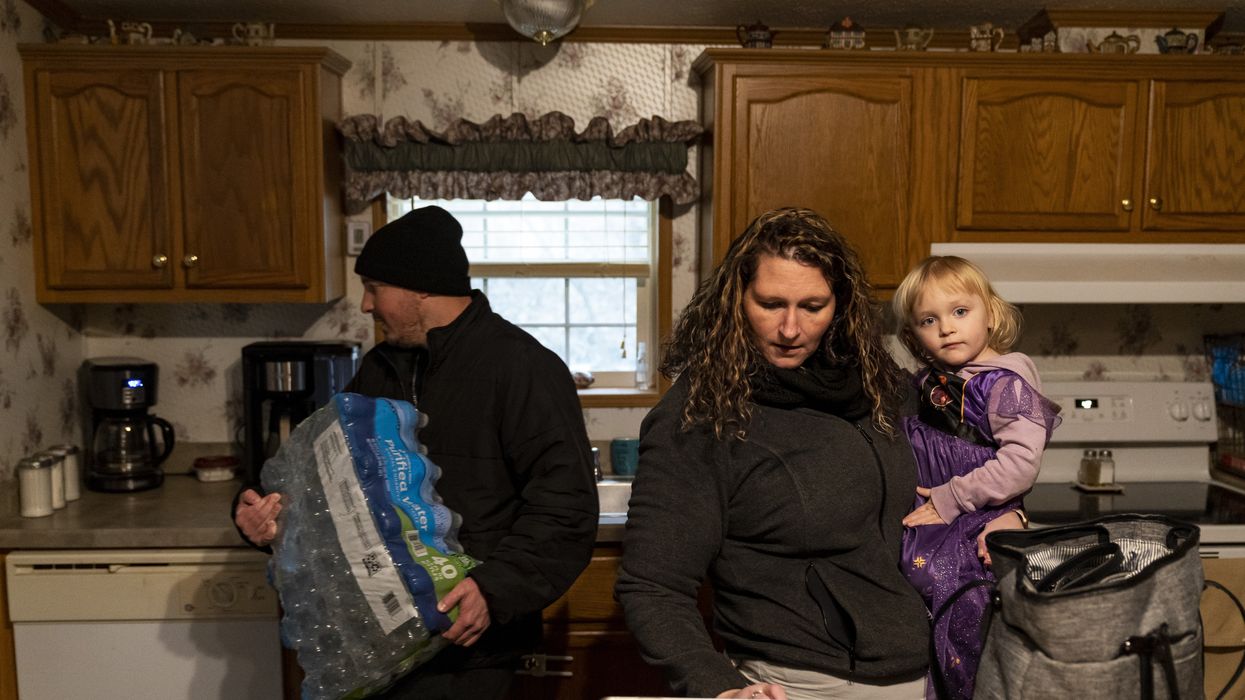 "We will tirelessly pursue justice for the people living in and near East Palestine, who like all Americans deserve clean air, clean water, and a safe community for their children," said one Justice Department official.
The Biden administration on Friday took its latest step to hold Norfolk Southern accountable for the disaster continuing to unfold in East Palestine, Ohio and the surrounding area, filing a lawsuit against the rail company for sending toxic chemicals into the environment.
The U.S. Department of Justice (DOJ) sued the company under the Clean Air Act, accusing it of "unlawfully polluting the nation's waterways" and calling on Norfolk Southern "to ensure it pays the full cost of the environmental cleanup."
"When a Norfolk Southern train derailed last month in East Palestine, Ohio, it released toxins into the air, soil, and water, endangering the health and safety of people in surrounding communities," said Attorney General Merrick Garland. "With this complaint, the Justice Department and the [Environmental Protection Agency] are acting to pursue justice for the residents of East Palestine and ensure that Norfolk Southern carries the financial burden for the harm it has caused and continues to inflict on the community."
The lawsuit comes almost two months after a train carrying chemicals including vinyl chloride derailed in East Palestine, spilling chemicals into local waterways and ultimately the Ohio River, which provides drinking water for more than five million people.
"Whatever it takes to make East Palestine whole, Norfolk Southern needs to pay—and it's not enough to take their word for it."
Officials began a controlled release of vinyl chloride to prevent an explosion, a process that sent chemicals including hydrogen chloride and phosgene into the environment. Those chemicals have been known to cause symptoms including headaches, vomiting, and rashes. Earlier this month, data showed that local levels of dioxin, a carcinogen, were hundreds of times higher than the threshold for cancer risk, according to federal scientists.
Norfolk Southern has removed nine million gallons of contaminated wastewater from the site and hauled it to storage sites in states including Texas and Michigan. Earlier this week, officials in Baltimore blocked a shipment of wastewater to a treatment plant there, with one city council member noting that "too often cities with high rates of concentrated poverty and environmental degradation are asked to shoulder the burden for corporate malfeasance."
Government officials say toxic levels of contamination have not been detected in the air or water in East Palestine, but a poll by federal, state, and local authorities earlier this month found that 74% of town residents had experienced headaches following the derailment and controlled release, and 52% had experienced rashes or other skin issues.
On Friday, CNNreported that investigators with the U.S. Centers for Disease Control and Prevention (CDC) experienced symptoms including sore throat, headache, coughing, and nausea while they were in East Palestine assessing public health risks.

By filing its lawsuit, said Assistant Attorney General Todd Kim of the DOJ's Environment and Natural Resources Division, the Biden administration is "demanding accountability from Norfolk Southern for the harm this event has caused."
"We will tirelessly pursue justice for the people living in and near East Palestine, who like all Americans deserve clean air, clean water, and a safe community for their children," said Kim.
In February, the EPA ordered Norfolk Southern to take full responsibility for the cleanup work, issuing a legally binding directive. It also demanded that the company attend all public meetings regarding the disaster, after officials refused to meet with residents following the crash.
Ohio filed a lawsuit against the company earlier this month, demanding that it pay for soil and water monitoring in the coming years as well as paying environmental damage and cleanup costs.
U.S. Sen. Sherrod Brown (D-Ohio)—a key sponsor of multiple recent railway safety bills—applauded the Biden administration for "following Ohio's lead and holding Norfolk Southern accountable to the full extent of the law."
\u201cWhatever it takes to make East Palestine whole, Norfolk Southern needs to pay \u2014 and it\u2019s not enough to take their word for it. \n\nGlad to see @TheJusticeDept following Ohio\u2019s lead and holding Norfolk Southern accountable to the full extent of the law.\nhttps://t.co/4x2x0oA1LP\u201d

— Sherrod Brown (@Sherrod Brown) 1680274800
The latest lawsuit against Norfolk Southern "should further serve as a wake-up call" to the rail industry, said Robert Guy, Illinois state director for the International Association of Sheet Metal, Air, Rail and Transportation Workers-Transportation Division.
\u201cThis should further serve as a wake-up call to all Class I\u2019s and their love affair with PSR. They must scale back train length, especially those that haul coal, iron-ore and hazardous materials! https://t.co/3SzCfPg7DW\u201d

— Robert W Guy III (@Robert W Guy III) 1680270208
Norfolk Southern and other rail companies have long lobbied for lax regulations and pushed workers to abide by a strict scheduling system that rail unions say places profits over safety.
News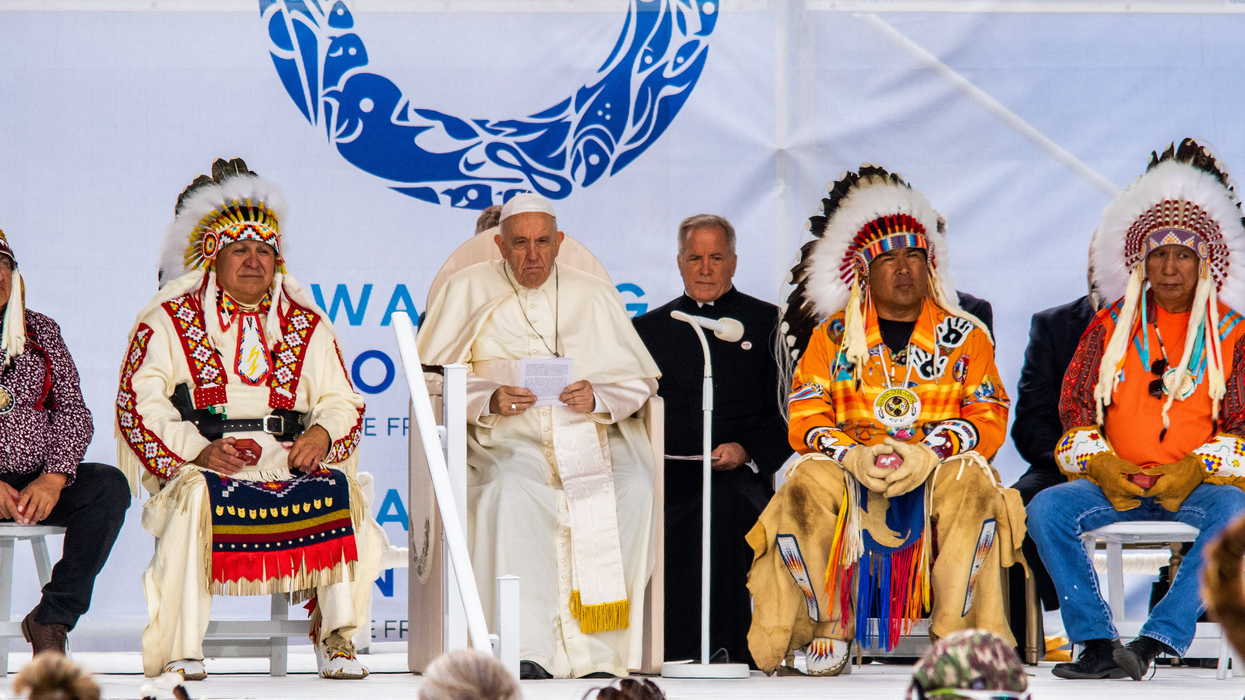 One Native American group hopes the historic move "is more than mere words, but rather is the beginning of a full acknowledgment of the history of oppression and a full accounting of the legacies of colonialism."
In a historic shift long sought by Indigenous-led activists, the Holy See on Thursday formally repudiated the doctrine of discovery, a dubious legal theory born from a series of 15th-century papal decrees used by colonizers including the United States to legally justify the genocidal conquest of non-Christian peoples and their land.
In a joint statement, the Vatican's departments of culture and education declared that "the church acknowledges that these papal bulls did not adequately reflectthe equal dignity and rights of Indigenous peoples" and "therefore repudiates those concepts that fail to recognize the inherent human rights of Indigenous peoples, including what has become known as the legal and political 'doctrine of discovery.'"
"The church is also aware that the contents of these documents were manipulated for political purposes by competing colonial powers in order to justify immoral acts against Indigenous peoples that were carried out, at times, without opposition from ecclesiastical authorities," the statement added. "It is only just to recognize these errors, acknowledge the terrible effects of the assimilation policies and the pain experienced by Indigenous peoples, and ask for pardon."
Indigenous leaders—who for decades demanded the Vatican rescind the discovery doctrine—welcomed the move, while expressing hope that it brings real change.

"On the surface it sounds good, it looks good... but there has to be a fundamental change in attitudes, behavior, laws, and policies from that statement," Ernie Daniels, the former chief of Long Plain First Nation in Manitoba, Canada, toldCBC Thursday.
"There's still a mentality out there—they want to assimilate, decimate, terminate, eradicate Indigenous people," added Daniels, who was part of a delegation that met with Pope Francis last year in Rome and Canada.
The pontiff—who is currently hospitalized with a respiratory infection—apologized last July in Alberta for the church's human rights crimes against First Nations and asked for forgiveness "for the wrong done by so many Christians to the Indigenous peoples."
Ghislain Picard, an Innu leader and the regional chief of the Assembly of First Nations for Quebec and Labrador, told CBC that the Vatican's move is mostly symbolic.
"The Vatican seems to be washing its hands of its role in the whole colonization of our lands, and to me it would be so simple to just accept the fact that they played a role," he said. "Reconciliation is a buzzword. But how it impacts current policy is really what's at stake here."
Discovery doctrine is rooted in a trio of papal decrees issued in the second half of the 15th century authorizing the Portuguese and Spanish monarchies to conquer land and enslave people in Africa and the Americas if they were non-Christians and dividing the Americas between the two burgeoning empires.
Nullified by the Vatican in the 16th century, the papal decrees nevertheless underpinned centuries of colonial conquest by Europeans and Euro-Americans.
In 1823, United States Supreme Court Chief Justice John Marshall wrote in Johnson v. M'Intosh that Indigenous people could not sell land to whites because Indians' "power to dispose of the soil at their own will to whomsoever they pleased was denied by the original fundamental principle that discovery gave exclusive title to those who made it."
The precedent set by Johnson was cited as recently as 2005, when then-Justice Ruth Bader Ginsburg notoriously cited doctrine of discovery in Sherrill v. Oneida Indian Nation, an opinion decried by many Native Americans.
In a Thursday interview on Indian Country Today's newscast, Arizona State University law professor Robert Miller, who is Eastern Shawnee, said that "what the church did is an important worldwide educational moment, but it doesn't change the law in any country. It doesn't change titles to land anywhere."
"It's gonna take far more than just the pope repudiating these 600-year-old papal bulls to make real changes for Indigenous peoples," he added.

News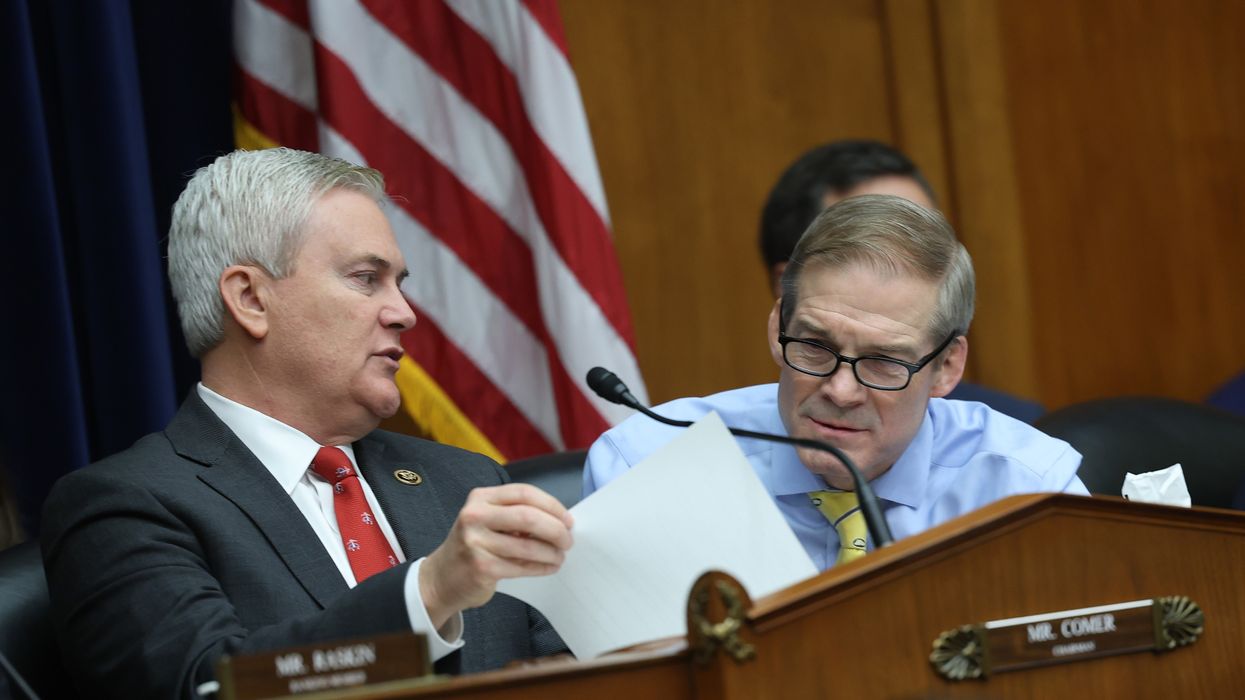 "It appears you are acting more like criminal defense counsel trying to gather evidence for a client than a legislative body."

On the heels of former President Donald Trump's historic indictment, Manhattan District Attorney Alvin Bragg's office on Friday told three top Republican lawmakers in the U.S. House that their "attempted interference with an ongoing state criminal investigation—and now prosecution—is an unprecedented and illegitimate incursion on New York's sovereign interests."
U.S. Reps. Jim Jordan (R-Ohio), James Comer (R-Ky.), and Bryan Steil (R-Wis.)—who chair the House Judiciary, Oversight, and Administration committees, respectively—initially wrote to Bragg last week demanding documents and testimony. In response, the general counsel for Bragg's office, Leslie Dubeck, called their requests an "unlawful incursion" into state sovereignty.
A second letter from Jordan, Comer, and Steil—public allies of Trump—prompted the six-page response from Bragg's office on Friday, less than 24 hours after the New York grand jury convened by Bragg over a hush money payment to a porn star voted to indict the former president and 2024 GOP candidate, who is expected to be arraigned Tuesday.

"You and many of your colleagues have chosen to collaborate with Mr. Trump's efforts to vilify and denigrate the integrity of elected state prosecutors and trial judges and made unfounded allegations."
"Your first letter made an unprecedented request to the district attorney for confidential information about the status of the state grand jury investigation—now indictment—of Mr. Trump," Dubeck wrote to the lawmakers. "Your second letter asserts that, by failing to provide it, the district attorney somehow failed to dispute your baseless and inflammatory allegations that our investigation is politically motivated. That conclusion is misleading and meritless."
"We did not engage in a point-by-point rebuttal of your letter because our office is legally constrained in how it publicly discusses pending criminal proceedings, as prosecutorial offices are across the country and as you well know," the general counsel continued. "That secrecy is critical to protecting the privacy of the target of any criminal investigation as well as the integrity of the independent grand jury's proceedings."
The letter lays out why the congressmen's committees "lack jurisdiction to oversee a state criminal prosecution," and declares that "based on your reportedly close collaboration with Mr. Trump in attacking this office and the grand jury process, it appears you are acting more like criminal defense counsel trying to gather evidence for a client than a legislative body seeking to achieve a legitimate legislative objective."

Dubeck also took aim at their "vague and shifting legislative purpose." Only noting it in the second letter suggests "your proposal to 'insulate current and former presidents' from state criminal investigations is a baseless pretext to interfere with our office's work," she wrote. "Even if you were seriously considering such legislation and had the constitutional authority to enact it (which you do not), your request for information from the district attorney and his former attorneys concerning an ongoing criminal probe is unnecessary and unjustified."
\u201cManhattan DA\u2019s to House GOP: \u201cWhat neither Mr. Trump nor Congress may do is interfere with the ordinary course of proceedings in New York State.\u201d\u201d

— Jacqueline Alemany (@Jacqueline Alemany) 1680266611
After highlighting that the lawmakers' initial rationale for the inquiry related to the use of federal funding, the letter notes that over the past 15 years, the DA's office has helped the federal government secure over $1 billion from asset forfeiture and the office itself "receives only a small fraction of those forfeited funds."
Dubeck disclosed that from October 2019 to August 2021, approximately $5,000 of the federal forfeiture money was spent investigating the former president or the Trump Organization; most of those costs were related to a case that led to the conviction of Trump Organization CFO Allen Weisselberg and two Trump business entities, and "no expenses incurred relating to this matter have been paid from funds that the office receives through federal grant programs."
The letter explains the DA office's current participation in federal grant programs, then forcefully calls out the congressmen:
Finally, as you are no doubt aware, former President Trump has directed harsh invective against District Attorney Bragg and threatened on social media that his arrest or indictment in New York may unleash "death and destruction." As committee chairmen, you could use the stature of your office to denounce these attacks and urge respect for the fairness of our justice system and for the work of the impartial grand jury. Instead, you and many of your colleagues have chosen to collaborate with Mr. Trump's efforts to vilify and denigrate the integrity of elected state prosecutors and trial judges and made unfounded allegations that the office's investigation, conducted via an independent grand jury of average citizens serving New York state, is politically motivated. We urge you to refrain from these inflammatory accusations, withdraw your demand for information, and let the criminal justice process proceed without unlawful political interference.
Dubeck asked that if the lawmakers won't withdraw their request, they agree to a meeting and provide a list of questions for Bragg as well as a description of documents they believe could be turned over to Congress "without violating New York grand jury secrecy rules or interfering with the criminal case now before a court."
"We trust you will make a good-faith effort to reach a negotiated resolution," she concluded, "before taking the unprecedented and unconstitutional step of serving a subpoena on a district attorney for information related to an ongoing state criminal prosecution."
The latest letter from the DA's office "is really a work of art," independent journalist Marcy Wheeler said in a series of tweets on Friday. "It was a joy to read. Bragg is not fucking around and... well, Jimmy Jordan is."

News
SUPPORT OUR WORK.
We are independent, non-profit, advertising-free and 100%
reader supported.