For Immediate Release
July, 12 2010, 02:35pm EDT
Contact:
Tel: +1-212-216-1832,Email:,hrwpress@hrw.org
Iran/Iraq: Iranian Attacks Should Not Target Iraqi Civilians
Villagers Allege Artillery Shelling, Attacks on Livestock Intended to Clear Border Area
NEW YORK
Iran needs to take all feasible precautions to spare civilians at risk of serious harm from artillery bombardment and other military operations in an area that includes dozens of Kurdish villages inside northern Iraq, Human Rights Watch said today.
The Iranian attacks, directed against the Iranian Kurdish armed group Party for Free Life of Kurdistan (PJAK), intensified in late May and have led to the displacement of more than 500 families, wounded an unknown number of villagers, and killed a teenage girl. Iraqi villagers also told Human Rights Watch, which visited the area in late June, that Iranian border guards have targeted their livestock and sometimes fired at the villagers themselves.
"Iran should take all feasible precautions to spare civilians from artillery and other attacks," said Joe Stork, deputy Middle East director at Human Rights Watch. "Firing artillery shells into populated areas, especially where there are no military targets, and targeting livestock are serious violations of the laws of war."
Since June 3, 2010, about 500 families have fled their border villages to crowded tent camps elsewhere in Erbil and Sulaimaniya provinces, joining about 250 families who had fled Iranian shelling in previous months. Aid organizations and local municipalities have struggled to meet the displaced families' basic needs. The recent attacks also led an unknown number of other Kurdish civilians to flee elsewhere throughout the countryside and to surrounding towns.
The affected areas lie in the Qandil Mountains, along the eastern borders of Erbil and Sulaimaniya provinces, in the region administered by the Kurdistan Regional Government (KRG). To the west, along the Iraqi-Turkish border, Turkish forces continue to attack Kurdistan Workers Party (PKK) forces, although these attacks have not yet had the same impact on populated Iraqi Kurdish areas, aid agencies report. PJAK, a group formed in 2004, is affiliated with the PKK.
Human Rights Watch visited the Choman, Soran, Raniya and Pishdar districts between June 18 and June 27 and interviewed more than 50 displaced villagers, local government officials, and Iraqi soldiers. In all of the border areas Human Rights Watch visited, there were extensive patches of ground with small craters and twisted shrapnel inside villages and close to homes, as well as a pattern of damage to dwellings and crops that was consistent with artillery bombardment. Human Rights Watch also viewed video shot on villagers' mobile phones showing the moments after shelling, with smoke rising from craters alongside damaged tents and dying livestock. Villagers, government officials, and Iraqi security forces who Human Rights Watch interviewed were adamant that PJAK forces had never been in these areas and that there were no other military targets in the vicinity at any point before or during the shelling.
"We know these mountains," a KRG military officer who commands a military outpost in a mountainous area of Choman District told Human Rights Watch. "We don't have PJAK fighters in these villages. We only have government forces here. ... Iran is attacking places that do not have guerrillas."
Karwan Shareef, mayor of the Haji Omaran sub-district, told Human Rights Watch that the people living in the nearby areas being shelled are farmers and shepherds.
"I have seen no guerrilla forces in these areas," Shareef said. "PJAK are very far from the places that Iran has shelled. An artillery shell even hit only 250 meters from my office."
A local freelance journalist from the same area, who often reports on both the armed groups, said, "I interview PJAK all the time. I have to go further up in the mountains to do this. Plus, they are guerrillas - they know how to hide from the Iranians. The farmers do not."
Human Rights Watch did not see any evidence of PJAK activity in and around the communities it visited.
Family members, residents, and local officials told Human Rights Watch that a shell killed 14-year-old Basoz Jabar as she was playing outside in Wenza, a village in Choman district, on June 2. Residents of the village showed Human Rights Watch metal shell fragments collected from the site of the attack.
The girl's best friend, Shanaz Qadr, 13, described the shelling. The bombardment was deafeningly loud and frightening, she and other neighbors said, sending residents running for cover. The two girls separated and Qadr hid behind a large rock: "I cried because I was afraid as the shelling came closer. But when I heard the crying of my neighbors, I forgot everything. 'Oh my Basoz,' I heard them say. I couldn't stand it anymore. When the shelling died down, we saw the bloody body of Basoz." Since the attack, only a few families have remained in the village, in an effort to save their crops.
Aid organizations working in the affected areas had no numbers for injured civilians, but more than a dozen villagers told Human Rights Watch of residents who were wounded by the shelling and taken to stay with family members in surrounding areas.
The timing of the recent attacks has been particularly devastating for farmers since the attacks coincided with the short planting season. Villagers in several districts said this is the third year in a row in which Iranian shelling forced farmers to leave during crucial times for planting and tending crops.
While Iranian officials have said little about military activity across the border, especially artillery bombardments, they have stated that Iran's military actions are aimed at stopping attacks across the Iranian border carried out by PJAK. Iran's ambassador to Iraq, Hassan Kazemi Qomi, told the Iranian Mehr News Agency on June 9 that Iran was strictly controlling the security of its borders, and he rejected claims that Iranian troops crossed Iraq's border illegally.
Villagers and local officials told Human Rights Watch that in their view Iran intended to force the villagers off the land, effectively creating an area along the Iraqi side of the border without inhabitants. Locals said there was a pattern of shells striking increasingly close to their gardens and homes until they felt they had to leave for fear of being wounded or killed.
"They are doing this so we will leave," said a man in the village of Kani Spi. "We are just families, growing food to make money, but the Iranians do not want us here."
Farmers close to the border reported that since June, soldiers on the Iranian side intentionally killed the villagers' livestock with machine gun fire. In some cases, they said, Iranian troops fired on them as well if they climbed high enough on the hilltops to be seen. The farmers said they did not carry any weapons and were dressed in civilian clothing.
In one farmland area in the Haji Omaran sub-district, about two kilometers from the border, Dishad Baqer, a farmer in his 30s, said that all the residents fled after repeated shelling. He explained that it had been quiet for a few days, so almost 40 of the 60 residents had quietly come back to work to salvage their fields of sunflowers, tomatoes, and cucumbers. Iranian border guards "shot ten horses near here, two days ago," Baqer said. "We stay close, because if you walk up this hill, right now or anytime, they will shoot at you."
On June 22, the day he spoke with Human Rights Watch, Baqer said that they had been lucky for the previous few days because there had been no shelling at all.
"We are ready to run if it starts again," he said.
Villagers repeatedly warned Human Rights Watch to keep away from the tops of hills that were in view of the Iranian border troops on the other side. Another farmer in the same village said, "They will shoot at anything that moves, whether it's a person or an animal ... I think they are sending a message for us to leave our home."
Deliberately attacking civilians and civilian property, such as shooting at farmers who are not actively taking part in the hostilities and targeting livestock, are serious violations of international humanitarian law.
Human Rights Watch also called on Iraqi authorities to ensure that essential aid promised by the government reaches those displaced from their homes. The United Nations High Commissioner for Refugees (UNHCR) and other aid agencies told Human Rights Watch that more than 750 families (about 4,740 people) have been displaced by Iranian shelling, including about 250 from before the current campaign that began in late May.
The largest of the camps is Doli Shahidan, nine kilometers north of Sangasar. More than 2,000 people fled there from 21 villages, according to the UN refugee agency office in Sulaimaniya. While the local district government has started to provide potable water to the camp, displaced villagers rely on the refugee agency, the International Committee of the Red Cross, the Iraqi Red Crescent, and the International Organization for Migration for tents, plastic sheets, food items, first aid kits, cooking stoves, blankets, water filters, and other items.
According to aid agencies and local farmers, since early 2008, civilians by the thousands have been intermittently displaced in the region by the Iranian shelling - returning and leaving as the shelling stops and starts and making it difficult to assess numbers of displaced.
Iraqi government officials said that the central government's Ministry of Displacement and Immigration has in the past month compensated some of those displaced with a lump sum payment of 1 million Iraqi dinars (about US$850) per family. The KRG, which is distributing the payments, has not announced clear eligibility guidelines. While a few people told Human Rights Watch that they had received the compensation, most said they had not.
At the Jarawa refugee camp, in Raniya district, a village elder, Bapir Haji, said none of the families in the camp ever received compensation because of what he characterized as nepotism within the KRG.
"We haven't received anything because we aren't in the right families," he said.
According to locals, neither of the armed groups being hunted by Iran and Turkey receive assistance from the civilians in the shelled areas, although the locals say that segments of the local Kurdish population may sympathize with the rebel fighters.
The umbrella organization that includes both PJAK and the PKK, known as the Kurdistan Democratic Confederation (KCK), acknowledged to Human Rights Watch that fighters are based in parts of the Qandil mountains of northern Iraq and move across the border to conduct attacks inside Iran and Turkey. Regarding the areas being shelled by Iran inside Iraq, a spokesman, Ahmed Deniz, told Human Rights Watch, "PJAK forces are just not there.... our forces do not operate in these civilian areas."
South of the Haji Omaran border crossing, Human Rights Watch observed what an officer of the KRG's security forces, the peshmerga, identified as an Iranian military outpost. The officer said that the outpost had been constructed two weeks earlier by Iranian forces, and was three kilometers inside Iraq. Local officials later confirmed that the outpost was in Iraqi territory. About the shelling, the officer shook his head and remarked, "We can only just watch it."
What is known as the principle of distinction, which requires parties to an armed conflict to distinguish at all times between combatants and civilians, is central to international humanitarian law, which regulates the conduct of hostilities. Customary international law requires that operations may be directed only against combatants and other military objectives; civilians and civilian objects may not be the target of attack. Deliberate, indiscriminate, or disproportionate attacks against civilians and civilian objects are prohibited.
Attacks are indiscriminate when they are not directed at a specific military objective or employ a method or means of warfare that cannot be directed at a military objective or whose effects cannot be limited. A disproportionate attack is one in which the expected incidental loss of civilian life and damage to civilian objects would be excessive in relation to the concrete and direct military advantage anticipated.
Until recently, Iranian shelling elicited little comment from either the Iraqi central government or the regional government. In a June 22 news conference, Prime Minister Nuri al-Maliki accused Iran and Turkey of violating Iraq's territory and said that the Iraqi government had sent letters of protest to both ambassadors. Deputy Foreign Minister Labeed Abbawi delivered those letters.
"We have expressed to the Iranians that we are against the actions of any [armed] groups operating near the borders, but these problems will not be solved by unilateral military actions in our borders by another country," Abbawi told Human Rights Watch. "We are asking Iran and Turkey to stop the shelling and bombing immediately. There have been no direct responses from Iran, except that we were told that our concerns were exaggerated. This is the traditional response."
Human Rights Watch is one of the world's leading independent organizations dedicated to defending and protecting human rights. By focusing international attention where human rights are violated, we give voice to the oppressed and hold oppressors accountable for their crimes. Our rigorous, objective investigations and strategic, targeted advocacy build intense pressure for action and raise the cost of human rights abuse. For 30 years, Human Rights Watch has worked tenaciously to lay the legal and moral groundwork for deep-rooted change and has fought to bring greater justice and security to people around the world.
LATEST NEWS
"Chevron should not be doing $75 billion in stock buybacks while price gouging American families and accelerating the climate crisis," said one critic.
Climate and consumer advocates reacted angrily Thursday to Chevron's announcement of a planned $75 billion stock buyback amid record profits and a worsening planetary emergency exacerbated by the continued extraction and burning of fossil fuels.
California-based Chevron said Wednesday it would start buying back shares on April 1, and that the new repurchase will be three times the size of the last one, which began in 2019. Bloombergnotes that the new buyback is equivalent to nearly a quarter of Chevron's market value.

"Companies like Chevron are doing absolutely massive stock buybacks after price gouging working families for over a year," tweeted Pennsylvania state Rep. Malcolm Kenyatta (D-181). "Then these same companies will come back hat-in-hand begging for more tax breaks and tax cuts."
Brian Vickers, a business administration professor at Northeastern State University in Oklahoma, tweeted, "I kept saying gas price increases were straight-up price gouging and not indicative of the price of oil, and here's all the proof I was right."
\u201cAfter decimating Indigenous groups in the Amazon and evading a $9.5 billion pollution judgement in Ecuador, @Chevron is now reporting a $75 billion buyback of its own stock. How the rich get richer while the poor die.\n\nThis company should lose its license to operate.\u201d

— Steven Donziger (@Steven Donziger) 1674760480
The Biden administration—which despite a worsening climate emergency has been pressing oil companies to increase production to keep gas prices down—denounced Chevron's planned buyback.

"For a company that claimed not too long ago that it was 'working hard' to increase oil production, handing out $75 billion to executives and wealthy shareholders sure is an odd way to show it," White House spokesperson Abdullah Hasan said in response to news of the buyback.
Thursday's announcement came as Chevron, BP, ExxonMobil, Shell, and TotalEnergies are set to announce a record $199 billion in collective 2022 profits, 50% higher than the previous record set over a decade ago, according to Bloomberg.
\u201cNEWSFLASH: Chevron should not be doing *$75 BILLION* in stock buybacks while price gouging American families and accelerating the climate crisis.\u201d

— Climate Power (@Climate Power) 1674755389
Chevron's $11.2 billion third-quarter profit last year was its second-highest on record and nearly double the $6.1 billion it reported during the same period in 2021.
Reacting to Chevron's impending buyback, biogeochemist and Earth sciences professor Gabriel Filippelli said "so much is wrong about this."
"Record profits for Chevron and the [Biden] administration is mad that they don't pump that into more drilling?" he asked. "They should pump it into more renewables and a real divestment strategy to stop producing their deadly product."
On Wednesday, U.S. Sens. Catherine Cortez Masto (D-Nev.) and Ben Ray Luján (D-N.M.) reintroduced the Fair and Transparent Gas Prices Act, which the lawmakers argue "would give the Federal Trade Commission the tools it needs to investigate unfair practices, provide market transparency, and prevent price gouging by Big Oil and gas companies."
\u201cBig Oil is making record profits, while Nevadans still have some of the highest gas prices in the country. I see it every time I fill up my tank.\n\nMy bill will investigate Big Oil for price gouging and work to stop any unfair practices hurting Nevadans.\nhttps://t.co/bT3Qv1m5kx\u201d

— Senator Cortez Masto (@Senator Cortez Masto) 1674745500
Last March, Rep. Ro Khanna (D-Calif.) introduced legislation that would tax excess oil company profits and use the proceeds to pay American households a quarterly rebate. That same month in the Senate Bernie Sanders (I-Vt.) introduced the Ending Corporate Greed Act, which would impose a 95% tax on the windfall profits of major companies.
President Joe Biden has threatened to back a windfall profits tax on Big Oil unless companies ramp up production, but has not yet done so.

News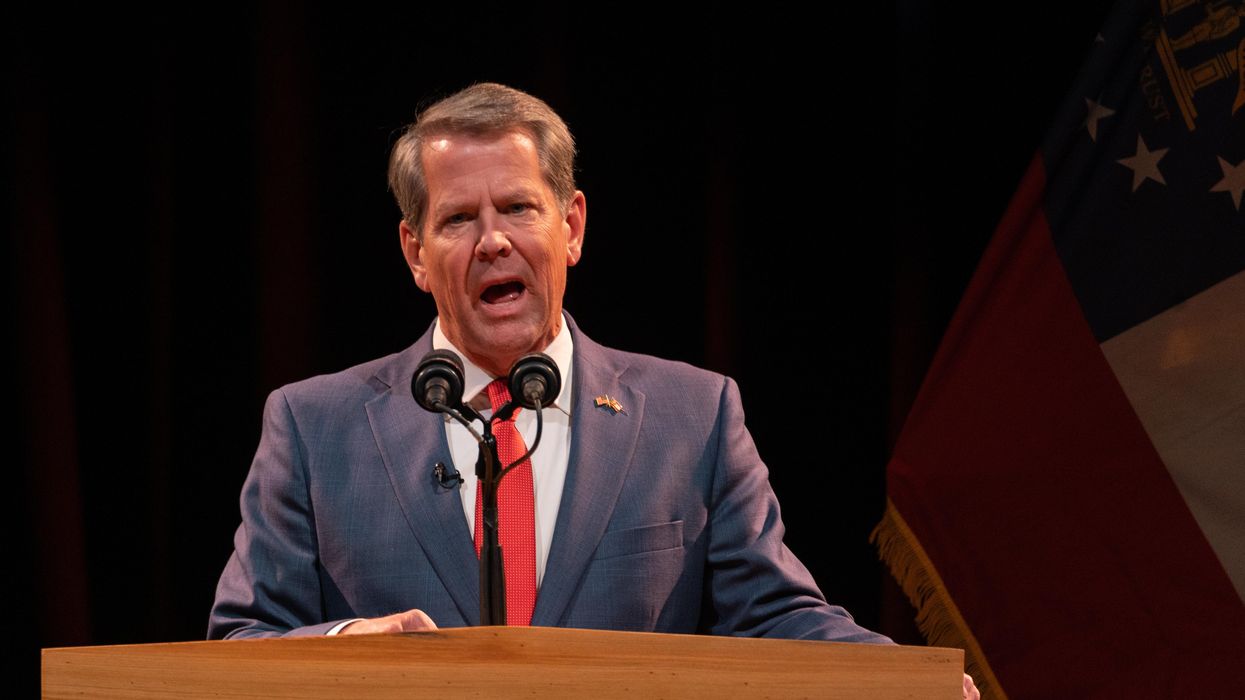 While the move comes after law enforcement in Georgia killed a "Cop City" protester, one official said it is a "purely precautionary" measure before the anticipated release of video footage from an arrest in Tennessee.

Republican Georgia Gov. Brian Kemp on Thursday signed an executive order declaring a state of emergency through at least February 9 that will enable him to deploy up to 1,000 National Guard troops "as necessary."
The order follows protests in Atlanta after 26-year-old forest defender Manuel "Tortuguita" Teran was shot dead last week during a multi-agency raid on an encampment to oppose construction of Cop City, a nearby law enforcement training center. The Georgia Bureau of Investigation (GBI), which is investigating the case, has said Teran was killed after he shot and wounded a state trooper.
While the order begins by stating that "protests turned violent in downtown Atlanta" last Saturday, The Atlanta Journal-Constitutionreported that Kemp's aides signaled that the move was not about the Cop City demonstrations but rather in anticipation of any potential response to video footage from Memphis, Tennessee showing the arrest of Black motorist Tyre Nichols.
\u201cGeorgia Gov. Brian Kemp is calling up to 1,000 National Guard troops & declaring a state of emergency until Feb 9, a week after police killed forest defender Tortuguita. 12 Cop City opponents were charged with domestic terrorism since. Tomorrow the Tyre Nichols video comes out.\u201d

— Alleen Brown (@Alleen Brown) 1674766682
As Common Dreamsreported earlier Thursday, five fired Memphis cops were charged with second-degree murder and other crimes related to Nichols' death. Footage of the 29-year-old's arrest is expected to be released sometime after 6:00 pm local time on Friday.
"We understand the executive order is purely precautionary based on possible unrest following the release of the videos from Memphis," an official in Georgia with direct knowledge of the situation told the AJC. "There are no immediate intentions to deploy the guard."
The Atlanta Police Department also mentioned the Memphis case in a statement Thursday:
We are closely monitoring the events in Memphis and are prepared to support peaceful protests in our city. We understand and share in the outrage surrounding the death of Tyre Nichols. Police officers are expected to conduct themselves in a compassionate, competent, and constitutional manner and these officers failed Tyre, their communities, and their profession. We ask that demonstrations be safe and peaceful.
In a series of tweets Thursday, the Atlanta Community Press Collective named several people killed by law enforcement in recent years and suggested that Kemp's order is about "trying to instill fear in anyone who stands up against police brutality."
\u201cKemp's declaration of a State of Emergency isn't about property damage at Saturday's protests at all. It's about police murdering #TyreNichols and Tortuguita within two weeks of each other. They're trying to instill fear in anyone who stands up against police brutality.\u201d

— Atlanta Community Press Collective (@Atlanta Community Press Collective) 1674764329
Meanwhile, national groups and progressive lawmakers have echoed local demands for an independent probe in Teran's case.
The Georgia Bureau of Investigation has highlighted that it is separate from the Georgia State Patrol and said that GBI "is conducting an independent investigation," after which it will "turn the investigative file over to the prosecutor." The agency noted Wednesday that DeKalb County District Attorney Sherry Boston has recused herself from the case so a special prosecutor will be assigned.
Some have pushed back against the "police narrative" that the "corporate media has ran away with" for Teran's case, as forest defender Kamau Franklin toldDemocracy Now! last week, adding that "we find it less than likely that the police version of events is what really happened."
"And that's why we're calling for an independent investigation, not one that's done by the Georgia Bureau of Investigation, not one that's done by any federal authority, but a complete independent investigation," Franklin said, "because that's the only way we're going to know what really happened."
Rights & Justice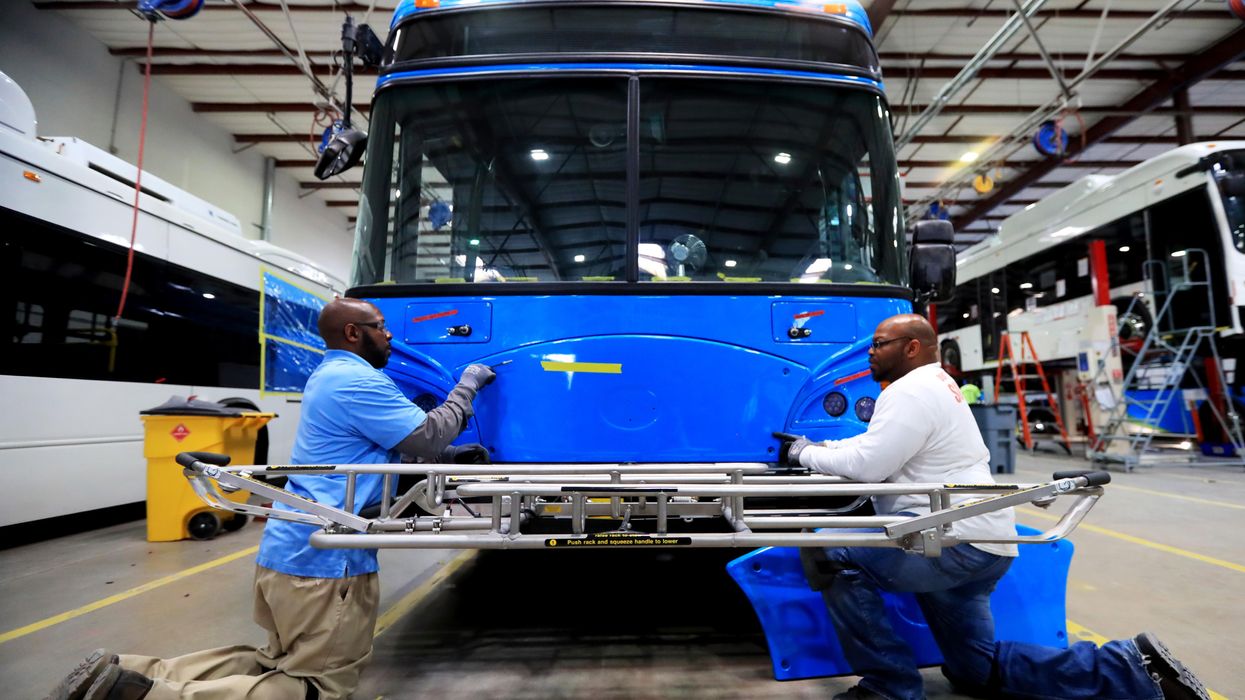 "Military industrial production can be redirected to civilian technologies that contribute to societal well-being and provide green jobs," says the Costs of War project.
A pair of reports published Thursday show that many workers employed in the U.S. military-industrial complex support shifting manufacturing resources from military to civilian use—a conversion seen as vital to the fight against the climate emergency.
Moving "from a war economy to a green economy" can help avert the worst consequences of the climate crisis, noted the Costs of War project at Brown University's Watson Institute, publisher of the new research.
"Ever-higher military spending is contributing to climate catastrophe, and U.S. lawmakers need a better understanding of alternative economic choices," Stephanie Savell, co-director of Costs of War, said in a statement. "Military industrial production can be redirected to civilian technologies that contribute to societal well-being and provide green jobs. This conversion can both decarbonize the economy and create prosperity in districts across the nation."
In one of the papers released Thursday, Miriam Pemberton, an associate fellow at the Institute for Policy Studies, described "how the United States developed a war economy," as reflected in its massive $858 billion military budget, which accounts for roughly half of all federal discretionary spending.
As Pemberton explained:
When the U.S. military budget decreased after the Cold War, military contractors initiated a strategy to protect their profits by more widely connecting jobs to military spending. They did this by spreading their subcontracting chains across the United States and creating an entrenched war economy. Perhaps the most infamous example: Lockheed Martin's F-35 fighter jet, which is built in 45 states.

The strategy proved successful. Today, many members of Congress have political incentives to continue to raise the military budget, in order to protect jobs in their districts. Much of the U.S. industrial base is invested in and focused on weapons production, and industry lobbyists won't let Congress forget it.

Not only is the Pentagon a major contributor to planet-heating pollution—emitting more greenhouse gases than 140 countries—and other forms of environmental destruction, but a 2019 Costs of War study showed that "dollar for dollar, military spending creates far fewer jobs than spending on other sectors like education, healthcare, and mass transit," Pemberton continued.
Moreover, "military spending creates jobs that bring wealth to some people and businesses, but do not alleviate poverty or result in widely-shared prosperity," Pemberton wrote. "In fact, of the 20 states with economies most dependent on military manufacturing, 14 experience poverty at similar or higher rates than the national average."
"A different way is possible," she stressed, pointing to a pair of military conversion case studies.
"The only way to really lower emissions of the military is you've got to make the military smaller."
As military budgets were shrinking in 1993, Lockheed was eager to expand its reach into non-military production.
"One of its teams working on fighter jets at a manufacturing facility in Binghamton, New York successfully shifted its specialized skills to produce a system for transit buses that cut fuel consumption, carbon emissions, maintenance costs, and noise, called 'HybriDrive,'" Pemberton explained.
By 1999, Lockheed "sold the facility producing HybriDrive buses and largely abandoned its efforts to convert away from dependence on military spending," she wrote. "But under the new management of BAE Systems, the hybrid buses and their new zero-emission models are now reducing emissions" in cities around the world.
According to Pemberton, "This conversion project succeeded where others have failed largely because its engineers took seriously the differences between military and civilian manufacturing and business practices, and adapted their production accordingly."
In another paper released Thursday, Karen Bell, a senior lecturer in sustainable development at the University of Glasgow, sought to foreground "the views of defense sector workers themselves," noting that they "have been largely absent, despite their importance for understanding the feasibility of conversion."
Bell surveyed 58 people currently and formerly employed in military-related jobs in the U.S. and the United Kingdom and found that "while some workers said that the defense sector is 'socially useful,' many were frustrated with their field and would welcome working in the green economy."
"This was a small group so we cannot generalize to defense workers overall," writes Bell. "However, even among this small cohort, some were interested in converting their work to civil production and would be interested in taking up 'green jobs.'"
One respondent told Bell: "Just greenwashing isn't going to do it. Just putting solar panels up isn't going to do it. So we're trying to stress that the only way to really lower emissions of the military is you've got to make the military smaller."
"By the way, do we really need to update all our ICBMs [Inter-Continental Ballistic Missiles]?" the survey participant asked. "Don't we have enough to blow up the world three times over, or five times over? Why don't we take those resources and use them someplace else where they really should be?"
News
SUPPORT OUR WORK.
We are independent, non-profit, advertising-free and 100%
reader supported.