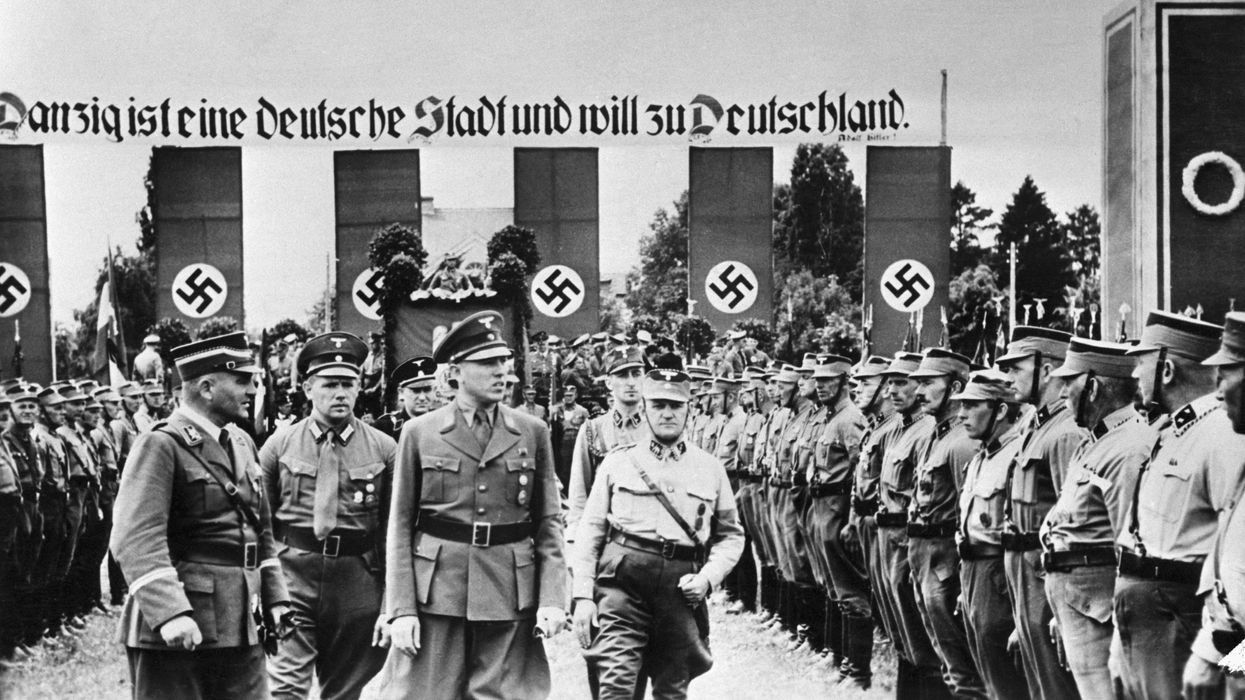 On some differences and on the similarities.
[T]wo equally convenient solutions; both dispense with the necessity of reflection. —Jules Henri Poincaré
Republican governors and legislators would be the first to tell you that what they are doing is not the same as what the Nazis were doing in the 1930s. When the Nazis came to power in 1933 and during the first six years of Hitler's dictatorship, more than 400 decrees were promulgated that restricted all aspects of public and private Jewish lives in Nazi Germany.

The United States is not Nazi Germany. Select Republican governors and legislatures are not doing anything that vaguely resembles what the Nazis did to control the personal lives of their citizens. Of course, some states have passed laws that could confuse someone trying to distinguish legislation enacted by the Nazis targeting Jews and legislation in the United States targeting those with different sexual orientation from the legislators enacting the laws in the United States.

In Ohio, legislation has been passed that bans gender-affirming care for youth who have gender dysphoria and bans Ohio residents from going to another state for abortions. In Montana, a law was just signed that bans transgender care for minors and prohibits transitional hormone treatments and surgeries for transgender people under the age of 18. Idaho has just passed a law that criminalizes gender-affirming health care for youth who have gender dysphoria and bans puberty blockers and hormones for people under age 18. Since the first of the year more than a dozen states have passed legislation affecting the medical rights of their citizens. There are other areas in which apparent similarities are in fact not similarities.

The Nazis banned all Jews from their legislatures. Nothing like that has happened in the United States. In fact, as of this writing only two state legislatures have banned members. In Tennessee, legislators voted to expel two of their black members. (A third person who participated in the offensive conduct was not expelled. She was white.) Republican members of the Tennessee legislature were quick to explain that the legislators who were expelled were expelled because of their breach of decorum on the floor of the legislature and not because of the color of their skin or their sexual preferences. Breach of decorum in Tennessee is an offense almost as serious as being Jewish in Nazi Germany. One of the Republicans who voted to expel his two black colleagues said the two had acted with "disrespect" and showed "no remorse" for their actions. He said they had conducted a "mutiny."

In Montana, Democratic lawmaker Zooey Zephyr is a transgender member of the Montana House of Representatives. Zooey was banned from attending or speaking during floor sessions of the House and will only be allowed to vote remotely during the last days of the session. That is because she spoke out against a bill passed by her colleagues that bans gender-affirming care. She is a transgender member of the legislature that can longer fully participate on behalf of her constituents. The Germans never expelled Jews from their legislatures. Of course, Jews were not admitted to their legislatures in the first place.

As anyone who has read a book knows, the contents of a book can have a profound effect on the reader. The only way to avoid that result is to keep books from readers. Nazis dealt with the problem posed by books containing content deemed inappropriate by those in control very differently from people in the United States who disapprove of books. On May 10, 1933, German universities participated in organized book burnings of books that were believed by the arsonists to reflect an "un-German spirit." The goal was to remove Jewish influence from German society. The burning of the books was cause for great celebration. In Berlin, an estimated 40,000 people gathered to watch the burning of the books.

Republican Ron DeSantis, the governor of Florida, and others like him who fear the contents of books and their effect on readers, have taken a different approach from the Nazis. They do not think the books should be burned. They think that books with inappropriate content as determined by them and other critics, should be removed from library shelves so as to render them inaccessible to readers.

Although DeSantis has received the most publicity for banning books, Texas has in fact banned the most books. It has banned 800 books in 22 school districts. DeSantis comes in second best having banned 566 books in 21 of the state's school districts. DeSantis has, among other things, banned books that deal with issues related to race which is similar to banning books dealing with or written by Jews as the Nazis did. Like Florida, Pennsylvania has many book bans in place and in many counties has banned books that are centered on people of color.

Nazi Germany is well known for its treatment of Jews. The United States is becoming well known for its treatment of the LGBTQ+ community, people of color, and other minorities. A pity that.
Opinion