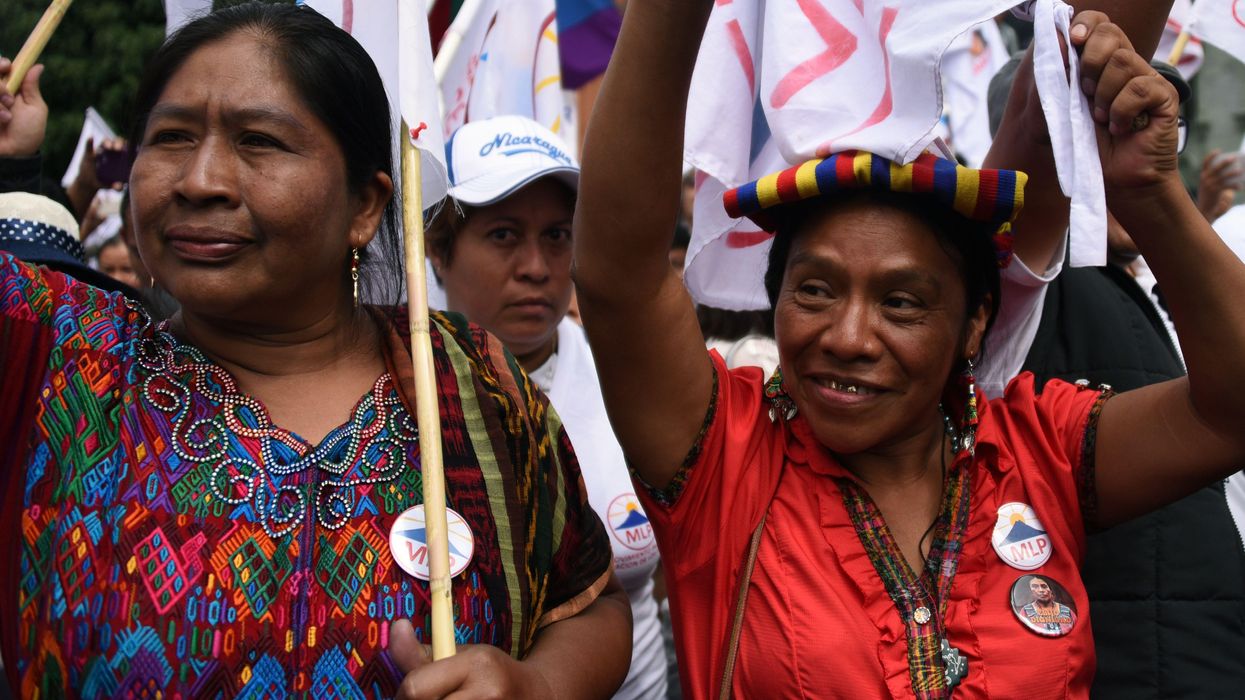 One election expert called the decision an "electoral coup."

Guatemala's Supreme Electoral Tribunal ruled earlier this week that a leftist presidential ticket headed by Indigenous human rights defender Thelma Cabrera should be barred from the June ballot, prompting fury and vows of mass protests from Cabrera's supporters.
Thursday's ruling—which Cabrera's young political party, the Movement for the Liberation of the Peoples (MLP), is vowing to appeal to the Supreme Court of Justice—stems from Guatemala electoral authorities' refusal to certify the candidacy of Cabrera's running mate, former human rights ombudsman Jordán Rodas.
Reporting indicates that election officials have justified stonewalling Rodas—a longtime target of Guatemala's right-wing political establishment—by citing supposed "anomalies during the collection of compensation" upon his departure from the ombudsman post last year.
But Cabrera and Rodas contend that the electoral tribunal's decision is a politically motivated attempt to keep a left-wing party—whose base is largely rural—off the ballot, which is set to include the daughter of Gen. Efraín Ríos Montt, the former U.S.-backed Guatemalan dictator who was convicted of genocide and crimes against humanity in 2013.
Montt's victims were largely Indigenous peasants.
Last month, the same electoral body that deemed Cabrera and Rodas disqualified from the June ballot ruled that Zury Ríos can participate, despite a constitutional provision barring the relatives of coup leaders from serving as Guatemala's president. Ríos was blocked from the 2019 presidential ballot on those grounds.
That year, as Nick Burns of Americas Quarterly recently reported, Cabrera "gave the Guatemalan political establishment a shock" by winning 10% of the vote in the presidential election.
"It was the most successful presidential run by an indigenous person in Guatemala's modern history—the only other was by Nobel Prize winner Rigoberta Menchú in 2007, who won 3% of the vote," Burns noted. "Cabrera's biography is striking. She grew up in a Maya Mam family of poor laborers on a coffee plantation on Guatemala's Pacific coast and was married at 15. She described in a book how she and her sister Vilma went to school through the sixth grade because their mother—who could not read or write—saw education as crucial."
Cabrera's supporters have vowed to "paralyze the country" with large-scale demonstrations if the electoral body's decision isn't reversed.
"If they do not do it, we are going to take over the international airport, the three ports of the country, the Supreme Electoral Tribunal, and all state institutions," said one MLP supporter. "We are Indigenous, we are Maya, and we can be out here for a month!"
\u201c#EUElecciones2023 Manifestantes amenazan con tomar el Aeropuerto Internacional La Aurora, los tres puertos del pa\u00eds y el TSE si no se inscribe al binomio presidencial del MLP | V\u00eda @noel_solis \n\n\ud83d\uddf3\ufe0f\ud83c\uddec\ud83c\uddf9 #Elecciones2023 #EleccionesGT #GUATEVOTA2023\u201d

— Emisoras Unidas (@Emisoras Unidas) 1675357690
Daniel Zovatto, a political scientist and expert in Latin American elections, said the tribunal's ruling against the MLP presidential ticket amounts to an "electoral coup" that "vitiates the integrity and credibility" of the upcoming contest.
Rodas, a human rights champion, lamented in response to the decision that "democracy in Guatemala has taken another step back."
"They are afraid of the people and their sovereign decisions," he said.
News