Virginia Passes Historic 100% Clean Energy Legislation
RICHMOND, VA
The oldest deliberative body in the Western Hemisphere made a new kind of history today. With climate change impacts growing worldwide and scientists saying we're almost out of time, the Virginia General Assembly leaped into national leadership on climate policy with passage of the "Virginia Clean Economy Act" (SB 851).
The Virginia Clean Economy Act (VCEA) was the top legislative priority of CCAN Action Fund. It now goes to Governor Ralph Northam (D), who is expected to sign it. The bill passed with a bi-partisan majorities in the House of Delegates (51-45) and the Senate (22-17). It passed thanks to the committed leadership of dozens of legislators, especially chief patron Rip Sullivan (D-Fairfax) in the House and Jennifer McClellan (D-Richmond) in the Senate.
Harrison Wallace, Virginia Director of the CCAN Action Fund, stated: "With today's vote, Virginia has now leapt from the back of the pack to being a leading state on clean energy and carbon reduction. We are proud that this bill has gotten even stronger since being passed by the House and Senate chambers before crossover. This bill puts polluters in Virginia on notice: it's time to stop investing in the fossil fuels that will soon become stranded assets, and start investing in a new renewable economy."
Approved with one day left in the legislative session of 2020, the Virginia Clean Economy Act reverses decades of bad energy policy in Virginia. It mandates the shutdown of most of the state's coal plants by 2030 and all the state's fossil fuel plants for electricity - including gas plants -- by 2045. It opens the gate to the biggest offshore wind farms in America and turbocharges the spread of solar rooftops and solar farms. It does this while creating real safeguards against Dominion Energy for ratepayers - especially for low-income families - and by mandating the use of LESS electricity statewide in the future. Indeed, most ratepayers will see no bill increases at all over time.
This omnibus bill has scores of top-notch features (see a full list here). The Virginia Clean Economy Act follows leading states in capping the energy bills of low-income ratepayers at no more that 6% of a family's income for electricity and 10% for gas use. It creates a "social cost of carbon" that forces regulators to fully weigh climate pollution harm when considering utility-scale energy projects in the future. It takes a state, Virginia, with no mandatory Renewable Portfolio Standard whatsoever and moves it to 41% renewable electricity by 2030 (non-nuclear load) and 100% carbon free power by 2045.
Just as important, the bill includes layers of ratepayer safeguards in the transition to clean electricity in a "vertically integrated" electricity market. Dominion Energy and Appalachian Power, as regulated monopolies, must stay under various cost caps for wind and solar projects while being additionally reviewed by the State Corporation Commission. The bill mandates that "third party" solar developers be allowed to compete for rooftop and other "distributed" generation markets. And Dominion, in developing up to 5200 megawatts of offshore wind (enough to power a million-plus homes) must include competitive bidding for construction and supply chain procurement - plus a price cap.
"Today, the Virginia General Assembly voted to unleash distributed solar into the Commonwealth and put an expiration date on dirty fossil fuels in our power grid," said Wallace. "And now, for the first time ever, Dominion is mandated to save ratepayers money through energy efficiency."
So how did all this happen? How did Virginia flip from one of the worst states in the country on energy efficiency and wind power into a new leader overnight? Certainly the watershed state elections in 2017 and 2019 were a key. They brought conservation-minded new majorities to the House and Senate in Virginia. Then a huge coalition of clean energy advocates rose to the moment.
In 18 years of campaigning, we at the Chesapeake Climate Action Network and CCAN Action Fund have never seen a coalition like the one that came together to pass the Virginia Clean Economy Act. We want to thank our many environmental partners, including the Virginia League of Conservation Voters, the Virginia Chapter of the Sierra Club, the Virginia Conservation Network, the Southern Environmental Law Center, Audubon Society, CERES, and others. Many thanks also to the scores of clean energy companies who fought day in and day out, from mom-and-pop residential installers to offshore wind heavyweight Orsted. Together, with leadership from the trade group Advanced Energy Economy, and with constant involvement of literally dozens of climate-committed legislators, we were able to meet Dominion Power at the negotiating table and hammer out a bill that transforms the company and the state.
The Chesapeake Climate Action Network (CCAN) is the first grassroots, nonprofit organization dedicated exclusively to fighting global warming in Maryland, Virginia, and Washington, D.C. Our mission is to build and mobilize a powerful grassroots movement in this unique region that surrounds our nation's capital to call for state, national and international policies that will put us on a path to climate stability. - See more at: http://www.chesapeakeclimate.org/index.php?option=com_k2&view;=itemlist&...
LATEST NEWS
"The metamorphosis of BJP's vindictive politics into autocracy is happening at an alarming pace," one Indian state's chief minister said in response to the parliamentary expulsion and criminal sentencing of Rahul Gandhi.
Democracy defenders sounded the alarm Friday after senior Indian opposition leader Rahul Gandhi was ousted from his parliamentary seat a day after being sentenced to two years in prison in a dubious defamation case involving an insult against the surname of Prime Minister Narendra Modi.
India's lower house of Parliament announced Friday that Gandhi—a former president of the Indian National Congress party (called Congress for short) who until Thursday represented the constituency of Wayanad in the southern state of Kerala—was disqualified to serve in office due to his conviction for defaming the Modi name.
The case involved Gandhi allegedly asking during a 2019 campaign rally in Kolar, Karnataka, "How come all the thieves have Modi as the common surname?"
The Times of Indiareports Surat Chief Judicial Magistrate H. H. Varma convicted Gandhi for defamation under the Indian Penal Code. Varma granted Gandhi bail on a bond of ₹15,000 (approx. $180) and suspended the sentence for 30 days so he may appeal.
While convicting Gandhi, Varma said that the defendant could have limited his insult to the prime minister, but by disparaging all people with the name, the defendant "intentionally" defamed them.

The Modi surname comes from the Modh Ghanchi or Teli Ghanchi community primarily inhabiting western states like Gujarat, Maharashtra, and Rajashtan, and traditionally employed in the oil pressing and trading business. Although officially designated an Other Backward Caste, Gujaratis do not view the widely successful group as such.
Gandhi tweeted Friday that he is "fighting for the voice of India" and is "ready to pay any cost."

Congress called Gandhi's conviction an "infirm, erroneous, and unsustainable" judgment.
Party spokesperson Abhishek Manu Singhvi said the government's "efforts to create a chilling effect, a throttling effect, strangulating effect on open, fearless speech relating to public interest, will not stop either Rahul Gandhi or the Congress party."
"There are some disturbing aspects of this judgment which of course will be subject to challenge immediately, but firstly, the heart of the law of criminal defamation is that persons who are complainants should be those who must be able to demonstrate how they personally have been defamed, or prejudiced," Singhvi continued.
"Now," he added, "the admitted position is that no one who is the subject matter of the statement which is found to be offending has filed a criminal complaint."
M.K. Stalin, the leftist chief minister of Tamil Nadu state, tweeted that "the metamorphosis of BJP's vindictive politics into autocracy is happening at an alarming pace," a reference to Modi's right-wing Bharatiya Janata Party (BJP). The prime minister is also a member of the Hindu supremacist Rashtriya Swayamsevak Sangh (RSS) paramilitary group.
"The disqualification of Rahul Gandhi is an onslaught on all the progressive-democratic forces of our country," Stalin said in a statement Friday. "All the political parties in India shall realize this and we should oppose unitedly."
In the United States, Democratic California Congressman Ro Khanna—whose parents immigrated from Punjab state— called Gandhi's ouster a "deep betrayal of Gandhian philosophy and India's deepest values."
"This is not what my grandfather sacrificed years in jail for," Khanna added, referring to former Congress parliamentarian and independence movement figure Amarnath Vidyalankar. "Narendra Modi, you have the power to reverse this decision for the sake of Indian democracy."
Arundhati Roy, the renowned Indian writer, said during a Wednesday lecture at the Swedish Academy in Stockholm that "India's democracy is being systematically disassembled. Only the rituals remain."
Mentioning the persecution of religious minorities—especially Muslims—the brutal military occupation of Kashmir, and the imprisonment of journalists, Roy added that "India for all practical purposes has become a corporate, theocratic Hindu state, a highly policed state, a fearsome state [seething] with Hindu supremacist fervor."
News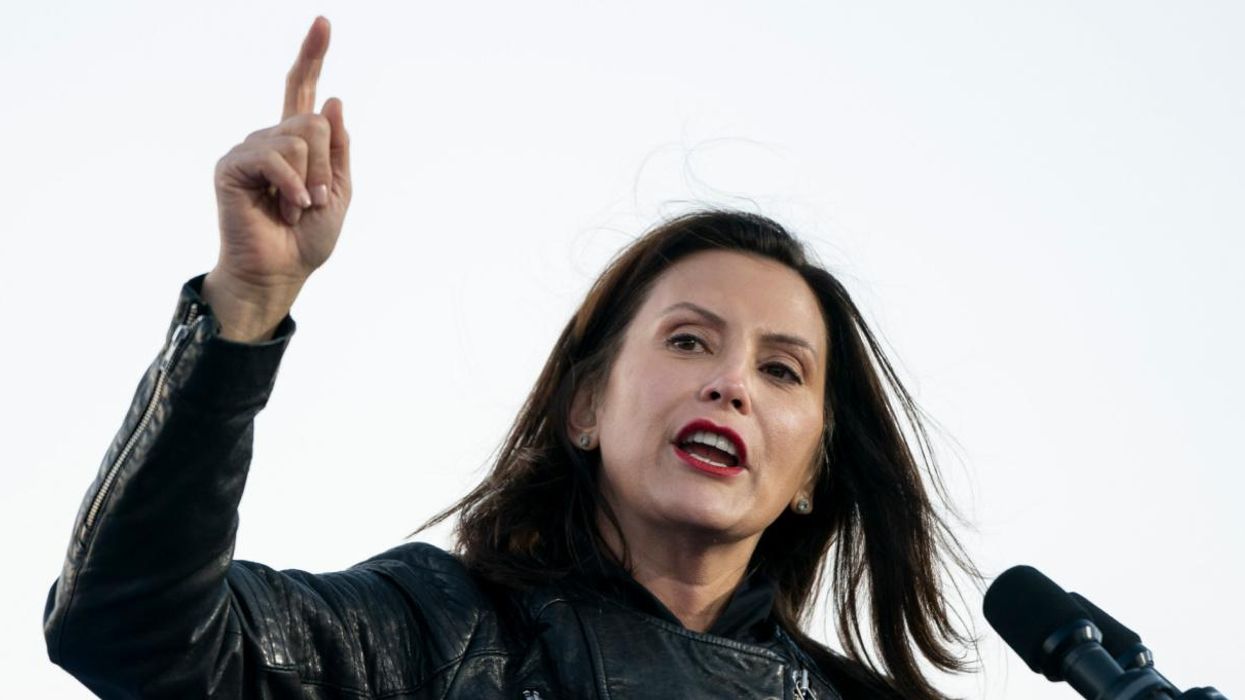 "After decades of anti-worker attacks, Michigan has restored the balance of power for working people by passing laws to protect their freedom to bargain for the good wages, good benefits, and safe workplaces they deserve," said one labor organizer.
Workers' rights advocates in Michigan on Friday applauded as Democratic Gov. Gretchen Whitmer signed a repeal of the state's so-called "right-to-work" law and restored the prevailing wage standard for state-funded construction projects.
The new laws make Michigan the first state to roll back anti-union right-to-work laws, which bar unions from requiring that all workers in unionized jobs pay dues, in nearly six decades.
"It feels great to be a Michigander today," said Lonnie Scott, executive director of Progress Michigan. "Any day that the corporate interests and lobbyists in Lansing fail is a day that deserves special recognition. It's refreshing to see workers get the recognition and rights they deserve after years of Republicans doing everything they could to undermine unions and the ability to organize in the workplace."
In a statement, Whitmer's office pointed to research from the Economic Policy Institute that showed people living in states without right-to-work laws are paid $1,600 more per year on average and have higher rates of insurance coverage than workers in states with anti-union rules. States without the anti-worker laws also have lower rates of workplace deaths.
"Today, we are coming together to restore workers' rights, protect Michiganders on the job, and grow Michigan's middle class," saidWhitmer. "Michigan workers are the most talented and hard-working in the world and deserve to be treated with dignity and respect."
The passage of Michigan's right-to-work law in 2012 provoked outcry and drew labor advocates from across the county to Lansing to rally against the law.
As Common Dreams reported earlier this month, many of the workers and supporters who protested over a decade ago were at the state Capitol when lawmakers passed the legislation repealing the law and restoring the prevailing wage, which requires that construction contractors pay union wages and benefits.
"After decades of anti-worker attacks, Michigan has restored the balance of power for working people by passing laws to protect their freedom to bargain for the good wages, good benefits, and safe workplaces they deserve," said Ron Bieber, president of the MIchigan AFL-CIO. "Ten years ago, Gov. Whitmer was standing side by side with well over 10,000 working people who showed up in Lansing to protest the devastating attack on their rights. Today, she has demonstrated yet again her unwavering commitment to putting working families first."
"After decades of attacks on working people," he added, "it's a new day in Michigan, and the future is bright."
Twenty-six other states have right-to-work laws in place, threatening unions' ability to operate as they limit the membership dues they can collect from the workers they represent.

"Now that workers' rights have been restored," said Janella James, executive director of the Michigan Nurses Association, "Michigan is once again leading the way for the country in showing what is possible when working families are put first."
News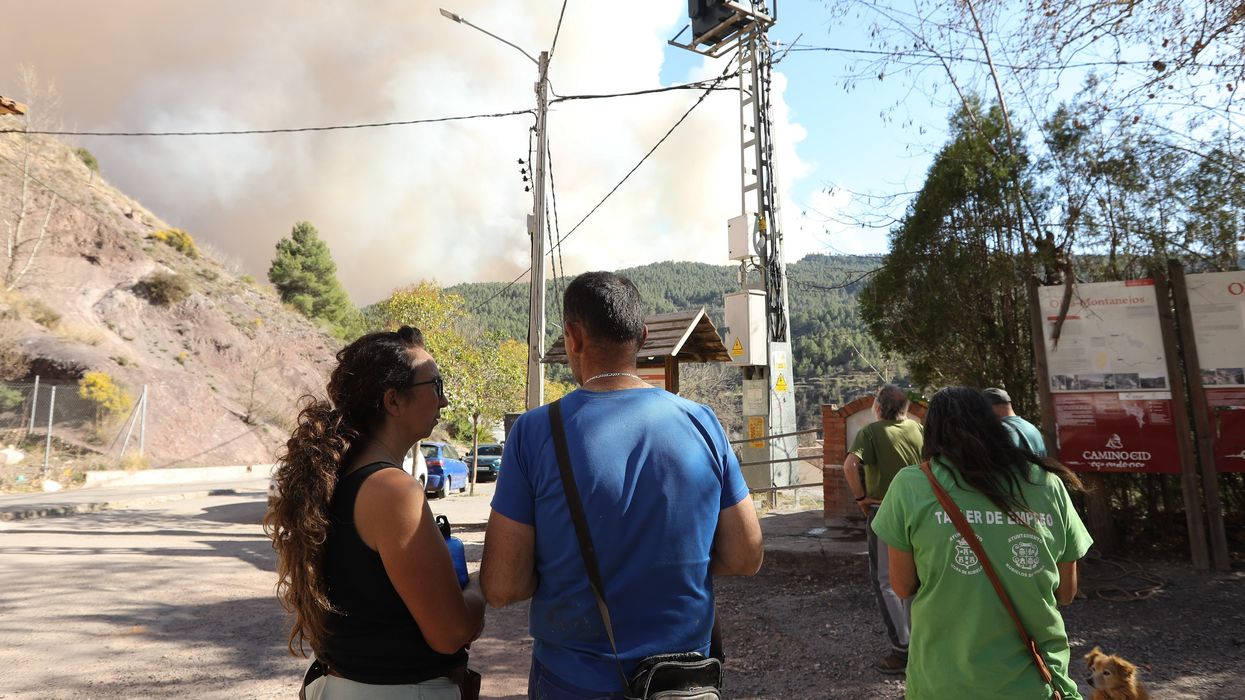 "These fires we're seeing, especially this early in the year, are once again proof of the climate emergency that humanity is living through, which particularly affects and ravages countries such as ours," said Spanish Prime Minister Pedro Sánchez.
A large wildfire raging in Spain's eastern Valencia region forced more than 1,500 people to flee their homes on Friday, providing further evidence of life-threatening consequences of the fossil fuel-driven climate crisis and bolstering the case for meaningful mitigation efforts.
Since it broke out in the municipality of Villanueva de Viver on Thursday, Spain's first major wildfire of the year has destroyed more than 7,400 acres of forest, prompting evacuation orders in eight communities across the Castellón province.
As residents sought refuge in shelters run by the Red Cross and other charities, more than 500 firefighters—supported by 18 planes and helicopters—were still attempting to contain the blaze on Friday afternoon.
"While firefighters believed they were managing to control the spread of the flames, strong winds and 'practically summertime temperatures' could reactivate it," Reuters reported, citing a local official.
"Summer is getting longer, it is arriving earlier, and the availability of water and humidity in the soil is unfortunately being reduced, making us much more vulnerable."
Ximo Puig, president of the Valencia region, told reporters the fire came "very early in the spring" and was "very voracious from the beginning."
It's not yet clear what sparked the blaze, but after months of arid conditions in the region, there's no shortage of dry fuel that can act as kindling. Climate scientists have long warned that as unmitigated greenhouse gas pollution causes temperatures to rise and droughts to worsen, wildfire seasons will grow longer and the number and severity of conflagrations will increase.
Speaking to reporters in Brussels, Spanish Prime Minister Pedro Sánchez said, "These fires we're seeing, especially this early in the year, are once again proof of the climate emergency that humanity is living through, which particularly affects and ravages countries such as ours."
According to Reuters, "An unusually dry winter across parts of the south of the European continent has reduced moisture in the soil and raised fears of a repeat of 2022."

Last year, wildfires destroyed nearly two million acres of land throughout Europe—more than double the annual average over the past 16 years, according to the European Commission. In Spain alone, 493 blazes wiped out more than 750,000 acres.
People in Spain, already suffering from a long-term drought marked by three years of below-average rainfall, are bracing for drier and hotter weather than usual this spring along the country's northeastern Mediterranean coast.
Experts have already started sounding the alarm about the likelihood of another catastrophic year for wildfires, especially if the frequency, duration, and intensity of heatwaves are comparable to last year, which saw records toppled.
"There is every reason to fear that this year too there will be numerous and widespread events."
"Out-of-season fires" are becoming increasingly common, Spanish Environment Minister Teresa Ribera told reporters this week. "Summer is getting longer, it is arriving earlier, and the availability of water and humidity in the soil is unfortunately being reduced, making us much more vulnerable."
Spain is far from alone. "A European Commission report this month observed a lack of rain and warmer-than-normal temperatures during the winter, raising drought warnings for southern Spain, France, Ireland, Britain, northern Italy, Greece, and parts of eastern Europe," Reuters reported. The commission "warned that low levels of water could affect strategic sectors including agriculture, hydropower, and energy production."
Lorenzo Ciccarese from the Italian Institute for Environmental Protection and Research told the outlet that "there is every reason to fear that this year too there will be numerous and widespread events."
The United Nations warned last year that as a result of planet-heating emissions and land-use change, wildfires are projected to increase 30% by 2050 and 50% by the end of the century.
After the Intergovernmental Panel on Climate Change released its latest assessment report this week, U.N. Secretary-General António Guterres said that limiting global warming to 1.5°C is possible, "but it will take a quantum leap in climate action," including a prohibition on greenlighting and financing new coal, oil, and gas projects as well as a phaseout of existing fossil fuel production.
News
SUPPORT OUR WORK.
We are independent, non-profit, advertising-free and 100%
reader supported.