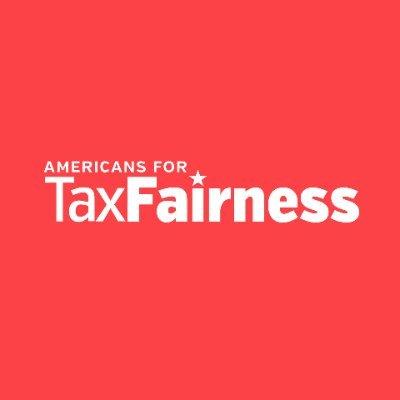 For Immediate Release
Contact:
Chris Fleming,Email:,chris@redhorsestrategies.com
The 8 Largest Health Insurance Companies Will Get a $72 Billion Tax Cut From GOP Health Care Repeal Over Next Decade
Top insurers' profits are up one-third since Obamacare kicked in to $25 billion
WASHINGTON
While millions of people will lose their health insurance and health coverage as a result of Republican plans to repeal the Affordable Care Act (ACA), the nation's 8 largest health insurance corporations will get a tax cut of about $72 billion over the next decade, according to new estimates from Americans for Tax Fairness. These companies will get nearly half of the $145 billion 10-year tax cut for the entire insurance industry estimated by the Joint Committee on Taxation.
"It's appalling that Republicans in Congress would yank healthcare from 20 million people and give insurance companies a $72 billion tax cut," said Frank Clemente, executive director of Americans for Tax Fairness. "Outrageous. President Trump promised not to cut Medicaid, and Republicans should keep that promise. We can't afford any health care legislation that takes coverage away from Americans so that wealthy corporations can have a tax cut."
Health Insurance Provider Fees, Top 8 Insurers, 2014-2026
Company

2014

2015

2016

Total 2014-2016

Share of Industry-Wide Fee, Average 2014-2016

Estimated Fee

2018 - 2026

UnitedHealth

1,300

1,800

1,800

4,900

16.0%

23,209

Anthem

893

1,208

1,176

3,277

10.8%

15,564

Humana

562

867

916

2,345

7.6%

11,001

Aetna

605

856

837

2,298

7.5%

10,876

Cigna

240

310

310

860

2.8%

4,094

Health Net*

141

233

--

374

1.9%

2,771

Centene

126

215

461

802

1.7%

2,517

Molina

89

157

217

463

1.5%

2,133

Total, Top 8

3,957

5,646

5,717

15,320

50%

72,165

Industry-wide fee

8,000

11,300

11,300

30,600

100%

144,727
Source: ATF analysis of companies' 10K filings with the Securities and Exchange Commission. Data is available here. *Health Net was acquired by Centene in 2016. Centene's fee for 2018-2016 is estimated based on the sum of Centene's and Health Net's average shares of the industry-wide fee for 2014-2015.
These large insurance companies have collectively increased their U.S. profits by one-third between 2011 and 2016 as the Affordable Care Act kicked into place--from $19.1 billion in 2011 to $25.3 billion-in 2016. These companies are very profitable and do not need a $72 billion tax cut.
They especially don't need a tax cut that would be paid for by steep Medicaid cuts and over 20 million Americans losing access to health coverage.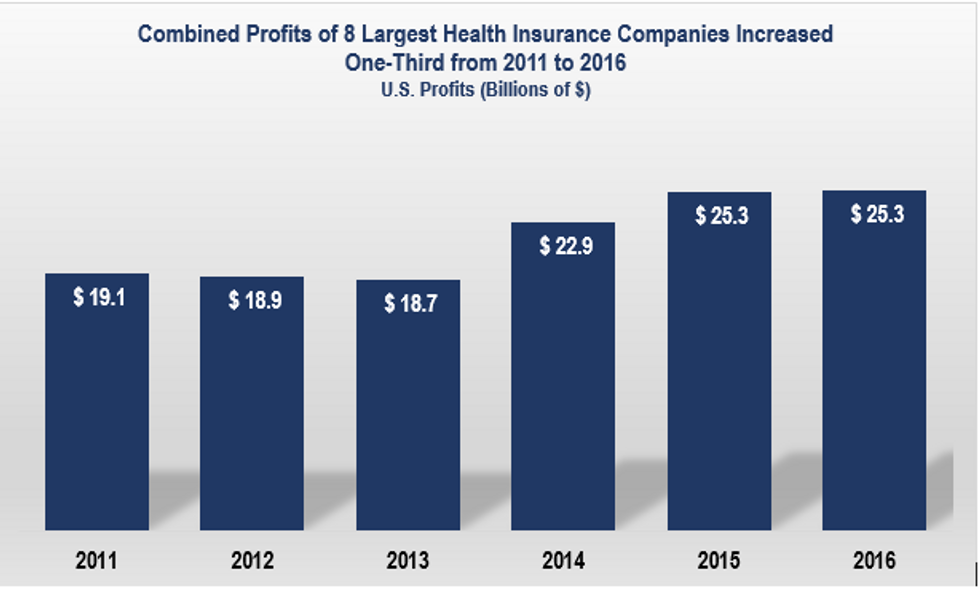 Source: Institute on Taxation and Economic Policy and ATF calculations based on companies' 10K filings with the Securities and Exchange Commission. Data is available here.
BACKGROUND
As part of the ACA, a fee was levied on health insurance providers that benefited from millions of new customers. Each company's share of the fee is based on their market share of net premiums collected from covered entities under the ACA. The fee went into effect in 2014, when the overall fee for the industry was set at $8 billion. For 2015 and 2016, the industry-wide fee was set at $11.3 billion. The 2016 Consolidated Appropriations bill suspended the fee for 2017, but under current law it will be reinstated in 2018 at $14.3 billion. Each year thereafter, the industry-wide fee will increase according to the overall rate of premium growth in the health care industry.
We estimate each company's savings from 2018 through 2026 by multiplying the company's average share of the industry-wide fee by the $145 billion that the Joint Committee on Taxation estimates the repeal of the fee will cost in revenues over the next 10 years.
ATF's estimates are available here.
Americans for Tax Fairness (ATF) is a diverse campaign of more than 420 national, state and local endorsing organizations united in support of a fair tax system that works for all Americans. It has come together based on the belief that the country needs comprehensive, progressive tax reform that results in greater revenue to meet our growing needs. This requires big corporations and the wealthy to pay their fair share in taxes, not to live by their own set of rules.
(202) 506-3264
LATEST NEWS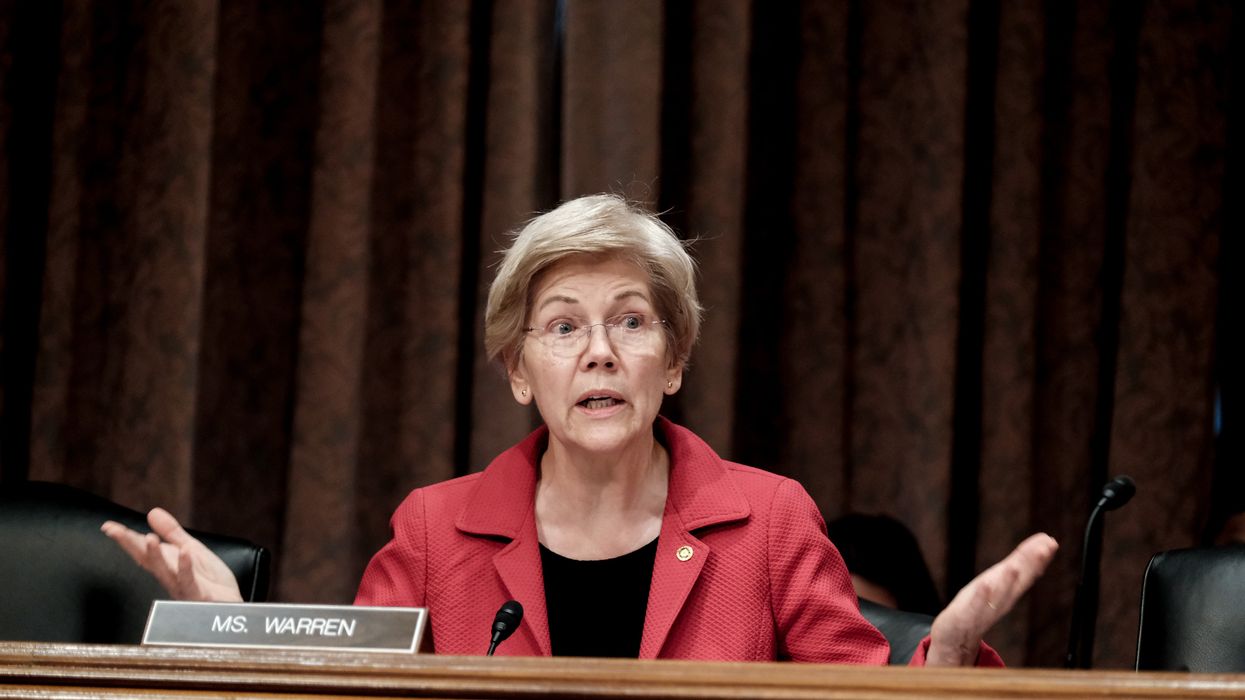 "Not a single other trustee has ever received compensation from an insurance company while acting as a Medicare trustee," said Sen. Elizabeth Warren.
Sen. Elizabeth Warren on Thursday grilled President Joe Biden's pick to fill a vacant spot on the boards that oversee Social Security and Medicare's finances, highlighting the nominee's position at a private health insurance company that relies heavily on expensive and fraud-ridden Medicare Advantage plans.
During the Senate Finance Committee's confirmation hearing for Demetrios Kouzoukas—who previously served in former President Donald Trump's Health and Human Services Department—Warren (D-Mass.) said she has serious concerns about the nominee's conflicts of interest, pointing specifically to his role on the board of Clover Health.
Citing the company's most recent filing with the Securities and Exchange Commission, Warren noted that the firm "receives a 'substantial portion' of its total revenue from Medicare Advantage premiums."
Warren pressed Kouzoukas on how much he gets paid for his work at Clover Health and on whether he plans to leave the board if confirmed as a public trustee for the Social Security and Medicare trust funds.
After repeatedly dodging, Kouzoukas pointed to a letter he received from Warren ahead of Thursday's hearing. The letter states that Kouzoukas "received compensation of more than $100,000" from Clover in 2022.
The letter also notes that Kouzoukas owns 25,000 shares of Clover stock.
Kouzoukas would not commit to leaving the Clover board if he's confirmed by the Senate.
"If you won't step down from the Clover board, then you should withdraw your nomination."

"You know, Mr. Kouzoukas, I think you think you're gonna get away with this by just not answering the question and not having any clip that admits how much money you're taking from a private insurance company that makes its money through Medicare Advantage, at the same moment that you're trying to take a public role that will influence whether we focus on the fraud in Medicare Advantage, or whether we turn a blind eye to it," Warren said.
"Let's be clear," the senator added. "If Mr. Kouzoukas ignores the fraud, he helps Clover. If he focuses on the fraud, he hurts Clover. The conflict of interest here is so big and so pervasive that there is no action that Mr. Kouzoukas can take that doesn't either help or hurt Clover, the company that pays him $100,000 a year to sit on its board and watch out for the company."
The Social Security and Medicare trust funds are typically overseen by a bipartisan pair of public trustees, but the positions have been vacant for nearly a decade. Biden nominated Kouzoukas earlier this year and Tricia Neuman, senior vice president of the health policy research organization KFF, last year.

Warren said during Thursday's hearing that "the position of public trustee was created in the 1980s to give the public a voice in the Board of Trustees' solvency projections for Medicare and Social Security."
"A big factor influencing Medicare solvency today is the growth of Medicare Advantage—a program that allows for-profit insurance companies to sell Medicare coverage that experts say is on target this year to overcharge the government by $75 billion," said Warren. "In other words, Medicare Advantage has a lot to do with threatening the solvency of Medicare."
The Massachusetts senator called Kouzoukas' financial conflict "shocking" and "deeply unethical."
"Not a single other trustee has ever received compensation from an insurance company while acting as a Medicare trustee," said Warren. "If you won't step down from the Clover board, then you should withdraw your nomination. And if you do not withdraw, given the clear conflicts posed by your board service, I will strongly oppose your nomination and I will encourage every other senator in this body to do so as well."
Social Security Works, a progressive advocacy group, expressed agreement with Warren in a social media post on Thursday.
"Senator Warren is absolutely right," the group wrote. "Demetrios Kouzoukas is on the board of Clover Health, a for-profit Medicare (Dis)Advantage corporation. In 2022, he received $100,000 from them. This is a MASSIVE conflict of interest. Kouzoukas has no business overseeing Medicare."
News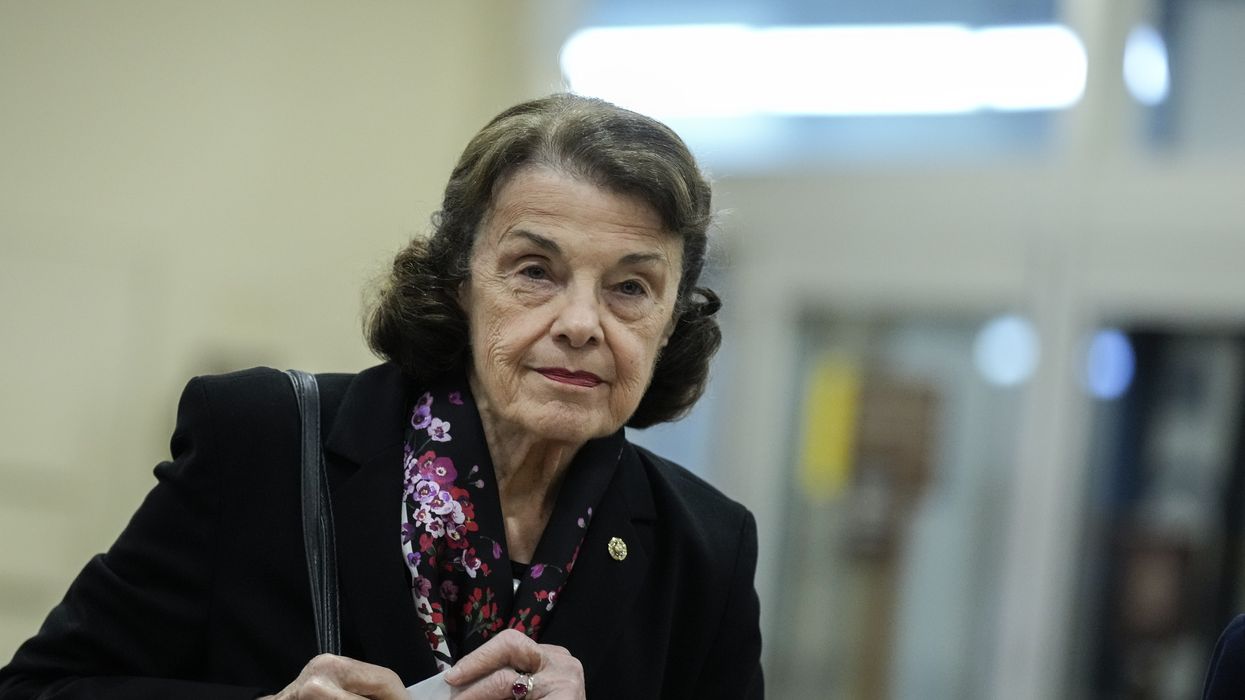 California's longest-serving senator suffered a string of health crises in recent months, sparking concerns about her fitness for office and calls for her resignation.

Democratic U.S. Sen. Dianne Feinstein, California's longest-serving senator, has died at 90.
In recent months, Feinstein faced calls from fellow Democrats to step aside as she suffered a string of health crises that forced her to miss dozens of votes and compromised her party's ability to advance judicial nominees.
As the Associated Pressreported, "One of Feinstein's most significant legislative accomplishments was early in her career, when the Senate approved her amendment to ban manufacturing and sales of certain types of assault weapons as part of a crime bill that President Bill Clinton signed into law in 1994."
The ban expired in 2004, and a Feinstein-led attempt to renew it in the wake of the Sandy Hook massacre was unsuccessful.
California Gov. Gavin Newsom said earlier this month that he would make an "interim appointment" to fill Feinstein's seat in the case of a vacancy.
Three prominent Democrats—Reps. Barbara Lee, Katie Porter, and Adam Schiff—are running for the seat in 2024. Newsom said he would not appoint any of them on an interim basis.
In a statement following news of Feinstein's death, Newsom said she "was many things—a powerful, trailblazing U.S. senator; an early voice for gun control; a leader in times of tragedy and chaos."
"But to me," he added, "she was a dear friend, a lifelong mentor, and a role model not only for me, but to my wife and daughters for what a powerful, effective leader looks like."

News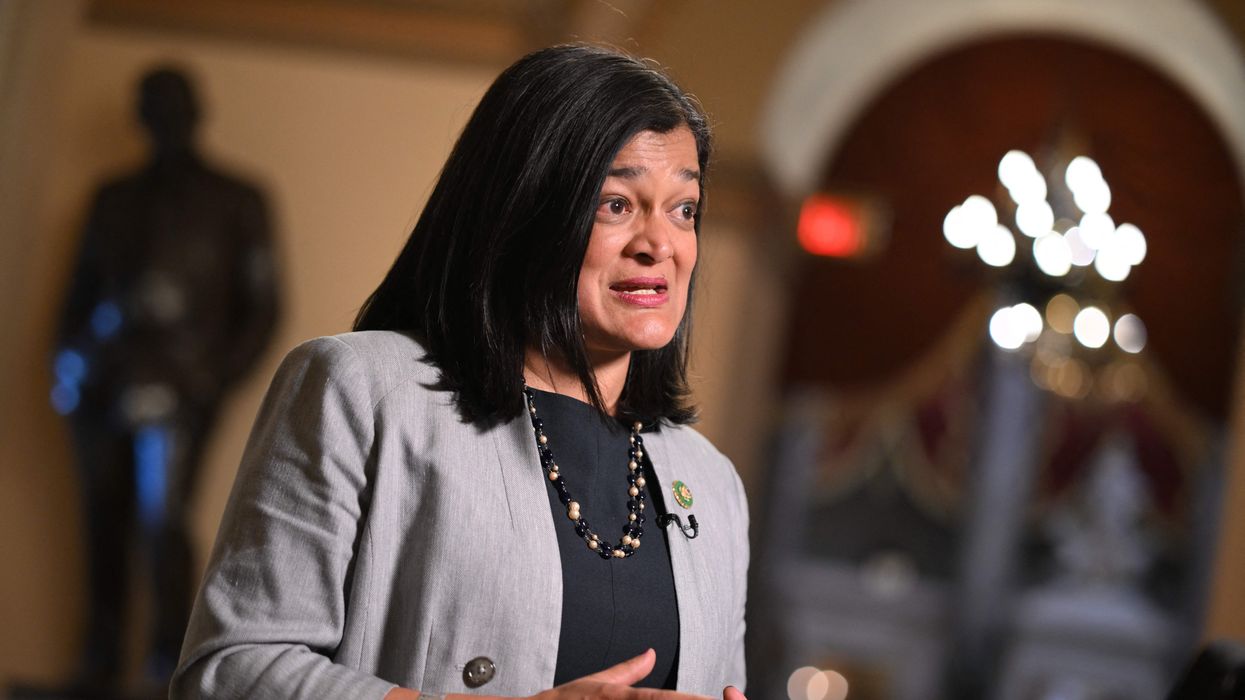 "House Republicans cannot move their extreme, cruel, unworkable anti-immigrant agenda through the regular legislative process, so they're trying to make an end-run around Congress and hold the American people hostage to force it into law."
The Democratic chairs of leading congressional caucuses said late Thursday that they oppose any last-minute effort to cram immigration policy changes into government funding legislation as House and Senate Republicans consider doing just that, with a shutdown less than 48 hours away.
"It is not appropriate to establish new immigration and border policy in a bill to keep the government funded," the chairs of the Congressional Progressive Caucus, Congressional Hispanic Caucus, Congressional Asian Pacific American Caucus, and Congressional Black Caucus said in a joint statement.
"House Republicans cannot move their extreme, cruel, unworkable anti-immigrant agenda through the regular legislative process, so they're trying to make an end-run around Congress and hold the American people hostage to force it into law," they continued. "Even Minority Leader Senator McConnell has said, 'Shutting down the government isn't an effective way to make a point.' We couldn't agree more."
The Democrats' statement came in the wake of news that members of the House and Senate—with the reported backing of some Democrats in the upper chamber—are discussing the possible addition of immigration and border measures to a short-term government funding bill in a bid to win the votes of intransigent House Republicans.
Earlier this week, as the chaos-ridden House failed to make progress, the Senate advanced a legislative vehicle for a continuing resolution that would keep the government through November 17—an attempt to buy time for both chambers to approve full-year funding measures.

Citing two unnamed Republican aides, The Washington Postreported that "by Thursday evening, Senate Republicans were considering an amendment to the continuing resolution that would include $6 billion in funding for border security but no new immigration policy."
According to the Post, Sens. Chris Murphy (D-Conn.), James Lankford (R-Okla.), Susan Collins (R-Maine), Thom Tillis (R-N.C.), and Kyrsten Sinema (I-Ariz.) "appeared to be involved in the talks."
On Friday, House Speaker Kevin McCarthy (R-Calif.)—who is facing a potential removal plot by far-right House Republicans—is expected to put on the floor a Republican stopgap funding measure that includes major federal spending cuts and border policies.
The Wall Street Journalreported late Thursday that the GOP package includes changes that "House lawmakers passed earlier this year in a broader bill that orders construction to resume on the Trump administration's border wall." That bill was dead on arrival in the Senate.
"The border measures, which have broad backing in the conference, would also make it harder for people to remain in the U.S. under the protection of asylum rules," the Journal noted.
House Republicans' latest effort to move ahead with a short-term funding package will come after they passed several appropriations bills Thursday night, including measures to fund the Pentagon and State Department.
But the House voted down the GOP-authored agriculture appropriations bill, which included steep cuts to food aid for low-income families and a rollback of abortion pill access.
Rep. Rosa DeLauro (D-Conn.), the top Democrat on the House Appropriations Committee, said in a statement that lawmakers "should have spent this week working together to prevent the government from shutting down."
"Instead, we spent it watching House Republicans in chaos, loading up their 2024 funding bills with deeper cuts and dangerous policies that harm the economy and raise the cost of living for American families," said DeLauro. "Another day of Republican dysfunction, two days until they shut the government down."
News
Independent, nonprofit journalism needs your help.
Please Pitch In
Today!