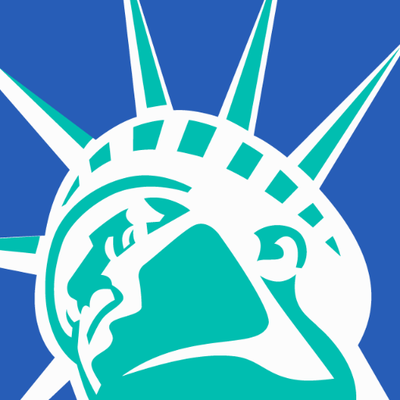 For Immediate Release
Contact:
Phone: (202) 588-1000
Will NAFTA Renegotiation Produce TPP 2.0 and Intensify Damage? Or Fulfill Trump Promise of a 'Much Better' Deal for Working Americans? Maintaining Secretive Process With 500 Official Corporate Advisers Does Not Bode Well
Statement of Lori Wallach, Director, Public Citizen's Global Trade Watch
As a candidate, Donald Trump promised to make NAFTA "much better" for working people. Today's notice is markedly vague. But Trump's NAFTA renegotiation plan that leaked in late March described just what the corporate lobby is demanding: using NAFTA talks to revive parts of the Trans-Pacific Partnership (TPP), like expanded investor incentives to offshore jobs that could make NAFTA even worse for working people.
The obvious measure of whether NAFTA renegotiation is intended to benefit working people is if Trump makes clear he will eliminate NAFTA's special investor rights that make it easier to offshore American jobs and attack our laws before tribunals of three corporate lawyers who can award the firms unlimited sums of taxpayer money.
If corporate elites are allowed to dictate how NAFTA is renegotiated, the agreement could become more damaging for working families and the environment in the three countries. And modest tweaks will not stop NAFTA's ongoing damage, much less deliver on Trump's promises for a deal that will create American jobs and raise wages.
Already the 500 corporate trade advisers who got us into the TPP have been consulted on NAFTA renegotiations, while the few labor advisers were shut out of that March meeting. And the public and Congress are being left in the dark about negotiating plans and goals.
If Trump won't make negotiations transparent - by issuing detailed goals and making draft texts available - how can the public know that the deal is not being shaped to benefit Trump's many Canadian and Mexican investments, or that the Goldman Sachs team in the White House isn't turning NAFTA into TPP 2.0?
Trump's conflicts of interest and self-dealing opportunities with NAFTA renegotiation are not hypothetical; the sprawling Trump business empire has 14 Canadian and two Mexican investments. Some of Trump's clothing line is made in Mexico. Trump won't divest his business holdings or release his tax returns, so unless he reveals his full Mexican and Canadian business dealings, we won't even know in whose interest these NAFTA talks are being conducted.
Trump's broken promises on trade are piling up. Instead of punishing firms that offshore American jobs, he has awarded United Technologies 15 lucrative new government contracts even after they proceeded to offshore 1,200 of their 2,000 Indiana Carrier jobs. Instead of enacting the promised "get tough on China" trade policy, he flip-flopped on his pledge to declare China a currency manipulator on Day One and has done nothing to counter our massive $347 billion China trade deficit.
Public Citizen is a nonprofit consumer advocacy organization that champions the public interest in the halls of power. We defend democracy, resist corporate power and work to ensure that government works for the people - not for big corporations. Founded in 1971, we now have 500,000 members and supporters throughout the country.
(202) 588-1000
LATEST NEWS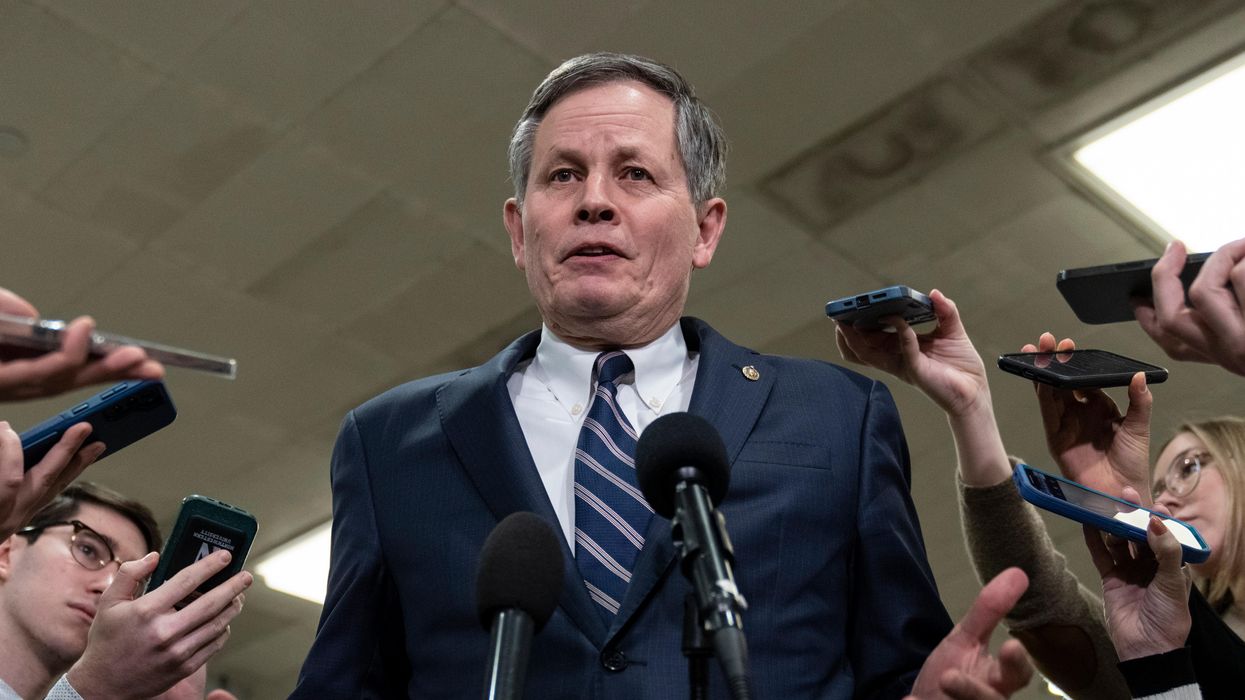 The American Bankers Association, whose PAC has donated to Sen. Steve Daines, welcomed the Republican's defense of a 2018 law that weakened post-financial crisis regulations.
Republican Sen. Steve Daines of Montana garnered applause from a room full of bankers on Tuesday after he dismissed calls for tougher regulations following the collapse of Silicon Valley Bank and Signature Bank.
"There are a lot of talking heads out there who are saying that the solution is more regulation, and I strongly disagree," Daines said in remarks to the American Bankers Association's Washington Summit, an annual gathering of bank CEOs and other top executives.
The Montana Republican went on to defend a 2018 law that progressive lawmakers and experts have said is at least partly responsible for the recent bank failures. That measure, known as S.2155, weakened post-financial crisis regulations for banks with between $50 billion and $250 billion in assets, subjecting firms such as SVB—which lobbied for the changes—to less stringent oversight and paving the way for more risk-taking and industry consolidation.

Daines, a member of the Senate Banking Committee and a major recipient of securities industry donations, called the stricter liquidity requirements and other rules gutted by the 2018 law "overreaching regulations" and claimed that efforts to revive the safeguards are creating "more worry" in the banking sector.
"This was not the cause of this failure," Daines said of S.2155, which former President Donald Trump signed into law after it passed with bipartisan support.
Watch the senator's remarks, which begin at the 1:32:04 mark:
It's unsurprising that Daines' defense of S.2155 was received favorably by a gathering of the American Bankers Association, which was one of many industry groups that lobbied aggressively for the measure.
"The lobbyists were everywhere. You couldn't throw an elbow without running into one," Sen. Elizabeth Warren (D-Mass.), who vocally opposed S.2155, told reporters last week.
Warren and Rep. Katie Porter (D-Calif.) have introduced legislation that would repeal a critical section of the 2018 law.

The Associated Pressreported Tuesday that in the hours before Congress approved the measure, Sen. Jon Tester (D-Mont.)—one of the legislation's top Democratic supporters—"huddled with executives from Bank of America, Citigroup, Discover, and Wells Fargo, who were there on behalf of the American Bankers Association."
"The American Bankers Association, which helped lead the push, later paid $125,000 for an ad campaign thanking Tester for his role in the bill's passage," the Associated Press noted.
The banking group's PAC spent more than $2.6 million on campaign contributions during the 2018 election cycle, with more than 76% of the donations going to Republicans, according to OpenSecrets.
Daines, who won reelection in 2020, received $10,000 from the American Bankers Association PAC during that year's campaign.

News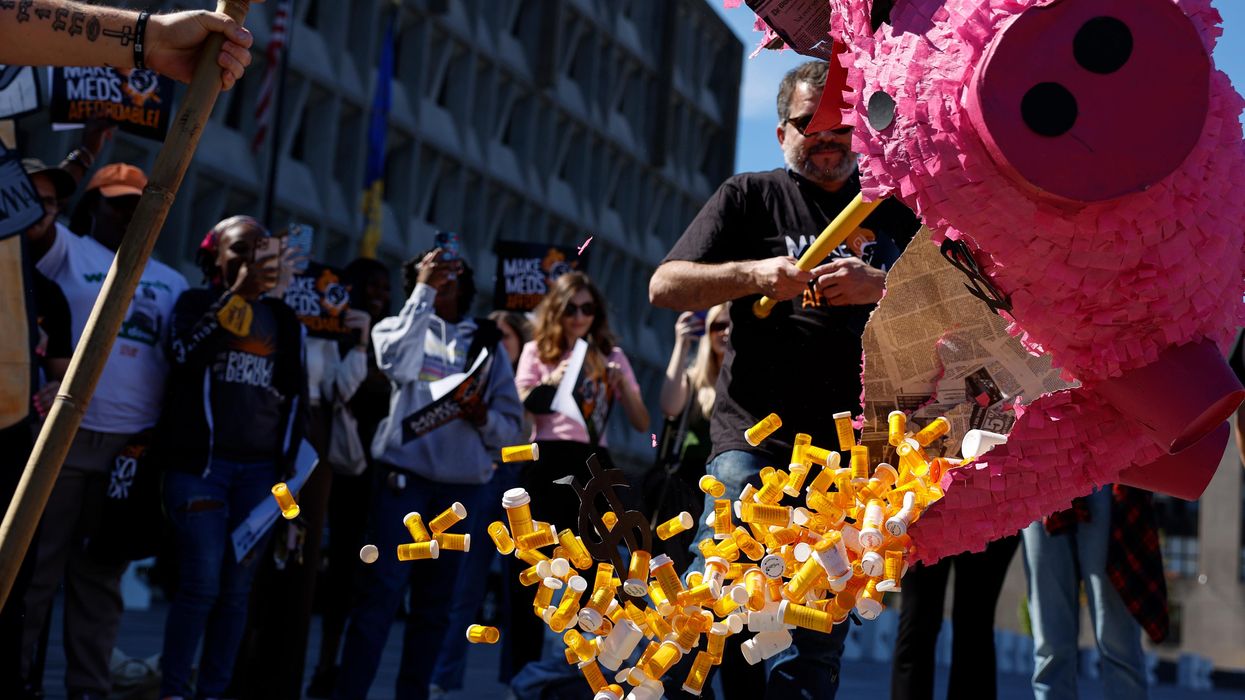 "This decision effectively rubber-stamps continued Big Pharma abuse," said one Democratic lawmaker.
Patient advocates on Tuesday blasted the Biden administration's refusal to compel the manufacturer of a lifesaving prostate cancer drug developed completely with public funds to lower its nearly $190,000 annual price tag.
In 2021, prostate cancer patient Eric Sawyer petitioned U.S. Health and Human Services (HHS) Secretary Xavier Becerra to grant march-in rights—under which the government can grant patent licenses to companies other than a drug's manufacturer—for enzalutamide, which is sold under the brand name Xtandi by Pfizer and Japanese pharmaceutical giant Astellas.
The drug's development was 100% taxpayer-funded. Yet a one-year supply of Xtandi currently costs $189,800 in the United States, or up to five times more than its price in other countries.
HHS' National Institutes of Health (NIH) said Tuesday that it "does not believe that use of the march-in authority would be an effective means of lowering the price of the drug."
"What the Biden administration is saying is that charging U.S. residents three to six times more than any other high-income country is reasonable."
The agency added that it "will pursue a whole-of-government approach informed by public input to ensure the use of march-in authority is consistent with the policy and objective of the Bayh-Dole Act," a reference to legislation meant to promote the commercialization and public availability of government-funded inventions.
James Love, director of the Washington, D.C.-based advocacy group Knowledge Ecology International, called the administration's rejection "appalling."
"What the Biden administration is saying is that charging U.S. residents three to six times more than any other high-income country is reasonable," he wrote.
U.S. Senate Health, Education, Labor, and Pensions Committee Chair Bernie Sanders (I-Vt.) said in a statement that he is "extremely disappointed that the Biden administration denied a petition by prostate cancer patients to substantially reduce the price of Xtandi."
"This is a drug that was invented with taxpayer dollars by scientists at UCLA and can be purchased in Canada for one-fifth the U.S. price," Sanders added. "The Japanese drugmaker Astellas, which made $1 billion in profits in 2021, has raised the price of this drug by more than 75%... How many prostate cancer patients will die because they cannot afford this unacceptable price?"
Rep. Lloyd Doggett (D-Texas), the ranking member of the House Ways and Means Health Subcommittee, said in a statement:
Today's decision is a blow to prostate cancer patients, their families, and taxpayers. Developed with U.S. taxpayer research dollars, Xtandi costs American patients $180,000 a year—as much as six times as much as patients in other countries. This excessive price gouging cost taxpayers $2 billion to cover Medicare beneficiaries' treatment in 2020 alone. The Biden administration has missed yet another opportunity to do something meaningful to lower prescription drug costs and protect taxpayer investments.
The administration's position "protects monopolists over taxpayers and patients, despite clear statutory authority and reasonableness to intervene," Doggett added. "This decision effectively rubber-stamps continued Big Pharma abuse."
In a move that Public Citizen president Robert Weissman called "pathetic," HHS and the Department of Commerce announced Tuesday that they would "pursue a whole-of-government approach to review... march-in authority as laid out in the Bayh-Dole Act" by forming an interagency working group.
The group "will develop a framework for implementation of the march-in provision that clearly articulates guiding criteria and processes for making determinations where different factors, including price, may be a consideration in agencies' assessments."
In a statement, Becerra said that the administration is "committed to increasing access to healthcare and lowering costs."
"March-in authority is a powerful tool designed to ensure that the benefits of the American taxpayers' investment in research and development are reasonably accessible to the public," he added. "We look forward to updates from the Bayh-Dole Interagency Working Group, and at my direction, HHS will review the findings, engage the public, and better define how HHS could effectively utilize our authority moving forward."

News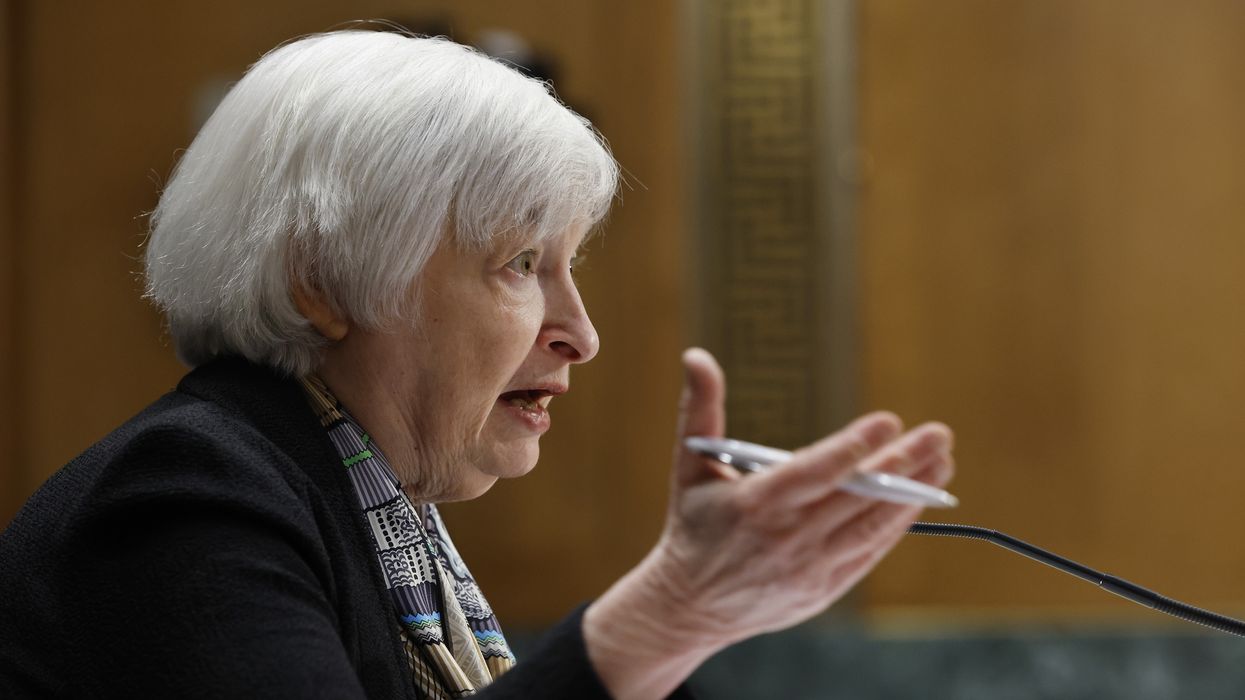 "The Treasury Department can and should exercise the full extent of its regulatory authority to limit this blatant abuse of our tax system by the ultrawealthy."
Four U.S senators this week called on Treasury Secretary Janet Yellen to use her existing authority to go after American billionaires and multimillionaires who "use trusts to shift wealth to their heirs tax-free, dodging federal estate and gift taxes."
"They are doing this in the open: Their wealth managers are bragging about how their tax dodging tricks will be more effective in the current economy," stressed Sens. Elizabeth Warren (D-Mass.), Chris Van Hollen (D-Md.), Bernie Sanders (I-Vt.), and Sheldon Whitehouse (D-R.I.).

"While we look forward to continuing to partner with you on legislative solutions," the senators wrote to Yellen, "the Treasury Department can and should exercise the full extent of its regulatory authority to limit this blatant abuse of our tax system by the ultrawealthy."
Their letter to the Treasury leader, dated Monday and first reported by CBS MoneyWatch Tuesday, highlights that "only the wealthiest American families" are asked to pay transfer taxes such as the estate tax, gift tax, and generation-skipping transfer (GST) tax.
As the letter lays out:
Tax avoidance through grantor trusts starts with the ultrawealthy putting assets into a trust with the intention of transferring them to heirs. Grantor trusts are trusts where the grantor retains control over the assets, and the structures of some of these grantor trusts allow the transfer of massive sums tax-free. Tax planning via grantor trusts, including grantor retained annuity trusts (GRATs), is a kind of shell game, with a wealthy person and their wealth managers able to pass assets back and forth in ways that effectively pass wealth to heirs while minimizing tax liability.

Some of the wealthiest families further compound this tax avoidance with perpetual dynasty trusts, which can be used to shield assets from transfer tax liability indefinitely. For example, aggressive valuation discounts can artificially reduce the value of assets transferred into a trust below the GST tax exemption threshold, after which the assets can grow in perpetuity within a trust exempt from transfer tax.
"The ultrawealthy at the top of the socioeconomic ladder live by different rules than the rest of America, especially when it comes to our tax system," the letter charges. "As the richest Americans celebrate and take advantage of these favorable tax opportunities, middle-class families struggle with inflation and Republicans threaten austerity measures and the end of Social Security and Medicare."
To help force the richest Americans to "pay their fair share" in taxes, the senators are calling on Treasury to revoke a pair of tax code rulings from the Internal Revenue Service (IRS); require GRATs to have a minimum remainder value; reissue family limited partnership regulations; clarify that intentionally defective grantor trusts (IDGTs) are not entitled to stepped-up basis; and put out clarifying regulations on certain valuation rules for estate and gift taxes.
The senators also sent a series of questions—about potential administrative action, how much is estimated to be held in grantor trusts, and how much could be raised from cracking down on abuse—and requested a response from Treasury by April 3.
Their letter comes after President Joe Biden earlier this month introduced a budget blueprint for fiscal year 2024 that would hike taxes on the rich—proposed policies praised by progressive experts and advocates as "fair, popular, and long overdue."
Yellen last week appeared before the Senate Finance Committee—of which Warren and Whitehouse are members—to testify about the administration's proposal. She said in part that "our proposed budget builds on our economic progress by making smart, fiscally responsible investments. These investments would be more than fully paid for by requiring corporations and the wealthiest to pay their fair share."

News
SUPPORT OUR WORK.
We are independent, non-profit, advertising-free and 100%
reader supported.