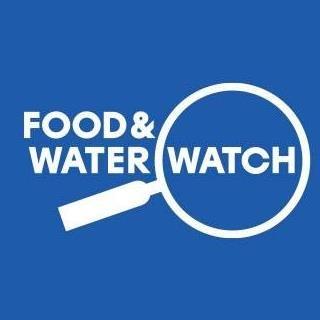 New Rate Survey of 500 U.S. Water Systems Finds Private Water Providers Charge 58% More
10 Most Affordable Water Systems Are Publicly Owned and Operated
WASHINGTON
In the largest U.S. water rate survey of its kind, Food & Water Watch today released a comprehensive review of the 500 largest U.S. community water systems that found that large, for-profit privately owned systems charge 58 percent more than large publicly owned systems. An overwhelming majority of U.S. water customers--87 percent--receive their water from a publicly owned, not-for-profit service provider.
The survey also shows that water systems are publicly owned and operated in the 10 most affordable cities for water of the 500 systems surveyed. As of January 2015, Phoenix, Ariz. enjoyed the most affordable household water use, while Flint, Michigan was the most expensive--an anomaly given the problems that the city has faced under emergency management. In 2014, an emergency manager switched the Flint water supply from Detroit to the Flint River in a proposed cost-cutting effort--corroding pipes that have caused lead poisoning and a deadly legionella outbreak.
"From emergency management in Michigan to failed privatization experiments across the country, corporate influence has failed U.S. water systems," said Food & Water Watch Executive Director Wenonah Hauter. "Many of our community water systems are over 100 years old, and in desperate need of repair. Rather than running water systems like businesses, or worse, handing them over to corporations, we need increased federal investment in municipal water. With this federal funding, we can help avoid future infrastructure-related catastrophes."
Other findings of the report include:
From 2007 to 2014, the portion of people with water service from a publicly controlled entity increased from 83 percent to 87 percent.
Between 2007 and 2014, the number of private systems dropped seven percent, while the number of people served by privately owned systems fell by 18 percent (8 million people).
The number of publicly owned systems remained steady, but overall added 24 million customers to their networks.
The average public water utility charged $316.20 for 60,000 gallons a year, while the average for-profit water company charged $500.96 for the same amount.
Private systems in New York and Illinois charge twice as much as not-for-profit public systems.
In Pennsylvania, private systems charge 84 percent more than public systems--$323 more a year, typically.
Private systems in New Jersey charge 79 percent more--$230 more than their public counterparts.
Overall, for-profit companies own 10 percent of U.S. community water systems, 90 percent of which serve fewer then 3,300 people. In major cities, water is overwhelmingly controlled by public entities. Food & Water Watch attributes the trend towards public ownership to population migration patterns from rural to urban settings and to municipalization--the process by which a water system shifts from private to public control, or where local governments purchase small, private systems and combine them with their own public ones.
"Government utilities have a responsibility to promote and protect public health and safety, and are generally more responsive to community needs," said Hauter. "More and more cities and towns are seeing that water is more efficiently and affordably delivered when it is controlled by a not-for-profit entity. Without shareholders expecting profits, public systems are less likely to cut corners on service, and excess funds are invested back into systems, not sent out of communities as dividend checks."
With not-for-profit water providers serving more customers, it is particularly important that community systems receive the funding they need to guarantee safe, clean, affordable water to all. But federal contributions to water utility improvement projects peaked in 1977 at 63 percent of what was needed, dropped to record lows of 7 in 2006, and after a slight boost to 12 percent in 2010, fell back to 9 percent in 2014. From 1977 to 2014, federal funding for water utilities fell 74 percent after accounting for inflation. President Obama's most recent proposed budget cuts funding to the State Revolving Funds for water infrastructure by another 11 percent. The proposed budget falls far short of what communities need.
To ensure that everyone has steady access to safe, clean, affordable water, Food & Water Watch recommends establishing a steady, dedicated source of federal funding for community water systems that could fund the replacement of lead pipes in schools and homes and update and replace our aging water systems across the country.
Download report here: https://www.foodandwaterwatch.org/insight/state-public-water-united-states
Food & Water Watch champions healthy food and clean water for all. We stand up to corporations that put profits before people, and advocate for a democracy that improves people's lives and protects our environment.
Food & Water Watch mobilizes regular people to build political power to move bold and uncompromised solutions to the most pressing food, water, and climate problems of our time. We work to protect people's health, communities, and democracy from the growing destructive power of the most powerful economic interests.
(202) 683-2500
LATEST NEWS
"Investing now in nuclear energy is an inefficient route to take to reduce emissions at the scale and pace needed to tackle climate change," said one campaigner.

Climate campaigners scoffed Saturday at a 22-nation pledge to triple nuclear power capacity by mid-century as a way to ward off the increasing damage of warming temperatures, with opponents calling it a costly and "dangerous" distraction from the urgent need for a fossil fuel phaseout alongside a rapid increase in more affordable and scaleable renewable sources such as wind and solar.
The Declaration to Triple Nuclear Energy—backed by the United States, Canada, France, the Czech Republic, and others—was announced as part of the Climate Action Summit taking place in Dubai as a part of the two-week U.N. climate talks known as COP28.
While the document claims a "key role" for nuclear energy to keep "a 1.5°C limit on temperature rise within reach" by 2050 and to help attain the so-called "net-zero emissions" goal that governments and the fossil fuel industry deploy to justify the continued burning of coal, oil, and gas, critics say the false solution of atomic power actually harms the effort to reduce emissions by wasting precious time and money that could be spent better and faster elsewhere.
"There is no space for dangerous nuclear power to accelerate the decarbonization needed to achieve the Paris climate goal," said Masayoshi Iyoda, a 350.org campaigner in Japan who cited the 2011 Fukushima disaster as evidence of the inherent dangers of nuclear power.
"There is no space for dangerous nuclear power to accelerate the decarbonization needed to achieve the Paris climate goal."
Nuclear energy, said Iyoda, "is nothing more than a dangerous distraction. The attempt of a 'nuclear renaissance' led by nuclear industries' lobbyists since the 2000s has never been successful—it is simply too costly, too risky, too undemocratic, and too time-consuming. We already have cheaper, safer, democratic, and faster solutions to the climate crisis, and they are renewable energy and energy efficiency."
When word of the multi-nation pledge emerged last month, Mark Jacobson, professor of civil and environmental engineering at Stanford University and co-founder of The Solutions Project which offers a roadmap for 100% renewable energy that excludes nuclear energy, called the proposal the "stupidest policy proposal I've ever seen."
Jacobson said the plan to boost nuclear capacity in a manner to avert the worst impacts of the climate crisis "will never happen no matter how many goals are set" and added that President Joe Biden was getting "bad advice in the White House" for supporting it.
In comments from Dubai, U.S. climate envoy John Kerry said that while he agrees nuclear will be a "sweeping alternative to every other energy source," but claimed that "science and the reality of facts" shows the world cannot "get to net-zero by 2050 with some nuclear."
Numerous studies and blueprints towards a renewable energy future, however, have shown this is not established fact, but rather the position taken by both the nuclear power industry itself and those who would otherwise like to slow the transition to a truly renewable energy system.
Pauline Boyer, energy transition campaign manager with Greenpeace France, said the scientific evidence is clear and it is not in favor of a surge in nuclear power.
"If we wish to maintain a chance of a trajectory of 1.5°C, we must massively reduce greenhouse gas emissions over the coming years, but nuclear power is too slow to deploy in the face of the climate emergency," she said.
"The announcement of a tripling of capacities is disconnected from reality," Boyer continued. Citing delays and soaring costs, she said the nuclear industry "is losing ground in the global energy mix every day" in favor of renewable energy options that are cheaper, quicker to deploy, and more accessible to developing countries.
In 2016, researchers at the University of Sussex and the Vienna School of International Studies showed that "entrenched commitments to nuclear power" were likely "counterproductive" towards achieving renewable energy targets, especially as "better ways to meet climate goals"—namely solar, wind, geothermal, and hydropower–were suppressed.
In response to Saturday's announcement, Soraya Fettih, a 350.org campaigner from France, which relies heavily on nuclear power, said it's simply a move in the wrong direction. "Investing now in nuclear energy is an inefficient route to take to reduce emissions at the scale and pace needed to tackle climate change," said Fettih. "Nuclear energy takes much longer than renewable energy to be operational."
Writing on the subject in 2019, Harvard University professor Naomi Orseskes and renowned author and psychohistorian Robert Jay Lifton observed how advocates of nuclear power declare the technology "clean, efficient, economical, and safe" while in reality "it is none of these. It is expensive and poses grave dangers to our physical and psychological well-being."
"There are now more than 450 nuclear reactors throughout the world," they wrote at the time. "If nuclear power is embraced as a rescue technology, there would be many times that number, creating a worldwide chain of nuclear danger zones—a planetary system of potential self-annihilation."
News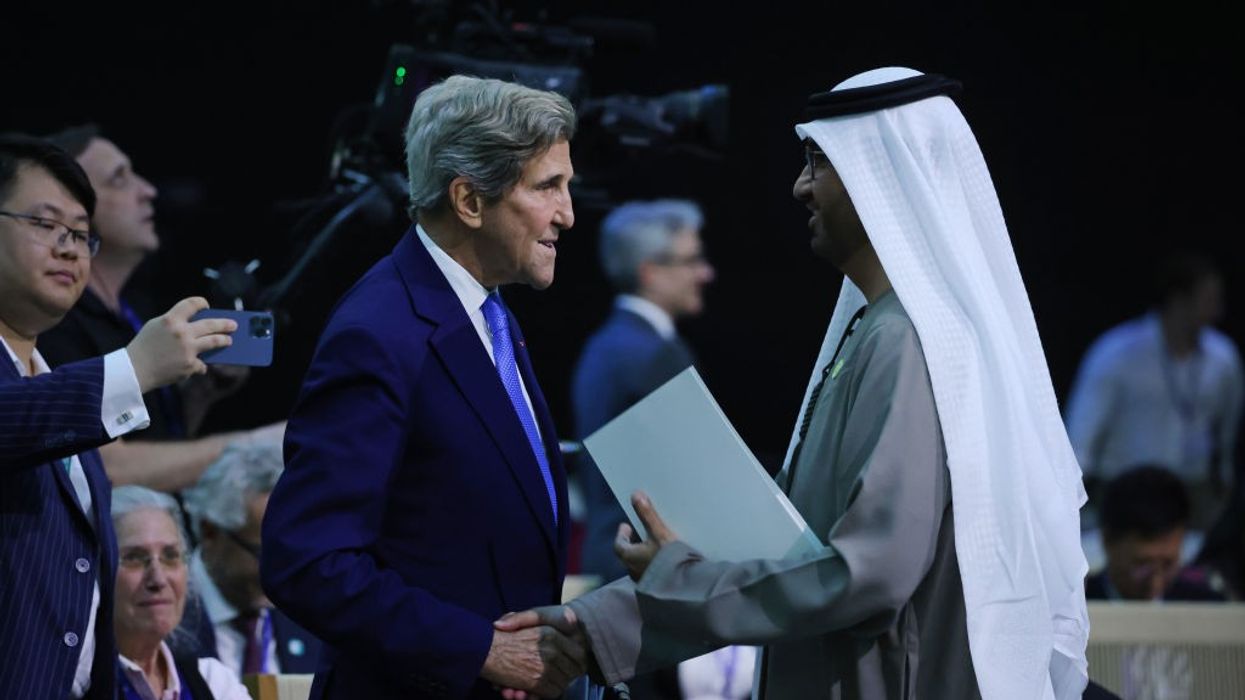 "Voluntary pledges cannot be a substitute for a formal negotiated outcome at COP28 for countries to address the root cause of the climate crisis: fossil fuels."
Hundreds of civil society groups and frontline voices from around the world on Saturday condemned a voluntary pledge heralded by government leaders and fossil fuel giants, calling the "Oil and Gas Decarbonization Charter" unveiled at the COP28 climate talks in Dubai nothing but a cynical industry-backed smokescreen and greenwashing ploy that will allow for the continuation of massive emissions of carbon, methane, and other greenhouse gases.

"The Oil and Gas Decarbonization Accelerator is a dangerous distraction from the COP28 process," warned David Tong, the global industry campaign manager for Oil Change International, in a statement from Dubai. "We need legal agreements, not voluntary pledges. The science is clear: staying under 1.5ºC global warming requires a full, fast, fair, and funded phase-out of fossil fuels, starting now."
Backed by approximately 50 state-run and private oil and gas companies, the stated aims of the pledge, also being referred to as the Decarbonization Accelerator, is to cut upstream emissions of methane to "near-zero" levels and end "routine flaring"—that is, emissions involved with production but not consumption—by 2030 while aiming for a "net-zero operations" target by 2050.
"Voluntary commitments are a dangerous distraction from what is needed at COP28. Oil and gas companies meeting to sign a pledge that only deals with their operational emissions is like a group of arsonists meeting to promise to light fires more efficiently."
What's key, say the Charter's critics, is both the voluntary nature of the scheme and the glaring fact that it does not include 80-90% of the emissions produced by the industry, namely the downstream consumption of their products—the burning of coal, oil, and fracked gas.
An open letter released by 320 groups on Saturday accuses Sultan al-Jaber, president of COP28 and the chief executive of the host nation's national oil company, of missing a "historic opportunity" by allowing the pledge to grandstand as meaningful progress while the planet experiences its hottest year in 125,000 years.
"The COP28 Presidency appears to have been encouraging fossil fuel companies to make yet another set of hollow voluntary pledges, with no accountability mechanism or guarantee the companies will follow through," the letter states. "Releasing another in the long succession of voluntary industry commitments that end up being breached will not make COP28 a success. Voluntary efforts are insufficient, and are a distraction from the task at hand."
By only aiming to reduce "oil and gas operational emissions without sharp reductions in overall fossil fuel production," the groups argue, the Charter "will fail to achieve the cuts in methane emissions necessary to avoid the worst impacts of climate change."
Citing recent findings from the International Energy Agency (IEA) and the Climate and Clear Air Coalition released in October, the letter states that the only way to meet the 1.5ºC target established by the 2015 Paris agreement is to phase out fossil fuels completely—and rapidly.
"Cutting methane pollution from the oil and gas supply chain is an important component of near-term emissions reductions—but it is not enough on its own," the letter states.
Alongside the industry-backed Charter, 118 nations on Saturday also pledged a tripling of renewable energy by 2030, but green groups say that while welcome, this kind of effort means so much less if fossil fuels are not phased out during that same period.
"The future will be powered by solar and wind, but it won't happen fast enough unless governments regulate fossil fuels out of the way," said Kaisa Kosonen, leading Greenpeace International's COP28 delegation in Dubai.
Oil Change's Tong also pointed to national promises on renewables in the context of the overall greenwashing effort underway trying to tell the world it can have a renewable energy revolution while also allowing the fossil fuel industry to continue its existence.
"If your company digs stuff up and burns it, you're the problem. It's time to wind down your business."
"Bundling up the Oil and Gas Decarbonization Charter with a renewable energy commitment appears to be a calculated move to distract from the weakness of this industry pledge," Tong said.
"Promising to triple renewable energy and double energy efficiency is welcome and indicates momentum for a final agreement at this year's U.N. climate talks," he added, "but voluntary pledges cannot be a substitute for a formal negotiated outcome at COP28 for countries to address the root cause of the climate crisis: fossil fuels."
Journalist and veteran climate organizer Bill McKibben, co-founder of 350.org and now Third Act, said it "isn't hard" to know what needs to be done or to identify who is at fault for the current crisis.
"If your company digs stuff up and burns it, you're the problem. It's time to wind down your business. Past time," McKibben said.
The green critics of the Charter are clear that the chief culprits should have little say in the way governments and society at large choose to manage the transition from a dirty energy economy to a more sustainable and clean one.

As the letter from the coalition argues, "Voluntary commitments are a dangerous distraction from what is needed at COP28. Oil and gas companies meeting to sign a pledge that only deals with their operational emissions is like a group of arsonists meeting to promise to light fires more efficiently."

News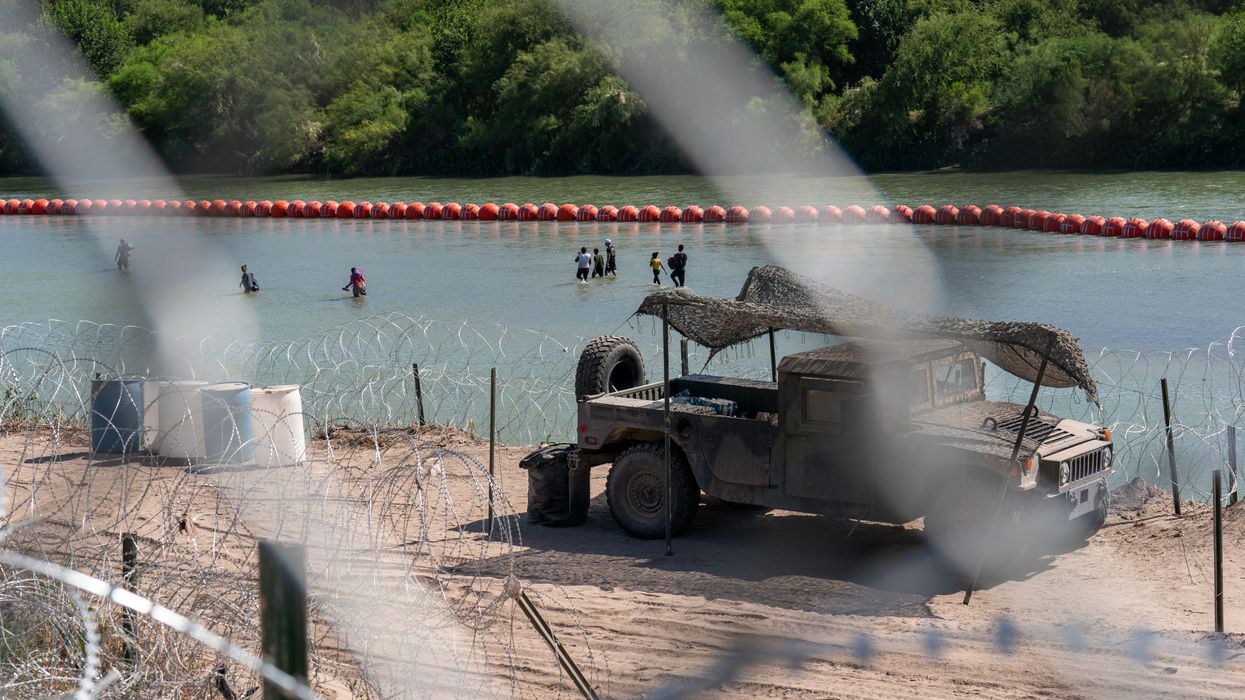 "Despite this small victory, the razor buoys are only a fraction of Gov. Abbott's racist and murderous Operation Lone Star," one group noted.
A federal appellate court panel on Friday delivered a blow to Republican Texas Gov. Greg Abbott's anti-migrant regime, ruling 2-1 that the state must remove from the Rio Grande a buoy barrier intended to block people from crossing the U.S.-Mexico border.
The U.S. Department of Justice (DOJ) sued Texas and Abbott over the buoys, which are part of the governor's Operation Lone Star, in July. U.S. Judge David A. Ezra of the Western District of Texas, an appointee of former President Ronald Reagan, ordered the state to remove the barrier and prohibited new or additional blockades in September.
The U.S. Court of Appeals for the 5th Circuit initially blocked Ezra's ruling while it considered the case, but Judges Dana Douglas and Carolyn Dineen King—respectively appointed by President Joe Biden and former President Jimmy Carter—affirmed his decision that the buoys violate federal law on Friday. Judge Don Willett, an appointee of ex-President Donald Trump, dissented.
"I've seen Gov. Abbott's border buoys for myself. They're illegal and dangerous."
The lower court "considered the threat to navigation and federal government operations on the Rio Grande, as well as the potential threat to human life the floating barrier created," Douglas wrote for the majority. "All of the district court's findings of fact were well supported by the record, and its conclusion... was not an abuse of discretion."
American Immigration Council policy director Aaron Reichlin-Melnick suggested on social media that the case turned out the way it did, even though the 5th Circuit is the most conservative U.S. appeals court, "in part because the panel draw was a very good one for the DOJ."

Abbott said Friday that the decision "is clearly wrong," that he and GOP state Attorney General Ken Paxton "will seek an immediate rehearing by the entire court," and that they will seek intervention from the right-wing U.S. Supreme Court "if needed."'
Despite the governor's determination to continue the legal battle, opponents of 4-foot-wide orange spherical buoys—which span 1,000 feet of the river near Eagle Pass—celebrated the appeals court decision.
"I've seen Gov. Abbott's border buoys for myself. They're illegal and dangerous," said U.S. Rep. Joaquin Castro (D-Texas), who led a congressional trip to the barrier and a letter urging the Biden administration to act. "I applaud the Justice Department for today's hard-fought victory in the conservative 5th Circuit and look forward to seeing these death traps removed from the Rio Grande."
The immigrant youth-led group United We Dream also welcomed the "small victory" but stressed that "the razor buoys are only a fraction of Gov. Abbott's racist and murderous Operation Lone Star," pointing to a new Human Rights Watch (HRW) report.
HRW revealed earlier this week that "dangerous chases of vehicles thought to contain migrants under the Texas government's Operation Lone Star program led to crashes that killed at least 74 people and injured at least another 189 in a 29-month period."
Alison Parker, HRW's deputy U.S. director, declared that the state operation "is maximizing chaos, fear, and human rights abuses against Texans and migrants, which might be a cynical way to win political points but is not a responsible way to run a government."
The report and ruling on Texas' operation come as congressional Republicans attempt to force through what migrant rights advocates are calling "unconscionable" changes to asylum policy in exchange for funding for Ukraine, Israel, and Taiwan.

News