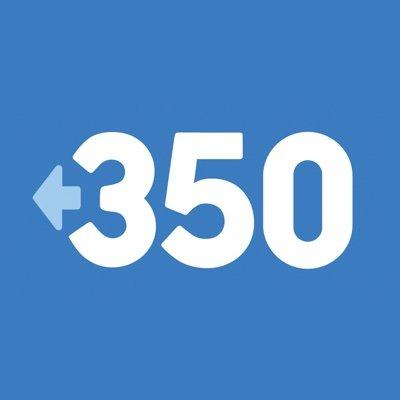 For Immediate Release
January, 07 2016, 03:45pm EDT
Vermont Governor Shumlin Calls on Pensions to Divest $4.02 Billion Portfolio from Exxon, Coal
During today's State of the State Address, Vermont Governor Peter Shumlin called on the state's pension funds to divest the $4.02 billion portfolio from coal, as well as from the infamous fossil fuel corporation ExxonMobil.
MONTPELIER
During today's State of the State Address, Vermont Governor Peter Shumlin called on the state's pension funds to divest the $4.02 billion portfolio from coal, as well as from the infamous fossil fuel corporation ExxonMobil.
"Our small state must partner with California, which manages hundreds of billions of dollars of state funds, and divest Vermont of coal. Let's remember Vermont is downwind of the coal fired plants to our West; we're the tailpipe to their dirty energy choices," said Governor Shumlin. "Their pollution sickens our children, creates acid rain, dumps mercury on our forests and in our lakes and increases greenhouse gas emissions. I ask that you send me a divestiture bill just like California's. While you're doing that, Governor Brown and I will invite other Governors to join us in what should be a national effort."
Shumlin also specifically targeted ExxonMobil for divestment.
"While we await the California study on oil, Vermont should not wait to rid ourselves of ExxonMobil stock," said the Governor. "It has been clearly documented that since the 1980's, ExxonMobil's own scientists have long known about the dangers of global warming, and chose to conceal that from the public. At the same time that they were building their oil rigs taller to account for rising sea levels, they were funding front groups of scientists to deny climate change is real. This is a page right out of Big Tobacco, which for decades denied the health risks of their product as they were killing people. Owning ExxonMobil stock is not a business Vermont should be in."
350.org co-founder Bill McKibben responded by congratulating the Governor for his leadership on the issue, "It's great that Vermont may join states like California in divesting from coal -- and even better that Governor Shumlin has taken the lead by saying no government should be invested in Exxon, as perhaps the greatest scandal in corporate history begins to unfold. Today is a great win for the thousands of Vermonters who have joined this fight, and it will give us new vigor to keep pushing on many fronts!"
The call to divest from Exxon is particularly significant following a series of investigative reports revealing that as early as the 1970s, Exxon not only knew about the effect of burning fossil fuels on the climate, but also that the company spent millions in sowing doubt and confusion around its own research among the public and world governments. Reporters recently uncovered that Exxon's oil industry peers also knew about these climate dangers and lied about them for decades, potentially opening them up for prosecution or additional regulations.
Now, momentum is growing to prosecute Exxon for their climate lies. New York State Attorney General Eric Schneiderman has launched an investigation to uncover all Exxon knew about climate change. Last October, over 60 prominent indigenous peoples, social, and environmental organizations released a call for the Department of Justice Attorney General Loretta Lynch to launch an investigation. Organizers across the country are urging their state Attorney Generals to launch similar investigations.
Governor Shumlin's push for Vermont to also divest from coal is part of a growing wave of divestment commitments worldwide as the case for action grows ever stronger. During the UN climate talks in December, it was announced that over 500 institutions representing more than $3.4 trillion in assets under management have committed to some level of divestment. Coal in particular has felt the pinch, as stocks have plummeted and many companies have filed for bankruptcy. There has been growing momentum for full divestment, as well, as renewable energy has gained cost efficiency over fossil fuels and Fossil Free Indexes have outperformed conventional markets. Leaders from UN Secretary General Ban Ki-Moon to World Bank President Jim Kim have commended the divestment movement for the impact it has having on the economic and political discussion about how to address the climate crisis.
The case for divestment is particularly strong in Vermont, a state that prides itself on green leadership, as well as sound accounting. In fact, not divesting may have hurt State funds since calls for action began. In November, 350Vermont and Corporate Knights found that the state pension fund lost more than $77 million in reduced returns over the past three years because of fossil fuel investments.
"The Vermont Chapter of the Sierra Club is glad to hear Governor Peter Shumlin acknowledge the need to divest from fossil fuels. In light of the Paris Climate talks it is quite evident that fossil fuel investments are volatile and there are real questions about the fiduciary responsibility of continuing to invest in them," said Robb Kidd, VT Chapter of the Sierra Club Conservation Program Manager. "Vermont can lead by refocusing investments that align with the Vermont's clean energy goals while protecting public pensions."
Campaigners believe that today's announcement will provide significant momentum for Vermont's pension funds to divest from all fossil fuels, as well as set a precedent for other states, such as New York, to follow suit.
"It is gratifying to hear Governor Shumlin's support for fossil fuel divestment. Fossil fuel investments in the state pension funds have substantially hurt returns over the past couple of years and continue to constitute a real risk for pension beneficiaries and Vermont taxpayers," said Eric Becker, CFA, Chief Investment Officer, Clean Yield Asset Management. "Getting on a path to full divestment in the coming years will be a great step forward for Vermont and for the climate."
350 is building a future that's just, prosperous, equitable and safe from the effects of the climate crisis. We're an international movement of ordinary people working to end the age of fossil fuels and build a world of community-led renewable energy for all.
LATEST NEWS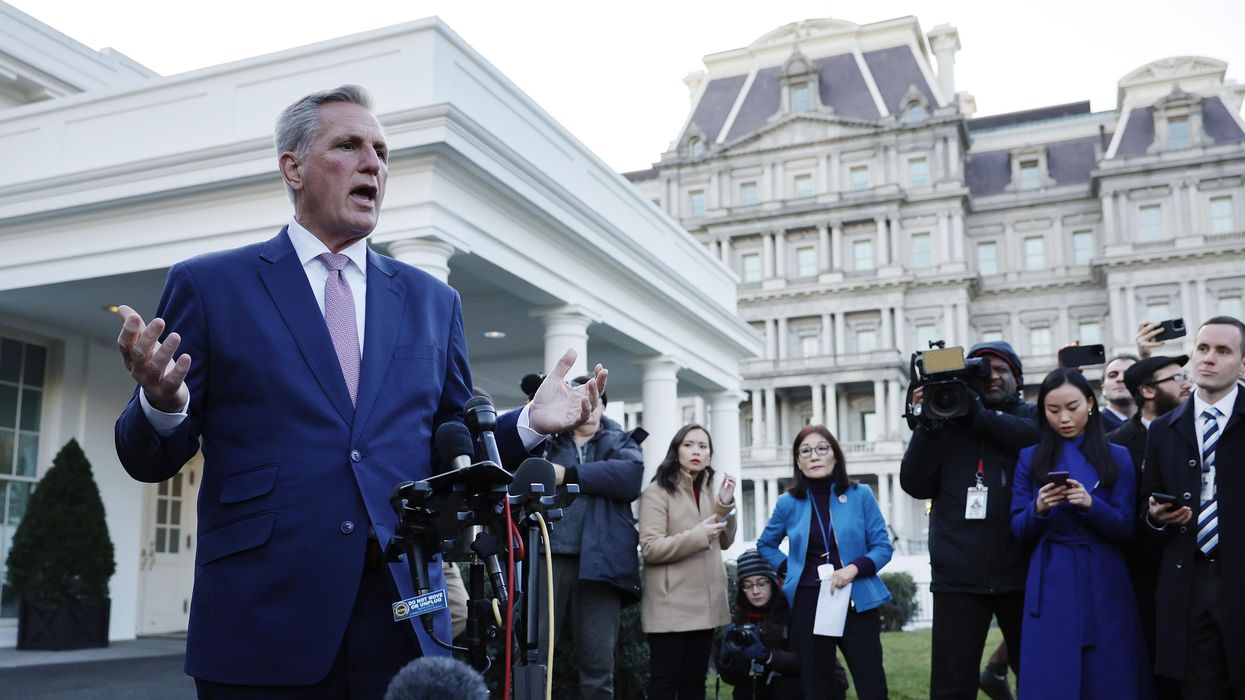 House Republicans' effort to cap spending at 2022 levels would impact "a wide array of public services," including healthcare programs, education, and much more.
After a private meeting with President Joe Biden on Wednesday, House Speaker Kevin McCarthy reiterated his support for steep federal spending cuts as part of any deal to raise the debt ceiling, upholding his commitment to the far-right Republicans who threatened to deny him the top leadership post.
"I was very clear that we're not passing a clean debt ceiling," McCarthy (R-Calif.) told reporters following his conversation with the president. "We're not spending more next year than we spent this year. We've got to find a way to change this and I want to sit down and work."
While some members of his caucus have vocally singled out Social Security and Medicare, McCarthy has declined to explain precisely what and how much he wants to cut. But as part of a deal with the far-right flank of his caucus, McCarthy agreed to push for a cap on federal spending at fiscal year 2022 levels.
According to an analysis released Wednesday by the Center on Budget and Policy Priorities (CBPP), such a cap would entail significant cuts to "a wide array of public services that the federal government provides and that people and communities depend on, including public health; food safety inspections; air traffic control operations; the administration of Medicare and Social Security; housing and other assistance for families with low incomes; education and job training; and scientific and medical research, to name just a few."
"Moreover, many of these programs are still feeling the effects of austerity imposed largely by the 2011 Budget Control Act," CBPP's Joel Friedman and Richard Kogan wrote, pointing to a law that the GOP forced through following a damaging round of debt ceiling brinkmanship. "Even with a recent boost in 2023, funding for non-defense programs outside of veterans' medical care is about 2% below its 2010 level, adjusted for inflation, and 9% below when adjusted for both inflation and population growth. Funding for these programs needs to rise to meet national needs, address shortfalls that hamper the delivery of government services, and help create an economy in which everyone has the resources they need to thrive."
CBPP's estimates suggest that a federal spending cut of $146 billion across military and non-military programs would be required to meet House Republicans' demand to cap fiscal year 2024 spending at 2022 levels.

But Friedman and Kogan stressed that cuts to non-military discretionary spending—a broad category that includes healthcare and education programs—would have to be even larger if the Pentagon budget is shielded, as some House Republicans have proposed. Military spending represents more than half of all federal discretionary spending.
"Reducing defense funding to its 2022 level in 2024 would require a cut of $76.2 billion from its current level," Friedman and Kogan noted. "If instead one assumes that defense funding is frozen in 2024—that is, held at its 2023 level rather than being reduced to the 2022 level—but that House Republicans still press to return total discretionary funding to its 2022 level, then those additional cuts would need to be absorbed by non-defense programs. If that comes on top of protecting veterans' medical care, then the remaining non-defense programs would need to be cut by 24.3% on average."

"The cuts the House Republicans are calling for, whether achieved by reducing non-defense programs categorized as discretionary or mandatory, are deep," Friedman and Kogan concluded. "Claims that they are designed merely to root out 'wasteful spending' are highly misleading and distract from the policy implications of these proposals and the harm they would cause."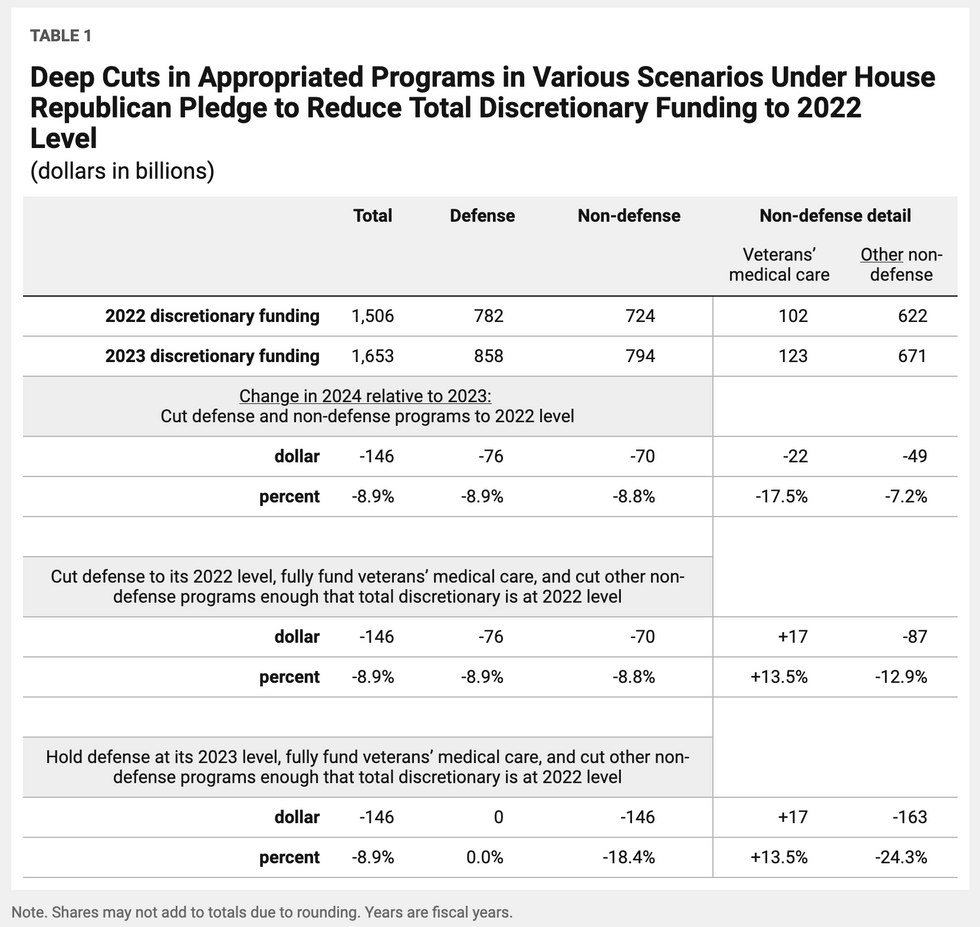 The White House has insisted on legislation that raises the debt ceiling without any attached spending cuts or other conditions, a message it reiterated after Biden's meeting with McCarthy on Wednesday.

"President Biden made clear that, as every other leader in both parties in Congress has affirmed, it is their shared duty not to allow an unprecedented and economically catastrophic default," the White House said in a readout of the meeting. "The president welcomes a separate discussion with congressional leaders about how to reduce the deficit and control the national debt while continuing to grow the economy."
As McCarthy prepared for his discussion with Biden, the Republican Study Committee (RSC)—the largest House GOP caucus—convened on Capitol Hill to discuss their priorities for time-sensitive debt ceiling negotiations.
According to a presentation slide obtained by Politico's Olivia Beavers, RSC chair Rep. Kevin Hern (R-Okla.) offered a broad outline of the GOP's group's priorities, including a reversal of recent discretionary spending increases. Last year, the RSC called for gradually increasing the retirement age and partially privatizing Social Security.
Aaron Fritschner, communications director for Rep. Don Beyer (D-Va.), criticized House Republicans' continued refusal to put forth a budget detailing their specific demands.
"Wow what a disaster," Fritschner tweeted in response to the RSC presentation. "They truly have no idea what to do."
News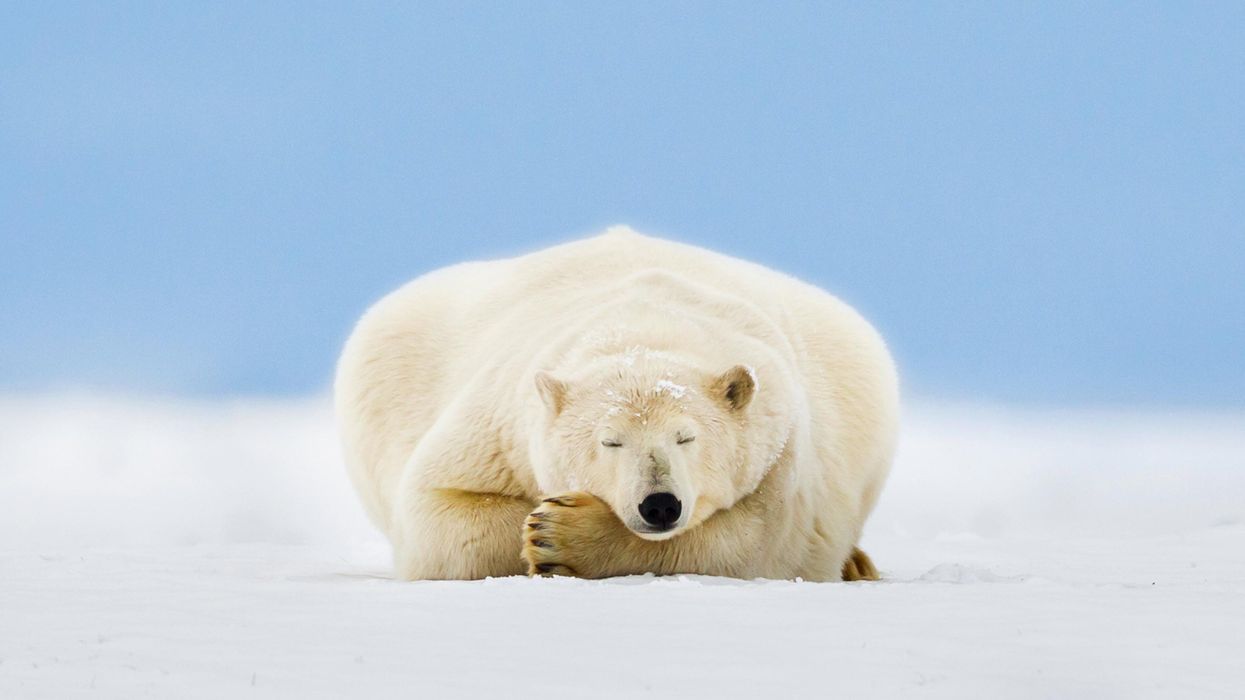 "We need a law on the books that will affirm these lands are not for sale, preserve the wilderness of the Coastal Plain, and uphold the sovereignty of Arctic Indigenous peoples," said Sen. Ed Markey, one of the bill's lead sponsors.
Indigenous, climate, and conservation advocates on Wednesday welcomed the reintroduction of congressional legislation to restore protections and prevent fossil fuel development in Alaska's Arctic National Wildlife Refuge.
Sens. Ed Markey (D-Mass.), Maria Cantwell (D-Wash.), Martin Heinrich (D-N.M.), and Michael Bennet (D-Colo.), along with Reps. Jared Huffman (D-Calif.) and Brian Fitzpatrick (R-Pa.), reintroduced the Arctic Refuge Protection Act, the continuation of legislative efforts dating back to the 1980s to protect the critical wilderness and its inhabitants.
The lawmakers said in a statement that their bill "will restore critical protections to the Arctic National Wildlife Refuge—home to the Gwich'in people and the nation's largest national wildlife refuge—by designating the Coastal Plain ecosystem as wilderness under the National Wilderness Preservation System."
If passed, the bill "would permanently halt any new oil and gas leasing, exploration, development, and drilling on the Coastal Plain, and would safeguard the subsistence rights of the Arctic Indigenous peoples who depend upon the unique ecosystem within the Arctic Refuge," the statement explained.
As Huffman's office noted:
The Arctic National Wildlife Refuge covers 19.6 million acres and is the largest unit in the National Wildlife Refuge System. The 1.56 million-acre Coastal Plain, the biological heart of the refuge, contains the calving grounds for the Porcupine caribou herd and is home to denning polar bears, musk oxen, wolves, and more than 150 species of migratory birds. The 9,000-strong Gwich'in Nation, living in Alaska and Canada, make their home on or near the migratory route of the Porcupine caribou herd, and have depended on this herd for their subsistence and culture for thousands of years.
"The Arctic National Wildlife Refuge is a national treasure and a cultural and spiritual home for Arctic Indigenous peoples," said Markey. "The traditional relationship that the Gwich'in and Iñupiat have had with the refuge for generations, as well as the singular ecosystem on the Coastal Plain, should not be put into harm's way because of old failed promises of a fictional financial windfall."
"We need a law on the books that will affirm these lands are not for sale, preserve the wilderness of the Coastal Plain, and uphold the sovereignty of Arctic Indigenous peoples—who must be consulted regarding the use, management, and conservation of the Coastal Plain," he added.
"The Arctic National Wildlife Refuge is a national treasure and a cultural and spiritual home for Arctic Indigenous peoples."
Karlin Itchoak, Alaska regional director for the Wilderness Society, stated that the bill "recognizes not only the importance of protecting wildlife and public land, but also shows respect and concern for the Indigenous peoples who live in and near the Arctic National Wildlife Refuge."
"The Coastal Plain of the refuge is sacred to the Gwich'in Nation, and the Iñupiat people have stewarded this land since time immemorial," Itchoak added. "Protecting the Coastal Plain from oil drilling is essential to their cultures, food security, and ways of life, as well as to the global climate."

Some Indigenous and conservationist activists expressed their deep disappointment last year after congressional Democrats excluded Arctic protections from their $430 billion budget reconciliation package. Protections including a measure to end the Trump-era mandate for oil and gas leases on the Coastal Plain were included in the Build Back Better package that made it no further than passage by House Democrats in 2021.
The lawmakers said the reintroduced bill "would enshrine the protections sought by President [Joe] Biden on his first day in office, which were reaffirmed last June when the administration temporarily suspended drilling lease sales in the Arctic refuge."
However, they stressed that "the Coastal Plain ecosystem remains at risk due to oil and gas lease sales mandated by the 2017 Tax Cuts and Jobs Act"—also known as the Republican Tax Scam—signed into law by then-President Donald Trump. Such lease sales ultimately generated little interest.
The reintroduction of the Arctic Refuge Protection Act came on the same day that the Biden administration's Bureau of Land Management infuriated climate advocates by publishing an environmental assessment recommending partial approval of ConocoPhillips' Willow Project, a major drilling initiative on Alaska's North Slope, which contains much of the Arctic National Wildlife Refuge.

News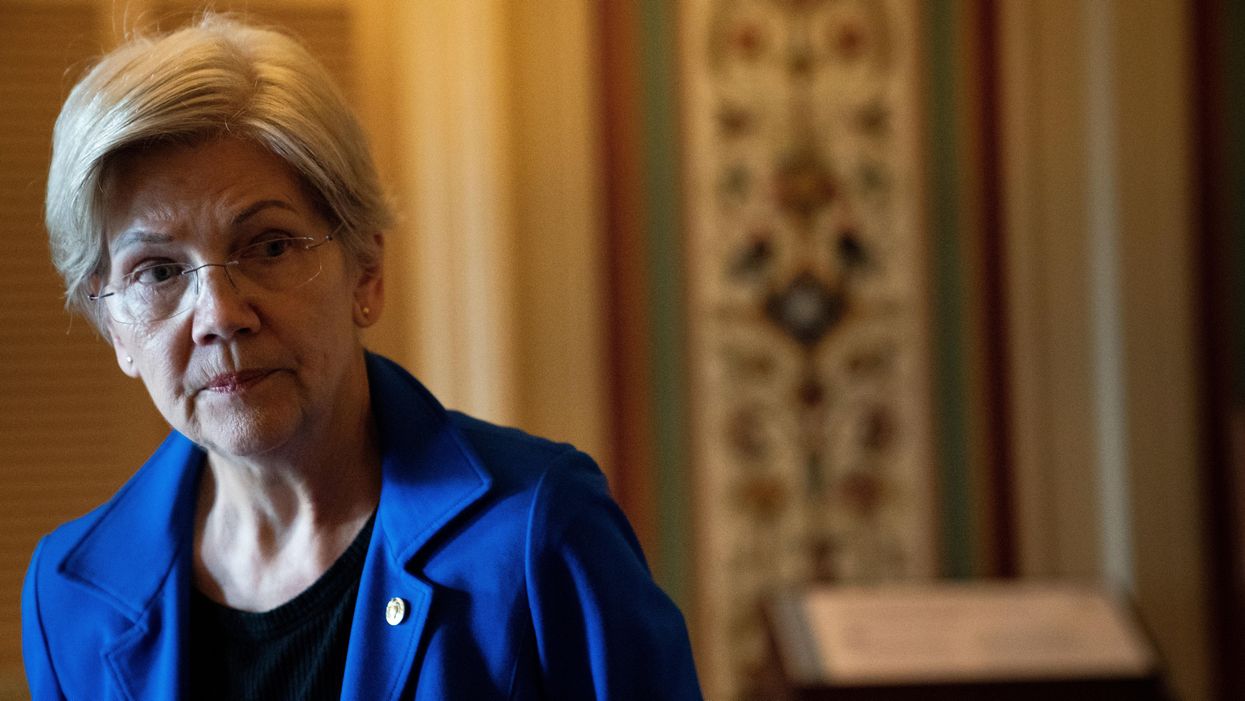 Another critic warned that "while the Fed continues to stick to their obsession with job-killing interest rate hikes, the livelihoods of working families are on the line."

Progressive economists and advocates on Wednesday blasted the U.S. Federal Reserve for hiking the federal funds rate an eighth consecutive time despite fears of a recession and impacts on working people.
"With today's rate hike, the Fed is pushing us dangerously close to an unnecessary recession that would spell disaster for low-wage workers, workers of color, and vulnerable communities," the Groundwork Collaborative declared. "Workers and families shouldn't have to pay the price for inflation."
The Federal Open Market Committee rose the benchmark interest rate to a range of 4.5%-4.75%. The 25-basis-point increase was the smallest hike since March and came amid signs that the U.S. economy is cooling off.
"Chair Powell should pause his interest rate hikes and remember his dual mandate: Fight inflation without throwing millions out of work."

Fed Chair Jerome Powell said that "while recent developments are encouraging, we will need substantially more evidence to be confident that inflation is on a sustained downward path," so "we expect ongoing hikes will be appropriate."
U.S. Sen. Elizabeth Warren (D-Mass.), a major critic of the wave of increases, tweeted that "we want to bring down inflation, but that means landing the plane not crashing it. Chair Powell should pause his interest rate hikes and remember his dual mandate: Fight inflation without throwing millions out of work."
University of California, Berkeley professor and former Labor Secretary Robert Reich explained in a recent video that "the Fed is wrongly obsessing about a wage-price spiral—wage gains pushing up prices—when it should be worried about a profit-price spiral—corporate profits driving up prices."

\u201cThe Federal Reserve is continuing to raise interest rates in an effort to slow the economy. \n\nLower-wage workers and the poor bear most of the pain of these rate hikes.\n\nMeanwhile, corporate executives, Wall Street, and the wealthy get away scot-free.\u201d

— Inequality Media (@Inequality Media) 1675280125
Longtime opponents of the Fed's strategy on Wednesday renewed calls for not only the U.S. central bank to halt its hikes but also federal lawmakers to get to work battling corporate greed.
Liz Zelnick, director of the Economic Security and Corporate Power program at Accountable.Us, warned that "while the Fed continues to stick to their obsession with job-killing interest rate hikes, the livelihoods of working families are on the line."
"Key indicators show inflation is slowing as our economic recovery remains fragile, which means the Fed's higher rates are only pushing the economy closer to a recession," she said. "Meanwhile, Fed economists have admitted corporations are the real culprit of high costs yet have still refused to relax rate hikes. It's time for the Fed to back down and let policymakers rein in corporate greed rather than risk it all on another rate increase."
\u201cRoses are red \ud83c\udf39\nThe Fed wants a recession \ud83d\udcc9\nJerome Powell's gotta stop \ud83d\uded1\nWith this job loss obsession \ud83d\ude29\n\nSlower rate hikes are not enough - the Fed needs to hit pause before we tip over the edge and put millions of workers at risk of joblessness.\u201d

— Rakeen Mabud (@Rakeen Mabud) 1675280991
Patriotic Millionaires chair Morris Pearl, former managing director at BlackRock, offered a similar critique of Fed policy.
"Today's interest rate hike by the Fed is bad news for the American economy. It's true that raising rates is meant to solve inflation, but that doesn't mean it's the correct course to take right now. Raising rates may cool inflation, but it does so by making everything from mortgages to credit card payments more expensive, which hurts those already suffering the most in today's cost-of-living crisis," he said. "In this case, the cure may be worse than the disease."
"If the federal government is truly committed to slowing inflation without heaping extra pain on the vulnerable, they should go after greedy, ultraprofitable corporations and their C-suite executives," he argued. "Many corporations have used the hype over inflation in recent months to raise prices on consumers and line their pockets. Why else would corporate profits be at a 70-year high?"
"Many corporations have used the hype over inflation in recent months to raise prices on consumers and line their pockets."
Pearl pointed out that "everyone's been complaining lately about how expensive eggs are. The fact that Cal-Maine, the largest egg producer in the U.S., experienced a 10-fold increase in their profits over the last year might just have something to do with it."
As Common Dreamsreported last month, Farm Action raised concerns about "apparent price gouging, price coordination, and other unfair or deceptive acts or practices by dominant producers of eggs" and urged the Federal Trade Commission to investigate the sector, "prosecute any violations of the antitrust laws it finds within, and ultimately, get the American people their money back."
Pearl said Wednesday that "the Fed raising interest rates won't do anything to stop corporations like Cal-Maine from exploiting American consumers, unless they raise them so much as to cause a massive rise in unemployment."
"It is hard to see a scenario where this kind of action does not cause immense pain to the worst off in America," he added. "The Fed needs to back off, and let Congress step in to tackle corporate greed."

News
SUPPORT OUR WORK.
We are independent, non-profit, advertising-free and 100%
reader supported.