For Immediate Release
Contact:
Sam Husseini, (202) 347-0020; or David Zupan, (541) 484-9167
* Pope vs. Exxon? * Hunger Strike Against Pipelines and Fracking
WASHINGTON
SARAH ANDERSON, via Elaine de Leon Ahn, elaine at ips-dc.org
Anderson just wrote the piece "Papal Smackdown: Pope Francis v. Fossil Fuel Execs" for AlterNet. She directs the Global Economy Project at the Institute for Policy Studies.
FRANCIS EATHERINGTON and MELINDA TUHUS, melinda.tuhus2 at gmail.com
Tuhus is with the group Beyond Extreme Energy, which has organized a group of activists who have been fasting in Washington, D.C. for as long as 16 days. The fasters range in age from 72 to 23.
On Friday, Sept. 25, fasters, together with their supporters and leaders from several faiths, "will break bread in front of the Federal Energy Regulatory Commission in D.C. to end a dramatic 18-day fast undertaken to demand that FERC stop issuing permits for the pipelines, storage facilities and LNG export terminals that use fracked natural gas, and instead heed Pope Francis's call to care for the Earth.
"On Friday copies of the Pope's encyclical will be presented to the five FERC commissioners; and there will be music, brief statements, and a procession, featuring BXE's colorful and moving 50-foot anti-fracking banner, 'The United States of Fracking,' around the FERC headquarters block."
Eatherington said today: "I will be fasting to help FERC understand the devastation caused by permitting projects like the Jordan Cove LNG Export Terminal and pipeline in my home state of Oregon. In September FERC will be releasing their final environmental study which will likely claim there is no harm from exporting fracked natural gas from Oregon to Asia.
"FERC will allow Veresen, a foreign corporation, to take land from over 300 Oregonians, including my land, with eminent domain to build a 230-mile pipeline across our state's pristine forests and farmland, ending at Coos Bay on the Pacific coast. There, in an area overdue for a subduction-zone earthquake and tsunami, FERC will allow the LNG export terminal to be built on a sand dune."
A nationwide consortium, the Institute for Public Accuracy (IPA) represents an unprecedented effort to bring other voices to the mass-media table often dominated by a few major think tanks. IPA works to broaden public discourse in mainstream media, while building communication with alternative media outlets and grassroots activists.
LATEST NEWS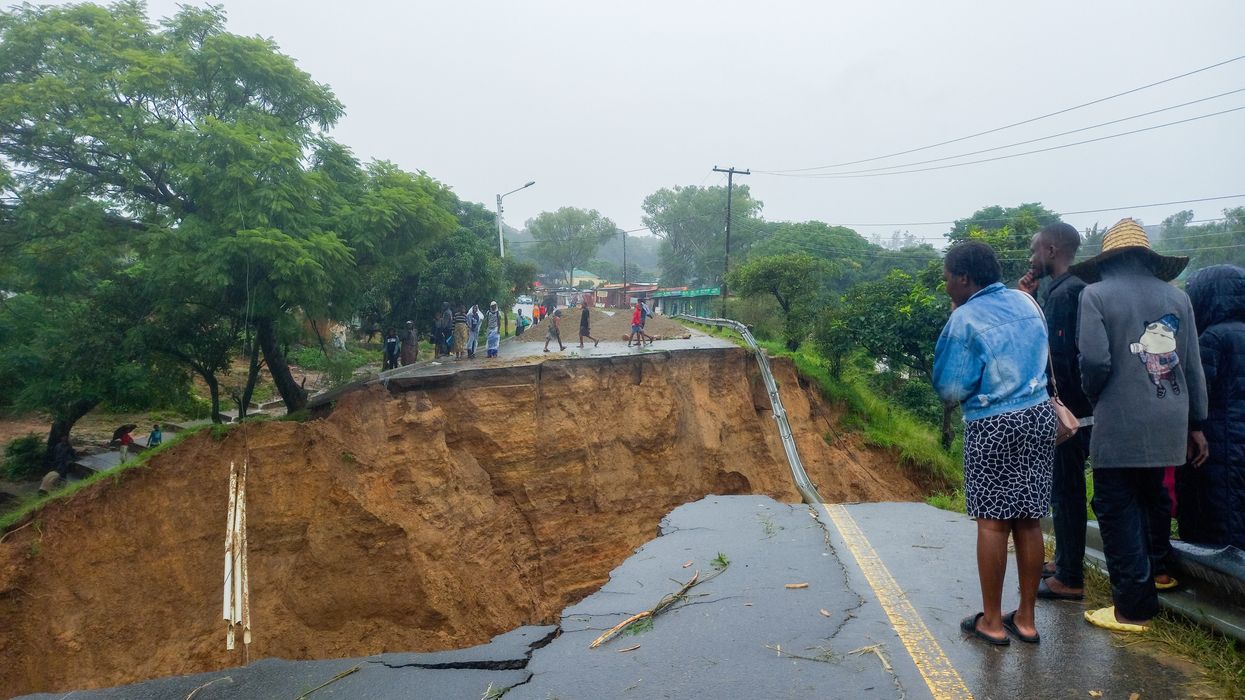 "Disasters such as these are further evidence of the injustice suffered by the nations that contribute least to the climate crisis," said one campaigner as thousands in Malawi, Mozambique, and Madagascar mourn.
As the death toll from Tropical Cyclone Freddy continues to rise, climate justice advocates are imploring the fossil fuel corporations most responsible for the destruction to reduce their planet-wrecking emissions, compensate victims, and fund rebuilding.
The intense and long-lasting storm—precisely the type of extreme weather event that scientists have warned is more likely due to unmitigated greenhouse gas pollution—has hammered the southern African countries of Malawi, Mozambique, and Madagascar in recent weeks. Flooding and mudslides have killed more than 300 people, injured hundreds of others, and displaced at least 20,000 households. Ongoing rainfall has complicated burial services and rescue efforts as hundreds remain missing.
The coal, oil, and gas firms that are the primary drivers of the climate emergency "should pay up for the damage," Greenpeace argued Wednesday.
In a Wednesday statement, 350Africa.org regional director Landry Ninteretse said, "Disasters such as these are further evidence of the injustice suffered by the nations that contribute least to the climate crisis, as they bear the brunt of the crisis by way of worsening climate impacts."
"This situation calls for the world's biggest polluters like TotalEnergies to commit to significantly lowering their greenhouse gas emissions," said Ninteretse, who specifically called on Total's French executives to abandon the company's $20 billion fracked gas project in Mozambique.
Nintereste also urged "wealthy nations and development finance institutions such as the African Development Bank to deliver climate finance to help the most affected build resilience to impacts of the climate crisis."
"We express our sympathies to the communities and partners affected by this disaster and call on humanitarian agencies to move with speed to save lives," he added.
The United Nations and its partners have ramped up emergency support this week. The agency has rescued dozens of people and delivered medical supplies, food, shelter, and other necessities. Of particular concern is shoring up water and sanitation infrastructure to prevent the further spread of cholera.
Rebecca Adda-Dontoh, U.N. resident coordinator in Malawi, said Tuesday that Freddy has "created an unprecedented crisis" in the country, where the health sector "is already overwhelmed by the worst cholera outbreak in two decades."
As Al Jazeerareported, "Malawi last year reported cases of cholera after Cyclone Anna battered the south of the country causing extensive infrastructure damage and disruption of water and sanitation systems."
Speaking in New York on Wednesday, U.N. spokesperson Stéphane Dujarric said that "we are mobilizing additional teams, but difficult weather conditions have hampered rescue efforts."
"This situation calls for the world's biggest polluters like TotalEnergies to commit to significantly lowering their greenhouse gas emissions."
Dujarric noted that the agency is "worried about the impact of heavy rains and flooding" in Mozambique, which is also grappling with a cholera outbreak.
"Large swaths of land are underwater, and roads are not passable—making it difficult for aid workers to carry out assessments," he added. "The immediate humanitarian impact and longer-term economic implications for Mozambique are enormous."
According to the World Meteorological Organization (WMO), Freddy may be the longest-lasting tropical cyclone in recorded history.
After developing off the coast of Australia on February 6, the cyclone crossed the entire South Indian Ocean, traveling nearly 5,000 miles before making landfall in Madagascar and Mozambique in late February. The storm then looped around and hit Mozambique again on Saturday before moving inland to Malawi. Torrential downpours, destructive winds, and storm surges have also pummeled Northeast Zimbabwe and Southeast Zambia.
"Freddy holds the record for most accumulated cyclone energy (ACE)—a measure based on a storm's wind strength over its lifetime—of any storm in the southern hemisphere and possibly worldwide," Al Jazeera reported. The WMO estimates that the storm has "generated about as much accumulated cyclone energy as an average full North Atlantic hurricane season."
In addition, the outlet continued, "Freddy appears to have broken the world record for the most bouts of rapid intensification, defined as an increase in wind speed of 80km (35 miles) per hour in a period of 24 hours."
As global warming causes sea levels to rise and ocean temperatures to increase, "heat energy from the water's surface is fueling stronger storms," Al Jazeera noted.
Citing the latest report from the Intergovernmental Panel on Climate Change, University of Sussex geography professor Melissa Lazenby told the outlet that "this type of extreme tropical cyclone event is not surprising due to previous predictions that cyclones will become more intense." She added that "more analysis would need to be done to deduce the reasoning behind its... longevity."
Fully aware that extracting and burning more coal, oil, and gas will exacerbate the deadly effects of the climate emergency, profit-hungry fossil fuel executives are nonetheless moving ahead with plans to expand drilling.
While COP27 delegates agreed to establish a loss and damage fund—after failing to commit to winding down the fossil fuels that are generating so much harm—previous efforts to increase climate aid from the Global North to the Global South have fallen far short of what's needed due to the stinginess of wealthy countries, especially the United States.
News
"Investing in teachers is investing in our kids," said one educator. "Investing in our kids is investing in New Zealand's future."

An estimated 50,000 New Zealand educators walked off the job Thursday to demand better pay, improved working conditions, and more government support amid a worsening cost-of-living crisis and a teacher shortage that has left many questioning their future in the profession.
The one-day nationwide strike, spearheaded by the Post Primary Teachers' Association (PPTA) and New Zealand Educational Institute (NZEI), kicked off after the trade unions rejected the Labour government's offers on pay, benefits, and other issues as inadequate to meet the needs of educators who have been under massive strain since the coronavirus pandemic began three years ago.
"I'm striking because the early years are the most important for our children," said kindergarten teacher Virginia Oakly, who joined tens of thousands of her fellow educators at Thursday's demonstrations.
"I'm striking because our kindergarten teachers currently don't have enough sick leave," Oakly added. "We know that it's one of the highest sectors in the country to suffer from illness and that has been made worse with Covid-19. We also can't get enough relievers to cover those absences because of the pay cap that doesn't recognize their experience and knowledge."
The New Zealand strike is part of a growing global wave of labor actions as teachers, nurses, transit workers, and others revolt against government austerity and pay that has lagged behind inflation, which remains elevated around the world.
The Guardianreported Thursday that New Zealand teachers "have so far turned down three pay rise offers from the government of 3%, and say they want 15% or more to continue their work."

In a report released late last year, the United Nations Educational, Scientific and Cultural Organization (UNESCO) found that "six out of 10 countries pay primary school teachers less than other professionals with similar qualifications."
"This criterion is particularly evident in high-income countries," UNESCO noted. "In five out of six countries in this group, primary school teachers earn less than other comparable professionals."

As part of their push for higher pay and better conditions, teachers in the U.K. are currently on the second day of a two-day strike, and tens of thousands of Los Angeles teachers are planning a three-day walkout beginning next week.
Last month, around 100,000 teachers took to the streets of Lisbon, Portugal to demand "respect for our profession."
New Zealand teachers, who have been engaged in contract negotiations with the government for nearly a year, echoed that call on Thursday.
"Teachers are crying out for a better work-life balance and to be recognized as the professionals that we are," said Maiana McCurdy, an Auckland primary school teacher. "As a mother, I'm striking because I want to know that my child's teacher is going to have the support they need to manage the increasingly difficult challenges that our tamariki are coming into the classroom with."
In an op-ed for The New Zealand Herald ahead of Thursday's walkouts, science and math teacher Peter Wills wrote that "we're striking so your kids can have teachers with the time to create great lessons for your children."
"Investing in teachers is investing in our kids," Wills added. "Investing in our kids is investing in New Zealand's future."

News
"This hostile takeover threatens to close schools, drive out teachers, and take away the power of local communities to elect their own leaders," said the ACLU of Texas.
Public education advocates on Wednesday were outraged as Texas Republican Gov. Greg Abbott's administration announced the state would take over the Houston Independent School District despite recent improvements in school performance that were achieved as the district remains chronically underfunded.
State education commissioner Mike Morath announced the takeover by the Texas Education Agency (TEA) in a letter to district officials, saying the decision had been made largely due to several years of low "accountability ratings" for a single high school—one of 50 high schools and 276 public schools in the city.
Phillis Wheatley High School, where 96% of students financially qualify for a free lunch program and the student body is made up almost entirely of people of color, was cited as a primary reason for the TEA's original attempt to take control of the district in 2019.
In 2015, the Republican-controlled state legislature passed a law mandating a state takeover of any school district where at least one campus was given a failing grade for student performance by the TEA for five consecutive years—a threshold Wheatley met in 2019.

HISD sued the state to block the 2019 takeover attempt, and has made strides in improving test scores since then. Wheatley earned a C grade from TEA in 2022, and the school district reduced the number of schools that earned a D or F—50 in 2019 compared to just 10 last year. According to the Texas Tribune, 94% of schools in the state's largest school district were given an A, B, or C grade last year, while HISD earned a B.
"The test scores have risen, but they're still trying to take over after we have worked so hard to accomplish that," Nyla McCullum, who is set to graduate from Wheatley this spring, told the Tribune.
The improvements have been achieved even as the state of Texas has spent more than $3,000 less per pupil on public school funding, according to the Kinder Institute for Urban Research at Rice University. HISD teachers earn nearly $1,000 less on average than other educators in Texas, teaching in a district where more than 78% of students are economically disadvantaged. More than 61% of HISD students are Latino and 22% are Black.
Despite the improvements in academic performance, the Republican-led state legislature passed education laws in recent years clearing the way for the takeover to move forward.

"The state takeover of HISD is not about public education—it's about political control of a 90% Black and brown student body in one of the country's most diverse cities," said the ACLU of Texas. "And it's not what our students and teachers need."
Under the takeover, which will officially take effect in June, the TEA will replace Superintendent Millard House II, who joined the district in 2021, and will appoint a "board of managers" in place of the district's elected board of trustees. The board will be in control of the district for at least two years, according to the Associated Press.
"The state-appointed managers will hold immense power," reportedHouston Public Media. "They can control the budget, school closures, collaborations with charter networks, policies around curriculum and library books, as well as hiring or firing the superintendent, among other important decisions."
American Federation of Teachers President Randi Weingarten called the takeover "a shameful power play" with the ultimate aim of weakening public schools.
The takeover comes as Republicans in Missouri are pushing a proposal to place St. Louis police under the control of the governor and right-wing lawmakers in Mississippi are advocating for state control of the police, courts, and the water system in Jackson, which has a higher percentage of Black residents than any other major U.S. city.
The Houston-based advocacy group Community Voice for Public Education called the takeover "an irresponsible experiment that will disenfranchise Houston voters, lead to skyrocketing teacher turnover, school closures, and endless [standardized testing] prep."
A national study in 2021 found that state takeovers of schools—which have also happened in cities including Philadelphia, New Orleans, and Detroit—did not improve academic performance. The 35 school districts the researchers examined "generally saw dips in English test scores," reportedChalkbeat, while "in math, there were no clear effects at all."
Schools in New Orleans and Camden, New Jersey also saw the number of teachers of color decline after state takeovers.

"This hostile takeover threatens to close schools, drive out teachers, and take away the power of local communities to elect their own leaders," said the ACLU of Texas.
Houston Mayor Sylvester Turner said in a statement that the TEA and Abbott's government "deserves an F on how they have handled this process up to this point."
"No community engagement, no engagement with the parents, no information being provided to the students, dropping this in the middle of spring break," Turner said.
"What other resources are you bringing to the school district that's going to have a different outcome?" he added. "What the state is saying [is], 'We are going to commit to you that there will be no failing schools in HISD.' What additional resources will you be bringing to HISD?"
News
SUPPORT OUR WORK.
We are independent, non-profit, advertising-free and 100%
reader supported.