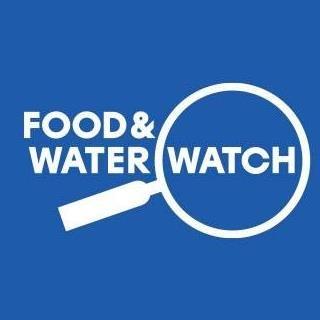 For Immediate Release
April, 30 2015, 11:45am EDT
New Map Shows 20 Percent of Oil and Gas Lies Under Public Lands
Food & Water Watch Releases Interactive Map to Show Intersection of Federal Public Lands and Shale Targeted for Drilling and Fracking
WASHINGTON
Today, national advocacy organization Food & Water Watch released an interactive map that shows the overlap between U.S. oil and gas reserves and public lands. The map shows that about 20 percent of U.S. oil and gas reserves lies beneath public lands. The map utilizes data from Esri, National Atlas of the United States, United State Energy Information Administration and the United States Geological Survey.
When President Obama's Bureau of Land Management originally proposed rules to regulate fracking on public lands, more than 650,000 public comments were delivered demanding an outright ban on the practice instead. By the end of 2014, oil and gas companies had leases on over 34 million acres of U.S. public land. Over 200 million more acres - about a third of all federal land - could be targeted for drilling.
"The only way to protect our federal lands from the dangers of fracking is to ban it entirely," said Wenonah Hauter, executive Director of Food & Water Watch. "This map shows where fracking is already taking place today, posing a serious threat to water, air and land resources. Real leadership and action is necessary to keep U.S. federal lands frack free."
On Earth Day, U.S. Reps. Mark Pocan (D-WI) and Jan Schakowsky (D-IL), members of the Safe Climate Caucus, introduced the Protect Our Public Lands Act, H.R. 1902. The legislation is the strongest anti-fracking bill introduced in Congress to date and would ban fracking on public lands. H.R. 1902 prohibits fracking, the use of fracking fluid, and acidization for the extraction of oil and gas on public lands for any lease issued, renewed or readjusted.
The interactive map can be found here: https://secure3.convio.net/fww/site/SPageNavigator/Public%20Lands%20Campaign/national_parks_public_lands_fracking_2014.html#_ga=1.254163656.1752102515.1430237589
Food & Water Watch mobilizes regular people to build political power to move bold and uncompromised solutions to the most pressing food, water, and climate problems of our time. We work to protect people's health, communities, and democracy from the growing destructive power of the most powerful economic interests.
(202) 683-2500
LATEST NEWS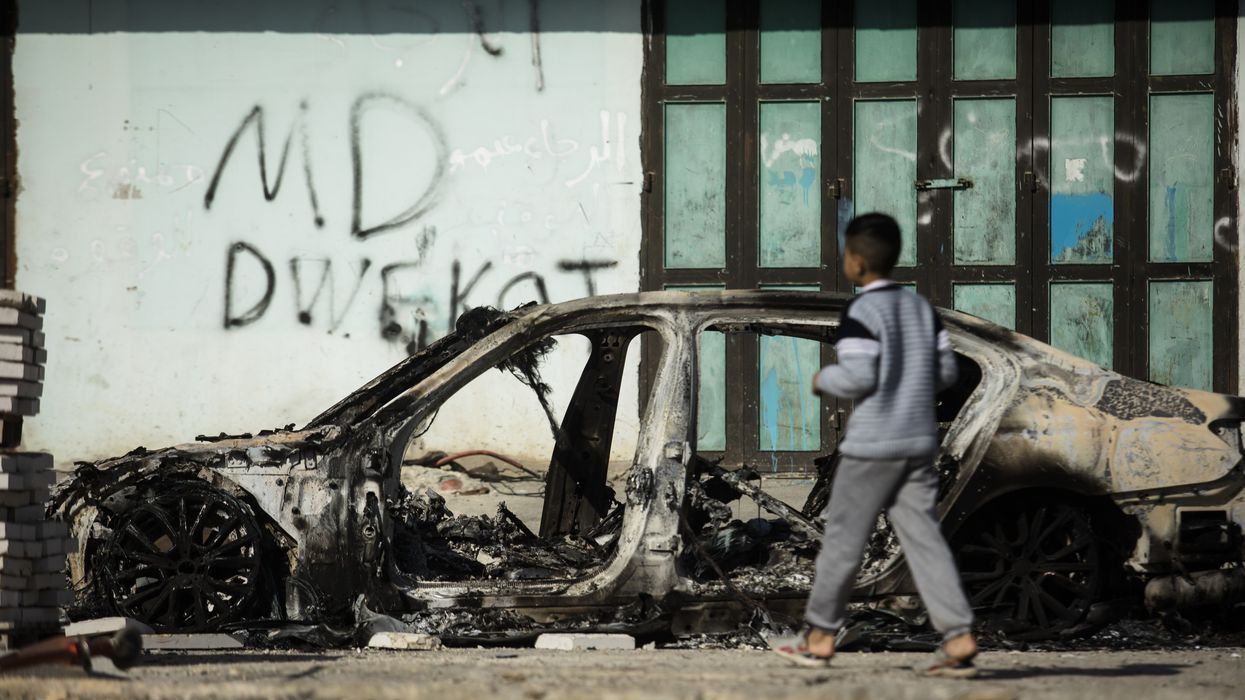 "This isn't 'loss of control,'" said B'Tselem. "This is exactly what Israeli control looks like. The settlers carry out the attack, the military secures it, the politicians back it."
Israeli settlers tore through the occupied West Bank on Sunday, violently attacking Palestinians and setting fire to their cars, houses, and businesses in what one rights group called a "pogrom" sanctioned by the far-right government of Prime Minister Benjamin Netanyahu.
The settlers, who killed at least one Palestinian and injured hundreds more, launched their assault after a suspected Palestinian gunman fatally shot two Israeli settlers while they were driving in the West Bank.
Residents of the West Bank town of Huwara described the panic they felt Sunday as settlers attacked their vehicles and shops and hurled burning tires through the windows of their homes—all while Israeli soldiers looked on, doing nothing to stop the violence.
"I never thought about the house or all our stuff, I was only thinking about my children and how to save them from this nightmare," one resident toldMiddle East Eye. "We got out of the house and off to safety with the help of the ambulance crews who were also attacked while trying to evacuate us. Our lives are in danger and all this is happening while the Israeli soldiers stand around waiting only to protect the settlers."
The act of collective punishment by Israeli settlers, whose government-backed presence on occupied Palestinian land represents a violation of international law, drew outrage from human rights organizations, including the prominent Israeli group B'Tselem.
"The Jewish Supremacist regime carried out a pogrom in the villages around Nablus yesterday," the group wrote on Twitter early Monday. "This isn't 'loss of control.' This is exactly what Israeli control looks like. The settlers carry out the attack, the military secures it, the politicians back it. It's a synergy."
"The Huwara Pogrom was an extreme manifestation of a longstanding Israeli policy," B'Tselem added. "It was carried out by the state of Israel."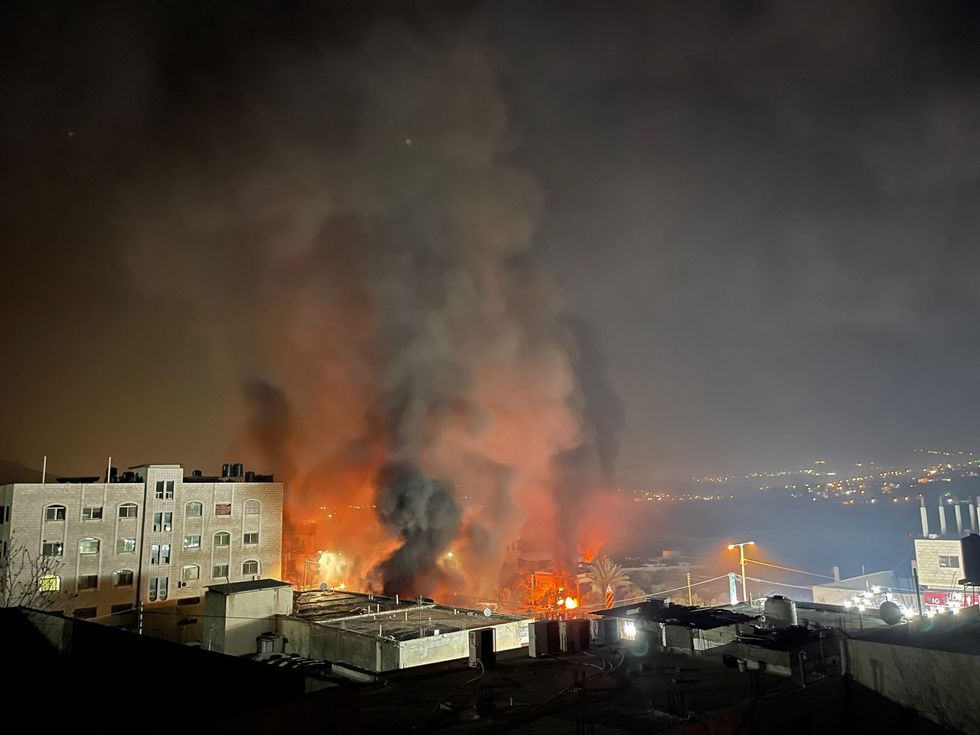 Smoke and flames rise from the West Bank town of Huwara. (Photo: Hisham K. K. Abu Shaqra/Anadolu Agency via Getty Images)
The settler attack came days after Israeli forces killed at least ten Palestinians in a raid on the West Bank city of Nablus, just north of Huwara.
Israeli forces have killed dozens of Palestinians since the start of the new year.
Just two days before the deadly Nablus raid, the U.S. backed a watered-down United Nations Security Council statement voicing opposition to "Israeli construction and expansion of settlements, confiscation of Palestinians' land, and the 'legalization' of settlement outposts, demolition of Palestinians' homes, and displacement of Palestinian civilians."
The statement marked the first time in six years that the U.S.—which has veto power in the body—allowed the U.N. Security Council to issue a statement critical of Israeli settlements. But observers warned the statement would do little to deter the far-right Israeli government, which appears bent on settlement expansion.

In a social media post on Sunday, U.S. State Department spokesperson Ned Price condemned the "violence" that took place in the West Bank, citing the "terrorist attack that killed two Israelis and settler violence, which resulted in the killing of one Palestinian, injuries to over 100 others, and the destruction of extensive property."
Responding to Price, Francesca Albanese—the U.N. special rapporteur on human rights in the occupied Palestinian territories—wrote, "I condemn Israel's 55-year-old settler-colonial occupation of Palestinian territory (and recent Israeli politicians' incitement to commit crimes) that is causing continuous violence/despicable loss of life."
"I also condemn the continuous misrepresentation of this violence and its root causes," Albanese added.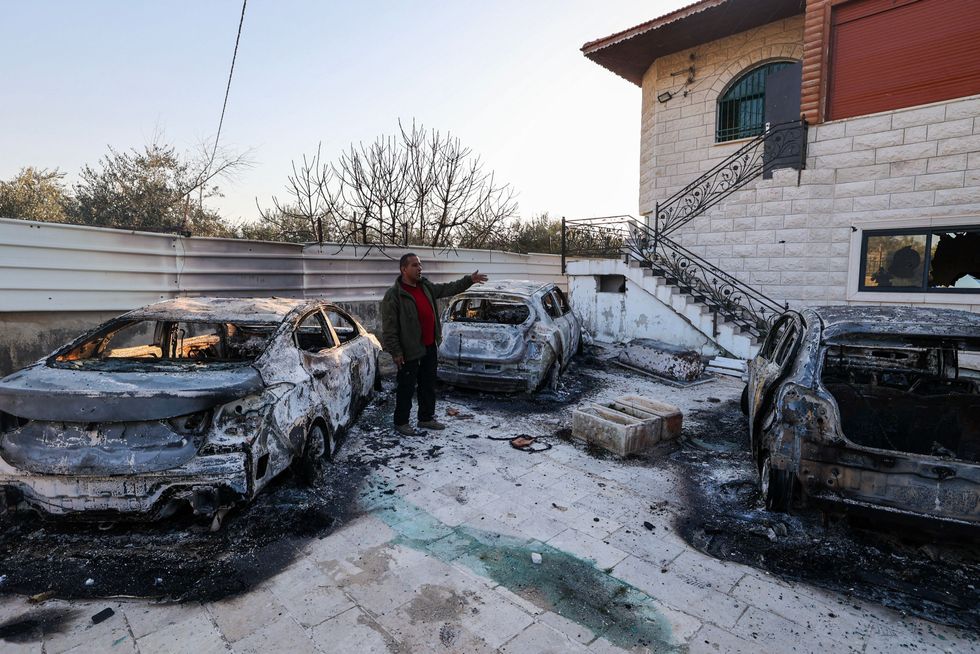 A Palestinian man stands amid torched cars near a house in Huwara. (Photo: Jaafar Ashtiyeh/AFP via Getty Images)
Netanyahu, meanwhile, merely asked settlers not to "take the law into your hands" and to let Israeli forces "carry out their work."
One Israeli lawmaker, Labor Party leader Merav Michaeli, echoed B'Tselem's condemnation of the Sunday assault as a "pogrom" and said the settlers "get their legitimacy from senior members of this government."
"This cancerous growth that threatens the country," Michaeli added, "must be excised as soon as possible before it leads us to utter ruin."
The Palestinian presidency similarly blamed far-right Israeli lawmakers—as well as members of the international community that continue to support the government—for enabling Sunday's assault.
"This terrorism and whoever stands behind it aims to destroy and thwart the international efforts exerted to try to get out of the current crisis," the statement reads. "We stand at a crossroads, either for the international community to assume its responsibilities, led by the United States of America, by obliging the Israeli government to stop its aggressions and stop the crimes of settlers immediately, or else the situation will enter into a circle of action and reaction."
News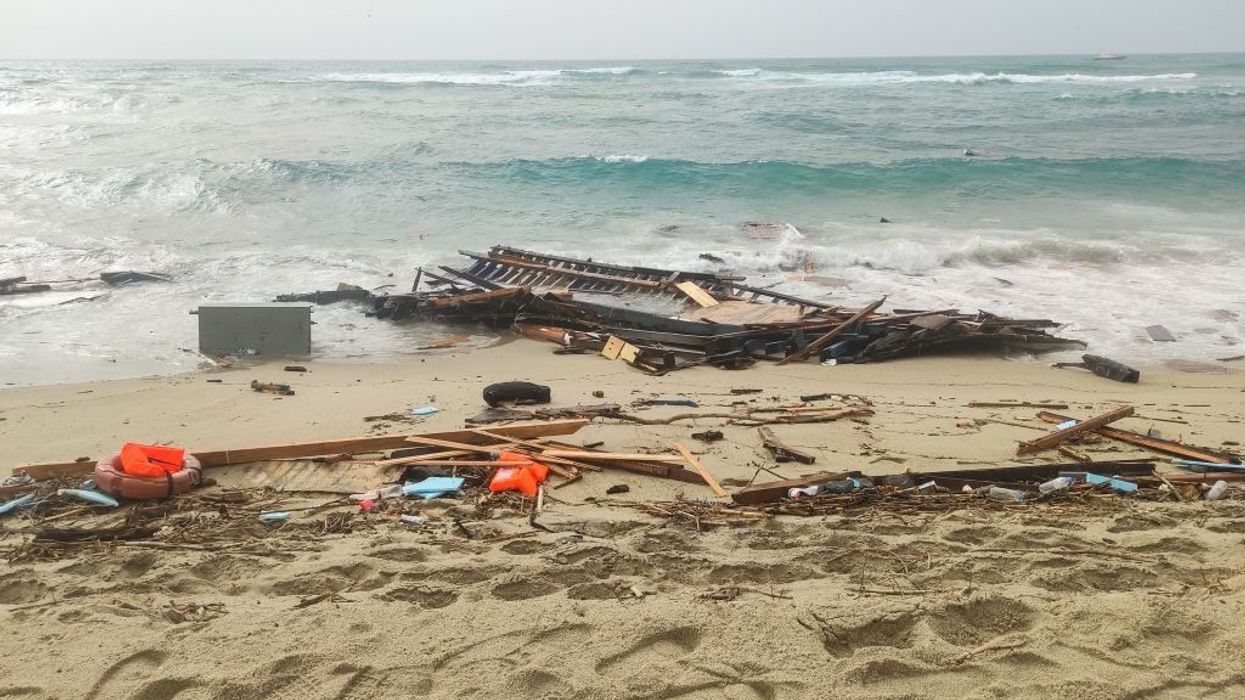 20 minors are among the dead, including one newborn
At least 58 migrants died when their overcrowded wooden boat smashed into rocky reefs and broke apart off southern Italy before dawn on Sunday, the Italian coast guard said. Survivors reportedly indicated that dozens more could be missing.
"All of the survivors are adults,″ AP quoted Red Cross volunteer Ignazio Mangione. "Unfortunately, all the children are among the missing or were found dead on the beach."
The Italian news agency ANSA said 20 minors are among the dead, including one newborn.
Italian state TV quoted survivors as saying the boat had set out five days earlier from Turkey with more than 200 passengers with people from Iran, Pakistan and Afghanistan onboard.
Prime Minister Giorgia Meloni's right-wing government-elected last year on a pledge to stop migrants from coming to Italy-has vowed to stop migrants reaching Italy's shores and in the last few days pushed through a tough new law tightening the rules on rescues.
The Guardian reported:
The prime minister Giorgia Meloni's rightwing government, which came to power in October, imposed tough measures against sea rescue charities, including fining them up to €50,000 if they flout a requirement to request a port and sail to it immediately after undertaking one rescue instead of remaining at sea to rescue people from other boats in difficulty.
Rescues in recent months have resulted in ships being granted ports in central and northern Italy, forcing them to make longer journeys and therefore reducing their time at sea saving lives. Charities had warned that the measure would lead to thousands of deaths.
\u201cAt least 58 migrants, including children, now known to have died in shipwreck just off coast of southern Italy https://t.co/UMpgDhZz9L\u201d

— BBC Breaking News (@BBC Breaking News) 1677425651
\u201c#BREAKING: At least 58 people confirmed dead after overcrowded wooden boat carrying more than 120 migrants ran into trouble in rough seas and capsized at dawn near coastal town of Crotone, in Calabria, authorities in southern Italy say \nhttps://t.co/lxE4Wn1zzv\u201d

— I.E.N. (@I.E.N.) 1677406274
\u201cAt least 43 people have died after a boat carrying migrants crashed against the rocks off the coast of southern Italy early Sunday, the Italian coast guard said in a statement. https://t.co/ZGTSQF9Opu\u201d

— Axios (@Axios) 1677427602
News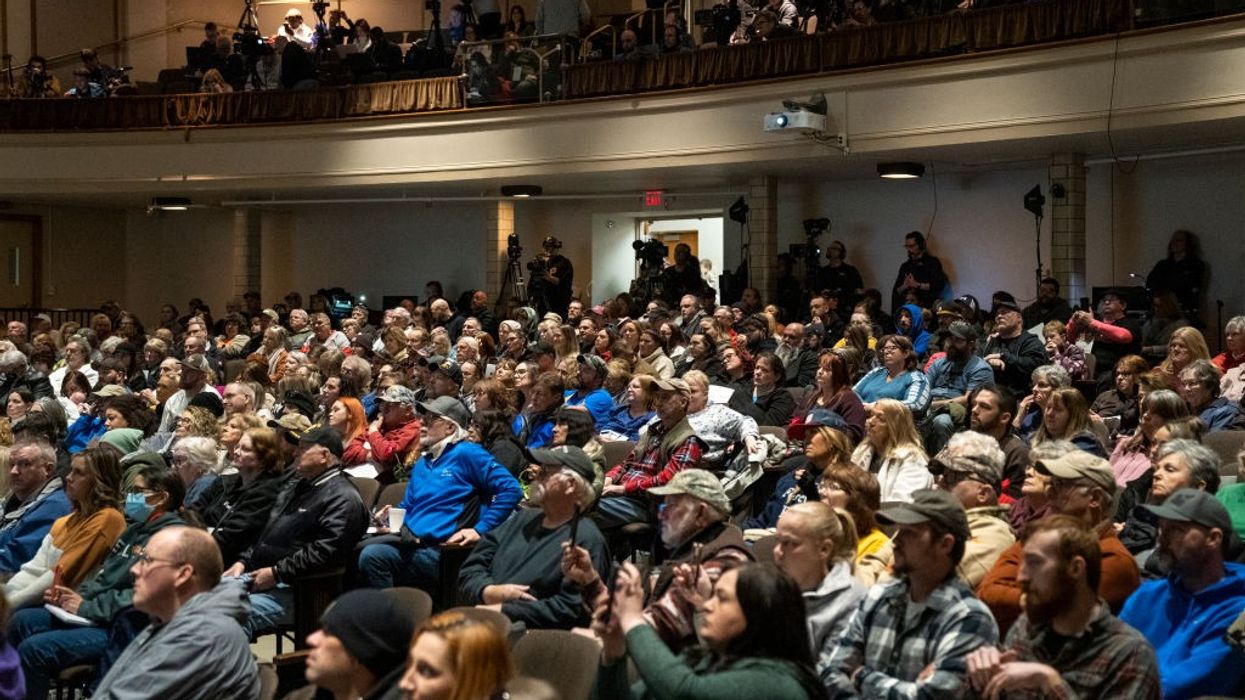 Brockovich's Friday night Town Hall filled the auditorium and also two overflow rooms at East Palestine High School
"Unfortunately, this is not a quick fix," activist Erin Brockovich said to a packed crowd in an East Palestine, Ohio High School auditorium Friday night. "This is going to be a long game."
About 2,500 people and 100 reporters attended the town hall meeting with the crowd spilling into the school gymnasium. Brockovich, who became an activist in 1993 battling Pacific Gas & Electric Co. over groundwater contamination in Hinkley, California, told the audience to fight back and trust their instincts.
Brockovich and attorneys warned of long-term health and environmental dangers from the chemicals released after the fiery train derailment in East Palestine.
"I can't tell you how many communities feel that these moments are the biggest gaslight of their life," Brockovich told the audience.

"I've never seen in 30 years a situation like this," she said, warning residents that what her team was going to present them may scare them. "... I feel your angst, and I feel your frustration. And I want to share something with you; you're not alone."
"You want to be heard, but you're going to be told it's safe; you're going to be told not to worry," she said. "That's just rubbish because you're going to worry. Communities want to be seen and heard."
"These chemicals take time to move in the water. You're going to need groundwater monitoring. People on well water: You really need to be on alert. They're going to need to implement soil vapor intrusion modeling. Believe us. It's coming," she said.
"You start getting 50 and 100,000 pissed-off moms together — I'm telling you right now: Things change," she said.
"You have the ability to become — and you will become — your own critical thinker. You will vet information; you will ask questions, you will demand answers. You will listen to that gut and that instinct that will keep you connected as a community," Brockovich said. "Don't let what's happened here divide you."
A presentation followed Brockovich's speech by Texas lawyer Mikal Watts, who cited rulings by the Ohio Supreme Court to explain why he could not offer advice on specific cases in a public meeting or stay after the meeting to answer questions.
Watts did, however, say: "I'm begging you — for your own good — go get your blood and urine tested now."
Environmental advocate Erin Brockovich joins East Palestine residents in town hall meetingEnvironmental advocate Erin Brockovich will attend a town hall meeting in East Palestine, Ohio Friday evening to talk with ...
Common Dreamsreported Friday that almost half of U.S. voters surveyed by progressive think tank Data for Progress blame rail company Norfolk Southern for the February 3 train derailment in East Palestine, Ohio which forced 1,500 residents to evacuate, contaminated soil and water, and has been blamed for causing a number of symptoms even as officials claim air and water monitoring hasn't shown dangerous levels of pollution.
Forty-nine percent of the 1,243 people surveyed by Data for Progress from February 17-22 said they believed Norfolk Southern was responsible for the crash, including 50% of Democrats, 52% of Independents, and 47% of Republicans.
\u201cThe turnout far exceed expectations. A packed house, a packed overflow location and 5k streaming participants. Just an amazing spirit. \n\nThis town is so inspiring and together I believe they can accomplish anything.\u201d

— Erin Brockovich (@Erin Brockovich) 1677296862
News
SUPPORT OUR WORK.
We are independent, non-profit, advertising-free and 100%
reader supported.