As Men at Guantanamo Hunger Strike, Human Rights Activists Respond With Fast and Demonstrations
WASHINGTON
On Sunday, March 24 human rights activists throughout the United States began a seven day fast and series of actions in solidarity with the men currently on hunger strike at the U.S. prison in Guantanamo Bay, Cuba.
Dozens of men, according to detainee lawyers, are entering their seventh week of a hunger strike to protest their indefinite detention and a new wave of alleged abuses. The U.S. Navy now reports that three hunger strikers have been hospitalized and that ten are being force fed -- a practice condemned by human rights organizations and used in efforts to "break" prior hunger strikes at Guantanamo. Attorneys also report that some hunger strikers have lost consciousness and are experiencing severe drops in body weight.
Already, Witness Against Torture (WAT) has demonstrated in locations large and small --from New York City, to Chicago, to Perrysburg, Ohio. At least 80 people nationwide are participating in the fast, with more joining each day. Activists are also writing letters to the detainees and reaching out to the White House, U.S. Southern Command and the Department of Defense with newly urgent calls that the notorious prison close.
In New York City on Sunday, Witness Against Torture created dramatic images in front of the Times Square military recruiting station, juxtaposing the iconic orange clad, black hooded figures with the advertisements for the Navy and Marines.
"It is tragic," says New York City WAT organizer Jeremy Varon, "that the men at Guantanamo should have to risk death through hunger to protest the denial of their basic rights. The hunger strike signals the colossal failure of the Obama administration, which promised to close Guantanamo, and of Congress, which has placed enormous barriers to ever shuttering the prison. If the hunger strikers start dying, we know where the blame for their deaths lies."
In Chicago, protestors gathered on Sunday in front of President Obama's private home, reading the names of all 166 men still held at Guantanamo. Pat Bronte, an attorney for several detainees in Guantanamo, told the protesters how much it means to them to know that Americans are standing with them in their pursuit of justice.
Chicago's Jerica Arents, a teacher at DePaul University, says, "Participating in the fast serves as a physical reminder to me that there are men languishing in Guantanamo, refusing food because it is the only means they have to protest their indefinite detention."
"More than four years after President Obama promised to close Guantanamo," says WAT organizer Frida Berrigan, "the U.S. government is investing tens of millions of new dollars in the prison facility. I can understand why the detained men feel so helpless about ever leaving Guantanamo and being reunited with their families. We have not forgotten them, and continue our struggle to close the prison."
Actions in New York, Illinois, California, Connecticut, Ohio, and other locations will continue throughout the week and can be viewed at www.witnesstorture.org/events/
166 men remain imprisoned at Guantanamo. 86 have been cleared for release. All are subject to indefinite detention and held at a cost to U.S taxpayers of $800,000 per year per man.
Witness Against Torture is a grassroots movement that came into being in December 2005 when 24 activists walked to Guantanamo to visit the prisoners and condemn torture policies. Since then, it has engaged in public education, community outreach, and non-violent direct action. For the first 100 days of the Obama administration, the group held a daily vigil at the White House, encouraging the new President to uphold his commitments to shut down Guantanamo.
LATEST NEWS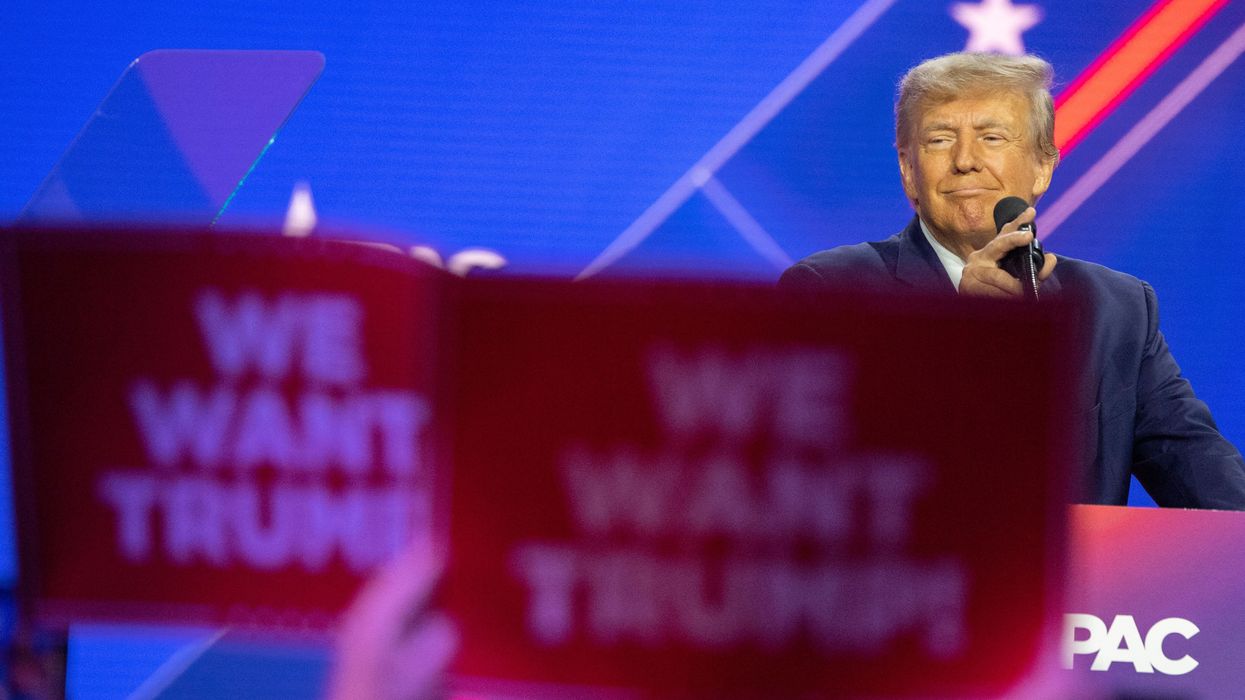 Former U.S. president headlines ousted autocrat double-header by following Brazil's Jair Bolsonaro at annual far-right convention.

The former presidents of Brazil and the United States took the stage CPAC on Saturday where both fascist politicians continued to sow doubt about their respective electoral defeats as they received standing ovations from the annual convention's far-right attendees.
Brazil's disgraced former leader Jair Bolsonaro—whose supporters stormed government offices in January after his successor, leftist President Luiz Inacio Lula da Silva, was sworn into office—was brought onto the stage this year's "diminished" CPAC gathering to blaring rock music and loud cheers from the crowd.
Addressing the American audience, Bolsonaro indicated once more his doubts that he lost the Brazilian election fairly, saying, "I had way more support in 2022 than I had in 2018, and I don't understand why the numbers said the opposite."

"I thank God for the mission of being president of Brazil for one term," he said, but hinted at a possible third run for president by adding: "But I feel deep inside that this mission is still not over."
When Trump took the podium as the convention's keynote appearance, there again was raucous applause.
During his speech, he singled out Bolsonaro in the audience and said it was a "great honor" to be appearing with the "very popular" former president.
"Our getting back in the White House is their worst nightmare," Trump said of Democrats and his other political opponents. "But it is our country's only hope."
Trump went on to call the electoral process in the United States a "very bad" and a "very dangerous system" that only he and the far-right attendees at CPAC can overcome.
\u201cTrump claims the 2020 election was so bad, that instead of Biden serving four years, people he talked to in early 2021 were saying "you'll be back [in office] in six weeks, sir"\u201d

— Aaron Rupar (@Aaron Rupar) 1677970747
During the speech, Trump vowed to "finish what we started" as the enthusiastic crowd chanted "Four more years! Four more years!"

In the traditional straw poll taken each year by CPAC attendees, Trump won in a landslide, the convention's organizers announced on Saturday, with the former president taking 65 percent of the vote.
The second-place finisher was Florida's far-right Gov. Ron DeSantis, who did not attend the gathering this year despite many viewing him as the strongest GOP challenger to Trump in a possible 2024 primary matchup.

News
"I've had fear and now this just put the anxiety over the top," said one local resident.
The collapse Friday night of a makeshift dam designed to hold back wastewater and new concerns by local groups and residents about the nearby incineration of contaminated soil from last month's train derailment are the latest anxiety-producing woes to behest the community of East Palestine, Ohio.
Watchdogs on the ground reported that the dam broke after heavy rains in the area on Friday.
According to local Channel 19 News:
Residents tell 19 News heavy rain has caused Leslie Run Creek to rise, and spill over the makeshift dam, near the derailment sight. 19 News was able to obtain several photos of water from that manmade dam covering the Main Street area of town.

Residents fear the contaminated water may seep into homes or businesses—causing another level of fear for those who live in the area.

Local resident Eric Cozza told the news outlet he was scared of what the released waters could do to the community. "I fear that now the chemical is in the ground, it's going to leech towards the water ducts, our aquifer for drinking water," Cozza said. "I'm concerned that the park is now contaminated. Kids won't be able to play there or walk through there on their way to school."
Status Coup News, which has been reporting from East Palestine and speaking with residents since the disaster occurred, reported Friday night that flooding from the breached dam was going "into The Original Roadhouse restaurant parking lot where a lot of locals eat and drink."
The outlet also reported that the pictures of the broken dam posted to social media were taken by local resident Neko Figley, who was told by contractors to leave the area because it was "super dangerous to be here right now."

\u201cFrom our organizer in East Palestine: the dam constructed to hold back toxic waste has broken after today\u2019s heavy rain and the area is flooding. \n\nSafe homes and independent testing NOW.\u201d

— River Valley Organizing (@River Valley Organizing) 1677890453
River Valley Organizing, a multi-racial, working-class group active in the Ohio River Valley region, said in a statement Friday that residents of East Palestine are still being ignored a month after 38 rail cars of a Norfolk Southern train went off the tracks on February 3.
"It's been one month since our lives were turned upside down," the group said, "but we still aren't getting what we need from the government or Norfolk Southern. We heard the people of this community loud and clear: they want safe homes, and independent environmental and health testing—now."
On Saturday, The Guardian reported on fresh fears over the incineration of contaminated soil that was taken from the crash site, not least because one of the nearby facilities where the material is being taken has a history of EPA violations. According to the Guardian:
The new plan is "horrifying," said Kyla Bennett, a former [EPA] official now with the Public Employees for Environmental Responsibility non-profit. She is one among a number of public health advocates and local residents who have slammed Norfolk Southern and state and federal officials over the decision. [...]

Incinerating the soil is especially risky because some of the contaminants that residents and independent chemical experts fear is in the waste, like dioxins and PFAS, haven't been tested for by the EPA, and they do not incinerate easily, or cannot be incinerated.

"Why on earth would you take this already dramatically overburdened community and ship this stuff a few miles away only to have it deposited right back where it came from?" Bennett asked.
She further told the Guardian that the "most important thing in my mind is the human health and health of the environment" and that burning this toxic material under such conditions flies "in the face of basic human decency and science."
Penn Future, a watchdog for air and water quality in neighboring Pennsylvania, said the incineration plans are very worrying.
"The plan to incinerate dioxin and PFAS contaminated soil from Norfolk Southern's toxic spill deeply troubles us and will continue to build distrust and anxiety," the group said. "It's not clear the plan will work and puts communities down wind at risk of contamination."
According to an update from the office of Ohio's Republican Gov. Mike DeWine, the Ohio EPA has reported that approximately 1,700 tons of solid waste have been removed from the disaster site in East Palestine as of Friday.
Of that waste, reportsThe Chronicle-Telegram, 660 tons has gone to Heritage Thermal Services—the company with a litany of past violations—in East Liverpool, Ohio, which is in Columbiana County not far from East Palestine. Another 190 tons was hauled to the Giles incinerator for in-state burning and 880 tons of the solid waste was shipped out of state to landfills in Michigan and Indiana.
Meanwhile, 3.2 million gallons of liquid wastewater have been collected in the area with the large majority going out of state, to facilities in Michigan and Texas, for deep-well injection.
Amanda Kiger, director of River Valley Organizing, said one of her concerns was the incineration of toxin-laden materials so close to the residents still reeling in East Palestine.
EPA and other government officials, she told the Guardian, "are just dumping more shit on Columbiana county," Kiger said."They say, 'We already poisoned them so it doesn't matter if we poison them more.'"
As for Cozza, who spoke with 19 News about the dam breach and whose family has already been diagnosed with skin irritations, he said the odor of chemicals is now back in the area.
"I have fear," he said. "I've had fear and now this just put the anxiety over the top."
News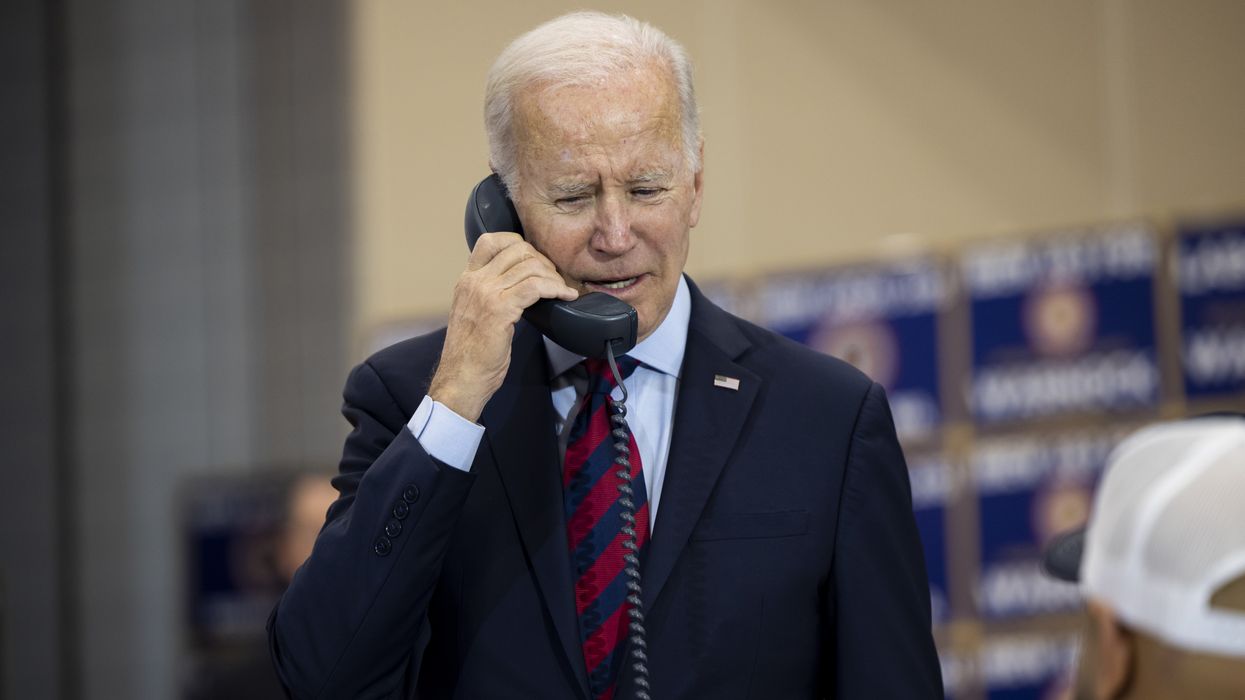 "It would be a victory for Big Oil and a huge step backwards on climate," warned Rep. Ro Khanna, who co-signed the letter.
Nearly two dozen Democratic lawmakers from the U.S. Senate and House—as well as independent Sen. Bernie Sanders of Vermont—have written to President Joe Biden imploring him to put the last nail in the coffin of an "ill-conceived and misguided" oil and gas drilling project in Alaska that experts say would destroy the president's climate legacy if approved in any form.
Led by Rep. Raúl M. Grijalva (D-Ariz.), ranking member of the House Natural Resources Committee, and Sen. Ed Markey(D-Mass.), Chair of the Senate Environment and Public Works Subcommittee on Clean Air, Climate, and Nuclear Safety, the letter urges Biden and Interior Secretary Deb Haaland to reject final approval of the 30-year ConocoPhillips' Willow Project in Alaska's National Petroleum Reserve.
"No version of the Willow [Master Development Plan (MDP)] is consistent with your commitments to combat the climate crisis and promote environmental justice, especially as reflected in the Inflation Reduction Act, historic legislation on which we all collaborated to achieve these crucial goals," the letter states.
"If allowed to proceed," the lawmakers argue, the Willow project "would pose a significant threat to U.S. progress on climate issues," citing estimates that the project could unleash upwards of $19.8 billion in climate-related damages.
\u201c.@POTUS\u2014we must stop the Willow project. It is the largest proposed oil development project on federal lands and it threatens our environment, our planet, and our future. Reject Willow now and protect the Arctic.\u201d

— Ed Markey(@Ed Markey) 1677878820
The letter comes days after White House officials floated the possibility of a scaled-back Willow Project, but environmentalists have said, as Common Dreamsreported Wednesday, that "no form of this project is OK."
The Burea of Land Management has estimated that even a scaled-back version would emit around 9.2 million metric tons of carbon dioxide each year and Earthjustice, which has fought Willow in court, has warned that the approval request now before the Interior Department "would bring at least 219 wells, 267 miles of pipelines, and 30 miles of roads to a vast public lands area in Alaska's Western Arctic, permanently altering a globally significant and ecologically rich landscape."
\u201cThe Willow Project, a massive new drilling proposal in Alaska, would devastate local wildlife and lock us into decades of dirty energy. \n\nHere are two easy ways to tell the Biden Admin to #StopWilliow:\n\n1/ Sign @NRDC's petition here: https://t.co/s0FjtCHc9n\u201d

— Julia Louis-Dreyfus (@Julia Louis-Dreyfus) 1677868714
In their letter, the lawmakers tell Biden and Haaland that the only course of action should be "no action," following the release of the final supplemental environmental impact statement (SEIS) on the project earlier this year. According to the letter:
The final SEIS includes a preferred alternative that would defer one drill site and require additional analysis for another, but we fear that the Willow MDP is intended to serve as an infrastructure hub that anchors a decades-long push towards increased drilling in the Western Arctic. Climate damage is unlikely to stop with the first phase of the Willow project; your Administration needs to draw the line now.
In a separate letter on Friday, the grassroots advocacy group Progressive Democrats of America also urged Biden to recognize the historic and legacy-building opportunity in rejecting the Willow project completely.
"We appeal to what is most honest, wise, and most courageous in you," states the group's letter, which was signed by leaders and members of PDA chapters nationwide. "To the elder in you. To the grandfather in you. Do not gamble with our lives and with the lives of generations yet unborn. Reject the Willow Oil Project."
"To the elder in you. To the grandfather in you. Do not gamble with our lives and with the lives of generations yet unborn. Reject the Willow Oil Project."
Grijalva and Markey were joined in the bicameral letter by Rep. Nanette Diaz Barragán (D-Calif.), Rep. Earl Blumenauer (D-Ore.), Rep. Jamaal Bowman(D-N.Y.), Sen. Maria Cantwell (D-Wash.), Rep. Steve Cohen (D-Tenn.), Rep. Diana DeGette (D-Colo.), Sen. Tammy Duckworth (D-Ill.), Rep. Jared Huffman (D-Calif.), Rep. Pramila Jayapal(D-Wash.), Rep. Ro Khanna(D-Calif.), Rep. Barbara Lee (D-Calif.), Rep. Mike Levin (D-Calif.), Sen. Jeffrey A. Merkley (D-Ore.), Rep. Gwen S. Moore (D-Wis.), Rep. Alexandria Ocasio-Cortez(D-N.Y.), Sen. Bernie Sanders(I-Vt.), Rep. Janice Schakowsky (D-Ill.), Rep. Darren Soto (D-Fla.), Sen. Elizabeth Warren(D-Mass.), and Sen. Ron Wyden (D-Ore.).
"The Willow Project would lead to over 9 million metric tons of carbon emissions per year," said Rep. Khanna in a social media post Friday night. "It would be a victory for Big Oil and a huge step backwards on climate."
News
SUPPORT OUR WORK.
We are independent, non-profit, advertising-free and 100%
reader supported.