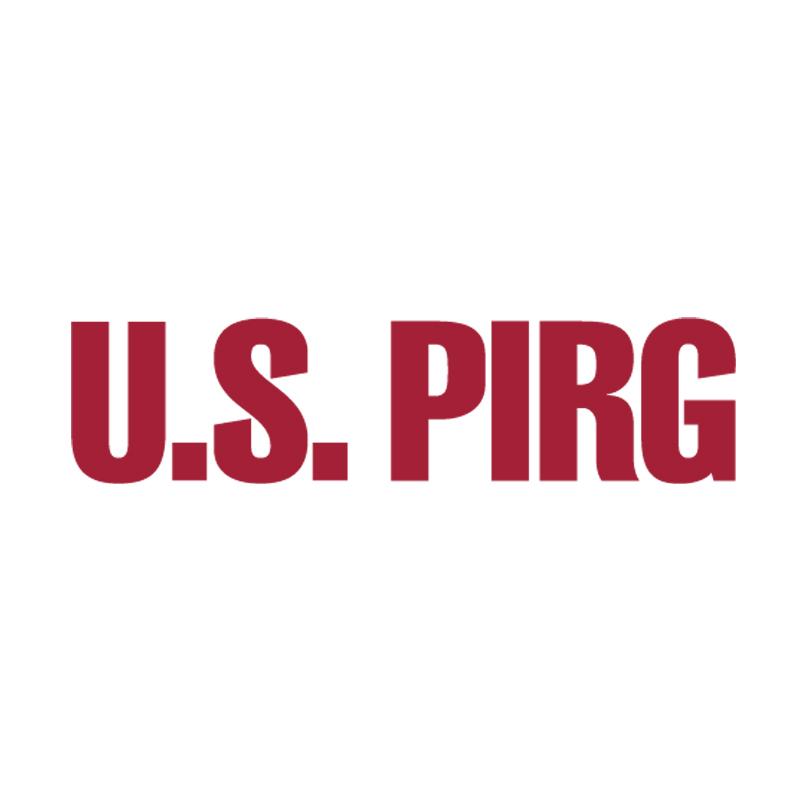 For Immediate Release
January, 10 2011, 10:05am EDT
Health Care Repeal Would Have Costly Consequences for Consumers and Small Businesses
WASHINGTON
Consumers and small
businesses will face significantly higher insurance premiums and could see
costly coverage denials and price discrimination if efforts to repeal the
federal health care law prevail in Congress or in the courts, according to The
Cost of Repeal: Examining the Impact
on Consumers and Small Businesses of Repealing the New Federal Health Care
Law, a new report released today by the U.S. Public Interest
Research Group (U.S. PIRG).
According to the report, in the short term, repeal
would strip tax credits from over four million small businesses. And over the
longer term, the cost of offering employer-based health insurance could jump
by more than $3000 a year over current law.
"In today's economy, the higher costs
that would result from repeal are the last thing that America's
consumers and businesses need," said Larry McNeely, U.S. PIRG's
Health Care Advocate.
The new
U.S. PIRG report draws on data from independent sources, including the
nonpartisan Congressional Budget Office, other government agencies, business
groups and health analysts, and finds the following:
Repealing the new state health
insurance exchange would drive premiums on the individual market up to 20%
higher for the same coverage by 2016.
Without the new law's
insurance reforms, the more than 57 million Americans who have pre-existing
conditions, ranging from asthma to cancer, will continue to face coverage
denials and price discrimination when purchasing their own insurance.
If the insurance reforms are
repealed, women will continue to pay higher prices than men for health
coverage.
Rolling back last year's
law would drive up employer health costs, resulting in 4.5 million less jobs
per year by the end of the decade.
Outright repeal would terminate
establishment or expansion of 8200 community health centers across the
country.
The U.S. House of Representatives is likely to
consider a repeal bill later this month. And Washington's intensely partisan debate
over health care threatens to spill over to the nation's state Capitols
as the Governor and state legislators consider key implementation decisions.
The
Cost of Repeal recommends a set of pro-active policy
changes on which supporters and opponents of last year's health care
law should be able to find common ground. These include:
1. Using
the substantial authority which states have under current law to design a
health insurance exchange that is adapted to meet the needs of our
state's markets, consumers, and businesses.
2. Taking
additional steps to contain health care costs, like using information
technology to ensure that doctors receive the latest research about which
treatments are most effective - at the patient's bedside.
3. Cracking
down on balance-billing, a practice whereby hospitals or providers accept
payment from a patient's insurance plan, then charge additional
amounts-above and beyond the usual co-pays and cost sharing.
"Before our elected officials join this
headlong rush to repeal, they should consider the consequences and look for
solutions that hold down costs, not increase them," said McNeely.
U.S. PIRG, the federation of state Public Interest Research Groups (PIRGs), stands up to powerful special interests on behalf of the American public, working to win concrete results for our health and our well-being. With a strong network of researchers, advocates, organizers and students in state capitols across the country, we take on the special interests on issues, such as product safety,political corruption, prescription drugs and voting rights,where these interests stand in the way of reform and progress.
LATEST NEWS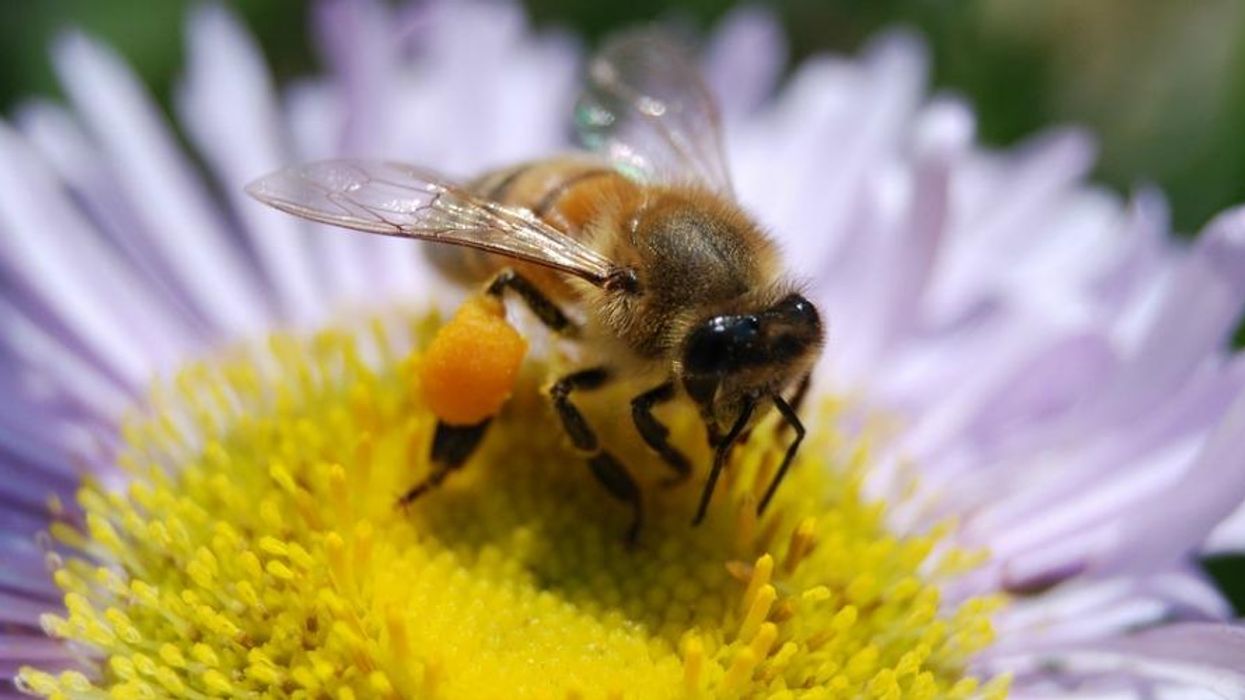 "The real 'emergency' here is our declining biodiversity," said one campaigner. "It's time farmers got support for alternatives, not a green light for using toxic chemicals."
Biodiversity defenders have sounded the alarm about the United Kingdom government's Monday decision to provide another so-called "emergency" exception for the use of an outlawed neonicotinoid pesticide lethal to bees.
"Bad news again for bees as the U.K. government allows banned neonicotinoids in our fields against the advice of its own experts," Friends of the Earth campaigner Sandra Bell tweeted. "The real 'emergency' here is our declining biodiversity—it's time farmers got support for alternatives, not a green light for using toxic chemicals."
Despite U.K. guidance affirming that emergency applications should not be granted more than once, the Department for Environment, Food, and Rural Affairs (DEFRA) announced for the third straight year that it will permit the use of sugar beet seeds coated with thiamethoxam under certain conditions in England.
"If the government is serious about halting biodiversity loss by 2030, they must support farmers to explore long-term, agroecological solutions that don't threaten our endangered bee population."
Against the recommendation of an independent panel of pesticide experts, the agency approved the use of thiamethoxam just four days after the European Union's highest court ruled that providing emergency derogations for prohibited neonicotinoid-treated seeds is inconsistent with the bloc's laws. The U.K. withdrew from the E.U. in 2020.
DEFRA's emergency authorization for thiamethoxam-coated sugar beet seeds also comes one month after the U.K. government advocated for a stronger global pesticide reduction target at the United Nations COP15 biodiversity summit.
Calling the authorization "yet another shameful episode in a long list of failures to protect the U.K. environment," the British chapter of the Pesticide Action Network (PAN) said that "putting bees and other insects at risk shows just how seriously this government takes the biodiversity crisis."
"It's incredibly brazen to allow a banned bee-harming pesticide back into U.K. fields mere weeks after the government talked up the need for global ambition on reducing pesticides at the U.N. biodiversity talks in Montreal," Bell said in a statement issued by the Pesticide Collaboration, a progressive coalition of 83 health and environmental organizations, trade unions, farmer and consumer groups, and academics.
"This is the third consecutive year that the government has gone directly against the advice of its own scientific advisers with potentially devastating consequences for bees and other vital pollinators," said Bell. "The health of us all and the planet depends on their survival. The government must fulfill its duty to protect wildlife and keep pesticides off our crops for good—that means supporting farmers to find nature-friendly ways to control pests."
University of Sussex biology professor Dave Goulson has estimated that a single teaspoon of thiamethoxam—one of three neonicotinoids produced by Bayer, the German biotech corporation that merged with agrochemical giant Monsanto in 2018—is toxic enough to wipe out 1.25 billion bees.
A Greenpeace U.K. petition imploring Thérèse Coffey, a Conservative Party lawmaker serving as secretary of state for environment, food, and rural affairs, to "enforce a total ban on bee-killing pesticides" has garnered nearly one million signatures.
Describing DEFRA's move as "a huge disappointment," the Stand By Bees campaign on Tuesday urged supporters to "continue pushing" and "write to your local MP."
In 2013, the European Commission banned the use of thiamethoxam and two other hazardous neonicotinoids produced by Monsanto—clothianidin and imidacloprid—on bee-attractive crops including maize, rapeseed, and some cereals. This was followed by a prohibition on all outdoor uses in 2018, which the European Court of Justice upheld in 2021, rejecting an appeal by Bayer.

The Pesticide Collaboration warned Monday that DEFRA's latest authorization for thiamethoxam-coated sugar beet seeds "raises wider concerns over whether the government will maintain existing restrictions on neonicotinoids and other harmful pesticides, or whether they may be overturned as part of a forthcoming bonfire of regulations that protect nature, wildlife, and communities."
At issue is the Retained E.U. Law Bill, which threatens to rescind E.U.-era environmental standards and other measures enacted prior to Brexit.
"It is inexcusable to see England falling so far behind the E.U. on regulations in place to prevent such a detrimental impact on biodiversity," Soil Association, a U.K.-based research and advocacy group, tweeted Tuesday. "It's not credible to claim an exemption is 'temporary' or 'emergency' when it is used year after year. How many more years will it happen?"
According to Amy Heley of the Pesticide Collaboration: "In previous years, DEFRA insisted that the sugar industry must make progress in finding alternatives, but we are yet to see any outcomes of this. The Pesticide Collaboration is deeply concerned that this emergency derogation is simply another example of the government failing to follow through on their own pledges to improve the environment and protect human health."
As Joan Edwards, director of policy & public affairs at the Wildlife Trusts, noted Monday: "Just last month, the Secretary of State Thérèse Coffey committed the U.K. to halving the environmental impact of damaging pesticides by 2030. However, today she has incompatibly authorized the use of a banned neonicotinoid, one of the world's most environmentally damaging pesticides."
"Only a few days ago, the E.U.'s highest court ruled that E.U. countries should no longer be allowed temporary exemptions for banned, bee-toxic neonicotinoid pesticides," said Edwards. "Yet this government deems it acceptable to allow the use of a toxic pesticide that is extremely harmful to bees and other insects, at a time when populations of our precious pollinators are already in freefall. This is unacceptable."
The Soil Association, meanwhile, argued that "if the government is serious about halting biodiversity loss by 2030, they must support farmers to explore long-term, agroecological solutions that don't threaten our endangered bee population."
"Neonicotinoids simply have no place in a sustainable farming system," the group added.
News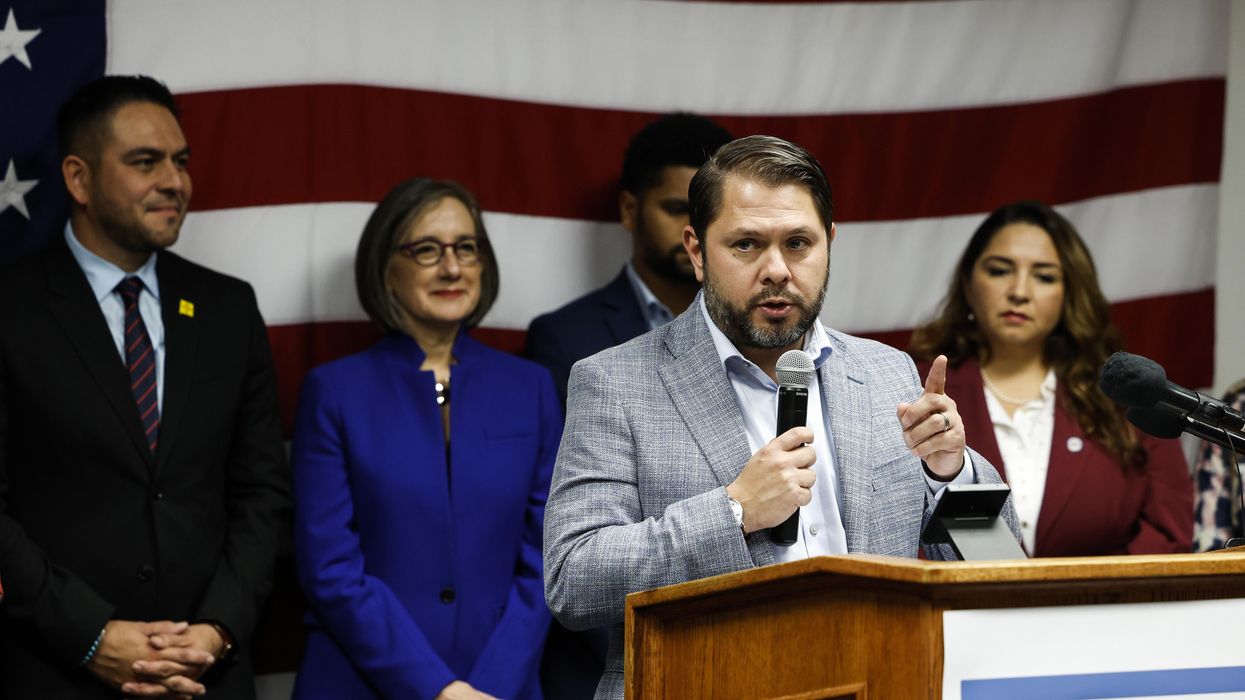 "We're running a grassroots campaign to take back this seat for hardworking Arizonans, and this fundraising record proves that."
Just over 24 hours after announcing his 2024 U.S. Senate candidacy for Sen. Kyrsten Sinema's seat in Arizona, Democratic Rep. Ruben Gallego set multiple fundraising records and made clear the vast difference between his approach to public service and that of his opponent.
Gallego announced he has already raised more than $1 million, bringing in more than 27,000 donations since launching his campaign Monday morning.
The congressman broke Sen. Mark Kelly's (D-Ariz.) previous 24-hour fundraising record in the state—doing so in just eight hours—and distinguished his relationship with small donors from Sinema's (I-Ariz.) reliance on Wall Street and corporate PACs for contributions.
The individual donations Gallego has already received in just one day surpass the amount that "Sen. Kyrsten Sinema has received in the last three years," said his campaign.
The early fundraising haul "speaks to the excitement and grassroots support for his candidacy and the momentum behind the campaign to return Sen. Sinema's seat back to the hands of everyday Arizonans," the campaign added.
"I am extremely grateful for the support our campaign has received since entering this race," said Gallego. "We're running a grassroots campaign to take back this seat for hardworking Arizonans, and this fundraising record proves that. While Sen. Sinema collects huge checks from powerful special interests, this campaign is going to be funded by the people, and that's the way it should be."
As the donations poured in, Gallego appeared on MSNBC's "The Last Word" to say he supports reforming the legislative filibuster, which he called a "tool of obstruction" that Sinema supports and has called an "important guardrail for the institution."
He also announced a number of in-person events he plans to hold in the coming weeks across the state, noting that Sinema has been criticized for not holding public town halls with her constituents and instead attending high-dollar fundraisers.
"Arizona: You've been neglected by Washington for far too long," said Gallego, announcing events in Tucson, Navajo Nation, Phoenix, and other cities. "I'm sorry that your senator, Kyrsten Sinema, has let you down. But I'm going to change that."
\u201cTUCSON!! This Saturday at 10am, come out and join us at the Plaza at Hotel Congress for our Tucson launch event! When I say EVERY Arizonan, I mean EVERY Arizonan \u2013 I want to hear from YOU! https://t.co/B2yXW6ainK\u201d

— Ruben Gallego (@Ruben Gallego) 1674587592
Last October, the progressive think tank Data for Progress released polling that showed in a hypothetical matchup, Gallego had the support of 62% of Arizona voters, compared to 23% who said they would back Sinema over him.

News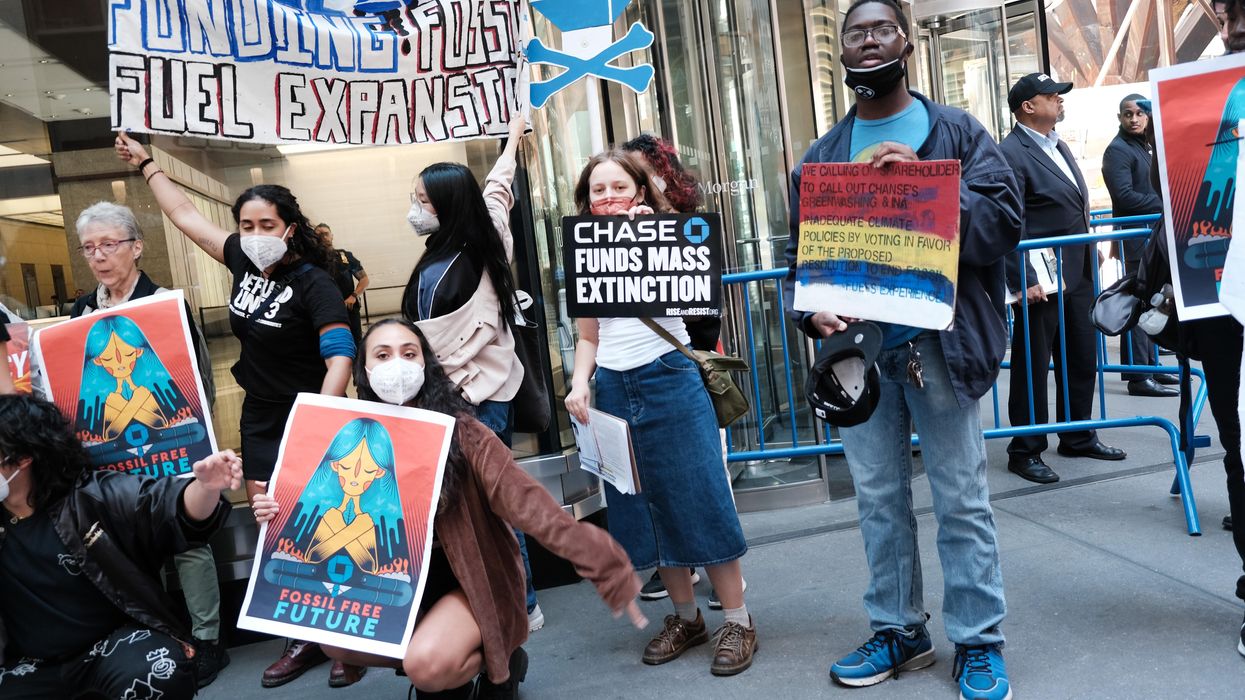 "Any climate commitment from a bank that is still financing fossil fuel expansion is greenwashing, pure and simple," said a Stop the Money Pipeline campaigner.

Taking aim at Wall Street banks financing the oil, gas, and coal extraction fueling the climate crisis, a coalition of institutional investors on Tuesday announced the filing of climate-related shareholder resolutions in an effort to force "more climate-friendly policies that better align with" the firms' public commitments to combating the planetary emergency.
In the resolutions, members of the Interfaith Center on Corporate Responsibility (ICCR) and Harrington Investments asked six banks—Bank of America, Goldman Sachs, JPMorgan Chase, Morgan Stanley, Citigroup, and Wells Fargo—to enact policies phasing out fossil fuel finance, disclose plans for aligning their financing with their stated near-term emissions reduction goals, and to set absolute end-of-decade emissions reduction targets for their energy sector financing.
Shareholders also filed climate resolutions at four companies—Chubb, Travelers, The Hartford, and Berkshire Hathaway—that insure fossil fuel projects.

"Each of the major banks has publicly committed to aligning its financing with the goals of the Paris agreement to achieve net-zero emissions by 2050, a target widely considered imperative to avoid catastrophic climate impacts and financial losses," ICCR said in a statement. "Scientific consensus shows that new fossil fuel expansion is incompatible with achieving net-zero by 2050, yet these banks continue to invest billions of dollars each year in new fossil fuel development—a fact corroborated by a new Reclaim Finance report released last week."
\u201cBREAKING: @ICCRonline members filed two shareholder proposals for 2023 calling on US banks @jpmorgan @BankofAmerica @Citibank @WellsFargo @GoldmanSachs @MorganStanley to implement more climate-friendly policies & better align with their net zero pledges https://t.co/D000QaI2L6\u201d

— ICCR (@ICCR) 1674575085
As Stop the Money Pipeline—a coalition of over 200 groups seeking to hold "financial backers of climate chaos accountable"—noted:
A slate of resolutions calling for policies to phase out financing for fossil fuel expansion was filed by the same investors at U.S. banks in 2022. They received between 9% and 13% support, which was a significant milestone for these first-of-their-kind proposals. This year's fossil fuel financing proposals have been updated to encourage banks to finance clients' low-carbon transition so long as those plans are credible and verified. The previous resolutions were supported by many major institutional investors, including the New York State and New York City Common Retirement Funds.

New in 2023 are the resolutions on absolute emissions reduction targets for energy sector financing filed by the New York City and New York State comptrollers, and the resolutions calling for disclosure of climate transition plans filed by As You Sow. The day before the resolutions were filed, Denmark's largest bank, Danske, announced a phaseout of corporate financing for companies engaged in new coal, oil and, gas development.
"Any climate commitment from a bank that is still financing fossil fuel expansion is greenwashing, pure and simple," Arielle Swernoff, U.S. banks campaign manager at Stop the Money Pipeline, said in a statement. "By supporting these resolutions, shareholders can hold banks accountable to their own climate commitments, effectively manage risk, and protect people and the planet."
\u201cNEW! Investors have filed climate shareholder resolutions at major US and Canadian banks.\n\nOur response \u2b07\ufe0f\nhttps://t.co/NYbLsbCevF\u201d

— Stop the Money Pipeline (@Stop the Money Pipeline) 1674580274
Dan Chu, executive director of the Sierra Club Foundation—which led the filing at JPMorgan Chase—lamented that "all major U.S. banks continue to finance billions of dollars for new coal, oil, and gas projects every year. Such financing undermines the banks' net-zero commitments and exposes investors to material risks."
"These shareholder resolutions simply ask banks to align their promises with their actions and to adopt policies to phase out the financing of new fossil fuel development," Chu added.
Referring to a warning from the International Energy Agency, Kate Monahan of Trillium Asset Management—which spearheaded the Bank of America filing—said that "we will not be able to achieve the Paris agreement's goal of limiting warming to 1.5°C if banks continue to finance new fossil fuel exploration and development."
"Bank of America has publicly committed to the Paris agreement but continues to finance fossil fuel expansion with no phaseout plan, exposing itself to accusations of greenwashing and reputational damage," Monahan contended. " By continuing to fund new fossil fuels, Bank of America and others are taking actions with potentially catastrophic consequences."
News
SUPPORT OUR WORK.
We are independent, non-profit, advertising-free and 100%
reader supported.