For Immediate Release
Contact:
Brenda Bowser Soder,bowsersoderb@humanrightsfirst.org,O -202/370-3323, C - 301/906-4460
Rights Groups Urge Secretary Clinton to Highlight Plight of Roma in France
Say U.S. voice is needed as Europe's Roma are under pressure
WASHINGTON
Human Rights First today urged U.S. Secretary of State Hillary
Clinton to comment publicly on the expulsions of Roma from France and
the discourse of intolerance used by some French politicians. In a
letter also signed by Amnesty International USA, Council for Global
Equality, European Roma Rights Center, Freedom House, Human Rights
Watch, Open Society Institute, and the Public Interest Law Institute,
the groups noted Secretary Clinton's long-term commitment to promoting
the rights of Roma and urged the U.S. State Department to specifically
address the ongoing situation in France.
Across Europe, Roma are currently facing an array of discriminatory and segregatorypolicies.
Increasingly, Roma individuals and communities are victimized by
private acts of bias-motivated violence, or hate crime, that further
threatens the security of this vulnerable population. On numerous
occasions, the United States has pronounced its motivation to combat
discrimination, segregation, and violence against Roma.
"Your support would not only draw attention to this particular
violation of human rights, but also signal to other countries where Roma
are facing significant challenges that the U.S. takes seriously
discrimination and collective action against ethnic minorities," the
groups' letter to Secretary Clinton notes.
Since July 2010, the French government has dismantled two hundred
camps populated by Roma and Traveler groups. It has also expelled
approximately 1,230 Roma individuals from France back to their countries
of origin, mainly Romania and Bulgaria, though a variety of means such
as mandatory deportation orders and so-called "voluntary" repatriations.
Rights groups maintain that such singling out of a particular ethnic
group for law enforcement action is impermissible, and the French
expulsions appear to violate numerous due process guarantees provided
for by European Union (E.U.) law.
E.U. laws assert the right of each E.U. citizen to move freely across
the territories of its 27 member states. The European Commission, the
executive body responsible for enforcing E.U. laws, is currently
evaluating if France's actions are in compliance with the E.U. Charter
of Fundamental Rights, as well as Directive 2004/38/EC.
According to the rules, individuals who no longer fulfill residency
requirements can only be expelled if the decision is proportionate and
sent to them one month in advance "in writing, fully justified and open
to appeal." Collective expulsions are prohibited--as is ethnic
profiling--and each case must be studied separately.
"Since you have championed human rights and Roma rights in
particular, your response to these expulsions is critical. We urge you
to speak today to show political condemnation of France's handling of
the Roma evictions and expulsions, as well as the negative stereotyping
of Roma by French politicians. The alternative--silence--may only
undermine the security and safety of Roma throughout Europe," the
groups' letter
Human Rights First is a non-profit, nonpartisan international human rights organization based in New York and Washington D.C. Human Rights First believes that building respect for human rights and the rule of law will help ensure the dignity to which every individual is entitled and will stem tyranny, extremism, intolerance, and violence.
LATEST NEWS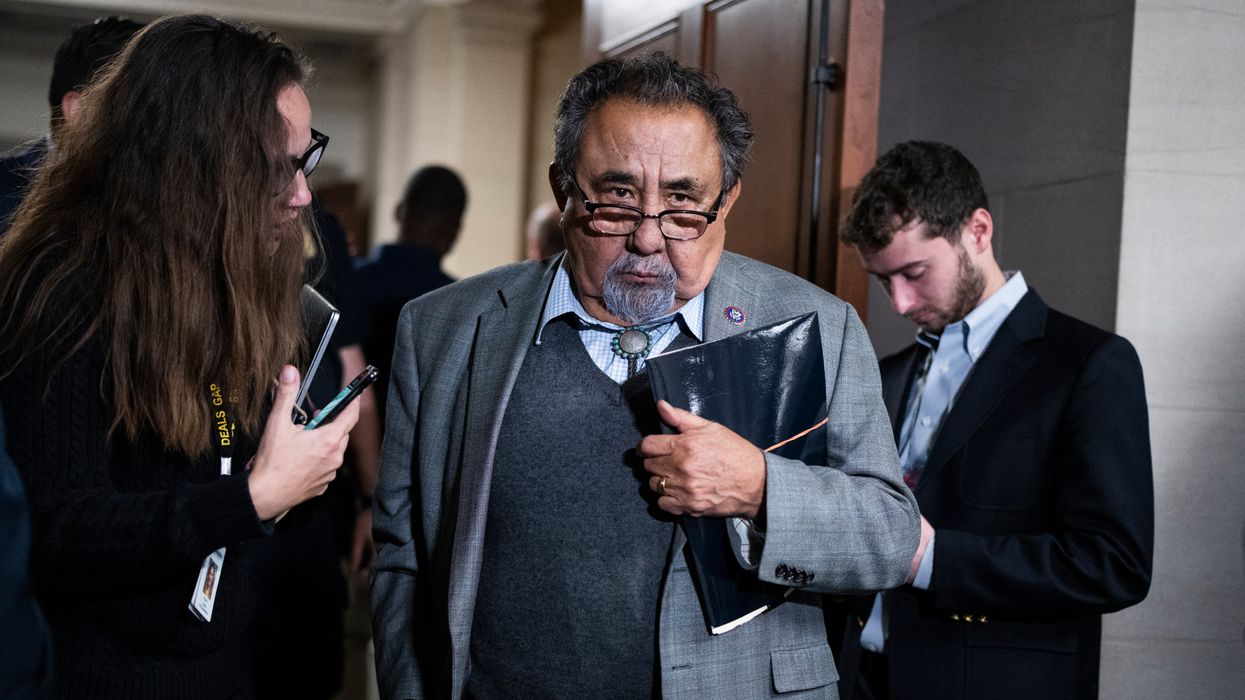 Rep. Raúl Grijalva said the practice "serves two purposes: lining the pockets of private prison companies and acting as a useless deterrent to prevent migrants from seeking their legal right to asylum."
Reports that the Biden administration is considering a plan to revive migrant family detentions drew outrage from members of the president's own party on Tuesday, with Democratic lawmakers imploring the White House to reject the cruel practice that it largely shut down in late 2021.
Rep. Raúl Grijalva (D-Ariz.), who condemned the use of family detention under the Obama and Trump administrations, said in a statement that the policy "serves two purposes: lining the pockets of private prison companies and acting as a useless deterrent to prevent migrants from seeking their legal right to asylum."
"This failed policy is callous and inhumane," Grijalva added. "I urge President Biden to instead focus on the root causes of migration, expanding our nation's asylum process to ensure that it is fair, humane, and orderly, and reunite the children forcibly separated under the previous administration."
On Tuesday evening, Reps. Pramila Jayapal(D-Wash.), Judy Chu (D-Calif.), and Nanette Barragán (D-Calif.)—respectively the chairs of the Congressional Progressive Caucus, the Congressional Asian Pacific American Caucus, and the Congressional Hispanic Caucus—issued a joint statement calling on the Biden administration to dismiss "this wrongheaded approach."
To bolster their case against family detention, the trio quoted Biden's Homeland Security Secretary Alejandro Mayorkas, who declared in March 2021 that "a detention center is not where a family belongs."

"We should not return to the failed policies of the past," the lawmakers said. "There is no safe or humane way to detain families and children, and such detention does not serve as a deterrent to migration. We strongly urge the administration to reject this wrongheaded approach."
The responses from Democratic lawmakers came as the White House refused to say whether family detention is under consideration as the administration prepares for the May lapse of Title 42, a Trump-era migrant expulsion policy that Biden has expanded despite claiming to oppose it.
\u201cPresident Joe Biden wants to bring back family detention.\n\nLet me remind you what family detention is. These are basically jails where the government locks up immigrant mothers with their children.\n\nSounds inhumane? They are.\ud83d\udc47\ud83c\udffeThis was the T. Don Hutto detention center.\u201d

— Erika Andiola (@Erika Andiola) 1678210780
Speaking to reporters on Tuesday, White House Press Secretary Karine Jean-Pierre dodged questions about family detention, calling reports on the administration's internal policy discussions "rumors."
"I'm not saying it's being considered," said Jean-Pierre, "and I'm not saying it is not. I'm saying that I'm not going to speak to rumors. There are rumors out there. Clearly, the Department of Homeland Security is working through ways on how to move forward once Title 42 is lifted. I'm just not going to get into speculations."
Citing an unnamed source "working closely with the White House migrant policy team," The New Republic's Pablo Manríquez reported Tuesday that White House domestic policy adviser Susan Rice—who previously served as national security adviser under the Obama administration—"has been pushing for a reinstatement of family detention."
Immigration and Customs Enforcement (ICE) facilities that previously held migrant families who crossed into the U.S. via the southern border are now used to detain individuals. The Biden administration's current policy allows families to enter the U.S. under surveillance as their cases proceed through the court system.

One unnamed official toldThe Guardian on Tuesday that if families are detained under new Biden administration policy, "they would be held for short periods of time, perhaps just a few days, and their cases expedited through immigration court."
That the Biden administration would even consider returning to family detention infuriated immigrant rights groups, some of which took legal action against previous administrations over the policy.
"This shameful and immoral practice, which President Biden has rightly condemned and discontinued, inflicts lasting harm on children and families," said Kica Matos, executive vice president of programs and strategy at the National Immigration Law Center. "It goes against the values we aspire to as a nation, while doing nothing to advance a humane and orderly immigration system."
"Reviving family detention sets us back and sends a misguided message that criminalizing those seeking refuge is the right solution," Matos argued. "It would be a grave error and a new low for an administration already down a backwards path of embracing failed deterrence policies at the border."
Anthony Romero, the ACLU's executive director, vowed that his organization will fight Biden "every step of the way" if he revives family detention.
"How we choose to respond to the children and families fleeing violence and persecution who come to our border seeking safety says a lot about who we are as a nation," said Romero. "Putting children and their parents behind barbed wire to deter them from seeking safety should shock the conscience of every American who believes in fairness, safety, and basic human dignity for all people."
News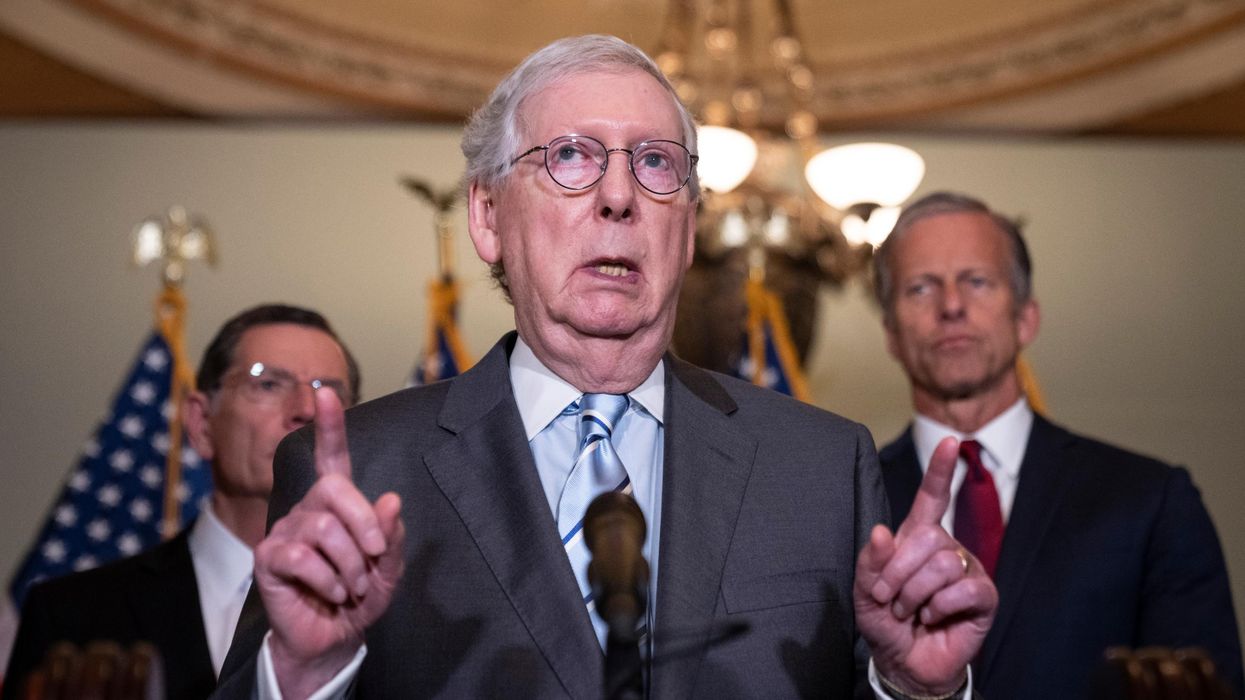 "The American people saw what happened on January 6," said one Republican lawmaker. "They've seen the people that got injured, they saw the damage to the building."

After Fox News' Tucker Carlson falsely dismissed the January 6, 2021 attack on the U.S. Capitol by supporters of former President Donald Trump as mostly nonviolent, numerous Republican senators including Minority Leader Mitch McConnell on Tuesday blasted the right-wing opinion host's "whitewashing" of the deadly insurrection.
Carlson—who publicly promoted former President Donald Trump's 2020 election lies while privately calling the GOP loser's claims "absurd"—said Monday on his program that "very little about January 6 was organized or violent" and that "surveillance video from inside the Capitol shows mostly peaceful chaos."
Recently deposed as part of Dominion Voting Systems' $1.6 billion defamation lawsuit against Fox News, Carlson echoed colleagues who said under oath that they didn't actually believe Trump's "Big Lie" that the 2020 presidential contest was stolen by Democrats.
"I thought it was an insurrection at that time. I still think it was an insurrection today."
While some of the eight Republican senators (and 135 House members) who voted against certifying President Joe Biden's Electoral College victory have stuck by the Big Lie, numerous others pushed back hard against Carlson's reimagination of the worst attack on the Capitol since Puerto Rican nationalists launched an armed assault on the building in 1954.

"I think it's bullshit," Sen. Thom Tillis (R-N.C.) told reporters Tuesday when asked what he thought of Carlson's narrative. "When you see police officers assaulted, all of that... if you were just a tourist, you should've probably lined up at the visitors' center and came in on an orderly basis."
Also speaking Tuesday, McConnell (R-Ky.) said that Fox News "made a mistake" by airing Carlson's spurious revision of the deadly insurrection.
"With regard to the presentation on Fox News last night, I want to associate myself entirely with the opinion of the chief of the Capitol Police about what happened on January 6," McConnell declared.
As he spoke, McConnell held up a printout of remarks from U.S. Capitol Police Chief Tom Manger, who called Carlson's account "filled with offensive and misleading conclusions" and "conveniently cherry-picked from the calmer moments of our 41,000 hours of video."
Asked whether he thought U.S. House Speaker Kevin McCarthy (R-Calif.) erred in giving Carlson exclusive access to the footage—a move that prompted watchdogs on Tuesday to call for an Office of Congressional Ethics probe—McConnell said that "my concern is how it was depicted."
"Clearly," he added, "the chief of the Capitol Police correctly described what most of us witnessed on January 6."

Sen. Lindsey Graham (R-S.C.), the ranking Republican on the Senate Judiciary Committee, joined in the criticism of Carlson, saying, "We don't want to whitewash January the 6th."
"I think the January 6 committee had a partisan view of things, and I'd like to know more about what happened that day and the day before," Graham added. "But I'm not interested in whitewashing the Covid lab theory, and I'm not interested in whitewashing January 6."
Sen. Mitt Romney (R-Utah) accused Carlson of "feeding falsehoods" to his viewers.

"It's really sad to see Tucker Carlson go off the rails like that," the 2012 Republican presidential nominee told reporters. "The American people saw what happened on January 6. They've seen the people that got injured, they saw the damage to the building."
"You can't hide the truth by selectively picking a few minutes out of tapes and saying this is what went on," he added. "It's so absurd. It's nonsense. And people saw that it was violent and destructive and should never happen again. But trying to normalize that behavior is dangerous and disgusting."

Sen. Kevin Cramer (R-N.D.) condemned Carlson's framing of the attack as "some rowdy peaceful protest of Boy Scouts."
"I think that breaking through glass windows and doors to get into the United States Capitol... is a crime," Cramer argued. "I think... when you start opening the members' desks, when you stand up in their balcony—to somehow put that in the same category as, you know, permitted peaceful protest is just a lie."
Sen. Mike Rounds (R-S.D.) got straight to his point: "I thought it was an insurrection at that time. I still think it was an insurrection today."
Senate Majority Leader Chuck Schumer (D-N.Y.), meanwhile, called on Fox to keep Carlson off the air this evening.
"To say January 6 was not violent is a lie. A lie, pure and simple," Schumer said on the Senate floor.
"I don't think I have ever seen a prime-time cable news anchor manipulate his viewers the way Mr. Carlson did last night," he added. "I don't think I've ever seen an anchor treat the American people and American democracy with such disdain. And he is going to come back tonight with another segment. Fox News should tell him not to."
News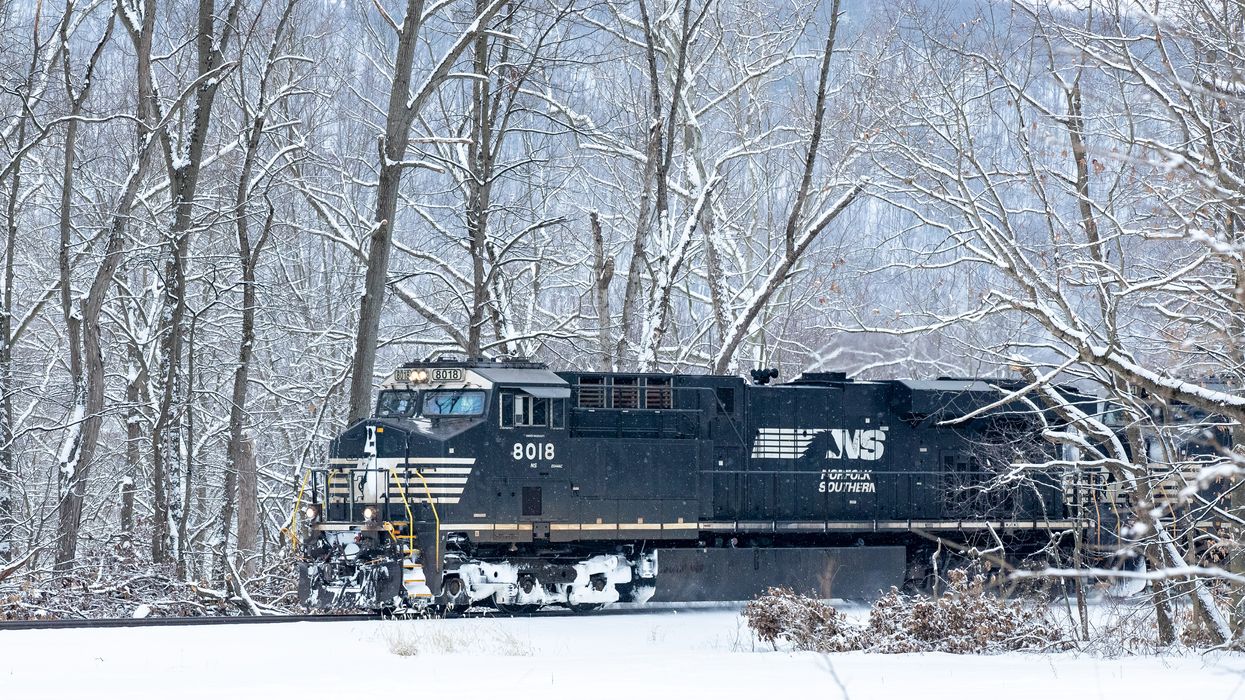 "All railroad accidents are avoidable," said BLET's national president. "This collision underscores the need for significant improvements in rail safety for both workers and the public."
A Norfolk Southern conductor was killed in Ohio early Tuesday, elevating scrutiny of the rail giant and calls for dramatic improvements to industry safety regulations in the wake of a devastating derailment in the state last month.
Louis Shuster, president of the Brotherhood of Locomotive Engineers and Trainmen (BLET) Division 607, was fatally injured when a dump truck collided with a train while he was on the outside of a railcar at the Cleveland-Cliffs Cleveland Works steel plant.
"Lou was a passionate and dedicated union brother," said Pat Redmond, local chairman of the BLET division. "He was always there for his coworkers. He was very active in helping veterans who worked on the railroad and veterans all across our community."
The 46-year-old Army veteran was a father to a 16-year-old son and a caregiver for his elderly parents, according to the union.
"Norfolk Southern has been in touch with the conductor's family and will do all it can to support them and his colleagues. We are grieving the loss of a colleague today. Our hearts go out to his loved ones during this extremely difficult time," the company said.
The rail company, which added that it is working with city police and Cleveland-Cliffs representatives to learn everything possible about the deadly collision, has faced national criticism since a train carrying hazardous materials derailed and caught fire in East Palestine, Ohio, near the Pennsylvania border, on February 3, creating an environmental and public health disaster.
Following another Norfolk Southern derailment in Ohio Saturday afternoon—over two dozen cars came off the tracks between Dayton and Columbus—the company on Monday announced "a six-point plan to immediately enhance the safety of its operations."
However, the company's plan falls short in terms of recent demands from the Biden administration, Congress, and other critics.
After Shuster was killed on Tuesday, the National Transportation Safety Board (NTSB)—which is already probing the East Palestine disaster—announced a "special investigation" of Norfolk Southern's "organization and safety culture."
"Given the number and significance of recent Norfolk Southern accidents, the NTSB also urges the company to take immediate action today to review and assess its safety practices, with the input of employees and others, and implement necessary changes to improve safety," the board said in a statement.
Earlier Tuesday, U.S. Transportation Secretary Pete Buttigieg had tweeted that the NTSB, Federal Railroad Administration, and Occupational Safety and Health Administration are investigating the collision in Cleveland.
"Our thoughts are with the family facing this preventable tragedy. Now more than ever, it is time for stronger freight railroad accountability and safety," added Buttigieg, who is also under fire for not going far enough to rein in rail safety risks.
BLET national president Eddie Hall pointed to the conductor's death as more proof of the need for stricter rail safety rules.
"This was a tragic situation and it's a devastating loss for the Shuster family as well as the members of this union," he said. "All railroad accidents are avoidable. This collision underscores the need for significant improvements in rail safety for both workers and the public."
As Common Dreamsreported last week, Hall welcomed parts of the bipartisan Railway Safety Act of 2023—introduced by Sen. Sherrod Brown (D-Ohio) after the East Palestine derailment—while also warning that "you can run a freight train through the loopholes."
News
SUPPORT OUR WORK.
We are independent, non-profit, advertising-free and 100%
reader supported.