The War in Afghanistan Reaches New Milestone: Longest War in US History, Surpasses the Vietnam War
Brave New Foundation Teams Up With TrueMajority To Demand A Withdrawal Date For Afghanistan
LOS ANGELES
As the
Afghanistan War replaces the Vietnam War as the longest war in U.S.
history, Brave New Foundation and
TrueMajority today called on President Obama and Congress to ensure a
responsible troop withdrawal from Afghanistan complete no later than
December 2011. Brave New Foundation and TrueMajority released a new
video
marking the milestone featuring leading experts, including: former
military
analyst Daniel Ellsberg, Malou Innocent of the CATO Institute, author
Tom
Hayden and historian Christian Appy speaking to the Vietnamization of
Afghanistan and to the staggering cost to Americans totaling almost $300
billion and over 1,000 American lives.
As of Monday, June 7, 2010, the U.S.
will have been in Afghanistan
for 104 months, more than eight-and-a half years, surpassing the war in
Vietnam. In
his December 2009 West Point speech, President Obama announced a U.S.
military withdrawal from Afghanistan
would begin in July 2011. However, he set no end date, leaving open the
possibility that U.S.
combat troops could remain there indefinitely.
The call for a firm withdrawal end-date comes as Congress
debates spending another $33 billion on troop escalation in Afghanistan.
The
video is available at:
"It
is a real tragedy that Afghanistan
has now become the longest war in American history. This war has gone
on
long enough, and it's time to end it. We have already spent almost $300
billion dollars on Afghanistan
and have lost over 1,000 American lives, all for a war that is not
making us
safer." Director, Robert Greenwald, Brave New Foundation
"I
think of this war as Vietnamistan. It's essentially the same form of
war:
fighting people who are mainly motivated by the determination to expel
foreign
invaders from their country."Daniel Ellsberg, Former US
Military
Analyst, RAND Corp
"[President
Obama] has not promised or pledged how many troops he promises to take
out or
leave behind, so it's very ambiguous. I wouldn't be surprised if we are
in this
region for the foreseeable future."Malou Innocent, Foreign
Policy
Analyst, Cato Institute
"Afghanistan becoming the longest
war in our history forces us to ask: Just how long is long enough? How
much
money is too much? How many more lives is this worth? The answer is that
the
war in Afghanistan
has already cost us too much - and it's up to Congress to bring home the
troops
and refocus our priorities." Matt Holland, Online Director
TrueMajority/USAction
LATEST NEWS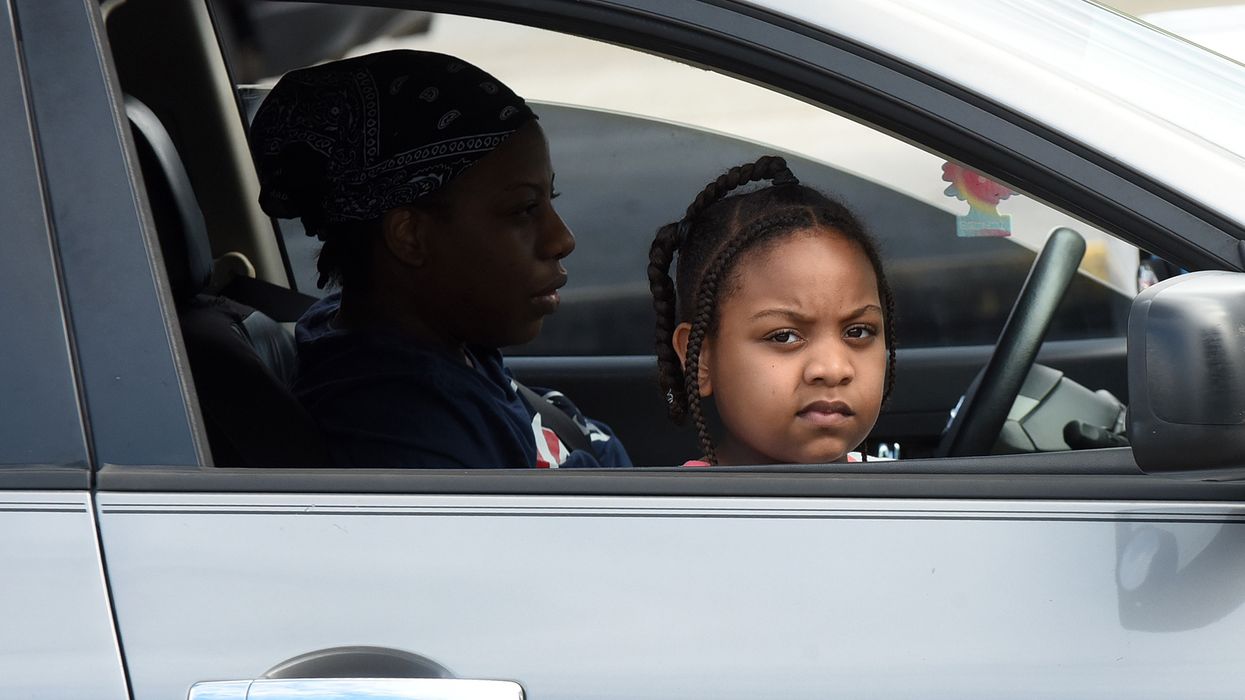 "SNAP is successful at reducing poverty and food insecurity and should be both protected this year from cuts and be strengthened," argues an analysis by the Center on Budget and Policy Priorities.
An analysis released Monday estimates that more than 10 million people across the United States—including 4 million children—would be at risk of losing food benefits if the GOP's proposed attacks on federal nutrition assistance become law.
The Center on Budget and Policy Priorities (CBPP) analysis focuses specifically on legislation introduced last week by Rep. Dusty Johnson (R-S.D.), who wants certain recipients of Supplemental Nutrition Assistance Program (SNAP) benefits to face even more strict work requirements than they do under current law.
"Adults aged 18 through 49 without children in their homes can receive benefits for only three months out of every three years, unless they can document they are working or participate in a qualifying work program at least 20 hours a week or prove they are unable to work," note CBPP's Katie Bergh and Dottie Rosenbaum.
If passed, Johnson's bill would raise the age ceiling for the strict work requirements from 49 to 65, a move that Bergh and Rosenbaum argue would endanger food benefits for both the adults specifically targeted by the law and those in their households.
Adults between the ages of 18 and 65 and without disabilities would be subject to the work requirements and benefit time limits "unless they have a child under age 7 in their home," CBPP points out.

Research has demonstrated repeatedly that work requirements do virtually nothing to boost employment, undercutting the GOP's stated rationale for attempting to expand them year after year.

Johnson's legislation would also limit states' ability to temporarily waive SNAP benefit time limits for able-bodied adults, a freedom that has been used to ensure people have consistent access to benefits during economic downturns.

"A total of more than 10 million people, about 1 in 4 SNAP participants, including about 4 million children, live in households that would be at risk of losing food assistance under the Johnson bill, based on our preliminary estimates," Bergh and Rosenbaum write.
People who would face the loss of benefits, according to CBPP, include "some 3 million adults up to age 65, primarily parents or grandparents, who live in households with school-age children." Those millions of children "would see their household's food assistance fall if their parents or other adults in the family aren't able to meet" the Johnson measure's work requirements, the analysis notes.
Additionally, the Johnson bill—which currently has 24 Republican co-sponsors—would potentially strip food benefits from "about 2 million older adults aged 50 to 64 who do not have children in their homes" as well as adults who happen to live in areas with higher levels of unemployment, making it more difficult to find and hold a job.
"A total of more than 10 million people, about 1 in 4 SNAP participants, including about 4 million children, live in households that would be at risk of losing food assistance under the Johnson bill."
While Bergh and Rosenbaum stress that "not everyone newly subject to these requirements would lose benefits," a "very significant number are likely to be impacted because they are out of work, the state failed to screen them for an exemption they should have qualified for, or they were unable to navigate the verification system to prove they are working."
"This is a punitive and ineffective approach," Bergh and Rosenbaum argue. "SNAP is successful at reducing poverty and food insecurity and should be both protected this year from cuts and be strengthened in some areas so that it does more to combat food insecurity and hunger."
Johnson's bill was introduced after pandemic-related SNAP enhancements were allowed to expire earlier this month, hitting millions of people with steep benefit cuts—in some cases hundreds of dollars per month—as food prices remain elevated nationwide.
"I'm just going to have to go back to not eating very much, about a meal a day," Teresa Calderez, a 63-year-old SNAP recipient who saw her benefits drop from $280 a month to $23, told NPR in a recent interview. "Unfortunately, I have known hunger. And it's not a good feeling."
The South Dakota Republican's proposal isn't the only one the House GOP is considering ahead of upcoming negotiations over the farm bill and the debt ceiling.
As CBPP notes:
Budget plans put forward by the Republican Study Committee and by Trump-era Office of Management and Budget Director Russell Vought would also take food assistance away through harmful work requirements while, respectively, instituting a strict block grant (often used to promote large, unspecified cuts) and radically restructuring SNAP by capping program spending.

In addition, the extensive cuts that House Republicans passed in their 2018 farm bill and similar measures the Trump Administration pursued by regulation could offer clues to what may be ahead in the farm bill debate. In 2018, we detailed how such provisions would hurt older people, workers, children, women, people with disabilities, and veterans. The House-passed bill would have caused more than 1 million households with more than 2 million people to lose benefits altogether or have them reduced. Those provisions were soundly rejected on a bipartisan basis in the Senate.
Facing criticism for failing to keep pandemic-related SNAP expansions alive, Democrats in the House and Senate have pledged to oppose any food assistance cuts going forward.
Sen. Debbie Stabenow (D-Mich.), chair of the Senate Agriculture Committee, said during a hearing last week that Congress "must ensure that the farm bill continues to support the nutrition programs that serve as a lifeline to millions of people and families across this country."
"The SNAP program provides food assistance for more than 41 million Americans, including children, seniors, veterans, and people with disabilities," said Stabenow. "Spending on nutrition programs does not rob resources from other farm bill programs, just as crop insurance doesn't rob resources from other programs when disaster strikes and spending goes up."
"But threats we are hearing from some in the House in favor of reckless and indiscriminate mandatory budget cuts will result in cuts to all farm bill programs," the senator added. "We cannot go backward at a time when our farmers and families need us most."
News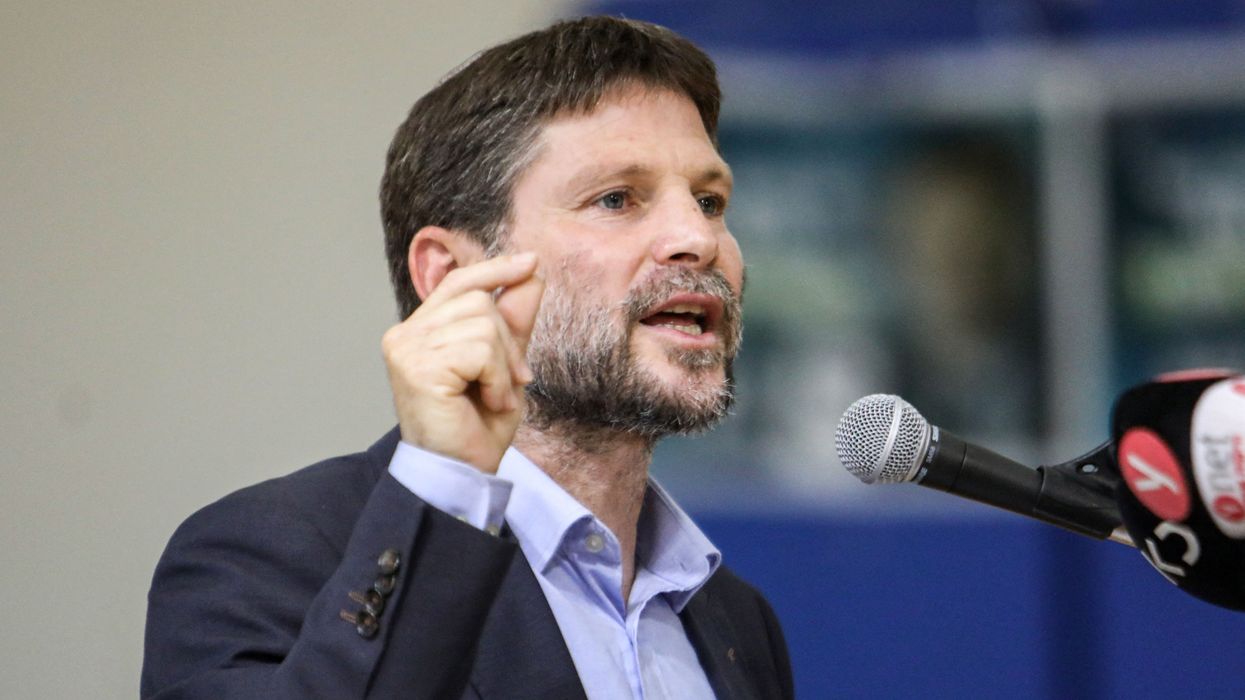 The "only difference between Smotrich and 'liberals' is that he's open about Zionism being genocidal," said one observer.
While condemning the latest anti-Palestinian rights comments from far-right Israeli Finance Minister Bezalel Smotrich, advocates on Monday said his remarks were "genocidal" and noted that Smotrich's violent rhetoric represents longstanding views by Zionists in Israel and elsewhere.
A day after Palestinian and Israeli leaders met in Egypt to discuss deescalating tensions ahead of Ramadan and Passover, Smotrich spoke at a memorial service in Paris where he claimed the Palestinian people are "an invention" dating back to the mid-20th century to fight Zionism.
"There's no such thing as Palestinians because there's no such thing as a Palestinian people," said Smotrich, standing at a podium that displayed a map of Israel, including the occupied West Bank and parts of Jordan. "There is no such thing as a Palestinian nation. There is no Palestinian history. There is no Palestinian language."
He also asked the crowd, "Do you know who are the Palestinians?" before claiming he himself is Palestinian because his grandparents were from Jerusalem and the northern Israeli town of Metula, despite the fact that his surname is derived from a Ukrainian town where his ancestors lived.
The Foreign Ministry of Jordan called Smotrich's comments "extremist, inflammatory, [and] racist" while Palestinian officials described them as "fascist."
Smotrich's comments came less than a month after he publicly said the State of Israel should "wipe out" the village of Hawara soon after the town was targeted by Israeli settlers in a deadly rampage. For those comments, Palestinian rights groups called on the United States government to bar Smotrich from the country.
The Biden administration granted Smotrich a visa despite officials' claims that they found his remarks "repugnant."
Israeli Prime Minister Benjamin Netanyahu's government this month granted Smotrich broad power over the occupied West Bank, including control over settlement planning.

Smotrich's comments also came as Netanyahu's coalition government signaled it is moving forward with parts of a planned overhaul of the country's judicial system, which critics say will make Israel's government even more authoritarian.

Violence in the occupied Palestinian territories has exploded in recent weeks, with 85 people killed by Israeli forces so far this year. Observers have raised alarm that violence could intensify as Jewish and Muslim people are expected to visit Jerusalem's Old City and holy sites to mark Passover and Ramadan in the coming weeks.
Benzion Sanders of the Israel-based anti-occupation group Breaking the Silence warned that Smotrich's comments on Sunday indicated not just his personal beliefs, but his "vision" as a government official and chair of the Religious Zionist Party.
"He's been talking about the vision to ethnically cleanse Palestinians for years," said Sanders.

While the open violence of Smotrich's rhetoric in recent weeks has been uncommon, said Ali Abunimah of Electronic Intifada, his comments have been in line with Israel's long history of "expelling Palestinians from their land and denying their existence."
The "only difference between Smotrich and 'liberals' is that he's open about Zionism being genocidal," said Abunimah.
News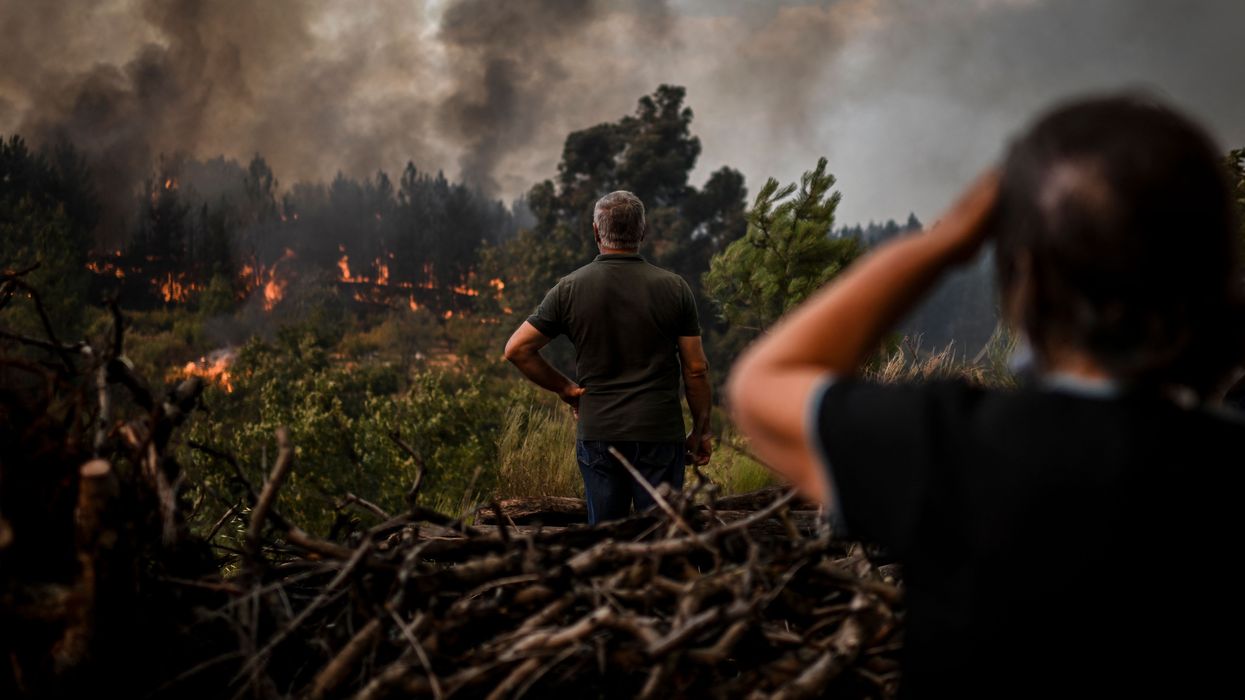 "We must move into warp-speed climate action now. We don't have a moment to lose," said United Nations Secretary-General António Guterres.
The head of the United Nations outlined a plan Monday to "super-charge" climate action after the Intergovernmental Panel on Climate Change released its most stark warning yet about the trajectory of planetary heating and its cascading impacts on ecosystems and the life they sustain.
"This report is a clarion call to massively fast-track climate efforts by every country and every sector and on every timeframe," said U.N. Secretary-General António Guterres, who argued the IPCC's findings show that "humanity is on thin ice—and that ice is melting fast."
"Today's IPCC report is a how-to guide to defuse the climate time bomb," Guterres added. "It is a survival guide for humanity. As it shows, the 1.5-degree limit is achievable. But it will take a quantum leap in climate action."
To achieve such a leap, the U.N. chief said it is imperative for governments to urgently work toward a number of benchmarks, including:

No new coal and the phasing out of coal by 2030 in OECD countries and 2040 in all other countries;
Ending all international public and private funding of coal;
Ensuring net zero electricity generation by 2035 for all developed countries and 2040 for the rest of the world;
Ceasing all licensing or funding of new oil and gas—consistent with the findings of the International Energy Agency;
Stopping any expansion of existing oil and gas reserves;
Shifting subsidies from fossil fuels to a just energy transition; and
Establishing a global phase-down of existing oil and gas production compatible with the 2050 global net zero target.
"By the end of COP28, I count on all G20 leaders to have committed to ambitious new economy-wide nationally determined contributions encompassing all greenhouse gases and indicating their absolute emissions cuts targets for 2035 and 2040," said Guterres, who is set to host a September summit aimed at building global support for bold climate action.
"Partial pledges won't cut it," Guterres said Monday. "We have never been better equipped to solve the climate challenge—but we must move into warp-speed climate action now. We don't have a moment to lose."
"This report is a clarion call to massively fast-track climate efforts by every country and every sector and on every timeframe."
Compiled by hundreds of top scientists from around the world, the IPCC's new report—like previous iterations—emphasizes that greenhouse gas emissions stemming from human activity "have unequivocally caused global warming" and that "continued greenhouse gas emissions will lead to increasing global warming."

"There is a rapidly closing window of opportunity to secure a liveable and sustainable future for all," the report states. "The choices and actions implemented in this decade will have impacts now and for thousands of years."
Warming beyond the Paris accord's most ambitious target of 1.5°C by century's end, the report warned, would expose ecosystems and societies to "greater and more widespread" consequences, including "increased wildfires, mass mortality of trees, drying of peatlands, and permafrost thawing, weakening natural land carbon sinks and increasing releases of GHGs."
The report cautioned that without dramatic emission cuts, the world could hit the 1.5°C warming threshold by "the first half of the 2030s." Earth has already warmed 1.1°C since the mid-19th century.
IPCC scientists estimated that global greenhouse gas emissions must be cut by 60% by 2035—compared to 2019 levels—to keep alive hopes of averting climate catastrophe.

Romain Ioualalen, global policy campaign manager at Oil Change International, said Monday that the new assessment "once more raises the alarms to code red."
"The United Nations secretary-general's response to the IPCC report makes it abundantly clear that the time when countries can pretend to be climate leaders while expanding oil and gas production is over," said Ioualalen. "This is why the Biden administration's reckless decision to approve the Willow oil project in Alaska deserves international condemnation."
"We commend Secretary-General Guterres for laying out clear expectations for all countries to ban new oil and gas projects immediately while charting a just and equitable transition away from fossil fuels and towards clean energy for all," Ioualalen continued. "This question must be at the heart of the secretary general's September summit and COP28."
News
SUPPORT OUR WORK.
We are independent, non-profit, advertising-free and 100%
reader supported.