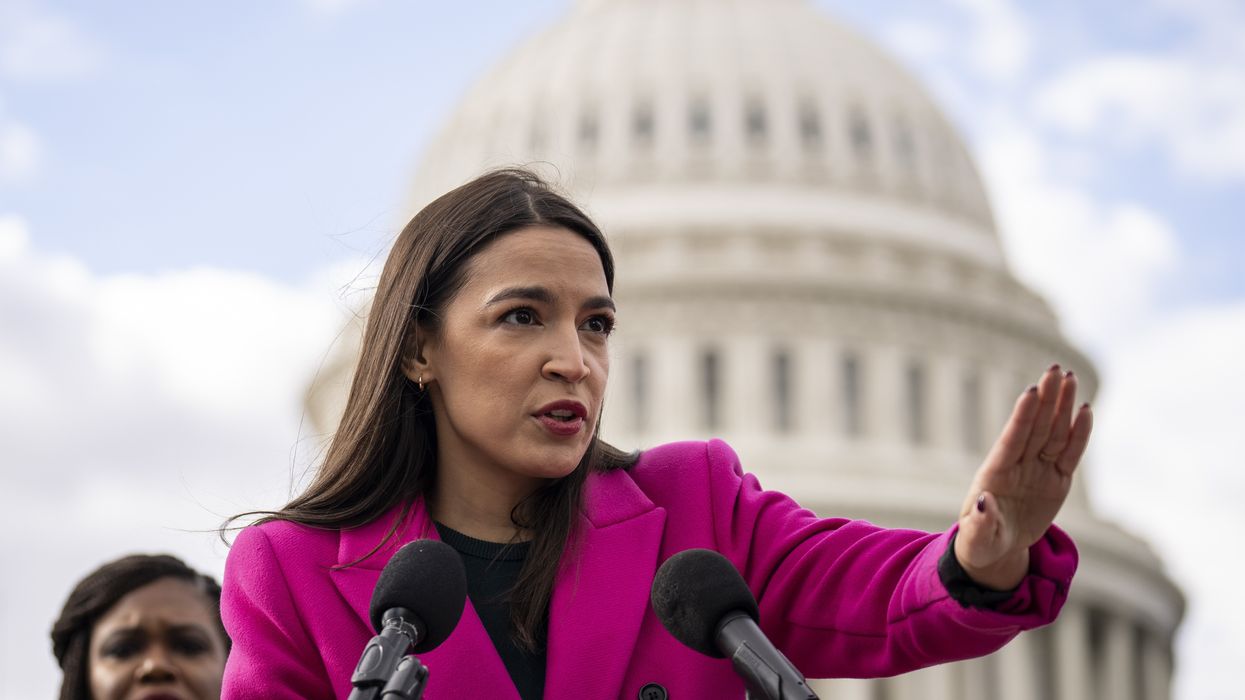 "Barring some dramatic change," said the New York Democrat, "this is what the Roberts court will be known for: rank corruption, erosion of democracy, and the stripping of human rights."
Rep. Alexandria Ocasio-Cortez said Thursday that right-wing Supreme Court Justice Clarence Thomas should be impeached by the U.S. House in the wake of ProPublica reporting that exposed the judge's billionaire-funded luxury vacations.
"This is beyond party or partisanship. This degree of corruption is shocking—almost cartoonish. Thomas must be impeached," Ocasio-Cortez (D-N.Y.), who demanded Thomas' resignation last year amid a separate ethics scandal, wrote on Twitter.
"Barring some dramatic change," she added, "this is what the Roberts court will be known for: rank corruption, erosion of democracy, and the stripping of human rights."
The new investigative reporting revealed that Thomas has taken trips funded by billionaire real estate magnate Harlan Crow "virtually every year" for more than two decades.
Thomas did not disclose any of the vacations, which experts and watchdog organizations said is likely a violation of federal law.
"Thomas failed even to follow the obscenely weak ethics standards on the books for Supreme Court justices," Jeff Hauser, executive director of the Revolving Door Project, said in a statement.
"If the information in this report is correct—and there is no reason at all to believe that it isn't—and if the point of the United States judiciary is still to neutrally interpret and uphold the law, then it is obvious what should happen next," said Hauser. "The House of Representatives must immediately draw articles of impeachment against Justice Clarence Thomas."
This isn't the first time Thomas has come under fire for failing to adhere to federal disclosure requirements, which were recently strengthened for Supreme Court justices and other federal judges thanks to a pressure campaign led by Sen. Sheldon Whitehouse (D-R.I.).
Between 1997 and 2007, Thomas failed to disclose income that his wife, right-wing activist Ginni Thomas, received from the conservative Heritage Foundation and other sources. The justice amended his disclosures in 2011, claiming he misunderstood the filing instructions—an explanation that watchdogs met with skepticism.

And while ProPublica's reporting offered the most detailed look yet at Thomas' relationship with Crow, the ties between the two were spotlighted more than a decade ago by The New York Times, which noted in a 2011 story the billionaire "has done many favors for the justice and his wife... helping finance a Savannah library project dedicated to Justice Thomas, presenting him with a Bible that belonged to Frederick Douglass, and reportedly providing $500,000 for Ms. Thomas to start a Tea Party-related group."
"These actions are part of a pattern of corruption that betrays Thomas' deep-seated contempt for the rule of law."
Brett Edkins, managing director of policy and political affairs for the progressive advocacy group Stand Up America, said Thursday that Thomas' repeated failure to disclose gifts from Crow represents "a shameless abuse of power and an affront to the American people."
"Sadly, these actions are part of a pattern of corruption that betrays Thomas' deep-seated contempt for the rule of law. No one is above the law—not even Supreme Court justices," said Edkins. "Our highest court must be held to a higher ethical standard. Congress has a constitutional duty to act quickly by passing a Supreme Court code of ethics and investigating the full extent of Justice Thomas' wrongdoing."
The Supreme Court is the only court in the U.S. that does not currently have a binding ethics code, opening the door to the kinds of conflicts of interest that have plagued the powerful judicial body for decades.

Hauser argued that because the House is highly unlikely to launch impeachment proceedings given the GOP's control of the chamber, Senate Judiciary Committee Chair Dick Durbin (D-Ill.) should "immediately begin extensive investigations into Thomas' violations of ethics laws and norms as well as the broader collapse of the Supreme Court's integrity."
"Anyone who believes that the law is only legitimate if it applies to everyone should understand and endorse that Durbin must immediately investigate these allegations, that the House must immediately draw articles of impeachment, and that if this information proves accurate, Thomas must immediately leave the bench," Hauser said. "Moreover, it should be indisputable that the judiciary as a whole, and the Supreme Court especially, needs far stronger ethical rules and enforcement."
In a statement, Durbin said that Thomas' behavior is "simply inconsistent with the ethical standards the American people expect of any public servant, let alone a justice on the Supreme Court."
"The ProPublica report is a call to action," he added, "and the Senate Judiciary Committee will act."

News