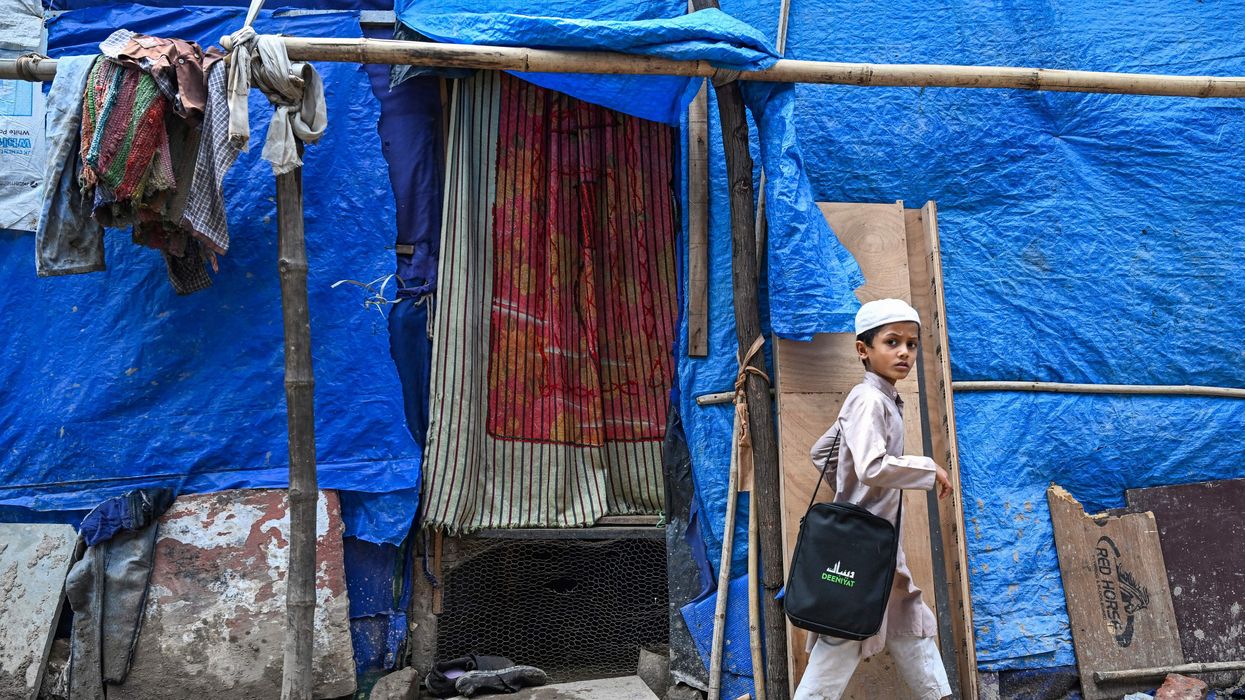 "We know too well the cost of inaction: a world with the highest forced displacement in recorded history," the U.N.'s top refugee official noted. "We cannot let this continue."
As the worldwide number of refugees soars to an all-time high due in large part to war, advocates marked World Refugee Day on Tuesday by imploring the international community to work toward achieving peace and provide the financial and other resources necessary to enable tens of millions of displaced people to return home.
More than 108 million people around the world were displaced as of the end of 2022—and over 35 million of those people were refugees—due to war and other violence, climate shocks, persecution, and other human rights violations, the office of the United Nations High Commissioner for Refugees (UNCHR) said in its annual Global Trendsreport released last week.
That's a 23% increase—or 8 million more people—from 2021, and the figure is expected to surge even higher due largely to Russia's invasion of Ukraine and the battle between rival factions of Sudan's military government, the agency warned.
"Right now, the world is facing a refugee crisis unlike any since World War II."
"On World Refugee Day, we honor the courage and hopes of the millions of people forced to flee war, violence, and persecution," U.N. High Commissioner for Refugees Filippo Grandi said in a statement on Tuesday. "This year I'm marking the occasion in Kenya, meeting refugees brimming with strength and ambition despite escaping conflict, drought, and other horrors."
Grandi asserted that the world "can—and must—do more" to offer "hope, opportunities, and solutions to refugees, wherever they are and whatever the context."
According to UNHCR, more than three-quarters of global refugees are hosted by low- and middle-income countries, with Turkey, Iran, and Colombia hosting the most displaced people. The agency also said that roughly 7 in 10 refugees live in nations bordering their countries of origin.
Noting efforts by countries that "have generously hosted refugees," Grandi asserted that "host countries cannot do it on their own."

"The international community must step up and provide the financial resources to enable such progressive policies," he stressed. "We have seen enormous progress in this area over the past years... but clearly, more must be done."
"Unfortunately, in today's divided world, long-term solutions for people forced to flee remain pitifully scarce, leaving many of the world's 35 million refugees in limbo," Grandi continued. "That is why, on World Refugee Day, I [call on] leaders to live up to their responsibility to broker peace so that violence stops, and refugees can return home safely and voluntarily."
"I call on governments to increase resettlement opportunities for refugees desperately in need," he added. "And I call on states to embrace policies that harness the enormous potential refugees have to contribute to the social, economic, and political life of the countries hosting them."
"We know too well the cost of inaction: a world with the highest forced displacement in recorded history," Grandi said. "We cannot let this continue."
This year's World Refugee Day comes amid fears that most of the more than 700 refugees aboard an overloaded fishing boat that sank off the southern Greek coast last week drowned. So far, 81 bodies have been recovered and 104 asylum-seekers have been rescued from the shipwreck.
Former U.K. Labour Party leader Jeremy Corbyn tweeted: "It is a political choice to let human beings drown at sea. On World Refugee Day, we demand justice."

In the United States, Congresswoman Ilhan Omar (D-Minn.)—a childhood refugee from Somalia—noted that "right now, the world is facing a refugee crisis unlike any since World War II, with refugee crises in Syria, Ukraine, Afghanistan, Venezuela, South Sudan, Central African Republic, Myanmar," and other countries.
"The climate crisis is only expected to fuel more forced migration from the most-impacted regions," Omar wrote on Twitter. "It is on all of us to live up to our professed values."
"We must provide safe refuge to those seeking asylum and reject nativist efforts to punish and criminalize asylum seekers," Omar added. "And we must pursue a binding agreement on global migration to hold each other accountable for addressing this crisis."
News