For Immediate Release
March, 18 2010, 08:51am EDT
Beyond Guantanamo Signatories Meet with Legislators to Support Prosecutions of Terrorism Suspects in Federal Court
Beyond Guantanamo: A Bipartisan Declaration supports trials of terrorism suspects in traditional federal courts and opposes indefinite detention without charge
WASHINGTON
Today, over a dozen signatories to Beyond Guantanamo: A Bipartisan Declaration
came to Washington to meet with members of Congress to advocate for the
trial of terrorism suspects in traditional federal court, rather than
by military commission. Signatories also cautioned against using a
system of indefinite detention to hold suspects without charge or
trial. Today's efforts are particularly timely given recent fierce
debates about these issues, along with pending legislation that could
force the administration to pursue prosecutions of terrorism suspects
only in military commissions.
Released in November 2009, Beyond Guantanamo
was organized by the Constitution Project and Human Rights First. Its
signatories call on the Obama administration and Congress to support a
policy for closing Guantanamo that is consistent with our
constitutional principles and that also ensures our country's security.
Joined by nearly 140 prominent Americans, including former members of
Congress, diplomats, federal judges and prosecutors, high-level
military and government officials, as well as national security and
foreign policy experts, bar leaders, and family members of 9/11
victims, the Declaration supports prosecution of terrorism
suspects in traditional federal court, rather than by military
commission, and opposes indefinite detention without charge.
The following can be attributed to Virginia Sloan, president of the Constitution Project:
"For far too long, the national debate around how
and where to try suspected terrorists now held at Guantanamo has been
wrongly framed as a partisan dispute. It is simply wrong to believe
that national security issues have to pit Democrats against
Republicans, and conservatives against progressives. Beyond Guantanamo
is an example of policy experts from across the political spectrum who
have come together to support federal court prosecutions for suspected
terrorists and to oppose any policy of indefinite detention without
charge.
"With the Obama administration currently mulling
its options and legislation being considered in Congress that would
significantly limit the president's choices, administration officials
and members of Congress must hear from this eminent group of experts
that justice cannot be politicized, and there is clear bipartisan
consensus about the requirements of our Constitution."
The Constitution Project is a politically independent think tank established in 1997 to promote and defend constitutional safeguards. More information about the Constitution Project is available at https://constitutionproject.org/.
LATEST NEWS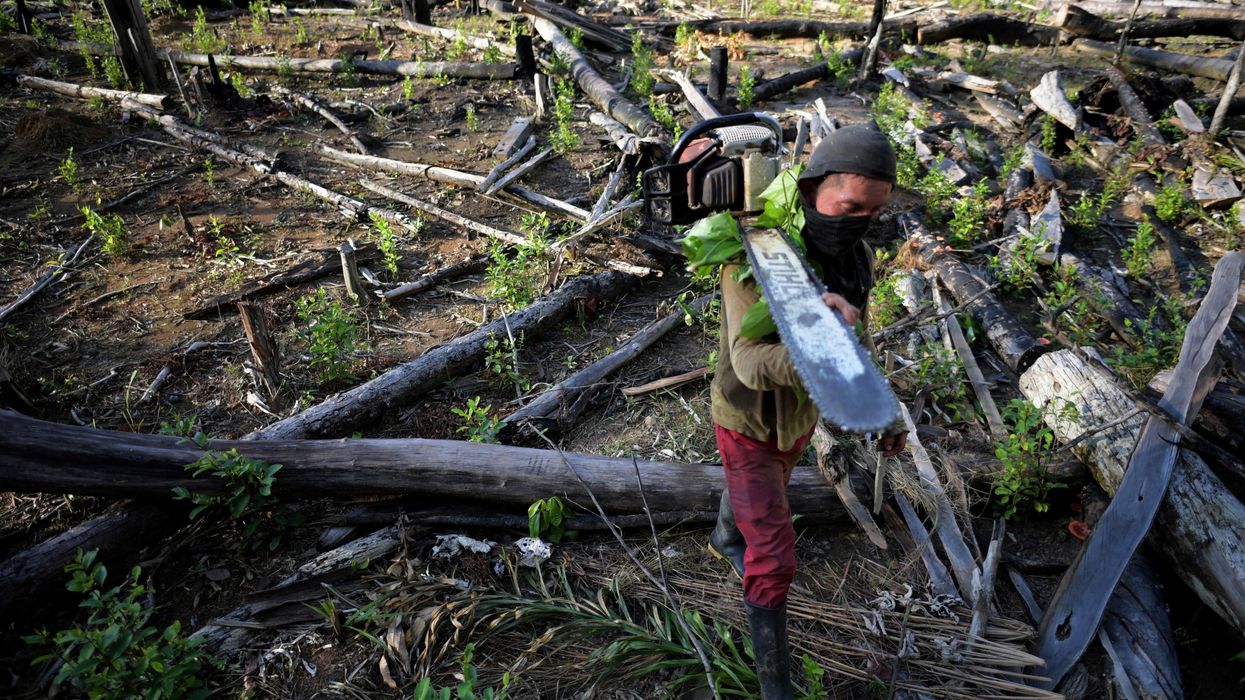 "Companies are making false claims and then they're convincing customers that they can fly guilt-free or buy carbon-neutral products when they aren't in any way carbon-neutral," one expert lamented.
Over 90% of the rainforest carbon offsets sold by the nonprofit organization that sets the world's leading sustainability standard "are largely worthless and could make global heating worse," an
investigation
published Wednesday by three media outlets revealed.
For nine months, The Guardian, Die Zeit, and SourceMaterial analyzed scientific studies of Verra, "the world's leading carbon standard" in a voluntary global offset market worth $2 billion annually and growing. Verra's customers include major multinational corporations, and the analysis' findings cast doubts over the carbon offset credits the companies buy in order to label their products as "carbon neutral" or assure customers that they can consume their products or services without worsening the climate emergency.

"The implications of this analysis are huge," said Barbara Haya, head of the Carbon Trading Project at the University of California, Berkeley. "Companies are making false claims and then they're convincing customers that they can fly guilt-free or buy carbon-neutral products when they aren't in any way carbon-neutral."
\u201cNEW: Forest carbon offsets approved by the world\u2019s leading provider and used by Disney, Shell, Gucci and others are largely worthless and could make global heating worse, a new investigation finds.\n\nWith @hannahknuth , @herrfischer & @lukewbarratt \n\n\ud83d\udc47\ud83d\udc47\n\nhttps://t.co/KpKlXqzy0K\u201d

— Patrick Greenfield (@Patrick Greenfield) 1674050676
According to The Guardian, key findings of the analysis include:
Only a handful of Verra's rainforest projects showed evidence of deforestation reductions, according to two studies, with further analysis indicating that 94% of the credits had no benefit to the climate;
The threat to forests had been overstated by about 400% on average for Verra projects, according to analysis of a 2022 University of Cambridge study;
Gucci, Salesforce, BHP, Shell, easyJet, Leon, and the band Pearl Jam were among dozens of companies and organizations that have bought rainforest offsets approved by Verra for environmental claims; and
Human rights issues are a serious concern in at least one of the offsetting projects, which involved home destructions and forced evictions in Peru.
"I have worked as an auditor on these projects in the Brazilian Amazon and when I started this analysis, I wanted to know if we could trust their predictions about deforestation," Thales West, a lead author on the studies, told The Guardian. "The evidence from the analysis... suggests we cannot. I want this system to work to protect rainforests. For that to happen, we need to acknowledge the scale of problems with the current system."
Co-author Erin Sills said: "I'd like to find that conserving forests, which conserves biodiversity, and conserves local ecosystem services, also has a real effective impact on reducing climate change. If it doesn't, it's scary, because it's a little bit less hope for reducing climate change."

Verra responded to the outlets' analysis by saying the paper's claims are based on "methods that do not account for project-specific factors that cause deforestation."
"As a result, these studies massively miscalculate the impact of REDD+ projects," the organization added, referring to the United Nations Framework Convention on Climate Change (COP) framework "to guide activities in the forest sector that reduces emissions from deforestation and forest degradation."
\u201cThe blue lines show what happened in similar areas at the same time. Everybody is of course entitled to their own opinion. \n\nThe chart is from Thales West's study about carbon offset projects in Brazil, which we have used for further analysis https://t.co/daFSN9GgHr\u201d

— Tin Fischer (@Tin Fischer) 1674063927
Die Zeit's Tin Fischer posted a pair of tweets pushing back against Verra's comments with a chart from one of West's studies.
News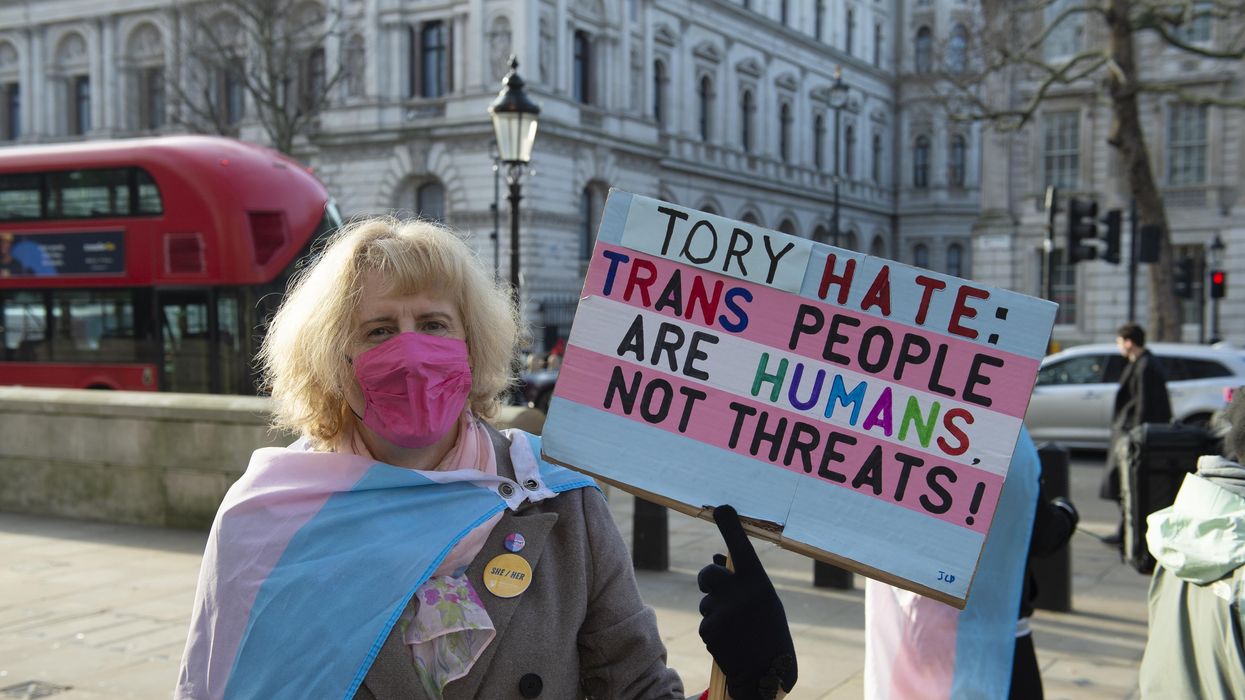 One Scottish National Party leader accused the Tory government of "seeking to stoke a culture war against some of the most marginalized people in society."
Scottish First Minister Nicola Sturgeon said late Tuesday that her government will "inevitably" challenge the United Kingdom in court after Prime Minister Rishi Sunak's Conservative government vetoed a recently passed LGBTQ+ rights bill—a move that critics say will harm both the LGBTQ+ community and the state of democracy across the United Kingdom.

Weeks after the Scottish Parliament
passed
its Gender Recognition Reform Bill, the U.K. secretary of state for Scotland, Alister Jack, announced Tuesday that the government was for the first time invoking section 35 of the Scotland Act to veto the legislation, arguing the bill deals with a matter "reserved" for British Parliament.
The bill would lower the age at which people can apply for a gender recognition certificate, allowing people as young as 16 to do so. People would no longer need to be diagnosed with gender dysphoria in order to apply for a certificate, and people 18 and up would have to live as their gender identity rather than their sex assigned at birth for only three months in order to be recognized. Sixteen- and 17-year-olds would need to live as their gender identity for six months. Currently, anyone who wishes to apply for a certificate is required to live as their gender for two years, in addition to being officially diagnosed.
Jack claimed the legislation would make fraudulent applications more likely—even though the bill would make lying about one's gender identity on an official application punishable by up to two years in prison. The claim led Stephen Flynn, parliamentary leader of the pro-independence Scottish National Party, to accuse Sunak's government of "seeking to stoke a culture war against some of the most marginalized people in society."
\u201c"Are we not now on a slippery slope from devolution to direct rule?"\n\nSNP leader Stephen Flynn accuses the Tories of "seeking to stoke a culture war" after blocking Scotland's Gender Recognition Reform bill.\u201d

— PoliticsJOE (@PoliticsJOE) 1674048847
Sturgeon, who leads the SNP, told the BBC that the Tories have made a "profound mistake" and pledged to "vigorously defend this legislation."
"In doing so we will be vigorously defending something else, and that is the institution of the Scottish Parliament and the ability of MSPs, democratically elected, to legislate in areas of our competence," she said. "In short, we'll be defending Scottish democracy."

As The Washington Post reported on Wednesday, the Conservatives have previously taken a relatively liberal position on transgender rights, but the party appears to be fanning the flames of a culture war over the issue, like their Republican counterparts in the United States. Last year Sunak suggested the words "man," "woman," and "mother" are under attack and said he would fight against "woke nonsense."
"The U.K. government cannot be trusted with trans rights, women's rights, or with devolution," said Member of Scottish Parliament (MSP) Monica Lennon, a Labour Party member. "Justice will prevail."
\u201cThe Scottish Parliament passed the Gender Recognition Reform (Scotland) Bill because trans people deserve to live with dignity.\n\nThe UK government cannot be trusted with trans rights, women\u2019s rights or with devolution. Justice will prevail.\u201d

— Monica Lennon MSP (@Monica Lennon MSP) 1673988300
Jo Maugham, director of the Good Law Project in the U.K., called the Tories' decision a "nuclear option" and said the rejection of the Gender Recognition Reform Bill represents "a real deterioration in respect for the ability of people of Scotland to self-determine."
Fifteen rights organizations in Scotland signed a letter opposing the government's blocking of the bill, noting that while Conservatives claimed the legislation could endanger women and girls by making it easier for men to enter single-sex public bathrooms and changing rooms, "there are a number of very real threats to women's rights in Scotland and the U.K." that the Tories have made worse including austerity policies, the cost of living crisis, and low sexual assault conviction rates.
"We find it particularly concerning that so much political and media attention has been devoted to the debate around this bill in place of tackling these genuine barriers to women's equality," said the groups, including Rape Crisis Scotland, Scottish Women's Aid, and Amnesty International. "The paths to equality for women and trans people [are] deeply interconnected and dependent on our shared efforts to dismantle patriarchal systems that impose barriers to full equality for us all."
News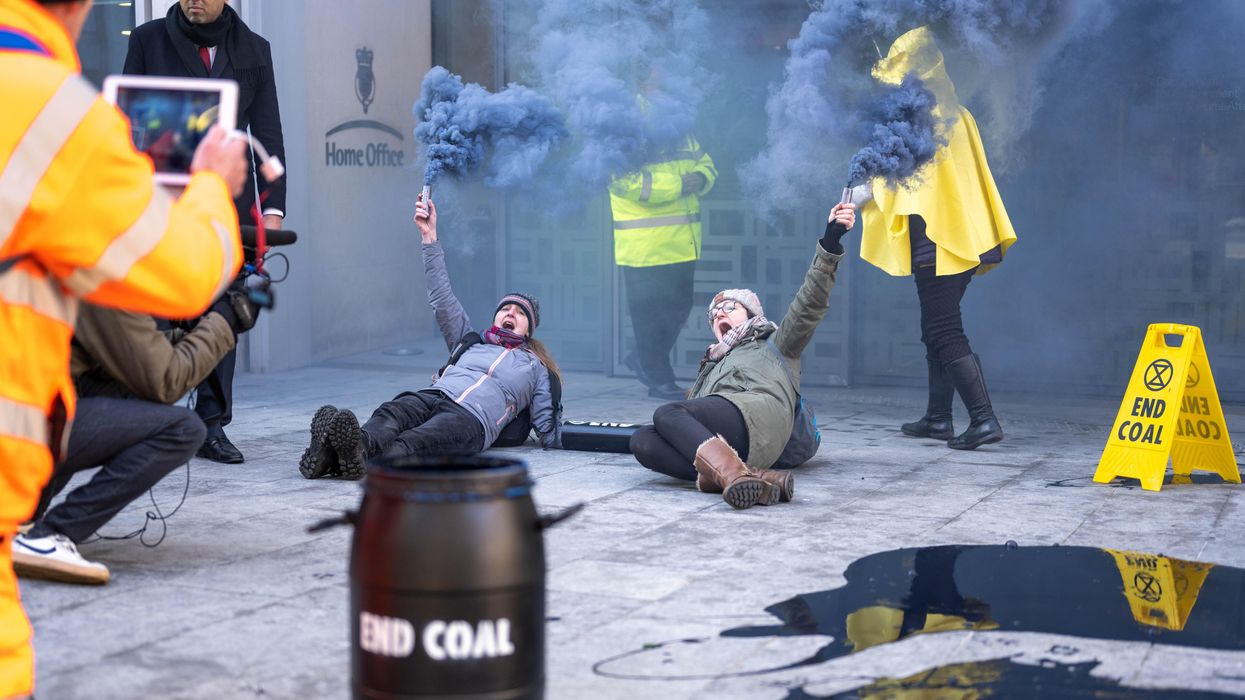 "Opening a coal mine in a region that is already disproportionately affected by the climate crisis with floods increasing and unprecedented rainfall is complete madness," said one activist.
Climate activists with Extinction Rebellion on Wednesday gathered in canary costumes and doused a U.K. government building with black paint to protest the recent approval of the country's first new deep coal mine in three decades.
"As police hurried to block access to the doors, protesters lit smoke bombs," according toThe Guardian, which noted that the Tory government "is pressing ahead with moves to crack down on disruptive protests" by giving law enforcement new powers.
Michael Gove, the Conservative secretary of state at the Department for Leveling Up, Housing, and Communities, last month greenlighted the mine in Whitehaven, Cumbria. The coal will be extracted for steelmaking versus energy, and 85% of it is expected to be exported to mainland Europe.
"Where is the government's ambition to act on this climate and ecological emergency? How dare they even think of opening a coal mine now?"
"Opening a coal mine today means the U.K. can't argue that China and India should decrease their own coal emissions," declared Dorothea Hackman, a 70-year-old grandmother from Camden, in a statement from Extinction Rebellion (XR). "Whitehaven coal isn't even wanted by British steelworks, it's going to be exported, there is no argument for domestic production."
Gove's decision has been widely criticized by campaigners, scientists, and some politicians, due to estimated planet-heating emissions from mining and the coal. Climate groups have launched two legal challenges to the project.
"2022 saw record global greenhouse gas emissions, and record global temperatures," said Sarah Hart, a mother from Farnborough and one of the two XR protesters who laid down in front of the department office on Wednesday with one arm in a lock-on tube featuring the message "End Coal."
"Where is the government's ambition to act on this climate and ecological emergency? How dare they even think of opening a coal mine now?" she continued, blasting Gove's claims about the mine and demanding an end to all new fossil fuel projects.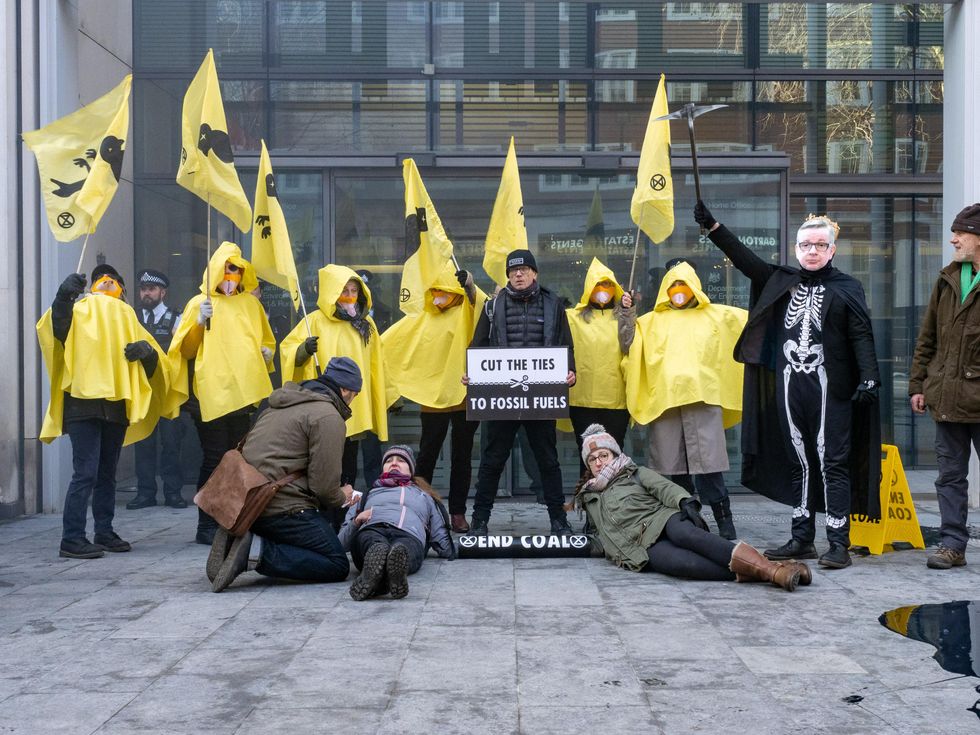 Members of Extinction Rebellion protested coal mining at the U.K. Department for Leveling Up, Housing, and Communities in London on January 18, 2023. (Photo: Extinction Rebellion)
Wednesday's demonstration was part of XR's "Cut the Ties" actions, which launched in November at 13 sites across London and led to 17 arrests, according to the group. Hart highlighted at the time that "behind incomprehensible government decisions to double down on fossil fuel development, sign off new oil exploration licenses, and allow the big energy companies to rake in record profits, lies a network of companies and organizations that are profiting from this destructive path."
"While the rest of us worry about the cost of turning the heating on our government is prioritizing the profits of the very companies that are jeopardizing our climate and environment," Hart argued, adding that XR is "sending the message that it's time to cut the ties with fossil fuels or lose the social license to operate in the U.K."
The new action notably comes after Extinction Rebellion's U.K. arm announced at the beginning of the year that it will no longer use "public disruption as a primary tactic," explaining that "this year, we prioritize attendance over arrest and relationships over roadblocks, as we stand together and become impossible to ignore."
As part of that aim, XR is planning a nonviolent mass direct action for April 21. Because "100,000 is the number of signatories on a petition that gets a question raised in Parliament," the group hopes to bring together at least that many people in London "to demand a fair society and a citizen-led end to the fossil fuel era."
\u201cWE QUIT! \n\nOur #NewYearsResolution is to halt our tactics of public disruption. Instead, we call on everyone to help us disrupt our corrupt government.\n\n#ChooseYourFuture & join us: 21 April, Parliament.\u201d

— Extinction Rebellion UK \ud83c\udf0d (@Extinction Rebellion UK \ud83c\udf0d) 1672531230
Marijn Van Der Geer of Extinction Rebellion U.K. said Wednesday that the group "wants a citizen-led transition away from fossil fuels via a citizens' assembly on climate and ecological justice."
"Providing unstable jobs in the coal sector during a climate crisis in a region where there are limited economic opportunities is not justice," Van Der Geer stressed. "Opening a coal mine in a region that is already disproportionately affected by the climate crisis with floods increasing and unprecedented rainfall is complete madness."
The BBCpoints out that "West Cumbria Mining, the firm behind the project, promised to create 500 direct jobs and 1,500 in the wider community," but "critics questioned those figures."
Due to rising sea levels, swaths of Cumbria could be underwater by 2040, according to an analysis published last year by Climate Central, which noted that "our maps are not based on physical storm and flood simulations and do not take into account factors such as erosion, future changes in the frequency or intensity of storms, inland flooding, or contributions from rainfall or rivers."
News
SUPPORT OUR WORK.
We are independent, non-profit, advertising-free and 100%
reader supported.