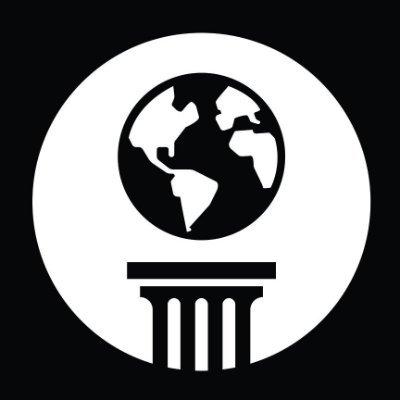 For Immediate Release
September, 01 2020, 12:00am EDT
Contact:
Email:,info@earthjustice.org
Tribes and Environmental Groups Sue Trump Administration to Preserve Clean Water Protections
The administration's latest attempt to undermine the Clean Water Act would jeopardize tribal and state rights to protect their water quality
WASHINGTON
American Indian and Alaska Native federally recognized Tribes and environmental groups, represented by Earthjustice, sued the Trump administration over its attempt to weaken clean water protections. The rule changes proposed by the Environmental Protection Agency would force states and Tribes to accept damaging and unwanted pipelines and other fossil fuel projects on their lands. The EPA reverses its long-standing interpretation of Section 401 of the Clean Water Act in a move that is contrary to the language, purpose, and intent of the statute.
The lawsuit filed seeks to protect tribal and state water quality, and to prevent the EPA from allowing dangerous levels of pollution that would harm the health of families. This rule change is being adopted explicitly to support the fossil fuel industry.
"In order to maintain the Suquamish Tribe's values and traditions, we will take action to protect, maintain, and preserve our ancestral waters that have supported subsistence, cultural, and commercial uses since time immemorial. This rollback has a direct effect on our tribal community and the next seven generations or more," said Chairman of the Suquamish Tribe and President of Affiliated Tribes of Northwest Indians, Leonard Forsman.
"Pyramid Lake Paiute Tribe works incredibly hard to protect its tribal waters, adopting protective water quality standards over a decade ago," said Chairman of the Pyramid Lake Paiute Tribe, Anthony Sampson, Sr. "These changes that cut into the Tribe's ability to protect its waters and fish harm us all."
"Our nation values clean water and healthy communities. We will stand up to the Trump administration's reckless giveaway to corporate polluters," said Columbia Riverkeeper executive director, Brett VandenHeuvel.
"This unlawful rollback from the Trump administration seeks to trample the rights of Tribes and states to review and reject dirty fossil fuel projects that threaten their water. We will keep fighting until our government puts people before polluters and protects clean water for every community," said Earthjustice staff attorney Moneen Nasmith.
"We filed this suit to stop the Trump administration from giving control of our water to the polluting corporations who put their profits over our health. Since Trump's EPA is taking away states' and Tribes' ability to protect their clean water, we're going to court to take it back," said Sierra Club Senior Attorney Nathan Matthews.
Under Section 401 of the Clean Water Act, states and Tribes have the authority to place conditions on federal projects that degrade lakes, streams, rivers, and wetlands within their borders--or to reject them altogether.
The Trump administration's new rule seeks to undermine that authority in several ways:
It artificially limits the scope of a state's or Tribe's review, guaranteeing that harmful water pollution impacts will be allowed.
It shifts the burden onto states and Tribes to show that a project will cause harm to water quality, instead of keeping the burden on projects to show that water quality standards will be met.
It limits the time a state or Tribe has to review a project's impacts and arbitrarily limits the time to review projects.
It allows federal oversight of state and tribal determinations, signaling the death of the partnership between the federal government, states, and Tribes enshrined in the Clean Water Act.
The lawsuit comes after President Trump signed an executive order in April 2019 directing the Environmental Protection Agency to revise guidance and issue new regulations for Section 401. Earthjustice, working with conservation and community groups, sent a letter to EPA objecting to the Trump administration's efforts to undercut states' and Tribes' authority to protect water quality and filed comments opposing the proposed rule.
Dozens of state attorneys general and Tribes also voiced similar objections.
Earthjustice is representing the Suquamish Tribe, Pyramid Lake Paiute Tribe, Orutsararmiut Native Council, Columbia Riverkeeper, and Sierra Club in this suit.
A copy of the complaint is available here.
Background on Section 401 of the Clean Water Act
The Clean Water Act is one of our nation's bedrock environmental laws. Congress passed this popular law in 1972 to "restore and maintain the chemical, physical, and biological integrity of the Nation's waters."
To protect water quality, section 401 of the Clean Water Act creates a state-tribal-federal partnership, giving individual states and eligible Tribes the ability to review the impacts of many different types of federally licensed projects on waterways and wetlands within their borders.
States and eligible Tribes have up to one year to issue, condition, deny, or request more information regarding water quality and environmental harm from a proposed project. Some projects have the potential to significantly degrade local and state water quality by, for example, cutting trenches through hundreds of waterways, damming rivers, or destroying acres of wetlands.
States and Tribes review hundreds of 401 certification requests annually, allowing for better protection of water resources for all uses, including drinking water, commercial, tribal, and recreational fishing, swimming, critical wildlife habitat, and outdoor recreation.
Earthjustice is a non-profit public interest law firm dedicated to protecting the magnificent places, natural resources, and wildlife of this earth, and to defending the right of all people to a healthy environment. We bring about far-reaching change by enforcing and strengthening environmental laws on behalf of hundreds of organizations, coalitions and communities.
800-584-6460
LATEST NEWS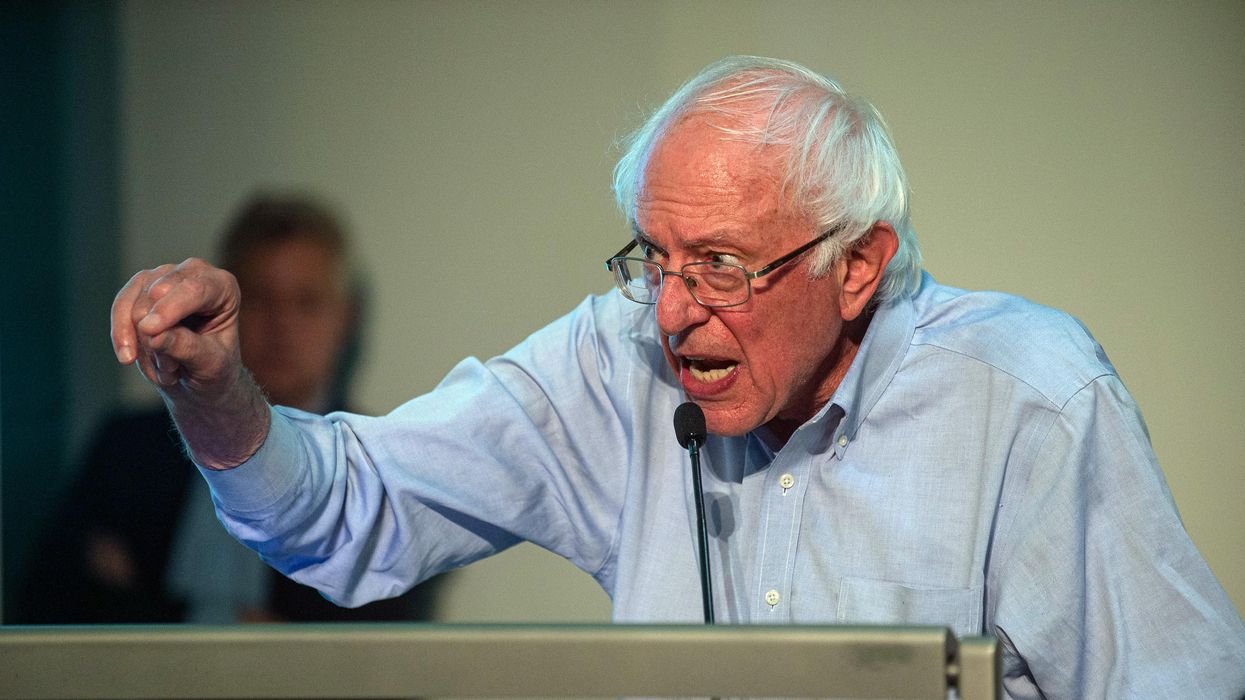 "A worker should not be fired for going to the doctor. Yet it is 2023 and railroaders are fighting for sick leave in the richest country on Earth," said one rail union leader.
Sen. Bernie Sanders announced Tuesday that he will join rail workers later this week to launch a fresh push for at least seven days of paid sick leave, an effort that comes months after Congress and the Biden White House forced workers to accept a contract without a single paid sick day to avert a potential strike.
Joining Sanders (I-Vt.) and rail union representatives at the Thursday press conference in Washington, D.C. will be Sen. Mike Braun (R-Ind.), one of the handful of Republican senators who voted for Sanders' amendment to add a week of paid sick leave to the White House-brokered contract deal.
The Vermont senator's amendment ultimately fell seven votes short of the 60 needed to overcome the Senate filibuster.
Since lawmakers' December vote to impose the contract despite opposition from unions representing a majority of U.S. rail workers, progressive members of Congress and rail employees have continued pressuring the Biden administration and ultra-profitable railroads to provide paid sick leave, overhaul their exploitative and untenable scheduling systems, and implement stronger safety standards.
On December 9, Sanders and more than 70 of his Democratic colleagues in the House and Senate sent a letter urging President Joe Biden to use his executive authority to "take quick and decisive action to guarantee these workers paid sick leave"—something he has yet to do.
Sanders, the chair of the Senate Health, Education, Labor, and Pensions Committee, is expected in the coming months to introduce legislation that would require rail corporations to guarantee their workers a minimum number of paid sick days.
At Thursday's press conference, according to Sanders' office, union leaders will demand that "companies provide them with at least seven paid sick days."
"Rail labor is committed to pursuing and securing paid leave for workers this year to create a safer, healthier national rail system for all."
The event will come just two weeks after Union Pacific, one of the largest rail corporations in North America, reported a record $7 billion in profits for 2022. The company spent significantly more on stock buybacks last year than it did on worker pay and benefits.
Sanders' office noted Tuesday that "guaranteeing seven paid sick days to rail workers would cost the industry just $321 million dollars—less than 1.2% of profits in a single year."
Marking the 30th anniversary of the Family and Medical Leave Act, U.S. rail unions unanimously adopted a resolution last week declaring that "all of rail labor is united and resolved to fight for paid sick leave for all railroad workers through collective bargaining or voluntary agreement, and that rail labor will further call upon all elected and appointed government officials and government agencies to pass a national paid sick leave law that covers all railroad workers with paid sick leave without penalty or punishment."
"A worker should not be fired for going to the doctor. Yet it is 2023 and railroaders are fighting for sick leave in the richest country on Earth," Greg Regan, president of the Transportation Trades Department of the AFL-CIO, said in a statement Monday. "Absent a national paid sick leave policy, the burden of securing this humane policy falls onto the shoulders of workers and the unions that represent them."
"Rail labor is committed to pursuing and securing paid leave for workers this year to create a safer, healthier national rail system for all," Regan added.
News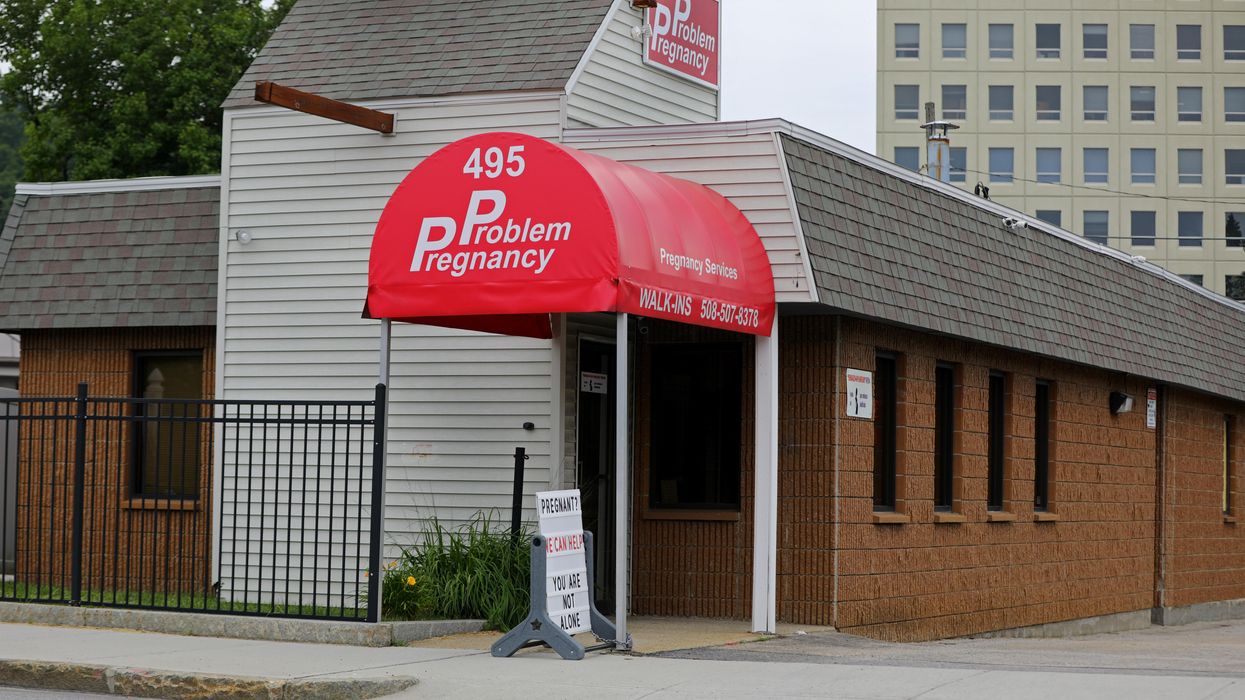 "People generally tend to consider Google's search engine as an equalizer... but that's just not the case," said one researcher. "Lower-income women are being targeted, and they're the ones that are going to suffer the most."

Research published Monday shows that Google is targeting lower-income users with advertisements for so-called crisis pregnancy centers, anti-choice organizations known to steer people away from accessing abortion care.
As the Tech Transparency Project (TTP), which conducted the analysis, explained: "Crisis pregnancy centers—which critics have dubbed 'fake abortion clinics'—appear to offer medical services but instead push an anti-abortion message, providing free ultrasounds and baby supplies with the aim of persuading women to carry unwanted pregnancies to term. Abortion rights advocates accuse them of using deceptive tactics to get women in the door—and targeting their advertising at low-income women and women of color in urban areas."
For its investigation, TTP established Google accounts for test users in Phoenix, Arizona; Atlanta, Georgia; and Miami, Florida. The users were characterized as 21-year-old women belonging to three different household income groups as defined by Google: average- or lower-income, moderately high-income, and high-income. While logged into each account, researchers entered 15 abortion-related search terms, including "Abortion clinic near me" and "I want an abortion," and then recorded ads that appeared on the first five pages of results. Researchers used a Google Chrome browser with no previous history, and they used virtual private networks to make it look like the users were conducting searches from their respective cities.
TTP found that Google showed ads for crisis pregnancy centers to women on the lower end of the income scale at a higher rate than their wealthier counterparts in two of the three cities. In Phoenix, average- or lower-income women saw 56% of ads come from crisis pregnancy centers, higher than what moderately high-income women (41%) and high-income women (7%) saw. In Atlanta, 42% of the ads targeted at average- or lower-income women came from crisis pregnancy centers, more than Google showed to moderately high-income women (18%) and high-income women (29%).
"By pointing low-income women to [crisis pregnancy centers] more frequently than higher-income women in states with restrictive laws, Google may delay these women from finding an actual abortion clinic to get a legal and safe abortion," TTP director Katie Paul toldThe Guardian on Tuesday.
"The time window is critical in some of these states," said Paul.
Abortion is banned after 15 weeks of pregnancy in Arizona and Florida. In Georgia, abortion is banned after six weeks, before many people know they are pregnant.
Because it can cost thousands of dollars in lost wages, child care, transportation, and lodging, lower-income people are less likely to be able to travel for abortion care.
Women on the lower end of the income scale did not receive ads for crisis pregnancy centers at the highest rate in every city in TTP's study. In Miami, researchers observed an inverse pattern: high-income women saw a larger share of ads from anti-abortion organizations (39%) than moderately high-income women (10%) and average- or lower-income women (15%).
"It's not clear why Miami diverged from the other cities, but one possibility is that crisis pregnancy centers, which often seek to delay women's abortion decisions until they are past the legal window for the procedure, are more actively targeting lower-income women in states like Arizona and Georgia, which have more restrictive abortion laws than Florida," TTP hypothesized. Although Republican lawmakers in Arizona and Florida have both prohibited abortion after 15 weeks, Arizona's ban comes with heightened restrictions.
Still, even if high-income women in Miami received more crisis pregnancy center ads on the top five pages of search results, that doesn't mean those are the ones they saw first. Ad rank is significant, and according to TTP, Google showed ads for anti-abortion organizations "higher up in the search results for lower-income women than it did for women of other income levels," as shown below.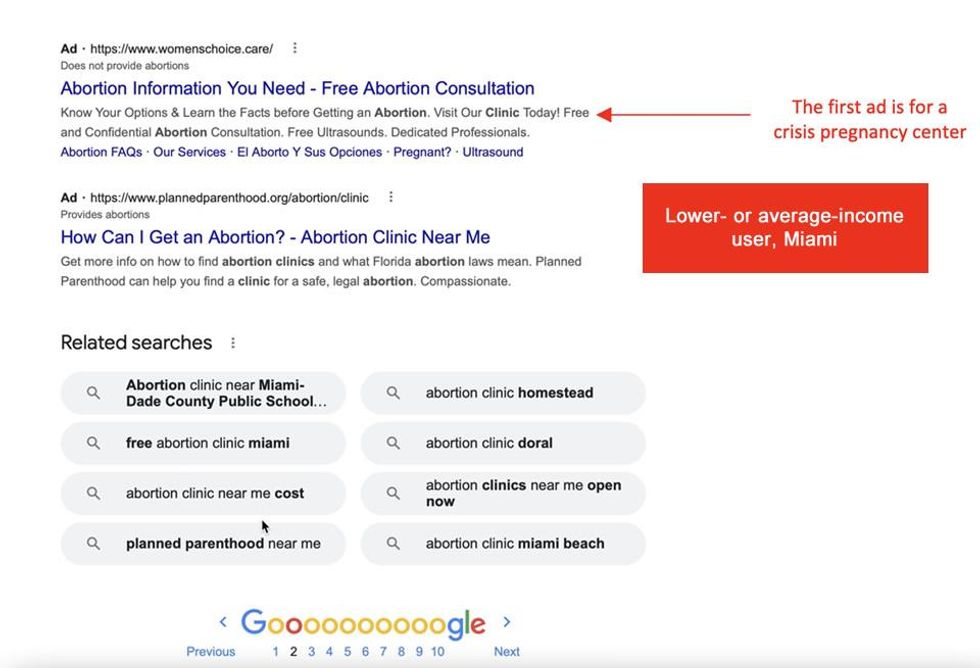 In Miami, the first ad shown to an average- or lower-income Google user searching for 'Abortion clinic near me' is for a crisis pregnancy center.(Photo: Tech Transparency Project)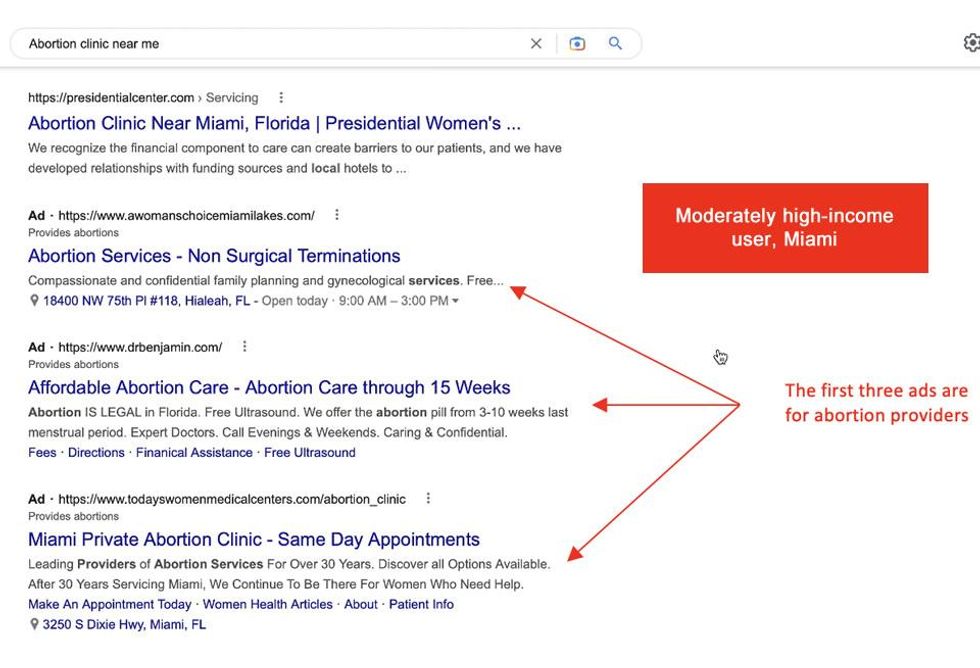 In Miami, the first three ads shown to a moderately high-income Google user searching for 'Abortion clinic near me' are for abortion providers.(Photo: Tech Transparency Project)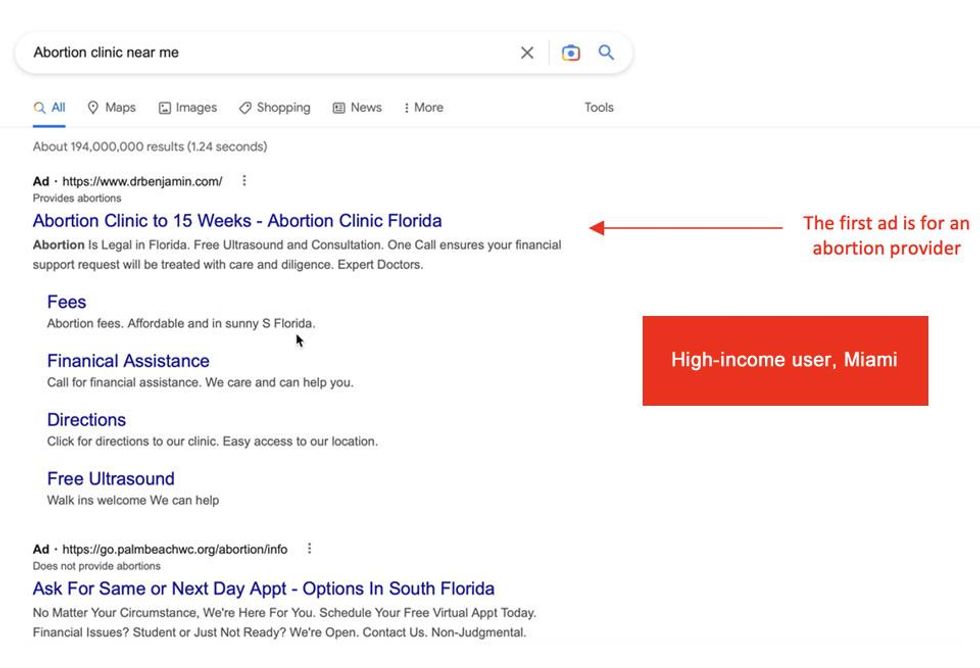 In Miami, the first ad shown to a high-income Google user searching for 'Abortion clinic near me' is for an abortion provider.(Photo: Tech Transparency Project)
The search terms used are also important. Several queries in TTP's experiment yielded only crisis pregnancy center ads for lower-income women.
"Although companies buying ads with Google can selectively target the groups they want to reach–including by income–Paul adds that many users won't be aware they are being targeted by Google in this way," The Guardian reported.
"Google has a large share of influence, particularly in the United States when people are trying to search for authoritative information," Paul explained. "People generally tend to consider Google's search engine as an equalizer. They think the results they get are the results that everyone's going to get. But that's just not the case."
"Lower-income women are being targeted," she said, "and they're the ones that are going to suffer the most under these policies."
As TTP pointed out: "Google is helping these centers reach their intended audience. Abortion rights groups and academic studies have noted that crisis pregnancy centers typically target women of lower socioeconomic classes, in part by advertising free services on public transportation and in bus shelters."
Crisis pregnancy centers have sought to expand their reach since the U.S. Supreme Court's far-right majority overturnedRoe v. Wade last summer.
These facilities have "been known to employ a number of shady tactics to convince women seeking an abortion to keep their pregnancies," The Guardian noted. "Those include posing as abortion clinics online though they do not offer abortion care, refusing pregnancy tests for women who say they intend to have an abortion, and touting widely disputed research about abortion care to patients. Crisis centers,which go largely unregulated despite offering medical services, have been known to target low-income women precisely because they find it harder to travel out of state for abortion care."
Previous reports have shown that Google is increasingly aiding these anti-abortion organizations, particularly in the GOP-led states that eliminated reproductive freedom as soon as the constitutional right to abortion was revoked.
TTP's new findings "add to growing questions about Google's handling of crisis pregnancy centers," the group wrote. "Bloomberg News has reported that Google Maps routinely misdirected users searching for abortion clinics to crisis pregnancy centers and that Google often failed to affix a warning, as promised, to crisis pregnancy center ads indicating they do not provide abortions. (In response to the first report, Google pledged to clearly label U.S. facilities that provide abortions in Google Maps and search results.)"
"Last fall, TTP also found that Google frequently served ads for crisis pregnancy centers that falsely suggest they offer abortions, violating the platform's policy against advertising that misleads users," the group noted.
During its new investigation, "TTP found similar omissions in multiple ads."
Rights & Justice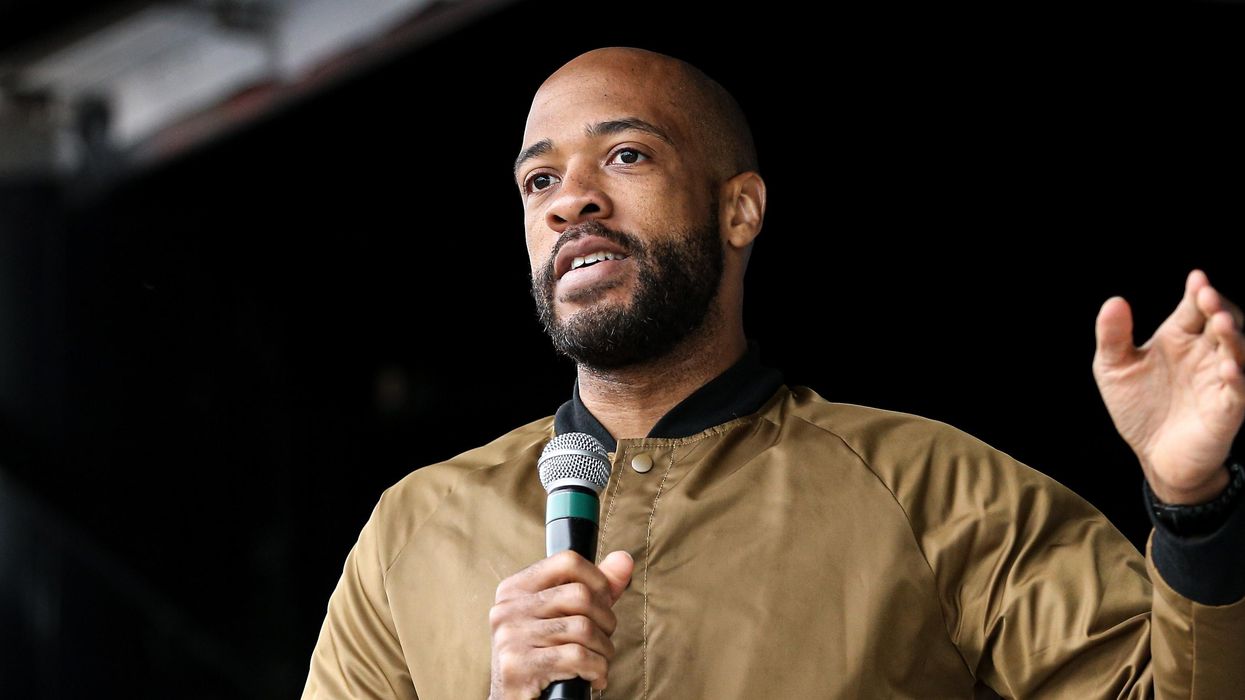 "Too often, fairly or unfairly, the questions of 'Can this person win?' and 'Does this person have what it takes?' come up," Barnes said. "Sometimes those questions aren't always asked in good faith."
To challenge establishment Democratic leaders who focus on the so-called "electability" of candidates and, in many cases, withhold funding that could be the deciding factor in whether they win or lose, former U.S. Senate candidate Mandela Barnes on Tuesday announced the launch of a new political action committee aimed at helping supposedly long-shot contenders.
The Long Run PAC will invest in the campaigns of "women, people of color, LGBTQ, and working-class candidates across the country" and in Barnes' home state of Wisconsin, where he came within 26,000 votes of beating two-term Republican Sen. Ron Johnson last year.
The former lieutenant governor of Wisconsin said that "changemaking candidates" in the Democratic Party are increasingly "redefining what a winning candidate looks like and where they come from," but they continue to face naysayers within their own party—and struggle to secure the funding needed to ensure their campaigns reach the finish line successfully.
\u201cA little bit of *personal news*.... Today I'm launching the @LongRunPAC \ud83c\udfc3\ud83c\udffe\u200d\u2642\ufe0f\n\nRunning taught me that winning a race isn\u2019t just about race day\u2014it\u2019s about how you train and prepare.\n\nRunning for office is the same. It takes time, patience, and people believing in you from the outset.\u201d

— Mandela Barnes (@Mandela Barnes) 1675778455
"Every single one of them is being asked the same question: 'Can you win?'" said Barnes in a statement. "The Long Run PAC is my way of making sure the answer to that question is a resounding, 'yes.' Because winning a race isn't just about what you put in on race day, it's about the support, training, and resources you put in from day one."
The PAC plans to announce an initial slate of candidates it is supporting this summer.
During his own campaign last year, Barnes refused to take money from corporate PACs, and raised more than $40 million from grassroots supporters, breaking fundraising records in Wisconsin. Barnes is a supporter of Medicare for All and focused heavily on workers' rights and strengthening unions during his Senate campaign.
In recent years corporate Democrats have shown hostility toward progressive candidates and lawmakers, warning that pushing for government-run healthcare will harm the party despite the proposal's popularity with Democratic voters. Political pundits have also claimed that support for progressive policies will hurt Democratic candidates' chances at the ballot box.

"Too often, fairly or unfairly, the questions of 'Can this person win?' and 'Does this person have what it takes?' come up," Barnes toldAxios on Tuesday. "Sometimes those questions aren't always asked in good faith."
Hand-wringing over "electability," he added, ensures that "there are a lot of 'different' candidates out there who don't get the attention they should be getting or the initial investments that they should be getting."
In recent elections, progressive candidates including Reps. Alexandria Ocasio-Cortez (D-N.Y.), Greg Casar (D-Texas), and Summer Lee (D-Pa.) have won while campaigning on progressive policy proposals, after receiving early grassroots support from left-wing PAC Justice Democrats.
"We're going to make sure these candidates have support through their run, ensuring their final sprint is a sprint to win," said Barnes on Tuesday. "The leaders who are 'different' are the ones who will make a difference—and winning a race depends on what you put in from the start."
News
SUPPORT OUR WORK.
We are independent, non-profit, advertising-free and 100%
reader supported.