350 Action Responds to Sanders Suspension of His Campaign, Urges Vice President Biden to Move Forward as a Climate Champion
Today, Senator Bernie Sanders suspended his Presidential campaign, stating that his team does not see a feasible path to victory and he could not in good conscience continue a campaign in the midst of the COVID-19 pandemic.
May Boeve, 350 Action executive director, made the following statement:
WASHINGTON
Today, Senator Bernie Sanders suspended his Presidential campaign, stating that his team does not see a feasible path to victory and he could not in good conscience continue a campaign in the midst of the COVID-19 pandemic.
May Boeve, 350 Action executive director, made the following statement:
"Bernie Sanders has consistently championed a bold vision of climate justice informed by those on the frontlines of this crisis. Now more than ever, we need Joe Biden to advocate for a similarly ambitious climate plan if we're going to curb disastrous impacts and build a livable world for all. Voters concerned about people and the planet want a president who is willing to stand up to polluting fossil fuel companies, invest in green jobs and community resilience, and fight for a just transition to a renewable energy economy.
"We can't afford four more years of inaction and rollbacks that benefits the wealthiest companies in the world and leads us further down the path toward climate chaos. It's time for Biden to heed the science, listen to impacted communities, and develop a plan on par with the scale of the climate crisis."
Tamara Toles O'Laughlin, 350 Action North America Director, said:
"We thank Senator Sanders for his game-changing contributions to political discourse. Over a lifetime the Senator has fought for what is possible and challenged what the country should strive for. As a strong advocate for climate and a partner on environmental justice, Sanders' forward-thinking plans matched the scale of the climate crisis and pushed the status quo for urgent transformation. We urge Vice President Biden to take up the blueprint that proven climate champions, Sanders and Warren, provided.
"To Vice President Biden, we say: Now is the time to be a gutsy climate champion! We call for Presidential leadership that prioritizes ambitious plans to drastically reduce carbon emissions by more than half to meet critical climate goals. We demand leadership and vision that rapidly transitions our energy sources by 2030, and in the process create millions of new jobs for workers in a renewable energy economy. We are calling for a political power shift that uplifts people and sets the most ambitious path to climate justice for all.
"A livable future requires a total transformation of our economy and culture. It's up to Vice President Biden to take up this mantle to remain relevant. We will work to hold him to these standards. Our demand for the end of fossil fuels will not change as the race continues. In the contest for the highest office, we must ensure that our leadership commits to making a meaningful impact in the climate decade."
350 Action is the independent political action arm of the non-profit, non-partisan climate justice group 350.org.
LATEST NEWS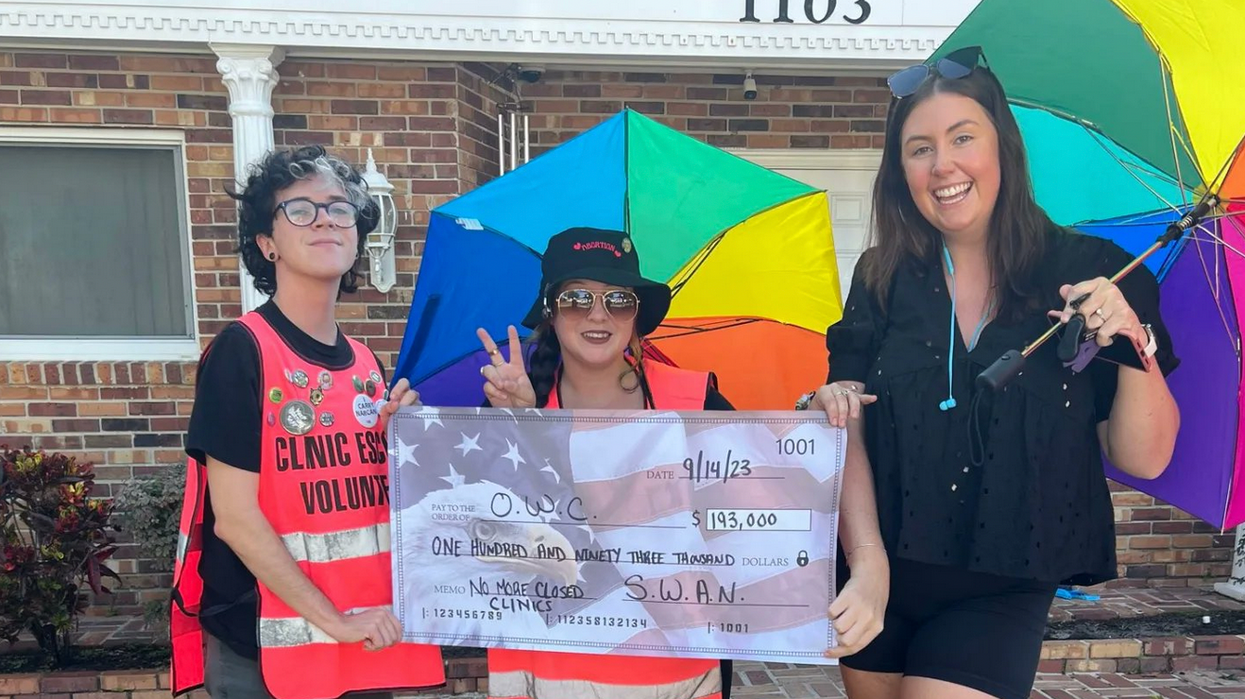 "We've never been so proud to be part of this movement and community," said SWAN of Orlando.
Volunteers who regularly help protect abortion clinic patients in Florida from crowds of pro-forced pregnancy protesters were able to deliver a check for $193,000 to Center of Orlando for Women on Tuesday, helping the reproductive healthcare center pay state fines that threatened to bankrupt it.
Volunteers with Stand With Abortion Now (SWAN) of Orlando raised the money in less than two weeks, after the Florida Agency for Healthcare Administration (AHCA) accused the clinic of violating the state's 24-hour waiting period for people seeking abortion care.
The law requires people to have two medical appointments 24 hours apart in order to obtain an abortion, and the clinic has maintained it had attempted to contact the AHCA to find out when the measure went into effect—but instead of providing the information the agency ordered the facility to pay $1,000 each for 193 alleged violations.
"We got to hand over $193,000 to our clinic today to save them from unjust AHCA fines meant to shut them down!" said SWAN on social media. "We've never been so proud to be part of this movement and community."
The makers of the podcast "Repros Fight Back" called SWAN's crowdfunding effort "a powerful display of love, community, and solidarity" that will keep one of Orlando's last abortion clinics open.
The clinic escorts delivered the funds to the facility days after the state's right-wing Supreme Court
heard
oral arguments in a case challenging Florida's 15-week abortion ban. If the court does not overturn the law, a
six-week abortion ban
signed by Republican Gov. Ron DeSantis—who is also running for the GOP's presidential nomination—will go into effect.
SWAN volunteers rallied outside the state Supreme Court last week during the hearing.
News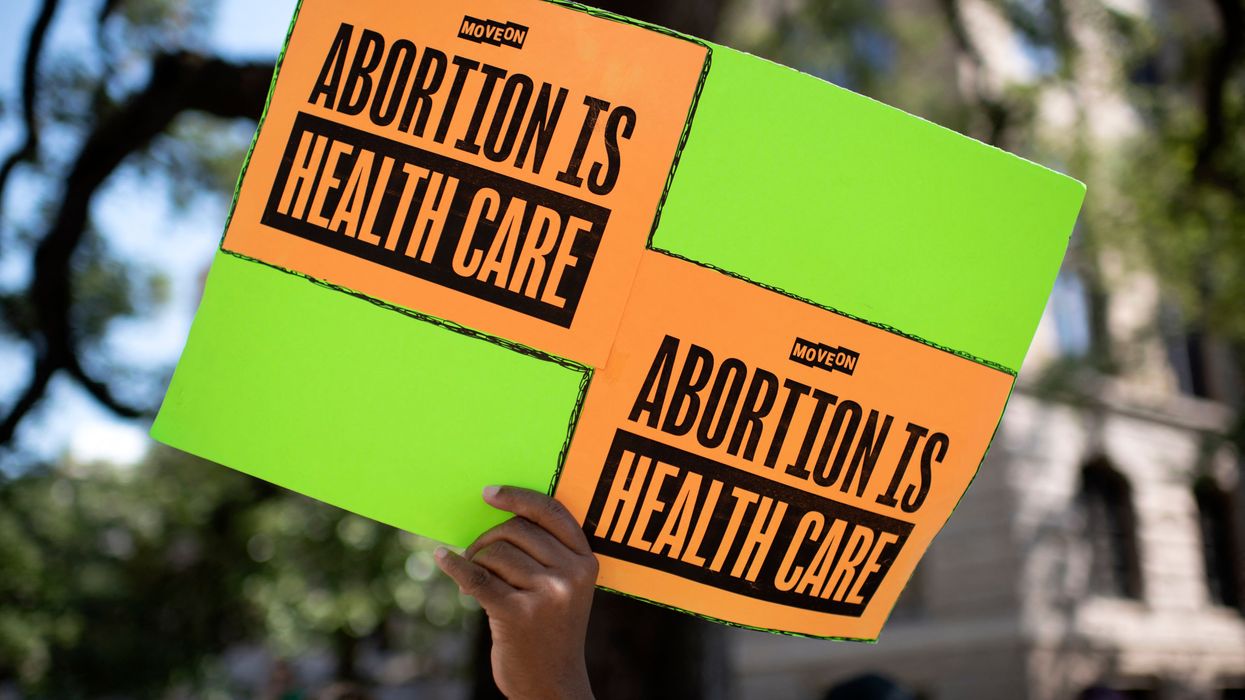 "The women standing up today survived, but it is only a matter of time before someone does not," said one advocate.
With reports of pregnant patients being denied crucial abortion care mounting over the past year since the U.S. Supreme Court overturned Roe v. Wade and stripped millions of Americans of their bodily autonomy, the Center for Reproductive Rights on Tuesday filed legal actions in three states where doctors have refused to provide abortions even in emergency situations—hoping to expose how providers and patients alike are being harmed by abortion bans.
The group filed legal challenges against abortion bans in Tennessee, Oklahoma, and Idaho—which all ban abortion care in nearly all circumstances—on behalf of women who were denied or delayed in receiving care.
The lawsuits come six months after CRR sued then-Texas state Attorney General Ken Paxton over the state's six-week abortion ban, which allows any private citizen to take legal action against someone for helping a pregnant person to obtain an abortion.
Marc Hearron, senior counsel at CRR, told The Washington Post that the stories of the five women the group represented in Texas are "the tip of the iceberg" and that pregnant patients all over the country are being dangerously denied abortions, even when it is considered the standard of care for specific medical emergencies they and their fetuses are facing.
"The Supreme Court's unwarranted reversal of Roe v. Wade has led repeatedly, in multiple states, to women being denied abortion care when they face serious complications in their pregnancies," said Nancy Northup, president and CEO of CRR. "No one should have to be at death's door to receive essential healthcare, but that is exactly what happens when doctors are forced to practice medicine under threat of imprisonment."

The group is representing eight women and four obstetrician-gynecologists in the three states; some of the patients, including Nicole Blackmon of Tennessee, were forced to carry their pregnancies to term even though there was no chance their fetuses would survive.
Blackmon found out from an ultrasound at 15 weeks of pregnancy that her fetus' organs were developing outside its body and that it was showing signs of developing limb body wall complex (LBWC), a rare condition that includes several fetal anomalies.
Her doctors told her they could not perform an abortion, even though academic studies have shown detection of LBWC necessitates the termination of a pregnancy.
Traveling out of state to obtain care was not financially feasible, Blackmon told the Post, so instead, as her own health deteriorated with the development of preeclampsia, she carried the pregnancy until two months before her due date, when she delivered a stillborn baby.
"We had been through so much we couldn't bear to see or hold him," Blackmon said in a virtual press conference on Tuesday with the other plaintiffs and CRR officials. "Why won't Tennessee politicians allow people to have abortions in terrible situations like mine? Something good must come out of my pain. That's why I'm joining this case. What we went through was torture that no one else should ever have to face."
Dr. Emily Corrigan, an emergency obstetrician who joined the lawsuit in Idaho, said in the press conference that the state's laws have forced at least 19 reproductive healthcare providers to leave the state in the past year as well as five out of nine maternal-fetal medicine specialists, who treat patients with high-risk pregnancies.
"Our out-of-state recruitment has completely dried up meaning that every one of us that leaves or retires is now irreplaceable," said Corrigan.

Idaho's law includes language allowing physicians to perform an abortion if it is "necessary to prevent the death of the pregnant woman," but as Corrigan said, the law was "not written using medical terminology."

Providers are avoiding working in the state due to "widespread confusion in the medical community in Idaho about in which circumstances abortion care is legal," she said. "I regularly see patients that have been denied emergency medical care at other hospitals in this state... Any doctor found to have broken these laws, including me, is subject to 2-5 years in prison, the loss of their medical license, and civil liability and fines amounting to at least $20,000 for each violation."
"Because of the confusion and steep penalties physicians across the state of Idaho have felt compelled to consult with lawyers, hospital administrators, order additional tests, and delay or deny standard healthcare to pregnant patients," she added.
The case of a plaintiff in Oklahoma, where an abortion ban includes similar language to protect the life of a pregnant patient, illustrates the danger caused by such so-called "exceptions."
As Common Dreamsreported in April, Jaci Statton developed a cancerous molar pregnancy that caused her to bleed heavily and put her at risk for more severe hemorrhaging, kidney and liver failure, stroke, and potentially death, but doctors at three different hospitals told her they could not provide abortion care despite the law's exception.

She was told to wait in a hospital parking lot until she was "crashing," at which point providers would be able to terminate the pregnancy.
"No one ever thinks they need an abortion, but I am living proof that abortion is healthcare," said Statton. "It's not safe to be pregnant in Oklahoma. With this complaint, I want to make sure that no one else has to suffer the way I did."
CRR said it hopes to ultimately ensure pregnant people facing medical emergencies can access care in the three states and obtain "clarity on what situations qualify under the 'medical emergency' exceptions."

Temple University law professor Rachel Rebouché toldthe Post that cases like Blackmon's, Statton's, and several others across the country have "changed a lot of people's minds" about the right to abortion care, with a growing number of Americans supporting the right at any stage of pregnancy.
"Abortion bans across the nation are exposing pregnant people to risks of death, illness, and injury, including loss of fertility," said Northrup. "The women standing up today survived, but it is only a matter of time before someone does not."
News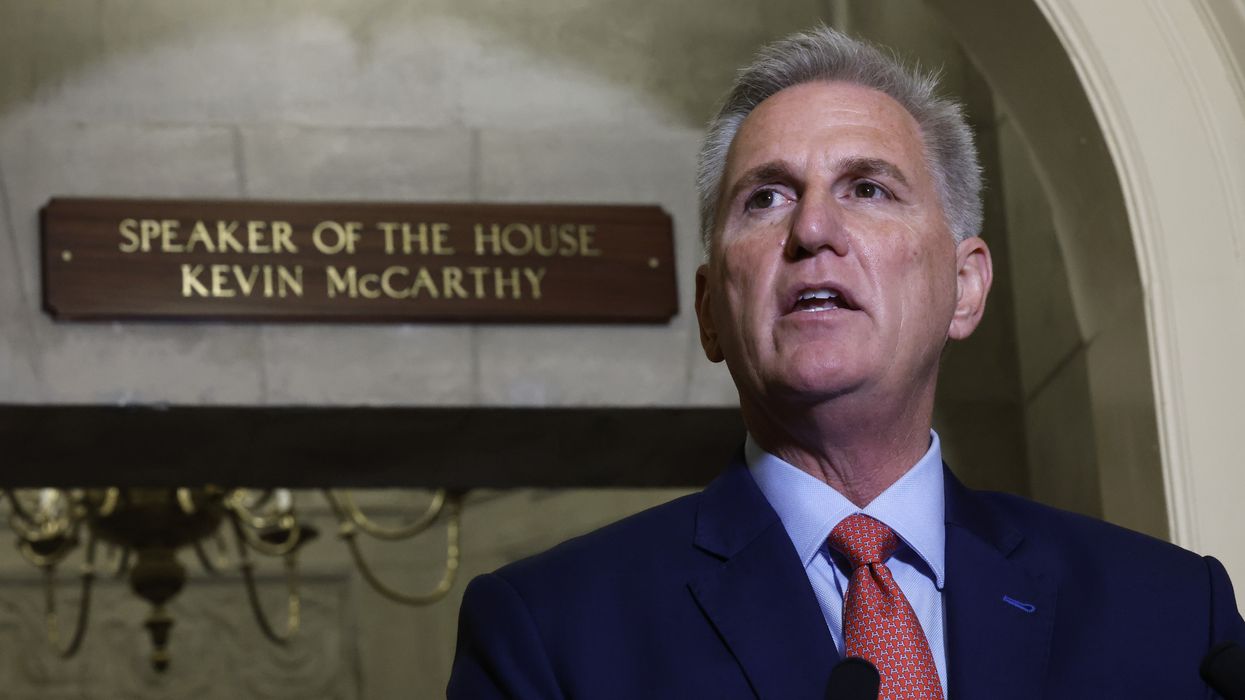 "This is a bald-faced attempt to distract voters from Donald Trump's 91 criminal counts and hurt President Biden's reelection chances," said the head of Stand Up America.
As the U.S. House of Representatives reconvened on Tuesday, GOP Speaker Kevin McCarthy directed committees to open an impeachment inquiry into Democratic President Joe Biden—and quickly came under fire from congressional Democrats and progressive groups.
The California Republican's move comes as Congress has about two weeks to avert a government shutdown, and amid threats that far-right members of the House, such as U.S. Rep. Marjorie Taylor Greene (R-Ga.), would try to oust the speaker—whose election to the post required 15 rounds of voting—if he did not act swiftly on impeachment.
While GOP lawmakers have not yet presented concrete proof of the president's alleged misconduct related to his son Hunter Biden's business dealings and legal issues, McCarthy claimed Tuesday that "House Republicans have uncovered serious and credible allegations into President Biden's conduct. Taken together, these allegations paint a picture of a culture of corruption."
The speaker explained that the impeachment effort will be led by Republican Congressmen James Comer (Ky.), Jim Jordan (Ohio), and Jason Smith (Mo.), who respectively chair the House Oversight and Accountability, Judiciary, and Ways and Means committees. McCarthy encouraged Biden's team to "fully cooperate" and said that "we will go wherever the evidence takes us."
Ian Sams, the White House spokesperson for oversight and investigations, said on social media that "House Republicans have been investigating the president for nine months, and they've turned up no evidence of wrongdoing."
McCarthy's "own GOP members have said so," and "he vowed to hold a vote to open impeachment, now he flip flopped because he doesn't have support," Sams continued, calling the stunt "extreme politics at its worst."
Other critics of the decision highlighted that Biden is seeking reelection next year and is expected to face the Republican nominee. Former President Donald Trump is the GOP front-runner, despite four ongoing criminal cases and arguments that he is constitutionally disqualified from holding office again after inciting the January 6, 2021 insurrection.
"In a stunning display of hypocrisy, Speaker McCarthy has caved to Marjorie Taylor Greene and the MAGA caucus by launching an impeachment inquiry against President Joe Biden without a full House vote," said Sean Eldridge, founder and president of the progressive advocacy Stand Up America, referencing Trump's "Make America Great Again" slogan.
"This is a bald-faced attempt to distract voters from Donald Trump's 91 criminal counts and hurt President Biden's reelection chances," he charged. "The American people won't be fooled by this political stunt. McCarthy's impeachment inquiry against President Biden does not pass the smell test. In fact, it reeks of political desperation."
Eldridge concluded by accusing the speaker of "undermining our democracy and our Constitution by playing political games with our nation's separation of powers and most serious checks and balances."
House Judiciary Committee Ranking Member Jerry Nadler (D-N.Y.)—who was a manager for the first of Trump's two historic impeachments—was also critical of McCarthy's decision on Tuesday.
"In 2019, House Democrats moved on impeachment only after developing overwhelming evidence that Donald Trump had attempted to extort the government of Ukraine," Nadler recalled. "In 2021, we needed very little time to determine who was responsible for the attack of January 6."
"Today's House Republicans failed to articulate any specific charge against President Biden—because they have no basis whatsoever to launch this so-called inquiry. They have no evidence of misconduct," he stressed. "Their whistleblowers have been discredited time and time again. They have not even begun to approach the high bar of high crimes and misdemeanors. And they have done none of the work necessary to convince the American people that this stunt is a good idea—a political reality that I suspect will set in for them sooner, rather than later."
"Let me be very, very clear: President Biden has done nothing wrong, and House Republicans have not found a shred of evidence to suggest otherwise," the congressman added. "Speaker McCarthy may get to keep his job for another day, but he has once again caved to the most extreme elements of the Republican Party."
U.S. Rep. Ilhan Omar (D-Minn.)—a frequent target of McCarthy and other far-right Republicans for her progressive political views and identity as a Black Muslim woman and refugee—declared that "this is a new low in House Republicans' failure to govern."
"Instead of doing anything to address rising housing costs, raise the minimum wage, tackle child poverty, or address the opioid crisis, Republicans have threatened to plunge the nation into default and are now once again pushing the government to the brink of a shutdown," Omar said. "They have turned the United States House of Representatives into a vindictive political campaign arm of Donald Trump."
"And the hypocrisy almost takes your breath away. Kevin McCarthy has repeatedly said you cannot start an impeachment inquiry without a full vote of the House—and even introduced a resolution that condemns an impeachment inquiry without a House vote as an 'abuse of power' that 'brings discredit to the House' and 'undermines the voting privileges afforded to each member and the constituents they represent,'" she noted. "Yet that is exactly what Kevin McCarthy is doing today."
Ammar Moussa, a spokesperson for Biden's reelection campaign, similarly said Tuesday that "as Donald Trump ramped up his demands for a baseless impeachment inquiry, Kevin McCarthy cemented his role as the Trump campaign's super-surrogate by turning the House of Representatives into an arm of his presidential campaign."
News
Independent, nonprofit journalism needs your help.
Please Pitch In
Today!