For Immediate Release
August, 23 2019, 12:00am EDT
Nebraska Supreme Court Upholds Law that Ignores Landowners' Property Rights, Indigenous Sovereignty in Flawed Decision on Keystone XL Pipeline Route
Despite the flawed state decision, three federal lawsuit challenges to pipeline project continue to proceed
WASHINGTON
Nebraska landowners and Tribal Nations said they would continue to fight the Trump administration's rubber-stamp approval of a federal permit for the proposed Keystone XL pipeline, after the Nebraska Supreme Court ignored due process rights, property rights, and indigenous sovereignty in a flawed decision on the "Mainline Alternative" route through Nebraska. This new route has undergone no legitimate environmental, property rights or cultural reviews and was approved without any proper notice to landowners and Ponca members along the new route.
WHAT: Telepresser for Media on Nebraska Supreme Court KXL Decision
WHEN: Friday, August 23, 10:30 a.m. E.T. / 9:30 a.m. C.T.
CALL-IN DETAILS: DIAL-IN FOR MEDIA: 877-876-9173; PASSWORD: KXL
Landowners' attorneys with Domina Law Group argued that the proposed pipeline route's approval by the Nebraska Public Service Commission in November 2017 was illegal on a number of grounds -- including the violation of due process rights for landowners on the route who were never afforded a chance to participate in public hearings or comment as affected landowners. Likewise, attorneys for the Ponca Tribe of Nebraska and Yankton Sioux Tribe argued before the Court that the route's approval was illegal without notice to landowners and Ponca members on the route and without any survey of sacred and cultural sites on the proposed route, including the Ponca Trail of Tears.
The risky pipeline project's fate is still very much in doubt, as three separate federal lawsuits continue to proceed that challenge the controversial project's permits.
President Trump essentially has tried to start the process over, by ending the Executive Order which has governed cross-border pipelines. In its place, Trump issued an "Executive Memorandum" saying TransCanada's "permit" was approved, without any need for standard reviews that govern critical water crossings and other environmental permits. This action in turn prompted three new federal lawsuits, outlined below:
Bold, Sierra Club, NRDC, Center for Biological Diversity, Northern Plains Resource Council suit: Filed July 1, 2019. This case is in its early briefing stages. Challenges the Army Corps' illegal approval without evaluating Keystone XL's impacts as required by the National Environmental Policy Act and the Clean Water Act. The lawsuit also makes Endangered Species Act claims against Trump, the Army Corps, TransCanada, and local power-line builders -- over the project's lethal threats to endangered species, including the whooping crane. (https://boldnebraska.org/conservation-groups-launch-new-legal-challenges-to-keystone-xl-pipeline-approval/)
Indigenous Environmental Network, North Coast Rivers Alliance suit: Filed April 5, 2019. This case challenges Trump's unilateral permit for Keystone XL, and seeks a new preliminary injunction on construction; oral arguments are scheduled for Oct. 9 in Montana federal court re: the challenge to Trump's "permit," and a U.S. government motion to dismiss case. (https://www.ienearth.org/9th-court-of-appeals-throws-out-case-blocking-keystone-xl-pipeline/)
Native American Rights Fund, Rosebud Sioux Tribe, Fort Belknap, Gros Ventre suit: Filed June 7, 2019. Rosebud Sioux Tribe v Trump seeks to rescind Trump's unilateral "permit." In conjunction, the Rosebud Sioux Tribe held its own Utility Commission public hearings on KXL, and rejected the project, refusing permission for TransCanada to use their roads to move equipment to the proposed pipeline route. (https://www.narf.org/cases/keystone/)
Meanwhile, TransCanada has not yet announced a Final Investment Decision on whether to even move forward and build Keystone XL, should it finally resolve these numerous outstanding permitting and legal challenges.
"The Nebraska legislature and a Democratic President can fix this very bad ruling coming out of the Nebraska Supreme Court. At some point in our country's history, property rights of farmers and sovereign rights of Tribal Nations should trump Big Oil's land grab," said Jane Kleeb, Bold Nebraska founder. "The Nebraska legislature can fix our broken state laws that give too much power to Big Oil. There is nothing American about the KXL pipeline--it is a project with foreign steel and foreign tarsands all headed to the export market. Our water is on the line here, and for the past decade too many politicians sat on their hands while the people did the work. It's time for our elected officials to now step up and make it clear that pipelines are not in our public interest."
"The Ponca Tribe is extremely disappointed with the Supreme Court's decision. Not only did the Court ignore the due process rights of landowners along the route that never got notice or an opportunity to be heard about a pipeline going through their land, but it disregarded the potential destruction of the Tribe's cultural resources by TransCanada, including the Ponca Trail of Tears," said Larry Wright, Jr., Chairman of the Ponca Tribe of Nebraska. "The reality is neither TransCanada nor the PSC has any idea what cultural and historic resources are along the route because surveys have never been done. We've seen what pipeline companies do to cultural and historic resources in South Dakota with DAPL -- they intentionally plow through them and destroy them. Even the federal court in Montana recognized that the pipeline cannot be built until cultural and historic surveys are done, but the Supreme Court of Nebraska doesn't seem to care about those resources in its own state. Regardless, the Ponca Tribe will continue to fight this pipeline that threatens all of our land, water, and resources in Nebraska."
Bold Alliance is a non-profit organization fighting fossil fuel projects, protecting landowners against eminent domain abuse, and working for clean energy solutions while building an engaged base of citizens who care about the land, water and climate change.
LATEST NEWS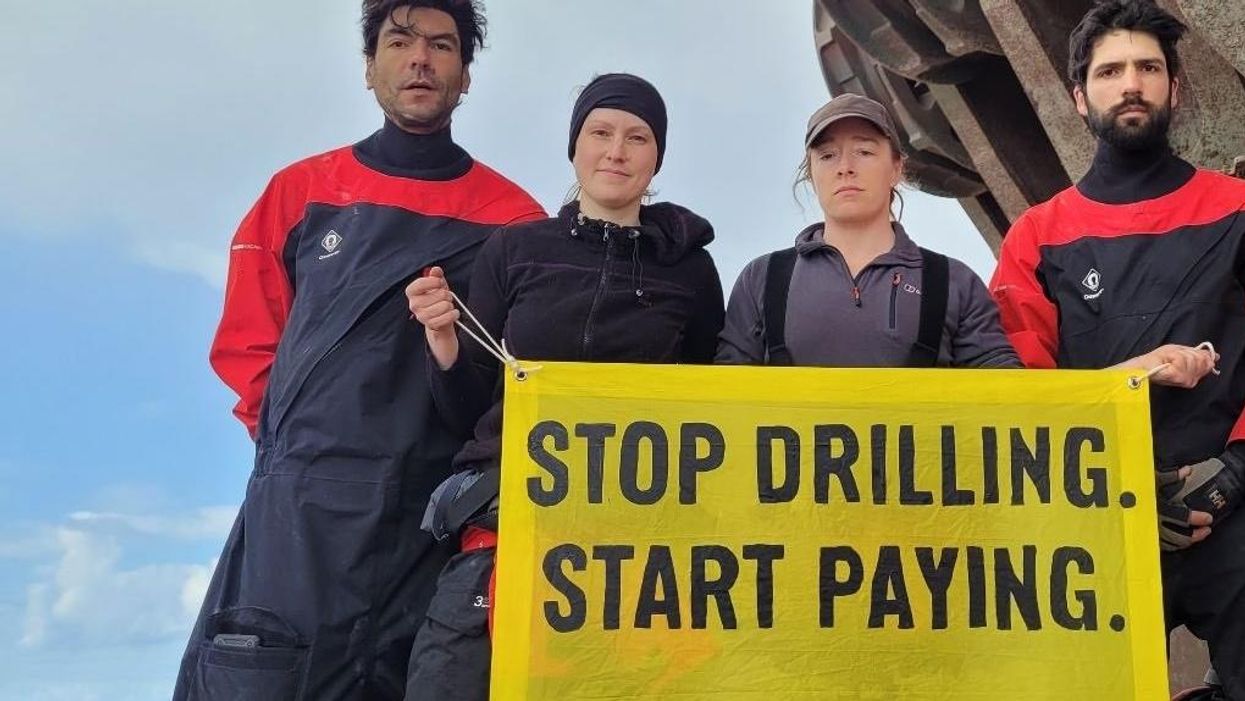 "We're taking action today because when Shell extracts fossil fuels, it causes a ripple of death, destruction, and displacement around the world."
In an effort to call attention to the company's planet-wrecking drilling projects, several Greenpeace International campaigners on Tuesday boarded and occupied a Shell-contracted platform in the Atlantic Ocean as it headed toward a major oil and gas field in the U.K. North Sea.
Greenpeace said in a press release that the platform is "a key piece of production equipment that will enable Shell to unlock eight new wells in the Penguins North Sea oil and gas field," an extraction effort that the climate group has attempted to block in court.
Four Greenpeace activists—Carlos Marcelo Bariggi Amara from Argentina, Yakup Çetinkaya from Turkey Imogen Michel from the U.K., and Usnea Granger from the U.S.—managed to board the Shell vessel using ropes after reaching the platform in three boats deployed from Greenpeace's Arctic Sunrise ship.
Greenpeace Southeast Asia executive director Yeb Saño, who tried and failed to board the platform, said in a statement that Shell "must stop drilling and start paying."
"We're taking action today because when Shell extracts fossil fuels, it causes a ripple of death, destruction, and displacement around the world, having the worst impact on people who are least to blame for the climate crisis," said Saño, the former lead climate negotiator for the Philippines.
"We won't stop until we get climate justice. We will make polluters pay."
A Shell spokesperson claimed in a statement that the Greenpeace campaigners' demonstration is "causing real safety concerns, with a number of people boarding a moving vessel in rough conditions."
But the spokesperson signaled that the company has no intention of altering its development plans in the North Sea, despite warnings from the scientific community that continued drilling will usher in catastrophic climate outcomes.
"Shell and the wider fossil fuel industry are bringing the climate crisis into our homes, our families, our landscapes, and oceans," Saño said Tuesday. "So we will take them on at sea, at shareholder meetings, in the courtroom, online, and at their headquarters. We won't stop until we get climate justice. We will make polluters pay."
Greenpeace's latest direct action came days before Shell's earnings report, which will follow the banner profit announcements of competing oil and gas giants such as Chevon and ExxonMobil.
On Tuesday, Exxon said it raked in a record $56 billion in profits in 2022.

News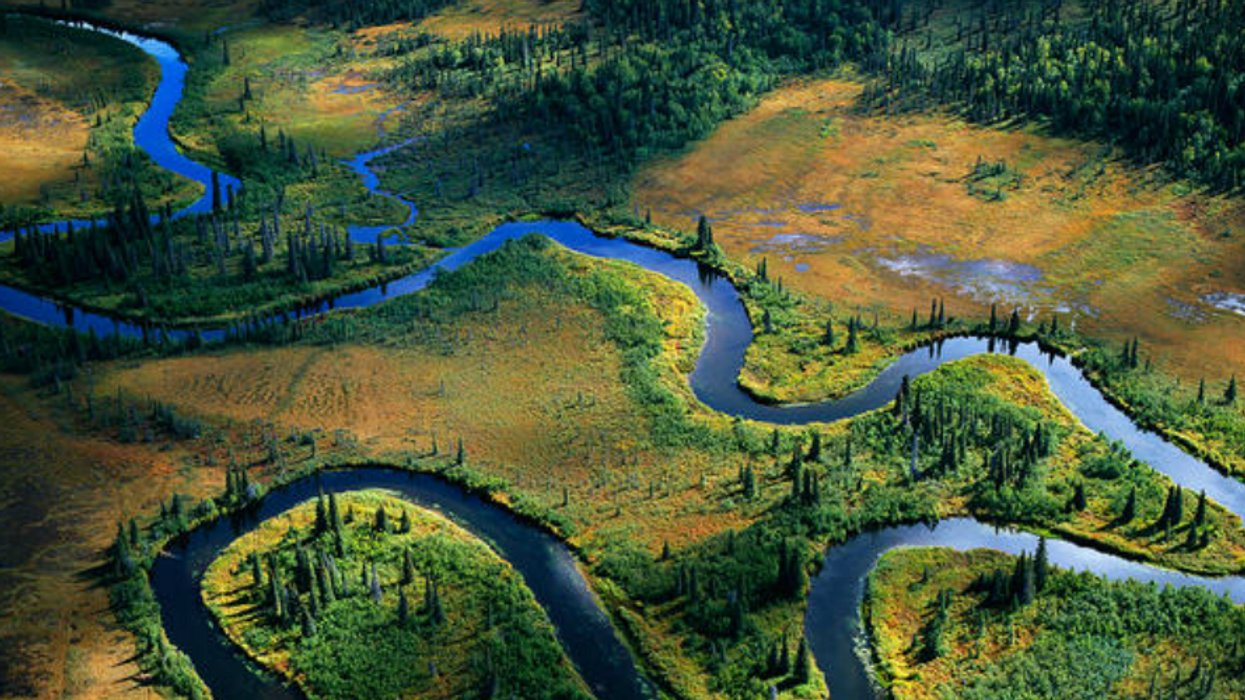 "Thousands of Alaskans and over a million Americans from across the political spectrum have called for protection of Bristol Bay's one-of-kind salmon resource from massive open pit mining and today, the EPA delivered."
Environmental advocates in Alaska and across the United States on Tuesday applauded what one Indigenous campaigner called "historic progress" in the fight to protect Bristol Bay's ecosystems from the developers of Pebble Mine, a proposed open-pit copper and gold mine that would have led to the dumping of waste in the world's largest sockeye salmon run.
The Environmental Protection Agency (EPA) announced on Tuesday its long-awaited "Final Determination" regarding protections for Bristol Bay, following more than a decade of litigation and campaigning by Alaska Natives and advocates.
Under Section 404(c) of the Clean Water Act, the agency said, the EPA will prohibit "certain waters of the United States in the South Fork Koktuli River and North Fork Koktuli River watersheds from being used as disposal sites," and "prohibits future proposals to construct and operate a mine to develop the Pebble deposit."
"Today is a new day for Bristol Bay," said Earthjustice.
\u201cBREAKING: Today is a new day for Bristol Bay. After years of advocacy & litigation, @EPA has issued a Clean Water Act veto to ensure the proposed Pebble Mine won't destroy the Bristol Bay watershed, an Alaskan treasure & home to the world's largest remaining salmon runs.\u201d

— Earthjustice (@Earthjustice) 1675175188
The decision is the outcome of a 2019 lawsuit filed by Earthjustice on behalf of tribal organizations and the advocacy group Earthworks, and follows "a fierce, decades-long battle waged by the people of Bristol Bay and so many others," said Earthjustice senior attorney Erin Colón.
"EPA today followed the law and science to establish enduring protections for the Bristol Bay watershed under the Clean Water Act," said Colón in a statement. "This is a major victory worth celebrating, but we cannot rest until even more permanent protections are in place. The Bristol Bay watershed is one of the world's great ecosystems, and the way of life and the abundant future it supports is worth the fight."
Advocates first challenged Pebble Limited Partnership's plan for the mine in 2010, when six tribes in the Bristol Bay area called on the EPA to protect the watershed, which is home to a 37.5 million salmon annually, supports a $2 billion commercial fishing industry, and has provided sustenance for Alaska Natives for generations.
The EPA restricted parts of the watershed from being used by the mining company in 2014, but the developers challenged those protections. In 2017, the agency withdrew them in a settlement with Pebble Limited Partnership.
The U.S. Army Corps of Engineers also denied a key permit for the project in 2020—a decision that is now under appeal by the company.
Dyani Chapman, state director for Alaska Environment Action, said the previous restrictions and Tuesday's determination are in line with what Alaska Natives and environmental advocates have known for decades: "The headwaters of Bristol Bay are, quite simply, a really bad place for a mine."

"The region is home to an incredible range of wildlife and remains healthy because it's been spared a lot of the harsher touches of industrialization," said Chapman. "Over the past 20 years, scientists, the local Indigenous communities, fishermen, and broader public have asked repeatedly for strong and permanent protections for Bristol Bay. This EPA determination is a long-awaited win for sockeye salmon and the entire Bristol Bay region."
Advocacy group SalmonState noted that with two out of three Alaskans opposing the Pebble Mine, the EPA's decision "may be the most popular thing the federal government has ever done for Alaska."
"Thousands of Alaskans and over a million Americans from across the political spectrum have called for protection of Bristol Bay's one-of-kind salmon resource from massive open pit mining and today, the EPA delivered," said executive director Tim Bristol. "This is a victory for every single person—from Bristol Bay's tribal citizens, commercial fisherman, sport anglers, business leaders, chefs, scientists, and so many more—who [has] spoken out over the years, and we thank the EPA and the Biden administration for this well-considered, heavily documented, overwhelmingly popular move."
While celebrating the EPA's determination, advocates said they will continue pushing for congressional protections for the Bristol Bay watershed and acknowledged that the Biden administration's decision could be overturned by a future president. Pebble Limited Partnership also said it will likely appeal the decision.
"Today is a great day for Bristol Bay, and one that many thought would never come," said Bristol Bay Native Corporation CEO Jason Metrokin. "While the immediate threat of Pebble is behind us, BBNC will continue working to protect Bristol Bay's salmon-based culture and economy and to create new economic opportunities across the region."
Verner Wilson, senior oceans campaigner at Friends of the Earth, called the action "a positive step forward" but expressed concern that "it doesn't go far enough."

"Given that Bristol Bay is the largest wild salmon fishery on the planet," said Wilson, "Congress and the state of Alaska must work together to protect it permanently."
News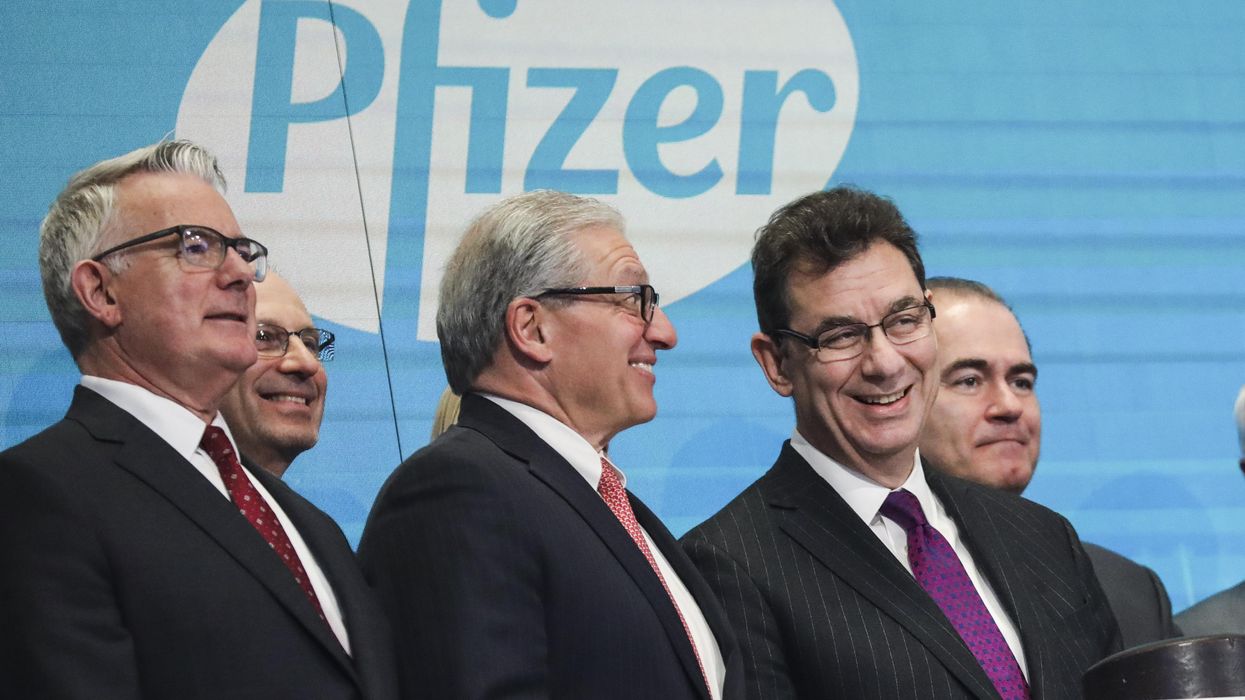 "Put simply, Pfizer has plundered health systems for profit," said the People's Vaccine Alliance.
The U.S.-based pharmaceutical giant Pfizer reported Tuesday that it brought in a record-breaking $100.3 billion in revenue in 2022 and $31.4 billion in profit, sums that campaigners decried as "sickening" in the face of an ongoing pandemic and persistent inequities in coronavirus vaccine access.
"In one year alone, Pfizer's revenue has exceeded the total health expenditures of more than 100 countries combined," Julia Kosgei, policy co-lead for the People's Vaccine Alliance, said in a statement. "If it were a country, Pfizer would sit in the wealthiest third of nation-states. And it has amassed this fortune while jacking up prices on Covid-19 vaccines amid a pandemic that has devastated people's livelihoods. Put simply, Pfizer has plundered health systems for profit."
Pfizer, led by CEO Albert Bourla, is the manufacturer of one of the two available mRNA vaccines for Covid-19, as well as the oral coronavirus treatment Paxlovid. The company reported $56 billion in sales of its Covid-19 vaccine and Paxlovid, though it said it expects sales to drop in the coming year as it moves to hike prices significantly on its vaccine—a plan that has drawn international alarm and outrage.
Globally, more than 2,600 people are dying from Covid-19 each day on average. According to Our World in Data, just over 26% of people in low-income nations have received at least one coronavirus vaccine dose as Pfizer and other pharmaceutical giants refuse to make their vaccine technology available to all—even though it was developed with the help of government funding and scientific advancements.
"Billions of people in developing countries still cannot access affordable Covid-19 medicines," said Kosgei. "Companies like Pfizer are gobbling up ever-greater proportions of health budgets and handing the spoils to wealthy shareholders—all while treating access for developing countries as little more than a PR initiative. We cannot go on like this."
The U.K.-based advocacy group Global Justice Now called Pfizer's record earnings report "sickening."
"With this latest 'all-time high' announcement, Pfizer now has revenues higher than the GDP of 133 countries, including 8 E.U. member states, and is the first pharma company ever to make $100 billion in a year," noted Tim Bierley, the group's pharma campaigner. "But not content with doubling its revenues with a pandemic windfall, they are now still moving to aggressively hike the price of Covid-19 booster doses, putting even more pressure on already struggling public health systems."
"Their latest record-breaking revenues are further proof that the company treated the pandemic as an opportunity to enrich its shareholders," Bierley added. "We can't allow Big Pharma companies to hold us to ransom in this way. We need the government to be bold and break with the monopoly patent model that fails people everywhere. It's time to put people's lives above corporate profit."
"A people-funded vaccine should be cheap and freely available."
Both Pfizer and Moderna have signaled plans to raise the prices of their vaccines to somewhere between $110 to $130 per dose in the U.S. as the Biden administration moves ahead with the commercialization of coronavirus inoculations, tests, and treatments—shifting costs onto patients and insurers and leaving the uninsured to shoulder significant payments.
The U.S. government has previously paid around $30 per dose for Pfizer's vaccine.

In recent days, the Biden administration has faced growing calls to use the federal government's ownership of key patents and other leverage to force Moderna and Pfizer to make their vaccines affordable and readily available to all who want them.
"The Biden administration should not allow Moderna to more than quadruple the price of the Covid vaccine to $130 when it costs just $2.85 to produce," Sen. Bernie Sanders (I-Vt.) tweeted on Sunday. "The Covid vaccine must be used to save lives, not to further enrich the billionaire owners of Moderna."
Moderna and Pfizer are also facing backlash from lawmakers overseas over their planned price increases.
In a letter to Bourla and Moderna CEO Stéphane Bancel on Tuesday, British MP Caroline Lucas of the Green Party and three other lawmakers wrote that with the National Health Service "already under significant pressure and the costs of medicines increasing year on year, we are extremely concerned about the multiple impacts of a possible price hike."
"Throughout its development, the Pfizer/BioNTech vaccine received huge amounts of public money and support internationally," the lawmakers wrote. "Even the mRNA technology that Pfizer/BioNTech employed in the Covid-19 vaccine is rooted in decades of publicly funded research. A people-funded vaccine should be cheap and freely available."

News
SUPPORT OUR WORK.
We are independent, non-profit, advertising-free and 100%
reader supported.