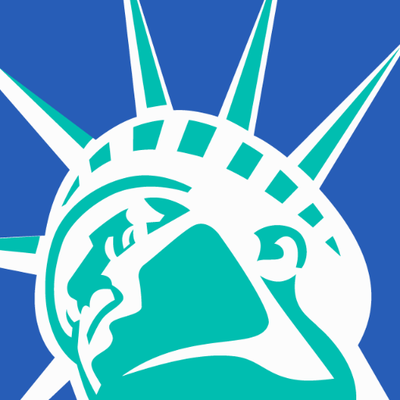 For Immediate Release
March, 25 2016, 04:45pm EDT
Contact:
Phone: (202) 588-1000
Undoing 'Soft Money' Restrictions a Bad Idea for Louisiana and Nation's Elections, Public Citizen Tells Court
Group Joins Democracy 21 and Campaign Legal Center to Fight Latest Attempt to Buy American Elections at Every Level
WASHINGTON
Public Citizen, together with Democracy 21 and the Campaign Legal Center, today filed a friend of the court brief opposing an effort by state and local Republican Party committees in Louisiana to gut the Bipartisan Campaign Reform Act (BCRA) that prevent state and local political parties from accepting unregulated contributions for federal election activity. The brief explains that limits on contributions to state parties are essential safeguards against corruption of the federal candidates whom the state parties support and with whom they are closely tied.
The brief was filed in a case brought by the Republican Party of Louisiana and Republican Party committees in two Louisiana parishes in the United States District Court for the District of Columbia. The Louisiana Republicans contend that BCRA provisions that limit the amount of contributions they can receive for federal election activity, and that generally bar corporate contributions, are unconstitutional. The case is being heard by a three-judge panel of the district court, and the three-judge court's decision may be appealed directly to the Supreme Court.
Before BCRA's enactment, state parties could use unlimited contributions, referred to as "soft money," to pay for various activities that benefited candidates for federal office. Contributors, including corporations, routed tens of millions of dollars to the state parties to buy influence over federal officeholders. BCRA banned that practice, and the Supreme Court upheld BCRA's ban as a legitimate anti-corruption measure in its 2003 decision in McConnell v. FEC.
The Louisiana Republicans argue that the McConnell decision has been undermined by subsequent decisions including Citizens United v. FEC and McCutcheon v. FEC, which struck down other campaign finance laws and allowed unchecked spending to flood our elections. But as the brief filed today explains, those decisions leave McConnell's soft-money holding, and its anti-corruption rationale, untouched.
"Limits on contributions to state party organizations are as necessary today to stop contributors from buying off federal candidates and officeholders as they were when McConnell was decided," said Public Citizen attorney Scott Nelson, the principal author of the brief. "The Louisiana Republicans' arguments would take us back to the soft-money era and set off a free-for-all in which federal candidates could make deals with contributors in return for excessive contributions to state parties that would directly benefit their candidacies."
Public Citizen is a nonprofit consumer advocacy organization that champions the public interest in the halls of power. We defend democracy, resist corporate power and work to ensure that government works for the people - not for big corporations. Founded in 1971, we now have 500,000 members and supporters throughout the country.
(202) 588-1000
LATEST NEWS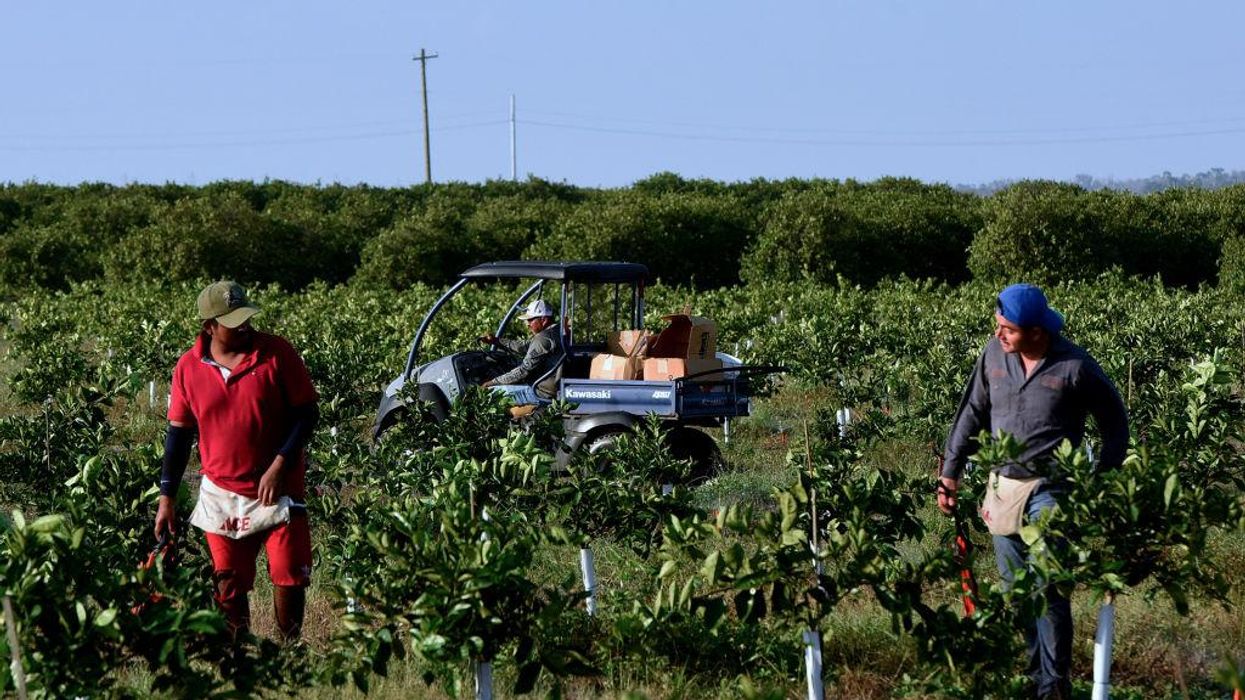 "This is a huge victory for undocumented workers and the labor movement," said one organizer.
Migrant workers and advocates on Friday applauded a Biden administration policy to help protect noncitizen employees who are victims or witnesses of labor rights violations "from threats of immigration-related retaliation from the exploitive employers."
The U.S. Department of Homeland Security (DHS) announced that noncitizens will be able to submit requests for temporary relief from deportation or other immigration actions to U.S. Citizenship and Immigration Services (USCIS) "through a central intake point established specifically to support labor agency investigative and enforcement efforts."
"This policy will change lives, but only if our local and national leaders stand with workers loud and clear, to make this policy a reality."

DHS said that "for deferred action requests from noncitizens who are in removal proceedings or have a final order of removal, upon reviewing the submission for completeness, USCIS will forward such requests to U.S. Immigration and Customs Enforcement (ICE) to make a final determination on a case-by-case basis."
As Daniel Costa, director of immigration law and policy research at the Economic Policy Institute, explained Friday in a blog post welcoming the announcement:
Given the current budget constraints of federal labor standards enforcement agencies—which are funded at just one-twelfth the rate of immigration enforcement agencies—the use of deferred action in this manner will encourage workers and whistleblowers to speak out without fear and will act as a force multiplier for underfunded and understaffed labor enforcement agencies, thereby assisting them in their mission to protect worker rights and hold lawbreaking employers accountable. This will make workplaces safer for all workers.
Organizations from the Blue Ribbon Commission on Immigrant Work praised the policy, with Haydi Torres, an organizer with Unidad Latina en Acción NJ, declaring that "this is a huge victory for undocumented workers and the labor movement."
"Our fight goes beyond our immigration status, it is a fight for all the workers who sustain the economy of this country," Torres said. "Without our hands there is no work."
Yale Law School professor James Bhandary-Alexander, an attorney with Unidad Latina en Acción CT, said that "the threat of deportation is like a gun in the boss's hand, pointed at workers and their rights."
Workers' rights leaders such as Victor Agreda agreed, saying that "the bosses always act like they have more power than the workers."
While "my co-workers and I overcame our fear to denounce labor abuses," Agreda said, "deferred action is labor justice for all workers who remain silent in the face of abuse."
\u201cHUGE win for immigrant workers! This is a historic step for victims of workplace mistreatment and wage theft. This is only the start - we won\u2019t stop until there\u2019s #citizenshipforall! \u270a\ud83c\udffd\n\nMigrant workers can now be protected from deportation while disputing workplace abuse.\u201d

— NICE: New Immigrant Community Empowerment (@NICE: New Immigrant Community Empowerment) 1673630263
Homeland Security Secretary Alejandro Mayorkas asserted Friday that "unscrupulous employers who prey on the vulnerability of noncitizen workers harm all workers and disadvantage businesses who play by the rules."
"We will hold these predatory actors accountable by encouraging all workers to assert their rights, report violations they have suffered or observed, and cooperate in labor standards investigations," he pledged. "Through these efforts, and with our labor agency partners, we will effectively protect the American labor market, the conditions of the American worksite, and the dignity of the workers who power our economy."
Stuart Appelbaum, president of the Retail, Wholesale, and Department Store Union (RWDSU), said that "today's announcement by Secretary Mayorkas is welcome news. Immigrant workers are critical to the success of our economy, yet they are among those who suffer the most exploitation and abuse at work, and then suffer further from intimidation and retaliation when they stand up for their rights."
\u201cFor far too long, immigrant workers have had no one in their corner as they faced employers who threatened them with deportation and unlivable wages. This new guidance will help create fairer and safer working conditions for #OurComunidad and all workers.\u201d

— Hispanic Federation (@Hispanic Federation) 1673647227
Since then-President-elect Joe Biden announced Marty Walsh as his nominee to lead the U.S. Department of Labor in October 2021, migrant worker advocates have pressured the administration to ensure that its immigration and labor policies are aligned and to protect whistleblowers by removing the threat of deportation.
"From Las Vegas to Washington D.C., to Mississippi to New York, we have fought tirelessly to reach this moment," Rosario Ortiz of the Arriba Las Vegas Worker Center noted Friday. "My coworkers and I have been fighting our case for more than three years, facing threats and intimidation on top of wage theft and health and safety risks as workers of Unforgettable Coatings Inc."
"We've met personally with Secretary Walsh and Secretary Maryokas to call for these protections," Ortiz said. "Today I am proud of my coworkers and our brothers and sisters across the country who have helped open a pathway for others in our circumstances to seek the protections that we have won."
\u201c#BREAKING: #DHS announces new migrant workers whistleblower policy! It\u2019s a recognition of the many workers who launched the #DALE campaign demanding Biden protect rights of migrant workers confronting abuse + unsafe work - with work permits - not try to deport them!\u201d

— Justice Action Center (JAC) (@Justice Action Center (JAC)) 1673638469
While celebrating the administration's move, Unidad Latina en Acción CT director John Jairo Lugo stressed that "words without actions are not enough. This policy will change lives, but only if our local and national leaders stand with workers loud and clear, to make this policy a reality."
National Day Laborer Organizing Network (NDLON) co-executive director Nadia Marin-Molina vowed that "we are going to fight like hell in the days and weeks ahead to ensure that every single worker who qualifies can get the benefit of this new policy."
"We are going to fight like hell in the days and weeks ahead to ensure that every single worker who qualifies can get the benefit of this new policy."
Farmworker Justice, which also applauded the announcement, pointed out that the policy "will have a particularly powerful impact among farmworkers, more than half of whom are either undocumented or on precarious H-2A work visas, and their families."
"Farmworker Justice has supported advocate demands for these protections for many years, and we look forward to continued engagement with DHS as well as labor enforcement agencies to educate farmworkers and their advocates about the new guidance," the group said. "We will also continue to advocate for comprehensive solutions that improve the lives of farmworkers and their families, including legislation that provides immigrant workers with a path to citizenship, protections against workplace hazards like extreme heat and pesticides, and the elimination of unjust farmworker exclusions from federal labor protections."
News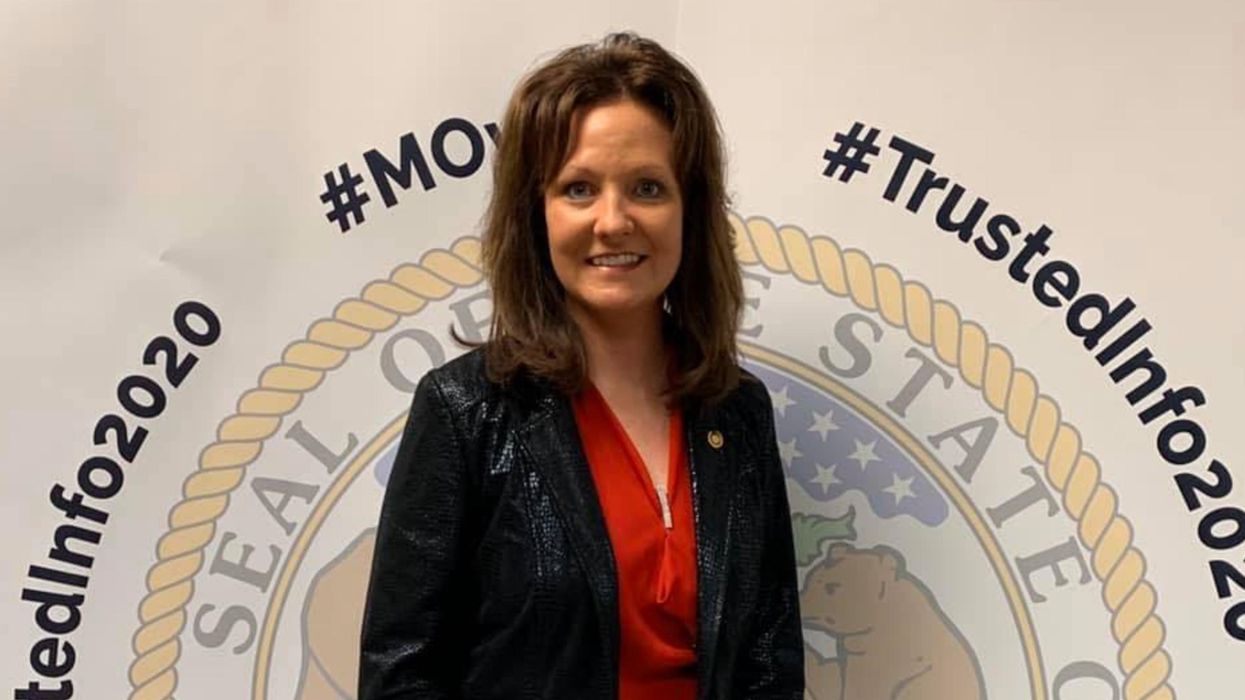 "On day one in our Legislature they're doubling down on controlling women," one Democratic state legislator said of her Republican colleagues, noting the abortion ban they enacted last year.
Missouri state lawmakers can bear arms in the legislative chamber but if they're women, they can no longer show their bare arms under new dress code rules passed by the Republican-controlled House of Representatives on Friday.
State Rep. Ann Kelley (R-127) is behind the new regulation, which passed by a 105-51 vote as part of a rules package. Rule 98 states that "at all times when the House is seated, proper attire for gentlemen shall be business attire, including coat, tie, dress trousers, and dress shoes or boots. Proper attire for women shall be business attire, including jackets worn with dresses, skirts, or slacks, and dress shoes or boots."
"Do you know what it feels like to have a bunch of men in this room looking at your top trying to determine if it's appropriate or not?"
Defending the policy during floor debate on Wednesday, Kelley said: "Men are required to wear a jacket, a shirt, and a tie, correct? And if they walked in here without a tie, they would get gaveled down in a heartbeat. If they walked in without a jacket, they would get gaveled down in a heartbeat. So, we are so interested in being equal."
\u201cMO State Rep. Proudie (D) goes after GOP House members pushing a dress code for women \u2014 requiring they wear jackets \u2014 in a rules bill.\n\n"I spent $1,200 on a suit, and I can't wear it in the People's House because someone who doesn't have the range tells me that's inappropriate."\u201d

— Heartland Signal (@Heartland Signal) 1673477291
However, Democratic state lawmakers pushed back against the policy, with Rep. Maggie Nurrenbern (D-15) tweeting that "it is mind-boggling that members of the Missouri House have the right to bear arms on the floor of the chamber, but women legislators are forbidden from showing bare arms."
Rep. Peter Merideth (D-80) refused to vote on the measure, telling colleagues, "I don't think I'm qualified to say what's appropriate or not appropriate for women and I think that is a really dangerous road for us all to go down."
"Y'all had a conniption fit the last two years when we talked about maybe, maybe wearing masks in a pandemic to keep each other safer," he added. "How dare the government tell you what you have to wear over your face?"
Also speaking on the House floor, Rep. Ashley Aune (D-14) asked, "Do you know what it feels like to have a bunch of men in this room looking at your top trying to determine if it's appropriate or not?"
\u201cWhat the cinnamon toast fuck is going on in Missouri.\n\nRepublicans have proposed a dress code targeting women lawmakers.\n\n555-COME-ON-NOW\n\n'Lost their minds': Missouri Dems cry foul over GOP-proposed dress code for female state lawmakers https://t.co/uAXWbYDePD\u201d

— \ud83e\udd0c\ud83c\udffe Imani Gandy \ud83d\udc46\ud83c\udffe (@\ud83e\udd0c\ud83c\udffe Imani Gandy \ud83d\udc46\ud83c\udffe) 1673538729
Reacting to the new rule, human rights attorney Qasim Rashid tweeted that "the Missouri GOP banning women from showing their bare arms isn't a sign of Shariah or Taliban—it's a sign of right-wing 'Christian' extremism."
"Stop deflecting extremism in America as something foreign," Rashid added. "It's 100% American. Admit it. Own it. Work to stop it."
Speaking to CNN Friday, Aune noted that "in 2019 House Republicans passed the abortion ban that went into effect this summer after the Dobbs decision came down, fully restricting a women's right to choose in this state, and on day one in our Legislature they're doubling down on controlling women."
Under the state's abortion ban, pregnant Missourians are forced to travel to other states for the medical procedure. Last year, Republican state lawmakers unsuccessfully tried to punish them for doing so via a measure that would have allowed private citizens to sue anyone who "aids or abets" abortions violating Missouri's ban—no matter where they are performed.

News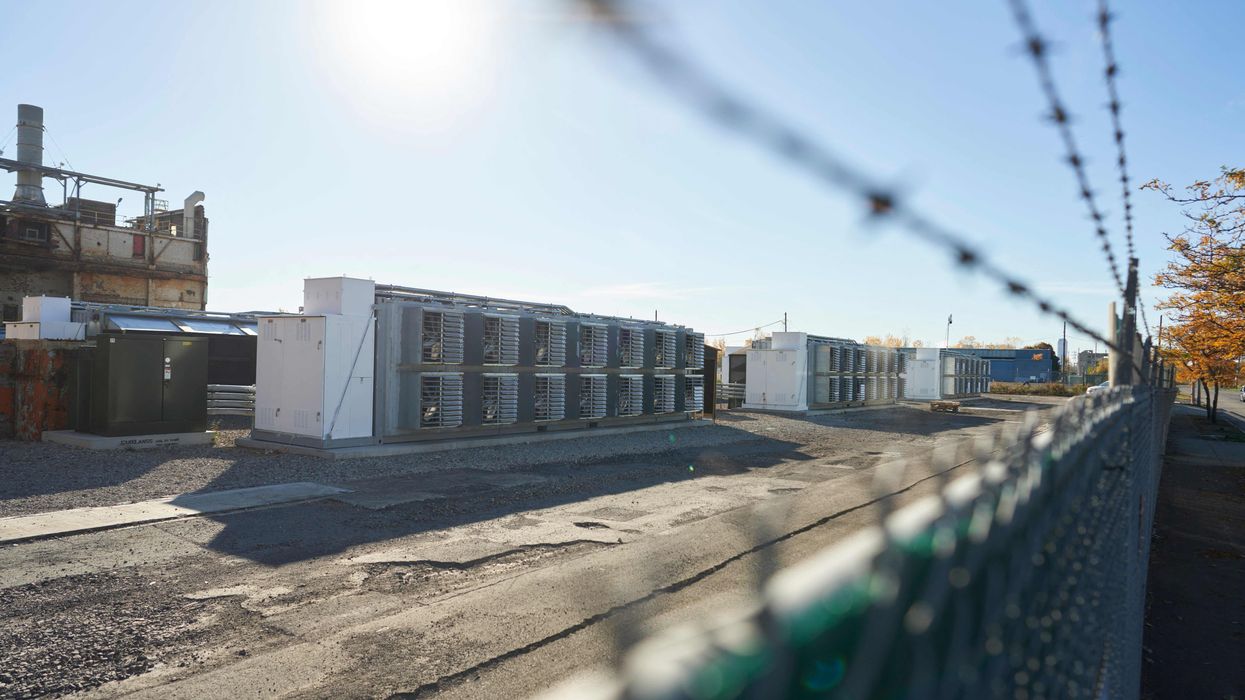 "New York's landmark climate law means that agencies can't ignore the climate and environmental justice consequences of their decisions," said one advocate.
Three climate action groups said Friday that New York's decision to allow a Canadian cryptocurrency mining company to control a fracked gas power plant is a clear violation of the state's landmark climate protection law as they sued a state commission in Albany County Supreme Court.
The lawsuit, filed by Earthjustice on behalf of Clean Air Coalition of Western New York and the Sierra Club, comes four months after the New York Public Service Commission approved the sale of the Fortistar North Tonawanda power plant in the Buffalo area to Digihost International.
The transfer gave Digihost approval to operate round-the-clock, 365 days per year, increasing the facility's greenhouse gas emissions up to 3,500% as it conducts its proof-of-work cryptocurrency mining operation, said Earthjustice.
As Sierra Club and Earthjustice explained in a report last year:
The process effectively entails millions of computing machines racing to solve a complex, but meaningless, problem. In Bitcoin's algorithm, for example, the computer or mining machine that successfully solves the problem is rewarded with Bitcoin (and functionally verifies the blockchain). As long as the reward is high enough (i.e., the price of Bitcoin is high enough), miners will attempt to use more—and faster—mining machines to increase their chances of winning that reward.
"Top-down estimates of the electricity consumption of cryptocurrency mining in the United States imply that the industry was responsible for an excess 27.4 million tons of carbon dioxide (CO2) between mid-2021 and 2022—or three times as much as emitted by the largest coal plant in the U.S. in 2021," the report said.
As it announced the lawsuit Friday, Earthjustice noted that Digistar could massively ramp up emissions as the rest of the state works to comply with the 2019 Climate Leadership and Community Protection Act, which requires all state agencies to consider the implications for disadvantaged communities and for emissions reduction when making decisions.
"New York's landmark climate law means that agencies can't ignore the climate and environmental justice consequences of their decisions. We're calling on the court to hold agencies accountable and ensure that cryptocurrency miners don't get a free pass to heat our planet and damage our communities," said Dror Ladin, senior attorney at Earthjustice.
The plant in question is located near a number of neighborhoods that have been designated by the state as "disadvantaged communities," where residents face a greater environmental burden than 90% of New York. Cryptomining at Fortistar North Tonawanda could raise the residents' risk of developing asthma, cancer, and other conditions that could lead to premature death.

"Everything changed when New York state enacted its landmark climate law," said Roger Downs, conservation director for the Sierra Club Atlantic Chapter. "The Public Service Commission can no longer ignore the impacts of its decisions, especially when they run counter to public benefit and endanger the air quality for communities already burdened with a disproportionate amount of pollution. Allowing a failing gas fired power plant to be acquired and revived by an energy-hungry cryptomine, without considering the environmental impacts, runs counter to the intent of the climate law and the justice it seeks to advance."
The local conservation group Seneca Lake Guardian applauded the groups for challenging the commission's approval of the sale.
\u201cThank you, \u2066@Earthjustice\u2069 \u2066@SierraClubNY\u2069 \u2066@cleanairwny\u2069 ! https://t.co/9fQS7vmvrp\u201d

— Seneca Lake Guardian (@Seneca Lake Guardian) 1673639849
"Clean Air will continue to fight against the burning of fossil fuels to generate power for cryptocurrency mining, especially in residential areas like North Tonawanda," said Chris Murawski, executive director of the Clean Air Coalition of Western New York.

News
SUPPORT OUR WORK.
We are independent, non-profit, advertising-free and 100%
reader supported.