For Immediate Release
January, 22 2013, 01:56pm EDT
Contact:
ASA Chief Counsel Joe Elford 415-573-7842 or ASA Media Liaison Kris Hermes 510-681-6361
D.C. Circuit Denies Medical Marijuana Reclassification Challenge, Advocates Vow to Appeal
Americans for Safe Access will seek En Banc review, continue fight to develop public health policy
WASHINGTON
The United States Court of Appeals for the D.C. Circuit issued a ruling today in the medical marijuana reclassification case, Americans for Safe Access v. Drug Enforcement Administration. In a 2-1 decision, the Court granted standing in the case -- the right to bring a claim against the federal government -- but denied the legal challenge on the merits, agreeing with the government's assertion that "adequate and well-controlled studies" on the medical efficacy of marijuana do not exist.
"To deny that sufficient evidence is lacking on the medical efficacy of marijuana is to ignore a mountain of well-documented studies that conclude otherwise," said Joe Elford, Chief Counsel with Americans for Safe Access (ASA), the country's leading medical marijuana advocacy organization, which appealed the denial of the rescheduling petition in January of last year. "The Court has unfortunately agreed with the Obama Administration's unreasonably raised bar on what qualifies as an 'adequate and well-controlled' study, thereby continuing their game of 'Gotcha.'"
ASA intends to seek En Banc review by the full D.C. Circuit and,necessary, the organization will appeal to the U.S. Supreme Court. ASA intends to argue that the Obama Administration has acted arbitrarily and capriciously by using continually changing standards of "medical efficacy" in order to maintain marijuana as a Schedule I substance, a dangerous drug with no medical value. The government now contends that Stage II and III clinical trials are necessary to show efficacy, while ASA has consistently argued that the more than 200 peer-reviewed studies cited in the legal briefs adequately meet this standard.
In 2002, the Coalition for Rescheduling Cannabis, made up of several individuals and organizations including ASA, filed a petition to reclassify marijuana for medical use. That petition was denied in July 2011, after ASA sued the Obama Administration for unreasonable delaying the answer. The appeal to the D.C. Circuit was the first time in nearly 20 years that a federal court has reviewed the issue of whether adequate scientific evidence exists to reclassify marijuana.
"The Obama Administration's legal efforts will keep marijuana out of reach for millions of qualified patients who would benefit from its use," continued Elford. "It's time for President Obama to change his harmful policy with regard to medical marijuana and treat this as a public health issue, something entirely within the capability and authority of the executive office."
Patient advocates claim that marijuana is treated unlike any other controlled substance and that politics have dominated over medical science on this issue. Advocates point to a research approval process for marijuana, controlled by the National Institute on Drug Abuse (NIDA), which is unique, overly rigorous, and hinders meaningful therapeutic research. ASA argues in its appeal brief that the DEA has no "license to apply different criteria to marijuana than to other drugs, ignore critical scientific data, misrepresent social science research, or rely upon unsubstantiated assumptions, as the DEA has done in this case."
ASA will continue to put pressure on the Obama Administration, but will also be lobbying Members of Congress to reclassify marijuana for medical use. A new comprehensive public health bill on medical marijuana is expected to be introduced soon in Congress, and ASA is holding a national conference in February to support its passage.
Americans for Safe Access is the nation's largest organization of patients, medical professionals, scientists and concerned citizens promoting safe and legal access to cannabis for therapeutic use and research.
LATEST NEWS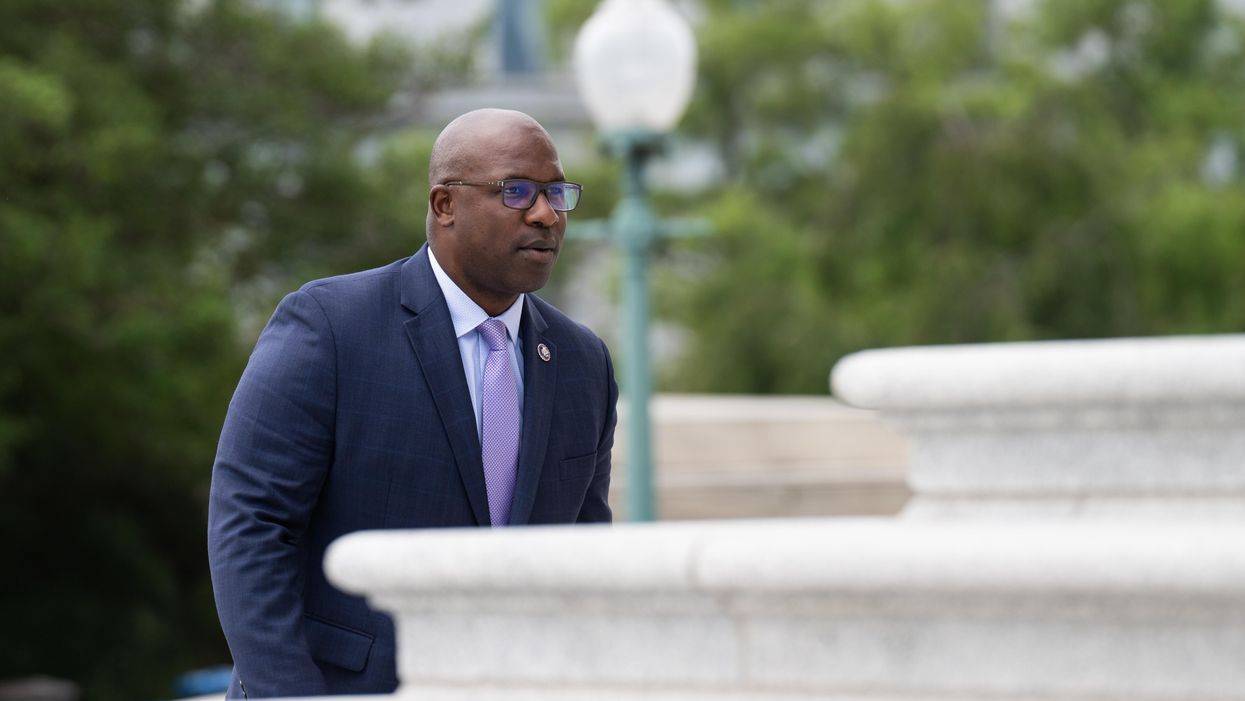 "This amendment is crucial as taxpayers and other citizens remain concerned—and inadequately informed—about the cost to U.S. taxpayers of the wide range of U.S. military activities abroad."
U.S. lawmakers remain on August recess but 20 advocacy groups on Monday wrote to top Democrats and Republicans on key congressional panels to demand passage of "commonsense, noncontroversial" legislation to provide the public with greater transparency on U.S. military spending.
When members of Congress return to Capitol Hill next month, they will continue reconciling the differences between the House and Senate versions of the National Defense Authorization Act (NDAA) for Fiscal Year (FY) 2024—a process that involves intense disagreements over right-wing policies that Republicans want to stuff into the $886 billion package.

The advocacy organizations—including Amnesty International USA, Demand Progress Action, Friends Committee on National Legislation, Just Foreign Policy, Peace Action, RootsAction.com, Veterans for Peace, and Win Without War—came together to support an amendment to the NDAA proposed by Rep. Jamaal Bowman (D-N.Y.).
Writing to Senate Armed Services Committee Chair Jack Reed (D-R.I.) and Ranking Member Roger Wicker (R-Miss.) and House Armed Services Committee Chair Mike Rogers (R-Ala.) and Ranking Member Adam Smith (D-Wash.), the groups explained how Bowman's proposal has its roots in the 2015 Cost of War Act led by former Congressman John Lewis (D-Ga.).
Last year, the late congressman's successor, Rep. Nikema Williams (D-Ga.), "carried forward this legacy by introducing new Cost of War legislation expanding the scope of John Lewis' work to include the cost to U.S. taxpayers for any overseas contingency operations," the letter notes, arguing that its inclusion in a previous NDAA "demonstrates the broad-based support for accountability and transparency around U.S. defense spending."
For the FY23 NDAA, Bowman introduced "the latest update to John Lewis' Cost of War legislation," an amendment that "requires reporting on a wider range of costs to fully encompass the U.S. military footprint abroad that is not covered by the former two pieces of legislation," the letter details. "This includes the price of training and assisting partner forces, maintaining overseas bases, paying contractors who provide goods and services in support of operations, and all overseas military operations."
Bowman's measure passed the House but was ultimately left out of the final NDAA. The groups behind the letter to panel leaders now hope it will remain included in the next one, writing that "this amendment is crucial as taxpayers and other citizens remain concerned—and inadequately informed—about the cost to U.S. taxpayers of the wide range of U.S. military activities abroad, including those that fall short of active military missions such as wars or contingency operations."
"Many Americans want great public scrutiny and debate about the balance our nation strikes between spending on our military presence abroad and spending on other domestic priorities," the groups stressed. "This includes spending on healthcare, education, and infrastructure, as well as concerns about the rate of taxation or national debt required to sustain the U.S. overseas presence."
"These debates will only become more relevant as our military budget approaches the $1 trillion mark," the organizations added, "and it is important that the American people have the necessary transparency and data about these costs to engage in our nation's democratic decision-making process around such questions."

News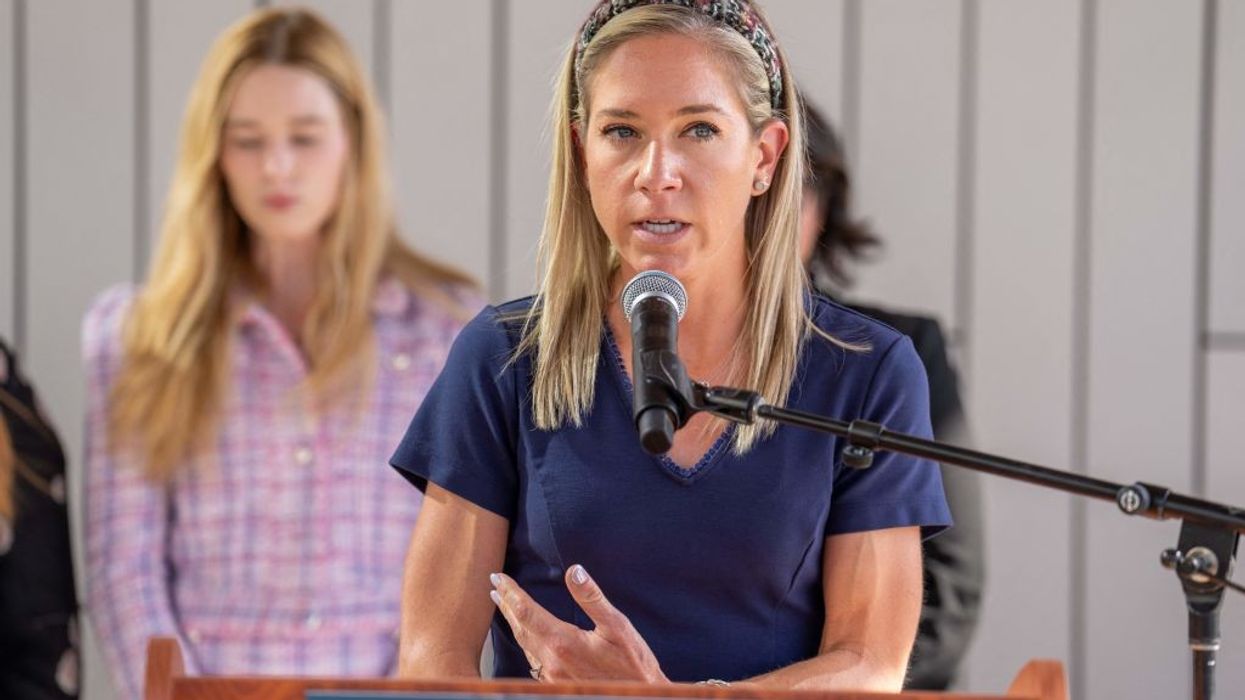 "The exceptions in the bill are so narrow, and the penalties for violating the Texas ban are so high, that invariably," said one legal expert, "a lot of doctors are going to continue not to offer abortion in those situations because they don't want to get in trouble."
Rights advocates said Monday that a new law set to go into effect this week in Texas may appear on its face to be aimed at ensuring that pregnant people experiencing medical emergencies can access abortion care—but warned that it could not only do little to protect abortion access in Texas but also give residents a false sense of their reproductive rights and the Republican Party's intentions when it comes to preserving bodily autonomy.
House Bill 3058 was proposed by state Rep. Ann Johnson (D-134) and, as written, allows doctors to provide "certain medical treatment to a pregnant woman" in cases of premature rupture of membranes when it is too early in pregnancy for a fetus to survive, or an ectopic pregnancy.
Under the new so-called "exceptions," healthcare providers in Texas could ostensibly avoid up to $100,000 in fines or a life sentence in prison if they provided abortion care in these instances, despite the state law that bans abortion in all cases, including pregnancies that result from rape or incest, at six weeks gestation.
But legal experts and abortion rights advocates say that like exceptions that already exist in many of the abortion bans and restrictions that have been passed in at least 22 states since Roe v. Wade was overturned last year, many patients are still likely to face dangerous delays in care.
H.B. 3058 appears to have been overwhelmingly approved by state Republicans and GOP Gov. Greg Abbott not because of genuine concern for the well-being of people who seek abortion care, said University of California, Davis law professor Mary Ziegler, but to improve voters' views of the abortion ban that the Texas Republican Party pushed through in 2021.
"Republicans can now point to these new exceptions and say, 'Look, that kind of thing doesn't happen anymore,'" Ziegler toldThe Guardian on Monday.
But even with the new legislation, she added, "the exceptions in the bill are so narrow, and the penalties for violating the Texas ban are so high, that invariably, a lot of doctors are going to continue not to offer abortion in those situations because they don't want to get in trouble."
Researcher Grace Haley noted at the Substack publication Abortion, Every Day last week that H.B. 3058 was passed after 14 women in Texas joined a lawsuit saying the state's ban imperiled their health and lives—denying them care when they and their fetuses faced medical emergencies and causing them to develop life-threatening infections, travel to other states for care while pregnant with fetuses that had severe complications, and face other emotional and physical distress.
Since news reports of such cases have become increasingly common following the overturning of Roe, polling has shown that a growing share of Americans believe abortion care should be legal at all stages of pregnancy.
Haley wrote that in order to distance itself from images of pregnant patients facing life-threatening medical emergencies and being denied necessary care, the GOP is seeking to "redefine what an abortion is."
"The definition of abortion isn't flexible—it's a medical intervention to end a pregnancy. But GOP lawmakers want to make abortion an intention instead," wrote Haley.

In a video posted to TikTok, Abortion, Every Day author and advocate Jessica Valenti warned that "it is so dangerous for Democrats to go along with this" as Johnson and other Democratic lawmakers in Texas are.
The move "opens the door for much broader criminalization and enforcement: If someone has a stillborn baby, for example, but at some point did a Google search for abortion clinics—that's something that could be used by a prosecutor to target them," Haley wrote.
"Some doctors point out that this language is a small scope surrounding the plethora of pregnancy complications," she added, "and advocates wonder if the compromise is worth accepting anti-abortion framing."

News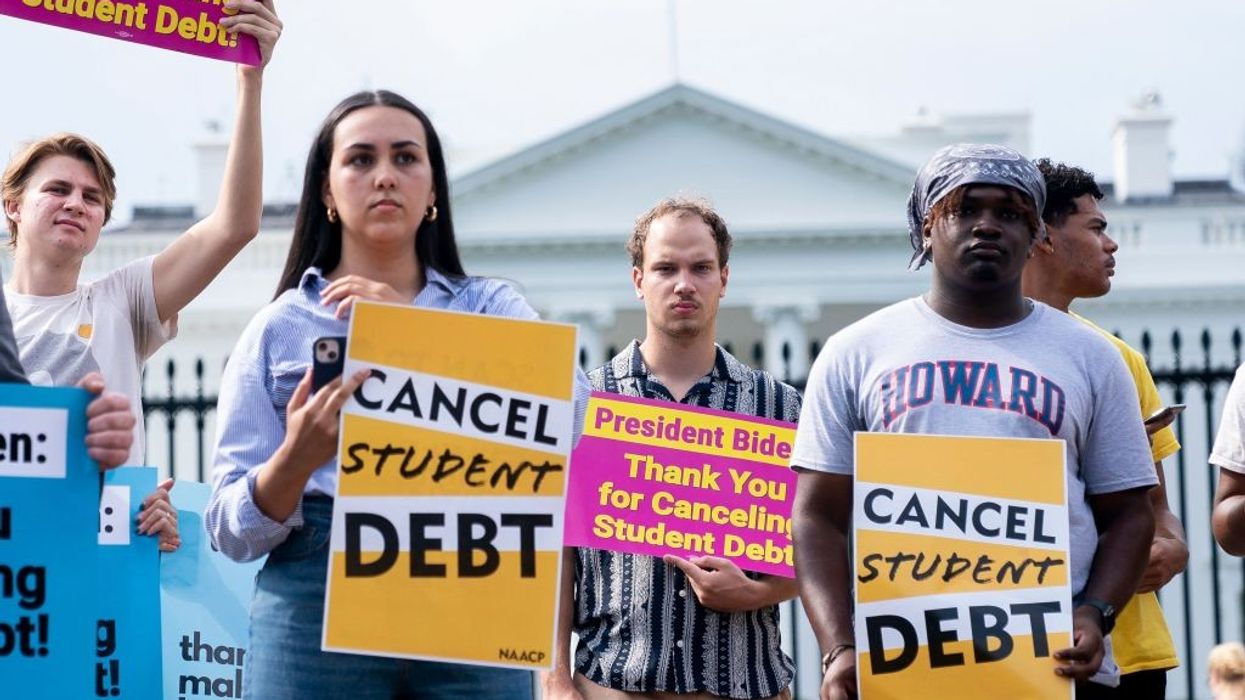 "President Biden says he is going to use every tool he can to cancel student debt, but there is still much more he can do," said a co-founder of the Debt Collective. "With this new tool, we are calling his bluff."
"Filling out this form creates an individual demand letter, tailored to your own student debt story, calling on the Department of Education to use its powers to cancel not just your debt, but everyone's."
That's how the Debt Collective describes a tool it launched Monday to increase pressure on the Biden administration to deliver on long-promised relief from federal student loan repayments.
As the group's website explains, for those who want to use the tool:
You answer some basic questions about your student debt.
Based on your answers, we've created legal language to assert why your loans are BS and should be canceled. Those answers will generate a demand letter.
When you've completed all the questions, the form will get sent automatically to key officials with the power to act at the Department of Education.
"Using this new tool can in no way harm you," said Debt Collective spokesperson Braxton Brewington. "The reality is, the Education Department has the authority to eliminate a person's federal student debts if they want to. We know because they've done it before. Whether they choose to cancel people's debts or not is completely up to their political rationale."
An FAQ section for the tool explains that filling out the form does not ensure debt cancellation, and "the Department of Education is not required to respond to these letters. However, our goal is to submit so many of them, they will HAVE to make a statement."
President Joe Biden—who is seeking reelection next year—announced his initial plan to use a 2003 law to cancel up to $20,000 per borrower last August, but the U.S. Supreme Court's right-wing supermajority struck down the program in June.
Now, with loan payments that have been paused throughout the Covid-19 pandemic set to resume in October, borrowers and some Democrats in Congress have renewed demands for urgent relief action by the Biden administration.
"President Biden says he is going to use every tool he can to cancel student debt, but there is still much more he can do," noted Debt Collective co-founder Thomas Gokey. "With this new tool, we are calling his bluff and demanding he cancel the debt for everyone today."
After the Supreme Court ruling, the Biden administration initiated a rulemaking process involving the Higher Education Act of 1965, but borrowers and campaigners are concerned about how long it is taking and warn that right-wing opponents of debt cancellation will use the time to come up with ways to keep blocking relief.
Hoping for swift and sweeping presidential action, the Debt Collective previously published a draft executive order that says in part, "The secretary of education shall immediately use the full extent of his power under the Higher Education Act and any other applicable law to cancel all obligations to repay federal student loans."
News
We Still Must Raise $40,000 by September 1st
Please Support Our
Summer Campaign Today!