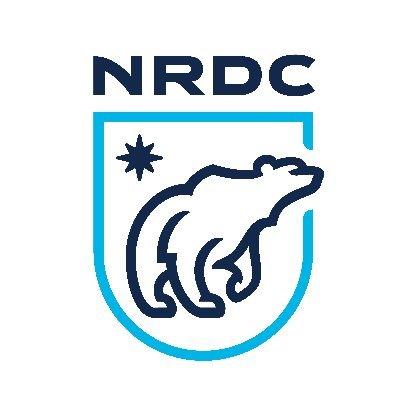 For Immediate Release
Contact:
Email:,nrdcinfo@nrdc.org
NRDC Annual Beach Report: Closing & Advisory Days Hit Third-Highest Level in Two Decades
Report Awards a Dozen 5-Star Ratings, Exposes Top 15 "Repeat Offenders" & Flags Emerging Threats to Swimmers
WASHINGTON
America's beaches saw the third-highest number of closing and advisory days in more than two decades last year, confirming the nation's seashores continue to suffer from stormwater runoff and sewage pollution that can make people sick and harm coastal economies, according to the 22nd annual beachwater quality report released today by the Natural Resources Defense Council.
"Our beaches are plagued by a sobering legacy of water pollution," said NRDC senior attorney Jon Devine. "Luckily, today more than ever, we know that much of this filth is preventable and we can turn the tide against water pollution. By establishing better beachwater quality standards and putting untapped 21st century solutions in place - we can make a day at the beach as carefree as it should be, and safeguard America's vital tourism economies."
In its 22nd year, NRDC's annual report - Testing the Waters: A Guide to Water Quality at Vacation Beaches - analyzes government data on beachwater testing results from 2011 at more than 3,000 beach testing locations nationwide. The report examines the pollution realities that loom at America's beaches and calls for a timely, concerted effort to avert future beachwater pollution.
The report confirms that last year, our nation's beachwater continued to suffer from serious contamination and pollutants by human and animal waste. As a result, America's beaches issued the third-highest number of closings or advisories in the report's history last year, with the second-highest number occurring just the year before.
The report provides a 5-star rating guide to 200 of the nation's popular beaches, evaluating them for water quality and best practices for testing and public notification. This year, the report awards a dozen beaches with a 5-star rating, as well as highlights the top 15 "Repeat Offenders," which repeatedly exhibit chronically high bacteria counts.
For the first time this year, NRDC's report includes a zip code searchable map of more than 3,000 beaches nationwide, making it easier than ever for users to check the water quality, monitoring, closing and swimming advisory information at their local beaches. Find it here: https://www.nrdc.org/beaches.
This year, Testing the Waters identifies two critical actions that the Environmental Protection Agency (EPA) can take to better protect people at the beach. First, EPA should reconsider its proposed recommended standards for beachwater quality, which leave beachgoers inadequately protected and unnecessarily exposed to dangerous pathogens in the water. Second, because polluted runoff is the biggest known source of pollution that causes swimming advisories or beach closings, EPA must reform and rigorously enforce the national requirements that govern sources of polluted stormwater to ensure that runoff is controlled using innovative green infrastructure solutions.
THE NATION'S 12 5-STAR BEACHES
For several years, NRDC has issued star ratings to each of the 200 popular beaches around the country, based on indicators of beachwater quality, monitoring frequency, and public notification of contamination. There were twelve beaches last year that received the 5-star rating:
California: Newport Beach in Orange County (2 of 3 monitored sections)


Newport Beach - 38th Street
Newport Beach - 52nd/53rd Street

California: Bolsa Chica Beach in Orange County
California: Huntington State Beach in Orange County
Alabama: Gulf Shores Public Beach in Baldwin County
Alabama: Gulf State Park Pavilion in Baldwin County
Delaware: Dewey Beach in Sussex County
Maryland: Ocean City at Beach 6 in Worcester County
Minnesota: Park Point Franklin Park / 13th Street South Beach Park Point in St. Louis County
Minnesota: Lafayette Community Club Beach in St. Louis County
New Hampshire: Hampton Beach State Park in Rockingham County
New Hampshire: Wallis Sands Beach in Rockingham County
Texas: South Padre Island in Cameron County
The star system awards up to five stars to each select popular beach for exceptionally low violation rates and strong testing and safety practices. The criteria include: testing more than once a week, notifying the public promptly when tests reveal bacteria levels violating health standards, and posting closings and advisories both online and at the beach.
THE NATION'S 15 "REPEAT OFFENDERS"
Over the last five years of this report, sections of 15 U.S. beaches have stood out as having persistent contamination problems, with water samples violating public health standards more than 25 percent of the time for each year from 2007 to 2011:
California: Avalon Beach in Los Angeles County (3 of 5 monitored sections):


Avalon Beach - West of Green Pleasure Pier (50 feet)
Avalon Beach - West of Green Pleasure Pier (100 feet)
Avalon Beach - East of Green Pleasure Pier
California: Doheny State Beach in Orange County (3 of 6 monitored sections):


Doheny State Beach - North of San Juan Creek
Doheny State Beach - Surfzone at Outfall
Doheny State Beach - 1000' South Outfall

Illinois: Winnetka Elder Park Beach in Cook County
Illinois: North Point Marina North Beach in Lake County
Louisiana: Constance Beach in Cameron County
Louisiana: Gulf Breeze in Cameron County
Louisiana: Little Florida in Cameron County
Louisiana: Long Beach in Cameron County
Louisiana: Rutherford Beach in Cameron County
New Jersey: Beachwood Beach West in Ocean County
New York: Woodlawn Beach - Woodlawn Beach State Park in Erie County
New York: Ontario Beach in Monroe County
It is important to note that, due to their size, some of these beaches have multiple sections that are tested for water quality, and in some instances only certain sections of a beach qualified for the repeat offender list. Where possible, multi-segment beaches have been indicated on this list, along with the specific sections of those beaches identified as repeat offenders.
NATIONAL FINDINGS - 2011:
Closing and advisory days in 2011 at America's beaches reached the third-highest level in the 22 years since NRDC began compiling this report at 23,481 days. This was a 3 percent decrease from 2010; that year marked the second-highest number of closings and advisories. More than two-thirds of the closings and advisories in 2011 were issued because testing revealed indicator bacteria levels in the water violated public health standards, potentially indicating the presence of human or animal waste. Stormwater runoff was the primary known source of known pollution nationwide, consistent with past years, indicating a lack of needed progress on the problem at the national level. Sewage overflows were also a contributor.
This year's report found that water quality at America's beaches remained largely stable, with 8 percent of beachwater samples nationwide violating public health standards in 2011, compared to 8 percent the previous year and 7 percent for the four years prior.
The Great Lakes region had the highest violation rate of beachwater standards -- 11 percent of samples in 2011. The Delmarva had the lowest rate of samples -- 4 percent violated standards. In between were Western states (8 percent), New England (7 percent), New York-New Jersey coast (7 percent), and the Gulf Coast (6 percent).
Individual states with the highest violation rates of reported samples in 2011 were Louisiana (29 percent), Ohio (22 percent), and Illinois (12 percent). Those with the lowest rates of contamination last year were Delaware (1 percent), New Hampshire (1 percent), North Carolina (3 percent), New Jersey (3 percent), Florida (3 percent), Virginia (4 percent) and Hawaii (4 percent).
Under the federal Beaches Environmental Assessment and Coastal Health (BEACH) Act, states regularly test their beachwater for bacteria found in human and animal waste. These bacteria often indicate the presence of pathogens. When beach managers determine that water contamination violated health standards - or in some cases when a state suspects levels would violate standards, such as after heavy rain - they notify the public through beach closures or advisories.
Beachwater pollution nationwide causes a range of waterborne illnesses in swimmers including stomach flu, skin rashes, pinkeye, ear, nose and throat problems, dysentery, hepatitis, respiratory ailments, neurological disorders and other serious health problems. For senior citizens, small children and people with weak immune systems, the results can be fatal.
EPA RECREATIONAL WATER QUALITY CRITERIA ALLOW 1-IN-28 TO GET SICK:
EPA is responsible for ensuring that recreational waters are safe for swimming. One way of doing so is by establishing and implementing comprehensive federal standards that are protective of public health. These standards, called "recreational water quality criteria," have not been updated since 1986. And in 2000, the BEACH Act required that EPA modernize standards to better protect beach users from illnesses caused by pathogens, such as viruses and bacteria, in polluted waterways.
The draft criteria that EPA responded with (and is proposing to finalize by October 15) miss a critical opportunity to better protect beachgoers from the dangers of swimming in polluted waters. In fact, EPA recommended bacteria levels as "safe" in recreational waters even though the agency estimated they would permit 1 in 28 swimmers to become ill with gastrointestinal sicknesses such as diarrhea, nausea and vomiting. Additionally, EPA does not adequately consider the risks of other health effects, such as rashes and ear, eye, and sinus infections, all of which are commonly experienced by beachgoers.
In order to address these flaws, EPA should revise the level of acceptable risk when it finalizes its new standards this fall, so that they are more protective of public health, including safeguarding against other, non-gastrointestinal illnesses, like rash and ear infections. EPA should also utilize the best available science and improved testing methods when developing the final criteria.
"Clean beaches are vital to our local, regional and national coastal economies," said Steve Fleischli, Acting Director of the Water Program at NRDC. "This summer provides a crucial turning point and chance to urge EPA to put people first and strengthen water quality standards. If we want to keep our oceans and tourism industries thriving and healthy, we need our local and federal leaders to step up and adopt smart policies that protect our water, our health, and our beach businesses."
Top governmental leaders, environmental and science agencies, and more than 10,000 Americans have already submitted public comments to EPA, expressing concern that this proposal, if approved without addressing such flaws, will allow an unacceptably high risk of illness.
LONG-TERM SOLUTIONS:
EPA estimates that more than 10 trillion gallons of untreated stormwater make their way into our surface waters each year, and there are hundreds of billions of gallons of wastewater, which includes sewage and stormwater, released in combined sewer overflows annually.
The best way to keep this pollution out of America's beachwater is to prevent it from the start by investing in smarter, greener infrastructure on land, like porous pavement, green roofs, parks, roadside plantings and rain barrels. Green infrastructure addresses stormwater pollution by stopping rain where it falls, preventing the rain from carrying runoff from dirty streets to our beaches, and instead storing it or letting it filter back into the ground naturally.
Green infrastructure solutions reduce the need for end-of-line stormwater treatment, prevent overloaded sewage systems and triggered overflows, and thereby turn rainwater from a huge pollution liability into a plentiful, local water supply resource. These sustainable water practices on land not only restore the health of local waterways and beaches, they also beautify neighborhoods, cool and cleanse the air, reduce asthma and heat-related illnesses, save on heating and cooling energy costs, boost economies and support American jobs.
Cities nationwide are already embracing these innovative stormwater management solutions. Now, our federal government has significant opportunities to clean up water at America's beaches by incentivizing green infrastructure in communities nationwide. EPA has a once-in-a-generation opportunity to expand the robust deployment of green infrastructure by reforming its national requirements designed to tackle urban runoff. A proposed water pollution rule for stormwater sources, such as new and existing development projects, is expected to be announced by EPA in the coming year.
FOR MORE INFORMATION:
NRDC works to safeguard the earth--its people, its plants and animals, and the natural systems on which all life depends. We combine the power of more than three million members and online activists with the expertise of some 700 scientists, lawyers, and policy advocates across the globe to ensure the rights of all people to the air, the water, and the wild.
(212) 727-2700
LATEST NEWS
"How do we properly service our students when we are being overworked and underpaid and disrespected?" asked one special education assistant.

Demanding "respect and dignity" for tens of thousands of school support workers who help the Los Angeles Unified School District run, the union that represents 35,000 teachers in the city has called on its members to join a three-day strike starting Tuesday as school support staffers fight for a living wage.
Members of the Service Employees International Union (SEIU) Local 99 "work so hard for our students," said United Teachers of Los Angeles (UTLA) on Monday. "They deserve respect and dignity at work. We will be out in force tomorrow to make sure they get it."
Roughly 65,000 teachers and support professionals including bus drivers, cafeteria workers, teaching aides, and grounds workers are expected to walk out from Tuesday through Thursday this week, nearly a year after SEIU Local 99 entered contract negotiations with LAUSD, the second-largest school district in the United States.
The union is calling for a 30% pay increase for its members, who earn an average of $25,000 per year, or roughly $12 per hour. According to the MIT Living Wage Calculator, a living wage in the Los Angeles area is more than $21 per hour for a single person with no children and far more for people with children.
"I am a single mother and for the past 20 years I have worked two and sometimes three jobs just to support my family," Janette Verbera, a special education assistant, told In These Times Monday. "How do we properly service our students when we are being overworked and underpaid and disrespected?"
The school district offered a 20% overall pay increase spread over several years on Friday, along with a one-time 5% bonus.
Liz Shuler, president of the AFL-CIO, noted that LAUSD has a $4.9 billion surplus and said the district must use those funds to "invest in staff, students, and educators."
SEIU Local 99 members voted to authorize a strike in February, and said the limited three-day action is a protest against the district's negotiating tactics.
LAUSD has claimed the strike is unlawful and that workers are actually staging the walkout over pay without having exhausted all bargaining avenues. A state board over the weekend denied the district's request to block the strike.
As In These Timesreported, negotiations between the district and SEIU Local 99—as well as separate ongoing talks with the teachers' union about educators' contracts—are being led by Superintendent Alberto M. Carvalho, "whose $440,000 salary is nearly 10 times that of a starting salary for a LAUSD teacher."

"LAUSD won't get away with underfunding our schools," tweeted UTLA last week. "This is for our students, for our communities and for our lives."
News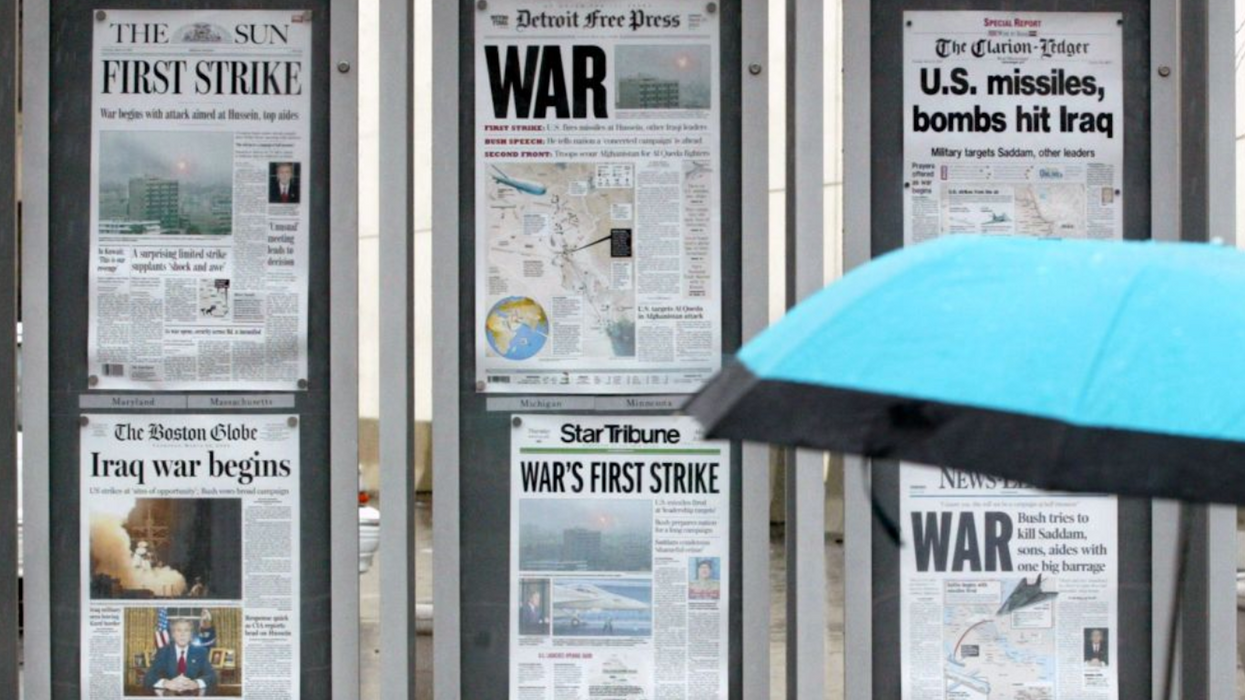 "It should not be forgotten that this debacle of death and destruction was not only a profound error of policymaking; it was the result of a carefully executed crusade of disinformation and lies," said one prominent critic.
As the world this week mark the 20th anniversary of the U.S.-led invasion of Iraq, journalism experts weighed in on the corporate media's complicity in amplifying the Bush administration's lies, including ones about former Iraqi dictator Saddam Hussein's nonexistent nuclear, chemical, and biological weapons upon which the war was waged.
"Twenty years ago, this country's mainstream media—with one notable exception—bought into phony Bush administration claims about Hussein's stockpiles of weapons of mass destruction, helping cheerlead our nation into a conflict that ended the lives of thousands of Americans and hundreds of thousands of Iraqis," Los Angeles Times columnist Robin Abcarian wrote Sunday.
That "one notable exception" was a group of journalists at the Washington, D.C. bureau of Knight Ridder—which was acquired by McClatchy in 2006—who published dozens of articles in several of the company's papers debunking and criticizing the Bush administration's dubious claims about Iraq and its WMDs. Their efforts were the subject of the 2017 Rob Reiner film Shock and Awe, starring Woody Harrelson.
"The war—along with criminally poor post-war planning on the part of Bush administration officials—also unleashed horrible sectarian strife, led to the emergence of ISIS, and displaced more than 1 million Iraqis," Abcarian noted.

She continued:
That sad chapter in American history produced its share of jingoistic buzzwords and phrases: "WMD," "the axis of evil," "regime change," "yellowcake uranium," "the coalition of the willing," and a cheesy but terrifying refrain, repeated ad nauseam by Bush administration officials such as then-National Security Adviser Condoleezza Rice: "We don't want the smoking gun to be a mushroom cloud."
"Of course," wrote Abcarian, "there was never any smoking gun, mushroom-shaped or not."
According to the Center for Public Integrity, a Washington, D.C.-based nonprofit investigative journalism organization, Bush and top administration officials—including then-Vice President Dick Cheney, Defense Secretary Donald Rumsfeld, Secretary of State Colin Powell, and Rice—"made at least 935 false statements in the two years following September 11, 2001, about the national security threat posed by Saddam Hussein's Iraq."
Those lies were dutifully repeated by most U.S. corporate mainstream media in what the center called "part of an orchestrated campaign that effectively galvanized public opinion and, in the process, led the nation to war under decidedly false pretenses."
"It should not be forgotten that this debacle of death and destruction was not only a profound error of policymaking; it was the result of a carefully executed crusade of disinformation and lies," David Corn, the Washington, D.C. bureau chief for Mother Jones, asserted Monday.
Far from paying a price for amplifying the Bush administration's Iraq lies, many of the media hawks who acted more like lapdogs than watchdogs 20 years ago are today ensconced in prestigious and well-paying positions in media, public policy, and academia.
In a where-are-they-now piece for The Real News Network, media critic Adam Johnson highlighted how the careers of several media and media-related government professionals "blossomed" after their lie-laden selling of the Iraq War:
David Frum—Bush's lead writer who coined the term "Axis of Evil" to refer to Iraq, Iran, and North Korea—is "a well-paid and influential columnist for The Atlantic and a mainstay of cable TV."
Jeffrey Goldberg, then a New Yorker reporter who pushed conspiracy theories linking Saddam Hussein to 9/11 and al-Qaeda to Iraq, is now editor-in-chief of The Atlantic.
MSNBC's Joe Scarborough, an erstwhile Iraq War hawk, rebranded himself as a critic of the invasion and occupation, and is a multimillionaire morning show host on that same network.
Fareed Zakaria hosts "Fareed Zakaria GPS" on CNN and writes a weekly column for The Washington Post.
Anne Applebaum, a member of the Post's editorial board at the time who called evidence of Iraq's nonexistent WMDs "irrefutable," now writes for The Atlantic and is a senior fellow at the Agora Institute at Johns Hopkins University's School of Advanced International Studies.

"The almost uniform success of all the Iraq War cheerleaders provides the greatest lesson about what really helps one get ahead in public life: It's not being right, doing the right thing, or challenging power, but going with prevailing winds and mocking anyone who dares to do the opposite," wrote Johnson.

In an interview with the Quincy Institute for Responsible Statecraft—which is hosting a discussion Wednesday about the media's role in war and peace—Middle East expert Assal Rad noted:
Rather than challenging the narrative of the state, calling for evidence, or even humanizing the would-be victims of the war, the Iraqi people, reporters such as Thomas Friedman with significant platforms like The New York Times most often parroted the talking points of U.S. officials. There was little critical journalism to question the existence of WMDs and little reflection on important issues, such as the U.S. role in supporting Saddam Hussein in the 1980s against Iran, international law, or the humanity of Iraqis.
While there was some contrition from outlets including the Times as the Iraq occupation continued for years and not the "five days or five weeks or five months" promised by Rumsfeld, journalist Jon Schwarz of The Intercept noted that media lies and distortions about the war continue to this day.
"Perhaps the most telling instance of the media's acquiescence was a year after the Iraq invasion," said Rad, "when President Bush's joke at the White House Correspondents' dinner about finding no weapons of mass destruction was met with uproarious laughter from an audience of journalists."
News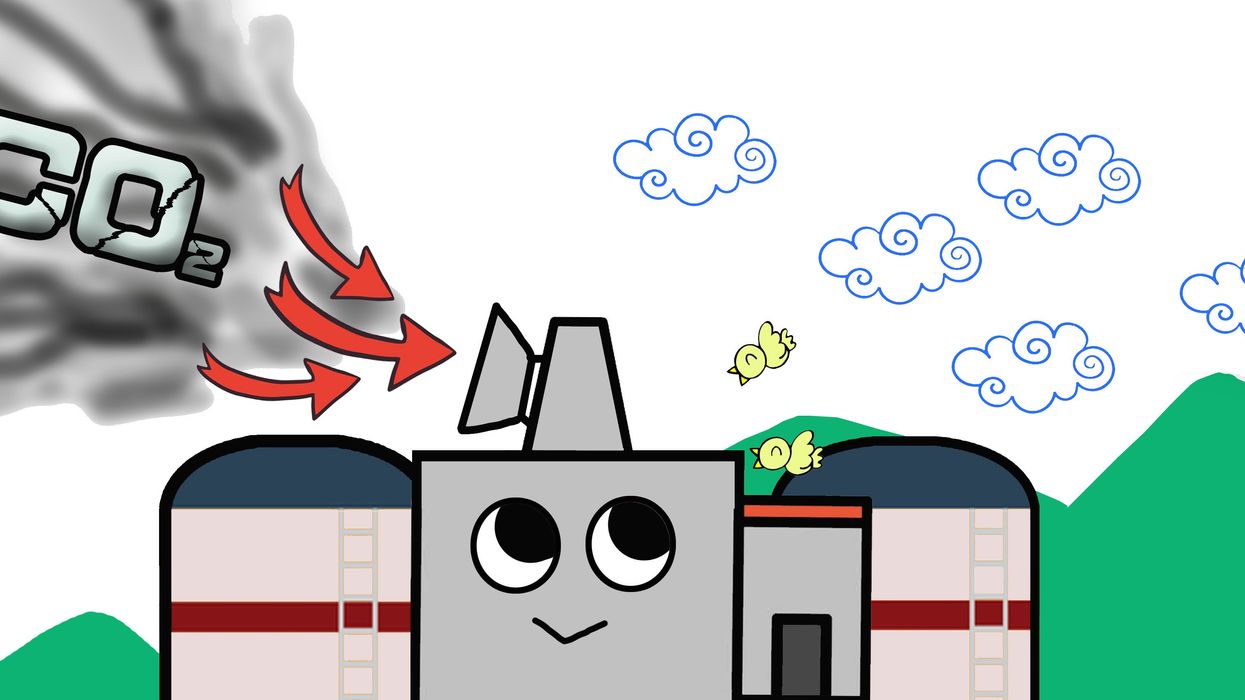 "Solving the climate crisis is not about what works on paper but what delivers in practice. There is no time to waste with false solutions."
Longtime critics of "false solutions" to the fossil fuel-driven climate emergency responded to a United Nations report released Monday by reiterating their warnings about relying on underdeveloped and untested technologies that could enable major polluters to continue producing massive amounts of planet-heating emissions.
Noting the 2015 Paris agreement's two primary temperature targets for this century, the new Intergovernmental Panel on Climate Change (IPCC) report states that "all global modeled pathways that limit warming to 1.5°C with no or limited overshoot, and those that limit warming to 2°C, involve rapid and deep and, in most cases, immediate" greenhouse gas (GHG) emissions reductions in all sectors this decade.

"We must heed the IPCC's urgent messages, without falling into the trap of assuming that carbon dioxide removal will save the day."
Modeled mitigation pathways, the report continues, "include transitioning from fossil fuels without carbon capture and storage (CCS) to very low- or zero-carbon energy sources, such as renewables or fossil fuels with CCS, demand-side measures and improving efficiency, reducing non-CO2 GHG emissions," and carbon dioxide removal (CDR).

As the document details:

CCS is an option to reduce emissions from large-scale fossil-based energy and industry sources provided geological storage is available. When CO2 is captured directly from the atmosphere (DACCS), or from biomass (BECCS), CCS provides the storage component of these CDR methods. CO2 capture and subsurface injection is a mature technology for gas processing and enhanced oil recovery. In contrast to the oil and gas sector, CCS is less mature in the power sector, as well as in cement and chemicals production, where it is a critical mitigation option. The technical geological storage capacity is estimated to be on the order of 1000 GtCO2, is more than the CO2 storage requirements through 2100 to limit global warming to 1.5°C, although the regional availability of geological storage could be a limiting factor. If the geological storage site is appropriately selected and managed, it is estimated that the CO2 can be permanently isolated from the atmosphere.
"Implementation of CCS currently faces technological, economic, institutional, ecological environmental and socio-cultural barriers," the report notes. "Currently, global rates of CCS deployment are far below those in modeled pathways limiting global warming to 1.5°C to 2°C. Enabling conditions such as policy instruments, greater public support, and technological innovation could reduce these barriers."
The report further says that "biological CDR methods like reforestation, improved forest management, soil carbon sequestration, peatland restoration, and coastal blue carbon management can enhance biodiversity and ecosystem functions, employment and local livelihoods. However, afforestation or production of biomass crops can have adverse socioeconomic and environmental impacts, including on biodiversity, food and water security, local livelihoods, and the rights of Indigenous peoples, especially if implemented at large scales and where land tenure is insecure."

While the world's top scientists—and the governments that signed off on the report—recognized issues with CCS and CDR, climate campaigners expressed frustration that such technologies were featured as partial solutions.

"It's very alarming to see carbon dioxide removal featuring so centrally in the IPCC report," declared Sara Shaw at Friends of the Earth International (FOEI). "We can't rely on risky, untested, and downright dangerous removals technologies just because big polluters want us to stick to the status quo."
"A fair and fast phaseout of oil, gas, and coal needs to happen in this decade, and it can, with the right political will," she stressed. "We must heed the IPCC's urgent messages, without falling into the trap of assuming that carbon dioxide removal will save the day."
Fellow FOIE leader Hemantha Withanage explained that "in my country, Sri Lanka, the impacts of climate change are being felt now. We have no time to chase fairy tales like carbon removal technologies to suck carbon out of the air."
"The IPCC evidence is clear: Climate change is killing people, nature, and planet," he said. "The answers are obvious: a fair and fast phaseout of fossil fuels, and finance for a just transition. The fantasy of overshooting safe limits and betting on risky technofixes is certainly not a cure for the problem."
Lili Fuhr at the Center for International Environmental Law agreed that "the takeaway of the IPCC synthesis is irrefutable: An immediate, rapid, and equitable fossil fuel phaseout is the cornerstone of any strategy to avoid catastrophic levels of global warming."
"Building our mitigation strategies on models that instead lock in inequitable growth and conveniently assume away the risks of technofixes like carbon capture and storage and carbon dioxide removal ignores that clarion message and increases the likelihood of overshoot," Fuhr warned. "The most ambitious mitigation pathways put out by the IPCC set the floor, not the ceiling, for necessary climate action.
Research shows that overshooting Paris temperature targets, even temporarily, could dramatically raise the risk of the world experiencing dangerous "tipping points," as Common Dreamsreported in December. The IPCC report notes that "the higher the magnitude and the longer the duration of overshoot, the more ecosystems and societies are exposed to greater and more widespread changes in climatic impact-drivers, increasing risks for many natural and human systems."
As Corporate Accountability director of climate research and policy Rachel Rose Jackon put it Monday: "Breaching 1.5°C is not an option. Governments will be effectively signing millions of avoidable death warrants for those who contributed least to the crisis."
While arguing that the IPCC document "demands a last and final reckoning" that leads to Global North governments "doing their fair share," the campaigner also emphasized that "the report should have actually named the solutions that will keep us below 1.5°C instead of leaving the door open for an inadequate suite of industry-backed removals and dangerous distractions."
Food & Water Watch executive director Wenonah Hauter targeted U.S. lawmakers and President Joe Biden in a statement Monday.
"The IPCC is sending one key message above all else: We must stop burning fossil fuels, drilling for fossil fuels, and building new infrastructure to deliver fossil fuels," Hauter said. "Unfortunately, policymakers continue to lock in new dirty energy schemes—most notably the Biden administration's approval of a massive new oil drilling project in Alaska."
"Tragically, Congress and the White House continue to waste money on carbon removal technologies that have been a failure. Relying on these scams instead of taking actions to stop fossil fuel expansion will only lead to further climate catastrophe," she added. "President Biden's actions to expand oil and gas drilling and ramp up fossil fuel exports undermine his professed climate goals and invite further catastrophe. The IPCC's message is clear, and political leaders must answer the call with actions to match the moment."
News
SUPPORT OUR WORK.
We are independent, non-profit, advertising-free and 100%
reader supported.