For Immediate Release
Contact:
(202) 466-3234,Joe Conn,Rob Boston,Sandhya Bathija
IRS Should Investigate Okla. Church That Endorsed Candidate, Says Americans United
Church-State Watchdog Group Calls On Tax Agency To Investigate Fairview Baptist Church For Illegal Electioneering
WASHINGTON
The
Internal Revenue Service should investigate an Edmond, Okla., church whose
pastor endorsed a gubernatorial candidate from the pulpit, says Americans
United for Separation of Church and State.
Pastor
Paul Blair of Fairview Baptist Church endorsed Republican hopeful Mary Fallin
from the pulpit during services Sept. 26.
Federal
law prohibits all 501(c)(3) non-profit groups, which includes houses of
worship, from intervening in elections by endorsing or opposing candidates for
public office.
"When
churches become cogs in any candidate's political machine, they ought to lose
their tax exemption," said the Rev. Barry W. Lynn, executive director of
Americans United. "I urge the IRS to investigate this matter and apply the
law."
In
a complaint
filed with the IRS today, Lynn said the facts are clear.
"Blair
is a top official and paid staff member of Fairview Baptist Church," wrote Lynn
in the letter. "He was speaking to the congregation in his official capacity
and during a church meeting. As such, his candidate endorsement from the pulpit
constitutes an official endorsement by the nonprofit religious organization
itself.
Lynn
noted that this is the second time Blair has flouted federal law. In 2008,
Blair endorsed U.S. Sen. John McCain for president from the pulpit.
Blair
issued the endorsements as part of "Pulpit Freedom Sunday," an annual event
sponsored by the Alliance Defense Fund (ADF). The ADF, a Religious Right legal
group founded by TV preachers, prods pastors to openly defy the law by
endorsing or opposing candidates from the pulpit.
To counter the ADF's church electioneering
scheme, Americans United maintains a Web site called Project Fair Play (www.projectfairplay.org) that
educates religious leaders and the American public about what houses of worship
may and may not do in the political arena. As part of the project, Americans
United reports pastors who violate the law to the
Americans United is a religious liberty watchdog group based in Washington, D.C. Founded in 1947, the organization educates Americans about the importance of church-state separation in safeguarding religious freedom.
LATEST NEWS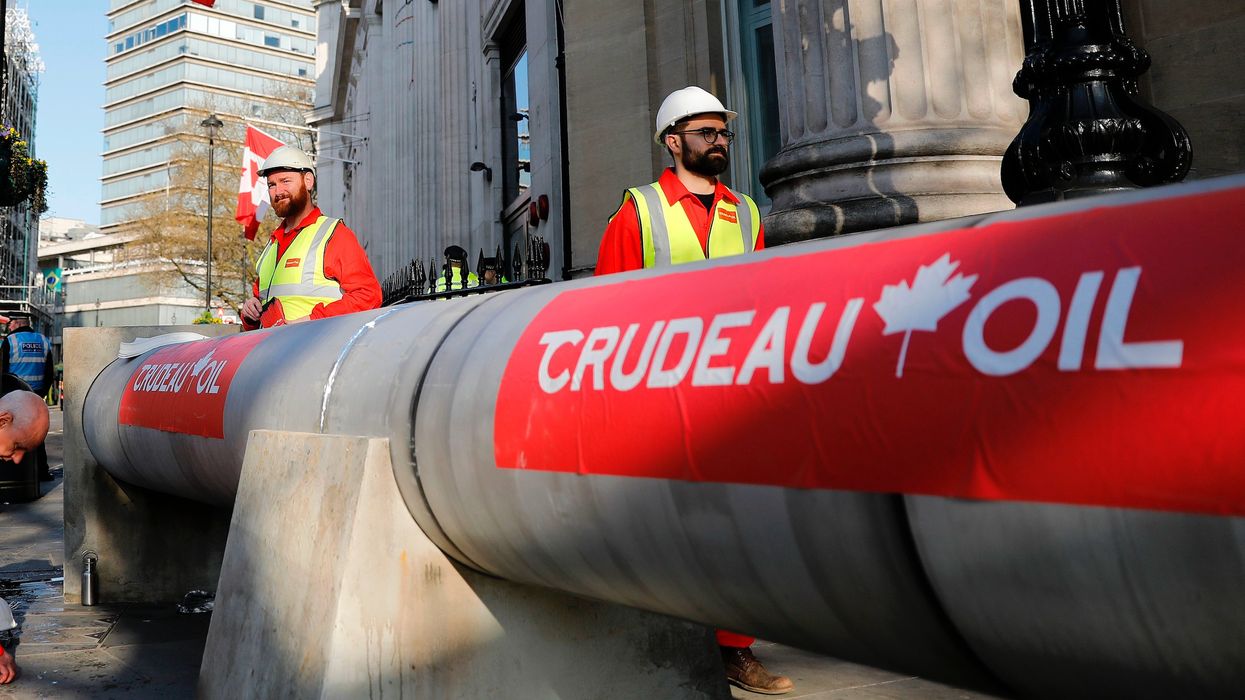 "Everybody warned Prime Minister Justin Trudeau if he bought this white elephant pipeline it would turn into a financial and political boondoggle," said one climate campaigner.

Climate, environmental, and Indigenous advocates in recent days condemned the skyrocketing cost of expanding the Canadian government-owned Trans Mountain oil pipeline, which is now expected to carry a CA$30.9 billion price tag—44% higher than last year's estimate and nearly a six-fold increase from the original appraisal.
Trans Mountain Corporation said Friday that the project—which will add more than 600 miles of new pipeline and will nearly triple existing capacity from 300,000 to 890,000 barrels per day—is currently close to 80% finished and should be completed by the end of the year. The company blamed the project's soaring cost on numerous factors, including floods in British Columbia, supply chain difficulties, inflation, and the discovery of major Indigenous archaeological sites along the pipeline route.
"Everybody warned Prime Minister Justin Trudeau if he bought this white elephant pipeline it would turn into a financial and political boondoggle," Peter McCartney, a climate campaigner at the Wilderness Committee, said in a statement Friday.
"I don't want to hear from any federal official that bold, transformative climate action is too expensive ever again."
In what critics called a betrayal of his purported commitment to tackling the climate emergency, Trudeau's government bought the pipeline from Houston-based Kinder Morgan in 2018 for $4.5 billion.
"Honestly, I really hate to say we told them so because there are far better things we should be doing with over $30 billion than exporting a polluting product the world has agreed to abandon as fast as possible," said McCartney.
"In the last year alone, the price tag for this pipeline—already the most expensive industrial project in Canadian history—has gone up almost $10 billion," McCartney added. "If the Liberal government doesn't abandon this pointless albatross now, how do we know taxpayers won't be looking at even more cost overruns and further delays a year from now?"
Keith Stewart, a senior energy strategist with Greenpeace Canada, toldReuters that the pipeline was "always a disaster from a climate change perspective."
"But this is now an economic crime that has stolen $30 billion of public funds from real climate solutions," he added.
According to the Wilderness Committee:
When Trans Mountain first proposed its expansion in 2012, American company Kinder Morgan estimated the construction costs at $5.4 billion. In 2018, when the federal government bought the pipeline it had a forecast price tag of $9.6 billion, on top of the $4.5 billion purchase. Last year, the company announced costs had risen to $21.4 billion, and now it predicts it will cost $30.9 billion in total to finish the project with about a year left to go. That means the price of this pipeline has ballooned almost six times.
"How deeply ironic it is for this fossil fuel company that climate disasters have led construction costs to spiral out of control," McCartney said. "I don't want to hear from any federal official that bold, transformative climate action is too expensive ever again."
According to the Union of British Columbia Indian Chiefs, at least 58 Indigenous sites—including former villages and burial grounds—were destroyed during the pipeline's construction in the early 1950s.
Completed in 1953, the Trans Mountain Pipeline carries crude tar sands oil, often called the world's dirtiest, over 700 miles from Alberta to the British Columbian coast. Activists have urged the Canadian government to cancel the expansion, arguing that it will further fuel the climate emergency, threaten the environment, and desecrate sacred Indigenous lands. Additionally, pipeline workers sometimes murder, rape, traffic, and perpetrate other crimes against First Nations women, girls, and two-spirit people.
On the same day Trans Mountain Corporation announced the revised estimate for the pipeline's cost, Calí Tzay, the United Nations special rapporteur on the rights of Indigenous peoples, ended a 10-day visit to Canada and published a report linking the project to human rights abuses.
"A large number of megaprojects in Indigenous territories proceed without good faith consultation and in the absence of obtaining Indigenous peoples' free, prior, and informed consent as, in the case of Trans Mountain Pipeline," Tzay wrote. "I am also concerned about the ongoing militarization of Indigenous lands and the criminalization of Indigenous human rights defenders resisting the Trans Mountain and Coastal GasLink pipelines in British Columbia."
"I urge the government of Canada to end these violations," Tzay added, "and to adopt adequate measures to guarantee Indigenous peoples' right to consultation and free, prior, and informed consent, and their rights to lands, territories, and resources."
News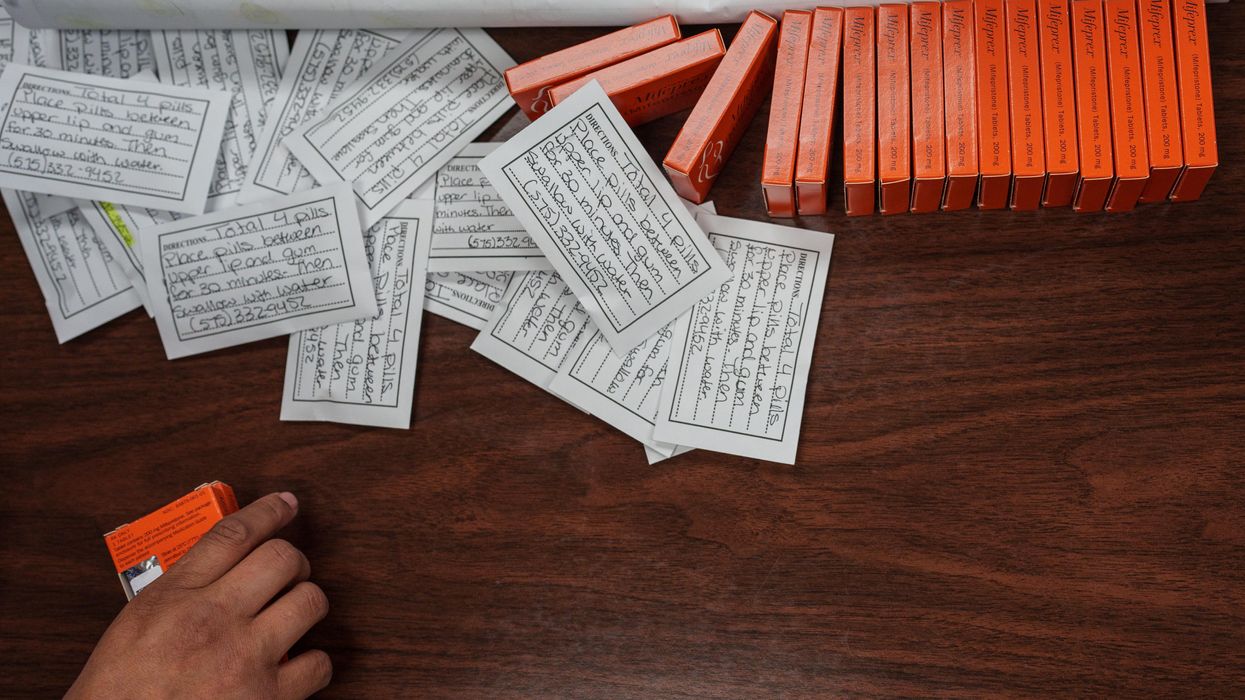 One attorney said Judge Matthew Kacsmaryk's actions ahead of a hearing planned for Wednesday were "bordering on judicial misconduct."

Ahead of a major hearing scheduled for Wednesday in a closely watched case which could further limit abortion access across the United States, reproductive rights advocates and journalists are decrying what one attorney called a right-wing judge's "informal gag order... bordering on judicial misconduct."
U.S. District Court Judge Matthew Kacsmaryk is scheduled to preside over the first hearing in a case brought by right-wing group Alliance Defending Freedom (ADF) in Amarillo, Texas on Wednesday, with lawyers for the organization arguing that the Food and Drug Administration (FDA) should never have approved mifespristone for medication abortion use in 2000, and the U.S. Justice Department opposing that claim. ADF aims to force the FDA to revoke its approval.
As The Washington Post reported Saturday, the right-wing judge scheduled the hearing last Friday in a call with lawyers on both sides, and in what one expert called a "very irregular" move, directed the attorneys to keep the hearing under wraps in order to minimize the possibility of protests.
Kacsmaryk also said he would delay putting the hearing on the public court docket, as judges usually do to keep the public and media informed about developments. He indicated he would make the hearing public knowledge only on Tuesday evening, making it difficult for Texans and members of the media to travel to Amarillo from other parts of the state and country. The city is a five-and-a-half hour drive from Dallas, the closest major Texas city; a nearly four-hour drive from Oklahoma City; and served by few daily direct flights.
At Law Dork, journalist Chris Geidner pointed out that Kacsmaryk violated the requirements he claims to uphold in his own courtroom. The "Judge Specific Requirements" on his page at the website for the U.S. District Court for the Northern District of Texas include that Kacsmaryk "heavily disfavor[s] sealing information placed in the judicial record."
"Going further, Kacsmaryk's requirements highlight the U.S. Court of Appeals for the 5th Circuit's rulings that recognize 'the public's right to know' about what's going on in our courts, requiring litigants to explain—with signed declarations—why 'the risks of disclosure' would 'outweigh' that right of the public to know what's happening in court," noted Geidner. "In order to even consider sealing anything on his docket, Kacsmaryk requires litigants to 'explain that no other viable alternative to sealing exists.'"

Kacsmaryk said Friday on his call with the attorneys that he was requesting they keep information about the hearing secret "as a courtesy," but Geidner said on Saturday that he "in effect, if not in actuality, put a gag order on the parties."
"This is a civil case with huge national implications challenging public, some long-standing, government actions," tweeted Geidner. "The affirmative decision to hide public notification of a hearing set on Friday until Tuesday night explicitly to decrease the chances of the public learning of the hearing in an attempt to decrease public participation is so unacceptable it is simply not judicial behavior."
Following the hearing, Kacsmaryk could hand down a ruling at any time. A decision in favor of ADF would immediately force abortion clinics across the U.S. to shift to providing only surgical abortions—which account for fewer than half of abortions in the U.S. each year—or medication abortions using only misoprostol.
ADF has argued that the U.S. government ignored evidence of harmful side effects of mifepristone when it approved the drug in 2000, but medical experts say misoprostol-only abortions carry greater risks of side effects like cramping and bleeding. Using misosprostol without mifepristone is also somewhat less effective at ending a pregnancy.
The FDA is arguing in the case that it has rigorously reviewed the safety and effectiveness of mifepristone as it has repeatedly reaffirmed its authorization of the drug in the past 23 years, and said in a court filing that revoking its approval would "cause significant harm, depriving patients of a safe and effective drug that has been on the market for more than two decades."

News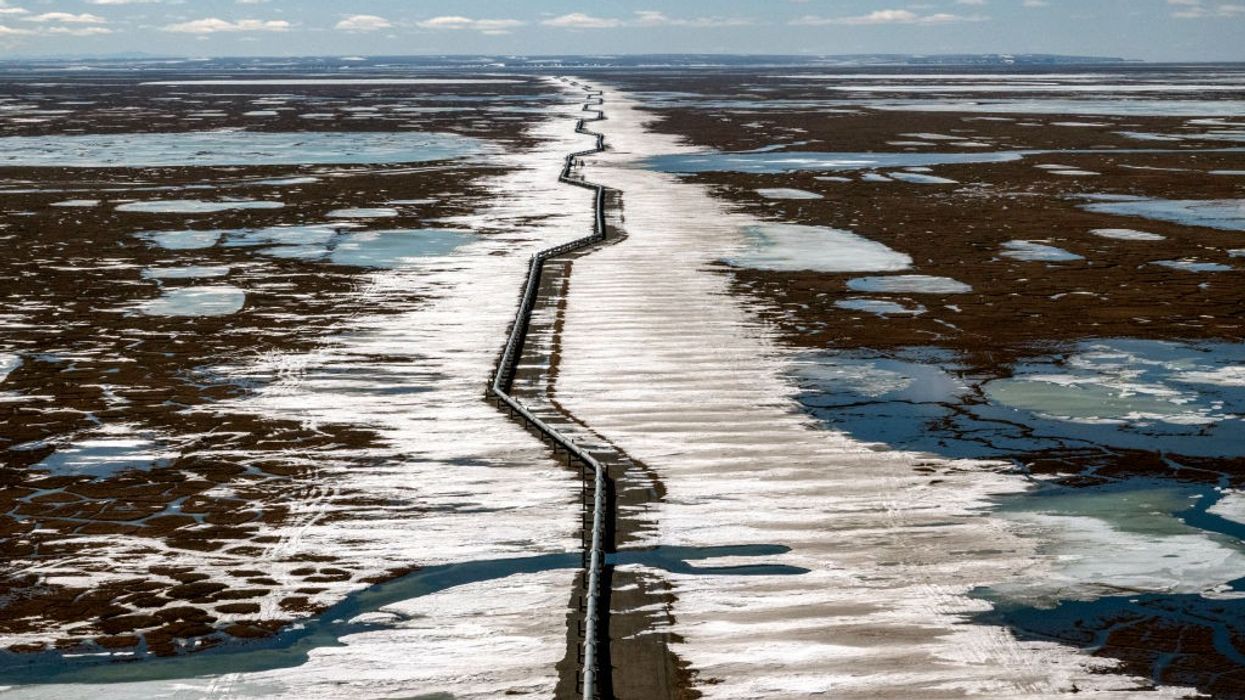 "There is simply no justification for President Biden's decision to approve a massive new oil drilling scheme that will lead to decades of air and climate pollution," said one critic.
U.S. President Joe Biden on Monday greenlighted a massive oil drilling project on federal land in Alaska, eliciting outrage from climate advocates who say the administration's accompanying restrictions on oil and gas leasing in the region cannot make up for the destruction set to be unleashed by the approved Willow project.
Progressives sought for months to dissuade Biden from approving ConocoPhillips' $8 billion Willow project, noting that it could enable the production of more than 600 million barrels of crude over 30 years. If all of that oil is burned, roughly 280 million metric tons of heat-trapping carbon dioxide emissions will be spewed into the atmosphere at a time when United Nations Secretary-General António Guterres warns that the planet is reaching a "point of no return."
"There is simply no justification for President Biden's decision to approve a massive new oil drilling scheme that will lead to decades of air and climate pollution," Food & Water Watch executive director Wenonah Hauter said in a statement.
"This decision is part of a disturbing and disappointing trend with this White House," Hauter continued. "President Biden refuses to take the necessary actions to rein in climate catastrophe while issuing rhetoric that professes concern for the existential threat that we all face. He cannot have it both ways. Promoting clean energy development is meaningless if we continue to allow corporations to plunder and pollute as they wish."
"President Biden refuses to take the necessary actions to rein in climate catastrophe while issuing rhetoric that professes concern for the existential threat that we all face."
In what The New York Timesdescribed as a bid "to temper criticism over the Willow decision and, as one administration official put it, to form a 'firewall' to limit future" fossil fuel development in the region, Biden announced restrictions on offshore oil lease sales in the Arctic Ocean and across Alaska's North Slope, while the U.S. Department of the Interior (DOI) "said it would issue new rules to block oil and gas leasing in more than 13 million of the 23 million acres that form the National Petroleum Reserve-Alaska," where the Willow project is located.
But given the overwhelming scientific evidence—and warnings from even the relatively conservative International Energy Agency—that new fossil fuel projects are incompatible with averting the worst consequences of the planetary emergency, climate justice campaigners rejected the president's attempt to soften the blow of his Willow approval by announcing new protections for areas surrounding the extraction site.
"It's insulting that Biden thinks this will change our minds about the Willow project," Kristen Monsell, a senior attorney at the Center for Biological Diversity, said in a statement. "Protecting one area of the Arctic so you can destroy another doesn't make sense, and it won't help the people and wildlife who will be upended by the Willow project. We need to protect the entire Arctic and stop building massive oil and gas developments that will contribute to greenhouse gas emissions for years to come."
"Biden approved Willow knowing full well that it'll cause massive and irreversible destruction, which is appalling," said Monsell. "People and wildlife will suffer, and extracting and burning more fossil fuel will warm the climate even faster. Biden has no excuse for letting this project go forward in any form. New Arctic drilling makes no sense, and we'll fight hard to keep ConocoPhillips from breaking ground."
As the Times reported, the Biden administration "said it would approve permits for three drilling sites and deny two others, including one that would have been closest to a coastal wetland known as Teshekpuk Lake. The administration also said it would deny permission to build a road that would have led to the fourth drilling site."
"In addition to rejecting two of the proposed drilling sites, the administration also announced that ConocoPhillips would return about 68,000 acres of existing leases to the government," the Times reported. "Officials said they believe that would prevent the company from trying to expand oil drilling in the region beyond the Willow project."
Although the DOI's "environmental analysis raised 'substantial concerns' about emissions, danger to freshwater sources, and threats to migratory birds, caribou, whales, and other animals that inhabit the region... the administration concluded that it doesn't have the legal authority to deny permits to ConocoPhillips, which has long held leases on the land in the petroleum reserve," the newspaper reported, citing two unnamed sources.
The Revolving Door Project's climate research director, Dorothy Slater, condemned the White House for "prematurely ma[king] the decision they thought courts might insist on," calling it a "weak-hearted capitulation to corporate interests" and a "historic abnegation of responsibility."
"The Interior Department does in fact have the legal authority to deny permits for a project that they have substantial concerns about," said Slater. "If the case did go to court, the administration could leverage the significant resources of the Justice Department to defend their decision stridently, using every tool in their arsenal to protect the Arctic wilderness and give us a fighting chance to avoid the worst of climate change."
"Simply what is executive power for, if not protecting the future of this planet?" she asked.
Monsell stressed that "even one new oil well in the Arctic is one well too many."
"If Biden wants to protect the Arctic, he needs to protect all of it," she added. "The president has left us in the cold and missed a major opportunity to live up to his climate commitments. This project is on weak legal ground, and we're gearing up for action."
Earthjustice president Abigail Dillen echoed that sentiment, telling the Times that the Biden administration's "tinkering at the margins... won't remedy legal failures to address this project's outside harms and we expect to see them in court."
News
SUPPORT OUR WORK.
We are independent, non-profit, advertising-free and 100%
reader supported.