For Immediate Release
Contact:
Tel: +1-212-216-1832,Email:,hrwpress@hrw.org
Italy: Reject Anti-Migrant Bill
Effort to Criminalize Undocumented Migration Comes as Hostility to Immigrants Rises
MILAN
The Italian Senate should reject legislative proposals that would impose criminal penalties on undocumented migrants and provide a national framework for vigilante groups, Human Rights Watch said today. The senate is expected to vote on the legislation (known as the "security package") this week.
"Treating migrants as criminals won't solve Italy's immigration challenges," said Judith Sunderland, senior Western Europe researcher at Human Rights Watch. "This bill only encourages intolerance, and worse, against people whose lives are tough enough already."
The bill comes in the climate of hostility toward immigrants, spurred on by statements from senior government figures. The Berlusconi government is taking an increasingly hard line against irregular migrants and asylum seekers.
The bill, approved by the lower house of deputies in mid-May, makes entering and remaining in Italy without a permit a crime punishable by a fine of up to EUR10,000. Doctors' unions and rights groups have expressed concern that the measure could compel public health and education officials to report undocumented migrants seeking medical care and other services, since the criminal code requires public officials to report criminal conduct. Although the government dropped an earlier proposal to make this requirement explicit, as currently written, the bill could have the same result.
The law would also increase from two months to six the maximum time that authorities are allowed to detain migrants and asylum seekers for administrative purposes.
One of the most potentially dangerous aspects of the bill is a provision for a national framework for "citizens' groups" to patrol the streets to help law-enforcement authorities to combat crime. The groups would not be armed or have arrest powers, but preference for membership would go to retired police and military personnel. The controversial provision was initially approved in a February 2009 emergency decree, and subsequently dropped in April when the decree was converted into law.
Unauthorized vigilante groups already operate in some municipalities, especially in northern Italy, where the anti-immigrant party Lega Nord (Northern League) has broad support. Some cities, including Milan, have authorized groups.
The impetus for the creation of these groups was several highly publicized rapes allegedly committed by immigrants in Rome, Milan, and Bologna in 2008 and 2009. The incidents prompted anti-immigrant mob violence, primarily against Romanians and Roma.
"Legalizing vigilante groups at a time of rising intolerance is a recipe for disaster," said Sunderland. "If these groups use violence against migrants, the state will be directly responsible."
Prime Minister Berlusconi recently repeated his opposition to the idea of Italy as a multiethnic nation, and failed to criticize a proposal by a Lega Nord representative in favor of segregated public transportation in Milan for native-born Milanese. The Italian president, Giorgio Napolitano, has expressed his concern over an increase in what he called "xenophobic rhetoric" in public discourse.
The government recently began to forcibly return boats carrying migrants in international waters back to Libya, without determining whether they needed protection from persecution or abuse, a clear violation of international refugee law.
Last year, the government modified the criminal code to make undocumented stay an aggravating factor for any crime. As a result, irregular immigrants may be sentenced to up to one-third more prison time than an Italian citizen or legal resident for the same crime. Adopted at a time when political support for criminalizing undocumented entry and stay was uncertain, the measure appeared aimed at punishing individuals for their irregular status.
Discrimination on the basis of immigration status and nationality is prohibited under international law, Human Rights Watch said. This means any difference in treatment on the basis of nationality must be strictly justified as necessary and proportionate to meet a legitimate goal.
Human Rights Watch is one of the world's leading independent organizations dedicated to defending and protecting human rights. By focusing international attention where human rights are violated, we give voice to the oppressed and hold oppressors accountable for their crimes. Our rigorous, objective investigations and strategic, targeted advocacy build intense pressure for action and raise the cost of human rights abuse. For 30 years, Human Rights Watch has worked tenaciously to lay the legal and moral groundwork for deep-rooted change and has fought to bring greater justice and security to people around the world.
LATEST NEWS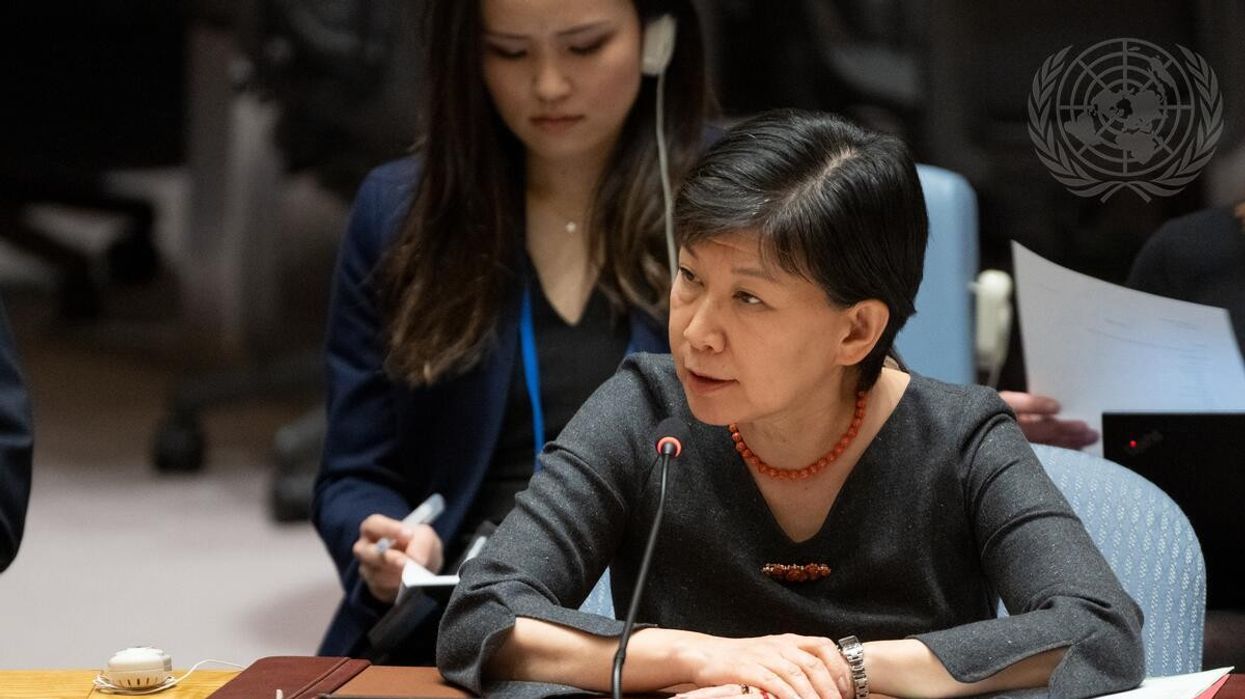 "The absence of dialogue and the erosion of the disarmament and arms control architecture, combined with dangerous rhetoric and veiled threats, are key drivers of this potentially existential risk."
The United Nations disarmament chief on Friday called for de-escalatory talks to curb the risk of nuclear war amid global concerns about Russian President Vladimir Putin's plan to station so-called "tactical" nuclear weapons in Belarus.
Roughly 13 months into the Russian invasion of Ukraine, Putin announced what critics called the "extremely dangerous escalation" last weekend, as United Nations High Representative for Disarmament Affairs Izumi Nakamitsu noted at the beginning of her briefing to the U.N. Security Council—which Russia, a permanent member, is set to lead for a month starting on Saturday.
Nakamitsu's remarks came as Belarusian President Alexander Lukashenko, in a speech to his country's Parliament, claimed without evidence that the United States and other Western nations plan to take over both Belarus and neighboring Poland, and vowed that "we will protect our sovereignty and independence by any means necessary."
"States must avoid taking any actions that could lead to escalation, mistake, or miscalculation."

Nakamitsu said that "the risk of a nuclear weapon being used is currently higher than at any time since the depths of the Cold War. The war in Ukraine represents the most acute example of that risk. The absence of dialogue and the erosion of the disarmament and arms control architecture, combined with dangerous rhetoric and veiled threats, are key drivers of this potentially existential risk."
"States must avoid taking any actions that could lead to escalation, mistake, or miscalculation," she continued. "They should return to dialogue to de-escalate tensions urgently and find ways to develop and implement transparency and confidence-building measures."
Putin justified the deployment plan in part by insisting that the weapons will remain under Russian control and pointing to the U.S. nukes that have been stationed in allied European countries for decades. The United States—which has the world's second-largest nuclear arsenal after Russia—is believed to have about 100 such bombs spread across Belgium, Germany, Italy, the Netherlands, and Turkey.
Both Russia and the United States are parties to the Nuclear Nonproliferation Treaty (NPT). Nakamitsu stressed Friday that all parties to the treaty, whether or not they have nukes, "must strictly adhere to the commitments and obligations they have assumed under the treaty."
\u201cToday, High Representative @INakamitsu urged dialogue to reduce nuclear risk and de-escalate tensions during @UN Security Council briefing on the threat to international peace and security.\n\nRead \u25b6\ufe0f\u00a0https://t.co/iLA5M3miD7\u201d

— ODA (@ODA) 1680279137
The issue of a state without its own weapons hosting some from one of the world's nine nuclear-armed nations "has existed for decades, across various regions and under different arrangements. These arrangements pre-date the NPT, with the exception of the recent announcement," Nakamitsu acknowledged. "The issue of so-called 'nuclear sharing' was debated intensely during the negotiation of the NPT" and "has been the subject of subsequent discussions."
After echoing U.N. Secretary-General António Guterres' call for Russia and the United States "to return to full implementation of the New START Treaty and commence negotiations on its successor," Nakamitsu said that "the accelerated implementation of commitments under the NPT can also contribute to undergirding international stability. I therefore appeal to all states parties of the NPT to fully adhere to their obligations to the treaty, and to immediately engage in serious efforts to reduce nuclear risk and de-escalate tensions."
Meanwhile, the U.S. and Russian ambassadors took aim at each other's countries during the U.N. Security Council meeting.

"We are pursuing cooperation with Belarus without violating obligations," argued Vassily Nebenzia, the Russian ambassador, highlighting the U.S. warheads across Europe. "We are not transferring nuclear weapons."
According toU.N. News:
Russia must take "all requisite measures" in response to "provocative steps," [Nebenzia] said, given the fraying global security architecture, dictated exclusively by Washington, along with London's recent decision to deploy armor-piercing ammunition to Ukraine.

"A nuclear war cannot be won," he said.

Russia's suggestion that this intended deployment is justified because of the use of armor-piercing ammunition supplied by Western forces, containing depleted uranium, is "ludicrous," U.S. Ambassador Robert Wood said.

"Armour-piercing ammunition is in no way analogous to tactical nuclear weapons," he said, adding that the Kremlin is attempting to limit and deter Ukraine's efforts to defend itself, and manipulate matters to win the war.
"Any use of nuclear weapons in Ukraine would have severe consequences and would fundamentally change the nature of this war," Wood added, urging Russia to reconsider its decision to deploy nukes in Belarus.

News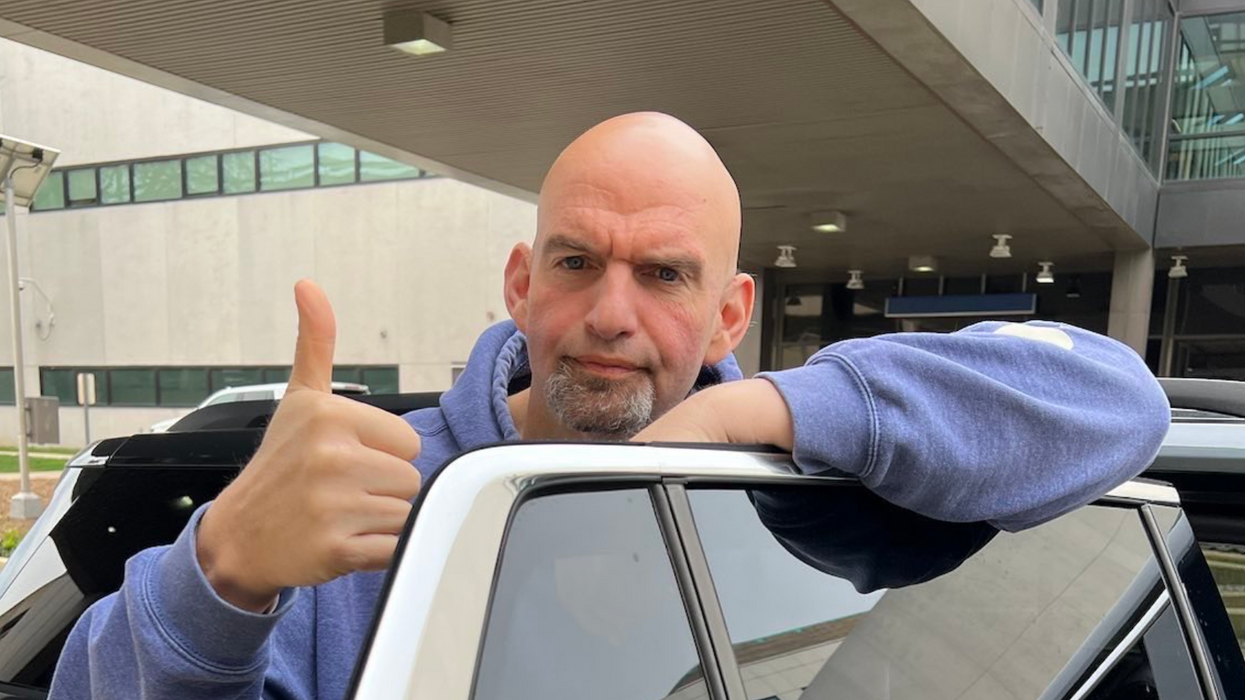 "I'm excited to be the father and husband I want to be, and the senator Pennsylvania deserves," the freshman lawmaker said.
Democratic U.S. Senator John Fetterman is back in his hometown of Braddock, Pennsylvania and looking forward to returning to work soon after being released Friday from Walter Reed military hospital in Maryland, where he was treated for depression.
"I am so happy to be home. I'm excited to be the father and husband I want to be, and the senator Pennsylvania deserves," Fetterman—who was hospitalized for more than a month—said in a statement Friday. "Pennsylvanians have always had my back, and I will always have theirs."
"I am extremely grateful to the incredible team at Walter Reed. The care they provided changed my life," he continued. "I will have more to say about this soon, but for now I want everyone to know that depression is treatable, and treatment works."
\u201cI am so happy to be home. I\u2019m excited to be the father and husband I want to be, and the senator Pennsylvania deserves.\n\nPennsylvanians have always had my back, and I will always have theirs.\u201d

— Senator John Fetterman (@Senator John Fetterman) 1680298883
"This isn't about politics—right now there are people who are suffering with depression in red counties and blue counties," the senator—who also suffered a stroke while campaigning during the Democratic primary race last year—added. "If you need help, please get help."
In an interview slated to be aired on "CBS Sunday Morning" this weekend, Fetterman told anchor Jane Pauley that, for him, depression is like "you just won the biggest, you know, race in the country, and the whole thing about depression is that, objectively, you may have won, but depression can absolutely convince you that you actually lost."
"And that's exactly what happened," he added. "And that was the start of a downward spiral."
\u201cSix weeks after entering Walter Reed National Military Medical Center for inpatient treatment for depression, Sen. @JohnFetterman shares his struggle with depression, his health, and more in an intimate interview with Jane Pauley this "Sunday Morning."\u201d

— CBS Sunday Morning \ud83c\udf1e (@CBS Sunday Morning \ud83c\udf1e) 1680298547
Fetterman is set to return to work the week of April 17 following the congressional recess, Politicoreports.
While still in the hospital on Thursday, Fetterman introduced his first bill—a railroad safety and accountability measure—with Sens. Bob Casey (D-Pa.) and Sherrod Brown (D-Ohio).

News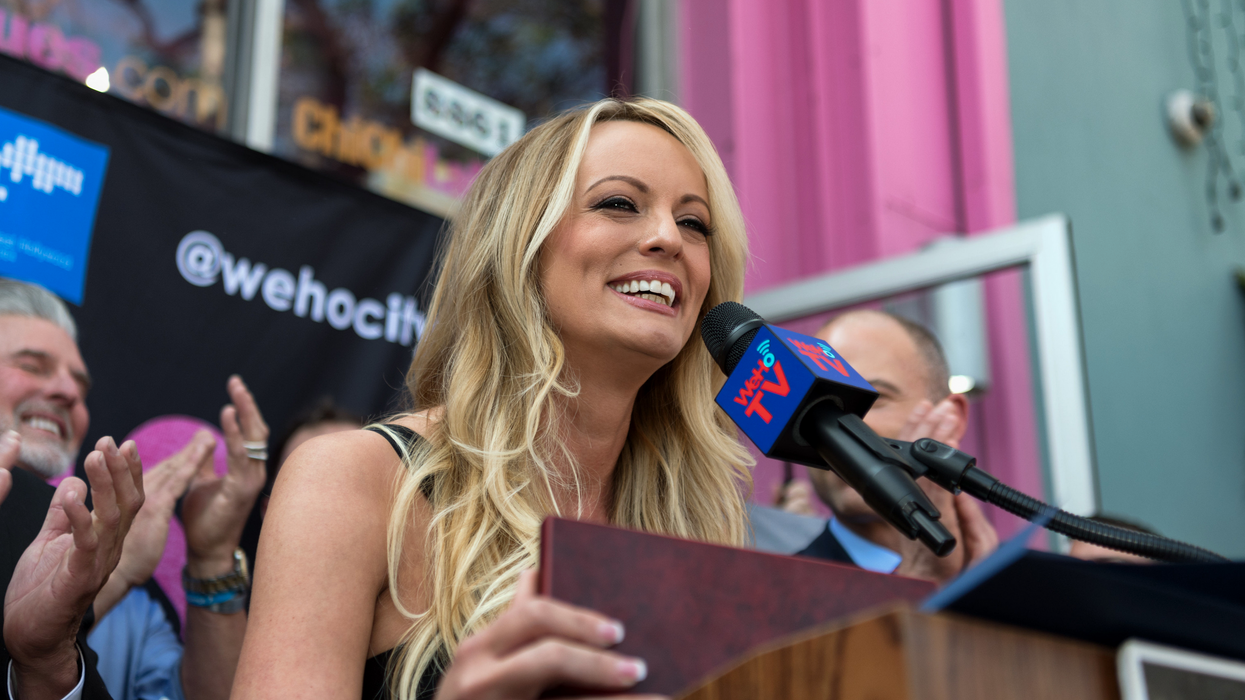 The porn star said she is unafraid of facing the former president in court: "I've seen him naked. There's no way he could be scarier with his clothes on."

Stormy Daniels reacted Friday to the criminal indictment of former U.S. President Donald Trump with a play on his infamous taped remarks seemingly confessing to sexually assaulting women.
"This pussy grabbed back," Daniels—the porn star paid $130,000 by Trump fixer Michael Cohen in return for silence about an alleged 2006 sexual encounter with the future president—told TheTimes of London in a paywalled article.
One month before the 2016 presidential election, a 2005 recording of Trump telling "Access Hollywood" host Billy Bush that "when you're a star," women let you "do anything" to them," including "grab 'em by the pussy" surfaced.
More than two dozen women and a 13-year-old girl have accused Trump—a 2024 Republican presidential candidate—of sexual misconduct, including assault.

"Trump is no longer untouchable," Daniels continued in the interview. "A person in power is not exempt from the law. And no matter what your job is, or what your bank account says, you're held accountable for the things you've said and done, and justice is served."
\u201c\ud83d\udd3a EXCLUSIVE: Stormy Daniels speaks out after Trump is charged with paying alleged hush money.\n\n\u201cHe\u2019s done so much worse that he should have been taken down [for] before. I am fully aware of the insanity of it being a porn star. But it\u2019s also poetic; this pussy grabbed back\u201d\u201d

— The Times and The Sunday Times (@The Times and The Sunday Times) 1680282617
Daniels called Trump's indictment—which reportedly involves over 30 as-of-yet unspecified counts stemming from the $130,000 payment—a "vindication."
"But it's bittersweet," she added. "He's done so much worse that he should have been taken down [for] before. I am fully aware of the insanity of it being a porn star. But it's also poetic."
Trump is both the first president to be impeached twice and the first ex-president to face criminal charges.

Daniels said she learned about the indictment while she was out riding her horse, whose name is Redemption.
"There's something really ironic and hilarious that I got the news about the indictment while I was sitting on a horse named Redemption," she said, adding that she used some of the $130,000 hush money payment to buy a horse trailer.
\u201cThank you to everyone for your support and love! I have so many messages coming in that I can't respond...also don't want to spill my champagne \ud83d\ude1c #Teamstormy merch/autograph orders are pouring in, too! Thank you for that as well but allow a few extra days for shipment.\u201d

— Stormy Daniels (@Stormy Daniels) 1680219745
Daniels said the indictment will "divide people" and questioned whether Trump would ultimately be held accountable, noting that he has "already gotten away with inciting a riot."

"Whatever the outcome is, it's going to cause violence, and there's going to be injuries and death," Daniels warned. "There's the potential for a lot of good to come from this. But either way, a lot of bad is going to come from it, too."
However, Daniels says she's undaunted by the prospect of facing Trump in court.
"I've seen him naked," she explained. "There's no way he could be scarier with his clothes on."
News
SUPPORT OUR WORK.
We are independent, non-profit, advertising-free and 100%
reader supported.