For Immediate Release
Contact:
Amy Kober, 206-213-0330 x23
Salazar Moves to Withdraw Bush Administration Rule on Mountaintop Mining
American Rivers applauds effort to protect clean water
WASHINGTON
Secretary of the Interior Ken Salazar's move today to withdraw a
Bush Administration rule that allows more waste from mountaintop mining
to be dumped in or near small streams was applauded by American Rivers,
the nation's leading river conservation organization.
The Bush Administration's rule allowed coal mine operators to dump
waste into streambeds if that was found to be the cheapest and most
convenient disposal option. This approach buries streams vital for
clean water supply, natural flood protection, and fish and wildlife
habitat, and hurts communities that depend on these streams. Secretary
Salazar directed the United States Department of Justice to file a
pleading with the U.S. District Court in Washington, D.C. requesting
that the Bush administration rule be vacated
The President of American Rivers, Rebecca Wodder, made the following statement:
"Small mountain streams are the capillaries of our nation's
circulatory system and are a vital source of clean drinking water. We
applaud Secretary Salazar for his commitment to protecting these
streams and the communities that depend on them."
"Water is life, and nothing is more fundamental to the health and
well-being of our communities. In an era of climate change, small
streams and clean water will need more protection, not less. Today's
announcement by Secretary Salazar is a bold step in a new direction - a
step that signals that the Obama Administration understands and will
protect the important role that rivers play in the lives of America's
communities."
American Rivers is the only national organization standing up for healthy rivers so our communities can thrive. Through national advocacy, innovative solutions and our growing network of strategic partners, we protect and promote our rivers as valuable assets that are vital to our health, safety and quality of life. Founded in 1973, American Rivers has more than 65,000 members and supporters nationwide, with offices in Washington, DC and the Mid-Atlantic, Northeast, Midwest, Southeast, California and Northwest regions.
LATEST NEWS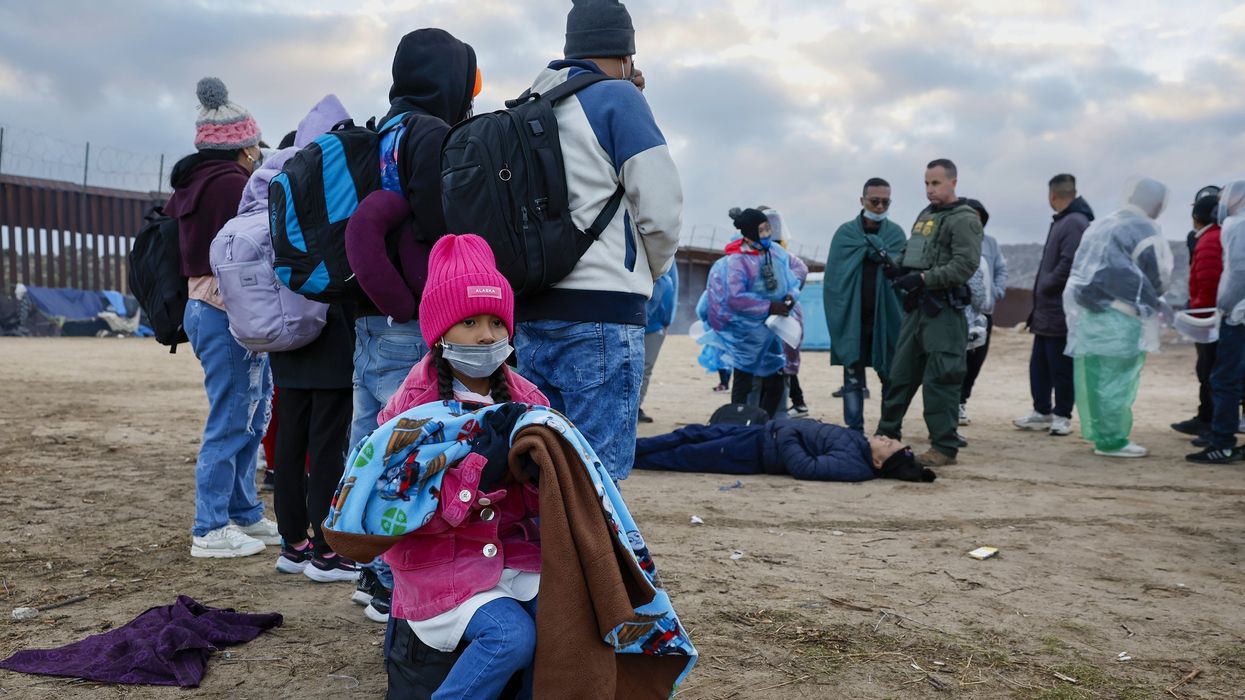 "The long-term result from such short-sighted extremist policy will be further chaos at the southern border and further loss of life and human dignity," warned one campaigner.
As a bipartisan group of U.S. senators negotiates a deal on war assistance, rights groups and some congressional Democrats this week have condemned possible GOP policies that would make it harder for migrants to seek asylum in the United States.
"Refugees International is alarmed at Senate negotiations to potentially condition funding for Ukraine, Israel, and Taiwan on permanent changes to asylum law and parole authority that would put the lives of people seeking safety at risk," said Yael Schacher, the group's director for the Americas and Europe, in a statement Thursday.
"Heightening the asylum standard and deeming transit countries safe would violate international law and do nothing to stop people from coming to the border," Schacher asserted. "And limiting parole would end a program that has proved a lifeline for tens of thousands of Ukrainians and so many others for 70 years."
Stressing that "the rise in migration to the border is attributable to worsening political and humanitarian crises abroad that have produced historically high numbers of people needing protection," she urged Congress and President Joe Biden's administration to instead "focus on scaling up our ability to humanely and efficiently provide protection to meet this growing need."
"Instead of appeasing the xenophobia of the far right, the Biden administration and Senate Democrats should be working to make the United States more welcoming."
Advocates from Americans for Immigrant Justice, Human Rights First, Immigrant Defenders Law Center, Oxfam America, and other groups have released similar statements. Calling the proposal "unacceptable," #WelcomeWithDignity campaign manager Melina Roche declared Wednesday that "emergency funding should not come at the expense of others who need help themselves to escape persecution and violence."
ACLU senior policy counsel Sarah Mehta warned that "using a one-time spending package to permanently gut our asylum system sets a dangerous precedent and undermines our nation's values, laws, and commitment to protect those seeking safety."
Denouncing Republicans' demands as "radical" and "utterly shameful," Center for Gender & Refugee Studies director Karen Musalo said that "they would result in the persecution, torture, and deaths of families, children, and adults seeking safe haven at our nation's doorstep."
Along with increasing risks for asylum-seekers, the changes sought by the GOP would be ineffective, campaigners argued. International Refugee Assistance Project policy director Sunil Varghese said that "the long-term result from such short-sighted extremist policy will be further chaos at the southern border and further loss of life and human dignity."
"Trading fundamental human rights protections for a one-time supplemental funding request is unconscionable, outrageous, and fundamentally misguided," Varghese argued. "Instead of appeasing the xenophobia of the far right, the Biden administration and Senate Democrats should be working to make the United States more welcoming, not more hateful."
Faith groups and religious leaders have also spoken out this week, including representatives from the American Friends Service Committee, Church World Service, Franciscan Action Network, and Unitarian Universalists for Social Justice.

"New restrictions will only make it more likely that people will be deported to dangerous conditions because they failed to navigate a complicated asylum system in an unfamiliar country," said Amanda Craft, assistant stated clerk of the Presbyterian Church (USA) General Assembly. "Women, Black migrants, LGBTQ+ migrants, and indigenous-language speakers will be particularly impacted."
"Our Christian faith tells us to center the voice of 'the least of these,' the most vulnerable people with the fewest resources," Craft continued, citing scripture. "Instead of restricting asylum, Congress should robustly fund migrant services through the Shelter and Services Program and support communities that are welcoming migrants."
Democratic lawmakers are also raising concerns. Congressional Hispanic Caucus Chair Nanette Barragán (D-Calif.) and the CHC's Border and Immigration Task Force co-chairs, Reps. Adriano Espaillat (D-N.Y.) and Rob Menendez (D-N.J.), said Thursday that "we are strongly opposed to any potential measures in a rushed border supplemental that would permanently restrict asylum access for immigrants."
Separately, Rep. Delia Ramirez (D-Ill.) called Republican efforts "morally bankrupt and grossly irresponsible," and pledged to vote against "any supplemental that dismantles U.S. asylum policy, adds 'third-country' limiting provisions or travel bans, or restricts our ability to receive people into the country on parole."
In the upper chamber, Sen. Alex Padilla (D-Calif.) led 10 colleagues—Sens. Cory Booker (D-N.J.), Dick Durbin (D-Ill.), Mazie Hirono (D-Hawaii), Ben Ray Luján (D-N.M.), Ed Markey (D-Mass.), Bob Menendez (D-N.J.), Jeff Merkley (D-Ore.), Elizabeth Warren (D-Mass.), Sheldon Whitehouse (D-R.I.), and Ron Wyden (D-Ore.)—in a statement opposing "harmful changes to our asylum system."
"We remain committed to working in good faith to modernize our outdated immigration system on a bipartisan basis and through a deliberative process," they added, emphasizing the need for "increasing lawful pathways for migration and legalizing long-time undocumented immigrants who put food on our tables, care for our elderly, and form the fabric of our communities."
The Associated Pressreported that U.S. House Speaker Mike Johnson (R-La.) on Wednesday "told GOP senators behind closed doors that he needs real border security changes as part of Biden's broader war funding package."
Referring to the House GOP's Secure the Border Act, Senate Majority Leader Chuck Schumer (D-N.Y.) said in floor remarks Thursday, "I was deeply troubled by reports yesterday that Speaker Johnson joined Senate Republicans and made a push to inject more H.R. 2 provisions into the Senate supplemental."

"Democrats are willing to work with Republicans on commonsense, realistic border security, but we can't have the hard right essentially say its H.R. 2 or nothing," he added. "If Speaker Johnson, or for that matter the negotiators, feel they have to listen to what Speaker Johnson can pass just amongst his caucus, we'll never get anything done."

News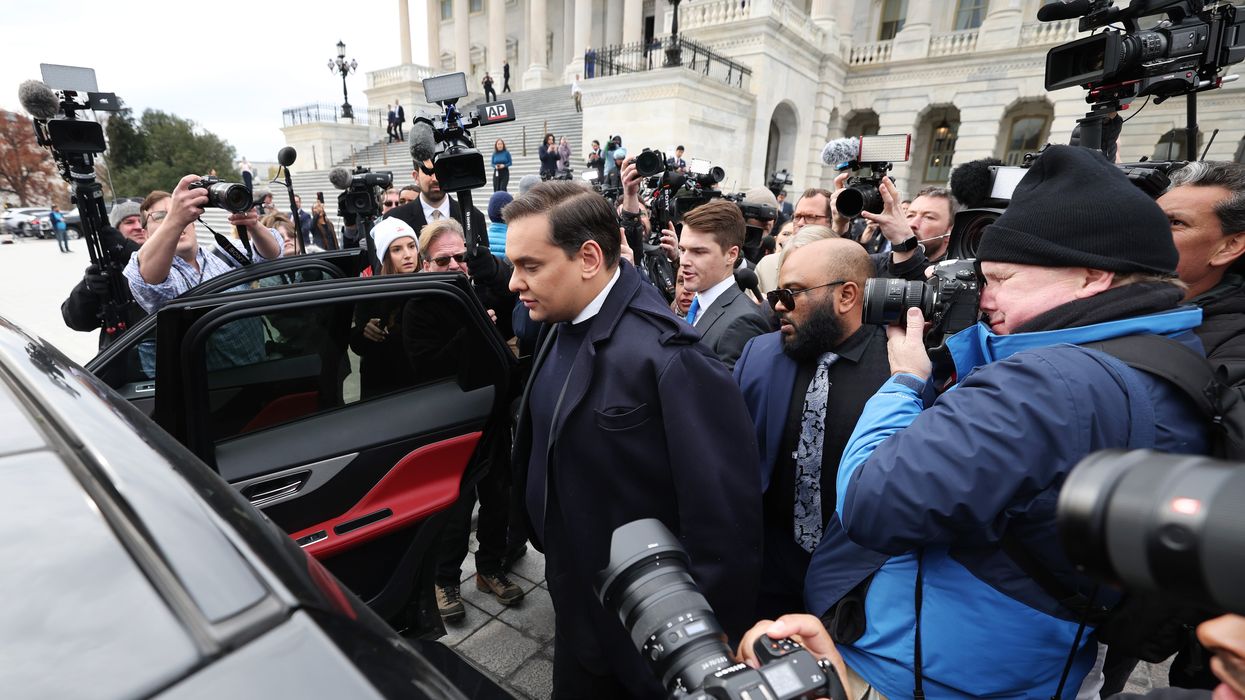 "A majority of Republicans voted against Santos' expulsion. That speaks volumes about the state of the Republican Party," said one observer.
The U.S. House voted overwhelmingly to expel Republican Rep. George Santos on Friday, ending a brief tenure in Congress that was engulfed by glaring and often bewildering scandals.
Santos—who is facing 23 criminal counts including wire fraud, aggravated identity theft, and conspiracy to commit offenses against the United States—left the House chamber before the vote was complete. The final tally was 311-114, with 112 Republicans—including House Speaker Mike Johnson (R-La.)—and two Democrats voting against expulsion.
"Why would I want to stay here? To hell with this place," Santos told reporters following the vote.
Santos, the sixth lawmaker to ever be expelled from the House, flipped New York's 3rd Congressional District seat from Democratic to Republican in the 2022 midterms, but he began facing calls to step aside before he was even sworn in after it became clear that he fabricated aspects of his biography.
Earlier this year, the U.S. Justice Department unsealed a 13-count indictment accusing Santos of money laundering, wire fraud, and theft of public funds, among other charges. Santos pleaded not guilty.
In October, federal prosecutors filed 10 additional charges against Santos, intensifying calls for his resignation or expulsion. Last month, the House Ethics Committee released a report alleging that Santos used campaign funds on credit card bills, gambling, Botox, and luxury shopping.
"George Santos' expulsion from the House of Representatives is long overdue," Lisa Gilbert, the executive vice president of Public Citizen, said in a statement. "His removal is a testament to the tireless advocacy of ethics advocates and his constituents. Residents of NY-03 were lied to throughout his campaign and denied competent representation in Congress for nearly a year. They now have a chance for honest representation."
"What should have been an open-and-shut case of defrauding voters became a year-long MAGA circus as former Speaker [Kevin] McCarthy, current Speaker Johnson, and other extreme House leaders shielded Santos from accountability—abandoning ethical responsibility in favor of one additional vote for their dangerous and unpopular agenda," Gilbert added. "We are all better off now that Santos no longer holds a seat in Congress."
"Now that Santos has been expelled from Congress, we look forward to seeing him held accountable by our legal system."
Santos' ouster triggers a special election early next year that analysts believe is a toss-up. The New York Timesreported Friday that the race is "expected to be one of the most high-profile and expensive off-year House contests in decades."
"It has the potential to further shrink Republicans' paper-thin majority and offer a preview of the broader battle for House control next November," the Times noted. "More than two dozen candidates have already expressed interest in running, and labor unions, super PACs, and other groups have begun earmarking millions of dollars for TV ads."
Brett Edkins, managing director of policy and political affairs at Stand Up America, said following Friday's vote that "until the very end, Republican leaders tried to protect Santos, putting cronyism and political expediency over principled leadership."
"A majority of Republicans voted against Santos' expulsion. That speaks volumes about the state of the Republican Party," said Edkins. "The campaign finance laws that Santos clearly violated are essential to preventing and punishing corruption and helping voters make informed decisions at the polls. Now that Santos has been expelled from Congress, we look forward to seeing him held accountable by our legal system."
News
"Humanity's fate hangs in the balance," said U.N. Secretary-General António Guterres at second day of global climate conference.
United Nations Secretary-General António Guterres repeated the call for a global phaseout of fossil fuels during his remarks at the opening of the World Climate Action Summit as the U.N. Climate Change Conference entered its second day on Friday.
Guterres delivered a dire warning to the 260 world leaders gathered for the two-day summit taking place within the two week COP28 conference in Dubaias heurged them to ramp up their climate ambitions in the name of the future of human civilization.
"The science is clear," Guterres said. "The 1.5°C limit is only possible if we ultimately stop burning all fossil fuels. Not reduce. Not abate. Phaseout—with a clear timeframe aligned with 1.5°C."
"Make this COP count. Make this COP a gamechanger. Make this COP the new hope in the future of humankind."
Guterres began his remarks on a positive note, congratulating COP28 President Sultan Ahmed Al Jaber for a day-one agreement to operationalize the long-awaited "loss and damage" fund for developing nations. However, he quickly took a somber tone as he described recent visits to Antarctica and Nepal where he had seen ice and glaciers melt.
He said the ice loss was "just one symptom of the sickness bringing our climate to its knees. A sickness only you, global leaders, can cure."
"Earth's vital signs are failing: record emissions, ferocious fires, deadly droughts, and the hottest year ever," Guterres continued. "We can guarantee it even when we're still in November. We are miles from the goals of the Paris agreement—and minutes to midnight for the 1.5-°C."

The cure could come, Guterres said, with a successful "global stocktake." The global stocktake is a mechanism of the Paris agreement whereby world leaders assess their progress to date and set new goals. The first global stocktake concludes with the current conference in Dubai, and the process will repeat every five years from here on out.
Guterres made three main recommendations for the first stocktake:
"Drastically" reducing emissions: Guterres pointed out that countries' current nationally determined contributions under the Paris agreement put the world on track for around 3°C of warming and urged them to update their pledges in line with the 1.5°C goal. He said that G20 countries, which are responsible for 80% of emissions, should take the lead on this, and that richer nations should aim to reach net-zero by 2040 while less wealthy ones shoot for 2050.
Speeding a "just transition": In addition to phasing out fossil fuels, Guterres said countries should agree to triple renewable energy, double energy efficiency, and ensure everyone has access to renewable energy by 2030.
Ensuring "long overdue" climate justice: Guterres called for a "surge in finance" to help poorer, climate vulnerable nations adapt to climate impacts they did little to cause and compensate for loss and damage. He also said that leaders should recommend reforms of the multilateral development banking system so that developing nations could access funds without increasing their debt burden. Finally, he said that wealthier nations must fulfill their promises to provide $40 billion a year in adaptation finance by 2025 and $100 billion a year in climate finance by 2020.

In his remarks on fossil fuels and clean energy, Guterres also addressed fossil fuel executives directly.
"Your old road is rapidly changing," he said, quoting Bob Dylan's "The Times They Are a-Changin.'"
Guterres cited International Energy Agency (IEA) figures finding that oil and gas companies provide only 1% of all clean energy investments.
"Do not double-down on an obsolete business model," Guterres said, addressing fossil fuel CEOs and the hundreds of industry lobbysists in attendance at the conference. "Lead the transition to renewables using the resources you have available. Make no mistake—the road to climate sustainability is also the only viable pathway to economic sustainability of your companies in the future."
Guterres ended his speech with a call to leadership.
"Humanity's fate hangs in the balance," he said. "Make this COP count. Make this COP a gamechanger. Make this COP the new hope in the future of humankind."
News