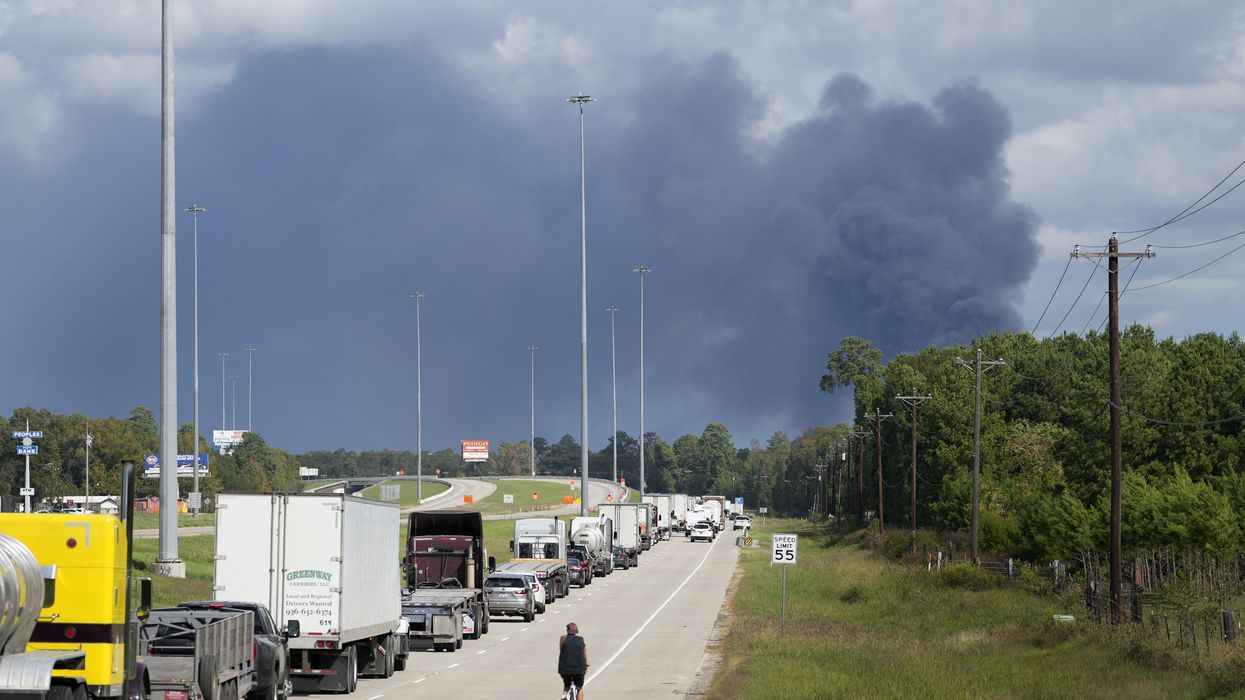 "Hazardous facilities must be required to do more to protect workers and communities," said Coming Clean's federal policy director.

A shelter-in-place order has been lifted in two Texas counties after a chemical plant fire on Wednesday, which came on the eve of a report showing just how frequent such incidents are across the United States, particularly at sites tied to the fossil fuel industry.
There have been at least 287 hazardous chemical incidents—including explosions, fires, and toxic releases—this year alone, and over 825 since the beginning of 2021, according to the Coalition to Prevent Chemical Disasters' online database.
That works out to nearly one incident per day—which, as The Guardiannoted Thursday, tracks with its February reporting. That analysis showed such events occurred every two days but did not include revised figures from Texas' 2021 cold weather.
"Preventable chemical incidents are happening far too often across the country," Maya Nye, federal policy director of coalition member Coming Clean, said in a statement Thursday. "Communities shouldn't have to leave their homes, shelter in place, or worry for the safety of their air and water because chemical plants can't contain their toxic chemicals."

"Hazardous facilities must be required to do more to protect workers and communities," Nye argued.

The new analysis of the coalition's data, released Thursday by Coming Clean and the Environmental Justice Health Alliance for Chemical Policy Reform (EJHA), reveals that between January 1, 2021 and October 15, 2023:
43 people lost their lives in the immediate aftermath of a hazardous chemical incident;
Over 150 incidents have resulted in injury, hospitalization, and/or reports of acute symptoms following a chemical exposure event;
191 communities were advised or required to evacuate; and
101 communities were advised to shelter in place.
"The majority of chemical incidents that have occurred in this period... can be traced to the toxic lifecycle of fossil fuels," the report notes. That includes not only the extraction and transportation of crude oil and gas but also the production of fertilizers, fuels, pesticides, petrochemicals, and plastics from fossil fuel feedstocks; the use and storage of chemicals made using such feedstocks; the distribution of petrochemicals; and the disposal and recycling of petrochemical products.
More than 50 incidents involved chemical distribution, transportation, and storage—perhaps most notably, the February train derailment in East Palestine, Ohio that led to a public health and environmental disaster as well as demands for federal reforms.
Nearly 100 of the incidents happened in the oil and gas sector, including major oil pipeline leaks in Illinois and Kansas. Almost half of the events occurred at refineries; among them was a fire at a BP facility last year that killed two workers, who were brothers.
Over 340 of the incidents involved plastics and petrochemical manufacturing, including a 2021 explosion in Ohio that killed one workers and injured eight others, and an April fire at a Georgia facility that prompted evacuation and shelter-in-place orders.
"Texas had more hazardous chemical incidents in this period than any other state in the county—with at least 79 chemical incidents," the report highlights. It was followed by California (46), Louisiana (39), Illinois (30), and Ohio (30).
Two years ago, the U.S Environmental Protection Agency (EPA) announced plans to update its Risk Management Program (RMP) rule. At least 179 of incidents through mid-October occurred at facilities regulated by that program, according to the analysis.
The Guardian reported Thursday that when asked about the analysis, "the EPA confirmed that agency officials were 'working towards' having a final rule by December that includes provisions to protect vulnerable communities from chemical accidents."
The EPA told the newspaper that "when finalized the rule is expected to make communities safer by reducing the frequency of chemical releases and their adverse effects."
Michele Roberts, national coordinator of EJHA, said that "safer chemicals and processes exist now, and many more could be developed if EPA had the moral and political courage to require and implement them."
"It is inexcusable that hazardous facilities are permitted to harm communities of color and low-income communities so disproportionately," Roberts added.
As for Wednesday's fire at a Sound Resource Solutions plant in Texas—which injured one worker—the San Jacinto County Office of Emergency Management offered an update Thursday morning.
"A private hazmat crew is currently on scene securing an alcohol leak from a tanker trailer," the office said. "Once the hazmat team has secured the leak investigations will begin on the accident."
News