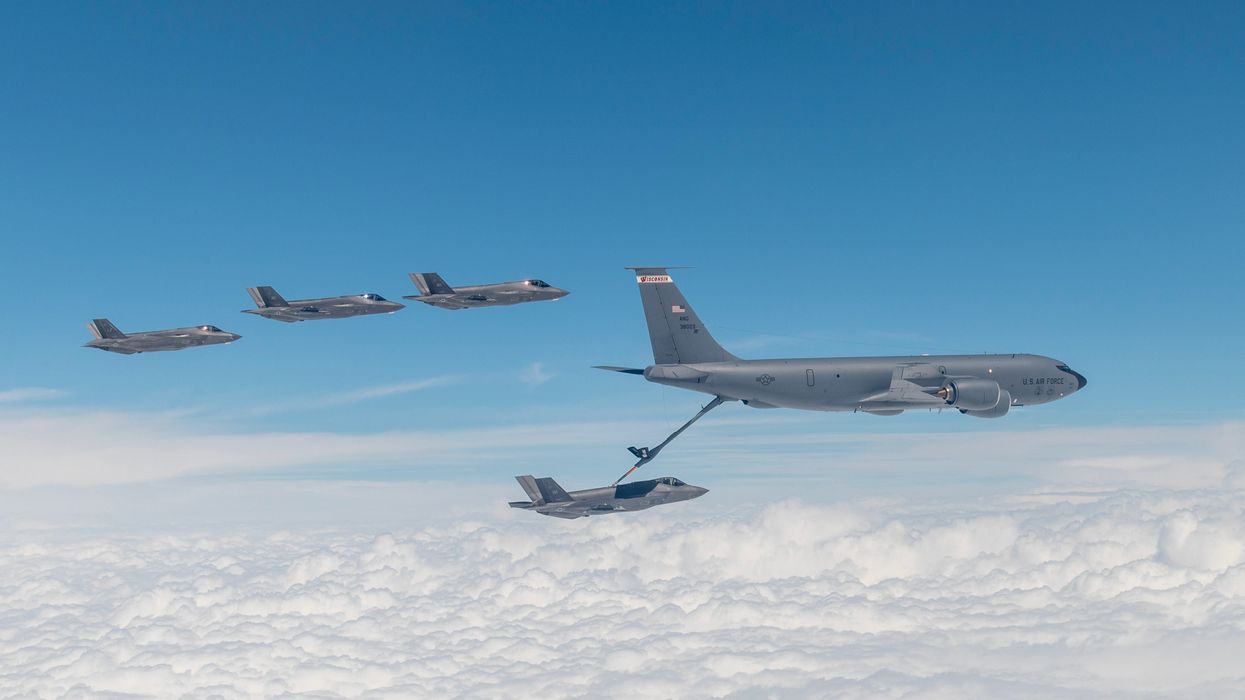 "We keep hearing that our government can't afford nice things—or necessary things—for everyone," said the paper's co-author. "Yet militarized spending in the U.S. has almost doubled over the past two decades."
As the United States barrels headlong toward a possible historic debt default, a report published Wednesday highlights that the majority of this year's federal discretionary funds were used for militarized programs, while urging the U.S. government to re-prioritize spending to serve human needs instead of the mechanisms and machinery of violence.

The report—entitledThe Warfare State: How Funding for Militarism Compromises Our Welfare—was published by the Institute for Policy Studies' National Priorities Project (NPP), which aims to inspire people and movements "to take action so our federal resources prioritize peace, shared prosperity, and economic security for all."
"Our country's economy faces a dire threat from so-called 'fiscal conservatives,' including the present GOP House majority, who have resorted to dangerous brinkmanship to force deep cuts in the federal discretionary budget," the report states, referring to what critics and even one congressional Republican have called "hostage-taking" over the debt ceiling.
"The discretionary budget contains the Pentagon budget as well as a number of other broadly militarized line items, including nuclear weapons, federal immigration enforcement, law enforcement, prisons, and so on," the paper continues. "That same budget also hosts most social programs outside of Social Security, Medicare, Medicaid, and [the Supplemental Nutritional Assistance Program]. It includes federal jobs programs, education, scientific research, and the like."
\u201cNEW: Of the $1.8 trillion federal discretionary budget in FY2023, 62% was used for militarized programs.\n\nThat leaves less than $2 in $5 to invest in communities.\n\nResearch from our @natpriorities team exposes the full extent of militarized spending today:\nhttps://t.co/tm7wCCADkV\u201d

— Institute for Policy Studies (@Institute for Policy Studies) 1684936713
"The militarized portion of this budget is by far its largest single component," the report stresses. "And yet the same legislators demanding billions in discretionary savings have vowed to exempt that militarized spending from any cuts. Instead, they've targeted the much smaller portion that funds human and community needs for even deeper cuts."
For fiscal year 2023, that militarized portion amounts to $1.1 trillion, or 62% of the $1.8 trillion federal discretionary budget. That leaves less than 40% of funds for investments in human needs like housing, education, childcare programs, disaster relief, the environment, and scientific research.
In March, President Joe Biden sent Congress a budget blueprint requesting $886.4 billion for the military for fiscal year 2024, a nearly $30 billion increase from the current Pentagon allotment.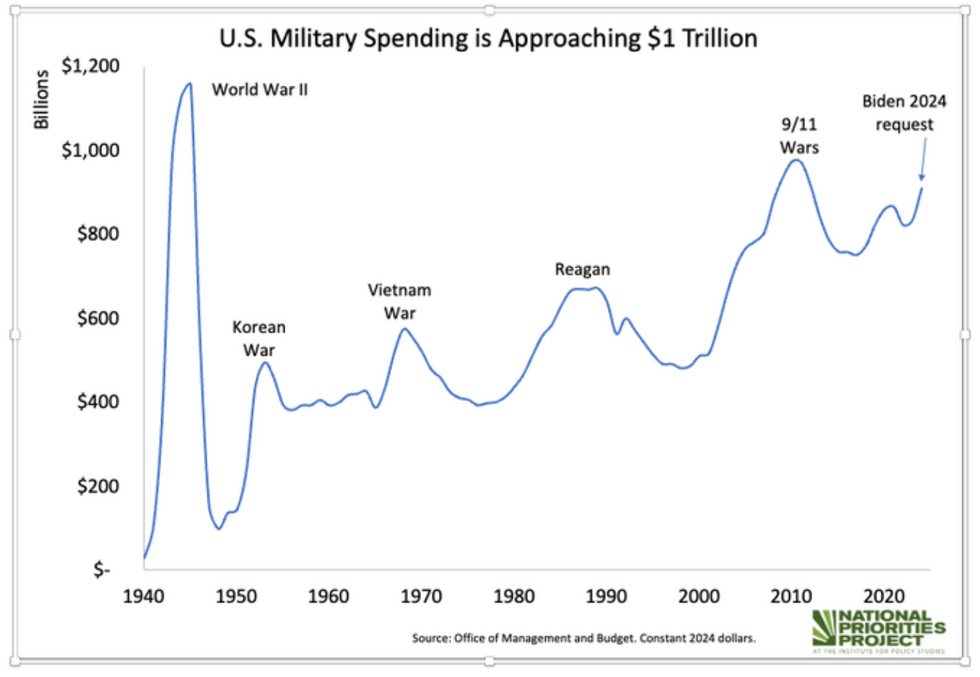 "When we invest so heavily in militarism at home and abroad, we deprive our own communities and people of solutions to problems that pose immediate security threats," NPP program director and report co-author Lindsay Koshgarian said in a statement.
"We underfund programs to end poverty, provide affordable housing, bolster public education, and protect clean air and water at our peril," Koshgarian added. "Spending on militarism takes up the majority of the federal discretionary budget, and it has grown faster than all other spending. If we keep up these patterns, we are hurtling toward a future where we can't afford the basics of a civilized society."
\u201cThe U.S. currently spends more on its military than 144 other countries combined.\n\nIf Republicans were really worried about the #DebtCeiling, they would start by cutting this cartoonishly bloated budget\u2014not underfunded social programs that most American families rely on.\u201d

— Institute for Policy Studies (@Institute for Policy Studies) 1684267305
NPP urges the U.S. government to:
Immediately reduce the budget for the Pentagon and reinvest the savings in non militarized discretionary priorities;
Make any future Pentagon spending increase contingent on the Department of Defense passing an audit;
Increase congressional oversight to make it harder for the U.S. to go to war;
Restructure the country's immigration system to support robust legal immigration and current undocumented residents; and
End federal support for racist and counterproductive carceral and policing practices, including the War on Drugs.
"We keep hearing that our government can't afford nice things—or necessary things—for everyone. And yet militarized spending in the U.S. has almost doubled over the past two decades, and the military budget is now approaching its highest point since World War II," said Ashik Siddique, an NPP research analyst and co-author of the new report.
"All this serves the profits of a wealthy few war profiteers, at everyone else's expense," Siddique added. "Meanwhile, public goods that benefit all of us are under attack. For a fraction of the cost of U.S. militarism since 2001, we could have instead ended homelessness in this country, or invested in a fully renewable national electric grid to help address the climate crisis. A better world is possible, if we build the power we need to make it happen."
News