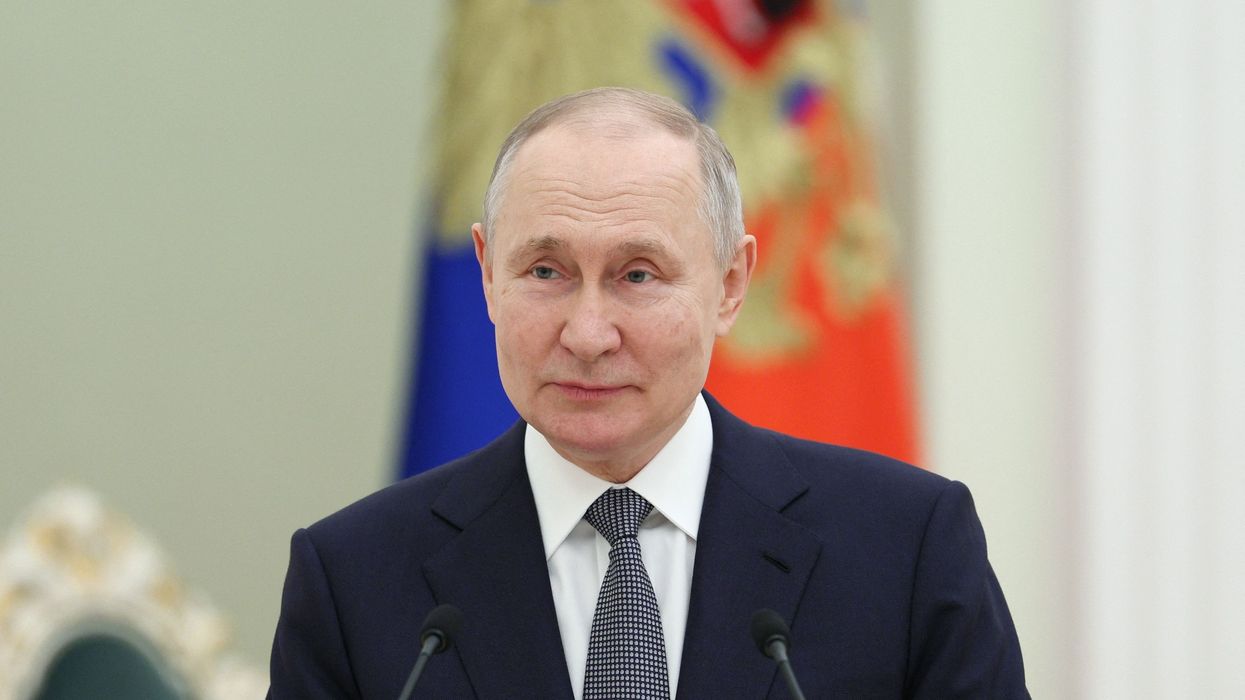 Sweden—which, along with Finland, is trying to join NATO—summoned Russia's ambassador after he said that "new members of the hostile bloc will become a legitimate target for Russian retaliatory measures."
In what was seen around the world as a "menacing" and "sinister" show of Russia's nuclear capabilities, thousands of Russian troops on Wednesday began exercises in Siberia with the nation's Yars intercontinental ballistic missile system.
"In total, more than 3,000 military personnel and about 300 pieces of equipment are involved in the exercises," Russia's Ministry of Defense said just over 13 months into Russian President Vladimir Putin's invasion of Ukraine.
The exercises come amid reporting that Putin is prepared for a war without "a foreseeable end," despite the human and economic toll, and after the Russian leader on Sunday revealed plans to station "tactical" nuclear weapons in Belarus, a move he compared to the United States' placing of such arms in allied European countries.

Anti-nuke campaigners said that Putin's "extremely dangerous escalation" on Sunday
demonstrates
the dangers of "nuclear deterrence" while also
warning
that the United States—with the world's second-largest nuclear arsenal after Russia—and North Atlantic Treaty Organization (NATO) "must resist calls to respond in kind and avoid injecting nuclear weapons deeper into this war."
\u201cThe report found that the number of nuclear weapons available for use globally increased from 9,440 warheads in 2021 to 9,576 in early 2023 and the collective destructive power of these arsenals equals more than 135,000 Hiroshima bombs. https://t.co/y5RdAiQoMc\u201d

— ICAN (@ICAN) 1680106069
On Monday, the United States and allies on the United Nations Security Council rejected a Russia-led effort to launch a probe into the sabotage of the Nord Stream pipelines, and a U.S. State Department official said the Biden administration supports creating "an internationalized national court" to help Ukrainian prosecutors bring cases against Russian leaders related to the war.
In an annual report Tuesday, Amnesty International noted that "the West's robust response to Russia's aggression against Ukraine contrasts sharply with a deplorable lack of meaningful action on grave violations by some of their allies including Israel, Saudi Arabia, and Egypt."
The Biden administration also informed Moscow on Monday that in response to Putin announcing last month that Russia "is suspending its participation" in New START, its last remaining nuclear arms treaty with the United States, Washington has cut off biannual updates about the U.S. nuclear stockpile but will keep sharing daily positioning information.
"There is no reason to believe that Russia will be swayed by this," Hans Kristensen of the Federation of American Scientists toldThe Wall Street Journal Tuesday. "We are watching the gradual destruction of the last remaining nuclear arms limitation treaty."
\u201c#ICYMI "People across the political spectrum, including the scientific community, have an important role and responsibility to push back against any threats of #nuclearweapons," write @DarylGKimball & Frank von Hippel of the @PhysCoalition in @sciam. \n\nhttps://t.co/DVZDm06Co4\u201d

— Physicists Coalition for Nuclear Threat Reduction (@Physicists Coalition for Nuclear Threat Reduction) 1680036024
Russian Deputy Foreign Minister Sergei Ryabkov said Wednesday that "all notifications, all kinds of notifications, all activities under the treaty, will be suspended and will not be conducted regardless of what position the U.S. may take."
Ryabkov also said that Putin's Belarus decision is the result of Ukraine's Western allies failing to heed "serious signals" from Moscow because of the "fundamental irresponsibility of Western elites before their people and international security."
"Now they will have to deal with changing realities," the minister added. "We hope that NATO officials will adequately assess the seriousness of the situation."
After months of delay, Hungary on Monday backed a bid by Finland—which borders Russia—to join NATO while continuing to stall on Sweden over "an ample amount of grievances that need to be addressed," according to a Hungarian government spokesperson.
In response to the February 2022 Russian invasion of Ukraine, both Scandinavian countries applied to join NATO last May, but their efforts have been blocked by Hungary and Turkey—which is expected to approve Finland's bid on Thursday.
\u201cThe Russian embassy in Sweden is apparently issuing direct military threats to Sweden and Finland for joining #NATO: \n\n\u201c\u2026you can be sure that the new members\u2026will be a legitimate target for Russia\u2019s retaliatory measures, including military ones.\u201d https://t.co/5p3g6Ls3eE\u201d

— Hans Kristensen (@Hans Kristensen) 1680097350
Russia's ambassador to Sweden, Viktor Tatarintsev, said Tuesday that "if anyone still believes that this [NATO membership] in any way will somehow improve Europe's security, you can be sure that the new members of the hostile bloc will become a legitimate target for Russian retaliatory measures, including military ones."
Rather than becoming safer, Sweden would be "taking a step towards the abyss," Tatarintsev warned, noting that "after the accession of Finland and Sweden, the total length of the border between Russia and NATO will almost double."
Swedish Foreign Minister Tobias Billström responded Wednesday that "the Ministry for Foreign Affairs will summon the Russian ambassador to make a clear statement against this blatant attempt at influence."
"Sweden's security policy is determined by Sweden—no one else," Billström said.
Adding to regional security concerns on Wednesday, International Atomic Energy Agency Director General Rafael Mariano Grossi said during a trip to the Russian-held Zaporizhzhia Nuclear Power Plant in Ukraine that "it is obvious that military activity is increasing in this whole region, so every possible measure and precautions should be taken so that the plant is not attacked."
News