For Immediate Release
September, 16 2019, 12:00am EDT
U.S. Border Militarization Driven By Arms And Security Industry Rather Than Trump, Argues New Report
The world's biggest arms firms, General Dynamics, Northrop Grumman, Lockheed Martin, Raytheon, and Boeing, are among the key corporations that have shaped border policy over the last three decades and then profited from the massively expanding budgets for border militarization, reveals a new report by the international research group Transnational Institute (TNI).
Davis/Tucson/Amsterdam
The world's biggest arms firms, General Dynamics, Northrop Grumman, Lockheed Martin, Raytheon, and Boeing, are among the key corporations that have shaped border policy over the last three decades and then profited from the massively expanding budgets for border militarization, reveals a new report by the international research group Transnational Institute (TNI).
The report, More than a Wall: Corporate Profiteering and Border Militarization, argues that rather than Trump, it is these global corporations with their political and media allies that make up a border-industrial complex which poses the biggest obstacle to a humane and compassionate response to migration.
Examining the development of border policy and expenditure over the last three decades, the report shows that the influence of the border-industrial complex has led to more than a doubling of budgets in the last 15 years ($9.1 billion in 2003 to $23.7 billion in 2018) and an incredible overall 1875% increase since 1990 (when it stood at only $1.2bn). It has also solidified a predominately militarized response to migration in which the US government continuously fortifies the border with the latest military technology rather than address the underlying causes of migration.
The research explores in depth the contracts issued by the Customs and Border Protection (CBP) agency and the political donations and activities of the corporations that most benefit. It reveals that major arms firms (as well as security and IT firms) are not only the biggest winners of border control expenditures but also the most active donors and lobbyists in Congress on border policy.
Between 2006 and 2018, CBP issued contracts worth $26.1 billion which exceed the accumulated Immigration and Naturalization Service (INS) budgets from 1975 to 1998.
The report identifies 14 companies as the giants in the border security business. These are Accenture, Boeing, Elbit, Flir Systems, G4S, General Atomics, General Dynamics, IBM, L3 Technologies, Lockheed Martin, Northrop Grumman, PAE, Raytheon, UNISYS. While dominated by the arms industry, they also include security and IT firms and one major consultancy firm (Accenture).
One contract in 2009 issued to Lockheed Martin of $945 million for maintenance and upkeep of surveillance planes was equal to the total entire border and immigration enforcement budgets from 1975 to 1978 (around $923 million).
The major CBP contract winners Boeing, Lockheed Martin, General Atomics, General Dynamics, and Raytheon are also the biggest campaign contributors to members of the Congress Appropriations Committee and Homeland Security Committee responsible for budgets and policy related to borders. Between 2006 and 2018, these corporations that provide border security services gave $27.6 million and $6.5 million to the Appropriations and Homeland Security Committee members respectively. While this lobbying also relates to military expenditure, border contracts are also central to the same corporations' business.
Many of the same border security corporations firms are also the most active in lobbying within Congress. In 2018, the largest border and immigration budget in US history followed intense lobbying by representatives of these firms (General Dynamics lobbied 44 times, Northrop Grumman 19, Lockheed Martin 41 and Raytheon 28, in addition to lobbyists by other border-security giants including L3 Technologies, IBM, Palantir, CoreCivic and Geo Group).
Between 2003 and 2017, at least four CBP commissioners and three DHS Secretaries went onto homeland security corporations or consulting companies after leaving government.
This lobbying is accompanied by constant interactions between border security corporate executives and government officials, in particular at annual border security expos. The event currently includes a pre-Expo golf day and a series of seminars where border-security corporations are able not only to hawk their wares, and promote their latest technological 'solutions', but also develop a common perspective, language, and policy approach to border security.
The evidence on the US border-industrial complex parallels research on the European Union by the Transnational Institute (TNI). In a previous 2016 report, Border Wars: The arms dealers profiting from Europe's refugee tragedy, TNI's research showed that arms firms in Europe were also both the principal beneficiaries and most influential corporations in shaping EU policy on borders and migration that has led to rising death tolls for migrants.
Researcher and author of the report, More than a Wall, Todd Miller said: "This report reveals the profound and pervasive connections between security and arms corporations and the politicians who both make border policy and determine the money allocated to its enforcement apparatus. All too often these very entrenched and lucrative bonds are hidden from the public eye and, thus, erased from the public conversation. The exact opposite needs to happen: the fact that giant corporations are both benefiting from and driving border militarization needs to be front and center of one of the most important discussions happening in the United States at this time."
Co-editor of the report and researcher for Transnational Institute, Nick Buxton added: "Militarisation of borders worldwide is increasingly driven by the world's largest arms firms who are reaping huge profits while creating an ever more deadly environment for migrants who cross borders. What is worse, these same arms firms are often fuelling the conflicts that force people to migrate. If we want a humane and compassionate solution to migration, a first step must be putting an end to the arms industry's involvement in politics and policy."
Hannah Taleb of border humanitarian aid organization, No More Deaths, which co-sponsored the report said, "US border policies, over the past three decades, have continued to push migration further and further into these deeply militarized zones. This has not only boosted corporate profits but also caused untold human suffering. No More Deaths has decided to co-sponsor this new report because of the important link between US Customs and Border Protection spending and the massive crisis of death and disappearance of migrants in the US borderlands.
LATEST NEWS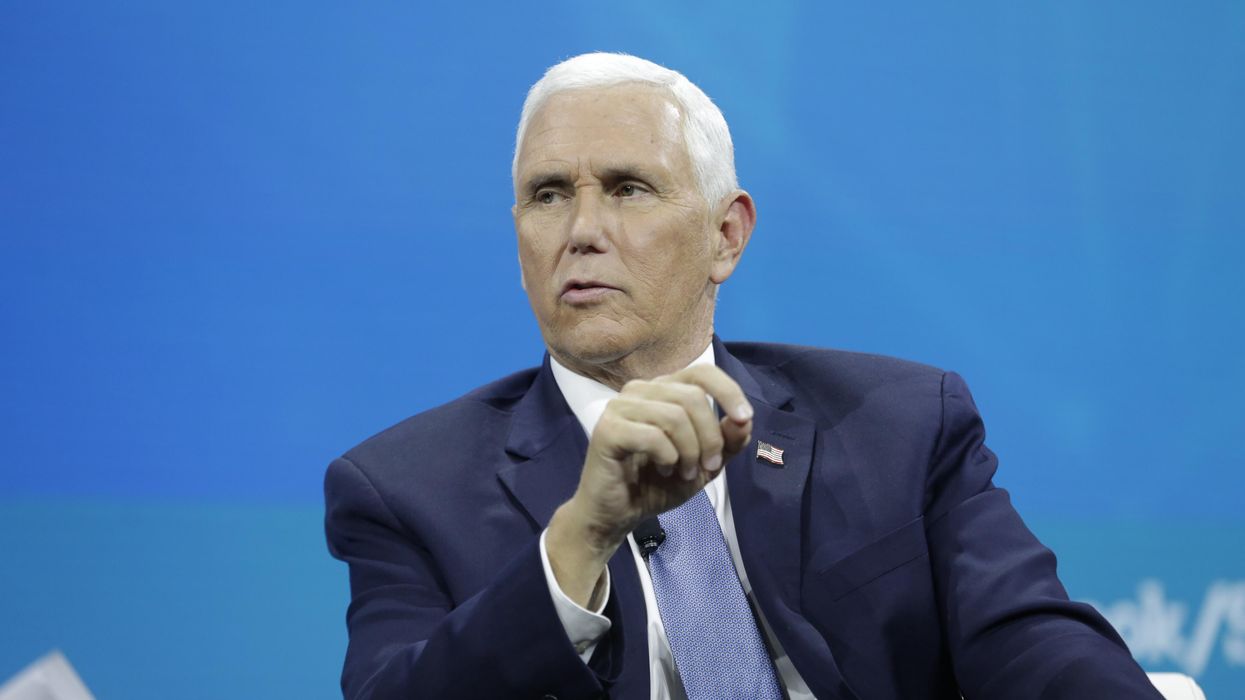 "They want to cut and privatize Social Security and take away our young people's futures," said Democratic Rep. Pramila Jayapal.
Former Vice President Mike Pence, a possible 2024 presidential candidate, has voiced support for a Social Security privatization scheme that the George W. Bush administration unsuccessfully pushed nearly two decades ago.
In a closed-door event Thursday hosted by the National Association of Wholesale-Distributors, a corporate trade group, Pence said he believes that "the day could come when we can replace the New Deal with a better deal, literally give younger Americans the ability to take a portion of their Social Security withholdings and put that into a private savings account that the government would oversee."

"I mean, a very simple fund that could generate 2% would give the average American twice what they're going to get back on their Social Security today. And it could save the government money doing it," Pence said, according to video footage obtained by the Democratic-aligned group American Bridge 21st Century.
Watch:

\u201cMike Pence calls for privatizing Social Security for young people as a way to cut spending on public benefits. "We could replace the New Deal with a better deal," he told a conference of business executives.\u201d

— More Perfect Union (@More Perfect Union) 1675466552
Experts have forcefully rejected the notion that private savings accounts of the kind Pence endorsed—which would allow workers to divert a portion of their payroll tax contributions into private investment accounts—would be more beneficial than Social Security's guaranteed benefits, as the former vice president suggested.
"The popular argument that Social Security privatization would provide higher returns for all current and future workers is misleading, because it ignores transition costs and differences across programs in the allocation of aggregate and household risk," Olivia Mitchell, John Geanakopolos, and Stephen Zeldes—economists sympathetic to the idea of privatization—wrote in a 2000 paper.
Experts have also said private accounts would not, as Pence put it, "save the government money."

In 2005, analysts with the Center on Budget and Policy Priorities (CBPP) estimated that a privatization plan put forth by former Sen. John Sununu (R-N.H.) and former Rep. Paul Ryan (R-Wis.) would "create $85.8 trillion in additional debt (equal to 93.7% of GDP) by 2050" while not boosting Social Security's long-term solvency—something Republicans claim they want to do.

"Creation of a system of private accounts would not change the amount of revenue coming into the federal government, but it would increase government spending, because the federal government would be making regular payments into the private accounts," the CBPP analysts explained. "These payments would represent new government spending. This increase in spending, unaccompanied by an increase in revenues, would widen annual deficits."
Despite the myriad drawbacks of private accounts as a partial or full-scale alternative to Social Security, Republicans have continued to promote them.
Last year, the Republican Study Committee—a panel that Pence chaired during the Bush administration—released a budget proposal that urged lawmakers to "consider legislative options that allow employers and employees to reduce their payroll tax liability and use those savings to invest in private retirement options."
Pence's remarks Thursday came as the White House and House Republicans are locked in a high-stakes standoff over the debt ceiling, which the GOP does not want to raise without also inflicting steep cuts to federal spending.
As part of their sweeping austerity push, House Republicans have suggested raising the retirement age, which would cut Social Security benefits across the board.

"Republicans keeping saying the quiet part out loud: They want to cut and privatize Social Security and take away our young people's futures," Rep. Pramila Jayapal (D-Wash.), chair of the Congressional Progressive Caucus, tweeted late Saturday. "Democrats will never let this happen."
News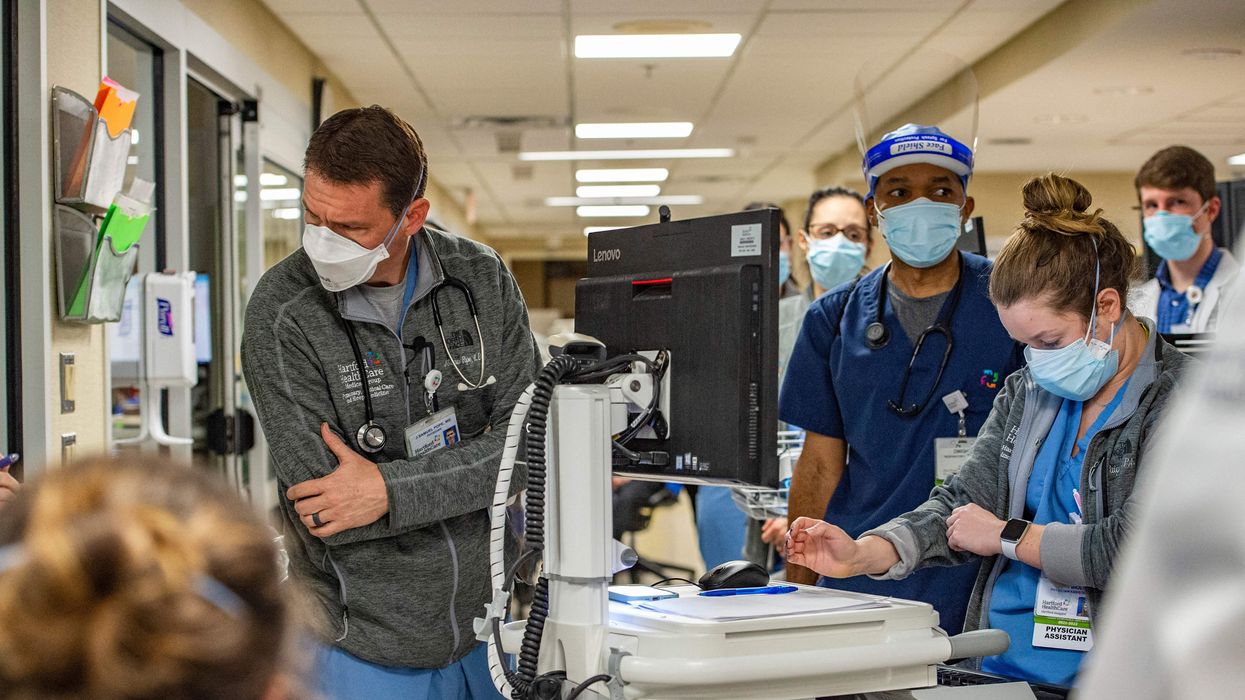 "Doctors' sense of our complicity in putting profits over people has grown more difficult to ignore."
A U.S. physician took to the op-ed pages of The New York Times on Sunday to offer a scathing condemnation of the country's for-profit healthcare system and his profession's historical complicity in campaigns against universal coverage.
"Doctors have long diagnosed many of our sickest patients with 'demoralization syndrome,' a condition commonly associated with terminal illness that's characterized by a sense of helplessness and loss of purpose," wrote Eric Reinhart, a physician at Northwestern University. "American physicians are now increasingly suffering from a similar condition, except our demoralization is not a reaction to a medical condition, but rather to the diseased systems for which we work."
"The United States is the only large high-income nation that doesn't provide universal healthcare to its citizens," Reinhart continued. "Instead, it maintains a lucrative system of for-profit medicine. For decades, at least tens of thousands of preventable deaths have occurred each year because healthcare here is so expensive."
The coronavirus pandemic accelerated that trend and spotlighted the fatal dysfunction of the nation's healthcare system, which is dominated by a handful of massive corporations whose primary goal is profit, not the delivery of care.
According to one peer-reviewed study published last year in the Proceedings of the National Academy of Sciences, a universal single-payer healthcare system could have prevented more than 338,000 Covid-19 deaths in the U.S. from the beginning of the crisis through mid-March 2022.
"In the wake of this generational catastrophe, many healthcare workers have been left shaken," Reinhart wrote Sunday. "One report estimated that in 2021 alone, about 117,000 physicians left the workforce, while fewer than 40,000 joined it. This has worsened a chronic physician shortage, leaving many hospitals and clinics struggling. And the situation is set to get worse. One in five doctors says he or she plans to leave practice in the coming years."
"To try to explain this phenomenon, many people have leaned on a term from pop psychology for the consequences of overwork: burnout. Nearly two-thirds of physicians report they are experiencing its symptoms," he added.
But for Reinhart, the explanation lies more in "our dwindling faith in the systems for which we work" than in the "grueling conditions we practice under."
He explained:
What has been identified as occupational burnout is a symptom of a deeper collapse. We are witnessing the slow death of American medical ideology.

It's revealing to look at the crisis among healthcare workers as at least in part a crisis of ideology—that is, a belief system made up of interlinking political, moral, and cultural narratives upon which we depend to make sense of our social world. Faith in the traditional stories American medicine has told about itself, stories that have long sustained what should have been an unsustainable system, is now dissolving.

During the pandemic, physicians have witnessed our hospitals nearly fall apart as a result of underinvestment in public health systems and uneven distribution of medical infrastructure. Long-ignored inequalities in the standard of care available to rich and poor Americans became front-page news as bodies were stacked in empty hospital rooms and makeshift morgues. Many healthcare workers have been traumatized by the futility of their attempts to stem recurrent waves of death, with nearly one-fifth of physicians reporting they knew a colleague who had considered, attempted, or died by suicide during the first year of the pandemic alone.

Although deaths from Covid have slowed, the disillusionment among health workers has only increased. Recent exposés have further laid bare the structural perversity of our institutions. For instance, according to an investigation in The New York Times, ostensibly nonprofit charity hospitals have illegally saddled poor patients with debt for receiving care to which they were entitled without cost and have exploited tax incentives meant to promote care for poor communities to turn large profits. Hospitals are deliberately understaffing themselves and undercutting patient care while sitting on billions of dollars in cash reserves.
Acknowledging that "little of this is new," Reinhart wrote that "doctors' sense of our complicity in putting profits over people has grown more difficult to ignore."
"From at least the 1930s through today, doctors have organized efforts to ward off the specter of 'socialized medicine,'" he wrote. "We have repeatedly defended health care as a business venture against the threat that it might become a public institution oriented around rights rather than revenue."
Confronting and beginning to solve the myriad crises of the U.S. healthcare system will "require uncomfortable reflection and bold action," Reinhart argued, and "any illusion that medicine and politics are, or should be, separate spheres has been crushed under the weight of over 1.1 million Americans killed by a pandemic that was in many ways a preventable disaster."
"Doctors can no longer be passive witnesses to these harms," he concluded. "We have a responsibility to use our collective power to insist on changes: for universal healthcare and paid sick leave but also investments in community health worker programs and essential housing and social welfare systems... Regardless of whether we act through unions or other means, the fact remains that until doctors join together to call for a fundamental reorganization of our medical system, our work won't do what we promised it would do, nor will it prioritize the people we claim to prioritize."
Reinhart's op-ed came as the prospects for legislative action to transform the U.S. healthcare system appear as distant as ever, despite broad public support for a government guarantee of universal coverage.

With the for-profit status quo deeply entrenched—preserved by armies of industry lobbyists and members of Congress who do their bidding—the consequences are becoming increasingly dire, with tens of millions uninsured or underinsured and one health crisis away from financial ruin.
In a study released last month, the Commonwealth Fund found that "the U.S. has the lowest life expectancy at birth, the highest death rates for avoidable or treatable conditions, the highest maternal and infant mortality, and among the highest suicide rates" among rich countries, even as it spends far more on healthcare than comparable nations both on a per-person basis and as a share of gross domestic product.
"Not only is the U.S. the only country we studied that does not have universal health coverage," the study added, "but its health system can seem designed to discourage people from using services."
News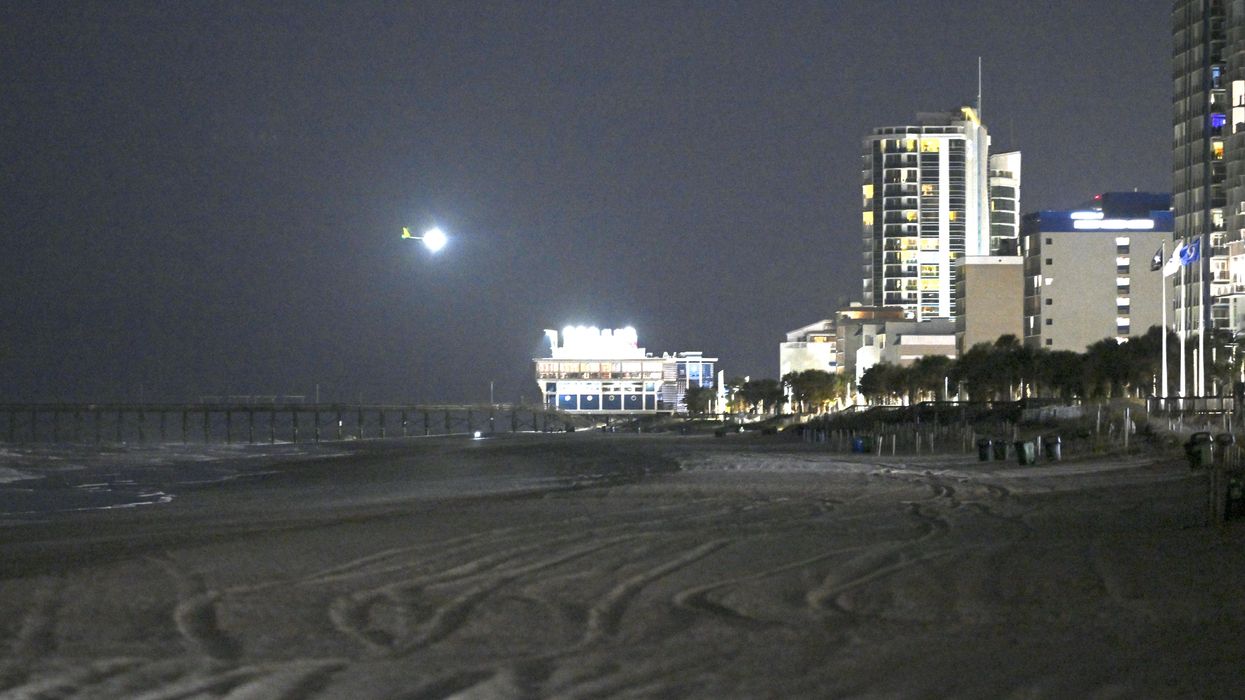 China's Ministry of Foreign Affairs said the U.S. military's move, ordered by President Joe Biden, "seriously violates international convention."
China's Foreign Affairs Ministry issued a
statement
Saturday condemning the Pentagon for
shooting down
a balloon that Beijing says was a civilian aircraft that drifted over the United States by mistake.
"The Chinese side clearly requested that the U.S. appropriately deal with this in a calm, professional, and restrained manner," the ministry said, again dismissing the Pentagon's claim that the high-altitude balloon was part of a surveillance operation aimed at monitoring sensitive military sites.
"For the United States to insist on using armed force is clearly an excessive reaction that seriously violates international convention," the ministry continued, invoking force majeure, which under international law refers to unforeseen circumstances that are beyond a state's control. China has claimed the balloon was a civilian weather research aircraft that was blown way off course by unexpected winds.
"China will resolutely defend the legitimate rights and interests of the enterprise involved, and retains the right to respond further," the ministry concluded.
War hawks in the Republican Party, including former President Donald Trump, predictably reacted with hysteria to the Pentagon's Thursday announcement that it detected the balloon over the state of Montana.
"President Biden should stop coddling and appeasing the Chinese communists. Bring the balloon down now and exploit its tech package, which could be an intelligence bonanza," said Sen. Tom Cotton (R-Ark.), one of the most vocal warmongers in Congress. "And President Biden and Secretary Austin need to answer if this was detected over Alaskan airspace. If so, why didn't we bring it down there? If not, why not? As usual, the Chinese Communists' provocations have been met with weakness and hand-wringing."
An unnamed Pentagon official said Saturday that this latest incident is one of several times a Chinese balloon has been detected in U.S. airspace in recent years. The other balloons were not shot down.
"[People's Republic of China] government surveillance balloons transited the continental United States briefly at least three times during the prior administration and once that we know of at the beginning of this administration, but never for this duration of time," the official said in a briefing with reporters.

Tensions between the U.S. and China have risen sharply in recent months, largely over Taiwan. The Biden administration recently announced that it is expanding the U.S. military's footprint in the Philippines, a move widely characterized as a message to China.
As The New York Timesreported Thursday, "A greater U.S. military presence in the Philippines would... make rapid American troop movement to the Taiwan Strait much easier. The archipelago of the Philippines lies in an arc south of Taiwan, and the bases there would be critical launch and resupply points in a war with China. The Philippines' northernmost island of Itbayat is less than 100 miles from Taiwan."

Rep. Michael McCaul (R-Texas) said late last month that the odds of a U.S. war with China within the next two years are "very high," echoing the assessment of the head of the Air Mobility Command.

Far from promoting diplomatic talks with China, Republicans in Congress appear bent on ratcheting up tensions further—and some Democrats are joining them. Last month, with overwhelming bipartisan support, House Republicans established the Select Committee on the Strategic Competition Between the United States and the Chinese Communist Party.
Upon her appointment to the panel on Thursday, Rep. Mikie Sherrill (D-N.J.) called the Chinese Communist Party "a threat to our democracy and way of life" and said the select committee represents the "best opportunity to accomplish real results for Americans and respond to China's aggression."
Rep. Mike Gallagher (R-Wis.), the chair of the select committee, has said the panel's goal is to help the U.S. "win this new Cold War" with China.
Nearly two dozen House progressives issued a statement last month opposing the formation of the committee, saying the U.S. "can and must work towards our economic and strategic competitiveness goals without 'a new Cold War' and without the repression, discrimination, hate, fear, degeneration of our political institutions, and violations of civil rights that such a 'Cold War' may entail."
News
SUPPORT OUR WORK.
We are independent, non-profit, advertising-free and 100%
reader supported.