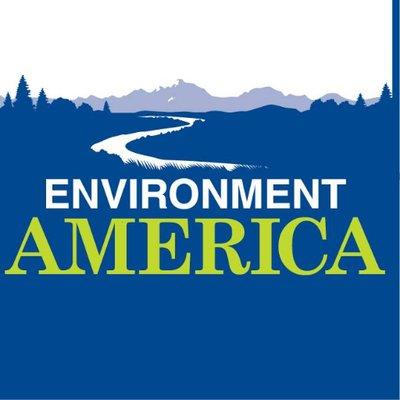 For Immediate Release
July, 02 2010, 01:05pm EDT
Gumbo for Gulf: House Parties Cook Up Response to Gulf Disaster
Like many others seeing the images of oil-covered birds and dead
turtles washing ashore in the Gulf, Leslie Rennie from Beloit, WI felt
helpless. Gumbo for the Gulf, a unique fundraiser launched by
Environment America, gave her an easy way to make a difference.
"It was a great opportunity to invite friends and neighbors to a
gathering to support others and have fun in the process," said Rennie.
WASHINGTON
Like many others seeing the images of oil-covered birds and dead
turtles washing ashore in the Gulf, Leslie Rennie from Beloit, WI felt
helpless. Gumbo for the Gulf, a unique fundraiser launched by
Environment America, gave her an easy way to make a difference.
"It was a great opportunity to invite friends and neighbors to a
gathering to support others and have fun in the process," said Rennie.
To offer concerned citizens like Rennie a way to respond to the more
than two-month old disaster in the Gulf, Environment America has
launched an effort called Gumbo for the Gulf. Concerned citizens in 28
states have signed up to host over 150 houseparty fundraisers, which
started in mid-June, to benefit Environment America's effort to address
the BP oil catastrophe and help prevent future ones. Over the 4th of
July weekend, there will be events in Arkansas, Colorado, Florida,
Iowa, Maryland, Massachusetts, New Jersey, New Mexico, Texas, and
Washington.
Renowned New Orleans chefs Susan Spicer and John Besh spiced up the
effort by lending gumbo recipes to the party hosts. Chef and author
Anthony Bourdain will soon record a video to promote the effort. The
cast of the TBS show Dinner and a Movie made a public service
announcement promoting the effort.
"Let's do right by New Orleans this time around. There's no more
uniquely American city," said Bourdain regarding Environment America's
Gumbo for Gulf effort.
Environment America is working to permanently protect America's
shores from new oil drilling. Environment America will use the funds
to: raise awareness about the oil disaster, hold BP accountable for
every cent of the clean up and prevent this from ever happening again.
Environment America will also work with local groups to bring food to
the affected communities in the Gulf. Recently, Environment America,
the Gulf Restoration Network and Louisiana Environmental Action Network
announced their intent to file suit against BP under the Clean Water
Act. Environment America also criticized the recent Department of
Interior decision to grant a new drilling permit to Bandon Oil and Gas
for a well fifty miles off the coast of Louisiana in shallow water
approximately 120 feet deep.
"With the Gulf spill now the biggest environmental disaster in U.S.
history, Gumbo for the Gulf presents an opportunity for citizens across
the country to show their solidarity with the people of the Gulf
region, raise awareness about the disaster and raise funds to help Gulf
families and to support Environment America," said Heather Emmert, Gulf
States Field Organizer for Environment America. "The Gumbo for the
Gulf parties offer a way for anyone to lend support through dollars and
political action."
Gumbo for the Gulf houseparty organizers asked attendees to sign
petitions to President Obama as well as make a contribution to support
the group's efforts to protect the coasts. At the events, attendees
also viewed a Gulf disaster video by actress Amy Smart and hosts uploaded pictures of their events to https://www.flickr.com/groups/gumboforthegulf.
Citizens can contribute to the effort without holding a party by visiting the organization's webpage.
With Environment America, you protect the places that all of us love and promote core environmental values, such as clean air to breathe, clean water to drink, and clean energy to power our lives. We're a national network of 29 state environmental groups with members and supporters in every state. Together, we focus on timely, targeted action that wins tangible improvements in the quality of our environment and our lives.
(303) 801-0581
LATEST NEWS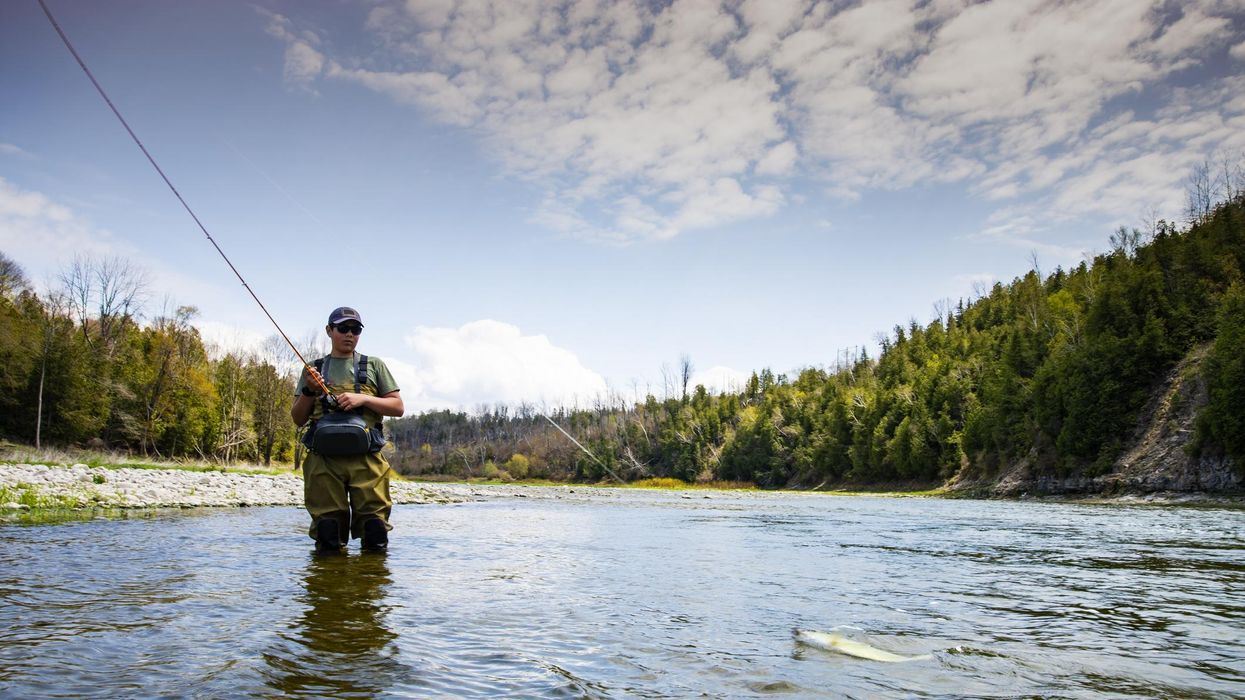 "The extent that PFAS has contaminated fish is staggering," said the lead researcher, advocating for "a single health protective fish consumption advisory for freshwater fish across the country."

Yet another study on Tuesday raised the alarm about the dangers of "forever chemicals," revealing that eating just one locally caught freshwater fish in the continental United States can be equivalent to drinking contaminated water for a month.
Per- and polyfluoroalkyl substances (PFAS) are widely called forever chemicals because they persist in the human body and environment for long periods. Despite public health concerns, the manufactured chemicals have been used in products ranging from firefighting foam and waterproof clothing to nonstick pans and food packaging.
"These test results are breathtaking."
Duke University and the Environmental Working Group (EWG) researchers analyzed data for over 500 fish fillet samples collected across the country from 2013-15 for a pair of U.S. Environmental Protection Agency (EPA) monitoring programs: the National Rivers and Streams Assessment and the Great Lakes Human Health Fish Fillet Tissue Study.
"Identifying sources of PFAS exposure is an urgent public health priority," said study co-author and EWG senior scientist Tasha Stoiber in a statement.
"PFAS contaminate fish across the U.S., with higher levels in the Great Lakes and fish caught in urban areas," she noted. "PFAS do not disappear when products are thrown or flushed away. Our research shows that the most common disposal methods may end up leading to further environmental pollution."
Perfluorooctanesulfonic acid (PFOS) contributed significantly to the high levels in the samples. U.S. manufacturers have largely phased out that PFAS, but it has been used in firefighting foam and was a main component of Scotchgard, a fabric protector by 3M—which announced last month that it plans to exit the PFAS market by the end of 2025.

As the new study states:
The two datasets indicate that an individual's consumption of freshwater fish is potentially a significant source of exposure to perfluorinated compounds. The median level of total targeted PFAS in fish fillets from rivers and streams across the United States was 9,500 ng/kg, with a median level of 11,800 ng/kg in the Great Lakes. PFOS was the largest contributor to total PFAS levels, averaging 74% of the total.
"These test results are breathtaking," said Scott Faber, EWG's senior vice president for government affairs. "Eating one bass is equivalent to drinking PFOS-tainted water for a month."
Specifically, the researchers calculated that eating one 8 oz. serving of fish is equivalent to consuming one month of drinking water with PFOS at 48 parts per trillion (ppt), which is 2,400 times the interim U.S. EPA health advisory.
"People who consume freshwater fish, especially those who catch and eat fish regularly, are at risk of alarming levels of PFAS in their bodies," said co-author and EWG senior scientist David Andrews. "Growing up, I went fishing every week and ate those fish. But now when I see fish, all I think about is PFAS contamination."
\u201cOur new paper on high PFAS levels in freshwater fish across the U.S. \n\nshould be a bigger part of the national conversation on PFAS exposure \n\nlevels hundreds of times over those in FDA fish sampling\n\nrelease:\nhttps://t.co/OPBGm9rYI8\n\npaper:\nhttps://t.co/OceSpyc37E\u201d

— David Andrews (@David Andrews) 1673962922
The study stresses that "the exposure to chemical pollutants in freshwater fish across the United States is a case of environmental injustice that especially affects communities that depend on fishing for sustenance and for traditional cultural practices."
While the study was published in the journal Environmental Research, EWG's website features an interactive map that details the key findings nationwide.
The researchers found that the median levels of total PFAS in freshwater fish were 278 times higher than those in commercial fish tested by the U.S. Food and Drug Administration from 2019-22.
"It's incredible how different they are," Andrews toldThe Hill. According to the outlet:
Some commercially caught fish may be less contaminated because they are grown in controlled aquaculture environments, Andrews explained. Meanwhile, large-scale ocean fishing often occurs farther offshore, where PFAS pollution would be more diluted, he added.

Andrews acknowledged, however, that the data on commercially caught fish is much more recent than the freshwater contamination figures.

He also recognized that with the industrial phaseout of PFOS production, the pollution "levels in rivers and streams do seem to be decreasing, which is important."

"At the same time, the levels are still so high that any fish consumption likely impacts [human blood] serum levels," Andrews said. "But they are moving in the right direction, which I think is some good news, at least in terms of the rivers and streams."

Despite some progress—including smallsteps last year by the EPA—the researchers and others pointed to the findings as evidence of the need for further action on PFAS.

"The extent that PFAS has contaminated fish is staggering," said lead researcher Nadia Barbo, a graduate student at Duke. "There should be a single health protective fish consumption advisory for freshwater fish across the country."
\u201cThanks to my friends at @ewg for this important new research on PFAS exposures from fish. We @seneca_lake @riverkeeper asked @NYSDEC to develop fish consumption standards for PFAS when we commented on the proposed PFAS guidance values! @BasilSeggos\u201d

— Jill Witkowski Heaps (@Jill Witkowski Heaps) 1673970352
EWG's Faber declared that "for decades, polluters have dumped as much PFAS as they wanted into our rivers, streams, lakes, and bays with impunity. We must turn off the tap of PFAS pollution from industrial discharges, which affect more and more Americans every day."
"The EPA needs to move swiftly to set regulations for the industries most likely to be dumping PFAS into the environment," he added. "Downstream communities especially have suffered the consequences of unregulated PFAS discharges for far too long."
News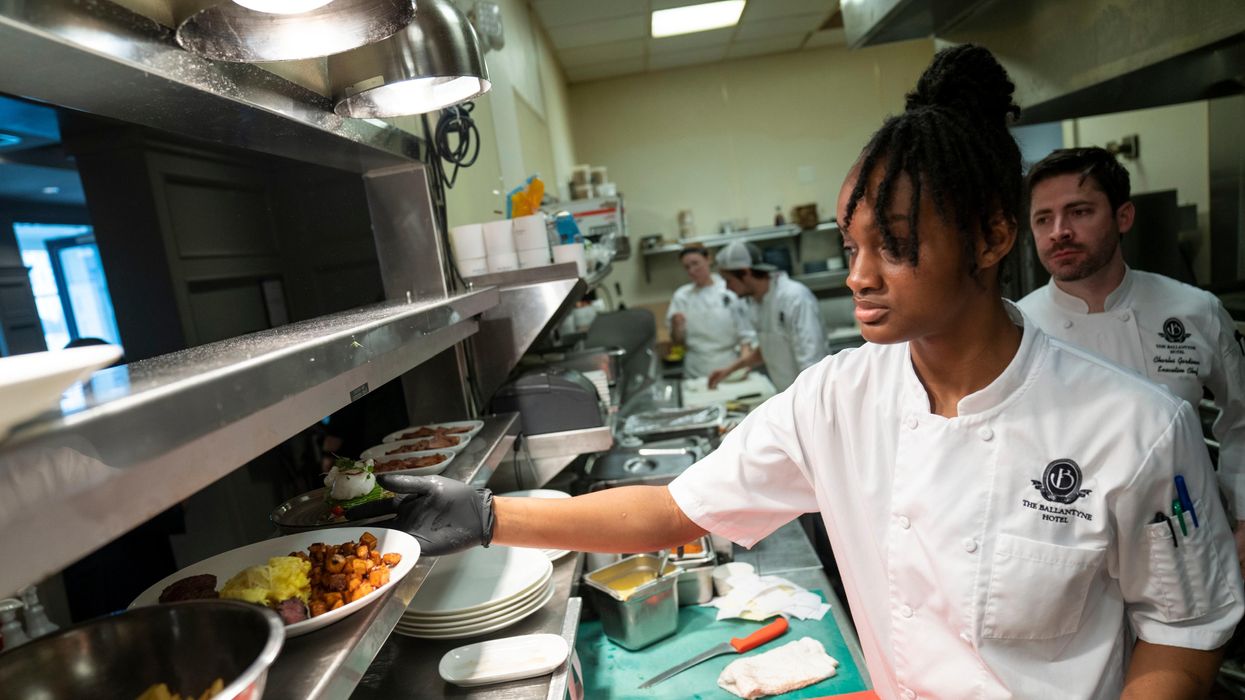 A New York Times investigation found that the National Restaurant Association is using mandatory food safety classes to force workers to unwittingly fund lobbying against wage increases.
Labor advocates voiced outrage Tuesday in response to a New York Times investigation detailing how the powerful National Restaurant Association uses mandatory food-safety courses—which workers often pay for out of their own pockets—to help finance its campaigns against wage increases.
The Timesreported that the restaurant lobby and its affiliates have created "an arrangement with few parallels in Washington, where labor unwittingly helps to pay for management's lobbying."
They did so, according to the newspaper, by taking over a food-safety training business known as ServSafe and pressuring states to "mandate the kind of training they already provided—producing a flood of paying customers."
"The company they are paying, ServSafe, doubles as a fundraising arm of the National Restaurant Association—the largest lobbying group for the food-service industry, claiming to represent more than 500,000 restaurant businesses," the Times noted. "The association has spent decades fighting increases to the minimum wage at the federal and state levels, as well as the subminimum wage paid to tipped workers like waiters."
Saru Jayaraman, the president of One Fair Wage—a national group that advocates for workers earning subminimum wages—said in a statement that "the National Restaurant Association was founded to suppress service workers' wages."
"But this bombshell New York Times investigation exposes something that most people didn't know—the National Restaurant Association is stealing from its low-wage workers in order to fund that anti-worker lobbying," said Jayaraman. "Restaurants like Applebee's and Olive Garden make millions of dollars by paying restaurant workers a federal subminimum wage of just $2.13 an hour. The fact that they fund lobbying efforts to kill laws raising wages by charging workers for food safety training is beyond outrageous."
"It's time politicians stop listening to the owners of major restaurant chains, and start listening to the American people."
Currently, four large states—California, Texas, Illinois, and Florida—require food-handling courses for most restaurant workers. ServSafe dominates the market for offering such classes, providing them for around $15 per worker.
"More than 3.6 million workers have taken this training, providing about $25 million in revenue to the restaurant industry's lobbying arm since 2010. That was more than the National Restaurant Association spent on lobbying in the same period, according to filings with the Internal Revenue Service," the Times reported Tuesday. "The restaurant association notes that some employers have covered the costs of getting certified and that employees are given lower rates in certain circumstances. So not all 3.6 million workers paid $15 each."
Jayaraman called on "any elected official who claims to care about workers" to reject campaign cash from the National Restaurant Association and "return those stolen funds to the workers fighting to raise wages for all Americans."
"Across the country, the American people think wages are too low—and want a raise," Jayaraman added. "It's time politicians stop listening to the owners of major restaurant chains, and start listening to the American people."
The National Restaurant Association spent $2.1 million on lobbying in 2022 alone, according to the watchdog OpenSecrets, and its political action committees donated to the campaign arms of Senate Democrats and Republicans.

The overwhelming majority of the lobbying group's campaign donations flowed to Republican congressional candidates last year, OpenSecrets data shows.

The One Fair Wage campaign is demanding that lawmakers sign a new pledge vowing to reject political donations from the National Restaurant Association, which is currently fighting a Biden administration rule limiting when employers are allowed to pay workers a subminimum wage.

"The National Restaurant Association has taken millions of dollars from low-wage workers and used it, without their knowledge, to fund lobbying activities to fight these same workers' wage increases through their PAC," the One Fair Wage pledge states. "These lobbying activities have resulted in millions of families falling below the poverty line, increasing their reliance on public assistance, costing taxpayers money, and hurting state and local economies."
News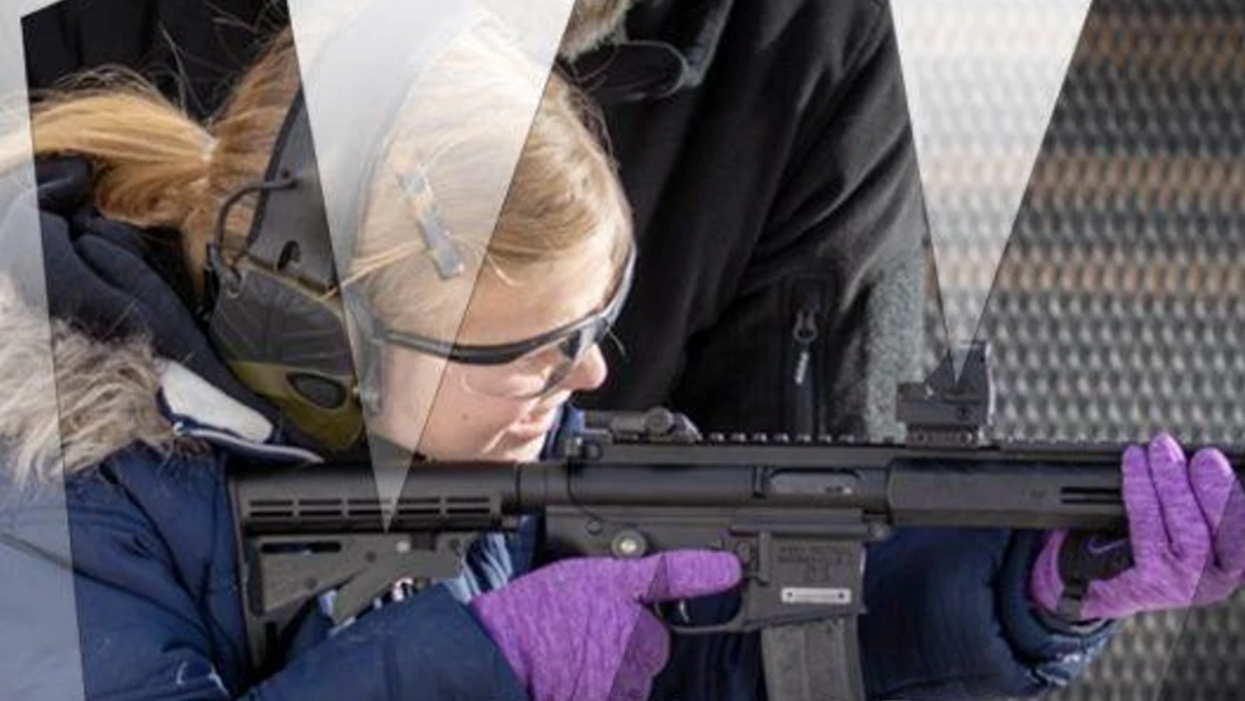 "Most Americans are shocked and disgusted by the idea of manufacturing semiautomatic assault rifles designed for grade schoolers," said one gun control advocate.
A Utah-based gunmaker came under fire again Tuesday for rebranding a semi-automatic rifle for children inspired by the AR-15 that's so commonly used in U.S. mass shootings.

A year ago, WEE1 Tactical—maker of the lightweight JR-15 assault-style rifle that "operates just like mom and dad's gun"—sparked outrage with marketing featuring pacifier-sucking baby skulls with gunsights for eye sockets. The gun made headlines again in 2022 after Rep. Marjorie Taylor Greene (R-Ga.) tweeted that students at Robb Elementary School in Uvalde, Texas "needed JR-15s to defend themselves" against a gunman who killed 19 children and two staff members with an AR-15-style rifle.
Since then, WEE1 Tactical has shifted its branding strategy. The baby skulls are gone; now the JR-15 represents "a great American tradition," a "small piece of American freedom," and "American family values."
Josh Sugarmann, executive director of the Violence Policy Center and author of a 2016 study on the firearms industry's gun-grooming of American children, led criticism of the JR-15 rebrand.
"WEE1 Tactical has adopted this supposedly kinder, gentler marketing approach because it knows from experience that most Americans are shocked and disgusted by the idea of manufacturing semi-automatic assault rifles designed for grade schoolers," Sugarmann said in a statement. "The company's persistence in selling assault rifles for children makes clear the need for continued vigilance by parents and communities as well as legislative action."
\u201cThe gun lobby grp National Shooting Sports Foundation (NSSF) is hosting its annual SHOT show in Las Vegas this week. Last year, they allowed Wee1 Tactical to showcase JR-15s\u2014AR15s made for children. Gun makers should not be able to market weapons of war to children. #NSSFisTheNRA\u201d

— Newtown Action Alliance (@Newtown Action Alliance) 1673905734
WEE1 Tactical is displaying the JR-15 at SHOT Show 2023, a major National Shooting Sports Foundation trade show that opened Tuesday at the Venetian Expo and Caesars Forum in Las Vegas. That's about three miles from where a man armed with 24 guns including 14 AR-15-type rifles massacred 60 people at a 2017 country music festival on the Las Vegas Strip in the deadliest mass shooting in U.S. history.
The JR-15 is not an AR-15, the civilian version of the M16 and its more modern offshoot, the M4 carbine, used by the U.S. military since the Vietnam War era. Instead of the NATO-standard 5.56 mm bullets fired by the AR-15, the JR-15 uses .22 caliber rounds which, while still potentially deadly, are much smaller, far less powerful, and commonly associated with a youth's first hunting or sporting rifle.
However, gun control advocates note that children made up nearly 1,700 of the more than 44,000 people killed with guns in the United States last year. Earlier this month, a 6-year-old brought a gun to his elementary school in Newport News, Virginia and allegedly shot his teacher during an altercation.
"Call me crazy but just weeks after a 6-year-old shot his teacher I don't think it's a great idea to be releasing a kids version of the AR-15," tweeted David Hogg, co-founder of March for Our Lives and a survivor of the 2018 massacre at Marjory Stoneman Douglas High School massacre in Parkland, Florida, in which the gunman used an AR-15-style rifle to murder 14 students and three staff.
In California, state Assemblymember Phil Ting (D-19) last year introduced a bill that would ban the marketing of guns to children.

Last year, the Kaiser Family Foundation published a study showing that roughly 26,000 U.S. children would still be alive if the country had the same child gun death rate as Canada.

News
SUPPORT OUR WORK.
We are independent, non-profit, advertising-free and 100%
reader supported.