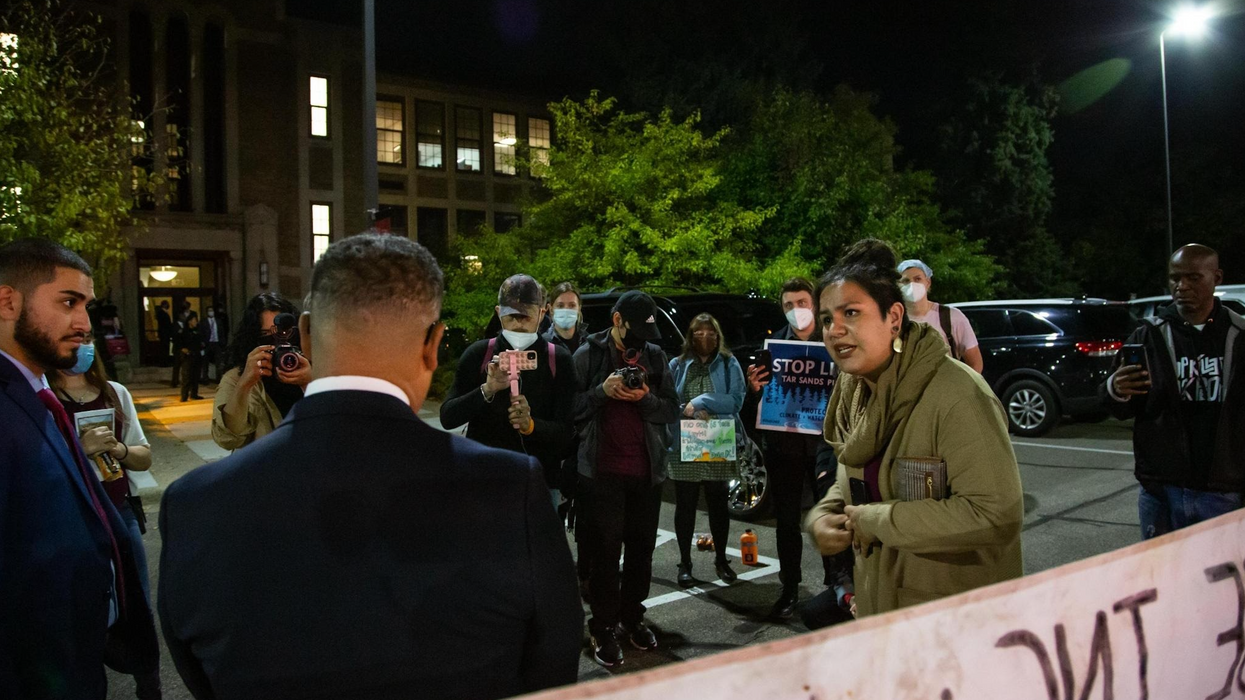 "What is your plan?" one demonstrator asked while interrupting a speech by Ellison. "Are you going to take a stand?"
Water protectors fighting to stop Enbridge's Line 3 tar sands pipeline expansion interrupted a Thursday evening speech by Minnesota Attorney General Keith Ellison to challenge the Democrat's silence on the multi-billion-dollar project, which violates Anishinaabe treaty rights while endangering local ecosystems, Indigenous communities, and the global climate.
"What will you do about the frivolous charges brought against over 800 people drawing attention to Line 3's climate impacts and civil rights violations?"
--Water protector
"In 2015 at an anti-tar sands rally, you promised to stand with the First Nations brothers and sisters--that's a quote--and defend Mother Earth," one protester shouted out as he was removed from the St. Paul auditorium hosting a ceremony for the new dean of the Mitchell Hamline School of Law. "And yet you've been silent on Line 3... What is your plan? Are you going to take a stand?"
Another water protector asked, "What will you do about the frivolous charges brought against over 800 people drawing attention to Line 3's climate impacts and civil rights violations?"
Ellison, who was the keynote speaker, admonished the demonstrators but agreed to meet with them after the event.
In a video of a post-event exchange published by BLCK Press, Jaike Spotted-Wolf, a leader in the frontline Line 3 resistance group Camp Migizi, told Ellison that "two out of three tribes didn't approve" the pipeline, "and you guys went against treaty law, which is sovereign... you went above the treaty to approve that pipeline. And protesters have been violently arrested all summer long. What are your thoughts on that, as people are being sex-trafficked all along that pipeline?"
Camp Migizi founder Taysha Martineau showed Ellison a photo of their three daughters and asked, "Which one are the Enbridge workers going to target? Which one is going to be raped before the age of 15, which one is going to go missing, which one is going to get murdered, and which one are they going to attempt to sex traffic?"
As Ellison stood in sullen silence, Martineau continued: "This is an honest conversation that Indigenous women wake up every single day terrified about... The [Missing and Murdered Indigenous Women] issue is always going to be there."
"I'm supposed to be able to trust you," they told Ellison, who replied, "I didn't ask you to trust me."
"I've said I don't like Line 3," Ellison said. "If I had any authority to do anything about Line 3, I would."
The attorney general assured the protesters that he would look into sex trafficking and other abuses perpetrated by Line 3 workers.
In 2015, then-Congressman Ellison (D-Minn.) held up a sign reading "I Will Act on Climate" at a Tar Sands Resistance March in St. Paul, and declared, "We've got to stand together; we've got to say no to... fossil fuels; we've got to defend Mother Earth."
However, according to anti-Line 3 campaigners, Ellison has not taken a public stance on the project since being elected attorney general.
The administration of President Joe Biden--who earlier this month called the climate emergency a "code red" crisis--was accused in June of a "horrible and unconscionable betrayal" of his climate promises after filing a legal brief backing the federal government's 2020 approval of the Line 3 project under former President Donald Trump.
Earlier this week, after Democratic Minnesota Gov. Tim Walz kicked off Minnesota Climate Week by vowing to "recommit to combating climate change," Rep. Ilhan Omar (D-Minn.) tweeted, "Let's #StopLine3."
The Indigenous-led frontline group Honor the Earth denounced Walz for what they called his meaningless climate proclamation while imploring the governor to "take real action."
News